The 10mm cartridge is a fast-moving, hard-hitting pistol round that punches above the respected .357 Magnum cartridge. Developed in part by Colonel John Cooper, the 10mm cartridge was intended to be an improved version of the .45 ACP.
The original 10mm cartridge consisted of a 40 caliber bullet in a cut-down .30 Remington case. The initial 10mm pushed a 170-grain bullet down range above 1,200 feet per second. In other words, it hit hard. Today, a 10mm pistol is a great option for hunting, plinking, and in some cases, self-defense.
Read on to learn more and to see the best 10mm pistols available on the market today.
At a Glance: Our Top Picks for 10mm Pistols
Comparison of the Best 10mm Pistols
IMAGE
PRODUCT

Our Top Pick

Available in different finishes
Best 10mm pistol
Aluminum-grade trigger with 4 to 5 pound trigger pull

View Latest Price →

Runner-up for best overall 10mm pistol
Features a TRUGLO adjustable rear sight
Includes two magazines with a capacity of 8 + 1

View Latest Price →

Best 10mm pistol for hunting
15 + 1 round capacity
Barrel measured at 6 inches

View Latest Price →

Best Glock 10mm
Made from high-quality polymer
Available in either 10 + 1 or 15 + 1 rounds

View Latest Price →
What to Watch For When Buying 10mm Pistols
If you aren't overly familiar with 10mm pistols, there are a few helpful things to keep an eye on when you are deciding which one is best for your needs. The 10mm cartridge is powerful enough to fulfill a variety of uses, but not all 10mm pistols are made equally. It is important to pay close attention to details such as size, weight, accessory attachment options, and price before making a final purchase decision. The information and tips that follow can be a solid place to start the process of finding your ideal 10mm pistol.
Very Versatile
A pistol chambered in 10mm is an extremely versatile weapon. This is in part due to the ability to either purchase or reload cartridges in varying sizes for different uses. A lighter load makes for a pleasant plinking experience while a hot and heavy load makes the 10mm pistol a very capable hunting firearm.
In fact, if hunting with a pistol is something you are interested in trying, a 10mm pistol is an ideal choice. Proper hunting loads in a 10mm pistol are plenty capable of ethically killing even larger game animals. Additionally, with the proper clothing, a 10mm pistol can be a powerful everyday carry option and they are also ideal home defense options.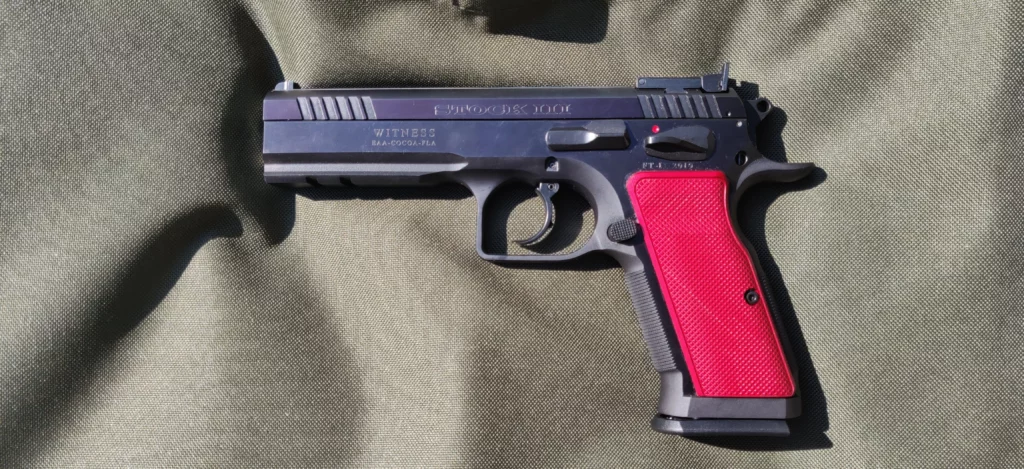 Double Defensive Duty
10mm pistols tend to be on the larger side. Considering the size of the cartridges and the high-capacity magazines, this shouldn't come as a surprise. This means that while they are a good self-defense option for some, smaller framed people or those with less arm strength might need to consider other options.
They can also be a challenge to conceal especially in warmer weather. In addition to self-defense from other people, a 10mm pistol is also a powerful option for protecting yourself from wild animals. If you hunt or hike in bear or cougar country, packing a 10mm pistol will help keep you safe in the event of an attack.
Comfort Counts
It isn't any fun to fire a weapon that is uncomfortable to hold. Discomfort in shooting can also lead to unsafe situations. 10mm pistols are larger framed handguns and won't be universally comfortable for everyone. If possible, hold and handle a couple of options you are considering to make sure they feel good in the hand. Being able to have a confident and secure grip on a 10mm pistol also helps to control some of the fairly hefty recoils.
Review of the Best 10mm Pistols
Below is our list of the top 10mm Auto handguns. Reliability and build quality are major considerations in our choices. These are also some of the most proven and best-designed pistols on the market, featuring intuitive and ergonomic controls.
Kimber Custom 1911 Pistols
We may earn commission from purchases made from our links, at no additional cost to you
Kimber has an impeccable reputation for custom-quality 1911s that don't cost thousands of dollars. The 10mm Auto Eclipse Custom was Shooting Industry magazine's 2002 handgun of the year. It has a five-inch match-grade barrel and 8+1 magazine capacity.
Besides being extremely well-engineered with close to ideal tolerances, Kimber Custom 1991 pistols come in a very wide selection of finishes. The Eclipse Custom comes in a classic dual tone with a charcoal grey frame and a brushed and polished slide. The grips are a futuristic grey/black G10 (fiberglass laminate) that feel even more natural in the hand than the original design.
The tritium night sights are rounded to avoid catching on clothing. We have all heard that a 1911 takes about 500 rounds to break in, but there is a strong chance that with this gun and standard factory ammunition you will experience no malfunctions whatsoever.
The full-length guide rod helps in this, while also putting a bit of weight forward to reduce muzzle rise. It also contributes to the best accuracy you can expect from a 1911 anywhere near this price point.
Bottom Line
The 1911's lasting relevance is a testament to the genius of John Moses Browning. You will not find a 1911 with better quality, reliability, and accuracy than a Kimber without shelling out serious, four-figure custom gun money. The machining is impeccable and the material and design choices marry with astute aesthetics to form a truly exceptional firearm.
Pros
Full-Length Guide Rod
Stainless Steel Match-Grade Barrel
Exceptionally Reliable and Accurate
Skeletonized Aluminum Match-Grade 4-5 lb. Trigger
Unbeatable Build Quality in a Classic American Design
Tritium Night Sights Rounded Not to Catch on Clothing
Cons
Ships With Only One Magazine
Sig Sauer P220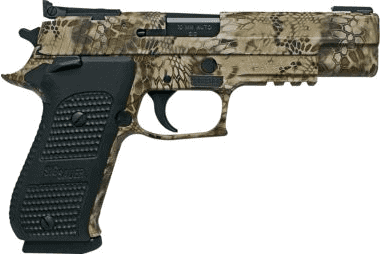 We may earn commission from purchases made from our links, at no additional cost to you
If you would rather have a more modern top-quality semi-auto in 10mm Auto rather than a timeless piece of American heritage chambered in the round, this gun is for you. Sig Sauer is on top of the game in quality, reliable, and accurate handguns. No foreign gun maker does better in the US market, not even Glock.
The 220 is the daddy of the 226 used by the Navy Seals, with only a couple of minor differences. This all stainless steel 220 Hunter model in 10mm comes in Kryptek camo with G10 grips and features an extra-long, five-inch match-grade barrel. The longer barrel provides greater velocity, range, and precision to the already formidable 10mm.
It is perfect for hunting medium-sized game including deer or boar. The adjustable rear sight is paired with a TRUGLO® TFO front sight. An accessory rail in front of the trigger guard allows you to attach a laser sight or other enhancement. The trigger is single action only.
Bottom Line
Although the model was developed in the late 70s, there are few modern handgun designs as reliable and accurate on the market today. There is a reason that Sig won the contract to replace the Beretta M9. If you need a large-frame, high-powered handgun to take care of business and last a lifetime, look no further.
Pros
Outstanding Trigger Pull
TRUGLO® TFO Front Sight
Excellent Modern Design and Build Quality
Accessory Rail and Forward Cocking Serrations
Extra Barrel Length and Weight Ideal to Handle the 10mm
Cons
Some Find the Slide Release to Be Too Small
Best 10mm Pistol for Hunting
Glock G40 Gen4 MOS Semi-Auto Pistol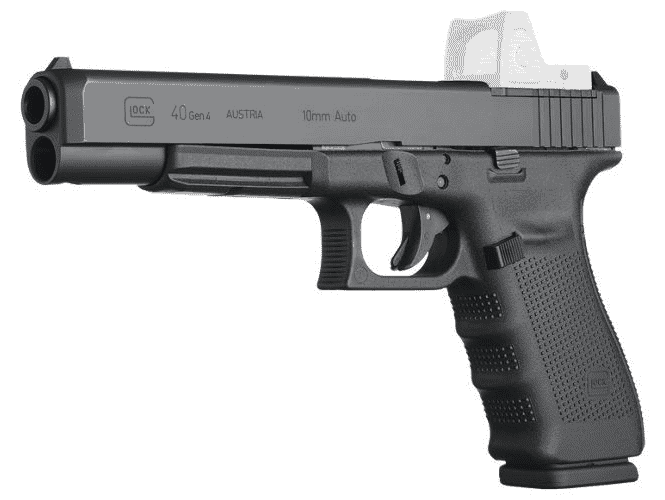 We may earn commission from purchases made from our links, at no additional cost to you
Love them or hate them, in terms of reliability, ubiquity, and charm, Glock is the Toyota Corolla or GE refrigerator of the handgun world. Nevertheless, the G40 is the largest and most powerful Glock around, the Mandingo of Glocks.
The barrel is a full 6.02 inches long and the magazine capacity is an ample 15+1. This is no concealed carry piece, but it is ideal for taking out medium-sized game with a ballistic performance that can exceed that of the .357 magnum. Despite the polymer frame, the overall bulk of the pistol reduces muzzle rise to almost nothing.
Two major features of the G40 are the Modular Optic System (MOS) and the Modular Back Strap design. The MOS allows you to easily mount a variety of optic sights. The Modular Back Strap design lets you adjust the grip to perfectly fit the size of your hand.
The magazine release on this piece is reversible for lefties. Glock ships the G40 with three magazines. In fact, it ships with a small treasure trove of extras including extra back straps, the tool to replace them, a cleaning kit, a magazine loader, and four MOS plates.
Glocks have no safety lever, rather, three safety mechanisms are disengaged each time the trigger is pulled. This system is elegant in its minimalism, but may be a reason that Glock triggers have a mediocre reputation, much like their sight picture, two things users often upgrade. Back on the plus side, the G40 has an accessory rail and a polygonal barrel profile to increase velocity.
Bottom Line
A Glock is an extremely effective and reliable tool with all the mystique of an electric toothbrush. That being said, if you need a utilitarian, no-nonsense tool that you can both dispatch moderately-sized game with and run over with your truck without worry or drama, the G40 Gen4 is for you.
Pros
Extremely Reliable
Simple, Intuitive Design
15+1 Magazine Capacity
Ambidextrous Magazine Release
Ships With Three Magazines and Many Other Accessories
Customize to Your Needs With the MOS and Modular Back Strap
Cons
Mediocre Trigger
Unpopular Sight Picture
Glock 20 SF Semi-Auto Pistol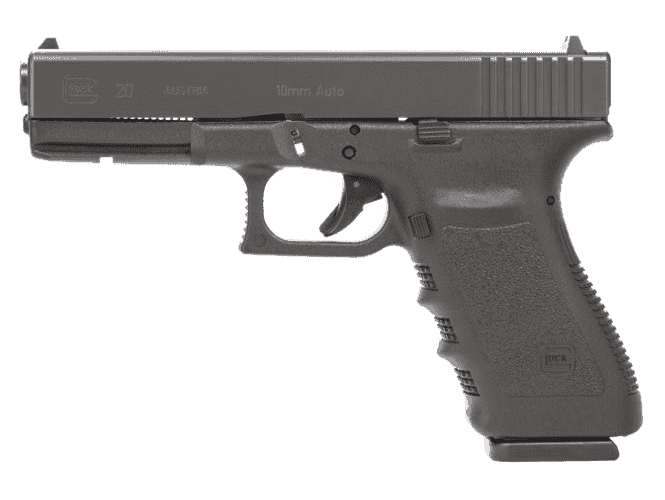 We may earn commission from purchases made from our links, at no additional cost to you
The Glock 20 Short Frame is almost indistinguishable from any other Glock, except that the frame has been designed to benefit those with medium to small hands. This also makes it possibly the best 10mm Auto on the market for concealed carry. It still has a decent barrel length at 4.61 inches and a long sight radius.
You also have a choice of magazine capacity. The Glock 20 SF ships either with two 10+1 round mags or two 15+1 round mags. This is perhaps the ultimate all-around handgun, perfect for tactical, medium-game, predator protection, concealed carry, or home defense, all with the superior firepower of the 10mm.
The durability, reliability, and tool-free ease of field stripping are unsurpassed. The safety is the same as on all other Glocks, each time you pull the trigger, three safety mechanisms are disengaged. As with the G40, a minor trigger job and replacement rear sight will greatly improve your shooting experience.
Bottom Line
Glocks may not be the most thrilling handguns on the market, nor do they try to be. Once you have handled one, you are pretty much a master of any Glock you come across, which is a great skill to have given their ubiquity. It's hard to argue with a product that functions so perfectly, reliably, intuitively, and comfortably, no matter what it looks like.
If I were to choose one handgun for the zombie apocalypse, the Glock 20 SF would be a top contender. If you're concerned about handling the powerful 10mm in a small frame, remember that you can work your way up from the light FBI loads to full power ones as your comfort zone widens.
Pros
Accessory Rail
Choice of Two 10+1 or Two 15+1 Magazines
Easy Tool-Free Disassembly into Four Main Parts
Glock Perfection in Durability, Reliability, Accuracy, Simplicity, and Versatility
Cons
Average Trigger
Polymer Frame and Dull Aesthetics
5. Remington 1911 R1 Semiautomatic Pistol
We may earn commission from purchases made from our links, at no additional cost to you
Remington is America's oldest firearm manufacturer. They produced 1911s for the military during the first World War. When the war ended, they shut down production and didn't manufacture a 1911 again until 2010. Besides the caliber, the 10mm version takes a very traditional approach. It features all black PVD DLC finished steel and black G10 grips.
The trigger is adjustable and both it and hammer are skeletonized. The six-inch, match-grade barrel will squeeze as much performance as possible out of the formidable 10mm rounds while adding weight to keep recoil down. The rear sights are adjustable and the front sight is fiber optic.
Safety mechanisms include the extra-wide manual thumb safety, grip safety, and firing pin block familiar to 1911 aficionados. The R1 ships with two 8+1 capacity magazines. Although classic, 1911s are not known to be the world's most reliable handguns.
Although very reliable, the Remington is not quite as jam-proof as the Kimber. That being said, many users have put over a thousand rounds through it without any issue. The accuracy is excellent. Like the Sig, the R1 has an accessory rail in front of the trigger guard and forward cocking serrations on the slide.
Bottom Line
The Remington R1 is very close to the quality of 1911s by specialized high-end producers but at a far lower price. This is an excellent All-American firearm in a devastating caliber.
Pros
Made in the USA
Fiber Optic Front Sight
Extra-Wide Thumb Safety
Ships With Two 8+1 Magazines
Adjustable Trigger and Rear Sight
Excellent Accuracy and Construction at This Price Point
Extra-Long Six-Inch Barrel for Maximum Performance and Minimum Recoil
Cons
Large and Heavy for Concealed Carry
Origin of the 10mm Auto
The 10mm Auto pistol cartridge was developed by the legendary Jeff Cooper in the early 80s, but only a couple pistols models were chambered in it and sales did not take off. Things changed after the infamous 1986 FBI Miami shootout debacle, in which seven out of eight federal agents became casualties in a shootout with only two fugitives. In 1989 The FBI decided it needed the greater stopping power offered by the 10mm.
However, this increase in firepower proved too much for the FBI's training regimen. Many trainees struggled to handle the round. Although this probably could have been resolved with better training, the FBI requested the development of a shorter, lower-powered version of the 10mm. This became the .40 Smith & Wesson, which was adopted as standard issue by the FBI and several other American law enforcement agencies.
The firearms market favors police and military calibers, take for example the .30-06 or the 9mm. The 10mm never gained the popularity of its child cartridge, the .40 S&W, but with ballistics that can rival the .357 Magnum, it has always enjoyed a loyal, if small, following.
Why You Should Consider Buying a 10mm Pistol
The most-cited perk of the 10mm is its versatility. The 10mm is a reloader's dream with bullet weights ranging from the double digits up to 230 grains. Few semi-auto handgun rounds can be used for the same range of self-defense, hunting, and target activities. The 10mm shoots flat and is inherently accurate. It is designed to outperform other popular semi-auto handgun rounds for self-defense.
You can get around 2000 feet per second, rivaling top .357 rounds in ballistics and bullet size, in a 15+1 capacity semi-auto format. This makes it suitable not only for self-defense against marauding fools but also against most woodland predators. The 10mm is also one of the few such rounds legal for whitetail deer hunting in many states.
If you want a lot of power in a standard-frame, semi-auto pistol, rather than an over-sized revolver or long gun, you can't beat a 10mm Auto. Yes, the recoil is greater than most other semi-auto handgun rounds, but it is not unmanageable. Roman legionaries trained with weapons many times heavier than those they went into battle with. Once you have trained yourself to be comfortable with a caliber like the 10mm, you will be confident with just about any other.
How Accurate is a 10mm Pistol?
The accuracy of a handgun relies on many factors including the action, barrel, build quality, and ammunition selection (brand, projectile design, etc.). Caliber is one factor, as some are inherently more accurate than others. The accuracy of a specific load will vary with the handgun used. Even two handguns of the same make and model can shoot best with different loads due to the dark magic of barrel harmonics.
The 10mm definitely enjoys inherent accuracy. First of all, the flat trajectory improves the aiming and perceived accuracy of the round. When the 10mm was first produced, the manufacturing of semi-auto handguns was not equal to the power of the round, leading to various problems sometimes affecting accuracy.
Since then, improvements in design and metallurgy have greatly increased the reliability and accuracy of 10mm handguns. Without enough training, smaller shooters may struggle to stay on target with the 10mm's sharp recoil. This can be resolved by using lighter loads like those originally developed by the FBI.
Conclusion
The 10mm is a formidable semi-auto handgun round that rivals the power of the .357 magnum. Although its popularity has ebbed and waned, thirty years of heavy hitting and accuracy has proven that the caliber is here to stay. Whatever your intended use, we're confident that our picks include a 10mm Auto pistol that will serve you well for a lifetime.
People Also Ask
While the 10mm caliber is still quite popular among people, there are certain misconceptions and doubts about its use. Its compatibility is often misjudged and lingers as a questionable possibility in the minds of prospective users. Let's answer and resolve some of those crucial queries:
Are 10mm and 40 Cal The Same?
If you consider the metrics, 10mm translates to 0.40 of an inch. Therefore both these bullets share the same diameter. However, the case length of .40 cal is 0.850" while the 10mm has a case length of 0.992". Hence, both these bullets are similar but not the same. Although, you can shoot 40 S&W from a 10mm pistol. But it is quite dangerous and not recommended.
What is a 10mm Pistol Comparable To?
A 10mm pistol can be seen as a 40 S&W but with a hotter load. The 10mm auto bullet is roughly equal to 40 caliber (0.4004"). As a matter of fact, the 40 S&W was built in the image of 10mm auto rounds by shortening the case and reducing its power. But collectively speaking, the 10mm is comparable in performance to a .41 Remington magnum.
Will a 10mm Stop a Bear?
Yes, the 10mm will stop a bear and such cases have been reported in the past. The 10mm is a powerful round and only the .44 magnum is what surpasses it in stopping power when handguns are concerned. While the 10mm is a suitable and controllable handgun caliber to counter a bear. Good shot placement with every shot fired is still the most important prerequisite.