The Ruger 10/22, a masterpiece of the .22lr world, which was designed in 1964 and is still the most popular .22lr rifle in the world. Millions of people have learned the basics of firearms in their teenage and adolescence days with this rifle. If it is not plinking and some serious business with the Ruger 10/22, you will need the right scope to be mounted over it.
Take a look at how you will find the best scope for this rifle, along with a list of the possible options.
At a Glance: Our Top Picks for 1022 Ruger Scopes
The Best Ruger 10/22 Scopes
IMAGE
PRODUCT

Our Top Pick

Lightweight Scope for Hunting and Casual Shooting
12-Inch Tube Length and One-Inch Diameter
Includes Accessories and a Lifetime Warranty

View Latest Price →

Beautiful and Durable One Piece Tube Construction
Features a Truplex Reticle for Convenient Shooting in Backdrop
Includes a Complete Set of Mounting Rings

View Latest Price →

Quality Optics With Stunning HD Clarity
5 MOA Red Dot Reticle for Tactical Uses
Works With .22 Guns Shotguns and Large Handguns

View Latest Price →

Tailor-Made for .22 Rimfire Rifles
Magenta Multi-Layered Lens Coating for Clear Images
Features a 30/30 Reticle With Rings Included

View Latest Price →

Wide Range of Magnification for Long Distance Shots
Illuminated V-Brite Reticle for Accurate Low Light Shooting
Stands Among the Most Popular Hunting Scopes

View Latest Price →
What to Watch For When Buying Scopes for a Ruger 10/22
Here are a few aspects you must keep in mind when picking a scope for your Ruger 10/22 rifle.
Go for Low Power
The Ruger 10/22 is chambered for the .22lr and is suitable for a range of 50-150 yards. Which means that the maximum power you will ever need on a scope is 6x. With such a short range, it is unnecessary to mount a bulky scope that is meant for long distances. Ideally, a 3-9x scope will be best for this rifle if you want variable magnification.
Limited Functions and Compact Design
A scope for the Ruger 10/22 does not have to be very fancy. Not a ton of azimuth adjustments, an illuminated reticle, or probably an adjustable parallax are required. The scope must be compact and lightweight in design because the rifle itself maxes at a weight of 5lbs.
Long Eye Relief
Although the Ruger 10/22 does not have a punching recoil, having a scope with a long eye relief helps with aiming and quick target acquisition. Since the rifle does not have a very long range, something along the lines of a scout rifle scope will also work well. Additionally, the Ruger 10/22 is also a very compact rifle, so having a scope with long eye relief is generally better for bigger adults.

Appropriate Reticle
Like I already said, do not go for anything too fancy. Just choose a scope with a simple duplex reticle with no frills inside. The Ruger 10/22, if used for hunting, will mostly splatter squirrels, rabbits, prairie dogs, and maybe coyotes. And that too at not very far off the range. Additionally, you also don't have to worry about making elevation adjustments using the reticle dots.
Red Dot or Not
A red dot is suitable for the Ruger 10/22 if you want an optic for close range engagements. That is when you are hunting or engaging other targets within a range of 50-100 yards. Many people prefer red dots with the Ruger 10/22 because of its compact design and easy target acquisition even in low light situations.
Budget Friendliness & Warranty
The Ruger 10/22 costs maybe thirty bucks shy off $400, so it is definitely not an expensive rifle. It is a simple, amicable, and deadly squirrel killer that will come out of the gun safe once in a while. You must not spend a lot of money on a scope if it is only meant for the Ruger 10/22. Additionally, having some sort of warranty/guarantee, or customer service with the scope will definitely help.
Review of the Best Ruger 10/22 Scopes
The best scopes for your 10 22 rifle are listed below, starting with the best one first. These is a good short list for the best scopes and will help you quickly decide which one you need.
We actually obtained this scope on a used rifle and were going to toss it in exchange for a higher end model, but curiosity got the better of us. It turned out to be a fine scope to run on our 10/22 for a number of reasons.
BARSKA 3-9×32 Plinker-22 Riflescope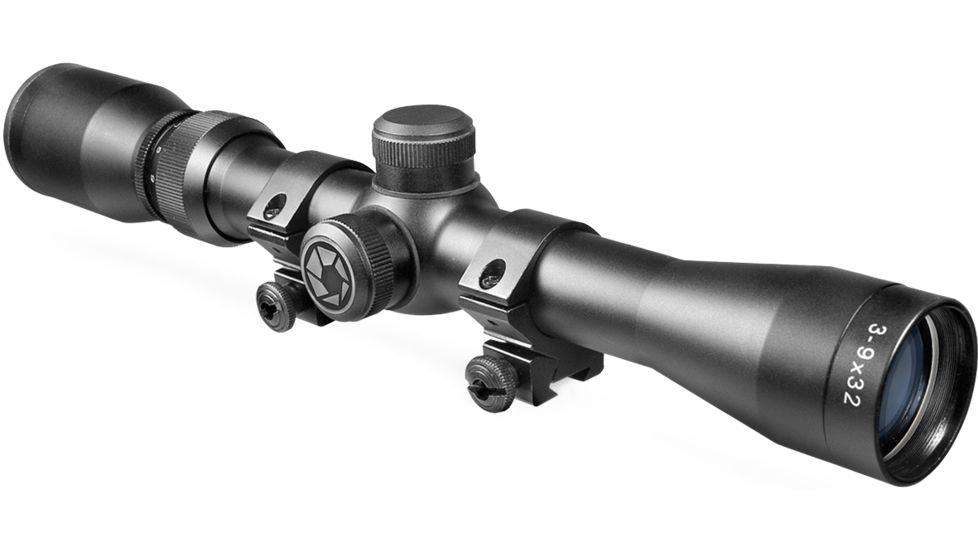 We may earn commission from purchases made from our links, at no additional cost to you
What Recent Buyers Report
Buyers were impressed with the performance and affordability of this scope. The scope was reported to be very easy to mount and sight. Plus the settings maintain their position under steady fire. The scope improves the accuracy of a 10/22 tenfold. However, some users pointed out some minor rail fitting issues.
Why it Stands Out to Us
The scope is inexpensive, effective and the perfect match for the Ruger 10/22. While the rifle itself doesn't cost much, this scope is a perfect technical and economic accessory for it. The Barska scope packs all the features absolutely necessary for a 10/22, and the company offers a limited lifetime warranty to cover your back.
Who Will Use This Most
The scope is ideal for plinkers and hunters. The 3-9x magnification will allow the shooter to hunt vermin over short or medium ranges. The scope is fully adjustable for windage and elevation and is quite durable. It is also a great choice for people who want a complete package rather than scouring gun store shelves for lens caps and scope mounts.
Bottom Line
The Barska 3-9x scope is the perfect choice for a 10/22 plinker or hunter. The scope is covered by a limited lifetime warranty and can withstand the test of harsh climatic conditions. The scope is easy to sight-in and maintains its settings. A balanced option for both beginners and pros.
Pros
Fully coated optics for crisp and clear image
30/30 reticle for easy sighting at close range
Optimal 3-9 magnification for the Ruger 10/22
Sturdy design. Waterproof, fog-proof and shockproof
The sub-$50 price makes this Russian made scope hard to pass up
Includes mount rings, lens cover, cleaning cloth and covered by a lifetime warranty

The 3 X 9 setting is popular for many reasons and while you may keep it set to one setting, it is great to have the option
Cons
Mounts have dovetail rings which may be a problem
We have only seen this model in Matte black. It will look good on either a matte or blued rifle, but may not look so good on a stainless model
Like the Simmons' scopes, the rings are not the best in the world. We recommend using either the factory 10/22 rings if they came with your rifle or buying a better pair
Simmons .22 Mag TruPlex Reticle (3-9x32mm)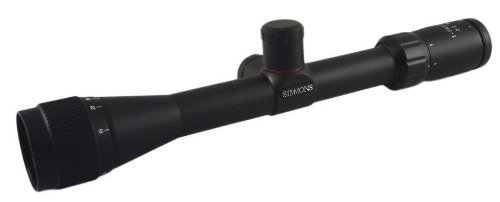 We may earn commission from purchases made from our links, at no additional cost to you
The 3-9X variable power range is one of the most common settings found in North America and if you are shooting a rim fire version of your favorite hunting rifle, this scope is a no-brainer.
Pros
The price at under $40 shipped makes this scope a real bargain
The scope is offered in either silver or black to match up with the metal on your Ruger 10/22
Some shooters maintain that a 3-9X is a wasted effort on a 22 rifle used at short range and will never turn that dial above 6X. However, using the 9X setting on the Simmons allows this scope to serve double duty as a short range spotting scope so you can see how small your group is while you're punching paper
Cons
The included rings may not work on all 10/22s. If they work out of the box, that is fine, but keep in mind that aftermarket rings may be needed
3. Tasco Red Dot 1 x 30mm Rifle Scope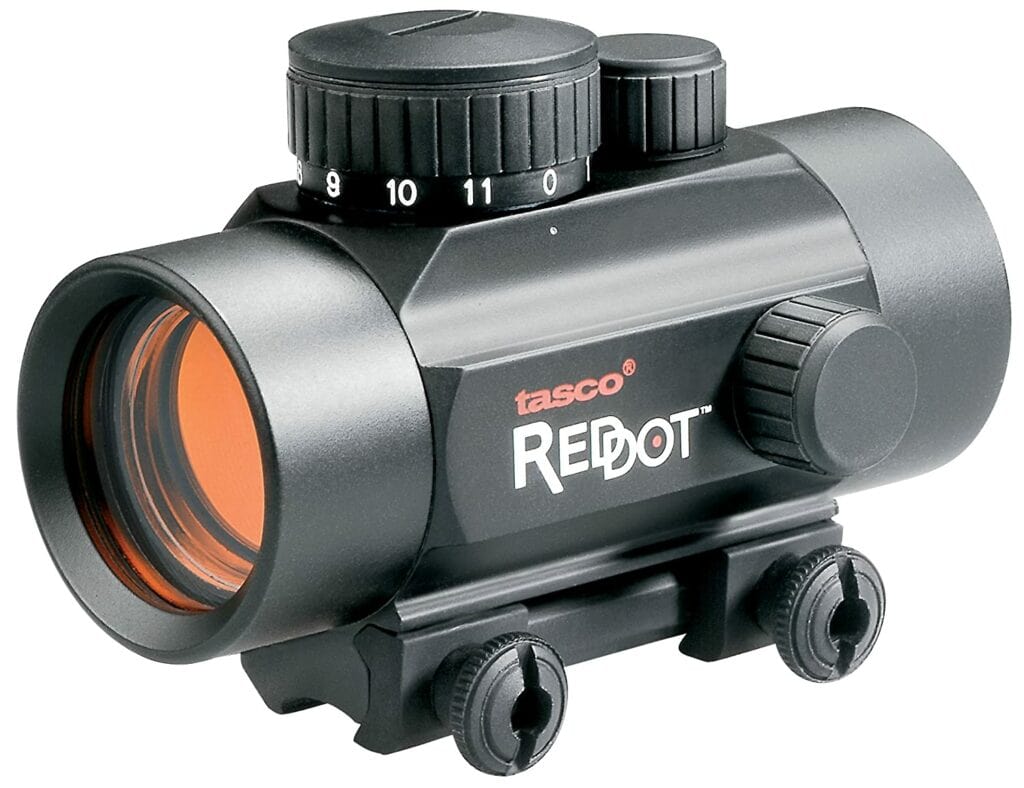 We may earn commission from purchases made from our links, at no additional cost to you
What Recent Buyers Report
Users appreciate the compact and lightweight design of this red dot scope. Along with the easy installation/removal and quick acquisition capability. The adjustable brightness is also a plus factor for buyers. The windage and elevation screws are pretty tight which help the red dot maintain its turret settings.
Why it Stands Out to Us
The Tasco red dot is a lightweight and useful addition to the Ruger 10/22. It is easy to attach/detach and allows the user to adjust brightness at 11 different levels. The red dot maintains its settings and is interchangeable with other firearms having suitable mounting rails.
This one is kind of our odd-man out with no magnification or reticle, but the red dot brings with it some other advantages in close range accuracy.
Who Will Use This Most
The red dot scope is perfect for plinking, practice and hunting game at close range. The 5 MOA offers quick target acquisition and coupled with the brightness and turret adjustments. It serves as a tactical optic for the user. This red dot scope is ideal for shooting fast-moving targets at a close range.
Bottom Line
The Tasco red dot scope allows you to convert your 10/22 in a somewhat tactical rifle. Offering quick acquisition, easy sighting, and brightness adjustments. The unlimited eye relief allows the shooter to use it for scouting and hunting. Plus the waterproof and durable construction makes it suitable for all shooting conditions.
Pros
High quality durable red dot optic with HD clarity
Built-in dovetail rail for standard weaver style bases
5 MOA illuminated reticle with 11 brightness settings
Windage and elevation are adjustable. Comes with lens caps
Exceptionally lightweight scope with water-resistant capability
Works with .22 rimfire rifles, shotguns, and powerful handguns
The compact design allows for a more durable optic and the red dot gives quicker target acquisition out to 100 yards than a traditional scope does
Cons
Turret knobs require a tool to adjust
Doesn't suit Picatinny rails without an adapter
Useless if the battery dries out(although it can be detached quickly)
Unlike a typical riflescope, your distance is limited to what you can see with the naked eye
Running on battery power, the scope will become useless without a power source and these types of batteries can be hard to come by
4. Tasco Rimfire Series 3-9x 32mm 30/30 Reticle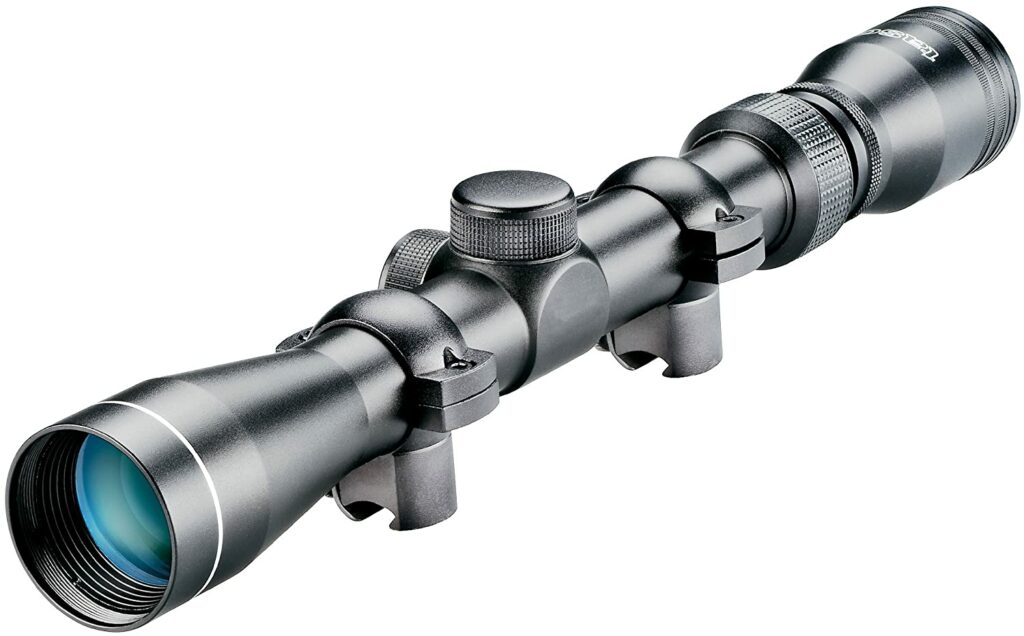 We may earn commission from purchases made from our links, at no additional cost to you
What Recent Buyers Report
The scope is super easy to install and sight-in. It is exceptionally reliable and holds on zero even when carried around with little care. Additionally, users report the scope to be dead-on accurate after sighting on all magnification settings.
Why it Stands Out to Us
The Tasco rimfire scope is an aesthetically pleasing and durable scope that can handle magnum rimfire rounds as well. The fully coated inner and optics deliver a crisp and bright image, while the scope maintains its settings under all circumstances. Additionally, the scope has been tailor-made for .22 rimfire rifles. Thus leaving a minor margin for error.
Another 3-9X scope, but this one carries the more familiar Tasco name. While quality may be hit and miss on their center fire models, they do a very good job with rim fire scopes.
Who Will Use This Most
The scope is ideal for hunters and range use. It is a great accessory for 10/22 owners who practice with magnum loads. The scope has a durable finish and construction to withstand harsh weather conditions. It is a high-quality but inexpensive option for budget shooters and beginners.
Bottom Line
The Tasco scope offers a good mix of aesthetics, performance, and function. It can handle heavy loads while maintaining the settings. Plus the durable one-inch monotube construction and included scope mounts make attaching the scope very easy.
Pros
3-9x magnification and parallax setting to 50 yards
Beautiful matte finish and waterproof/fog-proof design
Magenta multi-layered lens coating delivers bright & clear image
Full-sized one-inch tube with durable advanced monotube construction
The 30/30 reticle reminds us of the Leupold Duplex reticle. This is probably the nicest one we have seen out of the 4 similar models
Cons
Comparatively shorter eye relief
Not suitable for low light shooting
We have only seen this model in Matte black
The bane of all these lower priced scopes seems to be the included rings. They are fine if you are the type that shoots once a year, but if you get any use of your rifle beyond that, invest in some better rings for the scope
5. Vortex Optics Crossfire II 6-18x44mm V-Brite Matte Black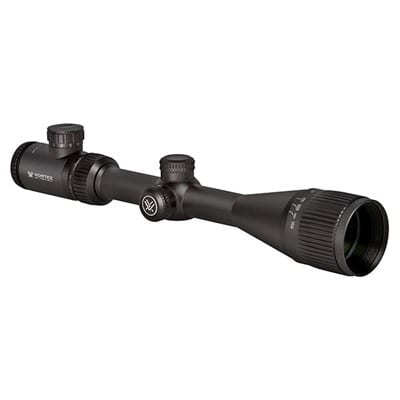 We may earn commission from purchases made from our links, at no additional cost to you
What Recent Buyers Report
Users appreciate the crisp and precise operation of this scope, along with the apt price. The scope is utterly durable and withstands dropping, swaying and what not. The illuminated V-Brite reticle and low light clarity is also a very appreciated feature. Additionally, the no-questions-asked transferable warranty also encourages people to buy this scope.
Why it Stands Out to Us
The scope offers magnification suitable for a sniper rifle and can be successfully used with rifles other than the 10/22. Making your purchase more fruitful and versatile. The scope offers great eye relief and has a reticle suitable for POI estimation without adjustments. The fast-focus eyepiece improves acquisition and integrated sunshade reduces glare.
Vortex is known to be an excellent value for money. They back up their workmanship with an outstanding warranty and unbeatable customer service. They are particularly known for the clarity of their optics. The 6-18x44mm V-Brite Matte Black may be slight overkill for a 10/22, but that's better than being under-gunned. Besides, if you're going to pony out money on a scope, it is not unwise to pick one you can foresee using on other guns in the future.
The aircraft-grade aluminum body is treated for a lifetime of waterproof performance. The multi-coated 44mm lens collects a high amount of light, keeping your sight picture very bright. If you plan to use your 10/22 at dusk, at dawn, or in other low-light conditions, you will appreciate this large OL diameter. Vortex boasts of their fast focus eyepiece, allowing quick and easy focusing of the reticle.
Who Will Use This Most
The scope is ideal for hunters and competitive shooters. Along with people who like to utilize the maximum range and power of the 10/22. The scope has been designed to help with concealment, making it suitable for hunting. Plus, the magnification and other features allow the buyer to use it with other rifles as well.
Bottom Line
The Vortex Crossfire II is a durable, versatile and feature-packed rifle scope that exceeds the expectations from a Ruger 10/22 rifle. The scope has been priced perfectly to suit every budget, given its varied application with other rifles. A good choice to kill two birds with one stone.
Vortex scopes are designed to be the highest quality available within their price range. The company backs this up with an excellent warranty and customer service that is a sheer joy to deal with. The Crossfire II boasts very solid construction with shockproof and waterproof features. The turrets are capped and resettable and the scope features a fast focus eyepiece.
The level of magnification offered is a bit high for a 10/22, but if you want to be sure which of the gopher's nostrils you hit, this scope is for you. You may need to check that your scope rings are high enough. These scopes enjoy a very high level of user satisfaction, especially at the price point, with impressive clarity often mentioned as a top selling point.
Pros
Shockproof Construction
Capped and Resettable Turrets
Illuminated V-Brite reticle for low light
Low glare anodized matte finish for concealment
Large objective lens of 44mm for a super-bright image
Very high magnifying power of 6x-18x for long-range visibility
Adjustable objective with parallax setting from 10 yards to infinity
Cons
A bit lengthy for the 10/22
Arguably Over-Powered for a 10/22
6. Simmons .22 Mag TruPlex Reticle (4x32mm)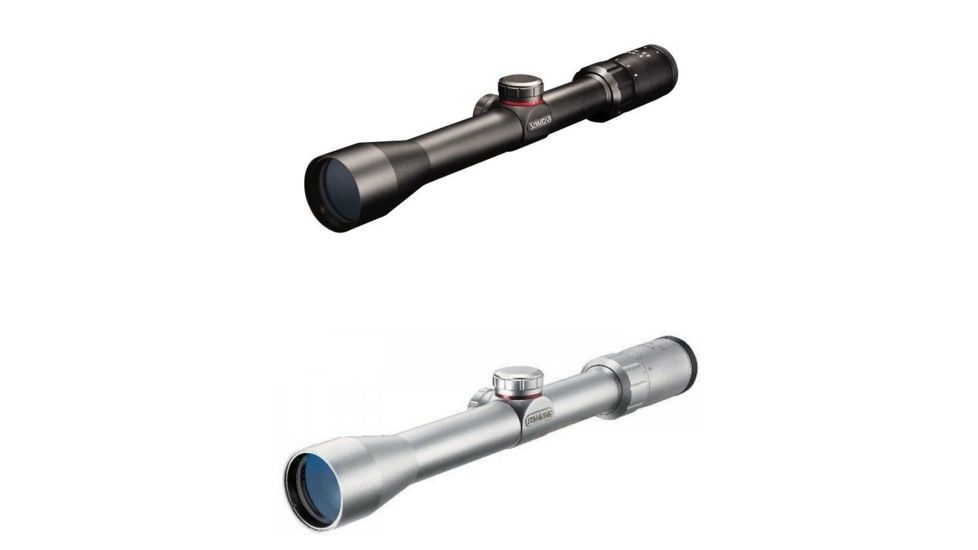 We may earn commission from purchases made from our links, at no additional cost to you
What Recent Buyers Report
Users seem baffled by the performance of this scope. Especially at this price. The scope was reported to hold it's sighting setting even after being bumped, carried around and stored for weeks. Which speaks of its quality. The scope has a clear glass and delivers quick eye-focus rotation too.
Why it Stands Out to Us
This scope is one helluva beast when it comes to construction and sturdiness. Which is eventually its USP. The scope is priced exceptionally low for an optic of its capability. You can beat it with a stick and it'll still function flawlessly. Additionally, the scope is surprisingly clear and sharp.
Most shots with a 22 rifle are made at short range from 50 feet to 50 yards. Dialing up the magnification tends to restrict the field of view at short ranges and can make it difficult to focus. So our first scope will be a fixed 4X.
Who Will Use This Most
Since the scope has fixed magnification, it sums out to be ideal for scouting purposes. Additionally, it can also be used for close to medium range hunting. The fact that it holds it's sighting adjustments even under the worst and bumpy conditions makes it ideal for ranch owners and people who carry their 10/22 a lot.
Bottom Line
The Simmons .22 fixed magnification scope is an unimaginable deal for its price. It has a crystal clear glass and an optimal objective to deliver a bright and clear image. Plus the long eye relief and quick acquisition improve situational awareness.
Pros
Water, fog, shock, and recoil proof scope
Durable and lightweight one-piece tube construction
Quick target acquisition eyepiece with long eye relief
Fixed 4x magnification and 32mm objective for bright image
Large knobs for easy adjustments and comes with mounting rings
The eyepiece offers plenty of eye relief and Simmons' QTA (Quick Target Acquisition) allows the shooter to quickly acquire a sight picture at that moment of truth
The 32mm objective lets in plenty of light for you to acquire an outstanding sight picture and the included scope rings will match up to the groove atop your favorite 10/22 rifle's receiver
Simmons uses their own style of turret caps on this model that allows you to make adjustments to windage and elevation without the use of a coin or screwdriver. Simply grasp the knob and turn it in the direction you wish to move the strike of the round
Cons
Mounts don't fit weaver or Picatinny rails
Absence of magnification limits function
The fixed 4X magnification may be limiting for certain shooters
We only found this model in chrome and while that may look fine on a stainless 10/22, it might look odd on a blued rifle
7. Nikon 6729 ProStaff 4-12 x 40 Black Matte Riflescope (BDC)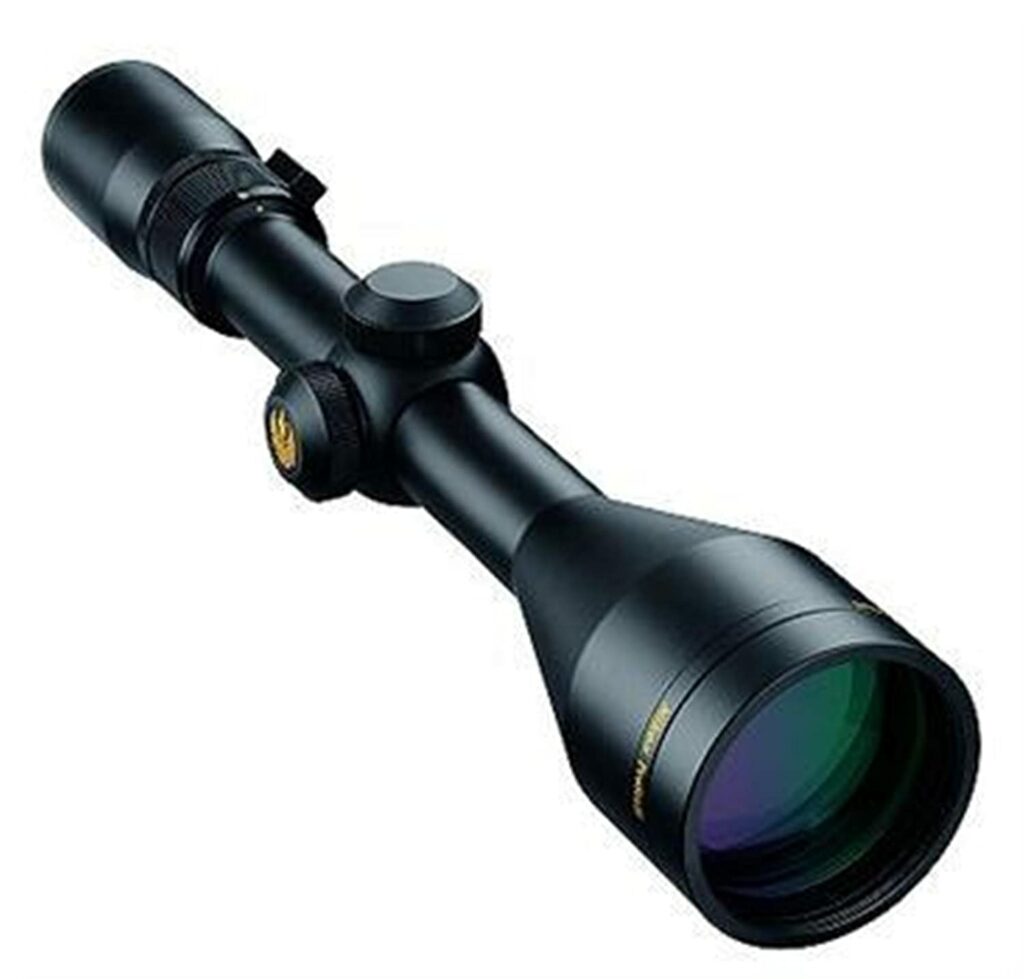 We may earn commission from purchases made from our links, at no additional cost to you
What Recent Buyers Report
This is one of the most commended rifle scopes on the market, with a very negligent amount of negative buyer feedback. The image through the scope is crystal clear and the quick zero reset only adds to the convenience. It is easy to sight-in and functions flawlessly in all conditions.
Why it Stands Out to Us
The scope has a balanced magnifying power. What an average joe is ever going to need. The scope projects super-clear images and retains zero even under all circumstances. It is fully weatherproof and the BDC reticle offers some extra help to the user.
Nikon has a reputation as a global leader, not only in rifle scopes, but in optics in general. Nikon is particularly known to deliver a punch above its weight at a given price point. This ProStaff model features fully multi-coated lenses and a 40mm objective lens. This is more than enough for a 10/22 in most use cases. This large diameter lens will give you a bright sight picture in almost any lighting condition.
The ballistic drop compensating (BDC) reticle allows you to adjust your aim for various distances instantly and without any manual adjustments. The 4-12x magnification is more than ample for a .22 LR rifle, allowing you to knock out the gopher tooth of your choice.
Special features include a quick-focus eyepiece and spring-loaded turrets that instantly return to zero. The build quality is excellent and is fully fog proof and waterproof. Nikon backs its scopes up with a great lifetime warranty covering all quality and manufacturing.
Who Will Use This Most
This scope is for hunters. You can take down your target sitting far beyond with extreme precision. Due to its high magnifying power and bright optics, the scope can be swapped with other rifles as well. Additionally, Nikon's smartphone app is also a good feature for both beginners and pros.
Bottom Line
Nikon's scopes are renowned for their clarity, and this one is no different. The 4x-12x magnification allows you to get the most out of the 10/22 and also couple this scope with other rifles. A great choice for people who like to have some extra technical assistance with shooting.
You can pay a lot more money and not get a scope as good as this Nikon Prostaff. The clarity and brightness are two of the key selling points. The magnification is more than sufficient given the effective range of the .22 LR. Some users don't like the way the BDC reticle is marked, others love it.
It will also take some care when mounting the scope to ensure that the eye relief allows you to instantly gain a sight picture. This is a very well-built scope with excellent features that you will be able to use not only on your 10/22 but on other higher-powered rifles you acquire in the future.
Pros
Lifetime Warranty
Spring-Loaded Instant Zero Turrets
Very Bright Sight Picture With 40mm OL
Compatible with Nikon's smartphone application
Parallax set for 100 yards and 3.7" consistent eye relief
Patented BDC reticle for intuitive long-range estimations
Wide magnification spectrum of 4x-12x for short and long-range
Large 40mm objective and coated lenses for the brightest image
Cons
No parallax control, given its long-range capability
BDC Reticle Marks Use Circles Rather Than Crosses
Some Users Find the Eye Relief to be Too Short at 12x
8. Leupold VX-1 3-9x40mm Scope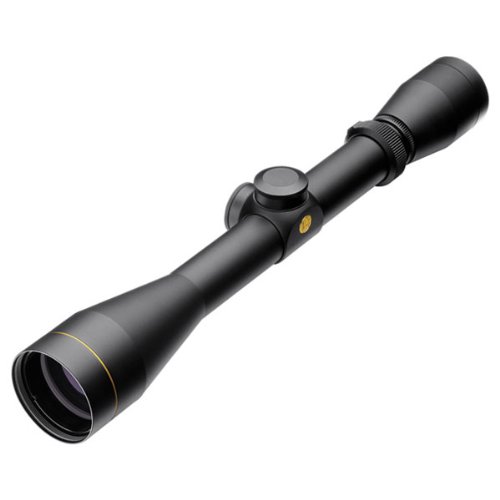 We may earn commission from purchases made from our links, at no additional cost to you
Nothing says made-in-America quality like the golden ring around a Leupold scope. This family-run company has been going for over a hundred years. In that time it has built a solid reputation as some of the best glass that money can buy.
Many of the features of this VX-1 will not surprise. It is built to last a lifetime, with a water and fog proof aluminum body. Lenses are multi-coated and the scope sports a wide 40mm objective lens for a bright sight picture. The 3-9x magnification is well suited to the capabilities of the .22 LR round. The 3:1 zoom ratio is versatile while allowing the scope to remain light and affordable. You have a variety of reticles to choose from, including the Leupold Ballistic Aiming System.
The VX-1 comes with an excellent warranty. The design and manufacture of all components and assembly take place in the USA. This is an American classic that is not only ideal for a Ruger 10/22 but also suitable for use on many high-recoil rifles. It is a scope that will last and that you can proudly hand down to your children.
Bottom Line
This scope is an ideal choice for your 10/22. The magnification range is ideal and the OL is more than necessary for a very bright sight picture even in low light conditions. While it could be tempting to buy this Leupold to show off to your friends, you wouldn't go wrong. This scope offers outstanding build quality and a perfect balance of function and affordability.
Pros
Designed and Manufactured Entirely in the USA
Very Practical 3-9x Magnification Range for the 10/22
40mm OL Providing an Exceptionally Bright Sight Picture
Extremely Well-Built, but Designed at a Sweet Spot of Functionality to Remain Affordable
Cons
Clicks on the Turrets Not Very Crisp
As a 22 rifle may never be a lifesaving piece of equipment or make the difference on an expensive hunting adventure, the majority of shooters will get by with this type of a setup and can safely assume that these are the best 10/22 rifle scopes for the money.
That is small comfort if your goal with your 10/22 is more than just shooting cans at the dump or taking out ground squirrels at 50 feet. Perhaps you are a dedicated shooter looking to improve and purchased a target grade 10/22 rifle similar to your big bore centerfire rifle to save money on ammunition or maybe you want to compete with your 10/22 in a match. Maybe you feel better with a scope that actually lets you see your target and the 1″ objective just does not cut it.
Whatever the reason, you want something more than that groove mounted 1″ flimsy piece with a 2.4X eyepiece that takes 5 minutes to acquire a sight picture. You need not go with a $1000 import from Austria or Germany as some of the best Ruger 10/22 rifle scopes can be had for approximatley $50 shipped to your door.
Benefits of Upgrading to a Scope on Your 10/22
Scopes exist for greater accuracy, especially at longer ranges. Although the .22 LR is not a long range round, a scope will still greatly improve accuracy. If you are shooting competitively or feel that your eyes are getting a bit old for iron sights, a scope is definitely the way to go.
The 10/22 is the most popular rifle for training youth to shoot as well. To gain a well-rounded set of skills it is best to train them on both iron sights and a scope. One great feature of most scopes is magnification, allowing you to better identify your target and place your shot exactly where you want.
A scope with a large objective lens can be easier to aim in low light conditions than other sighting options. If you are hunting game which does not like to stay still, which is pretty much all game, a scope offers faster target acquisition than traditional iron sights.
Features of a Great 10/22 Scope
The Ruger 10/22 is an excellent, light, and inexpensive rifle. It should be paired with a scope that has these same qualities. The 10/22 has no recoil and is a short-range weapon, so build-quality and magnification are not vital in a 10/22 scope.
This greatly helps keep the cost of the scope down. There are two main qualities a 10/22 scope absolutely requires. These are clarity and the ability to hold zero over time. There are also a few other qualities you should watch for when purchasing a great scope for your 10/22
Weight
A lightweight scope can be a big plus if you plan to hike around with it a lot rather than just sit in one place.
Adjustability
An adjustable turret for ranging can help shoot as accurately as possible. Specialized reticles with markings for different ranges are also available as an alternative.
Magnification
Although magnification is not as critical as on larger caliber rifles, it is still nice to have. Focusing a magnified lens quickly is also a very useful skill to teach young shooters that we often buy 10/22s for. Common magnification ranges for .22 LR rifles include 2-7x and 3-9x. Even 1-4x is great for hunting with a .22.
Brightness
The larger the scope's objective lens, the brighter the sight picture will be, but the heavier the scope will be. Objective lens diameters of 20mm or 33mm are sufficient and help keep the weight down. Some people still prefer the larger 40mm or 42mm options for a brighter sight picture.
How to Install a Scope on Your Ruger 1022
The video below will walk you through all of the steps on how to mount and install a new scope:
Conclusion
All of these models are waterproof, fogproof and shockproof (although we would not perform the USMC test of using the scope body to hammer nails into wood and expect it to hold zero!) and the optics are multi coated to reduce glare.
You can still spend more money on making your Ruger 10/22 more accurate, but these five will keep you hitting the target without breaking the bank.