The 300 Blackout cartridge is an increasingly popular one amongst AR-15 enthusiasts. Boasting impressive accuracy at medium ranges and a lot of hard-hitting power, it is no surprise that more and more shooters are building AR-15 rifles to utilize it. When it comes to building an AR-15 in any loadout, the barrel is one of the most important parts to consider. Afterall, it is largely responsible for sending rounds down range with the proper spin.
That being said, it isn't unusual to struggle in choosing the right one. Keep reading to learn more about how to pick a 300 Blackout barrel and to check out the best 300 Blackout barrels available today!
At a Glance: Our Top Picks for Taurus G2C Holsters
Comparison Chart of the Best 300 Blackout Barrels
IMAGE
PRODUCT

Our Top Pick

Ergonomic Profile
Handles High Rate of Fire
Looks Good and Easy to Clean

View Latest Price →
What to Watch For When Buying a Barrel For Your 300 Blackout
There are a few important things to keep an eye out for when shopping for a 300 Blackout barrel. There are a plethora of options available out there and it can be easy to get bogged down in shopping confusion. However, by taking a broader look at what makes a good rifle barrel, it becomes easier to zero on exactly what you need your barrel to have. Considering the caliber's popularity, you won't struggle to learn more. Use the following tips and information as a jumping-off point!
This Section Written By: Brian Belko
Expert Author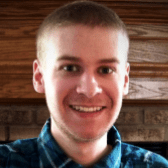 Brian is an experienced freelance writer and technical writer who has previously written for publications such as Wide Open Spaces, Bigfoot Gun Belts, Alien Gear Holsters, and Kampgrounds of America. He brings both a passion for writing and a love of the outdoors to his published content.

Aside from writing and the outdoors, Brian enjoys gardening, being a co-host on The Nostalgia Blast Podcast, and learning to code.
Ballistically Speaking
The 300 Blackout is ballistically similar to the 7.62×39 cartridge. However, unlike the 7.62×39 cartridge, 300 Blackout rounds will fit in a single stack in 5.56mm magazines. This means that the 300 Blackout can provide its advantages in a compact package. In fact, the 300 Blackout can attain the spin to be accurate out of a barrel as short as four and a half inches.
This enables it to be used in a wide variety of platforms and for a wide variety of shooting situations. You can build a 300 Blackout rifle to serve nearly any need except for long range shooting. The 300 Blackout simply isn't effective at ranges surpassing 500 yards and even that is pushing it depending on the target. Keep shots on a game such as deer and hogs closer to the 200-yard range.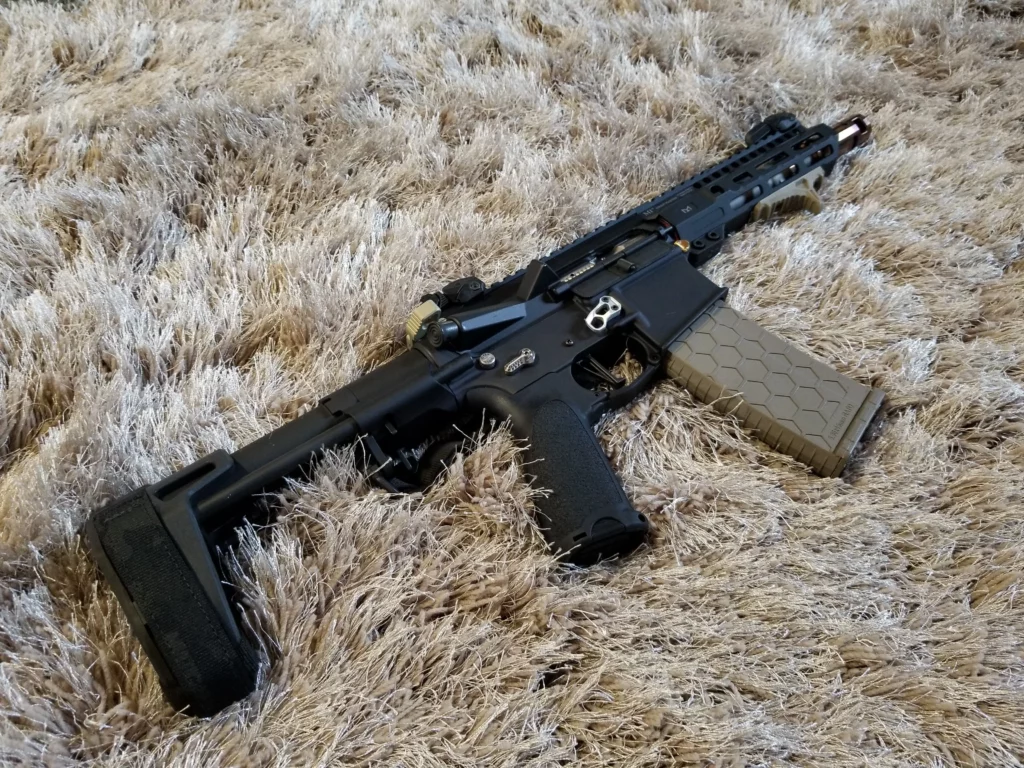 Shh…
Another reason the 300 Blackout is such a popular caliber is that it is very suppressor friendly. As the popularity of suppressed AR-15 rifles increases so does the popularity of the 300 Blackout. One of the main reasons for this is the existence of subsonic 300 Blackout ammo. Subsonic ammo is loaded in such a way as to not break the sound barrier. Combine that with a suppressor and you have an impressively silent rifle. This is ideal for preserving your hearing, eliminating possible noise complaints, and just making for a more pleasant shooting experience.
A Word of Warning
Due to the fact that 300 Blackout ammo is so similar in size to 5.56mm ammo, it is important to remain vigilant that you aren't mixing the two ammo types up. Many 300 Blackout rifle owners also own 5.56mm or .223 caliber AR-15 rifles so mixups could be possible. Feel free to use your 5.56mm magazines between the two rifles, but just make sure to never pull the trigger on a 5.56mm AR-15 with a 300 Blackout round in the chamber!
Review of the Best 300 Blackout Barrels
A 300 Blackout Rifle is a semi-automatic AR-15 rifle, which was obviously not designed for sniping. The rifle features a good mix of range, power, maneuverability, and ammo capacity. However, individual uses of the weapon may vary.
So we compiled a versatile list of the best 300 Blackout barrels on the market, to help you find an appropriate piece for your rifle. All the aspects mentioned before have been taken care of while choosing these barrels.
Faxon Firearms – AR-15 BARRELS 300 Blackout Gunner Profile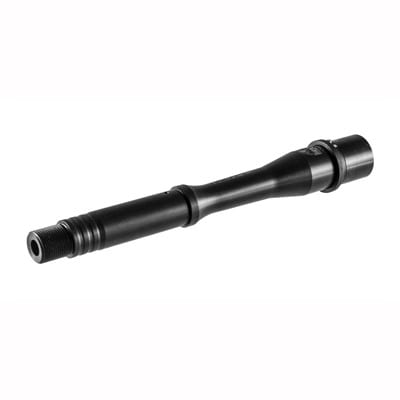 We may earn commission from purchases made from our links, at no additional cost to you
Review
These barrels from Faxon Firearms feature a unique "gunner" profile, which offers the right mixture of weight, ergonomics and heat dissipation. They have a slight pencil profile before the gas block to keep weight down and preserve the ease of handling, whereas the part behind the gas block has more material to withstand extreme heat during successive firing or shots.
They are available in three different lengths. The 7.5 and 10.5-inch barrels feature a pistol-length gas system, whereas the 16-inch model features a carbine-length gas system. The Black QPQ Nitride finish with NP3-coated barrel extension extends the barrel life and improves the ease of cleaning.
The gunner profile is ideal for quick maneuverability and rapid firing. The muzzle has been threaded with ⅝-24 threads to accept various muzzle devices. These barrels feature the latest 5R rifling, which also improves the overall accuracy of the weapon.
Bottom Line
The gunner profile of Faxon barrels makes them ideal for tactical applications and strenuous tracking and hunting in the woods. They are aesthetically pleasing and easy to maintain.
Pros
Gunner Profile
QPQ Nitride Coated
Quick and Easy to Maneuver
NP3 Coated Barrel Extension
Can Withstand Heavy Rate of Fire
Cons
Might Require Fitting
2. Brownells – B-TAC AR-15/M16 300 Blackout Rifle & Pistol Barrels
We may earn commission from purchases made from our links, at no additional cost to you
Review
This product is a 10.5-inch barrel with the pistol gas system. The barrel features a heavy profile and is apt for continuous shooting. The 1:8 twist rate is ideal for 300 Blackout loads between 115 to 165 grains. The barrels feature a SOCOM contour and have been manufactured from 4150 V steel.
These are ideal for hunting, competitions, and practice. The nitride finish improves the service life of this barrel and allows for easier cleaning. It has exceptionally good headspace when mounted on the rifle. This product works with many AR-15 platforms and offers good value for money, considering its quality and performance.
These heavy profile barrels are a good option for almost every 300 Blackout application, without breaking the bank.
Bottom Line
The heavy barrels are good for shooting both supersonic and subsonic loads at close range. They are good for hunting, competition, self-defense, and practice.
Pros
Nitride Finish
Easy to Install
Aesthetically Pleasing
Works With Many Guns
Works Flawlessly Even Under Intense Shooting
3. BSF 16″ 300 Blackout Pistol Gas 1:8 Twist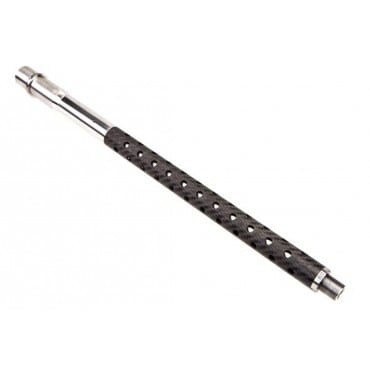 We may earn commission from purchases made from our links, at no additional cost to you
Review
This 300 Blackout Barrel from BSF features a length of 16 inches and a durable body made up from 416R stainless steel. Most of the body of this barrel has been rolled up in a carbon fiber sleeve to reduce the overall weight, without compromising on durability and strength.
The carbon fiber sleeve covers the most part of this barrel and includes holes for ventilation. These holes dissipate heat quickly, thus allowing you to take quicker follow up shots without compromising on accuracy. The barrel has been rifled with the latest 5R button rifling technology and features a 1:8 twist rate, which offers a great compromise between a wide range of applications.
The 16-inch length of the barrel is ideal for short range hunting, competitions, and practice. Similarly, the pistol-length gas tube has also been found to be the most appropriate gas system length for 300 Blk caliber. The muzzle has been threaded with 5/8×24 threads, which allows you to mount muzzle devices.
The barrel weighs 23.6 oz, which is a substantial difference when compared with similar profile barrels.
Bottom Line
The BSF barrel is an impeccable mix of strength and weight. The barrel is ideal for hunting, competitions, and practice.
Pros
5R Button Rifling
Optimal Twist Rate
Carbon Fiber Sleeve
Durable Construction
Aesthetically Pleasing
Cons
Price (May Be Spendy For Some)
4. PSA 10.5″ CHF 300 AAC Blackout 1:8 Pistol Gas Barrel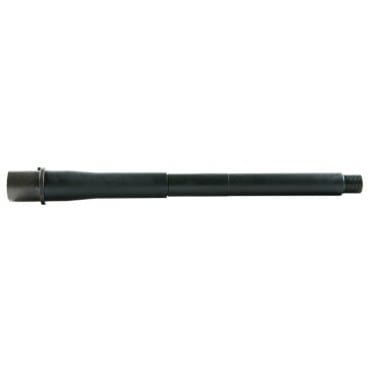 We may earn commission from purchases made from our links, at no additional cost to you
Review
Looking for a short pistol-length barrel? This is your answer. This barrel has been hammer forged from Chrome Moly Vanadium Steel and has been chrome-lined on the inside for longer service life. The military uses chrome-lined barrels for the same purpose.
The barrel has a length of 10.5 inches and a pistol-length gas system. The barrel has been contoured for optimized heat management while you spur out consecutive shots in quick succession. The 1:8 twist rate of the barrel is optimal for stabilizing projectiles of different weights and speeds.
The chamber has been heat pressure tested and magnetic particle inspected for any flaws in the construction. The barrel is mil-spec phosphate-coated to ensure the finish doesn't get damaged over time. It is fully furnished and ready to install.
The design and profile of the barrel make it ideal for short range hunting and tactical applications. This is a heavy profile barrel, however, the length does reduce the weight by a considerable amount.
Bottom Line
The 10.5" short barrel has a heavy profile and can be used for short range hunting and tactical applications. The barrel shows optimal heat dissipation and has been designed and tested to military specifications.
Pros
HPT and MPI
Chrome-Lined on the Inside
Mil-Spec Phosphate-Coated
Extremely Durable Construction
Heavy Profile Short-Length Barrel
Optimized for Better Heat Management
5. Brownells – 16″ 300 Blackout Barrel & Carbine Gas System Kit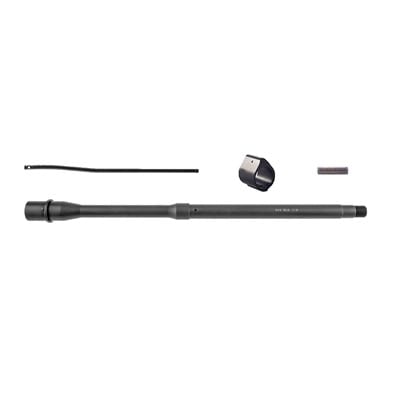 We may earn commission from purchases made from our links, at no additional cost to you
Review
This one is a combination of a barrel and a gas system kit, available at an exceptionally economical price. The barrel has been manufactured from 4150 steel and features a nitride finish for exceptional hardness and easy cleaning. The barrel is 16 inches in length and features a 1:8 twist for versatile use.
It also has a carbine-length gas system, so the projectile gets an extra push for velocity. The package includes a .750 inch low profile gas block, carbine gas tube, and a roll pin. The steel gas block allows you to build a custom rifle depending upon your requirements. The kit is available in clamp-on and slide-on models.
The low profile of these barrels allows them to be easily concealed under a free-float handguard, for a clean, streamlined look and more gripping surface. This product has a slim profile and is ideal for varmint hunting. The muzzle end is threaded with ⅝-24 threads to let you mount muzzle devices.
This combination of the barrel and gas system kit is ideal for setting up a customized 300 Blackout rifle, at an amazing price.
Bottom Line
This combination kit is durable, fairly priced, and allows you to customize your existing gas system. Plus, the value for money being delivered is amazing.
Pros
Low Profile
SOCOM Contour
Includes Barrel and Gas System
More Durable than Standard Gas Tubes
Corrosion-Resistant Black Nitride Finish
Cons
Kit Doesn't Include Instructions
Barrel Length 101
The very basic and first thing most people seem to be concerned in regards to the barrel is its length. This is obviously an important and eventually a decisive factor for choosing a barrel. The factors which are directly affected by the barrel length include velocity, accuracy, maneuverability, noise, and recoil.
Design
A longer barrel has more rifling grooves, which offer more surface area for the bullet to spin (also known as twist rate). This, in turn, stabilizes the bullet and ensures it retains its ballistic properties over long ranges.
Sighting
Plus, a longer barrel also has a longer sighting plane, (distance between the front and rear sight) which improves aiming, and thus, the accuracy.
Velocity
The next factor is velocity. A longer barrel has more space for the powder to burn and the gases to expand. This creates more force and propels the bullet at a faster velocity, consequently increasing its range.
Barrel Velocity (Source)
Noise and Recoil
Longer barrels also tend to be quieter and have less recoil (not very substantial difference) for the same reason.
Accuracy
Shooting a buck beyond 250 yards requires a longer barrel. However, shooting small game at close ranges can be done accurately with shorter barrels.
Maneuverability
The length of your barrel must also depend upon your intended use. Longer barrels are good for long range shooting, but they are not very good for CQB and similar applications due to their obstructive size.
How to Choose a 300 Blackout Barrel
Before you choose a barrel for your 300 Blackouts, you must consider certain factors. A right combination of these factors in your barrel will depend upon your intended use of the rifle. These factors include material, length, rifling, twist, contour, and profile(weight).
Materials
Starting with materials, barrels these days are available in a wide variety of builds, ranging from blued steel to alloy composites and carbon fiber. The more sophisticated a metal is, the better will be the barrel. However, your budget also plays an important role here, since composites tend to be costlier.
Length
The next element to consider is the length, which we have already discussed above.
Twist
Furthermore, the twist rate (rotation: length traveled in inches) of the barrel is important. Barrels with lower twist rates tend to produce more accurate shots in general and are good for supersonic ammunition and long-range shots.
Contour and Profile
The contour and the profile of the barrel also play an important role. Heavier barrels are more stable, cool quickly, and good for quick and accurate follow-up shots. However, they tend to be heavy. Lighter barrels are good for hunting and slow rate of fire. A very good mix between these two types is a carbon fiber barrel and a fluted contour barrel.
Conclusion
The 300 Blackout is an excellent mix of power, ballistics, and range. All of these qualities can be harnessed using the right barrel. The length directly affects the velocity of the projectile, accuracy, noise, and recoil of a weapon. While searching for a good 300 Blackout barrel, you must consider features such as material, contour, profile, length, gas system length, weight, and twist rate into consideration.