Choosing a muzzle brake for a 300 Blackout rifle is an important decision for any shooter who wants to add one to their rifle. It can also be a tricky decision as there are a lot of different options, styles, and models to pick from.
The main goal of a muzzle brake is to reduce recoil and control muzzle rise. However, some help achieve those goals better than others. There is also the matter of aesthetics to consider as improving the overall look of your rifle is a secondary goal of a muzzle brake.
Finding the right blend between performance, design, and quality can be tricky to do, but it is possible. Keep reading to gather some more information and to see the best 300 Blackout muzzle brakes available for purchase today!
At a Glance: Our Top Picks for Muzzle Brakes For 300 Blackout
Comparison of the Best 300 Blackout Muzzle Brakes
IMAGE
PRODUCT

Our Top Pick

Thread-On Design Includes a New Crush Washer for a Secure Hold
Two Large Chambers Provide Excellent Recoil and Muzzle Rise Reduction
Phosphate Finished Tool-Steel Construction Will Last Longer Than a Lifetime

View Latest Price →

Backed By an Outstanding 'Guaranteed Forever' Warranty
Very Effective Reduction of Muzzle Rise Making Follow-Up Shots Easy
Available in Four Finishes, Polished Blue, Matte Blue, Stainless or Silver

View Latest Price →

Precision CNC Machined for the Best Tolerances and Accuracy
Stainless Steel Gives You Outstanding Resistance to Heat and Corrosion
Eliminates Recoil, Muzzle Rise and Ground Disturbance Without Reducing Accuracy

View Latest Price →

Like all Silencerco Products, Proudly Made in the USA
The proven three baffle design gives you excellent recoil reduction
Silencerco's ASR System Lets You Easily Switch Out Your Muzzle Device

View Latest Price →
What to Watch For When Buying a Muzzle Brake
There are a few important things to look out for when shopping for a muzzle brake. There are unfortunately a lot of poorly manufactured options flooding the market and the last thing you want to do is wind up with a cheap or underperforming muzzle brake when you finally hit the range to test it out. While the 300 Blackout isn't a round that produces too much recoil, a muzzle brake can still make it even more pleasurable to shoot.
The following tips and information should provide you with a good base of knowledge to begin your 300 Blackout muzzle brake shopping experience.
This Section Written By: Brian Belko
Expert Author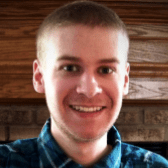 Brian is an experienced freelance writer and technical writer who has previously written for publications such as Wide Open Spaces, Bigfoot Gun Belts, Alien Gear Holsters, and Kampgrounds of America. He brings both a passion for writing and a love of the outdoors to his published content.

Aside from writing and the outdoors, Brian enjoys gardening, being a co-host on The Nostalgia Blast Podcast, and learning to code.
A Worthy Addition
Although not as hard-hitting as some other centerfire AR-15 calibers, the 300 Blackout can still benefit from the addition of a muzzle brake. Outside of helping to reduce recoil and muzzle rise, many muzzle brakes can also serve as suppressor mounts. The 300 Blackout is an excellent caliber to use a suppressor with, so even if adding a suppressor isn't in your immediate plans, having a muzzle brake that doubles as a suppressor mount will make things easier down the line.
Installation Inquiry
One important thing to make sure you pay attention to before deciding on any specific muzzle brake is the installation process it requires to be properly mounted. Some muzzle brakes can be easily installed by any rifle owner on their own, but some models or styles may require or benefit from a gunsmith installing them. This is worth mentioning because it can easily be overlooked when other features stand out and it is always annoying to wind up with an installation method you weren't prepared for.
Downsides in Mind
Muzzle brakes are not all sunshine and roses. There are a couple of downsides that are important to keep in mind when adding one to a 300 Blackout rifle. This isn't to say they are major deal breakers for the majority of 300 Blackout owners. However, they could affect some rifle owners and shouldn't be forgotten.
One of the downsides of a muzzle brake is that it can make the report of a fired shot to be louder. This isn't a huge deal for a shooter wearing the proper hearing protection but is worth noting. The other thing that muzzle brakes tend to do is make the flame of a shot exiting the muzzle to be much larger and brighter. If you only shoot during the day, this isn't a big deal either but is something that nighttime operators will want to be informed of.
Review of the Best 300 Blackout Muzzle Brakes
With so many options on the market, it can be hard to choose the best muzzle brake for your 300 Blackout rifle. Follow our guide for the best options available today.
Midwest Industries .30 Caliber Two Chamber Muzzle Brake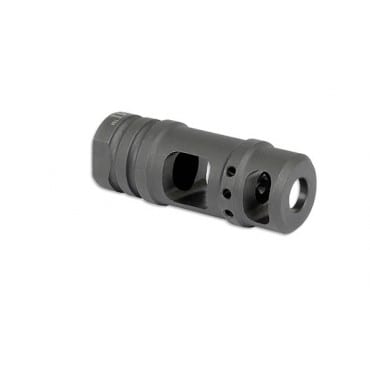 We may earn commission from purchases made from our links, at no additional cost to you
Midwest Industries is a proud Wisconsin company. They produce everything from complete modern sporting rifles to advanced handguards and AR iron sights. This is a classic two chamber, or baffle, muzzle brake.
The large chambers are designed to reduce muzzle climb as well as felt recoil. This is an incredibly rugged and bombproof item, as it is made out of extra hard tool steel. The steel is finished with a protective phosphate finish.
Given its extra rugged design, this brake will last several lifetimes. This is a thread-on type, giving you the easiest possible installation without requiring the services of a gunsmith. Note that the thread size is 5/8 x 24.
This comes with a newly-designed crush washer for a more secure hold. As added benefits, this product is completely designed and manufactured right here in the U.S.A. and is covered by a lifetime warranty. This is a great option for reducing the felt recoil and muzzle rise on any .30 caliber firearm.
Bottom Line
This muzzle brake is about as durable and long-lasting as is humanly possible to make. The top benefits are the effective design and the included crush washer. This is a great option if you want a solid, easy-to-install product.
Pros
Two Large Chambers Give You a Great Reduction in Recoil and Muzzle Rise
The Phosphate Finished Tool-Steel Design is as Long-Lasting and Reliable as Possible
Thread-On Muzzle Brake Comes With a Newly Designed Crush Washer for a More Reliable Hold
Cons
Thread-On Fixture Does Not Provide the Most Reliable Hold
Best for 300 Blackout Pistol
Gentry Custom LLC – Quiet Muzzle Brake 30 Caliber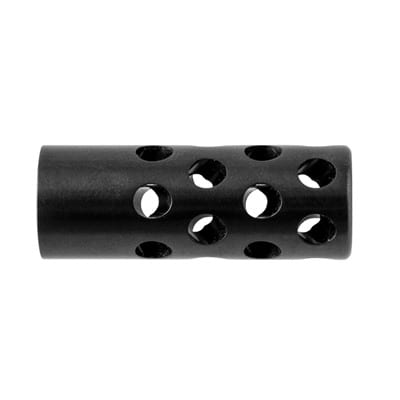 We may earn commission from purchases made from our links, at no additional cost to you
A muzzle brake can be a vital component for stabilizing a firearm that has no buttstock. This is a light, compact muzzle brake that matches the contours of an AR pistol.
Gentry Custom is a family company operating out of Montana. They are particularly notable for their excellent 'guaranteed forever' warranty. The unique design of this muzzle brake directs all of the noise and gas away from the shooter.
It is capable of reducing recoil by about eighty-five percent without affecting the velocity or accuracy of your shots. Muzzle rise is reduced enough so that many shooters are able to see the impact of their shot through their scope.
These are available in a wide variety of finishes, including polished blued steel, matte blued steel, silver steel, and stainless steel. They are available in two threading options, 5/8 x 24 and 1/2 x 28. These are great products that work well with most AR pistols, but results in noise reduction and accuracy may vary.
Bottom Line
If you are building a custom AR pistol, a muzzle brake is practically a must-have. This offering from Gentry Custom looks natural on a pistol and does a great job of cutting down muzzle rise. One of the features of this muzzle brake is the variety of finishes it comes in, it is sure to match your gun.
Pros
Extra Effective Control of Muzzle Rise Gives You Easier Follow-Up Shots
Covered by Gentry Custom's Industry-Leading 'Guaranteed Forever' Warranty
Comes in Four Different Finishes, Polished Blue, Matte Blue, Stainless, or Silver
Cons
Blast Noise is Still Very Loud
May Impact Accuracy on Some Firearms
Best for AR-15 300 Blackout
Precision Armament – AR .308 M11 Muzzle Brake 30 Caliber
We may earn commission from purchases made from our links, at no additional cost to you
Precision Armament runs a state-of-the-art CNC machining facility in Wellsville, New York. The company specializes in top-quality tactical firearm accessories. All of Precision Armament's products are covered by a full lifetime guarantee.
This muzzle brake has the classic look of the muzzle brake on an old tank. This is not by accident as the large baffles offer excellent performance. There is one rear symmetrical blast baffle with two forward compensator baffles. The baffles redirect gas upwards and to the sides for both outstanding reduction in both recoil and muzzle rise.
It also eliminates ground disturbance. The manufacturing process features a few innovative, high-end techniques. The bore and threading are machined in the same process to provide perfect concentricity. The tapered baffle thickness minimizes any disturbance to the bullet's flight path.
Computer modeling has been used to guarantee the best strength to weight ratio and impact resistance. Each brake is CNC machined from HTSR 400-series stainless steel. They come finished in your choice of diamond-like carbon matte black, bright stainless, or matte stainless.
Bottom Line
The design and engineering that went into this muzzle brake is nothing short of astounding. The careful shaping and ultra-accurate CNC machining are some of its best qualities. The full lifetime guarantee doesn't hurt either.
Pros
CNC Machined for the Most Accurate Tolerances and Uniformity
Easy to Mount with its Thread-On Design and Flat Sides for Use With a Wrench
Stainless Steel Construction Gives You the Best Resistance to Heat and Corrosion
Mitigates Recoil, Muzzle Rise and Ground Disturbance Without Affecting Accuracy
Cons
Noise Reduction May Be Insufficient on Some Firearms
Silencerco – AR-15/AR 308 ASR Muzzle Brake 30 Caliber
We may earn commission from purchases made from our links, at no additional cost to you
Silencerco is a Utah company that started out in 2008. As the name suggests, they specialize in muzzle devices. This muzzle brake has three symmetrical baffles and is available in multiple threading options. The proven design effectively cuts felt recoil and muzzle rise.
Silencerco uses a unique, proprietary mounting system, the ASR (active spring retention) mount. This gives you an easy way to remove or switch out your muzzle brake for another muzzle device like a silencer. Note, however, that the ASR comes in three sizes, alpha, bravo, and charlie.
The choice of size can affect which other Silencerco muzzle devices you can switch your muzzle brake out for. The beauty of the ASR system is that it gives you one hand on, one hand off attachment and detachment of the muzzle devices of your choice.
This model comes complete with a shim set and rockset for easy, straightforward mounting. All Silencerco products are made entirely in the U.S.A. Thanks to the ASR mounting system, these muzzle breaks not only give you great recoil reduction, but also incredible versatility.
Bottom Line
The main advantage of this muzzle brake is the versatility it offers. Being able to switch it out with one hand for a silencer or flash suppressor can be really handy for tactical work. Figuring out which ASR mounts and which other Silencerco components work together can be slightly confusing, but it is worth it.
Pros
Like all Silencerco Products, This Muzzle Brake is Made in the U.S.A.
The Battle-Tested Three Baffle Configuration Gives You Great Recoil Reduction
Silencerco's Proprietary ASR Mounting System Allows You to Switch Out Your Muzzle Device With One Hand
Cons
Not the Cheapest Option Out There
5. VG6 Precision – AR-15 Gamma 300BLK Muzzle Brake
We may earn commission from purchases made from our links, at no additional cost to you
VG6 Precision only started in 2013 but they have already become known for top-quality muzzle devices. The Gamma features a high-performance design for the total elimination of recoil.
It is a hybrid muzzle device that both eliminates recoil and minimizes muzzle rise. This will allow you to shoot as accurately as possible and give you confidence in the abilities of yourself and your firearm.
Construction involves cutting-edge engineering techniques such as computational fluid dynamics and computer-aided engineering. The Gamma is completely machined from heat-treated stainless steel using precision CNC technology.
It is completely manufactured in the U.S.A. It is also designed for maximum versatility. It is designed to be used with barrels between ten-and-a-half and eighteen-and-a-half inches long but will work great with other barrel lengths too.
It fits 5/8 x 24 threading and comes with a crush washer. It comes in black nitride or grey-silver, bead-blasted stainless steel. This is a great product that is both effective and looks really cool.
Bottom Line
The Gamma is an extremely well designed and well-constructed muzzle brake. Its best features are the effective design and the ease of installation. The choice of color and the fact that it is made in the U.S.A .are nice too.
Pros
Easy to Install By Threading Onto Your Barrel and Using the Included Crush Washer
Will Aesthetically Match Your Rifle in Either Black Nitride or Grey-Silver Bead-Blasted
The Cutting-Edge Engineering and Manufacturing Processes Give You a State-of-the-Art Product
Cons
Thread-On Muzzle Devices Do Not Provide the Most Secure Fit
6. VAIS – Muzzle Brake 30 Caliber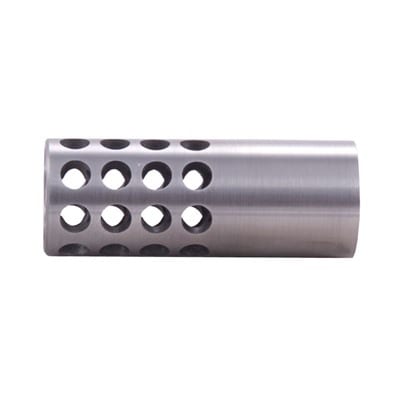 We may earn commission from purchases made from our links, at no additional cost to you
Vais Arms is a small company from Texas that specializes in muzzle brakes. They may be small but they aren't messing around, these are high-quality, handmade items.
This .30 caliber model has a deceptively simple design. A thick, symmetrical matrix of round vents provides three functions. First, it limits the amount of muzzle blast. Second, it reduces the muzzle rise. The third function, recoil control, is greatly enhanced by the network of venturi expansion chambers hidden within the muzzle brake. These venturi chambers disperse and redirect gases for the best in recoil control and blast reduction.
The surprisingly complex design includes holes that are both horizontal and perpendicular to the bore. These holes help to disperse the gases and noise equally around all sides.
This item is available in both a manganese phosphate Parkerized steel and 416 stainless steel with a matte finish. These have a classic style that conceals a surprisingly complex design. The thread-on design is not the utmost in reliability, but it is easy to install.
Bottom Line
This is a deceptively well-designed and intricate muzzle brake made in the U.S.A. by a small Texan company. Its top features are the effectiveness of its venturi chambers and the choice of finish. This is an excellent choice.
Pros
The Thread-On Design is Fast and Easy to Attach and Remove
Comes in Two Finishes, Parkerized Steel or Matte Stainless Steel
The Intricate Network of Internal Chambers Disperses Gases and Blast Noise to Eliminate Felt Recoil
Cons
This Thread-On Muzzle Brake Comes With a Non-Standard Thread Pitch
What is a Muzzle Brake and What is it Used For?
Muzzle brakes are objects that thread onto the end of your barrel and redirect the propellant gases from each shot. This serves two purposes. First, it reduces the felt recoil. Second, they can be designed to reduce muzzle rise.
Both of these features make it easier to make follow-up shots and increases the shooter's comfort, control, and accuracy. Muzzle brakes can reduce recoil by anywhere from ten to fifty percent. Their effectiveness relies on various factors such as caliber, design, and how far the barrel profile is raised above the stock.
Muzzle Brake Design 101
Muzzle brakes were originally used on artillery pieces such as anti-tank guns, where recoil can create serious logistical problems. When they appear on rifles or carbines, they come in a number of designs.
Scoop
One of the classic designs is the simple scoop found on the end of an AKM rifle. This helps mitigate the AK's pesky and incessant muzzle rise.
Venting
Integrated venting or porting is also quite common, with a number of upward facing drill holes for gas to escape and push the muzzle down.
Attachment
Most muzzle brakes thread onto the end of the barrel. Others are pinned, clamped, or twisted on.
Recoil Reduction
However it attaches to the barrel, each features a unique arrangement of slots or vents to provide the anti-recoil effects.
Devices that are designed only to reduce muzzle rise but not recoil are often called compensators.
How to Choose a Muzzle Brake For Your 300 Blackout
Below are the main qualities to look for in a new muzzle brake:
Method of Attachment
The main issue in choosing a muzzle brake is the method of attachment. Some can only be installed by a gunsmith. Some simply thread or twist on.
The best option, however, is the type that is pinned to your barrel. This gives you the most secure fixture to your barrel. Clamp-on muzzle brakes are another decent option.
Size and Weight
Besides the attachment method, it is important to get one that is an appropriate size and weight for your caliber and rifle. The extra weight at the end of the barrel will change the handling and balance of the rifle. The change in balance alone can affect accuracy.
Flash Suppression and Venting
Some muzzle brakes include flash suppression features. The baffles and vents can be arranged to reduce the muzzle blast so that you don't give away your position. Many have no vents on the bottom. This prevents them from blowing up dust and reducing your visibility.
Conclusion
The 300 AAC Blackout round is a great urban tactical option. With the right muzzle brake, you'll be able to stay on target far better. No matter what your budget is, our list has the perfect muzzle brake for you.