The process of finding the right rifle scope can be very overwhelming. With so many different brands, magnification levels, features, and styles, it can feel nearly impossible to find the ideal option. The best scope option will also vary greatly depending on the type of rifle it is being mounted on.
For example, an excellent scope for a .223 rifle won't be a great choice for a 7mm Rem Mag rifle. However, with some knowledge and patience, the right scope can be found even for a hard-hitting round like the 7mm Remington Magnum.
Keep reading to learn more and to see the best 7mm Rem Mag scopes available on the market today!
At a Glance: Our Top Picks for Scopes for 7mm Rem Mag
Comparison of the Best 7mm Rem Mag Scopes
IMAGE
PRODUCT

Clear Optics
Fast Focus Eyepiece
Long Range Shooting

View Latest Price →

Value for Money
Good For Hunting
Best Low Light Scope

View Latest Price →

Best Budget Option

Extra Value for Money
Extra Accessories Included
FFP Scope With Rangefinder Illuminated Reticle

View Latest Price →
What to Watch For When Buying a Scope for a 7mm Rem Mag Rifle
Matching a scope's features and capabilities to the type of rifle it is being considered for is an extremely important part of the scope buying process. The 7mm Remington Magnum is a hard-hitting round that requires a robust scope that can stay on target even through punishing recoil.
In other words, durability is one key thing to pay a lot of attention to when buying a 7mm Rem Mag scope. Scope manufacturers make a lot of bold claims about the type of conditions and punishment that a scope can handle. For this reason, it is best to stick with well-known brands and just ignore the plethora of no-name brands even if their prices are enticing. Use the following tips and information below to help yourself make an even more informed 7mm Rem Mag scope buying decision.
This Section Written By: Brian Belko
Expert Author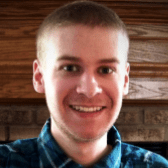 Brian is an experienced freelance writer and technical writer who has previously written for publications such as Wide Open Spaces, Bigfoot Gun Belts, Alien Gear Holsters, and Kampgrounds of America. He brings both a passion for writing and a love of the outdoors to his published content.

Aside from writing and the outdoors, Brian enjoys gardening, being a co-host on The Nostalgia Blast Podcast, and learning to code.
Reticle Madness
Once you start shopping for a rifle scope, it doesn't take long to be overwhelmed by the sheer number of different reticles out there. It seems like every manufacturer has their own proprietary reticle system that they tout as being the best. Then there are the overly complex reticles that look like something out of math class.
While you should definitely go with whatever reticle appeals to you most, don't get swept up in the marketing speak about how great each reticle is. Consider what you want to accomplish with your rifle and choose a reticle that aligns well with those goals. For example, if you plan to hunt in low light conditions, an illuminated reticle would be ideal. In other words, don't let the reticle dictate what you can do with your rifle.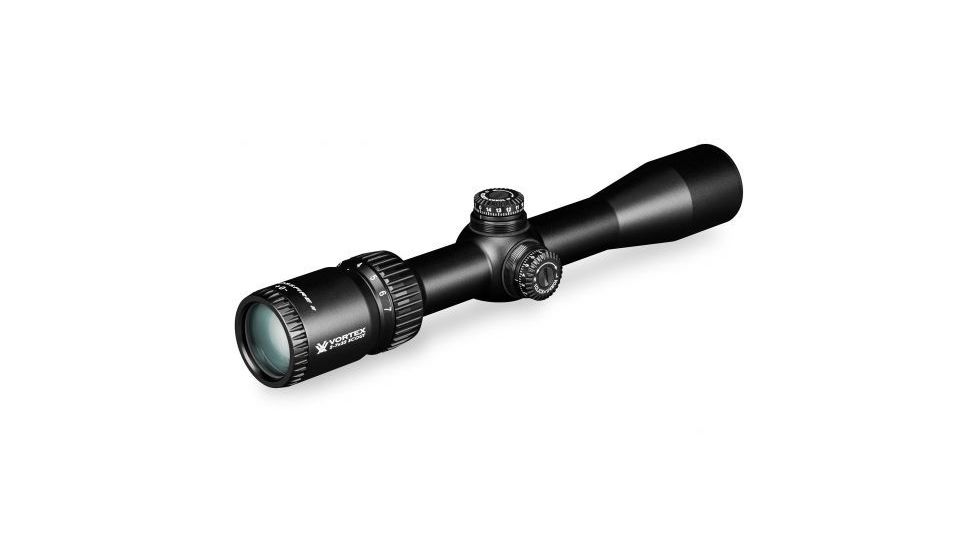 Zooming In
Magnification level is another important factor to consider when in the market for a 7mm Rem Mag scope. It can be tempting to go with a scope that has a huge magnification level. However, too much magnification can be a detriment to accurate shooting especially if you are typically shooting within a few hundred yards. Be realistic about your typical shooting distances when deciding on magnification levels.
Budget Breakdown
High-end rifle scopes can often carry obscene prices. However, outside of serious operators and competition shooters, those super high-end scopes aren't necessary. You can easily find a 7mm Rem Mag scope that will admirably fulfill your needs without breaking the bank. There are a wide range of mid-level scopes that will offer years and years of excellent performance for a price that is much easier to swallow.
Review of the Best 7mm Rem Mag Scopes
Taking the above mentioned aspects into consideration, we have compiled a list of the best scopes for 7mm Rem Magnum rifles on the market. All these scopes possess the needed features to support the ballistics of a 7mm Rem Magnum round, which will improve your overall accuracy and performance.
Best Overall and Best Long Range Scope
Vortex Optics Crossfire II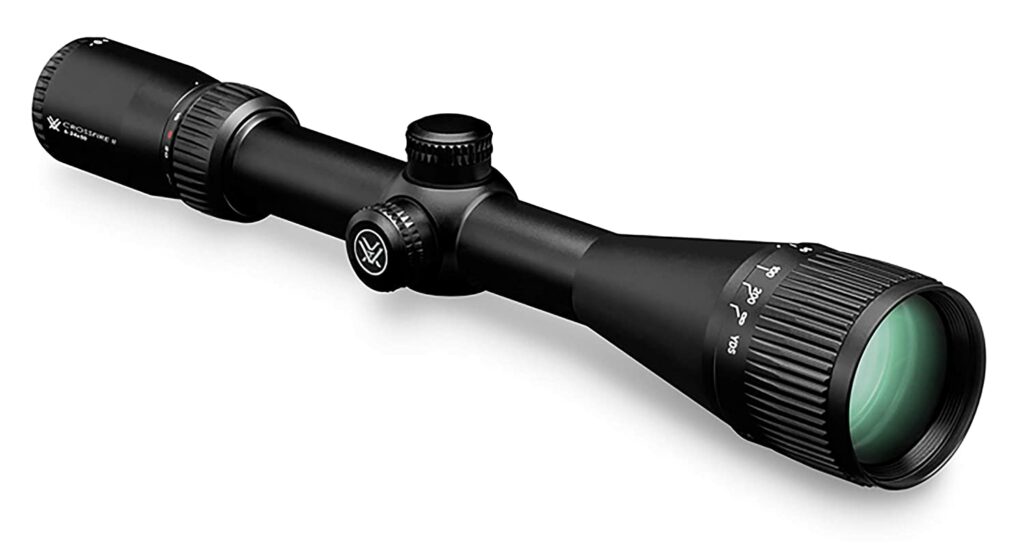 We may earn commission from purchases made from our links, at no additional cost to you
Coming to the right use of a 7mm Rem Mag cartridge, we have also included a long range scope in our list. The Vortex Crossfire is an exceptional scope for long range shooting. The scope has a variable magnification of 6x-24x, which lets you take shots well beyond 1000 yards.
Plus, the scope has a large objective lens of 50mm, which lets in enough light to project a clear image of the target. The adjustable objective allows you to adjust the parallax pertaining to the distance, which is definitely a plus. The single piece tube has been made from aircraft grade aluminum, which is both durable and lightweight.
Additionally, the scope tube is O-ring sealed and nitrogen purged to make the scope waterproof and shockproof. The turrets are capped and provide audible click adjustments for windage and elevation, and they can be easily reset to zero after sighting in. The fast focus eyepiece allows easy sighting in so you can take quick and clear shots.
The dead hold BDC reticle allows you to shoot targets at varying ranges. Even being so feature packed, the Vortex Optics Crossfire II is available at a very affordable price.
Bottom Line
The Vortex Crossfire II is a long range scope with exceptionally clear optics and adjustable parallax. The dead hold BDC reticle help with distant shooting with accuracy.
Pros
High Magnification
Adjustable Parallax
Hold Zero Very Well
Large Objective and Clear Projection
Bushnell Banner Dusk & Dawn
We may earn commission from purchases made from our links, at no additional cost to you
The Banner dusk and dawn scope from Bushnell is an ideal scope for using with 7mm rifles, especially for hunting. The scope is available in a couple of different variations for magnification and objective size (4-12x and 6-18x/ 40mm and 50mm). However, we'll focus upon the 4x-12x variant. As the name suggests, the scope has been designed to suit low light conditions, such as dusk and dawn.
The fully multi-coated lenses of the scope are responsible for clear and crisp images delivered by the scope under such conditions. The scope features a durable aluminum body, which has been O-ring sealed to resist water and fog. It can be easily adjusted for windage and elevation with bare hands. It has a generous eye relief of 3.3 inches which lets you handle the recoil of a 7mm Rem Magnum rifle.
The scope is adjustable for parallax and has a duplex reticle which is apt for hunting game in a bushy or distorted background. The scope is ideal for hunting deer and hogs since the quick target acquisition lets you track and hit fast moving targets with ease. Furthermore, game like coyotes that are smart enough to lurk in low light can also be easily shot with its clear sighting apparatus.
Bottom Line
The Bushnell Banner Dawn and Dusk scope is a low profile accessory which is ideal for hunting in low light conditions. The scope is quite affordable and delivers a clear image at all magnifications.
Pros
Low Price
Low Profile Slim Design
Clear at All Magnification Levels
Impeccable Dawn and Dusk Clarity
Monstrum Tactical 6-24×50 G2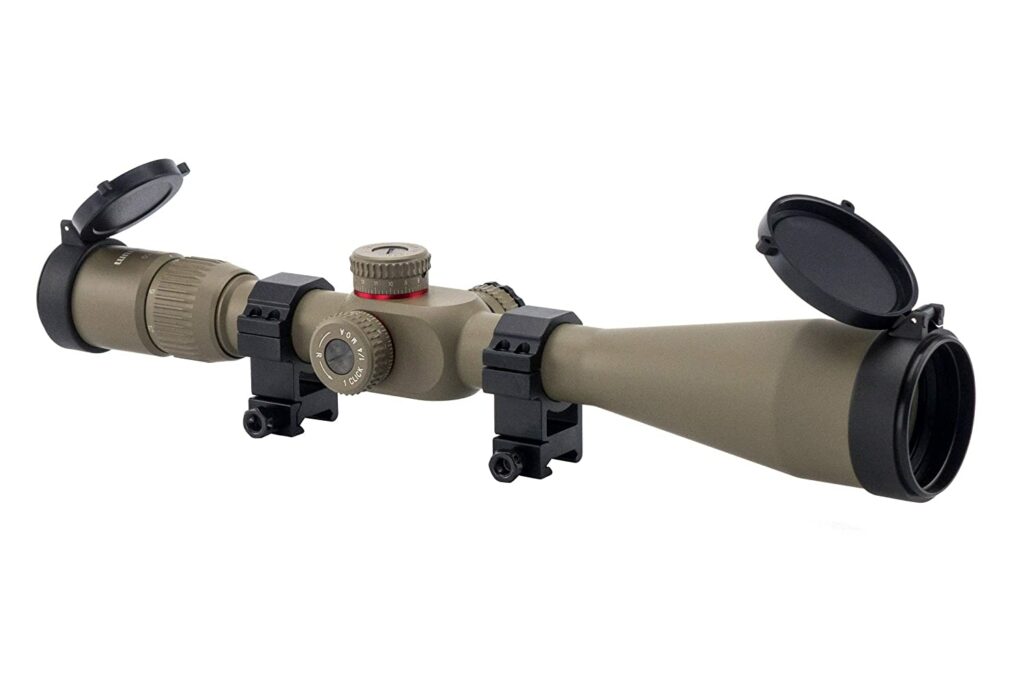 We may earn commission from purchases made from our links, at no additional cost to you
This is by far the most feature-packed scope on our list. Monstrum Tactical was the first company ever to offer FFP scopes under $200 on the market. Such is true for this G2 scope.
The scope features a variable magnification of 6x-24x, which allows you to shoot a target, no matter if it is close or far. The large 50mm objective complements this long-range sighting capability. Plus, it forces in more light for better low light shooting.
The scope has a generous eye relief of 4-4.5 inches, which is considerably large respective to its power. The best feature of this scope is its First Focal Plane focusing system. An FFP reticle expands in size respective to the target as you zoom in. The benefit of an FFP scope is that you can use the BDC and mil-dots uniformly at every magnification. FFP scopes are quite expensive, but this scope from Monstrum tactical is an exception.
The adjustable objective can be used to adjust the parallax at different ranges. The scope features an illuminated rangefinder reticle, with both red and green color variations. Additionally, the package includes all other accessories that are relevant for an optic scope (rings, sunshade, flip-up covers, carry bag, and one battery).
Bottom Line
The Monstrum Tactical G2 scope is packed with features. It is an affordable FFP scope, with an illuminated rangefinder reticle, and includes all the accessories for an optic scope. This scope delivers extra value for your money.
Pros
First Focal Plane
High Power Scope
Complete Package
Appropriately Priced
Illuminated Rangefinder Reticle
4. Nikon 6729 ProStaff 4-12 x 40
We may earn commission from purchases made from our links, at no additional cost to you
It is no surprise at all to have Nikon on the top spot of our list. Nikon is a renowned manufacturer of optics, especially scopes. This Nikon Prostaff scope is the ideal fit for your 7mm Rem Mag rifles.
The scope features a durable and lightweight body, crafted from a mix of polymer and aluminum. The scope has a variable magnification of 4x-12x, which is enough to let you take shots from up to a 1000 yards from the target.
The scope also has a mid-sized objective lens of 40mm, which pulls in enough light to project a crisp and clear image of the target. The lenses are all multi-coated, which help with this operation. The objective is aptly sized, so it does not sit too high over the rifle.
Plus, the coated lens system claims to transmit 98% of all available light, which is definitely a plus. The turrets of the scope provide a 1/4 MOA adjustment and are spring loaded to be easily reset to zero. Additionally, the scope provides a long 3.7 inches of eye relief, which is appropriate for handling the recoil of the rifle.
The scope features a BDC reticle, to let you take long range shots with ease and without touching the turrets. The Prostaff scope, like all other Nikon scopes, is matched to be used with the ballistic match technology, which calculates the exact aiming points with ease on your smartphone.
Bottom Line
The Nikon Prostaff is a durable, high power scope with smartphone assistance for shooting with accuracy. Beyond that, the product is also covered by a lifetime warranty by Nikon, which is also a win-win situation.
Pros
Inexpensive
Long Eye Relief
High Magnifying Power
Durable and Lightweight
Ballistic Match Technology Compatible
Leupold VX-1 3-9x40mm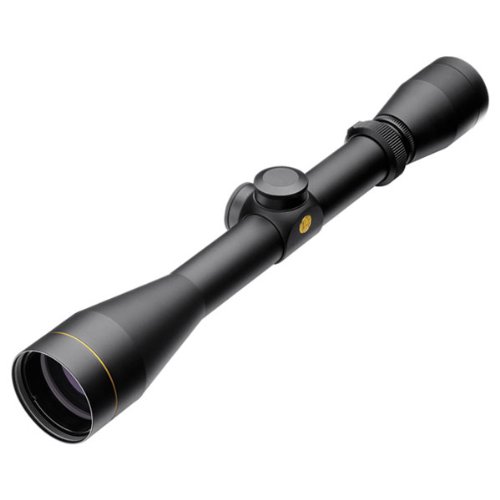 We may earn commission from purchases made from our links, at no additional cost to you
Leupold is among the oldest and most reliable manufacturers of rifle scopes, so there's no point in doubting the quality of its scopes. The Leupold VX-1 is a versatile scope that can be used by shooters of all levels and skills, whether he or she is a novice or an expert.
The scope features a 3x-9x magnification, which is ideal for short to mid-range hunting. Leupold invented the gas-purging technology for scopes, so you can be certain of the water, fog, and shockproof capabilities of this scope.
Additionally, the scope utilizes a duplex reticle, which is widely used for hunting. The scope allows you to install a custom reticle, which is a rare feature in rifle scopes, especially in this price range. So, you can upgrade the scope over time without the need for buying a new one.
The scope has been designed, manufactured, and assembled in the USA, which connects the user with a sense of quality, reliability, and pride. The turrets are capped and finger adjustable with ¼ MOA clicks. Overall, the scope is good for both avid shooters and professionals.
Bottom Line
The Leupold VX-1 can be used by both amateurs and experts. The scope features exceptionally high quality and is also covered by Leupold's lifetime warranty.
Pros
Versatile for Users
High-Quality Scope
Leupold's Lifetime Warranty
Cons
Not Suitable for Long Range Shooting
What is the Effective Range of a 7mm Rem Mag?
In simple and straightforward words, the effective range of a 7mm rem mag is the farthest you can shoot accurately. The 7mm has some of the most impressive ballistics among the rounds in its category. For example, at 500 yards, the 7mm Rem has a 29.14 inches drop, which is one of the flattest trajectories of centerfire loads.
Similarly, the round has a muzzle velocity of 3200 fps, which only drops to 2264fps at 500 yards, plus a muzzle energy of 3250 ft-lbs drops only to 1710 ft-lbs at 500 yards.
The 7mm Rem has a very high ballistic coefficient of 0.536, which is impeccable. The round can be used for hunting both small and big game. However, it is generally used for hunting big game at long range due to its ballistics. The 7mm Rem is one of the most reliable and high performing rounds and is quite popular among snipers and hunters across the globe.
Since the 7mm has such exceptional ballistics and range, you need a high power scope to adhere to these factors and use the round to its maximum potential.
What Makes a Great 7mm Rem Mag Scope?
The excellent ballistics and long range of the 7mm require you to use a scope that matches with its invincibility. A good 7mm Rem Mag scope must have certain basic features to be used rightfully with the cartridge. These include:
Durability
The 7mm cartridge has a nasty recoil. Plus, rifles using this caliber are generally used for hunting, where they are subjected to harsh terrain, sagging, and bumps. A fragile optic scope won't withstand such harsh conditions and the recoil of the cartridge. So it is better to purchase a durable scope. Additionally, features such as waterproof and fogproof are a necessity for hunting rifles.
Magnification
This specific feature has two aspects, fixed/variable magnification and zooming power. The 7mm Rem can be used for extreme long range shooting, so using a variable magnification scope is a no-brainer. Plus due to its ballistics and long range accuracy, a scope with higher zooming power should be preferred.
Lenses
The lenses of a scope to be used with such rifles must project an exceptionally clear image of the target. Plus, the objective must be large enough to project a clear picture during low light conditions like dawn and dusk. Scopes with multi-coated lenses are generally a good choice.
Turrets and Reticle
Hunting rifles require quick turret adjustments, so the turrets of such scopes must be easy and quick to use. Additionally, having a long-range-supporting reticle like BDC or mil-dot is also a good add-on for 7mm Rem Magnum rifles.
Conclusion
The 7mm Rem Magnum is a powerful round, which is widely used for hunting big game over a long range. To be used with such rifles, a scope has to be durable enough to withstand the recoil and should have high magnification power, not to mention low light adherence for hunting conditions.