Modern gun manufacturing is better than it ever has been and it is always improving. That is a good thing for firearms enthusiasts. It means higher quality guns at more affordable prices as well as innovative new features appearing all the time.
In other words, a gun straight from the factory performs even better than many people need. However, that doesn't mean that there aren't still improvements to be made. One key area for an upgrade on a 9mm pistol is the trigger. Factory triggers are fine but are designed for universal appeal.
Aftermarket triggers usually offer enough improvement to warrant a purchase. Keep reading to see the best 9mm triggers on the market today!
At a Glance: Our Top Picks for 9mm Triggers
Comparison of the Best 9mm Triggers
IMAGE
PRODUCT

Our Top Pick

Made from high-quality material.
Ultra crisp pull for a no-creep operation.
Curved trigger design for excellent ergonomics.

View Latest Price →

Made from high-quality parts.
Designed for tactical purposes.
Pull weight just under 3 pounds.

View Latest Price →

Best overall trigger for 9mms.
Made for 9mm AR-15 platforms.
Single stage trigger for quicker shooting.

View Latest Price →

Best Budget Option

Single stage trigger pull.
3.5-pound trigger pull weight.
Best 9mm trigger for the money.

View Latest Price →

Curved trigger design.
Pull weight of 2.5 to 3 pounds.
Made from high-quality aircraft aluminum.

View Latest Price →
What to Watch For When Buying a 9mm Trigger
At their core, guns are pretty simple machines. A firing pin strikes a primer and sends a bullet careening down the barrel. Although designs have changed dramatically since the early days of firearms, triggers have been ubiquitous for a very long time.
In today's world of aftermarket gun parts, there are nearly countless 9mm trigger upgrade options. However, they are not all made the same and it can be overwhelming to choose one. To help with a place to start, check out the tips and information below!
This Section Written By: Brian Belko
Expert Author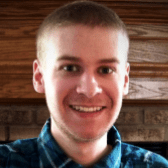 Brian is an experienced freelance writer and technical writer who has previously written for publications such as Wide Open Spaces, Bigfoot Gun Belts, Alien Gear Holsters, and Kampgrounds of America. He brings both a passion for writing and a love of the outdoors to his published content.

Aside from writing and the outdoors, Brian enjoys gardening, being a co-host on The Nostalgia Blast Podcast, and learning to code.
Trigger Evaluation
A good place to start when considering a trigger upgrade is with the trigger currently in use with your 9mm pistol. Before you start shopping for a replacement, grab some ammo and head to the range. If you are planning on an upgrade, that means you aren't completely happy with your current trigger.
However, it pays off to go beyond the idea of not liking it. Why don't you like it? Is it uncomfortable to use for your hand size or shooting style? Is the pull weight a little too high for you? Does it have too much slack to take up before firing? Answering those questions will help you zero in on the ideal 9mm trigger for your needs.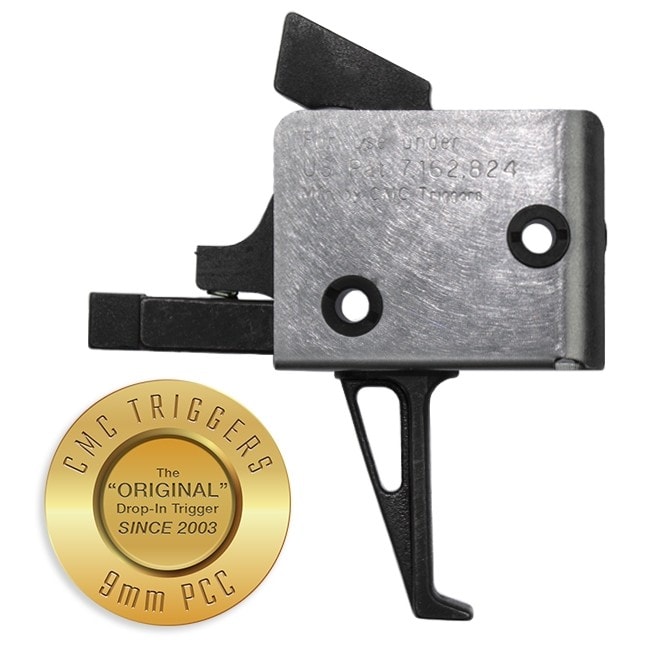 Smithing Skills
Installing a new trigger isn't too hard of a gunsmithing task, but it can be intimidating if it is your first time putting one in. If you aren't feeling confident in a more involved installation process, limit your search to drop-in triggers. They are easy enough for anyone to install with some patience and attention to detail. As the name implies, they essentially drop into place with only basic pistol disassembly.
If you want a more custom trigger but don't have the gunsmithing skills to do the job, there is always the option of employing the skills of a professional gunsmith. That will of course be an extra expense, but it can be worth it if you spend a lot of time on your shooting hobby.
Find That Fit
Don't settle for anything less than complete comfort when choosing a new 9mm trigger. There are too many options out there to settle for something that isn't as close to an ideal match as possible. Try as many different styles as possible and don't be afraid to consider something that doesn't look like it would work well for you. Sometimes it pays off to try something outside of your initial considerations. The bottom line is that you use your trigger every time you want to send a 9mm round-down range. Comfort is and should be a priority when choosing a new 9mm trigger.
Review of the Best 9mm Triggers
The following is a list of the five best 9mm triggers currently on the market. As you look through each trigger, it is important to get some notes on the characteristics, features, and functions of each one. This way, you'll be able to determine whether or not one of these triggers fits your personal criteria that you have put together.
If it's close enough, you might have a winner on your hands. Now, let's begin by unveiling our choice for the "best overall" 9mm trigger:
CMC Triggers – AR-15 PCC 9MM Triggers
We may earn commission from purchases made from our links, at no additional cost to you
What Recent Buyers Report
As expected, a handful of recent buyers were able to squeeze the trigger with ease. They didn't complain about any heaviness from the pull weight. Meanwhile, they were able to marvel about the finish and how aesthetically sharp it was. Aside from it looking good and being easy to use, the installation was a breeze for most of them.
Why it Stands Out to Us
The whole entire trigger operation is nice and crisp from start to finish. There is no grittiness or creep to the whole thing. If anything, we dare say that the trigger pull is so light, it's like floating on a cloud. Other than that, the design was made for extended shooting sessions. So your fingers won't get fatigued nor strained throughout the session.
Who Will Use This Most
This will likely be used by target shooters and competitive shooters. It is a trigger that will make for quicker shooting and even quicker follow-up shots. If you fit in the competitive category, you'll definitely have the time advantage with a trigger like this. Especially when the heat of the competition is hotter than before.
What Could Be Improved and Why
This trigger looks pretty solid. But one thing that we think can improve is including a model where the trigger is made from stainless steel completely. We think this could make it a little sharper in terms of aesthetics. We know, looks don't matter when it comes to firearms and the accessories that go along with it, but it's something worth floating out there.
Bottom Line
If you're looking for a trigger that will get the job done in high-pressure situations, then you'll definitely want to give the CMC Triggers PCC 9mm trigger a closer look. It's well assembled and easy to operate. You'll definitely feel the light trigger pull once you're able to install this, and you'll probably like it too.
Pros
Ergonomically Friendly
Easy to Assemble and Install
Super Durable and Solid Construction
Crisp, No Creeping or Traveling to Report
Pull Weight is Light and Allows for Quick Shooting
Wilson Combat Tactical Trigger Unit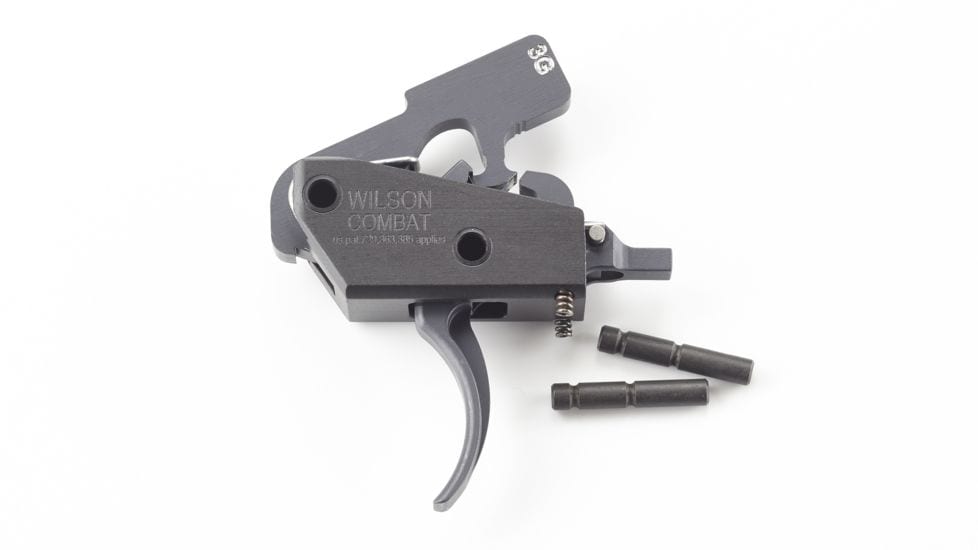 We may earn commission from purchases made from our links, at no additional cost to you
What Recent Buyers Report
Most of the recent buyers found this to be a reliable trigger that was easy to install and easy to use. Especially when they're looking for a trigger that won't cause fatigue on days where an extended shooting session is warranted. Other than that, the construction is solid and no wiggle room was said to be reported.
Why it Stands Out to Us
One of the things that make it stand out to us is that it has the potential to last you a long time. All the parts that make up this trigger assembly are made from high-quality materials. When they are made from materials that stand the test of time, you know for sure that it might be the last trigger that you'll ever buy for a 9mm. At least for a long time.
Who Will Use This Most
This will be used by 9mm AR-15 pistol and rifle owners. The applications are not limited, so you'll be able to use this trigger to land a small game target or a few paper targets at the range. Either way, the shooting will be quick, clean, and pretty dang accurate (if you have your sights calibrated well enough).
What Could Be Improved and Why
One of the improvements that might be considered is making the springs a little stronger. It might sacrifice some pull weight, but it will be enough to make it stand the test of many extended shooting sessions. A spring that doesn't wear so easily might be possible to add on.
Bottom Line
The Wilson Combat brand is probably one of the more reliable brands on the market when it comes to accessories. This trigger proves that they still belong in the conversation. For something that's light and allows for quick shooting, what would you lose if you didn't choose this trigger for your own use?
Pros
Very Good Reset
Still Reliable After 600+ Rounds
Trigger Design is Ergonomically Friendly
Easy to Install, Takes as Little as Ten Minutes
Very Smooth Trigger Pull, No Grittiness or Creep to Speak of
Cons
Lack of Trigger Blade Options
Might Be a Little Pricey For Some Budget Shoppers
Some Have Reported Defective Springs Upon Shipment
3. CMC AR-9 Single Stage 3.5lb Straight Bow Trigger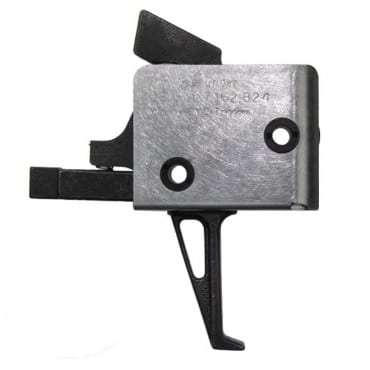 We may earn commission from purchases made from our links, at no additional cost to you
What Recent Buyers Report
A lot of recent buyers were quite happy with the trigger assembly itself. The finish looked good. But the performance is where it really shined. The pull weight was nice and light. Follow-up shots were much quicker and it felt a lot more comfortable in terms of ergonomics. One user specifically said it was easier on his fingers than with his previous factory trigger.
Why it Stands Out to Us
This stainless steel trigger assembly is durable and has high-quality parts within the inner workings. If the inner workings are high in quality, you can bet your bottom dollar that they won't wear down as easily. This trigger we believe will last you a long time regardless of how often you use your 9mm AR-15.
Who Will Use This Most
This trigger assembly will be used mostly by 9mm AR-15 pistol owners. This means the group of shooters that will likely use this will be your target shooters and competitive shooters. This trigger is light in its pull weight, which will give these types of shooters an advantage. Furthermore, it will give shooters of any application a better and much quicker chance to nail a shot.
What Could Be Improved and Why
While the trigger assembly at this point is good where it is, you should be aware of the possibility of having this trigger shipped to you with missing parts. It's important to take inventory of what's included in the assembly before putting it together. If you have missing parts, be sure to contact the store where you got it from (i.e.–PSA). They will happily solve the issue at no charge to you.
Bottom Line
If you're looking for a trigger that is considered to be one of the best of the bunch, then you'll absolutely love the CMC AR-9 Single Stage Trigger. With its ease of installation and ease of use, you probably won't find a trigger quite like this anywhere else.
Pros
The Break is Very Clean
Easy To Assemble and Install
Pull is Crisp, No Creep To Speak of
Nice and Polished, Makes it Look Aesthetically Sharp
Light Pull Weight, Makes Quick Follow-Up Shots Possible
Cons
Some Pins Might Be Missing Upon Shipment
Some Report that the Trigger Might "Travel" a Bit
Some Might Find the Assembly and Installation a Bit Challenging
PSA Custom AR 3.5 lbs. Match Grade Single-Stage Drop-In Trigger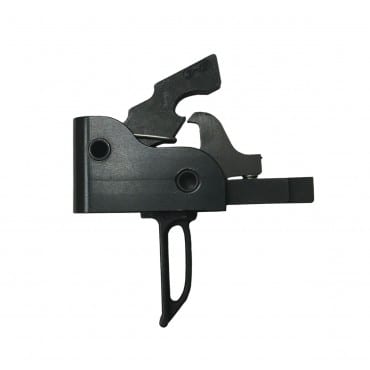 We may earn commission from purchases made from our links, at no additional cost to you
What Recent Buyers Report
Most recent buyers were satisfied with this trigger overall. For a budget trigger assembly, the performance was excellent and the overall construction was pretty solid. Most recent buyers took this out to the range to fire off all kinds of rounds and didn't complain once. The pull weight is light right out of the box, which makes it even better for them.
Why it Stands Out to Us
This trigger operates as if it's worth double the price tag. Yet, it's affordable for most budgets. We aim to find the best in performance and quality all while finding a price tag that most budget shoppers can afford. The trigger was easy to use and the follow-up shots were fast. Not bad at all.
Who Will Use This Most
Expect this to be the closest trigger assembly you can get to a universal trigger. Meaning this can be ideal for almost any kind of application that you can use for a 9mm AR. This will definitely work to your advantage if you want to fire accurate shots really well and really fast. Speed is fine, but accuracy will always matter most.
What Could Be Improved and Why
Despite no obvious cons, one of the things that might need improving is tweaking the design of the trigger. While it looks nice and straight, curving it a bit for the purpose of better ergonomics might be a suggestion worth considering.
Bottom Line
If you're looking for a trigger assembly that will be reliable and easy to use, the PSA Custom AR 3.5 pound trigger will be your best possible option. Especially if you're looking for a trigger that won't suck the life out of your bank account. This will be a trigger that is an "install and forget" kind of trigger. Just add it on and enjoy the benefits that come with upgrading a trigger.
Pros
Reset Was Very Good
Solid, Durable Construction
Little to no Wiggle Room Reported
Pull Was Nice and Crisp, No Creep to Report
Installation Was Easy, Takes About 10 Minutes or Less
5. Elftmann Tactical AR-9 Match Curved Trigger – AR-9-C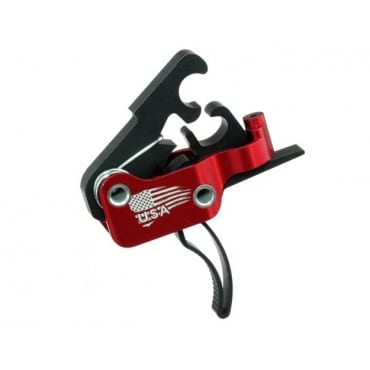 We may earn commission from purchases made from our links, at no additional cost to you
What Recent Buyers Report
Recent buyers were quite happy with the trigger assembly as a whole. The pull was a lot lighter compared to most triggers. And since it's fully assembled, it can be easy to drop in. In just a few minutes, this trigger was set and ready to go. The pull will be heavy at first, but once you've fired off about 150 to 200 rounds it will get lighter, according to one user.
Why it Stands Out to Us
This is a trigger that will require little to no assembly. You'll be able to throw this into your AR-9 of choice and be ready to go later that same day. Heck, the installation is so quick and easy you can do it at the range if you want to (although we don't highly recommend that). Aside from its easy ability to install, the follow-up shots are quick with every pull of the trigger.
Who Will Use This Most
This will be used as a starter trigger of sorts since it will be fully assembled and ready to go. So it'll be used by first-time buyers. More specifically, those who have never replaced or upgraded a trigger on their rifle in their lifetime. As for its functions, it will be used by most AR rifle users who want nothing more than light, crisp pulls and some of the quickest follow-up shots when compared to other trigger assemblies.
What Could Be Improved and Why
The one thing that might be worth improving is making sure the pull weight is where it's supposed to be right out of the box. Alternatively, you can make it a little easier to break in with fewer rounds. Yes, the pull will be heavy upon initial use. But less weight right out of the box will make an even better first impression.
Bottom Line
If you're looking for a trigger assembly that's easy to drop in and easy to use, rest assured you might have found it in the Elftmann Tactical. This is a tough-all-over unit that gets the job done no matter what your application is. Quicker follow up shots, lighter trigger pull, and no creep or travel to speak of? How can you say no to that?
Pros
Super Durable Quality
Ergonomically Friendly
Trigger Pull is Light and Crisp
Break-In Will Be a Little Easier than Expected
Easy to Assemble, Easy to Drop In and Install
Cons
Pull Weight Will Be a Little Heavy Initially
Might Take Some Getting Used to at First, The Feel Might Be "Weird"
May Take Up to 200 Rounds Before the Trigger is Officially Broken in
Aspects to Consider Before Buying
As you look for a 9mm trigger, it is important to know what aspects will factor into your final decision. Over time, you'll need to mull over a number of options. But you can only choose one trigger. But what will drive you into making your final decision? Here are some aspects to consider while shopping around:
Price
If you're a budget shopper, then the price tag will always be the first thing you're looking for. It's important to take price into account when you're on a budget. However, it shouldn't be the "be all to end all" decision. As a rule of thumb, find the best quality that you can afford based on your budget scale. Even if it means paying on the high end of this scale, it's a lot better than buying a cheap trigger assembly that will fall apart on you at any given time.
Quality
Quality should be held to the highest of importance. While you're looking for the highest in quality, it's important to pay attention to the materials that are made. Aluminum and steel are two of the most popular materials used by gun manufacturers because of their ability to be much more durable and able to withstand a lot of impact.
Installation
Most 9mm owners are not expert level gunsmiths. There's obviously nothing wrong with that. It's important to find a trigger assembly that will be easy to install and won't be a headache to put together. If you have little to no gunsmithing skills at all, it is highly recommended that you go with a drop-in style trigger assembly. These will take minutes to install with the right kind of tools.
What Makes a Great 9mm Trigger?
There are a few characteristics that make a 9mm trigger stand head above shoulders among the rest. In fact, a great trigger will blow away all sorts of competition and will even put the stock factory triggers to shame.
These are the same characteristics that we've looked for to add these triggers to our reviews, and it's the same list that you can use while buying one for your own. Here's what makes a 9mm trigger great:
Light Pull Weight
Trigger pull weights are a lot different. If you don't believe us, try and pull the trigger on your currently existing trigger. You'll notice that the pull weight is a bit heavy. And that alone can lead to follow-up shots that won't be taken so quickly.
If you lighten the weight just by installing a new trigger, the follow-up shots will be much quicker than ever before. Aside from that, less pull weight will put less strain on your fingers. Especially when you're spending extra time at the range.
Ergonomically Friendly
Some trigger designs you'll see were designed for the purpose of better ergonomics. Even the design of a trigger can put a bit of strain on your hands and fingers.
Especially if you're using your 9mm for longer periods. When considering a trigger, try to figure out whether or not the design your looking at will be more comfortable compared to your current trigger.
Easy Assembly and Installation
At risk of being repetitive, we'll mention the subject of how easy it might be to install a trigger. Most trigger assemblies will include a few key parts. You put them together and drop it into your 9mm. Most of the triggers we'll be looking at will be like this. It's great for us because it saves you a lot of time and the assembly and installation won't be as complex.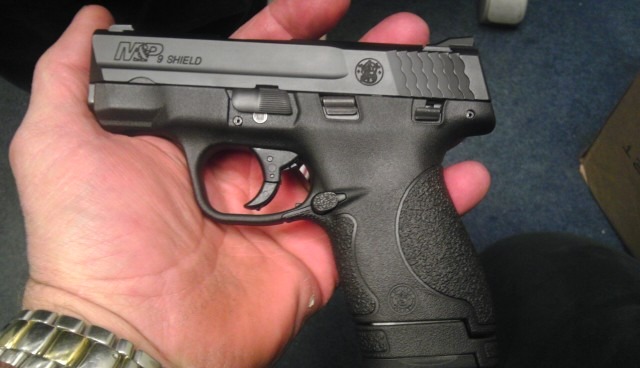 Benefits of Adding a Quality Trigger to Your Set Up
There are some advantages that you might enjoy once you're able to upgrade a good quality trigger from a factory stock trigger that is ineffective at best. Knowing the advantages might just make the decision process to get a new trigger a no-brainer. So with that in mind, here are the perks of adding a quality trigger to your 9mm AR:
Quicker Shots
At this point, we've probably talked about this point at ad nauseam. But it's true. Lighter pull weight will always equal quicker shots. If you're looking to fire follow up shots, the timing on those will be even quicker. This will definitely give you an advantage in most applications where time is usually a factor. Especially when you need to land a kill shot or defend yourself in a home defense situation.
Less Hand/Finger Fatigue
Depending on the design, your hands and fingers will have less fatigue if you're firing off your 9mm firearm of choice. Ergonomics do matter regardless of how long your range session is, but wouldn't you rather be comfortable with a trigger that will reduce or even eliminate fatigue when it's going to be a long day?
It Will Last You a Long Time
Indeed if you find a trigger that is high in quality, this will definitely last you years or even decades. Even after firing off hundreds or even thousands of rounds, a good quality trigger will stay reliable no matter how long you've had the trigger installed. Just be sure to find the right trigger assembly that is made from the right kind of materials.
Conclusion
The best 9mm trigger for you is out there. It may take time to find one. That's why you should take your time to consider each of the five above. This way, once you know which one will be better for you in terms of personal needs and preferences, you'll order it and install it quickly the moment it arrives at your door.
Remember, this choice you're about to make will have a long-term impact on your firearm of choice. Better to choose wisely than be reckless about it.