Ankle holsters are becoming an increasingly popular option for gun enthusiasts who wish to conceal what they carry. Both law enforcement and civilians use ankle holsters to conceal their secondary pistols or to make it less obvious what they are carrying.
In this article, we will talk about the advantages and disadvantages of using ankle holsters, the types of ankle holsters, and what factors to consider when making a purchase.
We'll also share our top picks for the ankle holsters you should consider buying.
At a Glance: Our Top Picks for Ankle Holsters
What Are The Best Uses For an Ankle Holster?
If you are looking for a holster that will work hard and make sure your pistol is concealed in the best way possible, an ankle holster will certainly be one of the best choices to look for. If you are wondering what these holsters are used for, here are a few of the best uses:
Discreet Concealed Carry
This is one of the tricks and tactics practiced by those who conceal carry on a regular basis. Especially those who work in professional security. An assailant that tries to slip through an area guarded by a security guard will always attempt to determine whether or not someone is carrying. If it's the latter, they may go forward with their plan to commit a crime. But little will they realize, the security guards are indeed carrying a pistol in a holster, but stored in the unlikeliest of places.
Self-Defense
Indeed, one of the major purposes for concealed carry is defending yourself against any dangers that may threaten your life. With an ankle holster, you'll be able to quickly draw your pistol while creating an element of surprise for the attacker. When you are in a sitting or kneeling position, you can quickly reach for your pistol without anyone even noticing.
When You Are Carrying a Backup Pistol
While there are a good number of concealed carry users who only carry one pistol, some seasoned carriers will often utilize two holsters at once for the purpose of a backup pistol. If you plan on carrying a backup, then an ankle holster might just be one of the more useful holsters to ensure you are carrying it somewhere other than your hip. It would look quite weird carrying two pistols on your hip at the same time.
Comparison of the Best Ankle Holsters
IMAGE
PRODUCT

Our Top Pick

Best concealed carry ankle holster on our list
Comfortable neoprene design and extra calf strap for stability
Ambidextrous design and fits all gun and leg sizes

View Latest Price →

Best ankle holster from Galco
Compact design with a wide neoprene strap
Velcro-based holster with elastic strap suits most handgun frames

View Latest Price →

Best J-frame ankle holster
Leather-based holster retains its shape after drawing weapon
Soft backing behind the holster for comfortable carrying

View Latest Price →

Best boot ankle holster
Recommended for guns weighing under 25 ounces
Heavy-duty, elastic design for maximum grip and stability

View Latest Price →
Review of the Best Ankle Holsters
Below is a list of the four best ankle carry holsters currently on the market. While finding one that will match your needs and preferences, it's important to determine which holster is your ideal type. And it comes down to making a list of characteristics and features that stand out as interesting. The next holster you buy might just be on this list.
With so many different types of ankle holsters out there, it can be a chore to select the right one for you. Luckily, we have done our research and have provided you a list of our top picks for ankle holsters. Let's begin with the first holster on our list:
Best Concealed Carry Ankle Holster:
Concealed Carrier Ankle Holster
What Recent Buyers Report
A lot of new users had nothing but great things to say about this holster. They said it was a really good fit for their legs and a perfect fit for most of their pistols. The extra compartment provided a good amount of room that allowed for the storage of additional tools. One user said he was able to use that compartment for a flashlight, which came quite in handy when he had to navigate through a dark parking lot after a night out with his wife. He said it was better to have it handy and scan for threats, rather than walk blindly into the dark.
Why it Stands Out to Us
This holster is made from high-quality neoprene that is proven to be tough, reliable, and comfortable for those who wear it. And it's excellent for those who want a holster that won't irritate their skin when they start to sweat. It's a holster that provides discreet concealed carry and will certainly throw off assailants who are stupid enough to attack you at any place or any time.
This highly comfortable ankle holster is made out of padded and breathable surgical-grade elastic neoprene with air holes that allow ventilation for your legs. The thick foam used in the construction prevents chafing and rubbing.
It can fit handguns of all sizes, ranging from a sub-compact Glock 27 all the way up to a full-size .45 1911. The leg straps will allow any size calf and ankle to fit comfortably with this holster. You can draw your gun extremely fast with a flick of the retention strap using the back of the thumb to draw the firearm quickly and effectively.
Also, the double strap prevents the holster from slipping down your leg. Another feature of this holster is the built-in elastic pouch that can be used for small equipment like an extra magazine, a folding knife, etc.
Who Will Use This Most
This pistol holster will be excellent for many sizes. But it will be best used by those who want maximum concealability and comfort in one great ankle holster. Plus, with one additional pouch included, you'll be more inclined to use it in survival situations (or for storing an extra EDC tool). If you want a holster that will take your level of preparedness to the next level, you have it with this ankle holster.
Bottom Line
The Concealed Carrier Ankle Holster might be the best possible option if you are in search of excellent concealability and discreet carrying that will surprise an attacker or provide you with something that will provide an extra holster if you plan on carrying two pistols at once. It's comfortable, durable, and will certainly accommodate most pistols.
If you want an ankle holster that is so comfortable that forget you're wearing it, this is the one to purchase. It is going to stay put without slipping down your leg and will securely hold your gun in place. However, the Velcro strap can lose its efficacy over time.
Best Galco Ankle Holster:
Galco Cop Ankle Band
What Recent Buyers Report
A lot of new users say the holster was perfect for tactical and self-defense uses. Most of these users were members of law enforcement or the military that used this for discreet concealed carry and for the purpose of carrying an extra pistol just in case their primary sidearm was not working properly. One user said that fit was perfect around his ankle and felt quite comfortable. He said that the material felt nice on his skin and didn't cause any chaffing.
Why it Stands Out to Us
Ankle holsters are probably one of the best inventions out there if you are a gun owner. But using it for the purpose of carrying an extra pistol on hand makes it even better. This holster is the perfect type for those who typically find themselves in tactical situations where weapons need to be drawn and ready to go. Yet, sometimes it's important to have an extra gun handy just in case your primary gun fails. On top of that, the ankle is a good place to holster a gun since attackers are less likely to know. They expect you to come with guns blazing and hoping you don't have any additional weapons. This holster can be easily fastened and will fit most ankle sizes for all-day comfort. And yes, you will be more prepared when you're carrying multiple pistols in an EDC situation. If you want a holster that will hold up in your ankle with a good amount of sturdiness, this might be one of the best of the bunch.
The Cop Ankle Band is a holster that fits ankle/boot circumferences up to 13", with the option of a boot extender for people with larger legs.
The high-grade elastic band is padded and suede-lined behind the holster area with a Velcro closure. The holster offers an adjustable Velcro safety strap with thumb break release for autos and a conventional release for revolvers.
Made for semiautomatic pistols and double-action revolvers, the Cop Ankle Band is available in right and left-hand models in black.
The 13-inch circumference of the strap makes it a great choice to wear under your pant leg. Or if you'd like to have better support, the extra calf strap can give it to you by keeping the gun in place.
This holster is available in both left and right-handed models. Drawing from your ankle is like a cross draw. If you're left-handed, it will be on your right foot and vice-versa.
Who Will Use This Most
This will be an excellent ankle holster for many tactical users that need something other than the current holster they are using for carrying their primary sidearm. So if you are looking for a holster to carry an extra pistol, then you're probably going to need an ankle holster like this. It's easy to fit and ready to take on the tough, high-stress applications that come with being a member of the military or law enforcement.
Bottom Line
The Galco Cop Ankle Band is no joke, especially when you need a secondary holster that will easily handle your backup sidearm. It's an absolute must for those in tactical situations and it will certainly save lives. So why rely on one pistol when you need a backup just in case a disaster happens and you can't use your primary sidearm? This holster will be perfect for those occasions (that may not happen at all, but once again, it's good to be prepared).
It is a useful option for people in security and law enforcement who need to secure their secondary weapons on their legs. While it may not fit everyone, it does a good job at concealing small guns and is an effective ankle holster.
Best J-Frame Ankle Holster:
Galco Ankle Glove
What Recent Buyers Report
As expected, a lot of new users had no complaints about the ankle band. They were able to fit this on their ankles with little to no struggle. They also reported that the holster was quite comfortable for an all-day fit. And one user who is a left-handed shooter said it didn't feel awkward drawing it out of the holster during a practice session at the range.
Why it Stands Out to Us
This ankle holster is probably one of the best holsters that can support J-Frame revolvers among some of the other pistols that can be fit properly in a holster like this. The holster itself is made from high-quality leather that makes the holster itself quite durable and comfortable. Leather is known for being strong in quality but also soft on the skin, thus making it one of the most comfortable materials you can wear on a holster. If you are looking for a holster that allows quick, no-snag drawing and will make concealability quite easy and discreet, this should be worth the time to look at further. And since it's affordable for most budgets, you might be tempted to swipe this for yourself.
Galco is a reliable name in holsters and their Ankle Glove's wide neoprene ankle band and Velcro closure offer extended wearing comfort and great security. The sheepskin padding provides additional comfort between the holster and the ankle.
It also features a reinforced thumb break for speed of draw and detailed molding for firearm retention. The Ankle Glove can be worn with or without the optional adjustable calf strap.
The Ankle Glove accommodates ankles up to 13" in circumference and fits semiautomatic pistols and double-action revolvers. It is available in right or left-handed draw in a black finish.
Ankle Gloves for small revolvers have an open top design, meaning they do not have a safety strap and thumb break. Instead, they have a tension unit and work with both hammered and hammerless guns.
Models AG160/AG161 have a retention strap (thumb break) that runs behind the grip frame (not behind the hammer). They work with both hammered and hammerless guns, but some guns with factory supplied custom or oversized rubber grips will not fit, because the retention strap is not long enough to wrap around them. It works best with slim wood or boot grips.
Who Will Use This Most
Law enforcement, military, and civilian users will be able to use this holster to their advantage. But if comfort and durability are two things they need most out of a holster, then the choice is perfectly clear. This holster provides a really comfortable fit and is tough enough to hold all pistols in place, even for a long period of time. If you want an ankle holster that might be the last one you'll ever buy for a while, then this one might be right up your alley.
Bottom Line
The Galco Ankle Glove Holster is one of the most affordable and most durable ankle holsters out there for tactical and concealed carry purposes. Fit this on your ankle and you'll get all-day-long comfort and peace of mind knowing you are prepared for the dangerous situations ahead. Make no mistake, this holster will stick with you for the long-term no matter how often you use it.
The Galco Ankle Glove will hold your gun comfortably all day while allowing easy draws and safely keeping the gun in place when it is not needed. It comes in versions with and without retention straps to suit your firearm needs.
Best Boot Ankle Holster:
Daltech Force­ Boot Wrap Ankle Holster
What Recent Buyers Report
Most new users were looking for a holster that would be easy to wear while wearing boots. They were happy with this holster because of its ability to fasten itself around most ankles. This was also a huge help for many users that were left-handed shooters and were quite happy in knowing that the design was ambidextrous. One left-handed shooter said he was able to draw his pistol fairly quickly out of this ankle holster from a kneeling position.
Why it Stands Out to Us
Most ankle holsters are not always the best when you are wearing boots. But rest assured, there are some out there that can hold up quite well for those in tactical situations almost every single day. This holster can easily fit around your ankle and still allow you to wear boots (even if it's part of your everyday attire). Not only is this made from high-quality materials, but it's also designed to handle many concealed carry pistols that range from SIG Sauers to Glocks, among many other makes and models.
This ankle holster is made from black elastic material for snub-nosed guns and is designed to fit over a boot. It fits small to medium semi-autos or revolvers weighing under 25 ounces with a full magazine.
The holster's dimensions are 4" wide, 18" long, and the diameter ranges from 3" to 6". It comes with a lifetime warranty against frayed or torn stitching, and the gun can be positioned anywhere around the left or right boot. The hook and loop closure keeps guns very secure and allows users to adjust it easily.
Who Will Use This Most
This will be excellent for many military and law enforcement officers that need a secondary holster to carry an extra sidearm. It's a holster that will make sure that you have the edge over your attackers while you are in dangerous situations. This will fit most ankle sizes and provides a snug, comfortable fit while achieving maximum concealability. So if you want a holster that will hold up well while you are wearing your favorite pair of boots, you'd be hard-pressed to find a holster quite like this anywhere else.
Bottom Line
The Daltech Force SafestCarry Boot Wrap Ankle Holster is probably the only ankle holster that will handle users that wear boots on a regular basis. It's tough in quality and can hold a lot of pistols (in different shapes and sizes). If you are looking for the perfect holster that will excel in every possible self-defense or tactical situation, get this ankle holster for yourself.
It is a no-frills ankle holster for small handguns and revolvers, with a lifetime warranty and high-quality construction. Drawing with either hand makes this small holster ideal for tactical situations and for people who wear boots, like law enforcement officers.
Are Ankle Holsters Ideal for Daily Carry?
Absolutely, yes. Unless you don't receive death threats very often.
Ankle holsters are a good option for everyday concealed carry, with the best part being that you don't have to adjust your holster when you sit, run, squat, or simply bend over (like with tuckable holsters and OWB holsters). This fact itself is enough to prove the effectiveness of an ankle holster for EDC.
Ankle holsters don't interfere with your job in any way, whether a sedentary desk job or strenuous field job.
These holsters also don't limit the wardrobe (especially for men) unless you are uncomfortable with full-length trousers, pants, or jeans.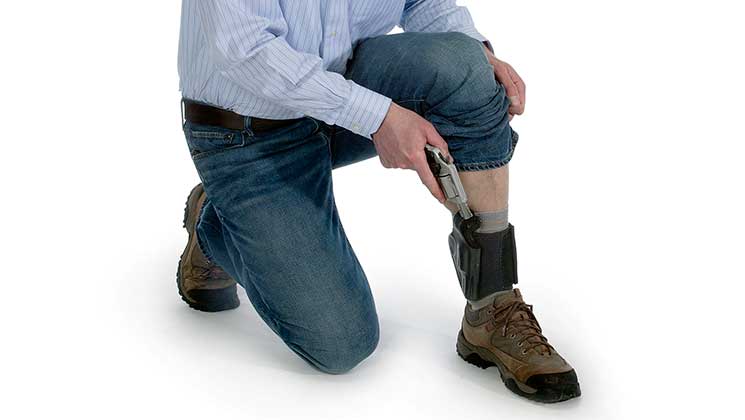 Ankle holster can be use even if you are wearing jeans (Source)
Ankle holsters also don't promote any sort of printing, so you can rest assured that no one's going to know you are CCW.
By and large, ankle holsters are the most comfortable method to carry a weapon. Alternatively, you can use an ankle holster to carry a secondary backup firearm.
Ankle holsters were designed especially for sub-compact handguns, which are most commonly used for concealed carry, thus, making these holsters ideal for daily carry.
How to Wear and Draw From an Ankle Holster
Using an ankle holster requires more practice compared to any other holster design.
The video below will teach you about the proper method of wearing an ankle holster. For example, the benefits of wearing it inside the leg.
First, it offers a quick draw. Second, it protects your gun from banging into things as you move.
You'll learn about the types of boots and pants you should wear and the best position to position the holster.
The video describes all the possible drawing positions of techniques for an ankle holster, which include kneeling down, raising your leg, and the supine position. Each of these techniques has their own benefits and drawbacks.
Advantages of Ankles Holsters
The best thing about ankle holsters is that they are very effective at concealing a small backup weapon.
They can be quite comfortable, thanks to the new technologies and the synthetic components that allow adjustments and better security.
In comparison, the inside-the-waistband, or IWB holsters are better at concealing the gun, and also offer easier access when standing or walking.
For this reason, ankle holsters are recommended for secondary or backup guns in case the primary weapon is not working or is not accessible.
Disadvantages of Ankle Holsters
Firstly, ankle holsters are well-suited only for the smallest firearms. They cannot accommodate a compact or full-size pistol, which definitely require a holster and a gun belt.
Another drawback of ankle carry is that holsters tend to attract dust and dirt, which may cause the firearm to malfunction. In this case, you will need to clean the gun regularly to ensure that the holster and firearm operate as intended.
Additionally, drawing the firearm from the ankle holster from a standing position is awkward at best, as you need to raise your carry leg, pull the pants leg up, and facilitate the draw or drop to your knee to reach your firearm. This is impossible in a face to face conflict. Ankle holsters take more time to effect a draw than a shoulder or an IWB holster. If you want to overcome this limitation, you'll need to put in several hours of practice to get a quick draw.
Some ankle holsters don't have the best retention properties and the gun could fall out or come off the Velcro.
Finally, concealment is not perfect, since when you raise your leg, the pant leg could easily ride up and make the gun visible.
Types of Ankle Holsters
Ankle holsters have a bit of variability in their design and intended strap orientations. Be sure to know what options are out there so you can find your best option!
Neoprene Band
This type of holster consists of a neoprene band that wraps around your ankle and secures itself in place using a Velcro strap. You can wear the neoprene directly against your skin without experiencing any discomfort.
Calf Straps
Calf straps provide a great way of making sure your ankle holster will stay in the same position when you're wearing it. The main advantage of using this type of strap is that they will redistribute the pistol's weight over a larger surface so your ankle won't bear all of it on its own. This can increase your comfort and it will also make the holster more stable while you move.
Leather Holsters
Leather ankle holsters are usually comfortable and they are also durable. The leather often comes with a highly-resistant finish that will protect it from water and won't scratch your handgun. These holsters have a leather lining on the interior and they wrap around the handgun like a glove. Also, they usually come with a retention strap that will keep the gun safely in place.
Nylon Straps
Nylon ankle holsters are cheaper than leather ones. Some nylon holsters have reinforced stitches that will protect against shock and will increase durability, while other models use retention straps to keep the handgun securely in place. While most nylon holsters are comfortable to wear, some have rough edges that will dig into your ankle.
Considerations When Buying an Ankle Holster
There are a few things you might want to know about the different features ankle holsters can come with - you may find something you consider a must-have for your case.
Comfort
Comfort is one of the primary factors to help you determine if a holster is right for you. If an ankle holster is not comfortable, it is likely you might end up not wearing it when it really matters.
Look for holsters with a neoprene support band because neoprene is durable but also comfortable to wear. The problem with elastic bands is that they're very comfortable in the beginning, but they stretch and become inefficient after you wear them for a while.
Some manufacturers add an additional lining made out of sheepskin or other soft material to the side of neoprene that comes in direct contact with your skin.
Support
It is important that the holster maintains its position and doesn't wobble or slide around. To achieve this, manufacturers use options like neoprene bands with Velcro straps, as well as nylon straps and calf straps.
The neoprene band wraps around your ankle and is held in place by a strap of Velcro. This is a popular solution because it's easy to implement and it's also pretty comfortable.
Nylon straps are also pretty popular, but they often have sharp edges, leading to discomfort when walking or running. Calf straps provide a great way of making sure your ankle holster will stay in the same position when you're wearing it.
Ease of Drawing
Drawing from your ankle holster is not easy and you should always make sure the holster matches your drawing hand. Practicing regularly is essential for drawing the gun quickly and safely.
Cost
While leather ankle holsters will usually be more expensive than nylon ones, they are also more comfortable and durable. In general, the more expensive models will be more comfortable to wear, and they protect your handgun better.
Conclusion
Ankle holsters are great for carrying backup or secondary handguns and pistols. They are also a good option if you wish to conceal a gun while wearing tight-fitting clothing.
The situations where you can use an ankle holster effectively are limited because you have to bend down to draw the gun, but the practice can make the draw faster and smoother.
Keep in mind various factors when considering which holster to purchase, such as the material, the comfort, the support, and the cost to get the best value for money.