There is an old adage that says to never go cheap on purchases that come between you and the ground. When most people hear it, they think of things like tires, mattresses, and shoes. Modified for shooters, this adage would say to never go cheap on stock for your rifle.
The stock is what connects you to your rifle and it has a large impact on shooting comfort, safety, accuracy, and performance. This is especially true for big bore rifles such as the AR-10 platform. Keep reading to see the best AR-10 stocks of 2022 available on the market today!
At a Glance: Our Top Picks for AR-10 Stocks
Comparison of the Best AR-10 Stocks
IMAGE
PRODUCT

Our Top Pick

Weighs Less and Has a Tacti-Cool Appearance
Adjustable LOP and Cheek Riser for Tactical Use
Textured Rubber Recoil Pads and 2QD Sling Sockets

View Latest Price →

Adjustable for Length of Pull and Cheek Height
M-Lok Slots and Extra Sling Attachments
Sturdy Construction and Rubber Butt Pad to Withstand Recoil

View Latest Price →

Best Budget Option

Lightweight and Strong for Quick Maneuvers
Adjustable LOP and Soft Foam Cover for Cheekweld
Machined-in Hammer on Butt for Breaching Doors and Combat

View Latest Price →

Complete Stock Assembly Kit With Buffer Parts
Enhanced Cheekweld Rubberized Buttpad and Storage Compartment
Hand Hook for off-hand stabilization when shooting prone

View Latest Price →

Clubfoot Style Adjustable Stock With Extra-length Buttplate
Double Storage Compartments. One on Either Side
Aesthetically Pleasing and Easy to Install

View Latest Price →
What to Watch For When Buying an AR-10 Stock
When it comes to AR-10 stocks, there are an almost overwhelming amount of options. It can be easy to fall into the trap of thinking they are all essentially the same. This is a mistake. Choosing an AR-10 stock is an important decision and shouldn't be treated as an afterthought.
Finding the best AR-10 stock for your rifle and your shooting needs deserves just as much effort as any other rifle part. Take your time, weigh your options, and consider all your needs during your shopping process. The following tips and information should help you know what to watch out for.
This Section Written By: Brian Belko
Expert Author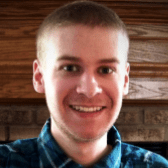 Brian is an experienced freelance writer and technical writer who has previously written for publications such as Wide Open Spaces, Bigfoot Gun Belts, Alien Gear Holsters, and Kampgrounds of America. He brings both a passion for writing and a love of the outdoors to his published content.

Aside from writing and the outdoors, Brian enjoys gardening, being a co-host on The Nostalgia Blast Podcast, and learning to code.
Adjustability Is Key
The two most common types of AR-10 stocks are fixed stocks and adjustable stocks. There are some less common styles as well such as folding stocks, but most shooters will want to focus on fixed and adjustable. The main difference between the two is obviously whether or not they can be adjusted. The option that is right for you comes down to personal choice.
Hunters transitioning from standard bolt action rifles to the AR-10 platform might be more comfortable with a fixed stock. However, unless the aesthetic of a fixed stock is what you are after, adjustable stocks are the general go-to. Sure, there is a small chance of them shifting or moving between shooting sessions, but this issue is minimal and really won't cause problems. Having the ability to adjust the length of pull to accommodate different situations is a very nice feature to have.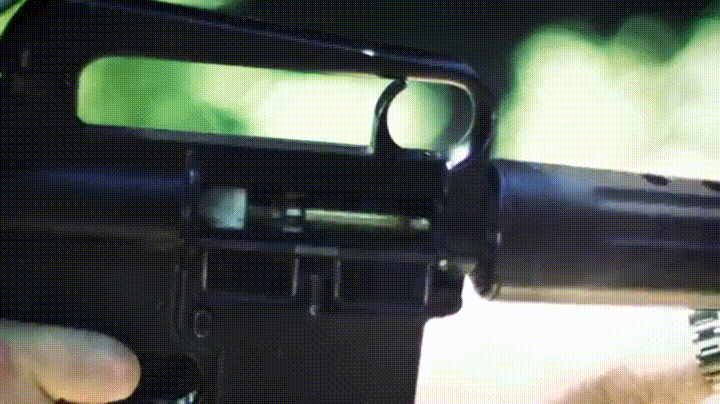 Stock Style
Whether you go with a fixed or adjustable stock, you won't have any shortage of different styles to choose from. From different colors and paint styles to the overall look and design of the stock and cheek pad, you will easily be able to find something that appeals to you and that fits both your shooting needs and aesthetic preferences. If possible, give the adjustment levers a try and just generally handle the stock you are leaning towards. While it might not be possible to shoot with a certain stock before buying, making sure there isn't something you greatly dislike about how it functions is important.
Weighing In
The weight of an AR-10 stock can be quite hefty depending on the material used and other factors. While bench shooters won't have to worry about this much, it is worth paying attention to if you plan to carry your gun into the field for hunting or run 3-gun shooting competitions. In those cases, a few extra ounces can add a lot of fatigue over a long day.
Reviews of the Best AR-10 Stock
The following is a list of the five best AR-10 stocks that are currently on the market. As you go through each stock on the list, you should take notes on any of the features and characteristics. You may have a good idea of how your dream AR-10 stock will look or function. Find one that's close enough rather than finding one that might end up being a disappointment.
For each model, we'll be taking a look at its main features, then diving into some pros and cons. We want you to be fully aware of what you're getting. We did our homework so you don't have to worry. Let's start with the first AR-10 stock on our list:
Luth-AR-15 Modular Stock Assy Fixed Rifle Length
We may earn commission from purchases made from our links, at no additional cost to you
What Recent Buyers Report
Most of the new buyers were quite happy with the stock for a number of reasons. For one, they were satisfied with the overall durability and ability to absorb shock and recoil. They were able to install the stock on their AR-10 rifle with the greatest of ease and it took them an average of five minutes with the right kind of tools. One user said that he noticed some recoil reduction upon installation.
Why it Stands Out to Us
This stock is made from high-quality glass-filled nylon. So, it's pretty dang sturdy and tough. In plain English, it's built like a tank. The design is pretty interesting as well. It's a skeletonized kind of design that makes the stock so much lighter in weight. Rest assured, when you install this on your rifle you won't be adding on any additional weight.
The Luth Modular stock is a modular/adjustable rifle stock made from fiberglass material. It offers strength to the design, keeping it lightweight at the same time.
The stock easily fits onto A1/A2 buffer tubes, especially for your AR-10. The stock is ambidextrous, where the cheek rest can be changed to suit right or left handed shooters.
Additionally, 1/16" extension in the pull of length, and an extendable butt plate makes it even better. This stock weighs just 1.26 lbs and has 2 QD sling sockets for quick sling mounting.
Who Will Use This Most
This will be an excellent stock for those who want to keep the rifle light while making sure they work with something that is hardcore and great at reducing recoil. You'll be sticking with this bad boy for a really long time, so if you want a stock that might be the last one you'll buy for a long time, this is it.
Bottom Line
The Luth-AR-15 Modular Stock is proven to be one of the best of the best. At this point, no other stock on the market will dare challenge it when it comes to durability and recoil reduction. Don't be shocked if this ends up being the stock you use within the next decade.
The stock is made of glass filled nylon which is a lightweight and durable material. This model is ambidextrous and fully adjustable.
The QD sling sockets make it even more useful. Overall, this seems to be a good stock for hunting, tactical and 3 gun competitions.
Pros
Easy to install
Ambidextrous
Durable and lightweight
Extendable pull of length and butt plate
Magpul – AR-15/308 AR PRS Gen 3 Precision Stock Adjustable Rifle Length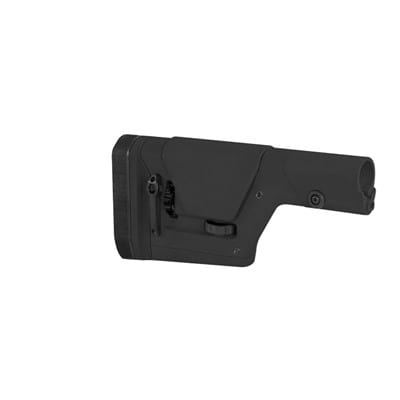 We may earn commission from purchases made from our links, at no additional cost to you
What Recent Buyers Report
Most of the new buyers had no problems adjusting this stock to help them achieve their length of pull. On top of its easy adjustability, the stock proved itself to be really durable and reliable for the purpose of stability. One user said that this stock has made him handle his rifle better all while giving him better accuracy and precision in every shot. That alone has helped him net a whitetail buck on his most recent hunting trip.
Why it Stands Out to Us
The Magpul brand is known for making some pretty great accessories. Most of them are known for their sturdiness and reliability. This stock is no exception to the rule. If you want something that will be easily adjustable to fit many of the frames on the market, you'll have the ability to change the stock into a few different positions. All you have to do is find the best possible adjustment that's comfortable for you and you'll be all set and good to go.
The Magpul PRS GEN3 is an adjustable rifle stock made from aluminum. The stock has an extendable length of pull and an extendable butt plate, both of which are operated using detent knobs.
It can be installed on rifle length receiver extensions, as well as mil-spec and A5 carbine receivers.
The butt plate is fitted with a rubber pad and can withstand recoils of even 50 BMG. Rotation-limiting QD sling cups as well as M-LOK slots on the bottom for rear monopod mounting, making the stock even more effective.
Who Will Use This Most
This will be a great stock for those who are hunters or target shooters. No matter how you use your AR-10 rifle, you'll have the ability to make sure your rifle is adjustable and even more usable, not just for yourself but for anyone who wants to try your rifle out for a few shots. This will certainly be the best go-to option for most users who are suckers for adjustable stocks.
Bottom Line
The Magpul AR-15/308 R PRS Gen 3 Precision Adjustable Stock has made a really strong case as to why you should purchase this stock. It's durable, easy to adjust, and can fit all kinds of applications. It's a prime example of how an AR-10 stock should work.
The Magpul PRS Gen 3 is an adjustable stock with solid aluminum construction and detent locking buttons. The butt plate also has a rubber pad which protects your shoulder.
The QD rotation limiting cups are a good addition. The stock is a bit heavy though. Overall, this stock is good for target practice and tactical uses.
Pros
Adjustable
Easy to install
Aesthetically pleasing
Rotation limiting QD sling cups
Rubber pad fitted over butt plate
Cons
Might require fitting
A bit heavy compared to its competitors
Double Star AR-15 SOCOM Stock Collapsible Mil-Spec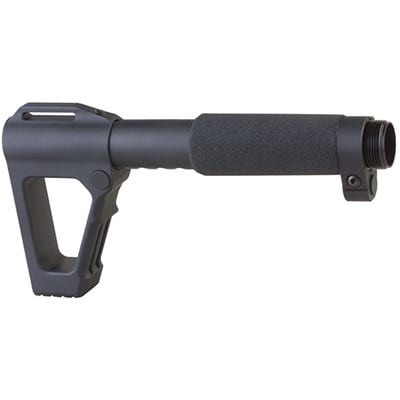 We may earn commission from purchases made from our links, at no additional cost to you
What Recent Buyers Report
This collapsible stock was a hit with most users. They said that it made shooting a lot easier for them and storage was a breeze once the day was done. One user said that the attachability (and detachability) were both quick and easy. When installed, the stock delivered excellent stability and a lesser amount of recoil compared to some stocks. Another user said that he noticed the recoil reduction was immediate upon installation (about 50 percent of it eliminated).
Why it Stands Out to Us
Collapsible stocks are another type of stocks for AR rifles that you can use to your advantage. Not only does it allow for easy adjustments for a better length of pull, it actually makes storing your rifle after you've used it a breeze. No more having to take up too much room in your gun cabinet. You can set it to the right adjustment or take it apart in order to make sure your rifle is compact and easy to store.
The Double Star SOCOM collapsible stock features a strong and durable body machined from a single billet of aluminum.
A quick release button helps in switching length adjustments to five different positions. The soft foam cover on the stock tube provides a comfortable cheek weld too.
The stock also has 3, one-and-a-half-inch wide sling slots to help users attach slings along with a rubber recoil pad.
The receiver end plate with ambidextrous attachment points for HK-style single-point, clip-on slings. The stock even features a machined-in hammer on the butt for breaching doors and hand-to-hand combat.
Who Will Use This Most
This will certainly be a great rifle stock for those who are looking for better adjustability and better storage opportunities. Some rifles might take up too much room. But have you ever considered the stock being the issue? If you need a good stock to upgrade your rifle with, this just might be the one you'll probably consider if the idea of a collapsible stock is appealing to you.
Bottom Line
The Double Star AR-15 SOCOM Collapsable Stock will be one of the best stocks you've invested in thanks to its sturdiness and durability, but also the ability to easily detach from your rifle so you are able to store it in a compact space. If you're a space saver, you're definitely going to love this stock for as long as you own it. Trust us, it's probably one of the best types of stocks there is.
The Magpul collapsible stock is a good option for tactical and self-defense applications. The stock is strong and durable and perfect for all experience levels.
The multiple sling slots make it easy to add a sling to the weapon. However, the stock is not very good for hunting if you have to carry it for long distances. Overall, the stock is suitable for rugged use.
Pros
Machined in hammer on the butt
Durable aircraft grade aluminum body
Quick release length adjustment button
3 sling slots and foam cheek weld cover
Quick release button can be replaced with a screw and converted into a fixed stock
Cons
A bit heavy
No storage space
Brownells AR-15 Moe Stock Assy Fixed Rifle Length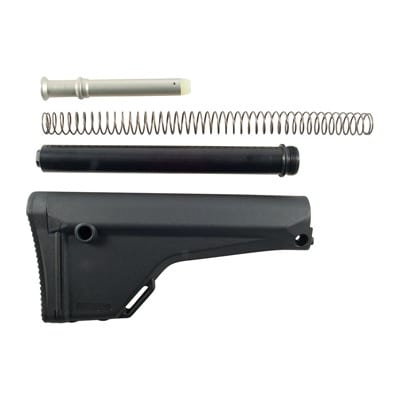 We may earn commission from purchases made from our links, at no additional cost to you
What Recent Buyers Report
A lot of new users did not complain about this stock. And why would they? The stock was solid in durability and they were able to reduce recoil by up to 60 percent. One user said that he was so glad to retain full control over his rifle after his last stock didn't do him any favors in the recoil reduction department.
Why it Stands Out to Us
This might be one of the closest stocks you can get to a factory replacement type. It's a pretty solid and sturdy stock that will make sure that felt recoil is a thing of the past. It's excellent in quality and doesn't let shock faze you a bit. You'll be poised and in total control. And when the time comes when you take a shot, you'll be able to land it on target with confidence. Who says a stock doesn't improve your performance?
The Brownells AR-15 MOE stock features a durable, polymer construction and is a drop-in replacement for the A1 and the A2 rifle stocks.
It utilizes the standard rifle-length receiver extension (buffer tube), which eliminates the need for the A2 spacer.
The stock contains a 1.25-inch sling loop and optional dual-side, front and rear QD mounting points.
The stock is compatible with Magpul PRS Butt pads and polymer rail sections for monopod mounting.
The hand hook helps with stability when shooting the rifle in prone position. The stock also has an internal storage compartment accessible from the rear door on the butt.
Who Will Use This Most
This stock will be perfect for hunters and target shooters who want nothing more than a lightweight, fixed stock that makes the length of pull a bit more bearable than most. If you want a good fitting stock for your AR-15 rifle also, this just might be the one that takes the ball and runs for it. You probably won't be disappointed by the overall quality and ability to absorb recoil with this stock in particular.
Bottom Line
The Brownells AR-15 MOE Stock is hands down one of the best-fixed stocks on the market. And it's not the kind that will make the reach of pull impossible for most users. If you want an upgrade from a really disappointing factory default to one that is a complete recoil reducer and allows for complete control for you, this is the go-to stock for you.
The Brownells MOE stock is a lightweight and durable addition for your AR-10. It is easy to design and has sling loops and QD mounting points.
The internal storage compartments are good for storing a couple of extra batteries and band-aids for your hunting trips. Perfect for hunting and 3 gun competition.
Pros
Easy to install
Drop-in design
No spacer needed
Lightweight construction
Internal storage compartment
Sling loops and QD mounting points
Hand hook for off-hand stabilization when shooting prone
Cons
The polymer may wither off with time
Not for very rugged applications like tactical or combat
Vltor Weapons Systems Emod Stock Assy Collapsible Commercial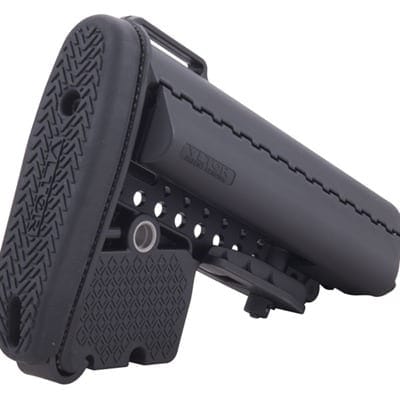 We may earn commission from purchases made from our links, at no additional cost to you
What Recent Buyers Report
As expected, a lot of users were happy with the ease of adjustment that allows for better reach of pull. Most of the new users were also able to collapse the stock to ensure better storage for when you have finished up for the day. The stock itself was quite durable and easy to install. Also, many users have reported lesser recoil immediately after installation.
Why it Stands Out to Us
This stock is another example of why collapsible stocks are actually all the rage among AR-10 users. Not only does it allow for a shorter length of pull compared to a handful of fixed stocks, but they are also proven to be useful when you are wanting to store the rifle away after a day at the range or out in the field. Either way, it's a stock that is super tough and will reduce recoil considerably. No shock, weather, solvents, or oils will damage this stock in the slightest.
The Vltor Emod Collapsible stock is a perfect combination of strength and carrying capacity. Made from a high-grade polymer, the stock features two sling loops to accept military style nylon web slings, and has three storage compartments.
The one on the base can hold up to two AA batteries, the other two run parallel to the stock tube which helps to create a triangular shaped, extremely comfortable cheek weld.
These extra storage compartments are sealed with a waterproof plastic lid and can hold 3 AA or 4 CR123 batteries each. Also, it features one QD sling attachment point on each of the sides.
Who Will Use This Most
This stock will be great for beginners. If you have never installed a stock before on an AR-10, you'll be treated to a stock that you can put together in a matter of minutes. It will certainly be your best possible option if you want something that will make shooting much better for you in any given application. Oh…and it's impervious to most damage so you might want to consider this a long-term option for your rifle.
Bottom Line
The VLTOR Weapon Systems Collapsible Stock is no ordinary AR-10 stock. It's a well-constructed stock that can save space, save you the frustration that you'd otherwise get out of an inferior stock, and allows you stable, accurate shooting no matter what your targets are. If you want to shoot straight and be able to hit your targets on contact, it's a stock like this that can play a supporting role in making that happen.
The Vltor Stock is an amazing replacement for the factory stock of your AR-10. The extra storage space lets you take it on long camping and hunting trips, meanwhile using powerful scopes at highest settings.
The cheek weld of the stock is extremely comfortable. The detent loaded button allows quick adjustments to the length. Perfect for hunting, tactical and competitive applications.
Pros
Good value for money
Comfortable cheek weld
Easy to install and durable
Angled buttplate with removable butt pad
Multiple lockable positions for length of pull
Two detachable full-length storage compartments
Are All AR-10 Stocks The Same?
The short answer: no. In fact, here are a couple of reasons why they are not: one, stocks are different in terms of features. Some of them are adjustable and some are not. At the same time, some of them will have a bit thicker recoil pad than others.
Also, the recoil reduction ability may also differ from one stock to the next. Despite looking similar in design, it's the little details that you need to look closely at to remind you that not every AR-10 stock is created equal.
What to Look For When Buying an AR-10 Stock
The AR-10 uses a powerful .308 round and is widely used for hunting and precision shooting.
A good stock must complement the power and precision of the rifle, improving its efficiency.
Ergonomics
A stock offers three points of contact for the shooter with the rifle: shoulder, cheek, and trigger arm.
For proper functioning, a stock must be machined and aligned, thus providing accuracy. The stock should have a good slip-free surface, and a good grip so the shooter can feel comfortable while shooting.
The stock must also not have excessive drop, so the shooter doesn't have to keep the head high.
Weight
A great AR-10 stock must be lightweight and easy to carry. The AR-10 is a good hunting rifle, and is often carried through the forest for long distances.
To protect you from tiredness and your arms from fatigue, the stock of your AR-10 must be lightweight.
Length of Pull
The length of pull determines the distance between your shooting and your grip.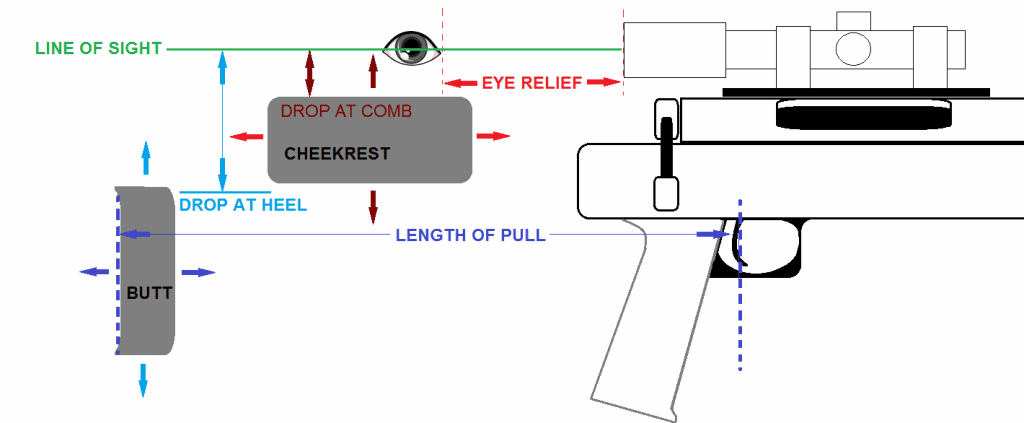 An AR-10 stock must have the respective adjustable stock to adjust the length of pull. This makes for quick switching between a close quarter and long-range shots.
Material
Originally, stocks were only built using wood. But with time and improvements in design, there are numerous types of stock builds.
These include wood, synthetic stocks, composite polymer, fiberglass, carbon fiber, and even metal. The best material for an AR-10 stock should be durable and lightweight, such as fiberglass or other durable polymer stock.
Storage Space
This feature might not seem very substantial, but a small storage space in your AR-10 stock can come in handy during some situations.
You can use them to store an extra pack of batteries, so you have a backup when you forget your scope or flashlight batteries at home. An adjustable stock seems to be a good option here.
Types of AR-10 Stocks
Pertaining to the popularity of the AR platform, there are many types of stocks available for the AR-10. We'll be discussing a few, which include:
Fixed Stock
This is the most primary type of stock for the AR-10. A fixed stock is made up of wood, fiberglass, or any other durable polymer composite; it may also feature a metal butt plate.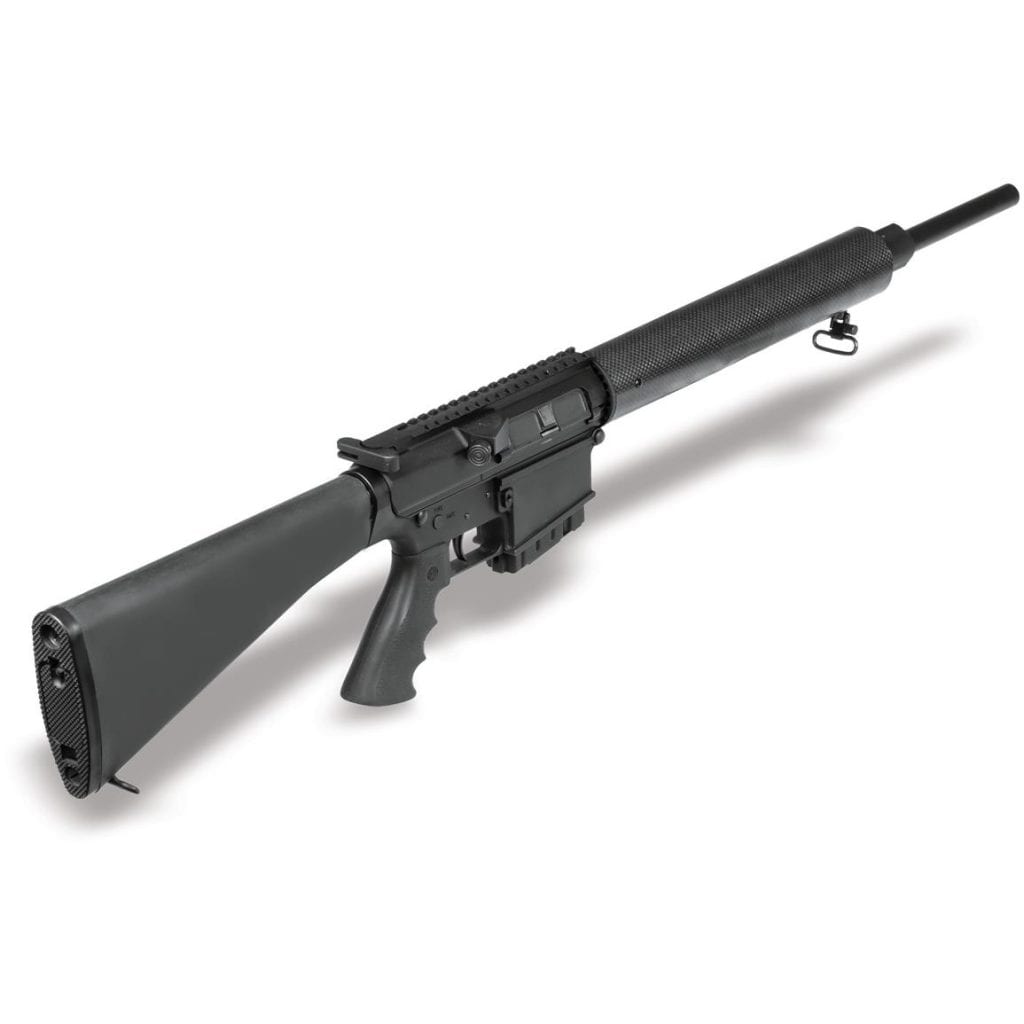 Fixed stocks often have a compartment within them, which allows the user to store items like batteries, bandages, or any other small tools.
Collapsible Stock
As the name suggests, a collapsible stock can be adjusted to alter the length of pull. The stock features a butt plate with a tube-like design connected to the receiver.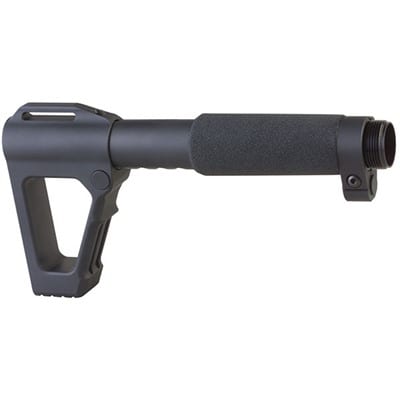 This tube can be extended or collapsed to adjust the stock length. Collapsible stocks are illegal in some states, so you must check your local laws before buying one.
Adjustable Stock
An adjustable stock is quite similar to the collapsible stock, other than the fact that it can be adjusted in some more ways.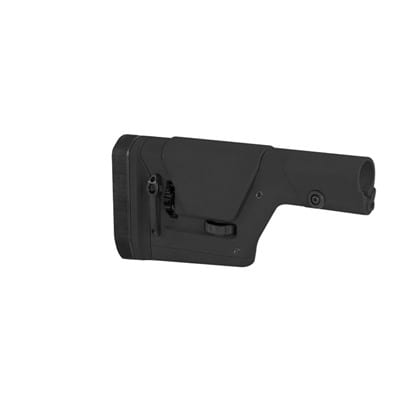 It may include components like a storage compartment, cheek riser, adjustable butt plate, and collapsible stock (to some degree). Adjustable stocks are quite sophisticated and are perfect for tactical use.
Minimalist Stock
A minimalist stock can be a collapsible stock and with a low profile. Such stocks are no more than a butt pad, featuring a slim, rod-like design connected to the AR-10 receiver.
These stocks are extremely lightweight and are perfect for hunting and 3 gun shooting competitions.
Personal Defense Weapon (PDW) Stock
A PDW stock is a kind of collapsible stock which is quite effective for switching between a short and long length of pull.
Such stocks are perfect for close combat fighting and self-defense, where the spring-loaded stock can be extended quickly to aim for stable long-range shots.
Folding AR Stock
As the name implies, a folding stock can be folded sideways to cup over the rifle from the side.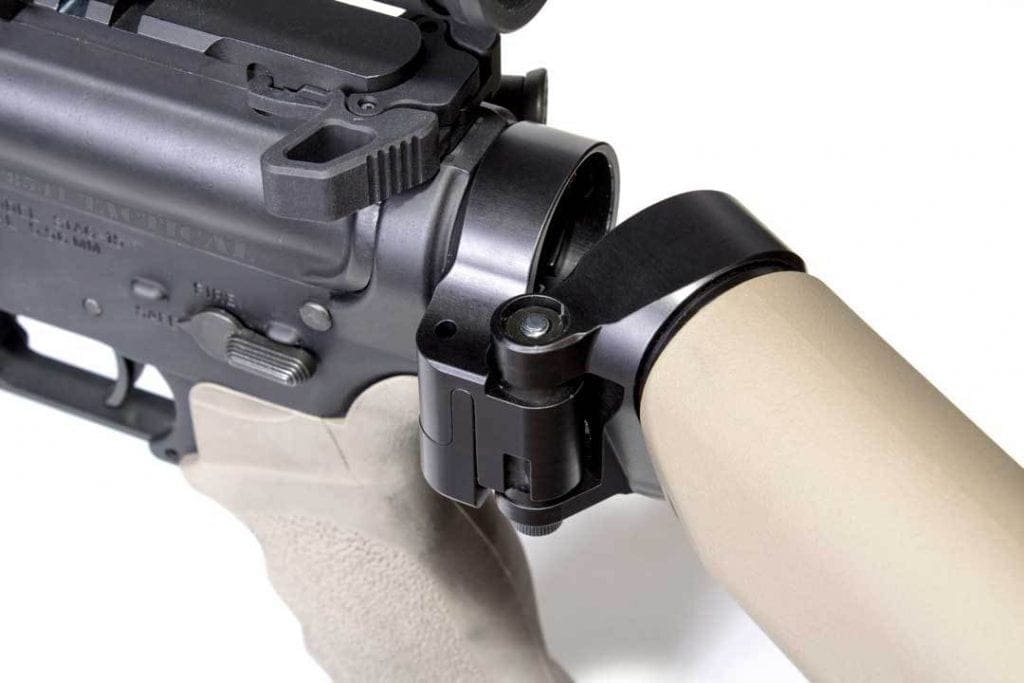 Such stocks reduce the length of the rifle to almost half the original size and make it easier to pack and carry. Nonetheless, be sure to check the length as it may not comply with the local laws.
Bump Stock
A lot of debate has been surrounding bump stocks lately after recently being used in mass shootings. A bump stock uses the recoil of the rifle to give it a rate of fire close to an automatic rifle.

These stocks were patented and manufactured by only one company which has ceased its production.
How to Install an AR-10 Rifle Stock
Installing a new rifle stock to your AR-10 is pretty easy. Whether your rifle has an A1 or A2 stock, the procedure is pretty much the same.
So let's take a look at the step by step procedure to changing and installing a new rifle stock on your AR-10.
For the sake of simplicity, we'll outline the steps to remove a fixed buttstock and install a collapsible one.
The first and foremost step is to unload the firearm, remove the magazine and check that your weapon is empty. Before performing this stock changing operation, you must be 100% sure that your rifle is clear of any bullets. Remember, safety is the top priority with firearms.

Once you have ensured safety, you have to separate the upper and lower receivers. Push out the front and rear locking pins which secure both the receiver together and you're good.

The next step is to unscrew the buttstock screw and slide the OEM fixed stock out. Further push down the buffer pin and pull out the buffer, buffer spring, and the buffer tube.

Next, take the buffer tube of your collapsible stock (if it is separately provided), and thread on the spacer and end plate if provided. Now push in the buffer detent and screw on the buffer tube to the rear end of the receiver. Ensure that the detent pin and spring on the rear of the receiver are already installed.

Now slide on the collapsible stock all the way down the buffer tube, using the length adjustment button, and you're good to go.

Finally, push in the buffer spring and the buffer beyond the buffer detent, inside the stock tube. Club the upper and lower receivers, and push in the front and rear takedown pins.

The stock changing process is now complete. Lock and load your rifle and you're ready to fire.
Conclusion
The AR-10 is a powerful rifle, often used for hunting, competitions, and tactical uses. A good AR-10 stock must be lightweight, durable, and have an adjustable length of pull along with good ergonomics.
Some storage space in the stocks also comes in handy. There are many different types of AR-10 stocks available on the market.
Each of them differs in qualities and features. Perhaps your own choice depends upon your intended use, personal preference and shooting style.