The bolt carrier group (BCG) is one of the most vital parts of any AR-15 rifle. Without a bolt carrier group, an AR-15 can't function or fire, which are pretty important things for a rifle to be able to do. To get a little more specific, the BCG is in charge of cycling rounds into the chamber as the rifle is fired. It accomplishes this by utilizing the gas of the last fired round to rotate and push back on the buffer spring.
This action allows the ejection port to open and the spent shell casing to be ejected. The returning forward momentum then grabs a new round from the magazine and pushes it into place. The firing pin is also part of the bolt carrier group in an AR-15.
Keep reading to learn more and to check out the best AR-15 bolt carrier groups available on the market today.
At a Glance: Our Top Picks for AR-15 Bolt Carrier Groups
Comparison of the Best AR-15 Bolt Carrier Groups
IMAGE
PRODUCT

Our Top Pick

Shot Peened Bolt for Increased Surface Strength
MPI Tested for Durability and Quality
Ensures Reliable Cycling With the Extractor Booster

View Latest Price →

Works With AR15 M16 and M4 Models
Can Be Used for Full Auto Firing Models
Rugged and Reliable Construction and Integration

View Latest Price →

Best Budget Option

Fully-Assembled and HPT Tested BCG
Durable Heat-Treated and Shot Peened Body
Chrome Lined Interior for Reliable Cycling and Easy Cleaning

View Latest Price →

High Quality Construction for Durability and Performance
Reliable in Both Semi and Full Auto Modes
Works With Many Guns

View Latest Price →

Limits the Felt Recoil for Smoother Shooting
Properly Cut to Reduce Weight Without Compromising Quality
Overall Good for Competitions and Precision Shooting

View Latest Price →
What to Watch For When Buying AR-15 BCGs
It is always important to do your best to choose the highest quality AR-15 parts that fit your budget. This means keeping an eye out for certain details or features that either make for a more reliable rifle or that are important to you for any reason. The importance of doing this is amped up when you are choosing something as vital to your rifle as a bolt carrier group is. A few key things to focus on when shopping for an AR-15 bolt carrier group are build quality, materials, finish and cost. The following tips and information can be a solid place to start before starting your search.
Full or Semi
There are two main types of bolt carrier groups for AR-15 rifles: fully automatic or semi-automatic. The first thing to know is that a fully automatic BCG does not make an AR-15 capable of fully automatic fire. It is simply able to stand up to full auto operation in the case of converting an AR-15 rifle to fully automatic. Considering the cost and legal difficulty of doing that, most shooters won't need a generally more expensive fully auto BCG. They are a bit heavier which can aid a bit in recoil reduction and can be more durable, but for most people, a semi-automatic BCG is perfectly fine.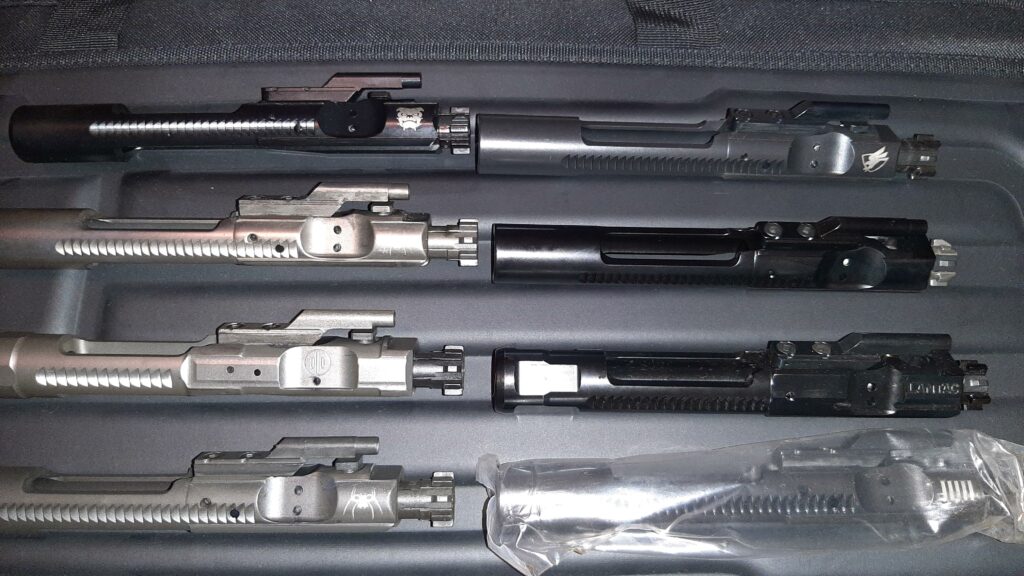 Testing 1, 2, 3
Build quality is an important factor in choosing a BCG. Make sure that any you are considering mention being magnetic particle inspected and having undergone high pressure testing. Magnetic particle inspected units are put through a process where they are covered in magnetic particles and placed in an electromagnetic field. This inspection reveals any cracks or fissures that might be present. High pressure testing ensures that a specific BCG can handle pressures above SAAMI standards. These are both key factors in a durable bolt carrier group.
Install It
Considering how important a BCG is to the operation of an AR-15 rifle, it might seem like it would be difficult to install. This isn't true. A drop-in style bolt carrier group is a simple task to swap out with an old one. As always you'll want to be familiar with the process and prioritize safety, but this is a task that the vast majority of AR-15 owners can do on their own.
Review of the Best AR-15 Bolt Carrier Groups
Now that we know what to look for, let's have a look at some of the best BCGs available.
Daniel Defense M16 5.56 Bolt Carrier Group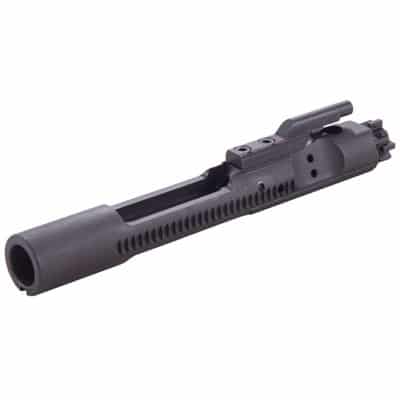 We may earn commission from purchases made from our links, at no additional cost to you
What Recent Buyers Report
New users were quite satisfied with the BCG. They installed this in a few minutes and were able to get the AR-15 rifle to work smoothly. One user said he got a lot of smooth cycling out of it and did not have even a single reliability issue.
Why it Stands Out to Us
This BCG is made from high-quality steel and has an added on Parkerized finish to ensure it remains durable for a long period of time. Not only that, it will not wear and tear easily through hundreds or thousands of rounds. So if you want something that is built to last you a long time and stays reliable through so many uses, it's this BCG that will take the top honors.
Daniel Defense presents us with this complete BCG full-auto assembly made from Carpenter 158 stainless steel featuring a shot-peened bolt for added durability. It also features an extractor booster to ensure reliable cycling during rapid fire.
Each assembly undergoes individual MPI testing to ensure there are no cracks or imperfections. The gas key has been properly staked to prevent the leakage of gases while firing.
This BCG features a mil-spec phosphate matte black finish on the outside and a full-length shroud on the base, making it compatible with full-auto rifles.
The bolt carrier group is easy to install and hardly poses any issues when in use. The price, relative to the features and quality of this BCG, is perfect. Overall, this Daniel Defense BCG offers the best value for money.
Who Will Use This Most
Typically, this will stand out as one of the simplest of BCGs because of its design. At the same time, it might be one of the longest-lasting you'll ever use because of its durability. So if you want a BCG that is built for the long haul, you'd be crazy not to give this bad boy a closer look.
Bottom Line
The Daniel Defense M16 5.56 Bolt Carrier Group might be just exactly what you need in order to make your AR-15 fully-functional for a long period of time. Without it, it's pretty much useless. If you want a BCG that's high in quality and really difficult to wear down, this could be the one you'll need for any given application.
Pros
Easy to install
Fits with most AR-15 rifles
Super-durable construction
It does a great job preventing gas leaks
Perfect for AR-15s used in hunting and tactical situations
Cons
Headspace check is required before installation
Some users may need to be cautious when choosing ammo
Bravo Company M16 5.56 Bolt Carrier Group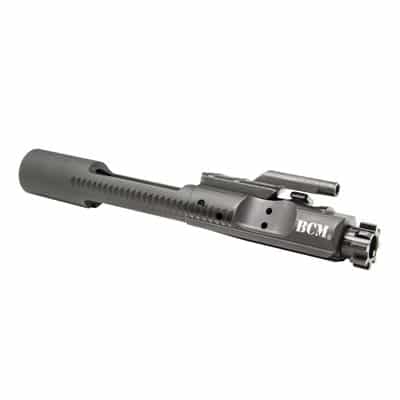 We may earn commission from purchases made from our links, at no additional cost to you
What Recent Buyers Report
Most new buyers managed to install this in a matter of a few minutes. Once installed, they were treated to some pretty smooth cycling that didn't have any hangups, nor did it have any other reliability issues through 500 rounds. One user said it worked pretty well with his charging handle that he installed specifically for competition purposes.
Why it Stands Out to Us
This BCG is pretty straightforward in terms of design and use. So once you install this on your rifle of choice, that's pretty much it. All you have to do is use your rifle like normal. This BCG is so durable that it may never even wear down after so many movements with your charging handle. So if you want a BCG that is pretty much the last one you're ever going to buy, this could be the one for you.
Machined entirely from Carpenter 158 steel, this full-auto bolt carrier group features an ion bond coating on the outside and a chrome lining on the inside.
Components have been shot-peened for added strength and each BCG undergoes MPI and HPT testing before leaving the production line. The shrouded base will actuate the automatic sear on a full-auto-capable lower receiver.
The carrier group has an ion bond outer finish which makes the operation frictionless. Additionally, the BCG is easy to clean.
The manufacturer claims to test-fire all the BCGs before they leave the factory and say they bear handling marks consistent with these quality control procedures.
It is easy to install, looks aesthetically pleasing, and sits at a decent price point.
Who Will Use This Most
This would be perfect if you are using an AR-15 for tactical purposes. So if you are in law enforcement or military, this BCG will be exactly what you need. Besides, it can handle high-stress situations and won't wear down easily like most cheap BCGs. Since it is compatible with most charging handles, it should be no problem for you.
Bottom Line
The Bravo Company Manufacturing Bolt Carrier Group is perhaps the top-dog if you want a BCG that is built to last forever and can handle the tactical duties of law enforcement and military. Don't be surprised if this sucker is still in working operation a decade from now.
Pros
Really easy to install
Super-durable, difficult to wear and tear
Works well with most charging handles
Compatible with most 5.56 NATO-chambered rifles
Chrome interior liner extends the longevity of the BCG
Brownells M-16 Mil-Spec MP/HPT Bolt Carrier Group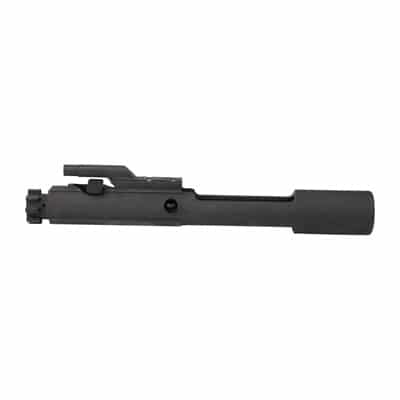 We may earn commission from purchases made from our links, at no additional cost to you
What Recent Buyers Report
Many users were satisfied with this BCG. Once they managed to install this, they were able to get their rifles working without any reliability issues to speak of. One user said he was able to install this in a few minutes time without having to do any additional fitting.
Why it Stands Out to Us
This bolt carrier group might be one of the most affordable on the market. Yet, it's also considered to be one of the most durable. Not a pretty bad investment if you want something that will last you quite a while without spending an arm and a leg. This BCG was designed to work for the long haul. So if you are consistently using your AR-15 for hunting or target shooting purposes, you can install this in no time and be able to keep it going for years to come.
This is a fully-assembled, full-auto bolt carrier group from Brownells. The bolt has been machined from Carpenter 158 steel and the carrier has been machined from hardened 8620 steel.
The bolt has been heat-treated and shot-peened to add strength to the metal. The gas key screws have been properly torqued and staked.
The manufacturer claims to have conducted MPI and HPT testing, however that has not been stamped on the BCG. But since it comes from Brownells, this claim can be accepted.
The interior has a chrome lining for extended service life and easy cleaning. The BCG features a mil-spec standard phosphate finish which is pretty much the reason for its low price.
It features a shrouded firing pin to protect it from any damage.
This model is a standard BCG, which can be seen as a simple, low-cost replacement for your existing bolt carrier group.
Who Would Use This Most?
This would be perfect for those on a budget and in search of a great BCG. If you want something that's excellent in quality and won't take a huge chunk out of your bank account, you might want to consider this BCG as your best possible option.
Bottom Line
The Brownells Bolt Carrier Group might be exactly what you're looking for if you need a BCG that is durable and affordable. You'd be surprised by how long this will last. So you're not settling for a cheap, flimsy BCG that won't last long.
Pros
Super-durable
Really easy to install
Fits most AR-15 rifles
Works with many charging handles
Keys and screws are properly staked to prevent leakage
Cons
Fitting may be required
Some reported loose parts like the bolt and gas rings
A few reported this lasting only about a few hundred rounds
4. Spikes Tactical M16 5.56 Bolt Carrier Group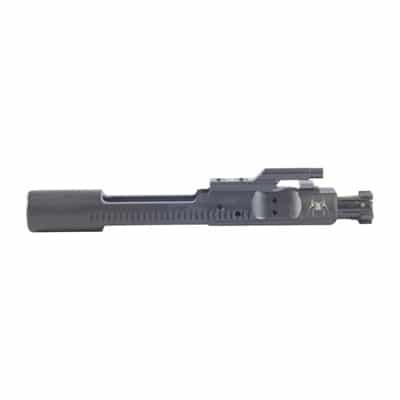 We may earn commission from purchases made from our links, at no additional cost to you
What Recent Buyers Report
Many recent buyers were happy with the BCG. They said that installation took a few minutes and provided all kinds of smooth operation for AR-15 rifles. Aside from the installation, many users also reported that the BCG was quite reliable and managed to work with many charging handles.
Why it Stands Out to Us
This bolt carrier group might be one of the best if you are looking to use your AR-15 for hunting purposes. You'll have smooth as silk firing ability, so you won't miss a beat with any hunting opportunities you may have. So it would make a heck of a lot of sense if you used this BCG to ensure that you have the best operation possible. Who wouldn't want that in a bolt carrier group for an AR-15?
The bolt of this BCG has been made from standard Carpenter 158 steel, whereas the carrier has been made from 8620 carbon steel, which makes it quite durable.
This is a full-auto bolt carrier group with a chrome lining on the inside. It features a standard mil-spec phosphate finish on the outside. The BCG is magnetic particle iInspected and features a staked gas key.
Overall, this is an average bolt carrier group. The inner chrome lining is good but is quite prone to fouling and dirt. The finish of the final product might vary from product to product, but the BCG is still aesthetically pleasing.
The not-so-high price range and mil-spec design make it good for hunting, target practice, and home defense.
Who Will Use This Most
This would be best used by hunters or other AR-15 users that want something that is nice and smooth in terms of the overall operation. Furthermore, they want a bolt carrier group that will be easy to install and allows for reliable firing ability. If that's what you're looking for, this could be right up your alley.
Bottom Line
If you need a bolt carrier group that will make your AR-15 function like a champ, this BCG from Spike's Tactical could be what you need for your rifle. You won't find another one that is this perfect for those who want to make their AR-15 into a highly functional hunting rifle.
Pros
Fits most AR-15 rifles
It doesn't wear too easily
Easy to install, takes a few minutes
Excellent quality and super-durable build
Works really well with many charging handles
Cons
Some fitting may be required
Might be a little heavy in weight
A few owners have reported flaking after use
5. JP Enterprises AR-15 Low-Mass Bolt Carrier Assembly
We may earn commission from purchases made from our links, at no additional cost to you
What Recent Buyers Report
A lot of recent buyers were satisfied with the bolt carrier group. They said they were able to install this in a few minutes and were not disappointed with the results. Most new users were happy with how well it worked with their charging handles. One user said he expects to have this BCG for a few years (or maybe even a decade).
Why it Stands Out to Us
This bolt carrier group is made from high-quality materials. Not only that, it's built to handle all kinds of movements and episodes of shock. So it won't wear and tear easily like most cheap BCGs. The less wear and tear you have, the better chance it will give you smooth, straightforward cycling like a good AR-15 should.
JP Enterprises offers this low-mass/lightweight bolt carrier group. This BCG has been manufactured from 416 stainless steel and it has a lower reciprocating mass.
This reduces the recoil impact towards the shooter which helps make this BCG the perfect choice for competitive shooting. It also features a staked carrier key and a dust-cover notch.
This BCG must only be used with low-mass components compatible with it. The price suits the design and functionality of this low-mass bolt carrier group. It has been designed uniquely for competitive purposes and is not really meant for the average shooter.
Who Will Use This Most
This would make a great general-purpose BCG. So if you want a simple BCG that will make your rifle operate like a well-oiled machine, then you'll be pretty confident in this one's ability to give you a simple, straightforward firing cycle like nothing else. You'd be hard-pressed to find something quite like this anywhere else.
Bottom Line
If you want a BCG that will give your AR-15 the simplest and most straight-forward operation possible, then the JP Enterprises AR-15 low-mass bolt carrier assembly might be exactly what you need. Once you install this sucker on your rifle, it's smooth sailing for a good while.
Pros
Easy to install
Solid construction
Allows for reliable firing and cycling
Excellent for most .223 caliber AR-15 rifles
Keys and pins are properly staked to prevent gas leaks
What is a Bolt Carrier Group (BCG)?
BCG stands for bolt carrier group. It is found between the upper and lower receiver of an AR-15 and performs all the basic functions of the rifle. The function of the BCG is to hammer (fire) a round, load a new round, and expel the used cartridge, all by itself. A BCG is comprised of six components:
Retaining Pin
Bolt Cam Pin
Gas Key
Bolt Assembly
Carrier
Firing Pin
The direct gas impingement system of an AR-15 uses the gas released after firing a bullet to move the bolt carrier group backward and forward to perform the three functions – cycling, ejection, and reloading.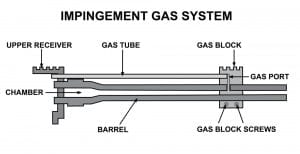 The BCG offers the AR-15 semi-automatic firing capabilities, which means you can fire rounds consecutively without the need for pulling the charging handle after every shot. A BCG is the part which makes the AR-15 semi-automatic and the most-desired rifle.
How to Choose a Bolt Carrier Group
Since the bolt carrier is the primary functioning part of an AR-15, it should flawlessly deliver optimum performance. There are several important factors you must consider before choosing a BCG for your AR-15 rifle.
Bolt Material
The first and foremost thing to consider is the material. BCGs are generally made of steel, although aluminum, titanium, and hybrid models are also available on the market.
The steel is further classified into different classes, but the most common ones for manufacturing BCGs are 9310 and Carpenter 158 Steel.
The BCG faces a lot of heat and stress and these steel variants fit the job perfectly well. They are easy to machine and widely available. The 9310 Steel is tough and durable and is widely used by manufacturers these days for BCGs.
Carpenter 158 steel, on the other hand, is specified by the military for use. It is durable with high core strength and hardness, along with excellent water resistance.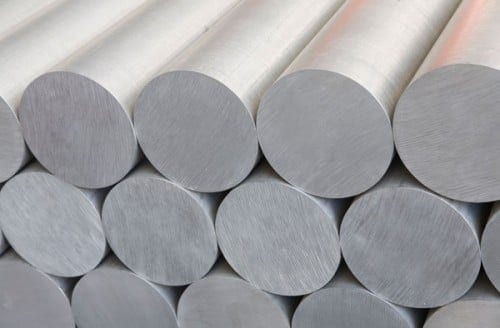 Heat Treatment and Shot Peening
Materials used for manufacturing BCGs must be properly treated and processed to deliver optimum performance. Heat treatment refers to subjecting the steel to high temperatures and then cooling it to impart tensile strength and remove fatigue.
Shot peening is the process in which tiny metal balls are shot at the steel to relieve stress from the metal. A BCG that has undergone heat treatment and shot peening assures you of its strength and quality.
Inner Chrome Lining
According to mil-spec requirements, the bolt carrier group must be chrome-lined on the inside. This provides a smoother and corrosion-resistant surface on the inside, increasing the life of the BCG and making it easier to clean.
Most manufacturers line the BCG on the outside but not on the inside. So make sure you buy the inner-chrome-lined version.
Staking
The bolt carrier group undergoes enormous gas pressure every time a shot is fired. The gas key is secured to the carrier using two hex screws, which also prevent the gases from escaping.
These screws are staked (metal on their sides is smashed onto them) so they cannot move due to the high gas pressure beneath. This also eliminates the chance of any accidental failures in the future.
HPT and MPI Tested
To ensure the quality and reliability of their product, manufacturers put their BCGs through two very rigorous test procedures to find any defects in the products. These methods are HPT (High-Pressure Testing) and MPI (Magnetic Particle Inspection).
Under HPT, a high-pressure test cartridge (higher than normal service loads) is fired from the BCG. The BCG further undergoes detailed inspection for any wear, malfunction, or cracks in the metal.
In MPI, the bolt is placed between the poles of an electromagnet and saturated with a suspension of magnetic particles. Using a UV light, the BCG is then inspected for any wear or malfunction.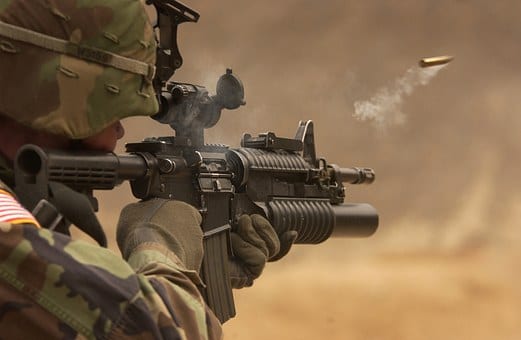 These tests can be done on individual BCGs or in batches. Try to find an individually tested BCG, as it obviously translates to proper inspection of a product.
Weight
Weight is always a matter of concern when it comes to firearms. Choosing a lightweight BCG over a standard one can mean a substantial difference (up to six ounces) in weight. However, there are certain conditions to it.
Lightweight BCGs, apart from being low-mass, also help in reducing recoil. That's because the BCG moves towards the shooter when a shot is fired. Lightweight BCGs are not for the average shooter and are more useful for competition shooters, especially when it comes to semi-auto shooting.
Using a low-mass BCG forces you to make several changes to properly tune your rifle. Additionally, they also confine you to using specific kind of ammo.
Coatings for the BCG
The are several different types of coatings available for the bolt carrier groups. A coating ensures that the BCG is resistant to wear, operates smoothly, is easy to clean, and good-looking.
Mentioned below are some of the best BCG coatings available on the market.
Phosphate Coating
Phosphate is the standard and most widely-used coating for bolt carrier groups. To apply this finish, the BCG is submerged in a heated phosphoric acid solution with manganese and is then heated to about 200 degrees Fahrenheit.
This process leaves the BCG with a thin and even phosphate coating which is extremely resistant to wear and tear.
This is the most commonly applied coating to BCGs and is quite inexpensive. The only problem is that it is quite susceptible to fouling and a bit difficult to clean.
Nickel Boron Coating
A nickel boron coating uses an auto-catalytic process to deposit a layer of nickel onto the steel. The process does not require any electrolytes and is hence, called an electroless process.
This coating is extremely resistant to corrosion and is almost frictionless. The nodular structure of the coating helps in dissipating heat at a far greater rate, making it apt for full-auto weapons.
This coating is very easy to clean and eventually looks aesthetically pleasing. Additionally, nickel boron coatings are not very harsh on the wallet.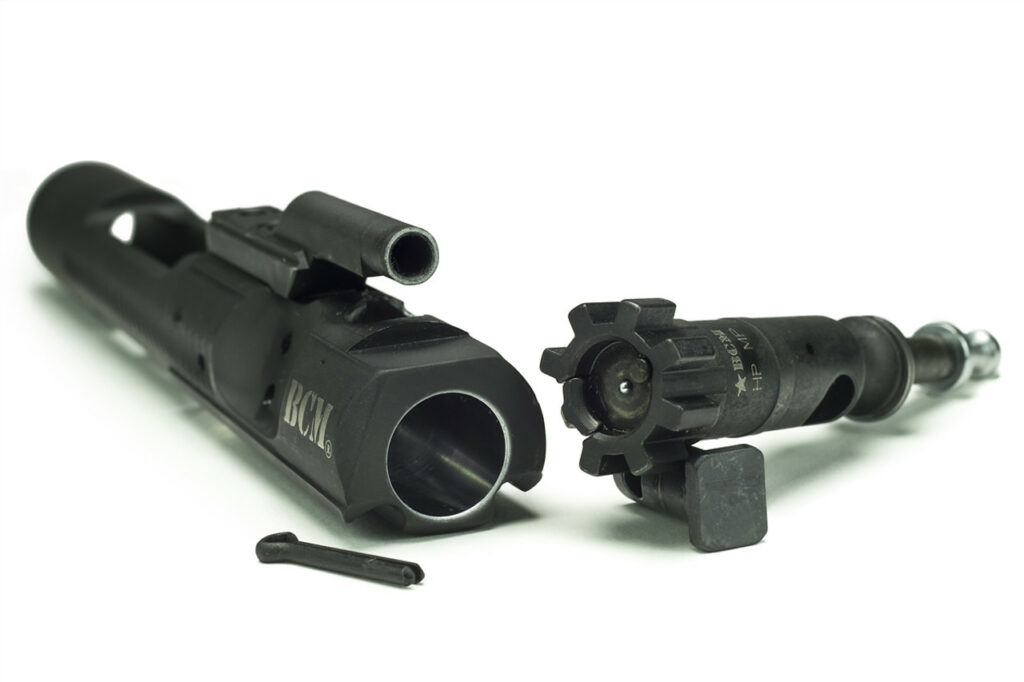 Titanium Nitride Coating
A titanium nitride coating is extremely durable, smooth, and slick. It is tougher than phosphate and nickel boron coating, and offers a longer service life to the BCG.
The best part of using a nitride coating is its unmatched resistance to corrosion and heat, and its splendid looks. Nitride is known to change the molecular structure of steel, making it harder and smoother as compared to other coatings.
The only thing that might concern you is the price, but that will surely be a good compromise for quality and aesthetics.
Ion Bonded Coating
Nothing very technical about this type of coating. It combines the properties of all of the above-mentioned coatings to deliver a durable, wear-resistant, heat-resistant coating with a long-lasting finish.
This type of coating is a bit costly compared to the standard mil-spec coating but they are definitely worth the price.
Full-Auto vs. Semi-Auto BCG
Full-auto vs semi-auto BCG is quite a heated discussion on AR-15 forums. As the name suggests, a full-auto BCG can be used to operate a weapon in full-auto/burst firing mode. A semi-auto BCG allows only the semi-automatic shooting mode.
It is important to learn that simply installing a full-auto BCG in your AR-15 doesn't make it full-auto. It requires several other parts to work that way.
The only benefit of using a full-auto BCG is that you can convert your weapon into a full-auto design when you want and where it's legal. Please make sure you are being 100% compliant with laws and regulations in your area. The difference in the price of a full and semi-auto BCG is negligible.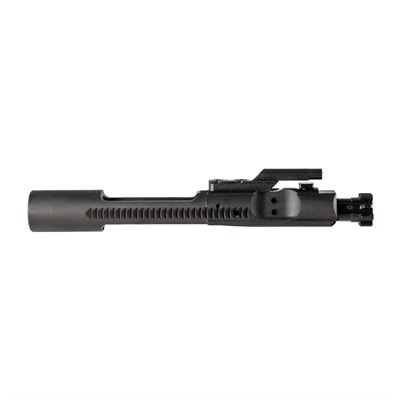 A full-auto BCG is slightly longer at the rear than a semi-auto variant and features a lug. The lug pushes the sear downwards in full-auto weapons, allowing burst fire. The length and added metal make it heavier and obviously a bit higher in price, but not much.
Full-auto BCGs work flawlessly with semi-automatic weapons and their heavier weight helps in reducing recoil to some extent.
Semi-auto BCGs, being lighter, are compatible with lighter buffers than their full-auto counterparts. So you can also shed weight there if you choose a semi-auto variant.
One major difference between semi-auto and full-auto BCGs is the shrouded firing pin. A full-auto model features a shrouded firing pin. In the absence of a disconnector pin, the hammer will keep snagging on the firing pin after every round.
This damages the firing pin and sometimes results in jamming of the gun. The shrouded metal piece ensures that the hammer hits the carrier.
As an alternative, you can also use firing pins having small diameters with semi-auto BCG.
How to Install AR-15 Bolt Carrier Group
Installing a bolt carrier group is easy if you know how to do it. If not, no problem. The following is a brief instructional guide on how you can get it done:
First and foremost, check to see if your rifle is all-clear from any live rounds. This means checking the mag well and chamber. Once you are clear on both ends, you can proceed to the next step.
Take apart the upper receiver where you are able to extract the old bolt carrier group from the rifle.
Make sure that the bolt in the bolt carrier group is pulled all the way out before placing it in your rifle.
Slide the bolt carrier group into the rifle below your charging handle and re-assemble your upper receiver. By this point, you should be done.
Conclusion
A bolt carrier group is the heart of an AR-15 rifle. It has a gas impingement design which performs firing, ejection, and cycling of rounds consecutively. Factors such as weight, staking, inner lining, and testing must be considered before choosing a BCG.
A full-auto BCG is more preferred these days due to its versatile nature and shrouded firing pin. Low-mass BCGs, on the other hand, have their own benefits such as lesser recoil, but they largely suit competitive shooters. Individually tested bolt carrier groups from a renowned manufacturer highly improves your chances of buying a good bolt carrier group.