Superior weapon control on the range and in the field should be one of the goals of every shooter and hunter. One of the best ways to do this is to ensure that there is ample grip available on an AR-15 rifle.
Adding a foregrip bipod to an AR-15 is an excellent way of achieving that goal. Not only does it offer a vertical grip to hold onto when shooting off shoulder, it also provides a way to stabilize the rifle when a flat surface is available to shoot from.
Keep reading to learn more about foregrips and to see the best AR-15 foregrip bipods available on the market today.
At a Glance: Our Top Picks for AR15 Foregrip Bipods
Comparison Chart of the Best AR-15 Foregrip Bipods
IMAGE
PRODUCT

Our Top Pick

Allows the Shooter to Cant their Rifle
Ventilated Grip Design for Better Comfort
Includes Switch Housing for Attaching Flashlight

View Latest Price →

Tactically Positioned Flashlight Operating Button
Tested To Withstand 220lbs Weight When Mounted
Unique Design Good for CQB and Signalling Situations

View Latest Price →

Best Grip Pod from Mako
Ideal Alternative to a Bipod and Foregrip
Simple and Intuitive Design. Good for Amateurs

View Latest Price →

Innovative, Adjustable and Easy to Use
Folds up to smooth and unobtrusive size
Legs accept most Atlas pattern bipod replaceable feet

View Latest Price →
What to Watch For When Buying an AR-15 Foregrip Bipod
Not all AR-15 foregrip bipods are made equally. It is important to know what to look for when shopping for one to ensure that you make a good buying decision. Having a foregrip bipod fail in the middle of shooting is not a situation any shooter wants to experience.
Remember that if it is too good to be true it probably is. There are a lot of cheap knockoffs out there from companies or sellers just trying to make a quick buck. The following tips and information will help guide you towards a reliable and quality AR-15 foregrip bipod.
This Section Written By: Brian Belko
Expert Author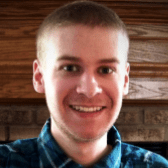 Brian is an experienced freelance writer and technical writer who has previously written for publications such as Wide Open Spaces, Bigfoot Gun Belts, Alien Gear Holsters, and Kampgrounds of America. He brings both a passion for writing and a love of the outdoors to his published content.

Aside from writing and the outdoors, Brian enjoys gardening, being a co-host on The Nostalgia Blast Podcast, and learning to code.
Evaluating Needs
The first decision to make, if you haven't already done so, is whether or not a foregrip bipod is right for you. One of the most useful places to start is to give some thought to your needs and the scenarios you intend to utilize the bipod during. AR-15 foregrip bipods are ideal for shooters who find themselves shooting from a variety of positions and surfaces. Being able to quickly go from a foregrip to a bipod using the same attachment can save vital seconds when they count the most.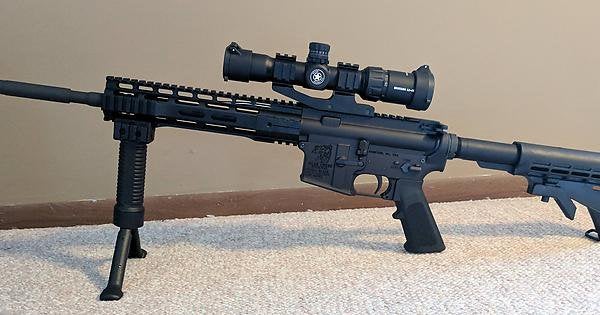 Space Saving Benefits
A foregrip bipod is also a good choice for shooters looking to conserve space on their rifles considering the fact that they are essentially two tools in one. Some short barrel AR-15 rifles might not even have room for mounting separate grips and bipods. This can be resolved by choosing pertinent attachments before heading to the range or into the field depending on what you'll be doing. However, it can be easy to forget to change things out.
Considering the Cons
While they are absolutely a valuable and useful AR-15 accessory, foregrip bipods aren't perfect. Two-in-one accessories and other multi-use attachments can sometimes be hit or miss. Making both functions usable sometimes leads to useful features of a standalone item being eliminated. In other words, a standalone grip or standalone bipod will likely perform a bit better than a foregrip bipod.
Another con of an AR-15 foregrip bipod is that they are not the best options for long range shooting. A standalone bipod will be a better solution for long range shooting. Foregrip bipods generally excel at short to medium range distances. There is also the fact that foregrip bipods tend to be of a larger diameter which might not be ideal for any shooter with smaller hands or those who simply prefer a more narrow grip.
Review of the Best AR-15 Foregrip Bipods
After contemplating the ideal characteristics of a foregrip bipod, we took our time to scour the internet for finding the best AR-15 foregrip bipods available on the market. The market is flooded with AR-15 accessories, so finding the right products can be a tedious task sometimes. However, we've come up with the best on the market, to help you with your purchase.
FAB Defense T-Pod G-2 Vertical Foregrip w/ Integrated Adjustable QR Bipod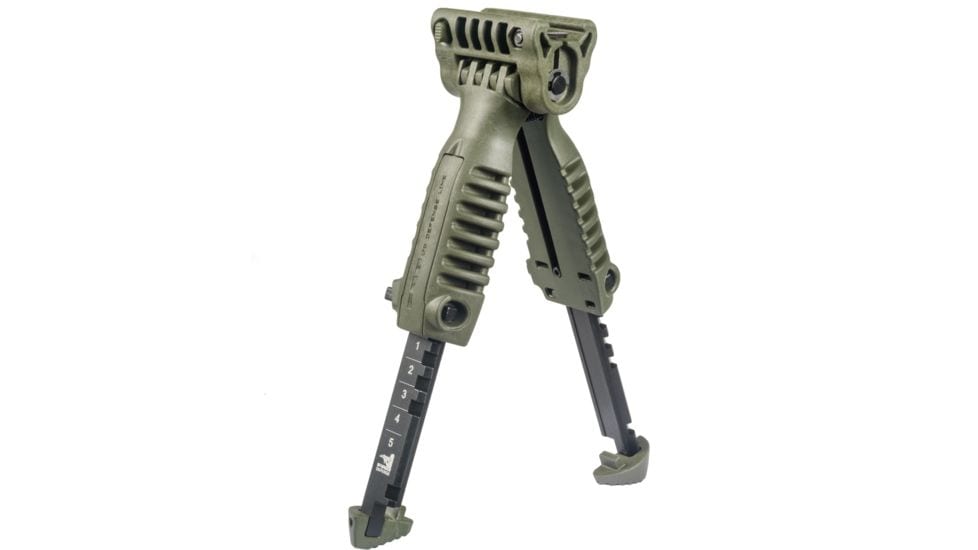 We may earn commission from purchases made from our links, at no additional cost to you
Review
The T-Pod G2 from FAB Defense is an exceptional example of a foregrip bipod, pertaining to its high level of functionality. The grip pod has been made using a mix of high-grade polymer for the foregrip and metal for the bipod feet.
The foregrip has a single thumb button that quickly releases the legs, which stay retracted inside the foregrip. The foregrip has a split design, so it spreads into two parts, with each part housing a leg of the bipod. The double release button prevents any accidental deployment of the bipod.
The pod legs are adjustable for five different lengths, allowing the user to adjust according to the terrain and shooting conditions. The foregrip, on the other hand, features a non-slip texture and ventilated design which prevents any moisture build-up on your hand. Additionally, the grip pod also features a double-sided pressure switch housing in case you plan to mount flashlights on your weapon.
The setup can be installed on any rifle featuring an underside Picatinny rail. It can be mounted using a QD or bolt locking mechanism, whatever is preferred by the user. The grip pod has grooves and etchings on different points to ensure systematic weight reduction without compromising on durability.
The best part of using this grip pod is its cant capability. It can be rotated to a maximum angle of 45 degrees left or right of the center. This feature is mostly found in high-quality bipods. It allows you to follow your target without the need for adjusting your rifle.
Bottom Line
Respective of its features and cant capability, this foregrip bipod is the best available option for AR-15 users. The grip pod can be used for tactical, as well as hunting applications.
Pros
Quick Deployment
Adjustable Length of Feet
Non-Slip Ventilated Grip Design
Allows the Shooter to Pivot the Rifle
Double-Sided Pressure Switch Housing
Durable Construction Using a Mix of Materials
Easy to Install Via QD or Bolt Locking Mechanism
Best With Laser and Light
FAB Defense Gen-II Vertical Integrated Bipod Foregrip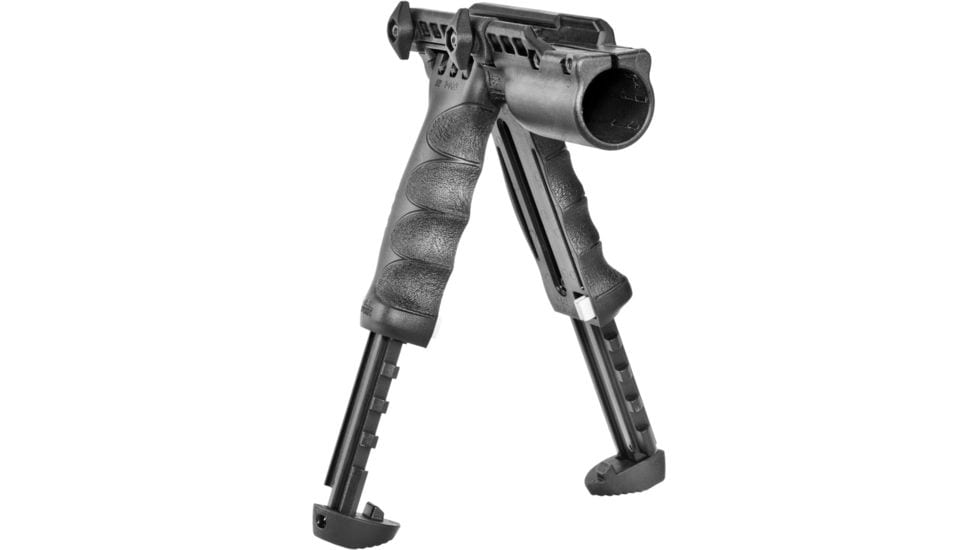 We may earn commission from purchases made from our links, at no additional cost to you
Review
The Gen-II Vertical Integrated Bipod Foregrip from FAB Defense has been designed to combine the function of a bipod, foregrip, and flashlight in one package. The grip pod has been made from a mix of aluminum and composite polymer to attain a perfect balance between weight and durability. The foregrip can split into two sections, each housing one leg of the bipod.
The bipod legs can be adjusted for five different length options individually so you get the right and sturdy base on all kinds of platforms. The foregrip has ergonomic grooves and a non-slip design which also assists with a firm grip even under the influence of liquids.
The grip pod also features a flashlight adapter which can house flashlights having up to a one-inch diameter. It also has a push button on the rear end of the flashlight adapter for convenient and quick use of the flashlight. The foregrip adapter has been tested to withstand a weight of 115 kgs when mounted on your weapon.
Additionally, the grip pod mounts easily on any Picatinny rail and covers a minimum of six rail slots. The tactical position of the flashlight button allows for an instant operation of the flashlight under tactical CQB situations.
Bottom Line
The Gen-II Flashlight Bipod is a tactical accessory for your AR-15 which is ideal to be used in CQB and similar tactical situations. The quick and intuitive operation of the flashlight makes it a good add-on for your rifle and is ideal for self-defense situations.
Pros
Instant Operation
Good Mix of Weight and Durability
Includes One-Inch Flashlight Mount
Non-Slip, Non-Sweat Ventilated Design
Secured With Dual Quick-Release Wingnuts
Cons
Not Very Compact
Consumes Too Much Rail Space
FAB Defense Gen-II Vertical Foregrip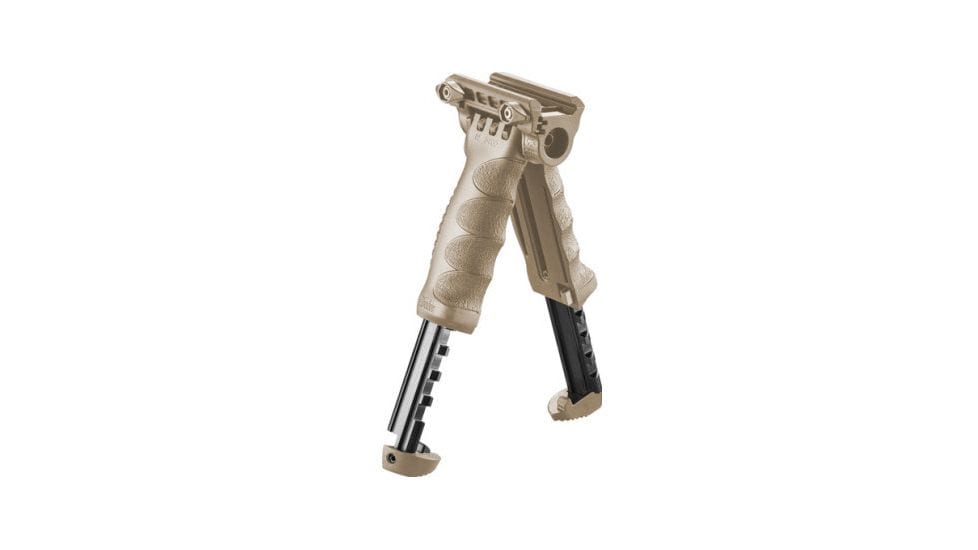 We may earn commission from purchases made from our links, at no additional cost to you
Review
Mako Group is a widely renowned manufacturer of tactical accessories for the AR-15. Their reputation is associated with their quality, so we had to include this grip pod on our list. This Gen-II Vertical Foregrip is a military-grade grip pod designed for quick transition between CQB and long-range shooting modes. The grip pod has using a mix of aviation-grade aluminum and high-grade composite polymer.
The quick-release mounting system allows you to mount the grip pod on and off your rifle quickly and easily. The bipod legs extend outside with the push of a button and can be retracted and pushed inside with ease.
The leg height of each of the legs is individually adjustable to let you adjust your shooting position on the most uneven terrain. The bipod also allows a slight pivot to adjust the cant of the rifle, which is definitely a plus.
Bottom Line
The grip pod from FAB defense is by far the simplest on this list. The grip pod is easy to mount and operate. Plus, it also has an adjustable cant which helps with tracking games over long ranges. It offers an exceptionally quick transition between CQB and sniping modes, which makes it ideal for every situation.
Pros
Easy to Mount and Use
Slightly Adjustable for Cant
Ergonomic Grip With Grooves
Simple and Durable Construction
Secured With Dual Quick-Release Wingnuts
Cons
Hard Plastic Feet
Might Pinch Sometimes
Magpul Bipod for Picatinny Rail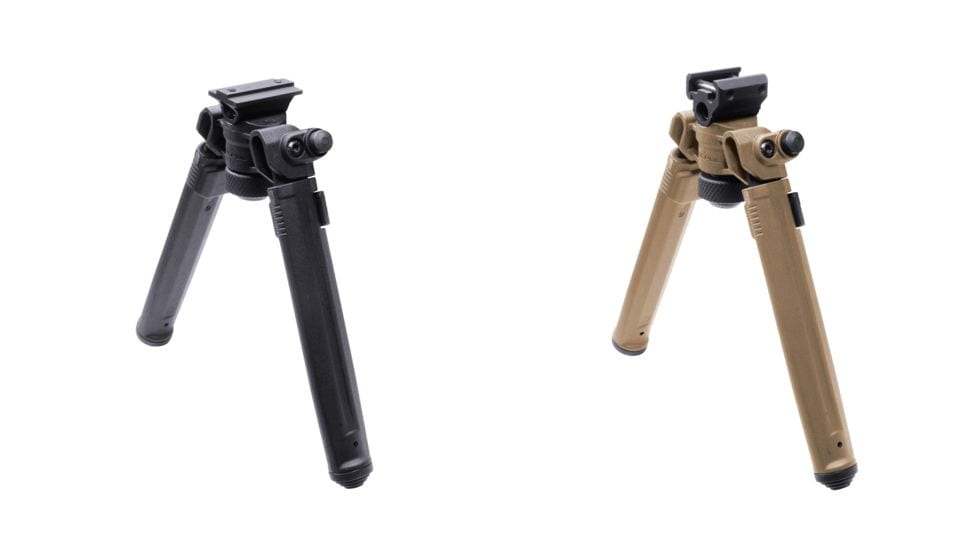 We may earn commission from purchases made from our links, at no additional cost to you
Review
The Magpul Bipod is an exceptional and intelligently-designed piece of equipment for your AR-15. The bipod has been made from a mix of durable aluminum, high-grade polymer, and stainless steel components to ensure sturdiness and reliability.
It is adjustable for both tilt and cant to a good extent so you can shoot at long ranges with ease. Plus, the cant of the bipod can be locked at zero degrees. The bipod deploys quickly and can also be used as a rest in the folded position. The bipod feet can be extended to a maximum length of 10.3 inches.
Additionally, it is among the lightest bipod you'll ever see, featuring a weight of just 11 ounces. The knurled, locking knob ensures quick mounting and dismounting of the bipod from your rifle. The bipod can also be used as a rest with feet folded. Plus, if you plan on changing the feet, this bipod accepts most atlas pattern bipod replacement feet.
Bottom Line
The Magpul Bipod is loaded with features, along with bearing an aesthetically pleasing finish. The bipod is ideal for hunting and long-range shooting because of its adjustability and durability.
Pros
Feet Can Be Replaced
Adjustable for Tilt and Cant
Glove-Friendly Locking Knob
Works in Both Deployed and Folded Position
Extremely Durable and Lightweight Construction
Cons
No Swivel Lock
Legs Do Not Deploy Via Springs
5. Vbestlife Tactical Rifle Bipod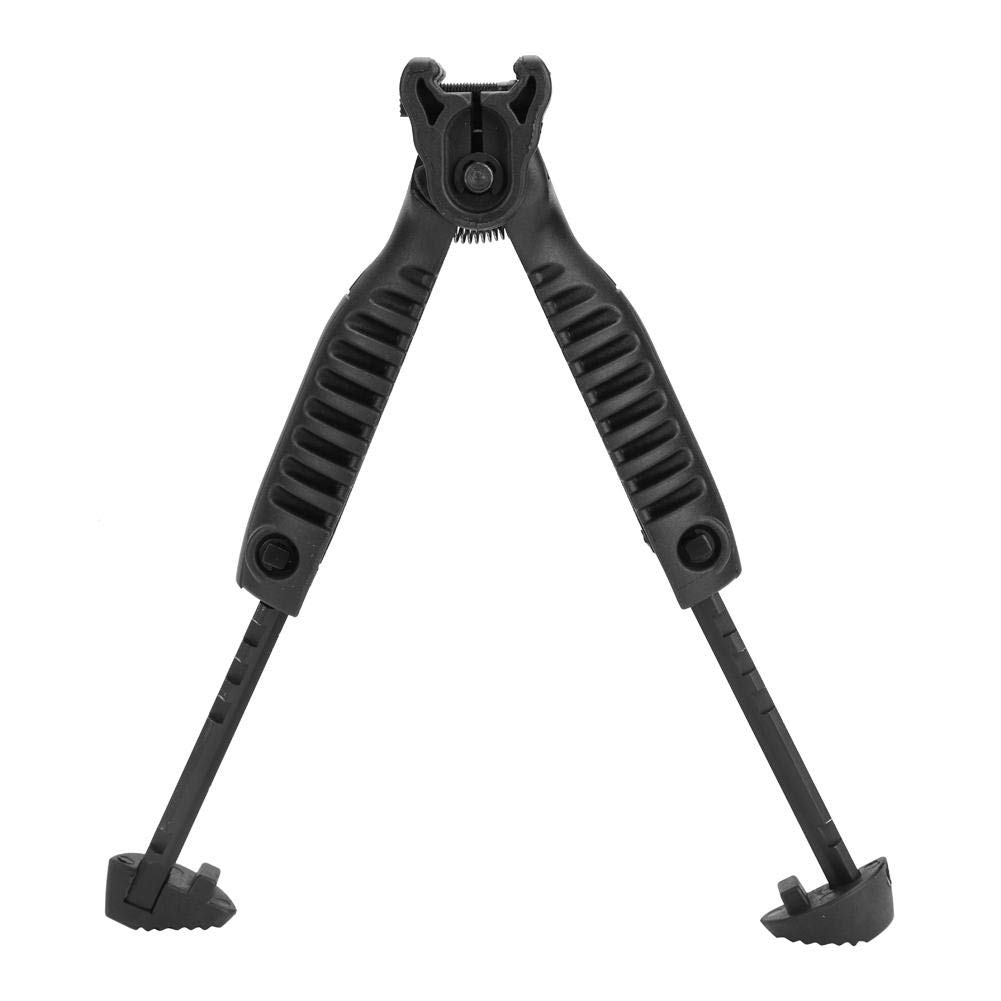 We may earn commission from purchases made from our links, at no additional cost to you
Review
This tactical foregrip bipod from Vbestlfe offers good value for money, obviously because of its low price and features. This product has been manufactured using a mix of polymer and aluminum.
The foregrip is a polymer and the bipod feet are made from durable aluminum. The base of the grip pod features a push button that can be used to extend the legs instantly. No pulling out the legs and no adjustments whatsoever.
The foregrip is approximately 5.7 inches (grip) and features a grooved texture for a sturdy grip and proper ventilation. This comes in handy under tactical situations where you cannot let moisture, sweat or any other liquid loosen your grip on the weapon. The feet can be retracted with ease and snapped into place without much effort, which makes the grip pod easy to use.
The bipod feet are adjustable to five different lengths, individually. So you can adjust to the height that suits the terrain. The bipod feet, when extended to full length, can provide a maximum elevation of nine inches, which is close enough to most generally used bipods.
This product mounts easily to any Picatinny rail, plus it's also quick and easy to take off. The grip pod is compact and lightweight. If you are looking for an inexpensive and functional alternative to a bit expensive grip pods, this product is your answer.
Bottom Line
The Vbestlife Foregrip Bipod is an inexpensive alternative to more pricey grip pods. It is compact and lightweight and serves its purpose. However, it cannot be relied upon for more rigorous use.
Pros
Exceptionally Inexpensive
Compact and Lightweight
Grooved Surface for Better Grip
Covered By a Money Back Guarantee
Cons
Not Very Durable Construction
Leapers UTG D Vertival Front Grip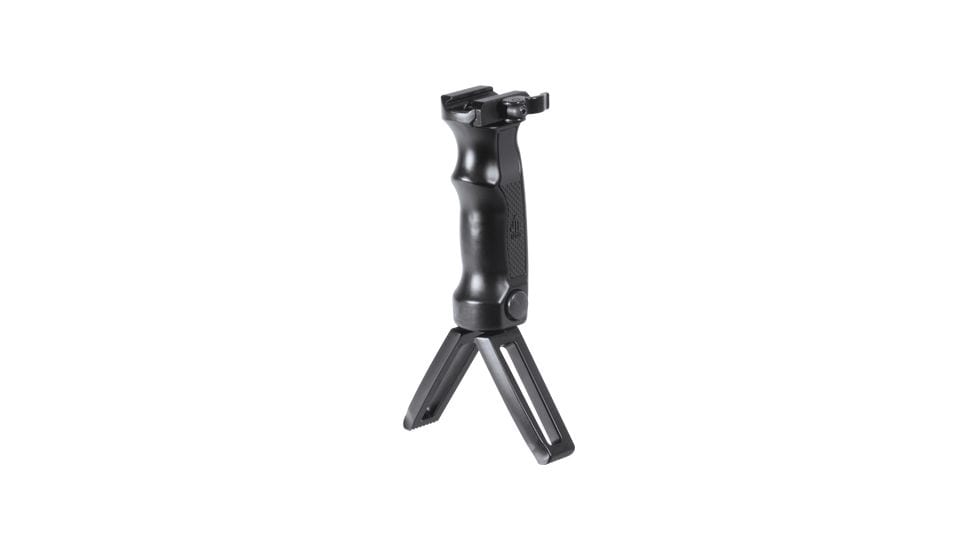 We may earn commission from purchases made from our links, at no additional cost to you
Review
The Leapers UTG Vertical Front Grip is probably the most amazing option on this list. This grip pod features an amazing yet simplistic design which makes it ideal for both CQB and long-range shooting. The grip pod has been made entirely from aluminum, which speaks of its durability and reliability.
The foregrip has an ergonomic design with finger grooves and non-slip, heat-resistant, rubberized sides, which ensures your grip doesn't get loose on your firearm under any circumstances.
The grip has an easy access release button on the base, which deploys the legs instantly. The button has been positioned appropriately for intuitive access. The feet are two small aluminum inserts that result in a total height of eight inches for the grip pod when fully extended. These feet are textured and feature a design that allows them to mount steadily on any terrain.
Retracting the bipod feet is also easy and can be done quickly for the transition from CQB mode to sniping mode. The grip pod can be mounted to any Picatinny or Weaver rail base, using the patented quick detach lever.
This ensures that you can easily remove or mount the bipod as and when needed. It doesn't eat up much space unlike most other bipods, which eventually allows you to use in cramped spaces.
Bottom Line
The Leapers UTG grip pod is one of its kind, featuring durable construction and an intuitive operating mechanism. The grip pod is good for both tactical and long-range shooting and works exceptionally well in cramped shooting spaces.
Pros
Easy to Install and Remove
Textured All-Terrain Bipod Feet
Durable and Reliable Full Metal Body
Ergonomic Grip With Rubberized Sides
Impact-Resistant Weight Carrying Legs
JINSE Bipod Picatinny Rail Quick Release Folding Swivel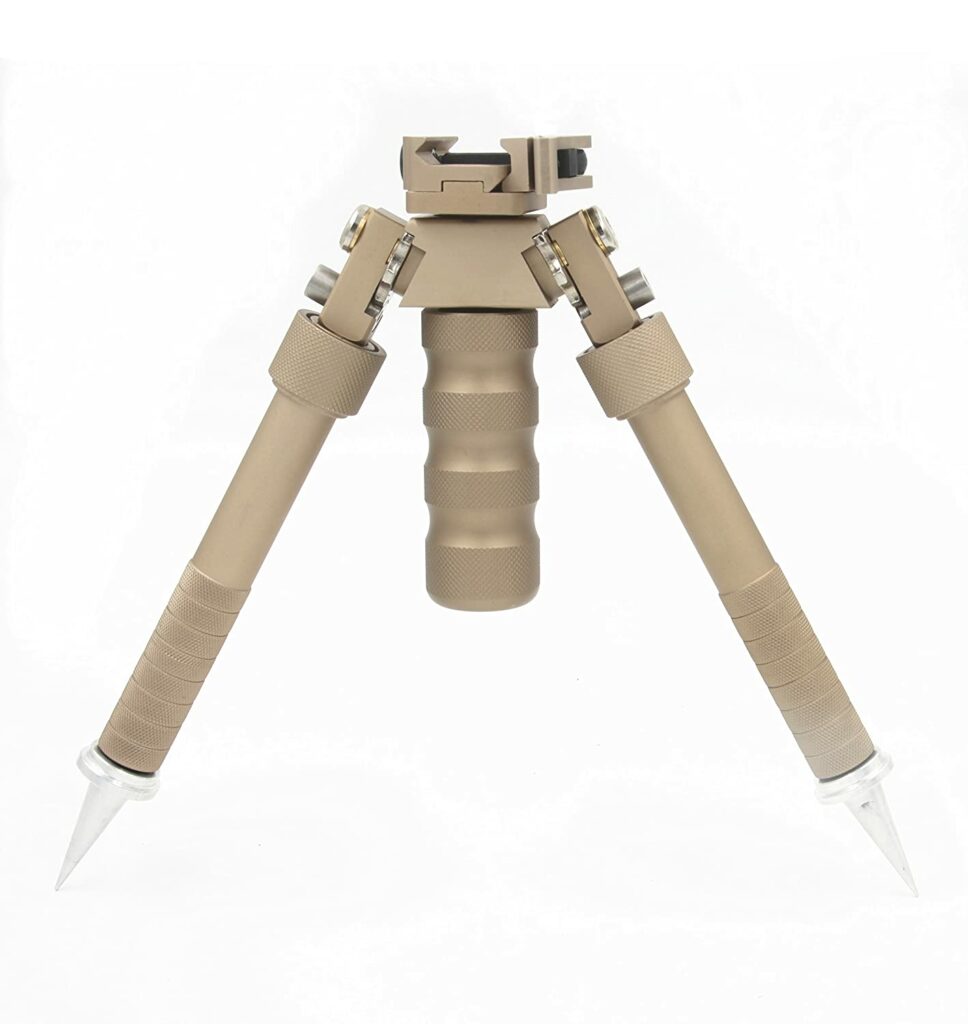 We may earn commission from purchases made from our links, at no additional cost to you
Review
The best folding model on our list. This foregrip bipod from Jinse features all the capabilities of the most feature-packed bipod. Starting with is construction, the grip pod has been made using aluminum to ensure durability under all circumstances. The grip pod features a quick-release lever for mounting to a 20cm Picatinny/Weaver rail.
The legs are extendable to five different lengths with a maximum length of nine inches. The spring-loaded feet can be adjusted to a maximum of 45 degrees for tilt and transition. This feature comes in handy when you have to take stance on an extremely uneven surface. Other than that, the head provides a pan angle of 30 degrees left to right, so you can track your target precisely.
The bipod arms can be folded up like most regular models for easy carrying and storage. Coming to the foregrip, this product features a detachable one in the center. The foregrip can be screwed in when needed and removed when not in use. This way, you get a bipod and a foregrip which don't compromise on their individual qualities yet provide a coherent existence.
The bipod legs also feature rubberized pads, which deliver a good grip on all surfaces. These rubber pads can be replaced with aluminum spikes in case you want a more sturdy platform for your bipod.
Bottom Line
The bipod offers an exceptional set of features and a removable foregrip. Which allows you to use it fully as a bipod and a foregrip. In accordance with its price, this is the best grip pod available on the market.
Pros
Removable Foregrip
Quick Release Lever
Adjustable for Tilt and Cant
Durable Aluminum Construction
Rubberized Feet With Spike Options
Cons
Takes Up Space Like a Most Products of This Type
Are Foregrip Bipods Ideal in Every Situation?
Foregrip bipods are a combination of a foregrip and a bipod. They were designed to help conserve space on a cluttered handguard rail. Foregrip bipods can be good in CQB and similar situations where you have to fight in close quarters and then lie down to use a bipod for rested shooting. It can come in handy when you are following game like hogs and have to shoot at both close-range and long-range.
Foregrip bipods were ideally designed for military personnel and special forces operatives to give them a multipurpose accessory to conserve space. These are not very good for long range shooting (sniping) because their bipods have limited features. Plus, for some applications, only bipods are the best choice.
However, foregrip bipods are a very "tacti-cool" accessory and look quite wicked on your rifle. These are a good option for people who like to shoot with a mix of prone, crouching, and standing stances.
How We Chose These Models
Before we reveal the products we've selected for review, we have outlined several qualities upon which we chose them. These qualities are general in nature and must be looked for in a foregrip bipod, no matter where you buy it from.
Durability
The very first parameter of choosing these foregrip bipods is durability. Most are generally made from high-grade polymers, with the feet sometimes being made of metal. Some grip pods can be made entirely out of metal. We have only included those forend bipods in our list that have been tested for durability and strength, since a bipod should be tough enough to withstand pressure.
Length
Grip pods can either have a fixed length or an adjustable length for the feet. If you are certain about what length of bipod is optimal for your requirements, you can go for fixed-length grip pods. However, if you are not specific about the length you want to use, choosing an adjustable length grip pod is a better choice.
Movement
A foregrip bipod can have tilting and panning capabilities like any other simple bipod. However, some grip pods don't have it. It is better to have such a pod with cant and pan capabilities since it helps with shooting your weapon just as you would with a bipod. Our list is a mix of such bipods, so you can choose the design you like.
Folding Mechanism
Some grip pods have feet that retract inside the grip, whereas some have the grip split into two parts as feet. Different grip pods have a different folding mechanism and each of them is handy for different individuals. Eventually, the type of folding mechanism you choose will depend upon your individual choice.
Conclusion
A foregrip bipod is an effective replacement for a foregrip and a bipod. It allows you to operate under situations concerning both CQB and long-range shooting. A good foregrip bipod must be durable, lightweight, and adjustable so it offers exceptional functionality on the field.