No tactical rifle is complete without a laser light clamped on to an easy-to-reach rail. AR-15 laser lights are ideal for home defense, low light shooting conditions, hitting the range on a cloudy day, and just plain looking cool. Just check out any action movie with tactical operators. There are guaranteed to be plenty of laser sights.
Whether you go with a red laser or a green one, having the option for another target acquisition system is always a good thing. AR-15 laser lights add a ton of utility and aesthetic value to just about any rifle.
Keep reading to gain some more knowledge and to see the best AR-15 laser sights available on the market today.
At a Glance: Our Top Picks for AR-15 Laser Lights
Comparison of the Best AR-15 Laser Lights
IMAGE
PRODUCT

Our Top Pick

Green Color Laser Is Visible in Daylight
Includes Barrel and Picatinny Rail Mount
Remote Pressure Pad Allows Activation While Firing

View Latest Price →

User Programmable Strobe Can Be Enabled/Disabled
IPX4 Water-Resistant and Lightweight
Powered by Two 3-volt CR123 Lithium Batteries with 10-year Storage Life

View Latest Price →

Best Budget Option

Extremely Bright Green Laser for Day and Night Use
178 Lumens Bright Light With Strobing Function
Universal Mounting System and Long Battery Life

View Latest Price →

Lightweight and Compact Laser and Light Combo
Fits a Wide Range of Handguns
The Most Widely Used Laser Light Combo on the Market

View Latest Price →
What to Watch For When Buying AR-15 Laser Lights
Do a quick internet search for AR-15 laser lights and you will be overrun with options. There are a lot of different laser lights out there, but they are not all equal. Cheap knockoffs abound and while their price tags can be tempting, performance and quality are more important. Especially if you plan to rely on your chosen AR-15 laser light in potentially life or death situations such as home defense. It pays to do plenty of research before deciding on which one to purchase. The following tips and information are a solid place to start your AR-15 laser light buying mission.
Rifle Friendly Laser
One of the most important things to do when you are beginning the process of choosing an AR-15 laser light is to take some time to really think about your rifle. Not every laser light will be ideal for mounting on every AR-15 rifle. Do you already have an open rail for a laser light? Are you running other optics the laser will need to play nice with? Will you need to move some things around to accommodate a laser light? Those are just a couple of the questions that are worth asking yourself before looking at your AR-15 laser light options.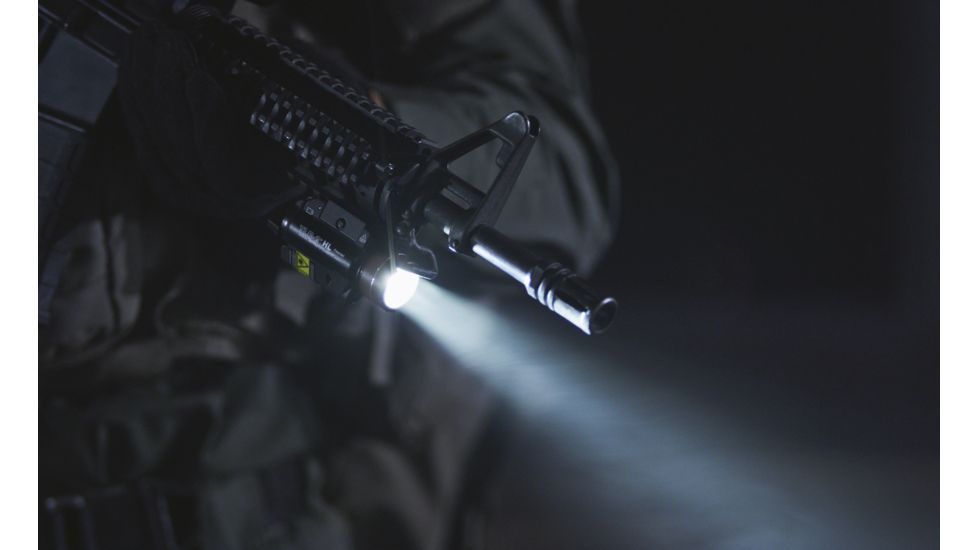 Red or Green
The color of the laser light you choose comes down to both personal preference and the shooting scenarios you might encounter. One of the main differences between the two colors is that red lasers are noticeably less effective for daylight shooting. Additionally, green lasers are generally more powerful than their red counterparts. That is a good thing when it comes to actually use them, but it also means they chew through batteries at a much faster rate than red lasers.
If you just want a laser light on your AR-15 rifle for potential home defense scenarios, a red one is a fine choice. However, if you do want your laser light to be useful for daytime trips to the range, consider a green one and a few extra batteries.
Too Good to Be True
Tread carefully when it comes to marketing hype for AR-15 laser lights you might be considering. It isn't exactly rare for companies to make bold performance claims that turn out to be exaggerated to put it nicely. The last thing you want to do is wind up with weak or low-quality laser light. Just remember that if it sounds too good to be true it probably is.
Review of the Best AR-15 Laser Lights
The following is a list of the five best AR-15 laser lights that are currently on the market. Learn about what new buyers had to say about them, why it's considered one of the best, and what the sight itself can be used for.
To help you out with your buying decision, we have outlined some of the best laser-light combos on the market. The products reviewed here comply with the above-mentioned traits of a good laser-light. The ones reviewed here are the best, but there's a lot of leeway for personal discretion. Let's take a look at the first AR-15 laser light on the list:
StreamLight TLR 2 HLG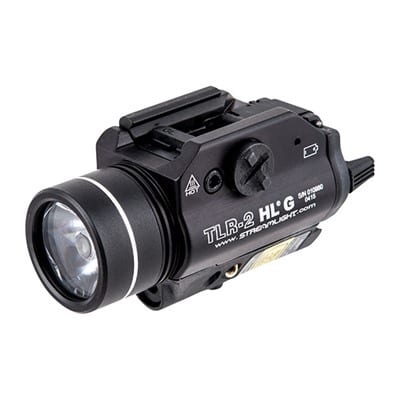 We may earn commission from purchases made from our links, at no additional cost to you
What Recent Buyers Report
Most of the new users were quite happy with the laser light. They quickly pointed out the overall durability thanks to the body being made out of high-quality aluminum. Users were also able to get around dark corners and obstacles in both an indoor and outdoor setting. One user said that this has served him well in the long run in coyote hunting applications.
Why it Stands Out to Us
This is a laser light that will work with just about any gun you can think of. Pistols, AR-15 rifles, you name it. No matter which firearm you attach this with, you're able to get around dark corners and be able to accurately shoot at targets while you're in a poorly lit area of any indoor or outdoor setting. So, if you're hunting or if you end up in a self-defense situation, this laser light will rise to the occasion so you can use your rifle any way you can.
The Streamlight TLR 2 HLG is a powerful laser-light combo with an 800-lumen flashlight and a green laser. The powerful flashlight can be used to illuminate a wide area to search or mark targets. The combo is powered by two 3V CR123 Lithium batteries which have an exceptional 10-year storage life. The laser-light has a rail clamp system which is compatible with Glock- and Picatinny-style rails, It secures the light firmly with the rifle. The light is easy and quick to attach/detach. The contents have been sealed in an aluminum housing which is IPX4 water resistant and bears a matte black finish. The laser-light has a steady on/off and a strobing switch where the strobe frequency can be user-adjusted. It weighs only 135.5 grams with batteries and can operate in temperatures between -40 to 120 degrees Fahrenheit.
Who Will Use This Most
This will be used mostly for hunting purposes, but don't discount this as useless for other applications like tactical and self-defense purposes. No matter how you use it, this light will get you around a lot of obstacles and will certainly put you in an unfair advantage in some applications. But not to worry, that's a good thing for you.
Bottom Line
The Streamlight TLR-2 HLG is the kind of laser light that your AR-15 will love to have. If you plan on using your rifle for some nighttime purposes, this laser light is a must-have accessory. You'd be hard-pressed to find anything that is bright and durable like this light.
Pros
Limited Lifetime Warranty
Adjustable Strobing Function
Package includes keys for installation
Green color laser which is helpful while shooting in daylight
Cons
High price point
Extra bright 800 lumens light which drains battery fast
Viridian X5L Green Laser Sight and Tac-Light
We may earn commission from purchases made from our links, at no additional cost to you
What Recent Buyers Report
Most of the new buyers were happy with the laser sight. They said the best time to use this is during the day while target shooting at the range. One user said that he was able to hit targets from 50 to 100 yards and beyond. He also added that after 250 rounds fired, the zero settings stayed in place without any need to make any adjustments.
Why it Stands Out to Us
This laser sight comes equipped with a tac light that will allow you to navigate through dark corners and obstacles at night, and get this: the green laser is quite effective at night. Sure, they say green lasers don't do their best at night, but this might be the only one that rises above all of that. So if you're coyote hunting at night, odds are you can nail one of them with a laser sight light like this. Just as long as you zero in on them correctly and can see them, you should have no problem knocking them down.
Viridian is a regular contender among top products, and they don't disappoint with this sturdy laser-light combo. The green laser featured here is strong enough for both day and night use. The flashlight shines at 178 lumens but has a 224 strobe feature – great if you're trying to disorient an attacker. On one CR123 battery, the manufacturer claims the laser can run continuously for up to six hours. In pulsing laser mode, that extends to 10 hours, and if you're using both the laser and light together, you can still get about an hour out of it. However, the light is only a simple LED and the battery life is reported to be much shorter. The mounting system is modular, meaning you should be able to use it with any mounting system you have. At 8.8 ounces, it's heavier than some competitors but still not overly burdensome.
Who Will Use This Most
This will be useful for two kinds of shooters: target shooters that spend the day at the range and coyote hunters at night. This is an AR-15 accessory that will be reliable and useful around all hours of the day. Don't be surprised if you use it during either time of the day and have it still work to your advantage.
Bottom Line
The Viridian X5L Green Laser Sight and Tac Light might be exactly what you're looking for if you need a laser light for your AR-15 that can be quite useful either during the day or at night when you're out and about warding off predators or varmint that might be threatening your property. This unit has a great combo that you can use for whatever purpose you see fit.
Pros
Light is decent
Laser sight is excellent
Easy to zero (but not so great at holding zero)
Cons
Pricey
Short battery life
Lens cap often falls off
3. Streamlight TLR-4 Tac Light with Laser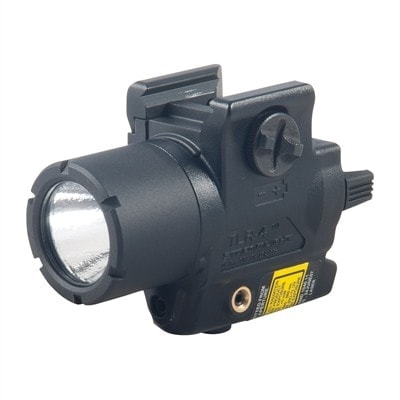 We may earn commission from purchases made from our links, at no additional cost to you
What Recent Buyers Report
As expected, most of the new users were happy with this laser light. They were satisfied with how easy it was to install on their AR-15 rifles and how quickly it got the job done. New users were also able to use the laser sight to their advantage and hit targets from 100 yards out and beyond.
Why it Stands Out to Us
This laser light has a housing that is made from high-quality aluminum. So, it will prove itself to be durable, especially when attached to rifles that have a lot of powerful recoil. The best part about the laser sight is that it won't lose it's zero settings through hundreds, if not thousands of rounds. So, if you want a laser light that has a set it and forget it kind of sight, this might be right up your alley. On top of that, this has a flashlight that you'll use for any nighttime activities like searching for varmint or predator targets for hunting.
The TLR-4 from Streamlight offers three modes: laser only, light only or laser and light together. The modes are relatively easy to select for both right-handed and left-handed shooters. The unit is lightweight at only 2.73 ounces as well as being only 2.73 inches long and just a speck under 2 inches high. The LED only shines at 125 lumens, but you can supposedly get an hour and a half of continuous use in light-and-laser mode. They also claim 11 hours in laser-only mode. It's a red-only laser, so it's not ideal for daytime use.The windage screw is a little tough to operate in the field but does a decent job of holding zero. This unit is designed for handguns but can also work well with rifles with the use of its rail clamp.
Who Will Use This Most
This will likely be a laser light that can be used for hunting purposes. But don't count this out for those who use their AR-15 for self-defense purposes. Even if you don't use an AR-15 for that purpose alone, it's compact enough to fit on almost any handgun you may have for defending your home. It doesn't matter what firearm you own, if you need a laser light that will be reliable for many years to come, this could be your best possible choice.
Bottom Line
The Streamlight TLR-4 Tac Light with Laser will stand the test of time for as long as you have it attached to your AR-15 of choice. Once you add this on, you'll have something that will have the potential to give you many years of loyal service. If reliability is your number one priority, this laser light is a must-have for you.
Pros
Quality laser
Decent price
Very lightweight
Good battery life
Windage adjustment
Cons
Low lumens on light
Rail attachment is plastic, so it's not too durable
4. Crimson Trace Corporation – Modular Vertical Foregrip Laser Light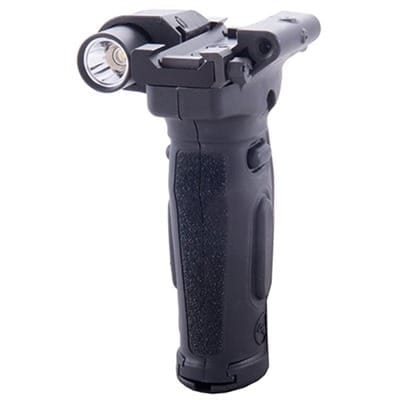 We may earn commission from purchases made from our links, at no additional cost to you
This is the coolest and most amazing laser-light on this list and probably the one you might have never seen. The modular vertical foregrip laser light from Crimson Trace Corporation packs the features of a foregrip, laser and a flashlight in one single product.
This product features a tang which is the foundation of the foregrip. The foregrip houses the microcontroller chip and the two lithium CR123 batteries. On the right side of the tang is a 150/200 lumens flashlight. The left side features a red laser light (you can change to green if you want).
The laser and light are instinctively activated as you hold the foregrip and the activation switches are ambidextrous. You can choose from three different modes for the light as well as the laser. These modes are independent momentary, strobe or constant beam. A master switch can be used to turn on/off the entire light.
Pros
Instinctive activation
Master On/Off switch
Programmable lights with three modes
Packs foregrip, laser and flashlight into one
5. Ozark Armament Red Laser Sight System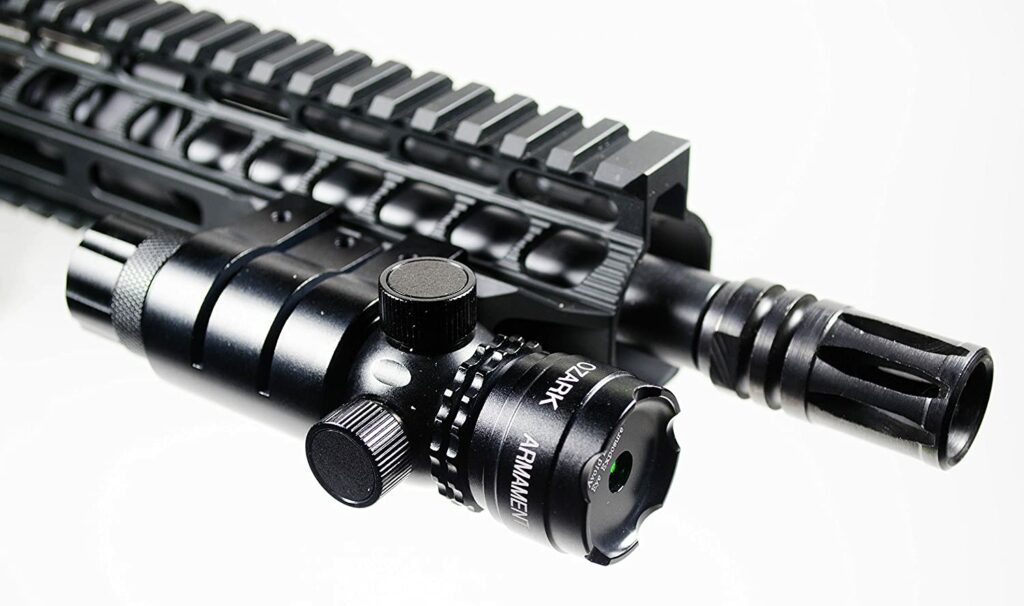 We may earn commission from purchases made from our links, at no additional cost to you
What Recent Buyers Report
New users said that this laser light was excellent for daytime target shooting use. Even a good number of users were able to use this for competitive shooting. Either way, they managed to hit their targets from as far as 50 to 150 yards out. One user even added by saying that it was so awesome that he bought two (one for his AR-15 and the other for his favorite target shooting pistol).
Why it Stands Out to Us
It's a small little unit that is lightweight, but it's durable like nothing else. Once you attach this sucker on your AR-15 rifle or firearm of choice, you'll give it the accuracy boost that it deserves. Who says that a small little thing can't deliver such a huge performance. The green light is perhaps one of the most visible of any green laser during daytime use. Plus, it's less sensitive on the eyes compared to even red lasers.
The Ozark laser light system features a 5mW green laser light with a range of 100 yards in daylight and 1 mile at night. The system comes with an adjustable rail and 1" barrel mounts to allow transitioning to multiple rifle platforms with ease. The light has been manufactured from aircraft-grade aluminum which makes it lightweight and capable of withstanding even the heaviest recoil. The laser has a push-button switch. The package also includes a pressure pad for freedom with mounting options. The toolless design lets you make adjustments in the field without any hassle.
Who Will Use This Most
This will be a great general purpose red laser. It will excel in any day time application. So if you're target shooting for fun or just tuning up the rifle, this sight can be a useful tool that will blend in nicely with your AR-15 rifle.
Bottom Line
The Ozark Armament Red Laser Sight System will prove itself to be a beast in any day time application that you use your AR-15 rifle for. Once installed, you can give your rifle a nice little reach, even beyond its usual reach without a laser sight like this.
Pros
Low Price
Easy to zero-in
Visible up to 100 yards in daylight
Toolless design for quick adjustments
Impact- and weather-resistant construction
The Purpose of a Laser-Light Combo on the AR-15
Just for reference, let's just say "Laser-light" to refer to a laser sight and flashlight combo.
To keep it simple, the primitive purpose of a laser-light combo is pinpoint accuracy and visibility. A laser helps improve the accuracy of the rifle in the daytime as well as at night, whereas a flashlight offers limited visibility up to a specific range in low-light conditions.
AR-15 rifles are widely used for both self-defense and hunting, and that's the reason why a laser-light combo is quite effective with them. Such a combo gives the shooter an edge over intruders in low-light conditions because burglaries and such intrusive incidents generally happen at night.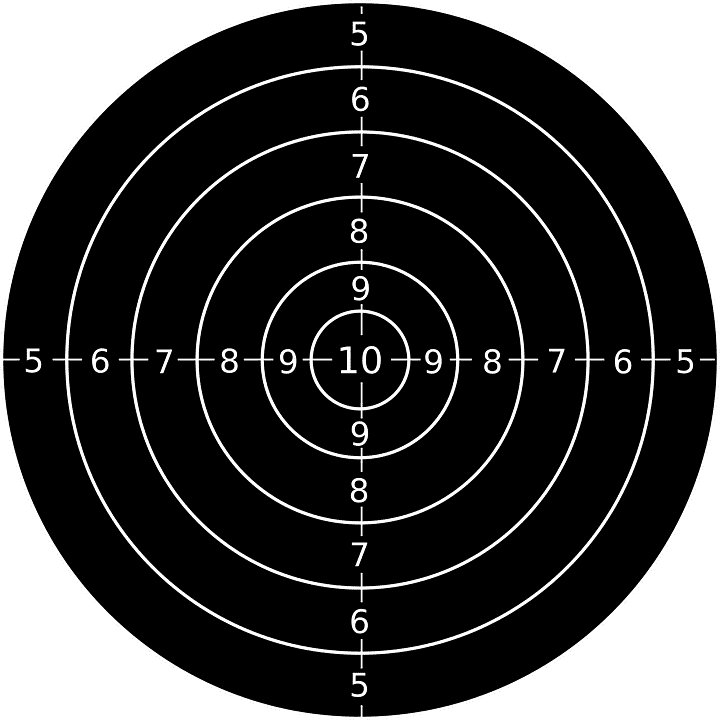 Furthermore, some people like to hunt in the dark, and a laser-light combo often in conjunction with NODs (night observation devices) can prove quite effective in these scenarios.
Additionally, lasers can also be used to aim at targets in broad daylight. However, the range in such cases becomes quite limited. Such daytime uses may include shooting competitions and shooting practice.
Finally, laser-light combos come in handy for the special forces and military while conducting breach and clear operations during the daytime.
What to Look For in a Laser Light?
A good laser-light can be tested on several parameters depending upon your preference and the use you put it up to. Let's check them out one by one.
Brightness
With a wide range of options available on the market, you must set your preferences on what exactly you need. Flashlights can range in brightness from 6 lumens to 600 lumens.
A brighter light and laser can aid your visibility in specific conditions such as using a laser in broad daylight.
On the contrary, using a brighter flashlight will impact your battery life. Additionally, the color of the laser will also affect the usage, but we'll cover that in detail later.
Battery Life
Battery life is a very crucial factor when using laser-lights. Brighter lights tend to offer shorter battery life. You've got to always be aware of what kind of batteries your laser-light uses and what is the expected usage time.
Battery life depends upon the intensity of the device you are using. The higher the intensity, the quicker it drains out your battery. So it is better to anticipate the operational duration of your laser-light before choosing one for your AR-15.
Size and Weight
The laser-light must be compact enough to fit perfectly on your AR-15. A lightweight laser-light combo will not add much weight to your rifle. That turns out to be helpful during treks and hunting trips while also affecting accuracy.
Try not to choose very large flashlights, because they make it more difficult to hold your aim. Also, be sure to check the size of the combo so it can be easily installed and won't interfere with optics.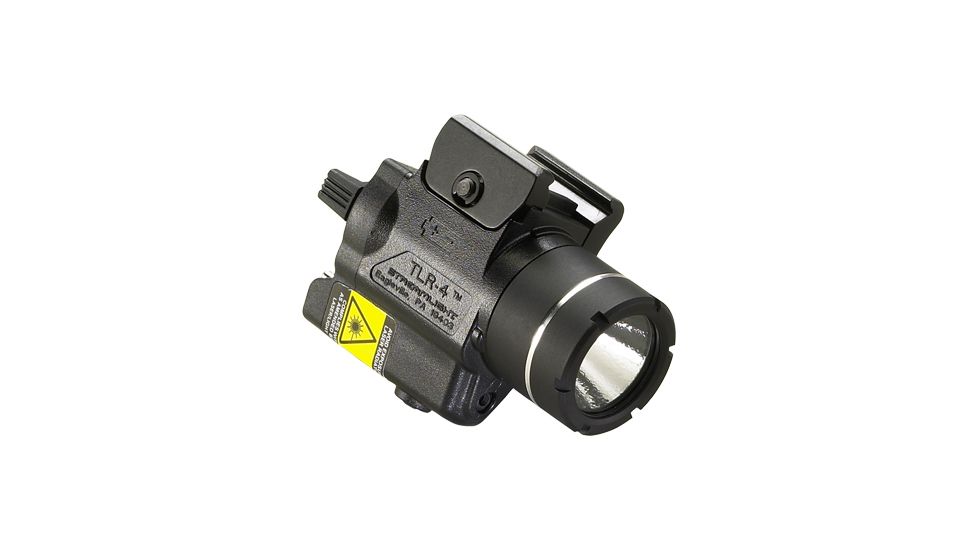 Ease of Operation and Mounting
A laser-light must be easy to operate. Look for push button on/off switches and not those press buttons which have to be pressed continuously to turn the flashlight on. Accessories like remote pressure pads help with operating the lights while maintaining your shooting position.
Plausible mounting options help you with placing the laser-light on your AR-15 so it does not interrupt your normal routine or meddle with any other accessory like optics. Most laser-light combos are compatible with Picatinny rails. Those that aren't generally come with mounting adapters.
Durability Under Recoil
This part has more to do with laser sights. A good laser shouldn't have to be readjusted to zero after every shot. That would take time of course, or otherwise will throw your accuracy off, especially under low light conditions.
Price
Last but not the least, you must consider your budget constraints (if any) before choosing a laser-light combo. There are a ton of very pricey and very cheap options out there on the market, but it doesn't mean that highly priced combos will always fulfill your individual needs.
Red Light Green Light
Laser lights come in two colors, namely red and green. While red is the more conventional laser color, green lasers have recently occupied some space on the market.
Eliminating all the technical jargon and putting it up straight – a green laser's only advantage over a red laser is that it offers better and longer visibility during the daytime. A red laser is only visible up to 30 yards whereas a green laser is visible up to 100 yards during daylight.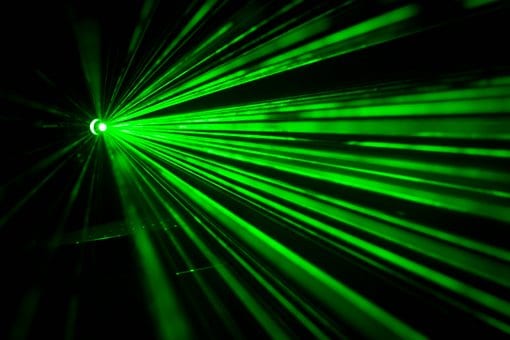 Red lasers are less expensive, less delicate and have a wider operational temperature range than green lasers. Green lasers can only operate in a temperature range of 40 and 100 degrees whereas red lasers can operate between 15 and 120 degrees F. This makes green lasers pretty useless in winter conditions.
Mounting Your Light and Laser
Plainly speaking, mounting a laser-light is a matter of personal discretion. 3 o'clock, 9 o'clock, 6 o'clock, 12 o'clock, 11 o'clock – the list goes on. There are a lot of positions to place your laser-lights, especially with the use of adapters.
Every position has its own advantage and disadvantage. For example, mounting on the sides of the rail makes the rifle exceptionally right or left handed. Plus the handguard blocks the light on the other side.
Mounting the light on the base of the handguard is a good option because you don't have to move your hand much to turn the light on or off. Placing the light at 6 o'clock is perfect for strobing without the use of any wires. This may come in handy if you don't like to keep your lights on continuously. You can also place the light below the barrel and then attach the foregrip to it (check out the first product we've reviewed in this article).
Placing the light above the barrel (if your optics allow) is also a good option as everything falls in the line of sight and there's no obstruction to the light.
Conclusively, mounting lights on your AR-15 is your choice. Try different positions and check out what works for you and feels more natural.
Perks of Adding a Laser Light Combo to Your AR-15
You have no idea what you're missing if you decide to forego investing in a laser light combo. Your AR-15 will stand out head above shoulders against other rifles if you decide to equip a laser light. Here are some of the perks of adding a laser to your AR-15 rifle:
Excellent Accuracy
Accuracy is key no matter what kind of firearm you're using. A laser light will certainly give your accuracy a boost. So if you're in daytime or low-light situations, a great laser will make landing any shot where you want an easy task.
Useful For Most Applications
Sometimes, a sight may not be the best thing to depend on when using your AR-15 rifle. That's where an additional optic, scope, or laser sight will come in handy. It will also depend on your application of choice as well. If you need a laser for hunting purposes, a red laser could do you some good since the laser will stand out when the beam is placed on the animal targets. On a paper target, a green laser light could be perfect if you're using your AR-15 rifle in the day time.
Can Co-Witness With Most Scopes
Did you know that laser lights can work well with most scopes? Now that you know, it's important to make sure that you're able to get it to the right settings so that you can line it up nice and straight with your rifle scope of choice. Once you're all set, your accuracy will be much sharper than ever before.
Conclusion
A laser-light combo is an amazing addition to your AR-15 if your intended purpose is self-defense or low-light shooting. Factors such as weight, laser color, brightness, battery life, durability and ease of operation must be considered before buying a laser-light.
Green lasers are more effective when shooting in broad daylight, but don't help much, while also being more expensive than red ones. Mounting options for a laser-light is finally a matter of personal discretion and preferences.