The humble rifle sling is oftentimes an afterthought when it comes to AR-15 accessories. Thought of by many as a simple strap used to help carry a rifle, an AR-15 sling is actually much more than that. A sling can be an invaluable tool when it comes to shooting and transporting an AR-15 rifle on the range or in the field.
That is why it pays off to put just as much effort into choosing a sling as you would for a scope, reflex sight, or another AR-15 accessory. While they may all look similar, AR-15 slings come in a variety of designs and configurations.
Keep reading to learn more and to see the best AR-15 slings on the market today!
At a Glance: Our Top Picks for AR-15 Slings
Comparison of the Best AR-15 Slings
IMAGE
PRODUCT

Our Top Pick

Made from heavy-duty nylon
Includes easy to release clips
It can hold up to 250 pounds in weight

View Latest Price →

Designed for AR-15 rifles
Measured at 1 ¼ inch wide
Made from high-quality nylon

View Latest Price →

Best Budget Option

Adjustable from 48 to 60 inches
Made from high-quality materials
Measured at nearly 2 inches wides

View Latest Price →

Adjustable up to 55 inches
Made from high-quality nylon
Designed to handle considerable weight

View Latest Price →
What to Watch For When Buying an AR-15 Sling
The general simplicity in the design of a rifle sling can make it difficult to differentiate between a good one and a bad one. While it is true that there are a lot of cheap knockoff slings available to buy and that their cheap prices can be tempting, a well-researched and high-quality sling will prove its worth in both the long and short term.
From material to configuration, there is more to AR-15 slings than meets the eye. The following tips and information are a good place to start your journey of finding the perfect AR-15 sling for your needs.
This Section Written By: Brian Belko
Expert Author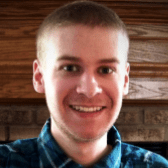 Brian is an experienced freelance writer and technical writer who has previously written for publications such as Wide Open Spaces, Bigfoot Gun Belts, Alien Gear Holsters, and Kampgrounds of America. He brings both a passion for writing and a love of the outdoors to his published content.

Aside from writing and the outdoors, Brian enjoys gardening, being a co-host on The Nostalgia Blast Podcast, and learning to code.
Considering Materials
One of the big decisions that must be made when choosing an AR-15 sling is the material that the sling is made from. The two main types of sling material are nylon and leather. Nylon slings are lightweight, strong and available in a large variety of colors. Leather slings are durable, reliable, and offer a classic look that appeals to many. For most AR-15 owners, nylon slings are the best option as their key selling points align well with the shooting scenarios AR-15 rifles excel at.
Types of Slings
There are three main types of slings. Those three types are single-point, two-point, and three-point slings.
Single-Point
A single-point sling attaches to an AR-15 at one point on the rear of the rifle. The shooter then wears the sling around their neck and under one arm. This type of sling does allow for a rapid raising of the rifle to the shooting position, but does leave the firearm uncomfortably dangling when moving around.
Two-Point
This type of sling is what most people think of when they imagine a rifle sling. It attaches at two points of an AR-15. One point near the front of the rifle and one to the rear. Their sturdiness, maneuverability, and ability to be used as a shooting aid make this type of sling the most popular choice including all of the military.
Three-Point
Although not very popular and generally considered to be outdated, you may still come across a three-point sling. They are best avoided as they add complication to the concept of a two-point sling without improving on their operation or use.
Fine Tune Adjustments
One other important factor to consider when shopping for an AR-15 sling is the adjustability it offers. Having the ability to make adjustments to the length of the sling and to the way it hangs on your body is important. Comfort and a secure fit are both key in getting the most out of your sling and both of those things are directly tied to a sling's adjustment ability. Keep an eye out for robust buckles that are easy to adjust.
Review of the Best AR-15 Slings
Let's have a look at the some of the top slings available to carry your AR-15. You'll find most of our recommendations are for two-point slings because these generally offer the most comfort and utility.
Armstac MX2 2-Point Battle Gun Shoulder Strap
We may earn commission from purchases made from our links, at no additional cost to you
What Recent Buyers Report
A lot of new buyers were quite satisfied with the strap, in particular. They were able to add this onto their favorite AR-15 rifle in a matter of a minute. Once equipped, they were able to carry their rifles with ease without the sling breaking or falling apart.
Why it Stands Out to Us
The sling is made from high-quality nylon material. It's proven to be sturdy and durable while handling weights up to 250 pounds. For a strap that heavy-duty, you know it will go perfect with almost any heavy-hitting rifle. On top of that, the quality is pretty good overall. While it's on the market for an affordable price, it doesn't feel cheap or fall apart easily.
The Armstac MX2 2-Point Sling is probably the most feature-packed sling in this list. The heavy-duty nylon strap can handle up to 250 lbs of weight. The sling is adjustable, with different mount options and easy release clasps.
The nylon stock adapter can be wrapped around a rifle's butt stock in case no sling points are available. The sling can be easily converted from two-point to one-point and is extremely useful for shorter shooting sessions where a lot of transition is involved. The sling is heavy-duty and the price is quite impressive.
Who Will Use This Most
This will make a great sling for those who want to go hunting with their AR-15 rifles but at the same time, don't want to carry their rifles all day as they move around. This strap will be the best possible option if they want something comfortable for all-day use.
Bottom Line
The Armstac MX2 2-Point Battle Gun Shoulder Strap is probably your best option if you want a strap that is easy to add onto your rifle and easy to handle with heavy-duty rifles. If you want something tough and won't wear and tear easily, this could be the sling for you.
Pros
Super-sturdy and durable
Easy to hook and unhook
Affordable for most budgets
Can hold heavier AR-15 rifles like nothing
Measured at the perfect length for most users
Cons
May not fit on some sling swivels
Hooks may not fit well on a standard AR rifle
It still has a bit of slack if used by someone tall
Brownells Tactical Plus Rifle Sling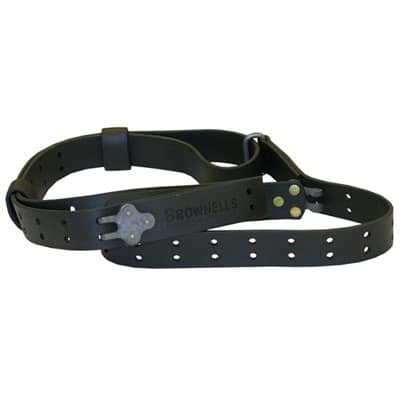 We may earn commission from purchases made from our links, at no additional cost to you
What Recent Buyers Report
As expected, a lot of new users were impressed with the sling. They were able to use this for their AR-15 rifles year-round in even some of the roughest weather conditions. One user said the was using this during the winter months while hunting for coyotes. He said the strap stays sturdy and doesn't crack or stiffen up in really cold temperatures. Others have reported this easily adjusts to fit their size.
Why it Stands Out to Us
The strap is made from high-quality nylon and has a urethane-coated layer to ensure the strap's longevity and resistance to all kinds of weather elements. Not to mention, it can do quite well in the outdoors as a hunting sling. It's comfortable to wear and will allow you to carry your rifle hands-free for a longer period.
The Tactical Plus Rifle Sling is a urethane-coated, nylon, 2-point sling which features the standard 1907 military sling design. The urethane coating makes the sling flexible like leather while also imparting strength and making it resistant to water and high temperatures.
The adjustable 1-¼-inch wide strap offers a nice padded feel. The hooks and steel rings are hardened and parkerized for extra strength and corrosion resistance. The sling is perfect for hunting, as it offers amazing strength and comfort to the shooter.
Who Will Use This Most
This will likely be a great sling for hunters. Whether you're hunting for varmint in the summer, deer in the fall, or coyotes in the winter, this will be the sling to have on-hand if you want something sturdy, adjustable, and comfortable. You can expect this puppy to last you a few good years or more.
Bottom Line
The Brownells Tactical Plus Rifle Sling might be exactly what you need if you want a sling that will be your best hunting buddy if you're planning on walking around all day. If you want something comfortable which will allow for the best hands-free carrying of your rifle, a sling like this will do you some good.vcghytjurtguryfghkjfjfgdmnjv
Pros
Easy to add to most swivels
Strong enough to handle heavy rifles
Easily adjustable, can fit most body sizes
It improves off-hand stability considerably
Super-durable, can resist even the worst weather conditions
Cons
May snag at times
May need to be trimmed down a bit
It may not be great for competition applications
Magpul Two-Point MS1 Sling
We may earn commission from purchases made from our links, at no additional cost to you
What Recent Buyers Report
This sling was a hit with new buyers. They were able to attach this onto most AR-15 rifles with ease and carry it around for all-day use while out hunting. One user said he was able to wear his rifle on his shoulders for nearly a few hours as he was out and about in the woods hunting for deer. He said despite having no padding, it was still a comfortable fit for him.
Why it Stands Out to Us
This strap is made from high-quality nylon that doesn't tear or fray and it's adjustable enough to help accommodate various sizes. So, if you're a bit on the tall and skinny side or a bit heavyset, there's an adjustment that will fit you perfectly. It will fit most AR-15 rifles with ease and will be great for almost any application other than hunting (i.e.–target shooting or competitive shooting).
The Magpul MS1 is a two-point sling with a width of 1.25 inches and length of 48-60 inches. The sling is manufactured from nylon and features polymer buckles for adjustment. The material is super-soft and comfortable, allowing you to use it for longer stretches of time.
The sling is long enough to be used in an arm-loop configuration. The quick adjustment slide is very easy and quick to use. Moreover, the sling doesn't have any loose ends to tangle with any other gear. The sling is available in multiple colors and offers a fair return for your money.
Who Will Use This Most
This will make a great sling for multiple purposes. Whether it's for hunting, target shooting, or competitive shooting, this might be exactly what you're looking for to help alleviate the issue of carrying your AR-15 rifle all-day long. If that's what you want out of a sling, this could be one to consider.
Bottom Line
The Magpul Two-Point Sling might be your kind of sling for an AR-15 rifle if you want something minimal in design, but comfortable for long-time use. Just adjust this to your ideal size and you'll have a sling that won't let you down in any given application.
Pros
Fits on most sling swivels
Great for various purposes
Great for even heavyset shooters
Excellent fit for even tall shooters
Super sturdy straps are easily adjustable, as well
Cons
May tangle up at times
May loosen up over time
May not be ideal for shooters of shorter heights
4. STI Two-Point Rifle Sling
We may earn commission from purchases made from our links, at no additional cost to you
What Recent Buyers Report
A lot of new buyers were impressed with the sling. It's simple to add onto AR-15 rifles. Plus, it was a comfortable fit for most applications. One user said he uses his AR-15 for many applications, but never leaves this sling behind. He also mentioned it was adjustable to perfectly fit his size, as well.
Why it Stands Out to Us
This is a simple two-point sling that can easily attach from one end to another. It's nothing too complicated and it's got the ability to adjust up to 55 inches long. So it can accommodate a wide variety of shooters and also different sizes. Regardless, you still get a pretty good fit.
The STI Two-Point Rifle Sling features a premium nylon tube-woven webbing with heavy stitching which makes the sling durable and sturdy enough to resist recoil and weight impacts. The high-impact polymer sling buckle helps you adjust the length and keep it in place.
The adjustable size ranges between 30 to 55 inches, which is a good length. The sling has a good price-point and is good enough to be used for hunting, competitions, and even practice. The wide strap design resists tangling and the sling works with all 1.25-inch hardware.
Who Will Use This Most
This will probably serve as a really good beginner's sling for those starting with an AR-15. If you want something that's easy to use and easy to adjust, and are a complete newbie at using AR-15 rifles, this could be exactly what you're looking for. Don't be surprised if it's something that will give you a few years of faithful and reliable service
Bottom Line
The STI Rifle Sling is simple, adjustable, and can fit almost any shooter size. Be sure to use this for all the right applications so you have a comfortable sling to use while you're carrying around your rifle. It will come in handy in some much-needed situations (like needing to drag your freshly killed big game target back to the truck).
Pros
Affordable for most budgets
Attaches to most AR-15 rifles
Comfortable to wear for long-time use
Super-durable, doesn't tear or fray easily
Easily adjustable and can fit most body types
Cons
May tangle at times
Tightening the strap may be a challenge at first
Might have some slack even after the adjustments
5. Paracord Survival Two-Point Gun/Rifle Sling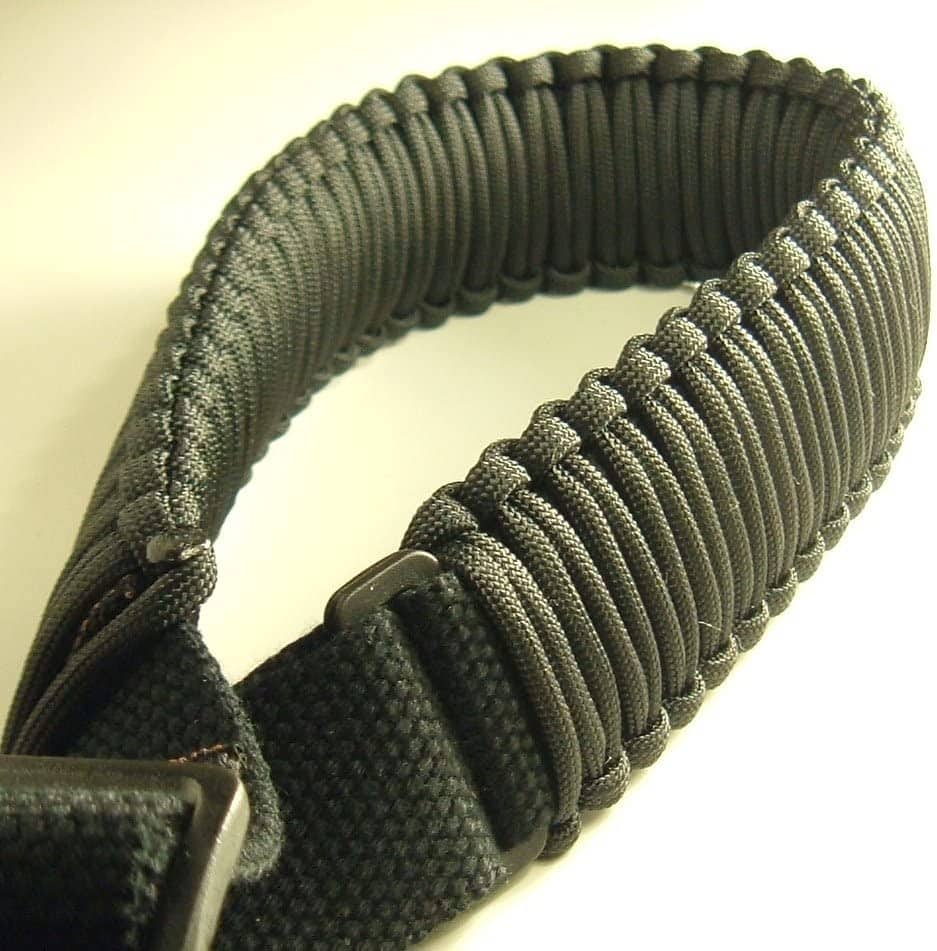 We may earn commission from purchases made from our links, at no additional cost to you
This two-point sling features a 550-pound authentic commercial paracord which can be extended to a 25-foot long cord. The sling features rot-resistant synthetic cotton material, which is resistant to water and high temperatures.
Each sling has a plastic tri-glide to attach it to one-inch or 1.25-inch wide swivel studs. The center of the strap features an extra-wide tri-glide for quick and convenient adjustment. The sling also has a woven paracord shoulder which is about 15-½ inches long and ½-inch thick.
The paracord has been woven over two layers of canvas and one layer of foam, providing a thick padding for your shoulders. The paracord makes it quite helpful in survival situations. Taking a look at its price and features, this paracord sling is among the fairest deals available on the market.
What to Look For in a Sling
There are quite a few factors you might want to consider before buying a sling for your AR-15. Your individual needs are always a priority, but you still have to keep some basic important things in mind before buying a sling.
Padding
Padding refers to the fluffiness of the sling. Some slings are simple leather or nylon straps, whereas other slings have been ergonomically padded with lumps of cotton or polymer to offer better comfort. Carrying an eight-pound rifle through the forest is a tedious task, especially in summers. If you are worried about getting a bruised shoulder, you might want to buy a padded sling.
Slings are generally available in nylon and leather variants. Some people prefer the feel of one over the other, but it's entirely a matter of personal choice.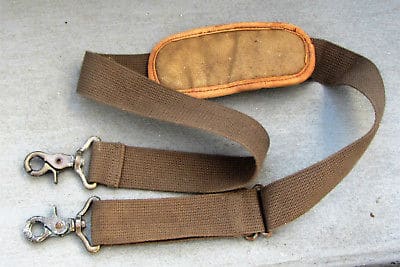 Length
Most slings these days offer adjustable straps. However, you should always check and find a length you are comfortable with. Taller people tend to like longer slings, so make sure your sling can extend up to your desired length.
Moreover, length is always helpful in transitioning so the sling doesn't hook up with your neck or underarm causing problems. Always go for a longer sling if you can't decide because it will have a larger adjustable length.
Durability
One very important factor to notice is the durability of a rifle sling. Of course, it should hold up to the weight of the rifle and the jostling it will experience as you move. But a sling will also take part of the recoil when you shoot, so always check the quality of the sling attachment clips, attachment straps, and buckles. Try to aim for metal components instead of simple plastic ones.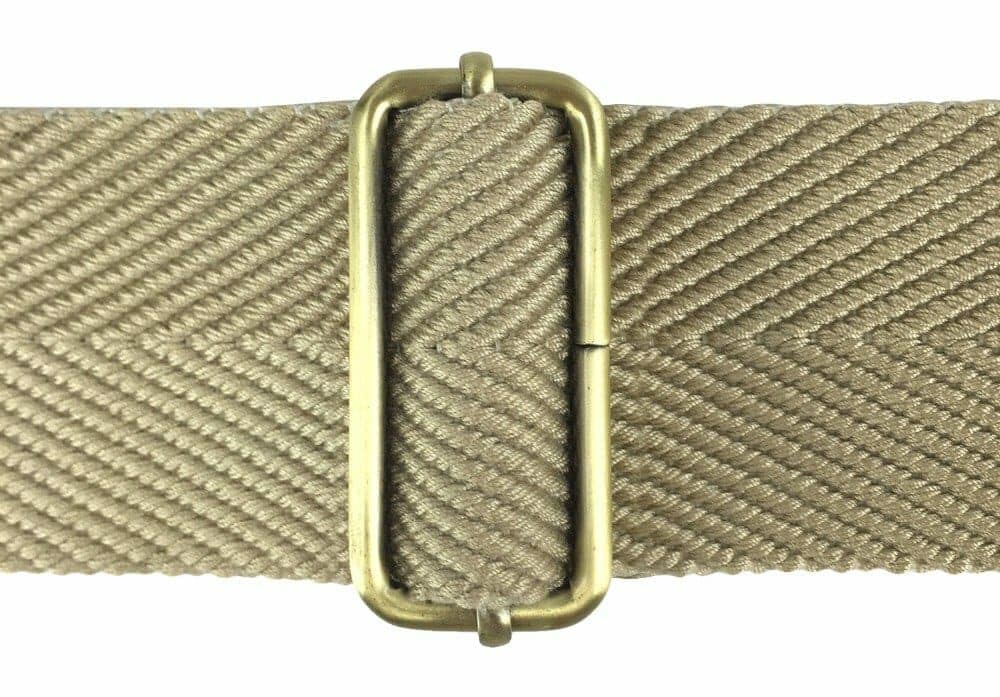 Individual Preference
There are quite a few different types of slings available on the market. Each offers a different level of comfort but ultimately, it's about your own preference. From three-gun competitions to hunting and sniping, different types of slings serve different purposes.
Carrying Your Gun Comfortably
A sling is always useful for carrying your weapon over long hunting trips and treks. No doubt a sling helps with that, but it also complements the aesthetics and accuracy (more on that accuracy part later) of your rifle.
Since their inception, AR-15 rifles have featured a robust carrying handle on the top. Carrying handles might seem good but they are actually not that comfortable. It's like holding a jerry can filled with eight pounds of metal. It might be good for local shifting but not for treks, combat situations, or hunting trips. Moreover, you'll end up having bruised and fatigued fingers, which is not so good for shooting.
Using a sling transfers all this weight to your back, which is more suited to bearing weights for prolonged durations (that's why we have backpacks and not palm packs). A sling lets you hang your rifle from your shoulder and keep your hands free while you move. Obviously, this lets you do more things at a time like holding flashlights, a compass, maps, or anything else. This capability is important for soldiers in a combat situation, where one has to use and move a lot of things simultaneously without losing their weapon.

A sling also helps in preventing your palms and fingers from becoming fatigued, so you always have the energy and reflexes to take a shot. A sling also lets a person quickly transition from their primary rifle to a secondary weapon without just throwing away the rifle.
A sling is also helpful in improving your accuracy. You can use the sling to create tension. It works almost like having a bench rest while you take long distance shots or change your stance. There are several types of slings fit for this purpose and we'll be talking about them later.
Another very creative, or let's say innovative, aspect of a sling is its use as a life-saving tool in extreme situations. AR-15 slings can be used to create a tourniquet to treat wounds. It can also be used as a rope for tying knots in a shelter, tying up chunks of wood, or creating a snare (if your target is small and you don't want to create noise) in survival situations. Several paracord-type slings are also available on the market, which can be used to create extensive ropes.
Types of Slings
There are several different types of slings available on the market. Each offers a different level of comfort and serves a different purpose. Choosing the right sling will help keep you comfortable, enable you to easily switch weapons, hold your stance, and even improve your accuracy.
1-Point
A one-point sling, as the name suggests, offers a single point of connection to the rifle. This type of sling can be attached to the stock through a swivel stud or bolt and acts like a lanyard around your neck. A single point sling makes dropping and picking up your weapon very simple. The rifle will always remain in front of you and you don't have to worry about it moving sideways if you don't want to. So it allows you to switch between your weapons easily and quickly.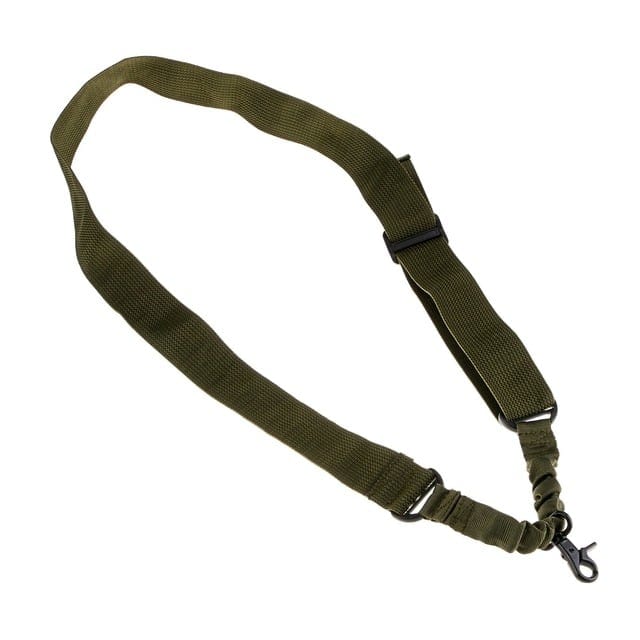 One-point slings have their own drawbacks and are not really useful for novice shooters. With a one-point sling, your weapon will sway a lot and can event cause an injury to your knee or groin area if handled carelessly. In addition, you'll always have to place one hand on your weapon to prevent it from swaying.
2-Point
The two-point sling is the old-fashioned sling we've seen for decades. It is attached with two connection points of your rifle – one below the barrel and other on the stock. Two-point slings can be used using the American Carry (slung over back of the shoulder with muzzle up), European Carry (slung over the front of the shoulder with muzzle up), or African Carry (slung over the back of the shoulder with muzzle down).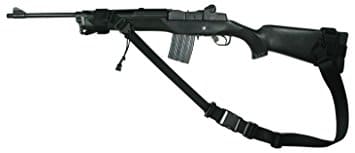 Each of these carry styles has their own benefits when taking stance. Two-point slings can be used to improve accuracy by using your non-dominant arm to create tension in the sling to hold your rifle firmly. This is also known as the "hasty-sling" method. On the contrary, two-point slings are a bit difficult when it comes to transitioning sides.
3-Point
The three-point slings are an extension of two-point slings featuring a quick-release adjustable buckle over the strap. The sling is attached to the fore and rear end of the rifle as usual, but the buckle in the middle of the strap makes the transition from a rifle to a sidearm easier. Moreover, with three-point slings, your AR-15 will not dwindle and hit you every now and then in your groin or knee. Frankly speaking, the three-point sling combines the capability of one-point and two-point slings. However, on the contrary, some shooters complain the slings get caught on bolt-release mechanism.
Ching Sling
The Ching Sling is a shooting sling to assist you with achieving a firm stance for long-range shots. The sling is similar to a two-point sling, with a third bolt attached to the gun's center stud. This forms a loop in the front part of the sling. You can pass your supporting arm through this loop to steady your aim and take a shot. Ching slings are quite useful when shooting your rifle in the sitting or kneeling stance.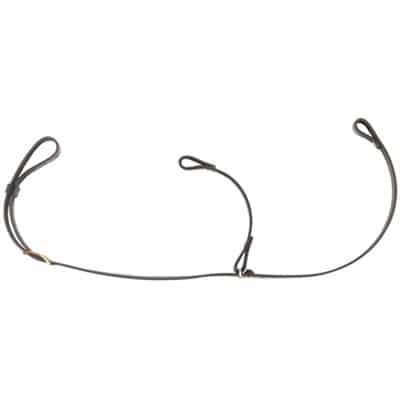 Cuff sling
A cuff sling, as the name suggests, features an arm-cuff loop in a two-point sling design. This arm cuff is especially helpful for sharpshooters who need accurate long-distance shots. These slings eliminate the need to use a bipod and prove to be quite helpful during tedious hunting sessions where people usually avoid carrying a lot of gear.
Conclusion
A sling is not only an aesthetic piece to the rifle. It lets a shooter make quick transitions, walk long distances comfortably with their rifle, and even serves as survival gear in extreme situations. A sling, whatever type you choose, should be durable, long enough to make adjustments, and must suit your individual preferences.