CZ makes some of the best pistols and handguns on the market today. Known for building high-quality, reliable, and well-designed weapons, CZ offers shooters a wide range of different pistol styles, designs, and features.
The company has earned a well-deserved reputation amongst all kinds of shooters for producing weapons that excel at everything from concealed carry, self-defense, target shooting, and competition shooting.
Keep reading to learn more about the best CZ pistols of 2021.
At a Glance: Our Top Picks for CZ Pistols
Comparison of the Best CZ Pistols
IMAGE
PRODUCT

Our Top Pick

Best CZ pistol
Trigger, springs, mag release, and more optimized for competition by CZ
Cold hammer-forged barrel measured at 4.6 inches

View Latest Price →

Best CZ 9mm pistol
Extremely lightweight at 36oz
Barrel measured at 4.6 inches

View Latest Price →
What to Watch For When Buying a CZ Pistol
CZ, known as Česká zbrojovka Uherský Brod in the Czech Republic, makes some of the best handguns on the market today. The company offers a large selection of pistols, so it is important to start with a solid base of knowledge when considering which one is right for you. The tips and information below are a good place to start.
This Section Written By: Brian Belko
Expert Author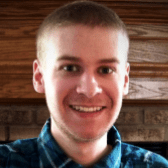 Brian is an experienced freelance writer and technical writer who has previously written for publications such as Wide Open Spaces, Bigfoot Gun Belts, Alien Gear Holsters, and Kampgrounds of America. He brings both a passion for writing and a love of the outdoors to his published content.

Aside from writing and the outdoors, Brian enjoys gardening, being a co-host on The Nostalgia Blast Podcast, and learning to code.
Competitive Nature
If competition shooting is in your plans, then CZ should be at the top of your list for pistol brands to consider. Pistols from CZ have come out on top of many regional and national shooting competitions. A lot of this comes down to the skill of the shooter of course, but the quality of the gun does still matter. CZ didn't earn its reputation for reliability, outstanding design, and affordability for no reason.
Varied Uses
CZ pistols aren't only for those looking to get into competitive shooting. Their impressively vast selection of pistols can cover a wide range of uses. Concealed carry and home defense are two of those additional uses. CZ offers pistols with impressive magazine capacities, slim designs for easy handling and concealment, and the reliability to offer confidence in high stress situations.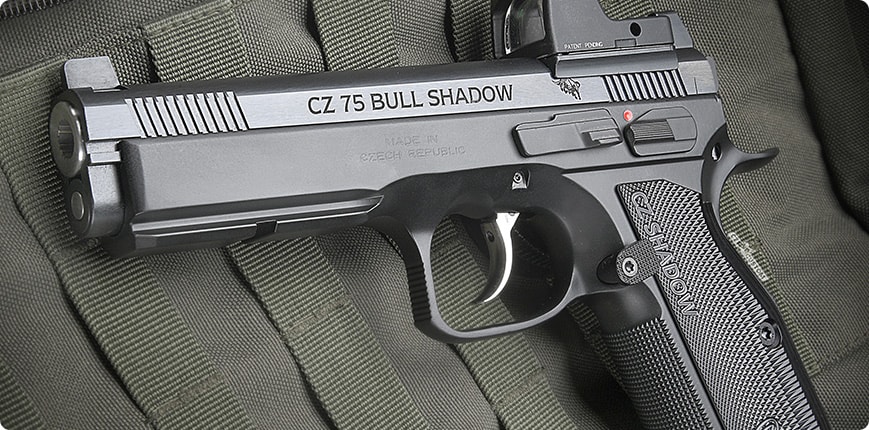 Through a merger with Dan Wesson Firearms, CZ now also has a line of 1911 style pistols as well as revolvers. Combining the innovation of Dan Wesson designs and the quality control and production capabilities of CZ has resulted in another assortment of fine handguns to fill a variety of needs.
Suppressor Ready
Suppressors are growing in popularity amongst gun owners. While they certainly don't totally eliminate the sound of a fired shot, suppressors go a long way towards making the shooting experience a lot more pleasant for both the shooter and anyone else nearby at the range. After all, we only get one set of ear drums. Protect them!
If you are interested in suppressors, it is only prudent to choose a pistol that is ready to accept one. Luckily, CZ has this covered as well. There are plenty of suppressor-ready options that come with threaded barrels.
Options, Options, Options
Having a lot of options can be overwhelming for some people when they are trying to decide on which pistol to get. CZ is certainly keen on offering a ton of different options. The important thing to remember is that you really can't go wrong with any of their pistols. Your decision will be narrowed down according to your needs and your preferences. Making a list of those things is very helpful during the shopping process.
Review of the Best CZ Pistols
The following is a list of the best CZ pistols on the market as of this writing. This list may be subject to change over the course of time, but it gives you an opportunity to look at what's available. Be sure to note the characteristics and features of each pistol so you can find one that truly stands out. Let's begin by taking a look at our absolute favorite CZ pistol:
CZ 75 SP-01 Shadow Target II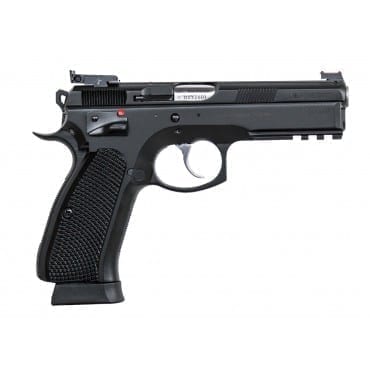 We may earn commission from purchases made from our links, at no additional cost to you
T
What Recent Buyers Report
A lot of new users were happy with this pistol for a few good reasons. For one, they said that it was pretty accurate at distances as far out as 15 yards. They reported very tight shooting groups after testing the pistol out at a shooting range. One user said that he is confident that he made the right decision in choosing this as a concealed carry pistol. Quality-wise, new buyers had no complaints about it. Solid, durable, and not as heavy in weight as other alternatives.
Why it Stands Out to Us
This pistol has the right measurements to become the "perfect" concealed carry pistol. Not only that, it's pretty reliable in terms of performance. You can fire off as many shots as you like and not experience once a single incident of jamming. If you go through 100 rounds, don't be shocked if it ends up giving you the same results after the next 100. If reliability is a high priority for you, this CZ pistol will certainly exceed your expectations.
Who Will Use This Most
This will be a great concealed pistol for those who are just starting out (but willing to pay extra) and those who are seasoned vets of concealed carry use. This pistol is simply one of the better models on the market in terms of performance, able to get you out of a jam whenever you find yourself in a dangerous and "must defend yourself" situation. If you want something that is a textbook example of how a concealed carry pistol should be, this is it.
Bottom Line
The CZ Shadow Target has proven beyond a doubt that it belongs to the runner-up slot on our list. It doesn't malfunction nor will it add on any extra weight and make concealed carry uncomfortable. You'd be hard-pressed to find a pistol that will make your concealed carry experience easier on yourself quite like this one.
Pros
Super durable
Excellent in EDC situations
Accurate at up to 15 to 20 yards
Fits in most concealed carry holsters
Reliably fires shots without any malfunctioning
CZ 75 B Omega Convertible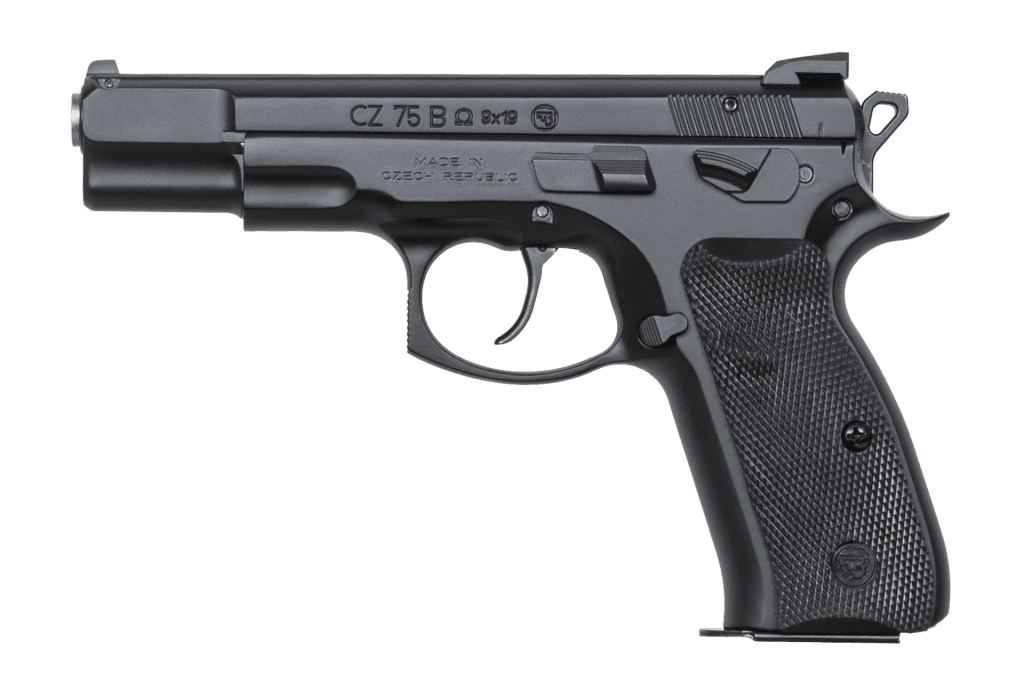 We may earn commission from purchases made from our links, at no additional cost to you
What Recent Buyers Report
New users say that this CZ pistol was excellent in performance. Through 100 rounds or more, there were no signs of malfunctioning or jamming according to folks who tested it out at the range. One user even said that this pistol was fun to shoot with while taking part in a "run and gun" practice session at his local range. He said that the accuracy was great, even while firing the pistol on the move.
Why it Stands Out to Us
A 9mm caliber is perhaps one of the best when it comes to concealed carry. No, it probably won't do a lot of devastating damage compared to a .357 (for example), but it has enough stopping power to ensure that you are knocking down your targets with the greatest of ease when you are at the right distance. If you want something that will give you some serious knockdown power without making a mess, this pistol might be one of your go-to options.
Who Will Use This Most
This will be a great starter pistol for many of the newbie concealed carry users looking for a first-time pistol. For some, it might be one that will stick with them for the long term. If you want something with excellent shooting power, top-notch performance, and precise accuracy, then this could be exactly what you'll need.
Bottom Line
The CZ 75 B Omega Convertible is a 9mm pistol fit for a concealed carry user that relies solely on such a caliber. It's got a good deal of stopping power and can definitely give you the upper hand against any attacker who dares to mess with you. If you must defend yourself, do it with a pistol that is reliable, accurate, and ready for action.
Cons
Recoil might be a little sharp
Sights might be a bit too small for some users
CZ 75 SP-01 Tactical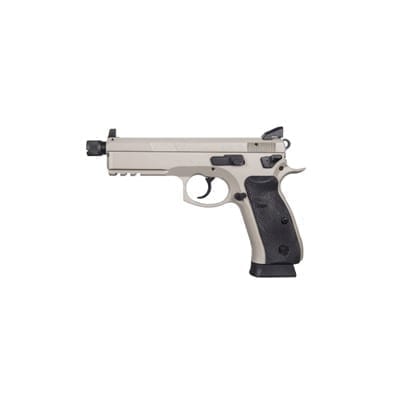 We may earn commission from purchases made from our links, at no additional cost to you
What Recent Buyers Report
A lot of new users were looking for a pistol that excelled in an application where timing and accuracy were factors. They surely did not walk away disappointed when it came to the SP-01 Tactical. They said that the accuracy was quite astounding since the shooting groups were much tighter when hitting targets from 15 to 20 yards out. One user even said that he was quite happy with the quick shooting ability that was perfect for competition shooting.
Why it Stands Out to Us
This pistol is not just strictly for competition purposes, but it excels at this application because it allows for reliable, quick shooting at any given opportunity. The shooting is well-tuned to ensure that accuracy and precision are consistent with every shot you take. If you want to make every shot count, your shooting groups need to be tight all the time. This pistol will make sure that it happens no matter how many rounds you fire or how long you've owned it.
Who Will Use This Most
It will likely be a popular choice among competitive shooters. But it shouldn't be marked off as useless for any other application. If you want quick shooting, superior reliability, and precise accurate shooting that is hard to match, you should absolutely consider giving this pistol a closer look.
Bottom Line
You deserve a pistol that is on top of its game when it comes to performance. The CZ USA Tactical pistol is what you need when you want to defend yourself from danger or keep yourself above the competition. This pistol is without question the overall top dog in this category. Keep a close eye out for this if you think it will take the cake in terms of becoming your new CZ pistol.
Pros
Accurate and reliable
Excellent for competitive shooting
Easy to load; only takes a few minutes
Doesn't jam even after firing 500 rounds
Rubberized grip allows for better control over your pistol
CZ P-10 C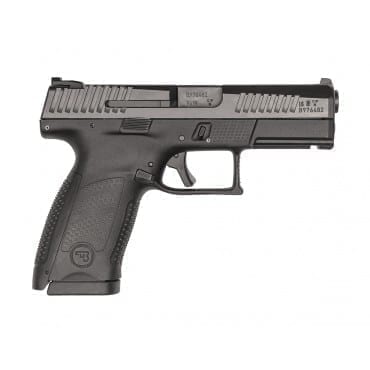 We may earn commission from purchases made from our links, at no additional cost to you
What Recent Buyers Report
Many recent buyers were happy with the pistol for its overall performance and yes, even its affordability. One user said for a pistol that is going at a reasonable price, he's getting the overall performance of a pistol that should have cost twice what he paid for. He added that the shooting was pretty accurate and definitely tightened shooting groups with targets situated from 15 yards out during a recent target shooting session.
Why it Stands Out to Us
This pistol is a complete package that is affordable for most budget shoppers. Not only that, you get some pretty sweet perks out of the deal. Sharper shooting (which means a good chance at hitting a bullseye or incapacitating an attacker), excellent reliability, and lightweight build are a few of the things that make it a superb firearm. And since it's great for proper concealed carry training, this might be a sweet first-time pistol for you (and probably the only one provided that you take great care of it).
Who Will Use This Most
If you are looking for a dang good CZ pistol at a price you can afford, this might be the best option for you. It also might just be one of the best performing pistols on our list. Besides, you don't have to be strapped for cash to buy this. All that matters, in the end, is how great it can be in any given application. So if you are really on a budget or if you have money to play with, it won't hurt to give this bad boy a whirl. You might end up using it for a long-term concealed carry pistol.
Bottom Line
Who says high-end pistols are a better option? The CZ P10C 9mm pistol is a great option for those looking for an affordable solution that will rise above and beyond the call of duty in any given application. You'll be better prepared for anything with a pistol like this on hand. Since it's at an affordable price, this is probably one of the best deals you'll ever find.
Pros
Sturdy and durable
Lightweight and easy to draw
Trigger pull is pretty decent in weight
Excellent accuracy, effective up to 40 yards
Great for the purpose of concealed carry (and also for training purposes)
Cons
Magazine release might be a little difficult
Sight adjustments may be a bit stiff at first
Some have complained that the trigger pull is a little too heavy
Best CZ Pistol for Concealed Carry
CZ 2075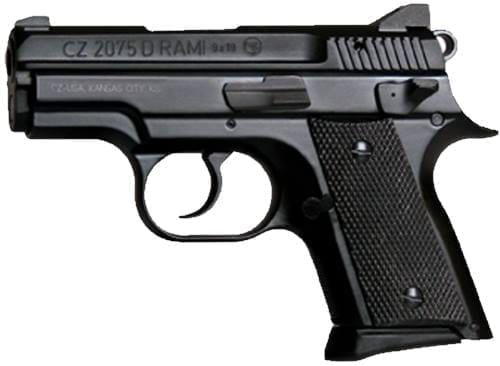 We may earn commission from purchases made from our links, at no additional cost to you
What Recent Buyers Report
As expected, a lot of new users were quite satisfied with this pistol. They said it was at the perfect size to be fit for most concealed carry holsters. At the same time, they were not disappointed with the overall accuracy and performance. One user said he was able to get consistently tight groups when targets were about 15 yards to even 20 yards out.
Why it Stands Out to Us
This pistol is the real deal when it comes to concealed carry. Yeah, it's at the right size and it definitely has the accuracy to make sure that you can knock down an assailant who somehow is stupid enough to be on the business end of this pistol. While it may never come down to that, you can make darn sure that you'll have a pistol that is ready to go if and when such a situation were to arise. For the most part, it's built solid so it will certainly last you a long time and go a long way in terms of performance (not to be confused with accuracy). If you want a simple and easy to use CZ pistol for EDC use, this is the one you may want to look further into.
Who Will Use This Most
This will be an excellent pistol for training purposes (and for when you transition from trainee to a full-fledged concealed carrier). It's the kind of pistol that will definitely give you a leg up against your assailants if and when you need to protect your life or property. Believe us when we say that with this pistol, you get some pretty good accuracy and reliability each time you use it (even if you use it for years on end).
Bottom Line
The CZ 2075 is a great concealed carry pistol that will handle all the duties of self-defense if and when a situation were to arise. It's at the right size to where you can max your concealability and perfect for those who really don't want to attract any attention simply because they are carrying. This pistol will have your back in any given situation where danger is a real threat.
Pros
Excellent accuracy and precision
Durable and solid in construction
Great for concealed carry purposes
Fits in most receivers without any fitting issues
Easy to draw thanks to its light (but strong) materials
How Accurate is a CZ Pistol?
The effective accuracy of a CZ pistol depends on the ammo that you use. Some ammo for CZ pistols has proven to be effectively accurate when hitting targets at about 10 to 15 yards out. Shooting groups appear to be noticeably tighter at that distance.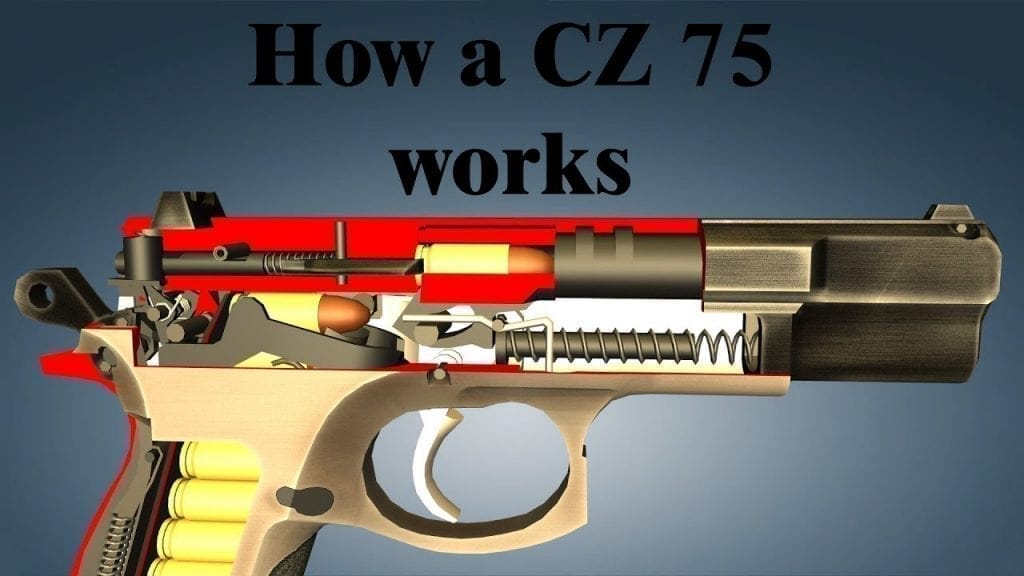 Again, it depends not only on the pistol itself but the type of ammo you choose. This should be an indicator that not all CZ pistols are the same.
How Powerful is a CZ Pistol?
CZ pistols are not quite so powerful that they can be devastating in terms of damage. But they are powerful enough to knock down an assailant if and when you have to use one. That is why they are considered to be a good pistol of choice for beginners starting out with concealed carry. Just because it has the ability to go as far out as 15 yards or slightly beyond that, this doesn't mean it's weak in power by any means.
How Should I Choose a New CZ Pistol?
Familiarity with the characteristics and features of a CZ pistol is important. It will allow you to make a clear distinction between great CZ pistols and those that are poor in terms of quality and performance. Here are a few things you should look for when shopping for a CZ pistol:
Invest in The Best Quality Possible (Even if You Are on a Budget)
If you are in search of a CZ pistol but want to find one on a budget, you are certainly going to find one that fits you best. Thankfully, in our articles we always choose the firearms that are the best in quality and performance so you don't make the ill-informed mistake of purchasing a cheap pistol that winds up being unreliable. Remember, spending a little extra but staying within your budget scale will often be the better option.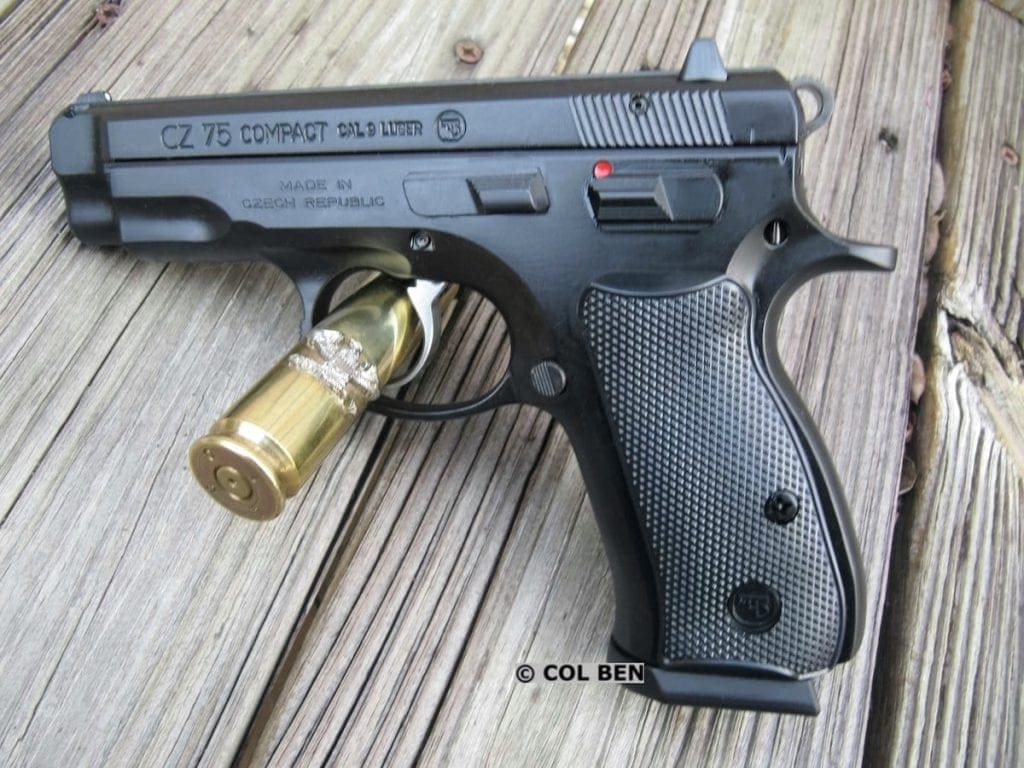 Choose The Best Quality
Quality will always trump all other characteristics and features. The better the quality, the better the chance a gun like a CZ pistol will last you a long time. Of course, better quality will also equal excellent performance. A poor quality pistol will always tie into poor performance. Find a pistol made from high-quality materials like steel or polymer so you have something that lasts a long time and can answer the call of duty if and when a situation warrants it.
Consider Your Purpose
Are you choosing it for concealed carry? Is it just for target practicing? Is it both? Some options will excel better than others in certain applications (i.e. a smaller size may excel in concealed carry situations).
What Do I Need to Know Before Buying?
Aside from primary features and characteristics, there are some additional aspects that you should know before making a well-informed decision on which CZ pistol is right for you. Even before you consider purchasing a pistol of your own, you'll want to be made aware of what you need to do in order to use a concealed carry pistol properly. Here are some things to know:
This Pistol is Great for CCW Training
While it's sound advice to take a CCW training course, you'll need to purchase your own pistol for the purpose of training. So it would be wise to choose a pistol like a CZ pistol so you can get a good idea of how it feels and how you can use it properly.
Know Your Laws
As always, it's imperative that you learn your local and state concealed carry laws before purchasing a CZ pistol. As you are starting out, you may be unaware of what is legal and what is not legal in terms of carrying a pistol. This way, you save yourself some legal headaches down the road.
Find A Good Holster That Fits
Concealed carry is legal in all 50 states. However, it is required that if you do carry that you'll need to purchase a holster. It's important to find a holster that will fit your CZ pistol of choice. As a pro tip, worry about purchasing a holster after you choose your pistol.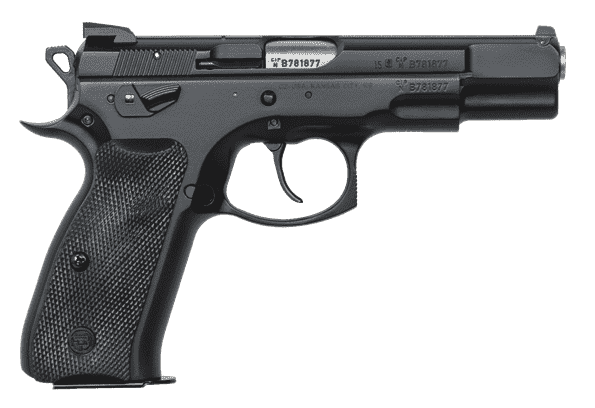 Advantages of Investing in a Quality CZ Pistol
If you invest in a CZ pistol, you'll enjoy some sweet benefits that go along with it. You really don't want to miss out on these. Purchasing a CZ pistol will likely be your best friend in a dangerous situation when used right. That's just one obvious advantage. Here are a few others:
Excellent Concealability
Most of the CZ pistols that you will find on the market are perfect for concealed carry. Even better, they are the perfect size for maximum concealability. The smaller the pistol, the better the chance that it won't create any unsightly bulges, even when covered with a shirt.
Impressive Close Range Accuracy
These pistols are quite accurate from close CQB ranges. So if you have a good distance between you and the target, you will have no problem hitting them exactly where you want them. Naturally, shooting groups will usually get tighter the closer the targets are situated.
Flawless Reliability
If reliability is one of your major dealmakers, a CZ pistol will ideally rise above and beyond all expectations. These are made to never jam or malfunction. On rare occurrences, they will, but for the most part, you'll be just fine even after shooting through 100 rounds or more.
Conclusion
The ideal CZ pistol for you is out there. With the help of this guide, you can find one that will fit your needs and preferences to a 'T'. Be sure to select one that is right for your budget and suitable for your intended applications. It's a great concealed carry pistol that will go a long way in terms of longevity. As long as you take good care of it, it will certainly take good care of you.
People Also Ask
Below is a list of frequently asked questions that are asked by potential buyers. You should consider using this section as a guide to help you make a more informed decision when it comes to finding a CZ pistol.
Are CZ Pistols Any Good?
CZ pistols are great for the purpose of concealed carry and target shooting (both casual and competition). They are reliable and well made — far from being a 'cheap' option.
Where Are CZ Pistols Made?
CZ pistols are made in the Czech Republic (hence the name CZ). However, they do have an American manufacturer located in Kansas City, Missouri. So you will likely purchase a CZ pistol that was made in the United States (which is a plus considering that American manufacturers are known for making high-quality firearms).
Is the CZ 75 a Good Gun?
If you are more of a concealed carry or SHTF kind of shooter, the CZ 75 might be one of the best pistols you can find for the purpose of self-defense. They are made from high-quality, lightweight polymer and are thus capable of lasting you for a long time.
Is CZ Better Than a Glock?
In some ways they are. CZ pistols are actually sturdier and have better ergonomics as opposed to some Glock pistols. However, they are in a stalemate in one aspect: reliability. Both the Glock and the CZ are two of the most reliable pistols that you can find on the market.
How Many Rounds Does a CZ 75 Hold?
The CZ 75 has a double magazine. So it has the capability to hold up to 26 rounds in total. That's plenty of firepower for a single pistol.
What Does CZ Stand For?
CZ is the abbreviation for the Czech Republic. It's named in honor of the country of origin for these pistols.