A double action revolver is an exceptionally classy handgun, which is also the successor of single action revolvers. When modern polymer-based pistols hit the market in the late 80's, some people might have thought that revolvers would get lost into obsolescence. Although, they are still widely accepted, and double action revolvers still have a big market.
Let's check out the best of these revolvers, and how you should choose one.
At a Glance: Our Top Picks for Double Action Revolvers
Comparison of the Best Double Action Revolvers
IMAGE
PRODUCT

Our Top Pick

Fiber optic front and rear sights
Best Overall Double Action Revolver
Smooth-cycling, triple locking cylinder for easy shooting

View Latest Price →

Fixed sights for consistent accuracy
Runner-up for Best Double Action Revolver
Durable stainless-steel build for long-lasting use

View Latest Price →

Best Budget Option

Polymer grip frame and trigger guard
Stainless steel barrel for weight reduction
Best for the money double action revolver

View Latest Price →

Best .357 Double Action Revolver
Matte black finish for added flair and style
Aluminum alloy frame and carbon-steel cylinder

View Latest Price →
What to Watch For When Buying Double Action Revolvers
Before you traverse through the list of our best double action revolvers, take a look at some important aspects that must be considered before buying one.
Caliber and Size
The most basic question you must ask yourself is what caliber you'll be interested in for a revolver. Double action revolvers can be found chambered in the smallest .22lr caliber to the biggest .600 Nitro. The caliber of the revolver will affect the recoil, controllability, and intended uses.
Another factor is the size of the revolver. Starting from the snub nose and J-frame designs and all the way up to full-size frames, revolvers come in different sizes. The size affects ergonomics as well as the ability for the revolvers to be carried with ease.
Intended Use and Concealed Carry
Before you buy the DA (double action) revolver, you must be specific about the use you will be putting it up to. We don't need data to infer that revolvers are less common than pistols these days, it is an obvious fact. Some people use revolvers solely for range or reenactment uses, whereas a smaller number of owners use them for EDC or home defense.
Since EDC is concerned here, it is also important to note that DA revolvers can also be used for concealed carry, and you just have to get the right fit. If you are using a revolver for CCW, make sure to also have an appropriate holster. A slight issue with using revolvers for EDC is that they take longer to reload, as you cannot just swipe the magazine.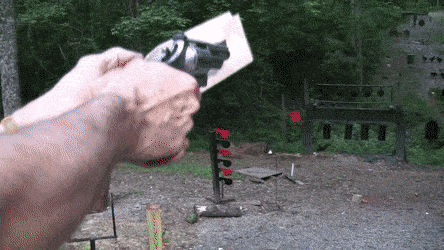 Shrouded or Exposed Hammer
The predecessor to DA revolvers, known as SA revolvers, had this mechanism where after firing a shot, the hammer had to be pulled manually. The DA revolvers eliminated this by connecting the trigger and hammer mechanism, so everytime you pull the trigger, you also cock the hammer. Which is also a reason why DA revolvers have a heavy pull-weight.
Since DA revolvers do not require the hammer to be pulled after every shot, you will find designs (like the S&W M&P Bodyguard) which do not have the hammer exposed. This helps with minimizing the silhouette of the revolver and also prevents it from snagging.
Ergonomics
Since revolver grips are not designed the same as handgun grips (which have pretty much the same design always), it is essential to check for ergonomics and comfort. Especially if you have smaller or larger than average palms, you should want to check the dimensions and curves of the grip.
Review of the Best Double Action Revolvers
With all the different revolver options on the market, it may be difficult to find ones that meet the standard of quality that you are looking for. So, here are the best double-action revolvers available that made our top list.
Ruger GP100 .357 Magnum/.38 S&W Special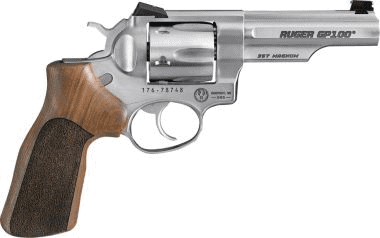 We may earn commission from purchases made from our links, at no additional cost to you
What Recent Buyers Report
This double action Ruger revolver has gotten a lot of positive feedback from many happy customers. The front and rear sights help shooters to be more accurate, and the heavy-duty stainless-steel build of the gun makes it highly durable and ready for just about any kind of shooting situation. Customers also seem to love the hardwood grip.
Why it Stands Out to Us
This Ruger revolver deserves the distinction of our best overall choice because of its smooth action and triple locking cylinder. These great features make shooting this weapon feel like a breeze, and the triple locking cylinder keeps everything in place so that you are always ready for another shot.
Who Will Use This Most
This great double action option would likely be used most by a competition shooter. With accuracy that is built for competing, this model is best used by those who are more experienced with shooting and who are more familiar with double action weapons and how they operate.
Bottom Line
This best overall choice is a no-brainer for those who are experienced marksmen and want a double-action revolver that can offer them the smooth action and accuracy that is required to take the top spot in any shooting competition. With the front and rear sights, this weapon will give you the best shot.
Pros
Stainless steel build for durability and reliability
Front and rear sights allow for better aim when firing
Custom Hogue stippled hardwood grip for better control
Match-tuned action for consistent accuracy when shooting
Comes with an 11-degree crown for competition use and accuracy
Cons
Rear sight is on the wider side
Known to have issues with cylinder opening and shutting properly
Customers have had issues with fitting bullets in the chamber when new
Ruger SP101 .357 Magnum/.38 S&W Special Centerfire Revolver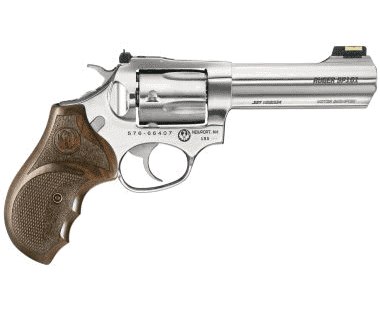 We may earn commission from purchases made from our links, at no additional cost to you
What Recent Buyers Report
Overall, this great double-action revolver has given customers plenty to praise. From the lightweight feel of the gun to its smooth action and tight rubber grip, this weapon offers the most comfortable and easy to shoot gun around. The accuracy of this weapon also earns high marks from consumers.
Why it Stands Out to Us
The ability to comfortably use a gun for a long period of time when practicing can be a tough thing to find. However, this model certainly gives that to its shooter, thanks to its lightweight build that allows you to shoot for a long time without fatigue and the soft rubber grip that won't make your hands hurt after multiple rounds.
Who Will Use This Most
Because of the comfortable hold of this weapon, those who will want to get the most out of this gun are shooters who practice often. Police officers and military personnel who need to keep up with their shooting time can benefit from using this because of the ability to shoot for multiple rounds without issue.
Bottom Line
This runner-up is second only to one, but that doesn't mean that this option doesn't come with many features that make it a great option for many shooters. From the rubber grip to the lightweight and compact build, this revolver is made for round after round of practice.
Pros
Accurate shooting abilities with fixed sights
Five-round cylinders for more shooting capabilities
Lightweight and compact; weighs under 30 ounces
Better grip and control from black rubber hand grips
Made from heavy-duty stainless steel for durable use
Cons
Will not eject any steel cased ammo
Not compatible with all ammo types
Rear sight cotter pin may shift after firing multiple rounds
Smith & Wesson M&P Bodyguard 38 Revolver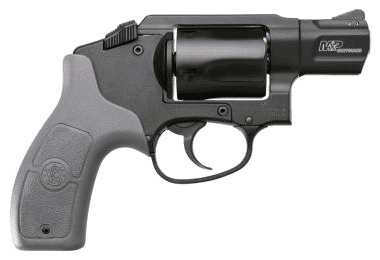 We may earn commission from purchases made from our links, at no additional cost to you
What Recent Buyers Report
Those who have purchased this Smith and Wesson model have not been disappointed. Being the best budget option that you can find in this category, many of the comments are positive and rave about the easy to hold grip and the compact nature that is perfect for concealed carry.
Why it Stands Out to Us
This S&W impressed us with its compact and lightweight frame, not to mention its concealed carry capacity. With the concealed hammer, it is great for personal protection because it can be pulled quickly from a bag without snagging for the quickest draw times.
Who Will Use This Most
This double-action revolver is made for concealed carry, which makes it perfect for those who may not be avid shooters, but want to carry a weapon for security. The concealed hammer and quick-draw capabilities allow any to feel safer no matter where they are with this S&W model.
Bottom Line
For an inexpensive model, this gun still brings a lot to the table. With its polymer grip and lightweight frame, this double-action revolver is a great option for any who wants to carry a concealed weapon with them for added safety and security wherever you go.
Pros
Lightweight and compact for easy carry
Fixed front sight for fast target acquisition
Stainless steel barrel for lightweight capability
Cylinder made from PVD-coated stainless-steel
Concealed hammer for a quick response without snagging
Cons
Barrel and cylinder gap is quite large
Not made for long-range shooting ability
Grip is quite short compared to the length of the handle
Best 357 Double Action Revolver
Smith & Wesson .357 Magnum J-Frame Centerfire Revolver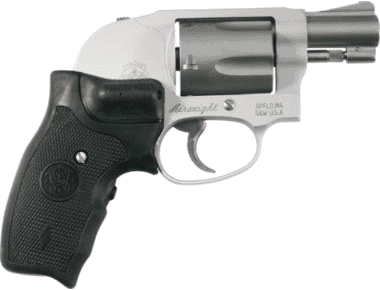 We may earn commission from purchases made from our links, at no additional cost to you
What Recent Buyers Report
This lightweight and compact weapon is a great double-action revolver that has a sleek style that customers love. People enjoy the five-shot capacity for multiple round shooting, especially when practicing, but there is some concern with the amount of recoil when shooting. Also, the heavy trigger rubs some users the wrong way.
Why it Stands Out to Us
This great double-action revolver option stands out from the rest because of its ability to hold .357 rounds. Many other options have gotten negative reviews about that size of rounds not being able to be shot from their revolver, but this one is made for them. The five-round capacity also gives it multiple round power that sets it apart.
Who Will Use This Most
Because of its ability to hold and shoot .357 rounds, this revolver will likely be used most by those who have had more experience with shooting. The recoil will be a bit more intense for beginners, and the heavy trigger pull requires a marksman with some more practice time under their belt.
Bottom Line
Although this option may not be for everyone, this double-action revolver still works for many people who want the power of a .357 round with a five-shot capacity. This weapon is made to be compact so that you can easily carry it inside a bag or purse for use as a concealed carry weapon.
Pros
Special design elements for sleek finish
Hammerless for quicker shooting reactions
Front and rear fixed sights for better accuracy
Lightweight and compact perfect for concealed carry
Five-shot capacity for multiple round shooting capability
Cons
Trigger pull may be too heavy for some
Recoil is quite intense for this size of weapon
Durability of frame is in question due to customer concerns
Best 22 Double Action Revolver
Ruger Double-Action .22 LR Revolver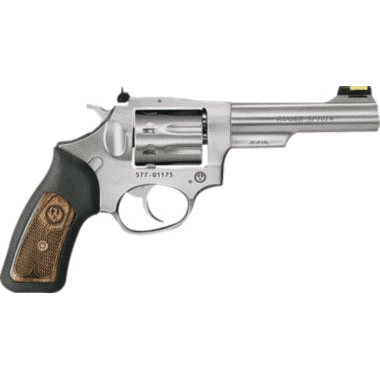 We may earn commission from purchases made from our links, at no additional cost to you
What Recent Buyers Report
This .22 round double-action revolver has many of its customers raving about their new purchase. With the weather-resistant build that allows you to shoot anywhere, you have the ability to use it wherever you want. The .22 round capability also allows those who are more petite to be able to shoot it with ease.
Why it Stands Out to Us
One of the primary reasons that this .22 round revolver made our list is that the front and rear sights are fully adjustable. The front sights are fiber optic for better accuracy, and the rear sights are fully adjustable so you can customize the sights to your liking every time you shoot. This gives you the best accuracy possible.
Who Will Use This Most
This lightweight and small-round gun is great for those who wouldn't be able to handle the recoil and power of a larger round. Those who are petite in size and who would fatigue after shooting multiple rounds with a .357 can benefit from using this weapon because of the compact nature and ease of shooting.
Bottom Line
This Ruger double-action revolver is made to last and is built for those who want a small round and less recoil. Younger users and those who are just starting out can ease into shooting with this .22, and the smaller among us can use this revolver without getting fatigued, making for the best shooting experience.
Pros
Fiber optic front sights are adjustable
Satin finish for added style and longevity
Fully adjustable rear sights for better accuracy
One-piece rubber grip for better shooting control
Made from weather-resistant stainless-steel for durability
Cons
Weapon can be extremely ammo sensitive
Casings tend to fall free when the cylinder is inverted
Cylinder may not eject without a great deal of force out on it
Single Action vs. Double Action, What's the Difference?
The main difference between a single action and a double-action weapon is the way that they are fired. A single-action revolver requires you to cock the hammer and squeeze the trigger one shot at a time. A double-action revolver can be shot in the same way, or by simply squeezing the trigger. The double-action gets its name from the fact that you can shoot it in two ways.
Both the single and double action can be used in a variety of situations, but they handle recoil differently. Single action weapons often have barrel rise that causes the gun to roll upward when shot, but the double-action transfers all of the recoil back into the web of your hand. The feel of these different recoils can make a double-action a more attractive option to many shooters.
Why Did These Revolvers Make Our List?
The models that we have chosen to include on this list were picked because of their top features. The first reason is that they all offer great accuracy when shooting. Each of them offers its wielder great control of their aim so that they can make the most accurate shot.
The second feature that makes these options great are the sights that they come with, which give you the perfect line of sight every time. This gives you the straightest and most accurate shot possible.
Finally, the last thing that sets these guns apart from the pack is the durable materials they are constructed from. These models are made from materials that are built to last, like stainless steel, which can handle consistent use over many years while retaining its accuracy.
What Do I Need to Know Before Buying a Double Action Revolver?
Before forking out a decent amount of cash for a new double-action revolver, there are some things that you should know before you finalize your purchase.
Weight
First, you should think about what size of gun you want to purchase. When shooting often, or for long periods, your arm will get tired and fatigued if the weight is too heavy. This can slow you down and make your shots less accurate. So, before you make your purchase, make sure that you are getting the size that you want and a size you can handle.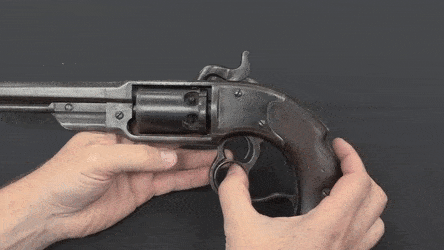 Round Size
Some revolvers can accommodate many types of ammo, but others can be much more finicky when it comes to a perfect fit. Plus, some large rounds cause more intense recoil, or more fatigue when shooting multiple rounds. So, decide what rounds you want to shoot – maybe a .22 or a .357? – so you can make sure that you have the round size you are looking for.
Hammers
There are many kinds of double-action revolvers, and each one comes with either a concealed or visible hammer. For concealed carry weapons, hammerless guns are popular because the hammer is concealed and won't snag when being pulled out from a bag or under a jacket. So, depending on what you will use your weapon for, you should think about whether or not you want a hammerless option.
Conclusion
Whether you are looking for a double-action revolver for practice shooting, or you want a concealed carry weapon for personal protection, there are options for everyone on this list. Once you have thought about what type of weapon you want, then you can decide which one of these great options is the best choice for you.
People Also Ask
With all the information that was just given to you, there may still be a few questions that you have about double-action revolvers. So, we put together some of the most commonly asked questions and answered them below.
Is a Double Action Revolver Semi Automatic?
No, they are not considered semi-automatic weapons because the manual action of pulling the trigger is what advances the cylinder, not the energy of the previous shot.
When Was The Double Action Revolver Invented
The first modern revolver was introduced by Colt in 1889, which was made with the first swing-out cylinder in history.
Do Double Action Revolvers Have a Safety?
Yes, however, most double-action revolvers have an internal safety that prevents the gun from going off when the trigger is not pulled. The safety is not usually external like many other guns are.
Are Most Revolvers Double Action?
Yes, most revolvers are made to be double-action because of their popularity.