There are few things cooler in the firearms world than the look and performance of a gun with a suppressor attached. Luckily, suppressors are not only reserved for action heroes in the movies. It is quite possible to obtain and employ a suppressor for your favorite Glock and enjoy the benefits they offer.
A suppressor doesn't make sense for every shooter but is a fun toy and useful tool when used safely and properly. Adding one to a Glock can make for a lot of fun on the shooting range.
Keep reading to learn more and to see the best Glock silencers and suppressors on the market today!
At a Glance: Our Top Picks for Silencers and Suppressors for Glocks
Comparison of the Best Glock Silencers & Suppressors
IMAGE
PRODUCT

Our Top Pick

Best 45 ACP Glock Suppressor For All Models
Unique design to eliminate POI Issues
Durable design with significant noise reduction

View Latest Price →

Compact and Lightweight Design
Made from a mix of Stellite and stainless steel for durability
Versatile design allows use with other guns

View Latest Price →

Two Tube Design for Better Cleaning and Performance
Reduced visual IR-Signature cover finish
Full-auto rated silencer for continuous shooting

View Latest Price →

Best Budget Option

Best Suppressor for 9 mm Luger Glocks
Allows quick adjustment of the rotational orientation
Good for use on shooting range

View Latest Price →

Best-In-Class Suppressor When Used Dry
Matte black Cerakote finish with reduced IR-Signature
Available in a couple of variants for different calibers

View Latest Price →
What to Watch For When Buying a Suppressor
Buying any aftermarket firearm part or accessory is a decision that deserves a lot of thought and care. That is even more true when it comes to buying a suppressor. Finding and buying the best suppressor for your specific Glock and your specific needs can be an overwhelming and sometimes confusing and frustrating process.
However, it can really pay off in the end. The following tips and information are a good place to start your journey towards adding a suppressor to your arsenal.
This Section Written By: Brian Belko
Expert Author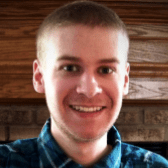 Brian is an experienced freelance writer and technical writer who has previously written for publications such as Wide Open Spaces, Bigfoot Gun Belts, Alien Gear Holsters, and Kampgrounds of America. He brings both a passion for writing and a love of the outdoors to his published content.

Aside from writing and the outdoors, Brian enjoys gardening, being a co-host on The Nostalgia Blast Podcast, and learning to code.
The Waiting Game
Buying a suppressor isn't as easy as picking up new stock, red dot sight, or even a new upper assembly for an AR-15. There is a lot of paperwork, a tax stamp to purchase, and generally a whole lot of waiting for things to be approved.
While this isn't a guide on how to tackle that process (there are plenty of those in other places online), it is still worth noting as it is a large part of the process. Make sure to go into it from a place of patience or you will likely cause yourself a lot of frustration.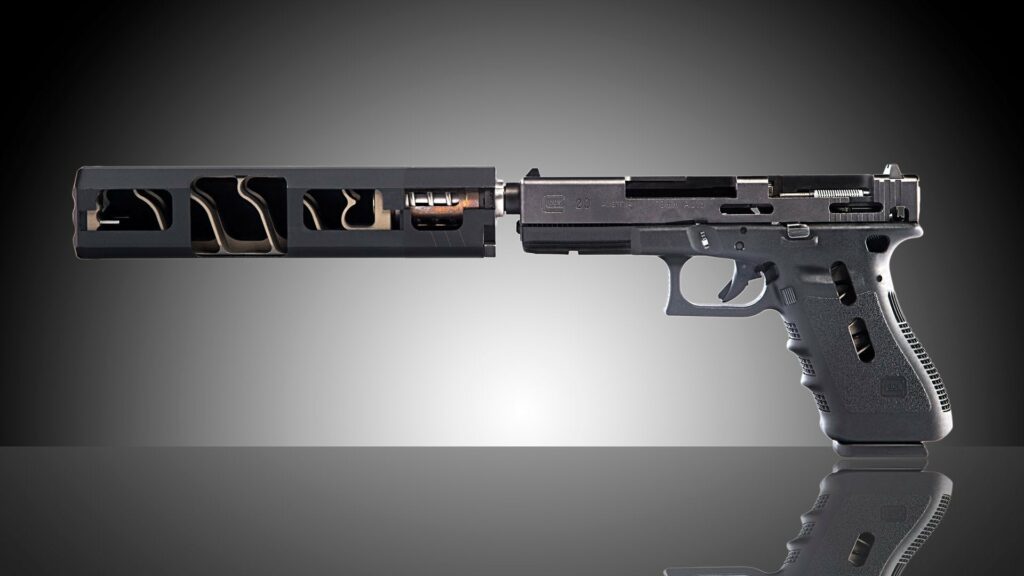 Keep the Ear Muffs
One of the biggest misconceptions about suppressors is just how effective they are at lowering the sound level of a fired weapon. Movies and TV shows have done their best to make it seem like screwing on a suppressor or "silencer" effectively make a fired gun completely silent or only creates a quiet "whump" type of sound. This couldn't be further from the truth. While they do lower the decibel level of a shot, they do not make it safe to shoot a gun without hearing protection. Instant hearing damage occurs at 140 decibels and up.
The average sound level of a gunshot fired through a suppressor is 130-140 decibels. You only get one set of ears. Keep the hearing protection even if you have a suppressor on your Glock.
Right on Target
With a properly attached suppressor, your Glock's point of impact won't be any different than it was before adding the suppressor. However, if you have never used a pistol with a suppressor before, it still might take a little getting used to as it does add weight and does change the gun's balance. Give yourself some time to get used to it and it won't be long before you are right back on target.
Review of the Best Glock Suppressors
Now that we have discussed the aspects of buying a suppressor, it's time to take a look at some of the best Glock suppressors on the market. These silencers have been handpicked based upon their qualities and positive customer reviews across the online community.
Silencerco – Osprey .45 Suppressor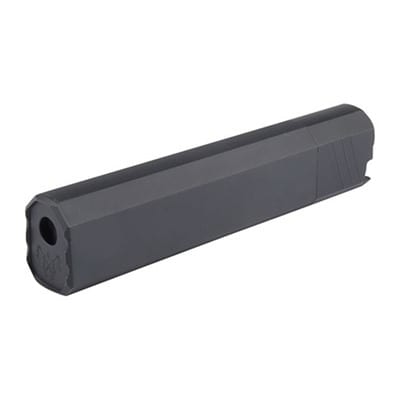 We may earn commission from purchases made from our links, at no additional cost to you
Review
Silencerco has its own expertise when it comes to manufacturing silencers. The same goes for this eccentric suppressor model named Osprey. The silencer has been made from 6061 T6 aluminum, the same material used for manufacturing receivers and other durable gun parts. This testifies to the durability and reliability of the suppressor.
The silencer has been specifically designed for the .45 ACP caliber, however, you can still use it with 40 S&W and 9mm Glocks. The suppressor significantly reduces the noise levels of your Glock to 132.5 dB, which is an almost 25% reduction compared to the normal sound of a 9mm Glock.
The suppressor has an eccentric body, which means that the bore doesn't run down the middle of the tube. This feature helps with keeping most parts of the silencer beneath the bore's centerline, thus not affecting the POI of your weapon. This also eliminates the POI issues with cylindrical silencers, so you can use the factory sights or any other sights on your weapon with ease.
The Osprey Suppressor achieves its purpose in a limited space compared to round silencers. It has 30% extra internal volume compared to a cylindrical silencer Due to its design mimicking the slide of a Glock, the silencer can be easily holstered into any open-bottom holster.
Additionally, it has a QD setup which allows you to quickly remove it when not in use. You only have to thread the mount onto your Glock barrel and you're done. The suppressor is aesthetically pleasing and works with many guns.
Bottom Line
The Osprey 45 Suppressor features an intelligent design to improve the volume and maintain the POI. The silencer is durable and easy to install. It can be used for range use, home defense, and even hunting if you desire.
Pros
Durable and Reliable
Works With Many Guns
Easy to Install and Remove
Significant Reduction in Sound
Eccentric Body Eliminates POI Issues
Cons
Might Obstruct Tac-light Field of View
Silencerco – Omega Silencer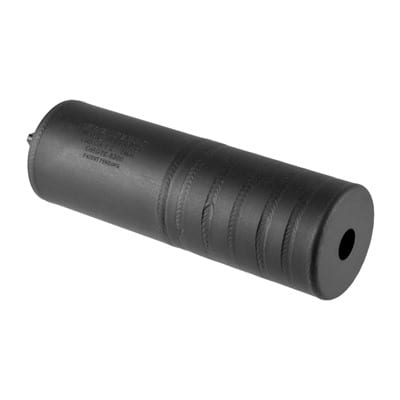 We may earn commission from purchases made from our links, at no additional cost to you
Review
Another product from Silencerco in our list – the Omega silencer. It features a cylindrical design which can be mounted on the muzzle of your Glock using a mount, which comes inside the package. The silencer has been made from a mix of Stellite and stainless steel. This makes the silencer extremely durable and reliable.
The silencer is blast erosion-resistant and is rated for full-automatic use, so you can comprehend the level of reliability for these silencers. The silencer is available in a couple of different models for the 9mm and 45ACP calibers. On top of that, these silencers can be interchanged and mounted to 300 AAC Blackout rifles with impressive sound suppression for both supersonic and subsonic rounds.
The silencer has a compact design, with a limited length and diameter, so you can carry it on your Glock with ease. The silencer delivers significant reduction in noise from your Glock. Due to its compact design, it doesn't interfere with the sights of your handgun. Plus, you can use it with reflex sights, tac lights, and lasers. The silencer is extremely durable and is known to reduce the blast noise of a 9mm to 131.5 dB and a 40 S&W to 136.2 dB, which are both significant reductions. The silencer can be mounted on pistols, rifles, and submachine guns, so it is quite versatile as well.
Bottom Line
This Omega Silencer is a compact and durable noise reduction solution for your Glock. The silencer is small enough to be carried with ease and is also reliable since it has been rated for full-auto use.
Pros
Versatile
Easy to Install
Compact Design
Significantly Reduces Noise
Durable and Reliable Construction
3. Gemtech – GM-45 Suppressor .45ACP Direct Thread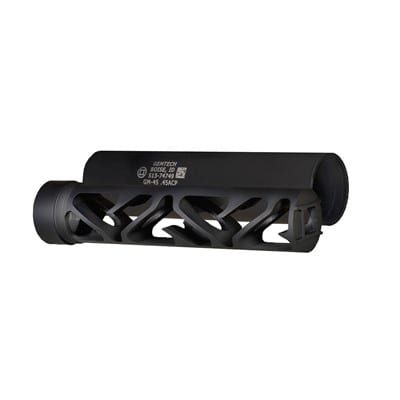 We may earn commission from purchases made from our links, at no additional cost to you
Review
Gemtech came up with an innovative design for a suppressor, so we had to include it in the list. The GM-45 suppressor is made from 7075 aluminum, which speaks of its quality and durability. The silencer has a cylindrical body, with a black matte anodized finish over the core and Matte Black Cerakote with Reduced Visual-IR Signature on the cover.
The Gm-45 Suppressor is a combination of two different tubes, where the inner cylinder is grilled and the outer housing cylinder is sealed on the surface. These tubes can be separated from each other for proper cleaning and maintenance of the silencer. This is an exclusive feature you won't find with most other silencers on the market.
This silencer accepts 9mm, .45 ACP, .40 S&W, and 10mm cartridges so you interchange it onto different handguns with appropriate threading pitch (5/8-28) for the mount. The silencer has been tested to reduce the noise anywhere between 21-35 decibels for your Glock, which is a significant reduction.
It weighs a mere 5.5 oz, so it doesn't add any significant amount of weight to your Glock. All GM-45 suppressors are shipped with a .578-28 standard piston, so mounting is not an issue. The silencer is full-auto rated, so you can use it for rigorous shooting sessions.
Bottom Line
The Gemtech GM-45 suppressor is an easy to clean and lightweight noise reduction apparatus for your Glock. The silencer can be easily installed and works with many different calibers.
Pros
Lightweight
Easy to Clean
Easy to Install
Durable and Reliable
Works With Many Guns
Advanced Armament – Illusion 9 Suppressor 9mm Luger 1/2-28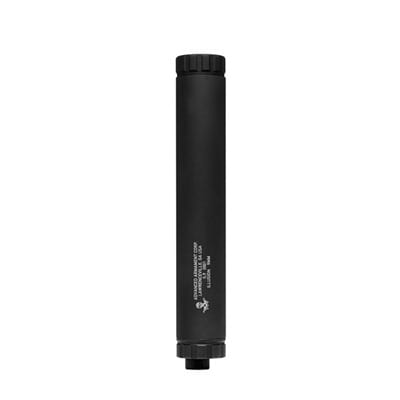 We may earn commission from purchases made from our links, at no additional cost to you
Review
The Illusion 9 Suppressor from Advanced Armament is a compact and reliable suppressor for mounting on 9mm Glocks. The silencer features an offset, non-centralized bullet path. Plus, the silencer allows the user to quickly adjust the rotational orientation of the silencer to provide an unobstructed sight picture of the target.
This feature is extremely helpful with standard height-sights as you don't have to replace them with taller ones. The silencer features a heat-treated stainless steel inner, with blast baffles to significantly reduce the noise. The inner core can be separated from the outer can for cleaning and maintenance, without the use of any specialized tools.
This easy-to-clean design is quite useful if you burn through a lot of ammo at the range, especially the lead-based type. The silencer has ½-28 TPI threads to attach to any weapon with the right adapter.
Bottom Line
The Illusion 9 suppressor is a durable and easy to clean addition for 9mm Glocks and pistol rifles. The silencer is a bit lengthy for regular carry, however, it is exceptional for range use.
Pros
Durable and Reliable
Easy to Install and Clean
Offset, Non-Centralized Design
Cons
A Bit Lengthy
Fits Only 9mm Models
5. Gemtech – Tundra & Blackside Suppressors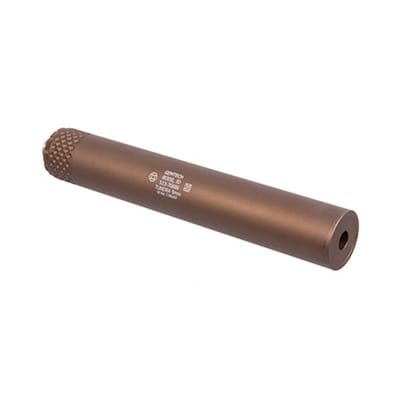 We may earn commission from purchases made from our links, at no additional cost to you
Review
The Tundra and Blackside suppressors from Gemtech feature a durable and compact design, which is apt for mounting on Glock pistols. The silencers are to be used dry and claim to outperform most other silencers in their category. However, you can also add small amounts of coolant for better noise reduction and performance. The diameter of these cans is limited, not to affect your point of impact.
The Tundra Suppressors have been designed to work with 9mm caliber, whereas the Blackside ones are for .45 and .40 calibers. These suppressors are compact enough to be used for EDC, home defense, and range use. The Tundra silencers can be mounted on adapters/barrels with a ½-28 TPI thread, whereas the Blackside suppressors are compatible with .578-28 threads. The silencers can be easily removed and attached to the Glock and can also be holstered on most open-end holsters.
Bottom Line
The Tundra and Blackside silencers are compact and effective dry suppressors for your Glock, especially for the compact and subcompact models.
Pros
Durable and Reliable
Doesn't Interfere With POI
Compact and Lightweight
How to Choose a Glock Silencer
Choosing the right silencer for your Glock requires you to consider certain aspects. These factors outline the important qualities of an ideal Glock suppressor and which you should look for when buying one.
Material
The type of material used for making a silencer is directly related to its longevity. A silencer controls the pressure of expanding gasses, which is the cause of sound reduction. But a silencer made from less effective metals can melt down or crack, especially under repetitive auto fire, so it's better to choose a more durable and reliable silencer. Probably one made from some sort of hardened alloys.
Caliber
Silencers are not interchangeable among different calibers. You can still use large caliber silencers on small caliber weapons, but that's really not feasible and requires different mounting mechanisms. So always choose a suppressor matching the caliber of your Glock.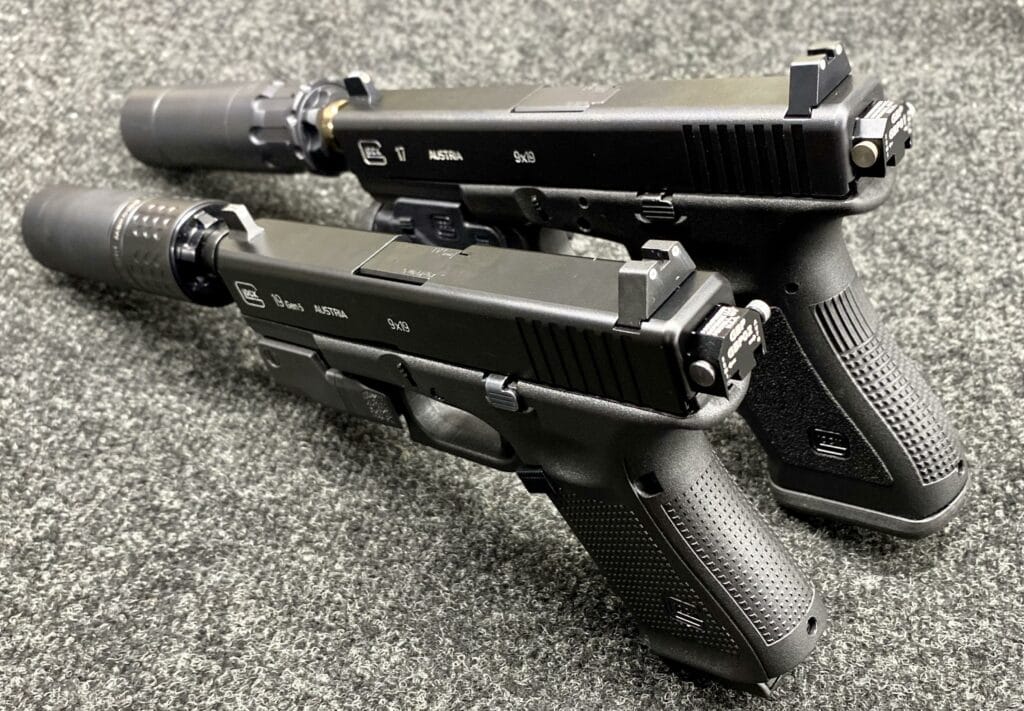 Mounting Mechanism
Suppressors can either be thread-pitched or quick detach. Take note of the thread pitch of your Glock's muzzle so you buy a silencer with compatible threading. If you want to interchange your silencer among different weapons quickly, you can also go for a quick detach type silencer.
Usability
The prime purpose of a silencer is sound and recoil reduction. A 9mm pistol makes a sound of about 160 decibels. The safe limit of sound for your ears is 85 decibels. So adding a silencer to your Glock is an intelligent decision. Furthermore, you should purchase a silencer with significant levels of noise and recoil reduction and probably appealing aesthetics.
POI
POI stands for Point of Impact. It is the shift in the aiming point of the weapon after you mount a suppressor to the barrel. Consider buying a suppressor with a minimal POI shift.
Are Gun Silencers Legal? – Regulation 101
Yes, in the majority of states. Silencers for guns are legal in 42 out of 50 states of the United States of America. However, that does not imply that you can just buy it on an online sale and expect it to reach you with a week. The sale and possession of silencers are explicitly regulated by the law.
Silencers can be compared to receivers, as they have their own serial number for registration purposes. To buy a silencer, you have to pay a tax of $200 through a revenue stamp. Not only that, buying a silencer requires you to go through a criminal background check. The possession of silencers falls under the authority of the National Firearms Act (NFA) division of the BATFE (Bureau of Alcohol, Tobacco, Firearms, and Explosives).
The illegal possession of silencers is considered to be a serious crime and can buy a violator a term of up to 30 years in prison. Some states and municipalities also have their local laws regarding the use of silencers. For example, Connecticut and Vermont allow the possession silencers but prohibit hunting with them.
How to Attach a Glock Suppressor
Note: Please check your Glock for safety before attempting any kind of service or maintenance. Remove the magazine and pull the slide to cross verify.
Attaching a suppressor to a Glock is not that complicated, especially if you know how to disassemble and clean it. But before we start, you must take note of the fact that you need a muzzle threaded barrel for mounting a suppressor. Factory Glock barrels don't have that, so you might have to get a new one.
Now, cock the action back and push the takedown leverage pin to remove the slide. Once it is done, remove the recoil spring gently from the slide and set it aside. Now, pull the barrel out, and replace it if it's not threaded. Put the barrel into the slide, drop the recoil spring back into position, and lock the slide on the receiver using the takedown pin.
Next, take the silencer and screw it all the way down on the threaded end of the barrel. Make sure to tighten it properly, but not too tight. Now, cock the slide all the way back and pull the Glock trigger to check the mechanism. Aim the Glock in a safe direction to check the POI and if the sights are aligning properly.
For more detailed instructions and the steps involved, please take a look at this video below:
Conclusion
The primary purpose of installing a suppressor to a Glock is to reduce the noise created upon firing a shot. Suppressors are known to reduce this noise by almost 20%, which is a good feature for general use and tactical situations. A good suppressor must be durable, reliable, easy to install, easy to clean, and should not interfere with the POI.
People Also Ask
Your brain might be buzzing with some questions you need the answers for right away. To address the general doubts related to this topic, we compiled a short FAQ section to help you, so you may still your thirst of curiosity.
Do I Need a Threaded Barrel for a Silencer?
Absolutely, yes. A threaded barrel is required to screw on the threads of the silencer since it is a more sturdy and reliable setup because the bullet exits from the muzzle end. However, there are suppressors with QD mounts that can be screwed onto a threaded barrel for quick attachment and detachment.
How Does a Silencer Work?
To understand that, you must understand what creates the noise. When you shoot a bullet, the heated gasses created by the burning of gunpowder expand rapidly, thus propelling the bullet out of the barrel. When these gasses exit the barrel, they transition from extremely high pressure to low pressure, which creates the sound. A barrel provides extra space to make this transition more gradual and efficient, which results in a reduction of noise.
Do Gun Silencers Really Work?
Yes, they do. But not in the way Hollywood shows them to work. You're not going to hear a 'whip' sound when you fire your weapon with the suppressor on. For example, shooting a 9mm Glock creates a sound of around 160 dB. A suppressor brings it down to approximately 130 dB. So you'll definitely hear a 'bang', just not as loud as without a suppressor.
Can You Legally Make a Suppressor?
Yes. It is perfectly legal to make a suppressor on your own if you have submitted an application and received an approval using ATF form 1 to BATFE. But remember that making a suppressor requires specialized tools and appropriate knowledge of the trade. Plus, you have to reside in a 'suppressor-legal' state.
Are Silencers and Suppressors the Same Thing?
Yes. Silencer and suppressor refer to the same thing-a device that is used to dampen the noise created by a weapon when it shoots a bullet. Silencer is the more legal term used in paperwork, whereas suppressor is a casual term used by the general public.
Do Gun Suppressors Wear Out?
Yes, to some extent, they do. Everything has an age. The suppressors undergo extreme pressure of the gasses exiting the barrel. Their job is to handle this pressure efficiently, so they will undergo wear and tear over time, just like the barrel. However, the longevity depends upon their quality, maintenance, and shooting durations
Does a Silencer Slow Down a Bullet?
No. The silencer does not slow down a bullet. It does not interfere with the movement of a bullet. However, they are known to often aid accuracy.
Can Any Gun Have a Silencer?
As long as a gun has a threaded barrel and an apt adapter, it can have a silencer. Weapons ranging from sub-compact pistols to large caliber rifles have been known to have silencers. Although, the important thing to note here is that suppressors perform the best when used with their respective caliber. Plus, large caliber suppressors will work on smaller caliber guns, but the reverse is not possible.