The Glock pistol is one of the most well-known, most popular, and most prolific handguns on the market today. The company offers over 50 different models of pistols which mean there is an ideal option for just about every conceivable person and situation. That popularity means that the amount of aftermarket parts and accessories, such as triggers, is substantial.
This is a good thing for Glock owners and enthusiasts, but can sometimes make it hard to find the best parts for your needs. Replacing the trigger is one of the most popular upgrades for Glock pistols, but it can be a tricky decision to make.
Scroll down to learn more and to see the best Glock triggers of 2022.
At a Glance: Our Top Picks for Glock Triggers
Comparison of the Best Glock Triggers
IMAGE
PRODUCT

Best Glock 43 trigger on our list
Small indexing hook for intuitive and consistent trigger finger placement
Robar's NP3 plating provides virtually impermeable corrosion resistance and smooth, grit-free operation

View Latest Price →

Best CMC Glock trigger available for all models
Flat-faced trigger shoe with hook bottom for reduced pull weight
Features OEM internals and a positive trigger reset

View Latest Price →

Best Glock trigger kit for customizability
Fully-adjustable for takeup and over-travel via two screws
Complete trigger kit can be used as a replacement or for backup

View Latest Price →
What to Watch For When Buying a New Glock Trigger
For all of their good features and perks, the factory triggers on Glock pistols can leave a lot to be desired. This is one of the main reasons Glock owners replace their triggers with aftermarket options. That means that performance is one important thing to watch out for when buying a new Glock trigger.
The installation process and aesthetics are two other things that must be considered before making a final decision. Use the following tips and information as a good starting point to finding and choosing the best Glock trigger for your pistol!
This Section Written By: Brian Belko
Expert Author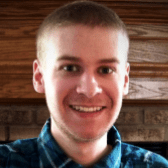 Brian is an experienced freelance writer and technical writer who has previously written for publications such as Wide Open Spaces, Bigfoot Gun Belts, Alien Gear Holsters, and Kampgrounds of America. He brings both a passion for writing and a love of the outdoors to his published content.

Aside from writing and the outdoors, Brian enjoys gardening, being a co-host on The Nostalgia Blast Podcast, and learning to code.
Worthwhile Luxury
It is important to note that the stock trigger on every Glock pistol is reliable and well-designed for safety. It does its job and it does its job well. However, that doesn't mean there isn't room for improvement. It might be a bit of a cliche example, but you wouldn't turn down the chance to drive a sports car even though your everyday vehicle works perfectly well.
Once you've shot a Glock equipped with a high-quality aftermarket trigger, you will ask yourself how you ever used the stock trigger. While it isn't a required upgrade, it is a worthwhile luxury for most shooters whether using a Glock for home defense, target shooting, or competition.
Installation Inquiry
Whenever you are planning on buying a new aftermarket part for any firearm, it is a good idea to familiarize yourself with that part's installation process. This will help you determine whether or not it is a process you can handle yourself. This is especially true for any internal parts such as an aftermarket trigger.
While some models might be better left to a gunsmith or at least someone with some gunsmithing experience, there are also plenty of excellent drop-in options that most shooters will easily be able to handle the installation of.
Form and Function
Adding an aftermarket trigger fundamentally changes the firing process of your Glock. It won't feel the same as the factory trigger, but that is a good thing in most cases. However, it will take some getting used to especially if you have spent a lot of range time with a factory Glock so practice will be important. It won't be long until you have no idea why you didn't upgrade your Glock trigger sooner!
Review of the Best Glock Triggers
Based upon the above-discussed considerations and factors, we have come up with some of the best Glock replacement triggers on the market. These triggers have been selected based upon positive customer experiences so you don't have to be skeptical before buying one.
Best Overall and Best Glock 43 Trigger
Overwatch Precision – Tactical Trigger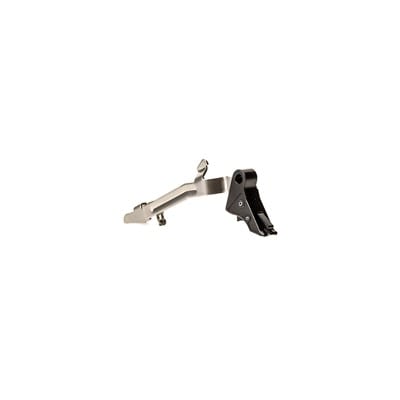 We may earn commission from purchases made from our links, at no additional cost to you
What Recent Buyers Report
New buyers say that the trigger was really durable in quality and they expected it to last them quite a while. Installation didn't take too long for most users, even with the lack of gunsmithing skills they had. This was the perfect tactical trigger for those using their Glock pistols for concealed carry or tactical purposes. So far, their shots were coming off fast and no jamming or malfunctioning have been reported.
Why it Stands Out to Us
The Glock 43 is a subcompact and very concealable handgun in its class. Due to its size, the G43 requires a different size trigger assembly. For that matter, we have come up with this extremely useful aftermarket trigger from Overwatch Precision.
This trigger assembly features a metal-based design made from 7075 T6 aluminum, the same material used for making AR receivers. The trigger comes in conjunction with a 316 stainless steel bar. The trigger shoe has a flat-faced design which reduces the trigger reach by some margin. This is actually helpful for people with small hands.
Plus, the shoe has a small indexing hook, which lets you feel the trigger for intuitive finger placement and controlled action while shooting. The trigger shoe and safety tab are both made from metal and are hard coat anodized to prevent rusting and corrosion.
Overall, the trigger has a reduced pull weight, pre-travel and over-travel times, along with a crisp break for efficient performance. This trigger can also fit other 9mm and 10mm handguns so it is not only limited to Glocks, which is definitely a plus if you own multiple handguns. It is a direct drop-in trigger, so you won't face any problems with installation.
Who Will Use This Most
If you are a Glock owner that wants to get a shot off better and quicker than a factory default, then you will certainly love having this trigger on your pistol. It's very easy to install and you'll get a quick break-in. Before you know it, it becomes the trigger you stick with for years down the road.
Bottom Line
This trigger has a drop-in installation and a flat shoe with an indexing hook. It works with multiple handguns, which is a plus. But most of all, it works exceptionally well with the G43, which has fewer trigger options available on the market. Overall, the trigger is good for EDC and self-defense with the G43.
Pros
Easy installation
Fits many handguns
Flat shoe with indexing hook
Robust and sturdy construction
Great for shooters with small hands
Cons
Pull weight is not adjustable
CMC Triggers – Drop-in Trigger Kit For Glock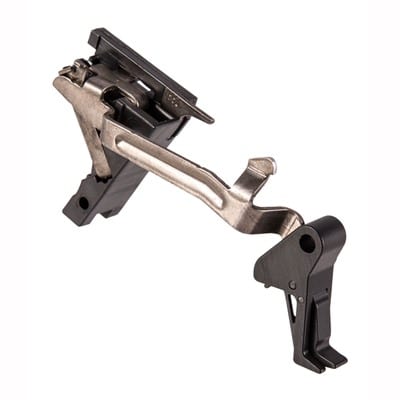 We may earn commission from purchases made from our links, at no additional cost to you
What Recent Buyers Report
This trigger is really easy to install despite having no gunsmithing skills. They also add that the quality and structural integrity of the trigger is pretty solid, giving them the confidence in knowing that this trigger was built to last. So far, the pull weight is good enough for most users as it wasn't too light or too heavy for most applications.
Why it Stands Out to Us
CMC is a widely praised name for manufacturing tactical weapon accessories, and this Glock trigger is a testament to that statement. The CMC trigger is a complete drop-in assembly that is easy to install on your Glock.
The trigger has been made from 8620 alloy steel and S7 tool steel that already speaks of its durability and corrosion resistance. The trigger has a flat-faced trigger shoe with a hooked bottom for extra grip and control when you shoot. The trigger reduces the pull weight by 2 lbs compared to the original factory trigger and features a positive reset and crisp break to let you shoot precisely.
This product has reduced slack (pre-travel and over-travel time) for aiding with the accuracy of the Glock. The self-contained trigger assembly is compact and can be switched among different Glock handguns if you desire. The trigger fits all Glock models from Gen 1 to Gen 3 and also has a separate model for Glock Gen 4 pistols. The finger placement on this trigger is exceptional and keeps the wide trigger safety from pinching your finger.
The trigger will definitely improve the performance of your stock Glock pistol. This trigger is light and crisp, which makes it ideal for competition use, range use, and even self-defense. The only drawback of the trigger is its price, which is way above justification, although, this trigger assembly is the complete package, which softens this to some extent.
Who Will Use This Most
This will be a good beginner trigger for those starting out with using a Glock. If you are new to using a Glock and want to install a trigger that will be a better improvement compared to a factory default, choosing this one is a no brainer. The last thing you want to deal with is complicated installations.
Bottom Line
The CMC trigger for Glock is an exceptional aftermarket addition to your Glock. It is good for EDC, self-defense, and competitions. However, the price is a bit on the higher end, so ponder a bit before buying.
Pros
Fits all Glocks
Crisp operation
Drop-in installation
Reduced pull weight
Complete trigger assembly
Cons
Expensive
9mm Gen 1-3 variants don't fit Glock 43
Zev Technologies – Fulcrum Ultimage Trigger Kits For Glock® Gen 1, 2, & 3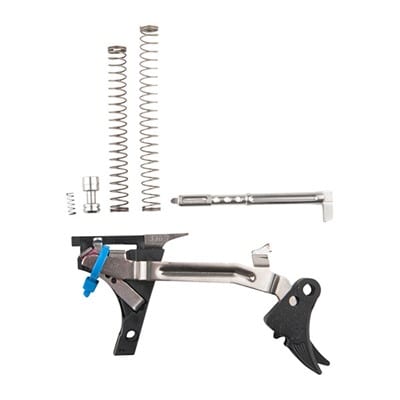 We may earn commission from purchases made from our links, at no additional cost to you
What Recent Buyers Report
Most new users purchased this trigger kit due to the fact that it was easy to adjust for the purpose of eliminating any kind of pre-travel and overtravel. Overall, they were really happy with the quality and the trigger pull was light, consistent, and allowed for quick shooting regardless of application.
Why it Stands Out to Us
This Glock trigger from Zev Technologies is a complete trigger replacement kit which is fully adjustable in all respects. It has a drop-in type installation for basic swapping. However, if you need to make an adjustment to weight and travel, you 'll need some specific tools and proper knowledge of the Glock system.
The trigger can be adjusted for pre-travel and over-travel using the two easy to access head screws (a wrench has been included in the package for this). Apart from that, the kit contains all the parts and springs to make adjustments to the pull weight of the trigger. The kit also includes a reduced power striker spring to create a lighter trigger for competitions and a factory-weight striker spring for normal use.
The trigger features a curved trigger shoe and a hinged trigger safety, both of which have been manufactured from 6061 T6 aluminum. The surface of the trigger bar has been properly polished for effective engagement and flawless operation under all conditions. It features a crisp break and smooth travel. Plus, the reset is also positive, so you can engage the target without much realignment.
This trigger will require some skill and time for installation, so be prepared for that. The adjustability of this trigger makes it versatile for almost every other kind of use. You can make adjustments to suit different situations like EDC, competitions, or duty use. The trigger fits Glock Gen 1, 2, and 3 pistols, so be sure to check the model of your Glock beforehand.
Who Will Use This Most
If you are a Glock owner and have a pistol or two from any Generation, then this will be the best kit you can invest in. You are almost guaranteed to find a trigger that will fit on your pistol for any application. Once you install the trigger that fits, you'll be good to go for as long as you are able to use your Glock pistol.
Bottom Line
The trigger kit from Zev Technologies is a complete package that allows adjustability for the trigger. You can adjust the pull weight and travel to suit different use cases. Using the kit requires extensive knowledge of the Glock mechanism, so make sure to have proper guidance while using it.
Pros
Adjustable
Crisp operation
Aesthetically pleasing
Drop-in kit with all components
Durable parts with high-quality construction
Cons
Fits only up to Gen 3
Requires some effort for installation
4. Brownells Exclusive Action Enhancement Trigger For Glock®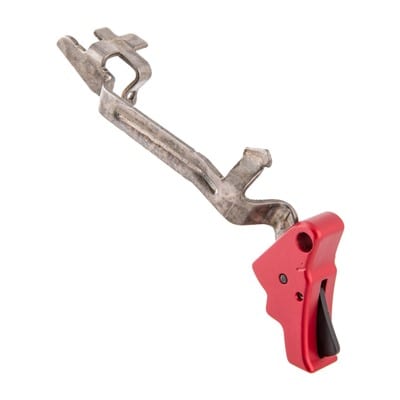 We may earn commission from purchases made from our links, at no additional cost to you
What Recent Buyers Report
Most of the new buyers were really happy with this trigger. They said it didn't take them long to install and it didn't give them a lot of uptake when they tested it out at the range. One user said that it was super easy to pull compared to his factory default. Not to mention, the pull weight felt a bit lighter than expected.
Why it Stands Out to Us
This crisp and robust Glock trigger from Apex Tactical is exceptional and according to us, is the best replacement for your Glock trigger. The trigger is a perfectly functional enhancement for your Glock. It features a durable aluminum-based body and a crisp trigger break to let you shoot with minimal effort and greater precision.
The trigger has a reduced pre-travel and over-travel time compared to the original factory trigger. Apart from that, the trigger has a quicker reset, which allows you to take quicker follow up shots. Plus, the reset has the added benefit of an audible click. The center-mounted pivoting safety ensures that the factory safety measures work well.
The trigger also has a lighter connector compared to the original factory trigger mechanism. The trigger assembly has a direct drop-in design to eliminate any serious gunsmithing efforts during the installation process.The trigger works flawlessly with all Glock Models in and under Gen 3, except for the G43 which has a slightly narrower frame. The trigger makes the Glock exceptional for competitions and range use. Apex triggers are known to have a consistent pull, so you can be assured of its performance.
Who Will Use This Most
This will be an ideal trigger that will work for so many Glock users. We're talking concealed carry shooters, target shooters, and law enforcement officers. It's probably the easiest trigger you can install on your pistol. And it might improve the pull weight a bit. If you want simple and easy in both install and operation, this is it.
Bottom Line
The Apex Tactical Trigger for Glock fits all models and enhances the trigger function to extreme levels. The trigger is easy to install and looks aesthetically pleasing. Considering its price, the trigger offers good value for money.
Pros
Quick reset
Economical
High-quality
Aesthetically pleasing
Reduces slack and pull
Cons
Fits Gen 3 and below only
Glock – Trigger With Trigger Bar G19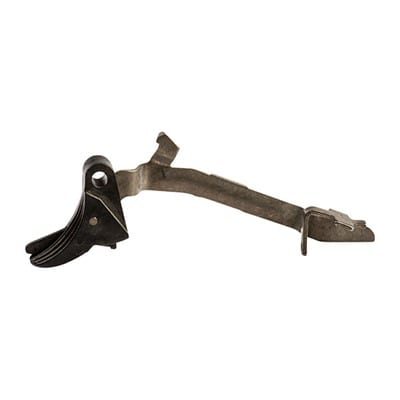 We may earn commission from purchases made from our links, at no additional cost to you
What Recent Buyers Report
It worked great with every user who bought it. They said the pull weight was quite decent and it didn't feel too heavy when they pulled it. The quality was solid and it was light in weight, so it didn't add on any additional weight to the pistol itself.
Why it Stands Out to Us
The Glock 19 is a compact and widely used weapon by both civilian and law enforcement officers. It is quite good for EDC and concealed carry. If you use it for these purposes, having an enhanced trigger mechanism in it is of prime importance.
This Glock 19 trigger has been designed with this in mind. The trigger features a full metal body and comes as a complete package, inclusive of the trigger bar. The curved trigger shoe has a grooved design to offer a better grip as you shoot.
The model features a simple drop-in design which means easy installation. The trigger has a reduced pull weight, pre-travel and over-travel time. The best part is that the trigger has been designed by Glock itself. So there's no cause to doubt its quality.
Who Will Use This Most
If you are looking for a trigger that will be useful for your Glock 19 pistol, then it might be wise to choose this for all of your applications. You'd be surprised how awesome it is compared to some factory defaults or replacements that may fall short one way or another. This trigger is also one of the most affordable on the market, so if you are on a budget you should consider giving this a closer look.
Bottom Line
The Glock 19 requires a trigger upgrade like this to function efficiently as an EDC weapon. The trigger is economical and easy to install, while enhancing the function of the weapon. For a trigger that will match the reliability of the very pistol you use, this is a no-brainer decision. And it's affordable for most budgets, so you have an option that won't break the bank.
Pros
Economical
Easy to install
High-quality components
Benefits of Upgrading a Glock Trigger
The Glock is widely used for EDC, self-defense, competitions, and in law enforcement. But those who use Glock pistols know that the trigger has a heavyweight pull. Upgrading the Glock trigger reduces the pull weight from the factory 5.5 pounds to a lesser number. This helps with proper alignment and hence, accuracy.
Another important benefit of upgrading the trigger is the reduction in slack. The significant pre-travel time of the Glock pistols makes shooting a bit difficult. Especially in strenuous situations. A smoother trigger pull also ensures easy shooting without moving or adjusting the sights.
Finally, a very advantageous result of upgrading the trigger is a quick reset. An upgraded trigger will reset quickly, which allows for quicker follow-up shots with more accuracy.
But even after upgrading the trigger, it is important to practice with your weapon, so you can handle it properly under different types of situations.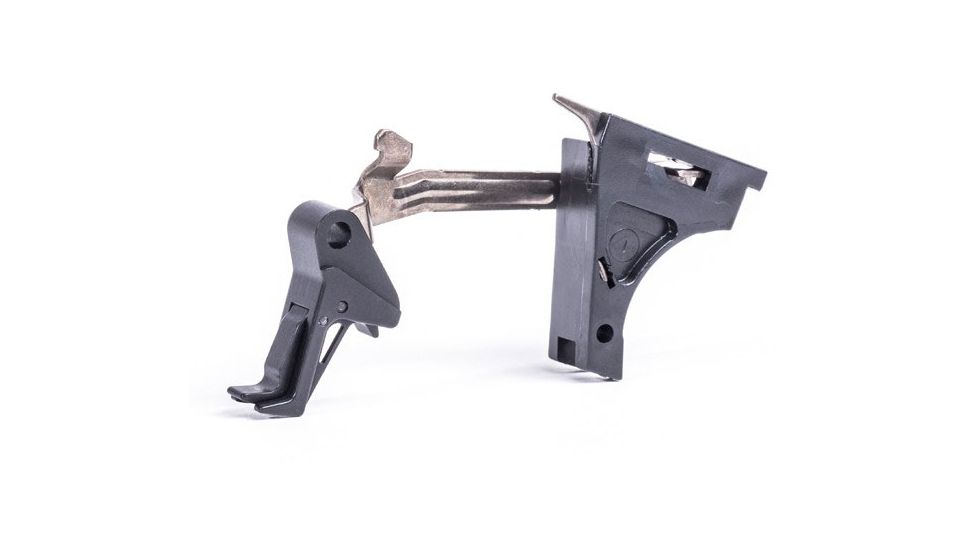 How to Choose a New Glock Trigger
There are several considerations you must keep in mind before choosing a trigger for your Glock. Let's evaluate them one by one:
Construction
Glocks are among the most durable handguns and so are their triggers. Always look for a trigger with durable construction, preferably aluminum or some durable composite. Having a solid trigger ensures reliable operation under all circumstances.
Installation
The trigger you're using to replace the factory one must be easy to install. Most triggers available on the market feature drop-in installation. So, you can simply remove the existing trigger and slide in the new one.
Function
Check for all the desired functions in a new trigger before using. Look carefully at the pull weight, pre-travel, and over-travel time of the trigger, and evaluate these figures according to your needs. Also keep note of the reset time of the trigger, which allows you to take quicker follow up shots.
Models
Always make sure to check if the new trigger is compatible with your Glock model since there's no point in buying a trigger that doesn't fit your weapon. For example, a trigger designed for a Gen 4 Glock won't work with a Gen 5. So, compatibility is an important factor for choosing the trigger.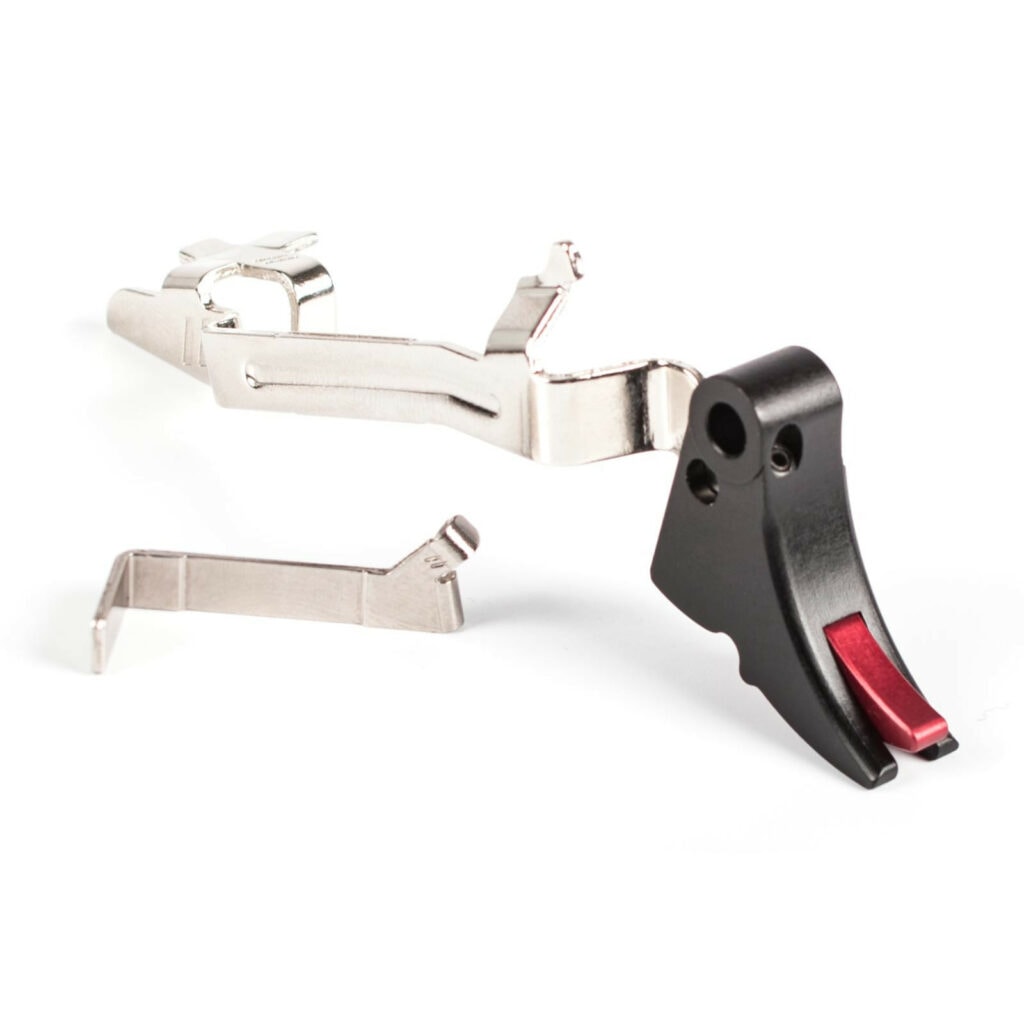 How to Install a Glock Trigger
Changing the Glock Trigger is not a herculean task if you know the inner mechanism or follow the instructions properly.
The process begins with checking the firearm for safety. Remove the magazine and check the gun to be sure it is empty. Now, push the takedown lever to release the slide and then push all three takedown pins on the Glock out with the help of a punch.
The larger pin (above the trigger) is a bit hard to remove sometimes so, jiggle the slide stop lever up and down while pressurizing the pin. Now, take out the slide stop lever and pop out the plastic pin with the Glock tool. Next, pull the trigger assembly out of the bottom.
Match the cross-shaped section of the trigger with the slit in the block and rotate it slightly to pull it off. Use a punch or screwdriver to push out the trigger bar. Now swap the new trigger, and get ready to re-assemble the gun.
Follow the exact same process of disassembly in reverse order. Finally, cycle the gun while it's empty and pull the trigger. If the striker hits the bolt, your weapon is ready to fire.
If some of the steps mentioned in this text-based guide have flown over your head, consider watching this video below for detailed step-by-step instructions.
Conclusion
The factory trigger of Glock handguns has a pull weight of 5.5 lbs, which is not always suitable for everyone. Changing to a new and improved trigger aids with accuracy and handling of the weapon. However, you must always look for the quality, compatibility, adjustability, and ease of installation with a trigger guard before buying one.
People Also Ask
Below is a list of frequently asked questions that can be used as a guide for a better understanding of how Glock triggers work. Here are the following questions:
How Does A Glock Trigger Work?
A Glock trigger may not be like any ordinary trigger you'll find on a pistol. Aside from being able to pull it to get a shot off, you will also use a reset button that will be important after pulling the trigger. You'll need to keep your finger on the trigger until you feel the reset.
Are Aftermarket Glock Triggers Safe?
There have been some concerns in regards to aftermarket triggers for Glocks. One of the major problems is that some of the aftermarket triggers are designed to disable the safety. That will pose a safety hazard. With that said, you should consider purchasing an OEM trigger in lieu of aftermarket models.
What is The Standard Trigger Pull on A Glock?
Typically, a Glock trigger will have an average of 5.5 pounds in terms of pull weight. The pull weight for trigger replacements will vary from one model to the next.
More Glock Buyer Guides