The Ruger SR9 pistol was introduced on the market in 2010 and has gained quite some popularity since.
Seen as the competitor of Glock and M&P pistols, the SR9 is a good EDC and CCW handgun that requires an appropriate holster.
Check out this review to find out the best Ruger SR9 holsters and learn about them in detail.
At a Glance: Our Top Picks for Ruger SR9 Holsters
Comparison of the Best Ruger SR9 Holsters
IMAGE
PRODUCT

Our Top Pick

Fully adjustable for ride height, cant & retention
Adjustable clips, snug fit and perfect concealment
Wide backing made from perforated comfy neoprene

View Latest Price →

Best Budget Option

Fully adjustable for ride height and cant angle
Available with a belt loop and a paddle platform
Passive retention adjustment and SERPA auto lock

View Latest Price →

Flexible polymer clips and fully adjustable design
High grade reinforced leather backing for comfort
Interchangeable kydex body. Combine with other shells

View Latest Price →

Fully adjustable rig with elastic belt straps
Includes two mag pouch to carry extra mags
Vertical carry nylon holster protects gun finish

View Latest Price →

IWB concealment holster with a slim profile
0.80" kydex holster with a soft leather backing
Completely covered hammer and full sweat guard

View Latest Price →

Easily adjustable for ride height and cant
OWB Kydex holster with open bottom design
Made in USA with 1 year replacement warranty

View Latest Price →

Reinforced exterior and protective inner finish
Fits most full-size and compact common handguns
Handmade in the USA using genuine bullhide leather

View Latest Price →
What Makes a Great Ruger SR9 Holster?
Let's look at some important features you'd want to have in a Ruger SR9. Since there are a ton of options out there, these differentiate the best ones from the crowd.
Slim Profile and Minimal Printing
The Ruger SR9 is touted to be the slimmest high capacity 9mm handgun on the market. A holster should feature an appropriate design to complement this profile and also reduce printing. Or in other words, it should facilitate concealed carry.
Quick Access and Good Retention
A very important feature for guns that are used for EDC or duty is offering quick unhindered access. Since the SR9 falls in the same class of handguns, a holster must offer full grip quick access. Along with prompt retention. Active or passive is your own choice and also depends upon the intended use.
Comfortable and Adjustable
There's no point in donning a holster if it doesn't offer comfort. No compromise on that. Always look for a holster that's soft and comfortable. Especially if you are going after IWB or paddle holsters. Since they come closest in contact with your body.
Adjustability is another desirable feature for holsters. Flexibility in retention adjustment, cant angle, ride height and carry position make a holster quite versatile and also appropriate for different situations.
Review of the Best Ruger SR9 Holsters
Check out this extensive list of the best Ruger SR9 holsters that have been handpicked based upon their design, positive customer feedback, durability, and outstanding features.
Alien Gear Cloak Tuck 3.5
No products found.
We may earn commission from purchases made from our links, at no additional cost to you
What Recent Buyers Report
Many users review it as the most comfortable IWB holster made. The overall design and quality of components are very impressive. Everybody has their way of using it, but utterly derogatory reviews are hard to come by. It is good for some specific situations and offers all-day comfort.
Why it Stands Out to Us
This is a tuckable IWB holster with a wide neoprene backing. Which increases the contact surface area and makes carrying very comfortable. The double clips are sturdy and don't reveal too much. While also being adjustable for ride height. Additionally, the print is minimal thanks to the custom-molded holster. The holster offers full grip access and can be adjusted for cant.
This is a great holster for CCW and won't pop out of your waistband due to the double clips. It is covered by a lifetime warranty and has been made right here in the USA.
Bottom Line
The Alien Gear Cloak Tuck is an IWB holster with minimal print and a wide breathable backing for maximum all-day comfort. The holster is adjustable for carry angle & ride height. It doesn't offer any retention, which isn't probably necessary for an IWB.
Pros
Covered by lifetime warranty
Offers amazing concealment
Adjustable ride height and cant
Double clips for a better fit and stability
Coolvent neoprene backing & full trigger guard cover
Cons
Limited carry positions
No retention adjustment
BLACKHAWK SERPA Concealment Holster
No products found.
We may earn commission from purchases made from our links, at no additional cost to you
What Recent Buyers Report
This holster is a favorite paddle OWB holster among buyers. Especially those who've been using other popular brands like the Fobus. The automatic lock and audible retention are great features. The mounting platforms are very solid and so is the holster. Also works with SR9C and even SR40/SR40C.
Why it Stands Out to Us
The Blackhawk SERPA is a holster designed for strenuous use with your firearm. Specially modeled for the Ruger SR9, it features an ALS retention system also backed by a passive retention adjustment screw. Which offers double peace of mind. The release button is located right where your trigger finger should be. Plus, the wide flare offers quick full grip access and also a quick re-holster with an audible click sound.
This is an OWB holster that comes with a belt loop mount and a weight-shredded flexible plastic paddle mount. Concealment is easy with loose garments like jackets or coats.
Bottom Line
You must consider this holster if you carry it daily and also stay involved in too much physical activity. Since the holster has active retention. A great holster for duty use, range, and EDC. Especially open carry.
Pros
Adjustable for cant
Audible click upon re-holster
Includes a belt loop and paddle platform
Features both active and passive retention
Rapid draw and wide flare for easy re-holster
Works with many tactical holster mounting platforms
Cons
Limited concealment options
Best Ruger SR9 Concealed Carry Holster
Comp-Tac MTAC Concealed Carry Holster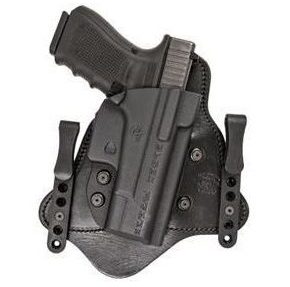 We may earn commission from purchases made from our links, at no additional cost to you
What Recent Buyers Report
The holster is extremely comfortable when performing your daily chores. Some users even claimed to have played sports with this holster with zero problems. It is easily concealed with a thin and light design. Materials are top-notch in quality and the adjustability/modularity is a great feature
Why it Stands Out to Us
With a design similar to our top pick on this list, the Alien Gear Cloak Tuck. This is a more premium option due to the high-quality leather backing. The two polymer clips hang on to the belt and are soft enough not to damage anything they come in contact with. The paddle is soft leather and can be worn all day with no issues.
The holster is slim and molded to offer a low profile. The setup is adjustable for ride height and cant to suit your preferences. Concealment is very easy even with loose-fitting garments. Get quick full grip access to your SR9.
Bottom Line
This is a modular, adjustable lightweight, and comfy holster setup that works best for people who want to carry out physical activities the entire time with their weapon on and concealed.
Pros
Resistant to sweat and solvents
Adjustable for cant and ride height
Very comfortable all-day carry holster
Kydex holster with soft leather backing
Double clips offer stability and are safe
Modular platform. Holster can be interchanged
Cons
Limited carry positions
Clips are polymer (if that bothers you anyway)
Best Ruger SR9 Shoulder Holster
King Holster Tactical Shoulder Holster
No products found.
We may earn commission from purchases made from our links, at no additional cost to you
What Recent Buyers Report
The holster is very lightweight and the adjustability is great. However, some buyers were not happy with the horizontal carry. But that's just personal preference. The mag pouches are big enough and the holster conceals easily. Good adjustment, but not for very big people.
Why it Stands Out to Us
This is a simple and lightweight nylon holster that is easy to conceal and also offers you the option to carry a significant amount of extra ammunition. The benefit of nylon is that it feels like fabric and doesn't dig under your shoulder if the weapon is holstered or not. Plus, it can be adjusted easily and without any tools for retention.
The extra elastic strap secures the assembly with your belt for a safer carry. The retention strap uses velcro. The strap can be opened and the weapon draws in a single stroke. That's why the holster has a horizontal carry.
Bottom Line
This King holster is a soft, nylon fabric setup that is very comfortable to carry and also allows you to have two extra mags at your disposal. The concealment it offers is amazing and is very adjustable and lightweight. However, it could have used lesser velcro.
Pros
Works with all SR series handguns
Universal double single/double-stack mag pouch
Fully adjustable with elastic belt strap for secure carry
Adjustable retention nylon holster with horizontal draw
Cons
Carry angle not adjustable
Draw isn't silent due to velcro strap
Doesn't fit well above 42" chest size
Best Ruger SR9 IWB Holster
Infused Kydex USA IWB Holster
No products found.
We may earn commission from purchases made from our links, at no additional cost to you
What Recent Buyers Report
The holster is great for IWB to carry if you wear loose-fitting garments. The flag print on the top doesn't wear-off. The holster is very comfortable and fits snug for the SR9. The lack of retention, however, was not liked by some. The leather backing is great and the clip is very very sturdy.
Why it Stands Out to Us
This holster offers a mix of Kydex and leather in its design. Since it's an IWB, the Kydex retains shape for easy re-holster and the leather backing helps mitigate the digging. This holster is non-tuckable for sure, but when worn with a loose t-shirt or a coat. It does offer a very firm grip and quick draw.
The American flag embossed on the body is a great graphic element and adds a 'cool' factor. The metal clip is very sturdy and has a 15-degree play that can be considered for cant.
Bottom Line
An amazing holster for EDC and also CCW with the right clothing. The holster has no retention but has been custom molded specifically for the SR9. So fit shouldn't be a big problem.
Pros
Full-length sweat guard
Embossed with USA flag
Trigger guard cover and full grip access
Tough Kydex holster with leather backing
Exceptional concealment & quick draw with the right clothing
Cons
IWB but non-tuckable
No retention adjustment (if that bothers you)
Best Ruger SR9 OWB Holster
R&R Holsters OWB Kydex Holster
No products found.
We may earn commission from purchases made from our links, at no additional cost to you
What Recent Buyers Report
The holster is tough, well-made, and just perfect for OWB uses. The double belt clip reinforces your carry and the adjustable design suits different users. The holster rides very close to the body and offers good concealment, even being an OWB.
Why it Stands Out to Us
The R&R holster is a very slim profile, durable, and low riding holster that secures with your belt with double clips. For the price, this holster has everything necessary you'd want from an OWB design. The holster is very adjustable to suit your individual preferences and has an open bottom to accommodate longer barrels or muzzle devices.
The slight adjustability for cant and a partial sweat guard backing offer better comfort that's not often the case with similar OWB holsters.
Bottom Line
This is a slim profile OWB holster that offers great concealment and good features. Your purchase is also covered by a one-year replacement warranty.
Pros
Open bottom offers snug fit
One year replacement warranty
Adjustable cant from 0-15 degrees
Adjustable ride height and sturdy belt loops
OWB Kydex holster with partial sweat guard
Cons
Doesn't offer quick detachment
Will dig into those with a larger belly
Best Ruger SR9 Leather Holster
Relentless Tactical The Defender Leather IWB Holster
No products found.
We may earn commission from purchases made from our links, at no additional cost to you
What Recent Buyers Report
The fit and finish of this holster is just amazing. It works great with SR9c and also the SR9. The leather is very comfortable and feels nice when carrying it all day. The quality of the leather is great and it covers the firearm as a good IWB should. Low ride height helps with concealment.
Why it Stands Out to Us
This holster from Relentless tactical delivers a good quality reinforced construction with a sturdy metal clip at an amazingly affordable price. The close to the universal fit of this holster makes it suitable for other handguns as well. Being made up of leather, it offers protection to your handguns finish, and also feels very comfortable IWB.
The metal clip ensures the draw is steady. Plus, the holster also doesn't dig into your skin to cause discomfort. The top flare has been reinforced to deliver some shape retention for instant draw & re-holster.
Bottom Line
This IWB leather holster is best for people who CCW and EDC different handguns on different occasions and need a versatile and comfortable, low-riding holster for their needs. Your purchase is also covered by a lifetime warranty so it's a complete win-win.
Pros
Lifetime warranty cover
Sturdy and wide metal clip
Reinforced stitching ensures longer life
Universal design that suits many handguns
Handmade with Genuine USA bullhide leather
Comfy for your and protective for your handgun
Cons
Single hand re-holster is difficult
Break-in period & leather needs care
Best Ruger SR9 Kydex Holster
Concealment Express Kimber IWB KYDEX Holster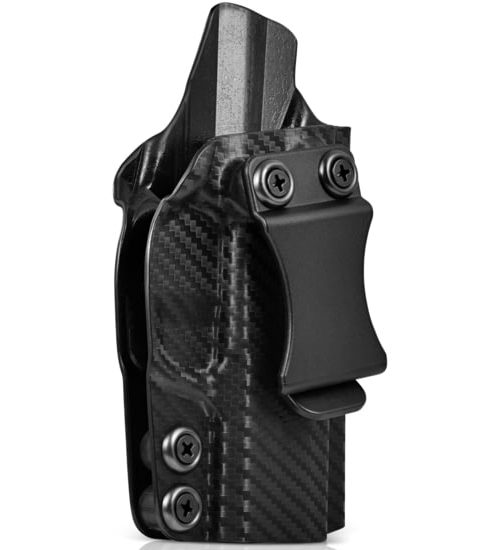 We may earn commission from purchases made from our links, at no additional cost to you
What Recent Buyers Report
Buyers of this holster liked the adjustability of the cant and retention. While it isn't the most comfortable holster on our list, it is adjustable to suit your needs.
Why it Stands Out to Us
We enjoyed that this holster is made of a durable material that also sits nicely on the skin despite being lightweight. There is no chafing. The holster is not bulky or distracting.
Bottom Line
Overall, this holster proved to be made of decent quality that would suit any conceal-to-carry needs. It is adjustable and works for nearly any body type or gun owner.
Pros
Adjustable cant
Adjustable retention
Holster is lightweight
Fits inside the waistband
Made of a durable material
Cons
Meant for concealment
Not comfortable for extended wear
Best Ruger SR9 Paddle Holster
Fobus Concealed Carry Holster
No products found.
We may earn commission from purchases made from our links, at no additional cost to you
What Recent Buyers Report
Fobus has always been appreciated for its great quality of holsters and this unit is no different. The single-piece design has molded holsters with no sharp edges for minimal printing. Works great with both SR9 and SR9C, along with a couple of other similar Ruger handguns.
Why it Stands Out to Us
This Fobus holster has a unique feature. The paddle isn't detachable from the holster. This can be seen both as a pro and con. The single-unit design offers better stability to the entire setup. But on the other hand, it is rigidly a paddle holster and you cannot swap shells.
As for fit and comfort, the rubbery paddle feels great. The holster has a protective sight channel to accommodate high suppressor sights. The retention is not adjustable, but the shell is snug enough to offer a good draw.
Bottom Line
Choose the Fobus paddle holster if you are looking for an OWB option, especially for open carry or concealment with a jacket or coat. The lack of retention offers quick presentation and the holster itself is very lightweight
Pros
Paddle holster with passive retention
Molded with high-grade flexible polymer
Amazingly comfy fit and easy to conceal
Available in 1 3/4″ belt and 2 1/4″ duty belt
Cons
Non-modular design. Paddle isn't interchangeable
Black Rhino Concealment Tactical Carrier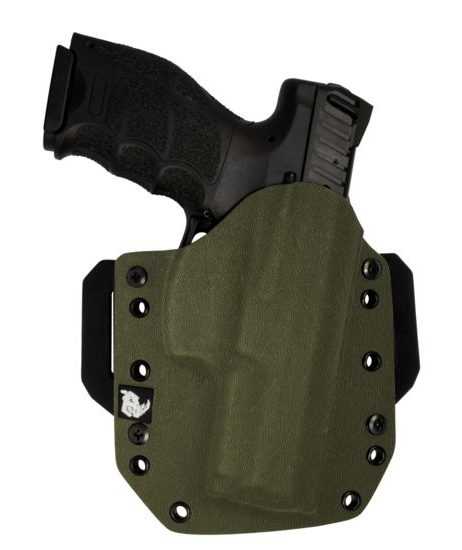 We may earn commission from purchases made from our links, at no additional cost to you
What Recent Buyers Report
Recent buyers enjoyed the ease at which you can put the weapon in and out of the holster. The holster comes with a convenient cant (angle) that makes for quick access and a smooth transition from being in the holster to being held in hand.
Why it Stands Out to Us
We favored that though this holster is meant to be carried outside the waistband, it could easily be converted to fit inside the waistband with an additional IWB conversion kit. We liked the versatility the kit brought to the holster as a whole.
Bottom Line
This holster doesn't come with any fancy addons or remarkable features, but it suits the practical need to effectively carry and conceal your weapon. The suitable design and angle allow for quick access to your gun at any given point, and the holster fits tight to the body when worn.
Pros
Comfortable to wear
Convenient cant/angle
Includes conversion clips
Made of all-purpose Kydex
Can be converted as an outside or inside waistband holster
Cons
Not very secure
Not intended for concealing
Can You Find a Quality Ruger SR9 Holster That's Affordable?
If that wasn't the case, you wouldn't see almost half the options mentioned on this list. Ruger SR9 is a good gun, and it's also slim. If you plan to go for any exotic materials like special leather, the price will increase obviously.
But there are a lot of affordable holster options available in more common materials like Kydex and fabrics. Some in leather too.
Affordability doesn't always mean a compromise on quality or features. Holsters like the Relentless taciala's IWB holster, Blackhawk SERPA, and Fobus paddle holster offer great value at a very affordable price.
Types of Ruger SR9 Holsters
Holsters for the SR9 will differ in their basic design, materials, price, and some other minor factors. But let's take a general overview of the types:
Waistband Holsters
These are by far the most common kind of holsters used. These can be classified into IWB (inside the waistband) and OWB (outside the waistband) types. IWB holsters are carried inside the belt and offer better inherent concealment. Whereas OWB is mounted outside and offer quick access.
IWB holsters can have variants like SOB (small of back) and belly band holsters. Whereas OWB has designs like paddle and belt holsters.
Shoulder Holsters
These are mostly used by undercover cops or detectives and often concealed with a coat or jacket. The firearm stays right below the armpit with harness straps positioned over your shoulder.
Ankle Holsters
These are worn on the ankle and offer great concealment and unobstructive usage for EDC and CCW. Thigh holster rigs are a substitute for these.
Chest Holsters
Although this list doesn't feature one. You should be aware of these designs. Chest holsters are worn on the chest and often used on camping or hunting trips. Where you already have too much load to carry and want unobstructed firearm access.
Aspects to Consider Before Buying
Now that you're aware of the best SR9 holsters, and have a lot of them to choose from. Don't just grab one in a folly. Consider these aspects before buying:
Choose a Design That Suits Your Purpose
A paddle holster is not the best for CCW and an IWB holster is not the best for duty or range use. Understand what your intended application is and how will you be using the holster. Take into consideration the design, material, features and then make a well-informed decision.
Consider the Material
Holsters made from materials like Kydex are tougher and don't sag. But they may scratch the firearm's finish and make noise. Whereas materials like leather or nylon are softer on the firearm's finish but need more maintenance.
Warranty Coverage
While not exclusively imperative. Having a substantial warranty will protect your purchase for some time to come. Especially if you are not sure about the quality and performance.
Conclusion
Finding the right holster for your Ruger SR9 can be difficult, depending on your needs. Ultimately, you want a holster that will secure your weapon without hindering the ability for quick access.
People Also Ask
Whether you are skeptical about the Ruger SR9 itself or its usability. This short FAQ section will cover and answer your doubts in brief.
Is the Ruger SR9 a Good Carry Gun?
The Ruger SR9 is a full-sized handgun that can be compared with a Glock 17. It is a good carry gun. It's reliable and also very accurate even at slightly longer distances in the right hands. It is the slimmest profile handgun available today.
How Much Harder is SR9 to Conceal Than SR9C?
The Ruger SR9 full size measures 7.6 inches in length with a 4.1-inch barrel. Whereas the SR9C is a more compact version with an overall length of 6.85 inches with a 3.5-inch barrel. The SR9 is a full-sized handgun and the SR9C is a compact handgun. Both conceal very well with the right setup, albeit the SR9C is slightly better.