The Springfield M1A is the civilian version of the well-known M14 military rifle. Chambered in .308 Winchester or 6.5 Creedmoor, the M1A is a versatile and reliable semi-automatic rifle that is well suited to a variety of tasks.
Springfield offers the M1A in several configurations for everything from bench shooting to tactical operations. To squeeze as much accuracy out of it as possible, an aftermarket stock is a good option.
Check out the best M1A stocks for your needs below.
Comparison of the Best M1A Stocks
IMAGE
PRODUCT

Our Top Pick

Lightweight and Built From Carbon Reinforced Polymer
Simple Drop-in Design With Swivel Studs and Storage
Adjustable Length of Pull and Cheek Riser

View Latest Price →
What to Watch For When Buying an M1A Stock
The stock is a very important part of any rifle. It is the connection between the shooter and the rifle. An uncomfortable or unwieldy stock can be a detriment to good shooting form as well as accuracy. Luckily, there are plenty of aftermarket options available to upgrade the M1A rifle. Use the following information to arm yourself with the confidence to make the best choice for your rifle and your shooting needs.
This Section Written By: Brian Belko
Expert Author
Brian is an experienced freelance writer and technical writer who has previously written for publications such as Wide Open Spaces, Bigfoot Gun Belts, Alien Gear Holsters, and Kampgrounds of America. He brings both a passion for writing and a love of the outdoors to his published content.

Aside from writing and the outdoors, Brian enjoys gardening, being a co-host on The Nostalgia Blast Podcast, and learning to code.
Finding Your Purpose
One of the most important things to do before starting to shop for an aftermarket stock is to decide what you primarily plan to do with your rifle. This might seem very obvious to mention, but going into the shopping process with a very clear idea of your needs and wants goes a long way towards making the entire process a smooth one.
That decision will also highly influence the kind of aftermarket stock you target. Aftermarket stocks are certainly not a one size fits all situation. Take some time to type out or write down a few goals for your M1A rifle. Do you want to take part in match shooting competitions? Do you want a carbine style rifle great for offhand shooting? Being able to zero in on the best aftermarket stock for a specific need goes a long way.
Settling on a Style
There are a lot of different options available when it comes to styles of aftermarket stocks. From more traditional wood stocks all the way up to uber tactical stocks loaded with accessory rails and sling points. Of course, the style of stock you choose will have a lot to do with your needs and your goals for your rifle.
A wood stock might be perfect for you if you prefer a traditional look or if you aren't too worried about adding accessories beyond a scope. On the other hand, if tactical operations are in your future or if you just want space for plenty of accessories such as flashlights and red dot scopes.
Weighing In
Make sure to keep an eye on the weight of the aftermarket stock you want to buy. It is an easy factor to overlook when you are excited about other features of a certain stock. This is especially important if you plan to do the offhand shooting. A heavy stock in that situation will quickly tire any shooter out.
Adjusting on the Fly
One feature on a lot of aftermarket M1A stocks is an adjustable shoulder stock. This is an excellent feature as it allows different shooters to fire the rifle comfortably and allows shooters to accommodate clothing differences such as a heavy coat during winter trips to the range.
Review of the Best M1A Stocks
Based upon the above-mentioned qualities of a good M1A stock, we have compiled a list of the best M1A stocks on the market. All the stocks reviewed here are of impeccable quality and have space for additions. All these stocks are aptly priced to offer the best value for money.
Pro Mag – Springfield M14 Archangel Precision Stock Adjustable
We may earn commission from purchases made from our links, at no additional cost to you
Review
If you're looking for something lighter than wood or metal, this Archangel Precision Stock is your answer. Made from reinforced carbon polymer, this chassis is lightweight and durable. The material is resistant to weather, rust, and other impacts, which makes the rifle good for hunting and tactical use. The precision-fit inlets of the stock couple perfectly with the action, which in turn improves the accuracy. The length of the stock and the cheek riser are adjustable with thumbwheels in an increment of 0.5" per click.
The pistol style grip will bring your thumb down and cause your trigger finger to stay in a more comfortable position. The integrated forend Picatinny rail with extended rail cover gives you space to mount tac lights, lasers, and other accessories. The stock also has two standard sling swivel studs and four integral steel inserts for ball-lock/push-button QD sling swivels. After all this, the stock also has a small storage compartment inside the grip of this weapon.
Bottom Line
This Archangel stock is a lightweight alternative for your standard M1A stock. It is adjustable and has space for storage and mounting accessories. The pistol style grip helps improves the finger position, which delivers consistent, accurate marksmanship.
Pros
Precision-Fit Inlet
Rail and Swivel Studs
Grip Storage Compartment
Quality Lightweight Construction
Adjustable Stock and Cheek Riser
Cons
Made from Polymer
Requires Minor Fitting
Sage Intl – Springfield M14 Enhanced Stock Chassis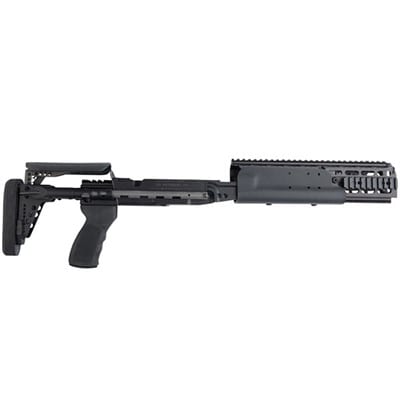 We may earn commission from purchases made from our links, at no additional cost to you
Review
This enhanced stock chassis for the M1A from Sage Intl is a complete tactical package for your rifle. It has been CNC machined from a billet of aircraft-grade aluminum, which authenticates its quality and durability. It is a simple drop-in chassis which requires no modifications. It has a telescopic stock which can be set at six different lengths, so you don't have to worry about the length of your arms and your shooting position.
It also has a cheek riser which can be adjusted vertically up to two inches. The chassis includes five 1913 Picatinny rails in all, which is more than enough to let you mount accessories to your M1A. It also has a removable Kydex-made forend with a built-in palm swell, plus a one-inch butt pad on the rear end of the stock, to let you face the recoil with ease.
There is no need for additional bedding with these precision machined receiver lug recesses, inherently saving you money. The chassis is pitch black in color and looks amazing. When completely attached to your M1A, this thing will make your rifle look like a 'deadly alien gun'. It fits all Mil-Spec M1A/M14 rifles with standard or medium weight barrels, so you don't have to worry about compatibility.
Bottom Line
This chassis from Sage Intl is a complete package to replace your stock. It is comfortable, adjustable, and has a ton of space to mount extra accessories. It certainly features all the aftermarket accessories you'll ever need with your stock, so it definitely offers good value for money.
Pros
Aesthetically Pleasing
Telescopic Stock With Cheek Riser
Solid and Lightweight Aluminum Body
Five Picatinny Rails With Three Ambidextrous Sling Mounts
Cons
Doesn't Fit Rear Lugged Receivers
Might Require Gunsmithing With Some Models
Springfield Armory – Springfield M14 Stock Oem Wood Brown
We may earn commission from purchases made from our links, at no additional cost to you
Review
The standard M1A stock still deserves respect and if you like the classic old breed of stocks, this product here is for you. This stock from Springfield is a replacement for the standard M1A stock. It has been made from walnut wood and is exactly the same OEM stock which comes with your M1A rifle.
This stock can be used to replace the synthetic stock on your M1A (especially the SOCOM) if you have one already installed. The stock has a couple of sling mounts on the front and rear, which can be used to install a sling with ease. If you are accustomed to disassembling your M1A, this stock will be a breeze to install.
Bottom Line
Either you love classic walnut stocks or just want a replacement for a synthetic one. This walnut stock from Springfield will restore the soul to your M1A.
It won't add any accuracy to your rifle but will make it look like an original M1A. Overall it is good for hunting, competitions, and self-defense, but is not ideal for tactical use.
Pros
Easy to Install
Aesthetically Pleasing
Good Value for Money
High Quality. Made by Springfield Itself
Apt Replacement for Synthetic or Wooden Stock
Cons
No Room for Adjustments
Doesn't Enhance the Functionality
M1A Spingfield Usgi ( Multicam ) Fiberglass Rifle Stock .308 7.62 (Ebay)
We may earn commission from purchases made from our links, at no additional cost to you
Review
Here's another lightweight composite stock from Springfield. This stock has been made from fiberglass and features a mossy oak breakup camouflage. The stock also features a hinged USGI metal butt plate for ease of use and protection to the stock. It also has a Sadlak sling mount on the forend, which has rails to let you attach accessories like lasers and tac lights.
The stock has been molded and designed pertaining to military specifications. Due to its fiberglass body, the stock is light in weight and the camouflage makes it ideal for hunting. The stock also has a small storage compartment in the rear, which can be used to store a couple of batteries for your optics.
Bottom Line
This fiberglass stock is your answer if you're looking to create a lightweight, camouflaged hunting rifle with your M1A. The stock doesn't have any adjustable features, but it will still work exceptionally well with iron sights, without the need for any modifications.
Pros
Lightweight
Camouflaged
Sadlak Sling Mount
Durable and Quality Construction
Storage Compartment in the Rear
Cons
Not Adjustable
Might Require Fitting
Advantages of Upgrading an M1A Stock
Wood has long been a material of choice for manufacturing stocks. It still is. There's no match for the aesthetics, class, and the sense of pride associated with it. But the latest improvements in technology, and the logic supporting them, has promoted an entirely new breed of stocks. Upgrading the stock of your M1A has its own benefits, which will affect your performance.
Function and Security
This is in reference to the polymer stocks. We know that wood is prone to dents and warping under the influence of pressure, humidity, ice, heat, and water, which will affect the accuracy of your rifle.
Upgrading to a better stock will not only resist these factors but will also reduce the overall weight of your rifle. It also helps when shooting precisely at long range.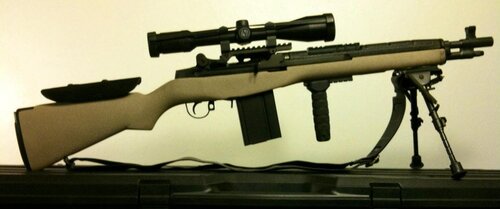 Performance
Upgrading to a more tactical type of stock with a built-in cheek riser, and/or a telescopic end will enhance your overall performance with the rifle. Plus, it also offers room for adjustments pertaining to different situations and users. For example, the standard M1A stock is quite difficult to use with scopes without a cheek riser.
Accessories and Economics
Aftermarket stocks generally have built-in rails and key mods to let you mount and use more accessories with your M1A. The standard, or factory, stocks require you to purchase these things separately. So upgrading to a better stock also saves you money. Plus, some stocks have small storage compartments within them, which is also an advantage.
Features of Great M1A Stocks
Quality
The very first thing to look for when buying an M1A stock is its quality. An aftermarket stock can be made of polymer or aluminum. The stock should be durable enough to withstand rugged and rigorous use. It should have precision-fit inlets so the action fits perfectly over it and there's no room left for rattling or warping of the barrel. Such precision-fit stocks also eliminate the need for glass bedding to some extent.
Ergonomics
A good M1A stock should be ergonomically stable. It must have a good grip, suitable curves, and optimal weight to enhance your overall performance. A stable stock has its weight properly balanced which facilitates easy handling and also improves accuracy.
Adjustable
A good stock for your M1A must be adjustable. Having a telescopic stock with an inbuilt cheek riser is considered optimum for such an upgrade. However, if you wish to stick to the older models, it's obviously your own choice.
Space for Additions
A good stock must have a mounting mechanism for adding accessories such as bipods, lasers, Tac lights, and optics. It could be a full-length rail on the foregrip with key mods, or it can be a simple Sadlak sling mount. However, having some extra space for adding accessories is something you should look for.
Aesthetics
A good stock must be aesthetically pleasing. It can have a 'mean' tactical look or a classy carved finish. Either way, it should look nice.
Conclusion
Upgrading to a better stock not only improves accuracy but also improves your performance with the rifle. The M1A is an exceptional rifle for hunting, precision shooting, and self-defense, but needs to be upgraded with a stock apt to its function.
A good stock must be of high quality, durable, adjustable, ergonomically balanced, aesthetically pleasing, and have extra mounting space for accessories. Plus, having some storage space also doesn't hurt.