The Mossberg 500 is an immensely popular and trusted shotgun in the realm of firearms. It is respected and used by officers and civilians alike. While the shotgun is already great in itself, there is always some space to make tweaks and upgrade the performance. One such upgrade is to the trigger assembly, and we will learn the ins and outs of it.
At a Glance: Our Top Picks for Mossberg 500 Trigger Assembly Upgrades
Comparison of the Best Mossberg 500 Trigger Assembly Upgrades
IMAGE
PRODUCT

Our Top Pick

Aluminum Housing
Best for Mossberg 12-Gauge Shotguns
Fits All Mossberg 500 and 590 Shotguns

View Latest Price →Read Customer Reviews

Best Budget Option

Drop-In Fit
Fits 12-Gauge Mossberg 500 or 590 Shotguns
An Excellent Factory Replacement Spring Should the Original Be Lost or No Longer Working

View Latest Price →Read Customer Reviews

Fits All Mossberg 500 and 590 12-Gauge Shotguns
A factory Replacement Part for Mossberg 500 Triggers
Made From High-Quality Material for Durability and Longevity

View Latest Price →Read Customer Reviews

Fits All Mossberg 500 and 590 Shotguns
Drop-In Trigger Assembly for Easy Installation
Made From Polymer and is Finished With a Black Matte Finish

View Latest Price →Read Customer Reviews

Drop-In Trigger Pin
Made From High-Quality Material
Will Fit Most Mossberg 500 and 590 Shotguns

View Latest Price →Read Customer Reviews
What to Watch For When Buying Mossberg 500 Trigger Upgrades
Before you choose one or multiple upgrades from the list below, take a look at the important aspects you must consider.
Ample Pull Weight
The Mossberg 500 comes with a factory trigger pull weight of 6lbs. This weight is appropriate for most users, however, the personal preference of each individual differs. So you must check the pull weight of the upgrade beforehand. Sometimes, a user may want to have a higher or lower weight depending upon his/her needs.
Trigger assemblies usually come with a set trigger weight, whereas other minor components which are swapped inside for upgrade can increase or decrease the pull weight. Make sure you have a method to measure this shift in pull weight, or you may end up disturbing your shooting experience.
Since a trigger is in question here, you must also make sure that the break is crisp. A good method to do this is to buy assemblies or components from renowned and reliable manufacturers. The Mossberg 500 is used for a wide range of applications ranging from home defense to duck hunting. So this aspect is quite essential. Additionally, if you are using your shotgun for competitions or sports, there is also a concept of minimum trigger weight.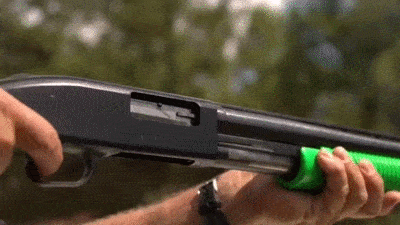 Compatibility
Some trigger assemblies are compatible with the Mossberg 500, whereas some components can be compatible with other models as well. Make sure to check this out before adding one to your shotgun.
Durability and Ease of Installation
Even if you are swapping a complete trigger assembly, or it is just a small trigger guard or shoe. Every component in the assembly must be durable and of high quality. This is because in case of a malfunction you won't be able to field strip your shotgun and disassemble the trigger assembly with the right tools. Additionally, a trigger malfunction can mean the difference between life and death in a home defense or tactical situation.
It is also essential that the trigger assembly should be easy to install on your shotgun, and preferably should not require any permanent modifications.
Review of the Mossberg Trigger Assembly Upgrades
Below are five of the best Mossberg 500 trigger assemblies currently on the market as of this writing. In order to find the best one for your own shotgun, you'll need to take a look at the unique features of each of these triggers carefully.
It is also important to take into consideration the pros and cons of each assembly, so you'll know what to possibly expect when you get down to a final decision. Now, let's begin our list of five trigger assemblies to fit your Mossberg 500:
Mossberg – Trigger Assembly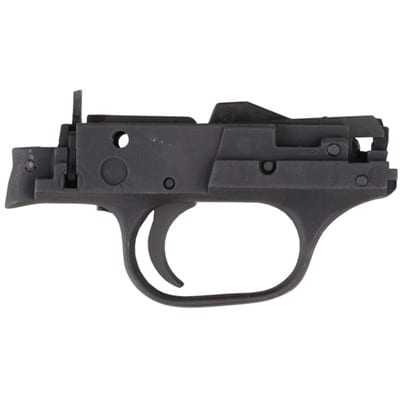 We may earn commission from purchases made from our links, at no additional cost to you
We begin our list of trigger assemblies with none other than the Mossberg factory trigger assembly. This is a factory replacement trigger that is designed to stand the test of time and heavy usage.
Most importantly, this is a trigger that can handle the most hardcore usage possible. This has an aluminum housing trigger guard that will make this trigger stronger. At the same time, the rest of the parts will function and last for many years thanks to this aluminum housing and the materials that each part is made from.
Since this is manufactured by Mossberg themselves, it's guaranteed to fit your Mossberg 500 or 590 without a single issue. And installation is a breeze, so you won't need to rely on a gunsmith to install the trigger for you. To top it off, this has a black matte finish that will blend in well with the Mossberg shotgun that you use (especially the Mossberg 500).
Bottom Line
Of course, this should come as no surprise regarding this trigger and why it's the best of the best. For a factory replacement trigger, this stands head and shoulders over an underperforming and disappointing trigger. It's also no surprise that it will fit with almost every Mossberg 500 known to man. After all, it is made right from the Mossberg factory.
This is a trigger that can take on any usage, no matter how heavy-duty it may be. If you're looking for a factory replacement that will last you a long time, this Mossberg trigger could be the one you'll buy and keep for a long period of time.
Pros
Very Easy to Install
Little to No Creep Among Users
Users Have Experienced No Issues After 200+ Rounds Fired
Cons
Some Have Reported the Fit Being a Little Too Tight
Mossberg – Trigger Housing Pin Retainer Spring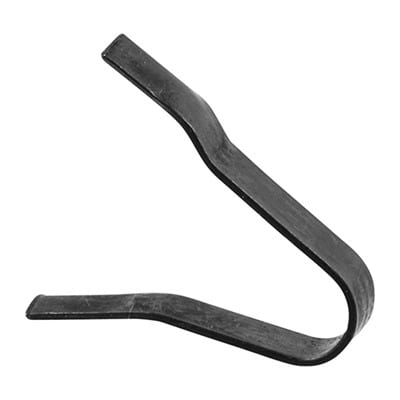 We may earn commission from purchases made from our links, at no additional cost to you
Next on the docket is the Trigger Housing Pin Retainer Spring by Mossberg. This is also a factory replacement that is designed to fit all Mossberg 500 and 590 shotguns.
If your current trigger housing pin retainer spring is not working very well or if yours is missing from the trigger itself, you can always get one of these in order for your trigger to work much smoother than ever. This is a much-needed accessory to have if you want your trigger to have a nice smooth pull with no creep to speak of.
Bottom Line
If you're looking for a high-quality factory replacement part, then nine times out of ten you'll end up right at the source. In this case, the Mossberg brand itself creates factory replacement parts that are guaranteed to fit any shotgun that they make.
It might be a lot better than finding a trigger assembly made by a manufacturer outside of the Mossberg name. In the event that you need to replace your trigger, don't forget to add on a part like this to ensure that the overall trigger function is top-notch for as long as possible.
Pros
Easy to Install
Fits all Mossberg Shotguns
Pulls Smooth Without Any Creep
Mossberg – Trigger Stop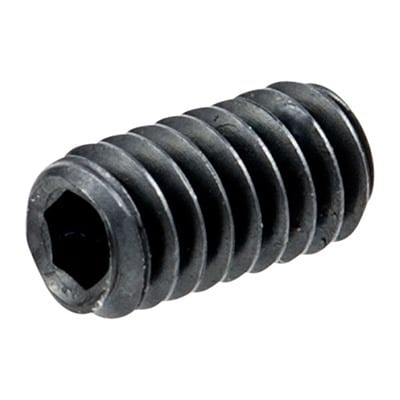 We may earn commission from purchases made from our links, at no additional cost to you
Obviously, there are some trigger assembly accessories that are attainable without having to drain your bank account. In this case, the trigger stop from Mossberg is the part that we believe is the best trigger assembly part for the money.
At risk of being repetitive, we will once again say that this will fit with most Mossberg 500 and 590 triggers. If you have a trigger stop that is not working or if you need to replace some parts to ensure that your trigger continues to work, you'll want something like a factory replacement trigger stop like the Mossberg.
This is designed to stop the trigger from going too far as you are pulling it, while getting a shot off. Without it, it may not function properly.
Bottom Line
While we don't have much to say about this part of a trigger assembly, this is something that is obviously required in order for your trigger to work properly. A good trigger stop is useful, especially when you have a trigger that will be light in pull weight.
If you need a good replacement part like a trigger stop, there is nothing better you can find, other than one from the Mossberg factory itself.
Pros
Super Durable
Functions Well for a Replacement Part
Will Fit Almost All Mossberg 500 Shotguns
4. Mossberg – Trigger Housing Assembly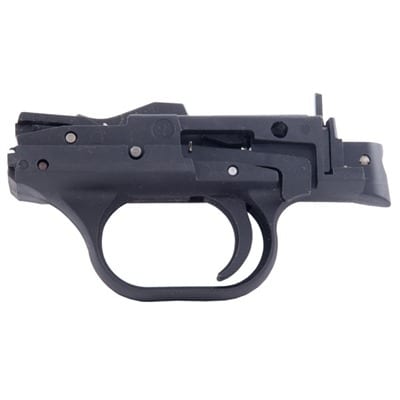 We may earn commission from purchases made from our links, at no additional cost to you
Next, we'll be looking at Mossberg's Trigger Housing Assembly. This is a trigger assembly that has all kinds of parts included with it. This includes the trigger itself, the bolt release, and the springs and pins that go along with it.
This is a factory replacement trigger that will fit your Mossberg 500 or 590 shotgun with the greatest of ease. Since it's from the Mossberg factory, it's a guarantee that you'll be able to install this without an issue. Plus, this is a drop-in trigger assembly. Of course, this means that the installation process itself will be simple. Even better, you don't need any permanent alterations done to your shotgun before installing this.
Bottom Line
This trigger housing assembly is a convenience to have. If you choose this, all you have to do is install it in minutes and you're good to go. If you want a full trigger assembly and don't want to waste time or money looking for replacement parts, then you should possibly consider getting an entire trigger assembly like this for your Mossberg 500.
Pros
Drops In as Advertised
Made From Polymer, Which is a Durable Kind of Material
Comes With the Needed Pins and Springs for Easy Assembly
Cons
Some Users Wish the Trigger Was Metal Rather Than Plastic or Polymer
5. Mossberg – Trigger Pin
We may earn commission from purchases made from our links, at no additional cost to you
Finally, we have the Mossberg trigger pin to look at. This is a key part of the assembly because it holds the trigger in place. Without it, it's pretty much useless. If you lost your trigger pin during disassembly or any other circumstances that may have resulted in losing your trigger pin, Mossberg obviously has a replacement part for it.
In order to install this, you obviously need to disassemble the trigger itself in order to place it in the respective socket. This is made from high-quality material, ensuring its long life and functionality. The goal here is to make sure that your Mossberg trigger will last for a long period of time without ever having to replace any parts.
If you're missing a trigger pin or have one that's badly damaged, you'd be lost without it. So you'll need a factory replacement trigger pin to help get the job done so your Mossberg 500 shotgun can fire properly once again.
Bottom Line
Of course, a good trigger pin will last you a while, as long as you take good care of the trigger itself along with the parts that make it work. Once in a while, you should disassemble the trigger itself so you can clean out any gunk or anything else.
There will be times when you'll lose some parts due to forgetfulness. Having said that, in case you need a replacement trigger pin, you can always get a factory replacement through Mossberg themselves.
Pros
Easy to Install
Very Durable Replacement Part
Designed to Last You a Long Time
Mossberg 500 Trigger Components
To familiarize yourself with how the Mossberg 500 trigger assembly works, you'll need to know the ins and outs of the components. You need to know how to identify each part as you are putting the trigger together and installing it on your shotgun. If you have an existing Mossberg 500 and want to know the anatomy of the trigger system itself, you can do so by disassembling the trigger. The instructions to disassemble and reassemble will be located toward the end of this article.
With that in mind, here are the components that you need to know:
Action Lock Disconnector Spring
This aids in connecting the action lock to the disconnector. Once installed, it should add some tension to the action arm itself.
Action Lock Hammer Spring
This aids in connecting the action lock with the hammer. Once installed, it will allow some tension on the hammer pull.
Action Lock Lever
This part is located on the left-hand side of the trigger housing. It allows the action to be unlocked and open for inspection.
Connector
Also known as a safety connector. This is to allow the safety on your shotgun to function properly.
Disconnector
Disengages the connection between the trigger and the sear each time a shot is fired. Also performs as a safety function.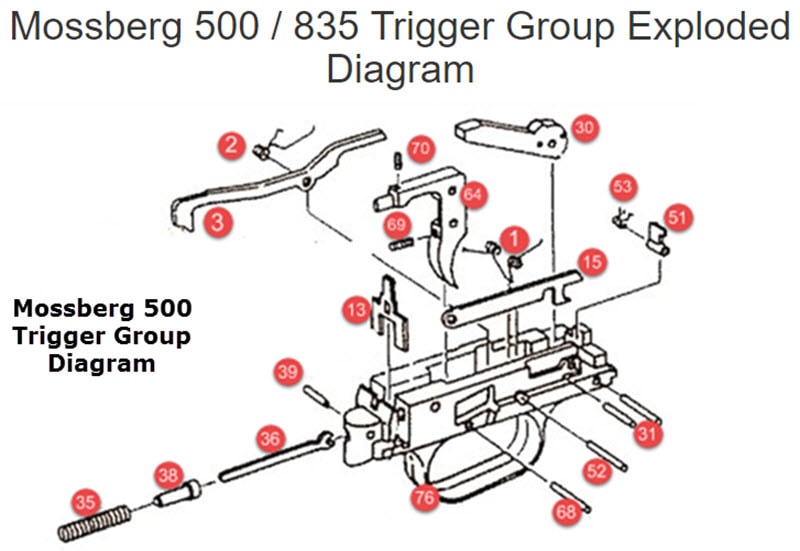 Hammer
Initiates the fire sequence on a shotgun. This works once the sear releases it.
Hammer Pin
Holds the hammer together. When assembled, the hammer will move freely.
Mainspring
This allows for the hammer to move. Without it, the hammer will not move and in turn, will not allow the gun to fire.
Mainspring Guide
This is a post that is held by the mainspring. This is the long part of all the mainspring parts.
Mainspring Plunger
This also holds the mainspring in place. Located on the end of the mainspring guide.
Mainspring Retainer Pin
Secures and holds the mainspring together. Also holds the mainspring guide in place.
Sear
This holds the hammer, trigger, and the hammer striker back. Associated with the trigger pull.
Sear/Action Lock Pin
A pin which holds the sear parts in place. Also holds the action lock.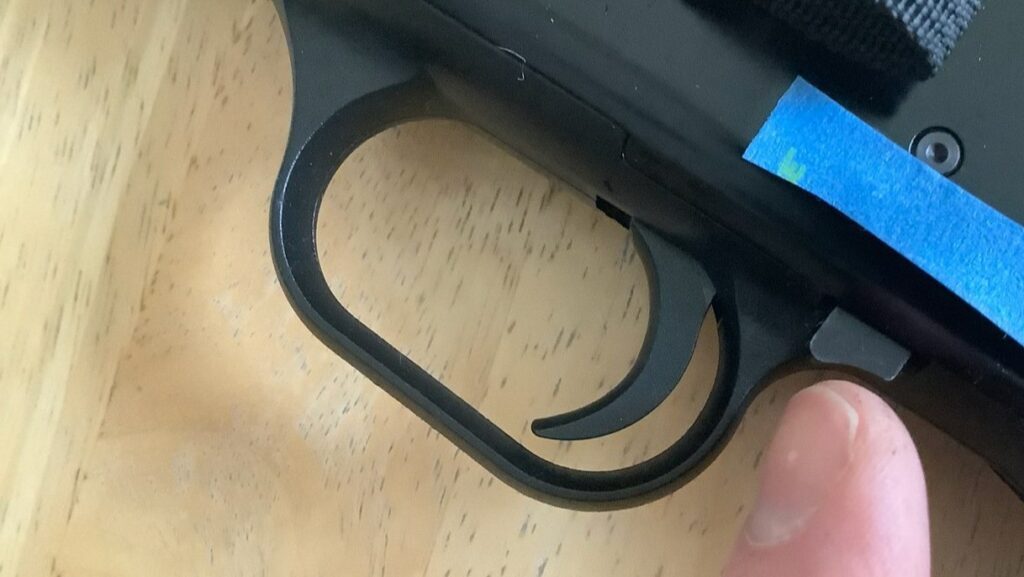 Sear Spring
This holds the sear together. Located on the rear end of the sear.
Trigger
This is used to initiate the shot. You can pull it back, allowing the hammer to strike the primer.
Trigger Assembly
This assembly includes the trigger and the housing that holds all the parts. These parts include the trigger pin, trigger return spring, and trigger stop.
Trigger Pin
A pin used to hold the trigger in place. Also holds the other parts in the trigger assembly together.
Trigger Return Spring
This delivers a quick and positive reset to the trigger. This is one of the parts that aids in the trigger's movement.
Trigger Stop
This is used to stop the trigger from going any farther. Located on the top part of the trigger assembly.
Characteristics of a Great Trigger Assembly
What separates a great trigger assembly from one that is not so great? That's what you'll find out in this section. It's important to know some of the features and functions that go into a great trigger. These are some things that low-quality, cheap trigger assemblies fall short of. To better know what to look for, it's always good to trust the past buyers who had to rely on these characteristics in finding a good trigger assembly. Here's what you should look for:
Material
One of the main things to know about the trigger assembly is the type of materials the assembly and parts are made out of. The materials will typically be high-quality like steel or aluminum for the purpose of greater durability. Some triggers on these assemblies can also be made from polymer or plastic.
Parts of the Assembly
Remember, the trigger is not the only part of the trigger assembly itself. It's important to know what is included in the trigger assembly. These include the springs and pins that obviously need to hold the trigger assembly and parts together. A good trigger assembly kit should have these included as well as the other parts like the hammer, sear, action lock, and so on.
Installation Process
Most of the trigger assemblies will often be drop-ins. This means that you won't have to rely on the services of a professional gunsmith to install these on your Mossberg 500. Furthermore, you won't need to make any permanent alterations to your shotgun prior to installing a trigger assembly.
Cautious Considerations Before Buying
Before you buy a trigger assembly, it is important to know some of the downsides of purchasing one and having it shipped to you. It is important that you know these for safety's sake. Here are some things that you need to know about:
Missing Parts
Some buyers have had to return trigger assemblies to the vendor or manufacturer due to the fact that there have been some missing parts. It is important that even after you receive a new trigger assembly, you should disassemble it to ensure that you have every pin and spring in place. If you have an assembly kit, make sure that all springs, pins, and parts are present and accounted for.
Making Sure It Fits
While most of the triggers will be drop-ins, the installation is expected to be easy. However, there may be some parts that need some filing to ensure that they fit perfectly. If you are struggling to fit your trigger assembly on your Mossberg shotgun, please consult a gunsmith near you so they can determine what the issue might be.
How to Disassemble and Reassemble a Mossberg 500 Trigger Group
The first thing that has to be done is to make sure you have protective eyewear. That's because the parts that are housed in the trigger assembly will freely fall out. At the same time, they have the potential to hit you in the face or eyes.
So it is important to wear the appropriate protection while disassembling and even reassembling a Mossberg trigger group. With that said, let's begin with the disassembly process. As always, be sure that your Mossberg 500 is unloaded completely. Now, let's begin with the steps:
Disassembly
Take the pressure off the hammer by squeezing the trigger and easing it back. Don't slam it forward.


Take out the trigger pin itself. Using a tool, pop it out from the mainspring.


Once the pin is out, you should be able to remove the mainspring. Keep your finger over the hole where the mainspring pin is located and push it out with your tool. There's a flared part of the mainspring pin that sticks out on the other side. Push your tool so the flared part itself comes farther out. The mainspring should easily fall out, as well as the plunger (keep these parts in a safe place. Do not lose them).


Take out the pin that holds your hammer. At this point, the hammer should swing freely prior to disconnecting the pin.


Next, take out the action lock. Push out the action lock pin and the springs associated with it should fall out. Don't force it out.


Finally, go to the sear. Make note of its orientation. There is a spring located inside the sear (known as the sear spring). Push it out using your tool. Remember, this is a spring that will be difficult to replace if you do not have the proper tool to help you replace it back in the sear itself.


Next, you'll need to clean out the trigger housing thoroughly if needed. Any dirt, goop, or other foreign substances will need to be cleaned out. This will also be a good opportunity to repair or even replace any parts that may be damaged.
Reassembly
To note, this is one of the most challenging tasks when it comes to repairing a Mossberg 500 trigger. Please pay close attention to these steps as you are reassembling a trigger group. With that said, here are the steps you need to take:
Take the sear in one hand and the spring in the other. Make sure that the notch where the spring goes in is facing left or right (it will depend on how you hold it). Push the pin part way in so it leaves a gap. The long piece of the spring needs to go towards the wall. The hook or notch is going to go on the back side of the sear, pushing it down toward the bottom of the trigger group. This will take some moving and finagling. Don't crush it or anything forceful.


Now, take your action arm. This will be easy to slip back into the housing. Slip it through the side hole and it should sit properly. Jiggle it a bit to ensure that it is in the right place. Replace the action lever hammer spring. Take the action lock pin and take it through the hole while holding down the action lever hammer spring itself. Once the springs and pins are in place, be sure to replace the action arm through the housing. Be sure that it lines up with the holes before replacing it. As you are putting the parts in place, be sure to use your thumb to hold down the action arm. This will prevent any parts from flying out.


Find your disconnector spring. Once you have it in hand, there should be a hook. This disconnector spring should be connected to the action lever. There should also be a loop on the spring that is pointed downward. The hook on the spring should be facing backward. The straight piece on the spring should also stick up.


Be sure to move the spring around until the pin that holds all this together goes through it. Use your tools if need be to ensure that everything is lined up. That's because the pin will have a habit of going in another direction. Just pop it in. Afterward, check the action hammer. At that point, there should be some tension on it.


Next, take the trigger itself. Then take your disconnector and attach the trigger to it. The tail end of the trigger should be facing to the left. Take your trigger spring and push it through the hole that is located above the trigger. Take the straight end of the disconnector spring and push it down so it pops underneath the disconnector.


Take the connector. As you replace this, it should be faced in a backward angle. Take the tab located above the trigger on the right-hand side and slide it through the connector. Part of the disconnector will be pressed against the sear. Hold back the sear and replace the disconnector. There should be a notch at the end of the disconnector sticking out. Take your trigger and line up the socket with the notch. Keep the trigger return spring in place as you put it all together.


As you're holding everything together, take your trigger pin with your free hand and stick it in the hole. Afterward, you should have a functioning trigger.


Replace the hammer. Slide it in with the round part entering downward. Push the hammer in until the pinhole is aligned properly. Replace the appropriate pin.


Take your crescent wrench. Inside the hammer, there's a pin going across. Then there is another top pin. There's a notch that needs to go downward and over the hammer pin. You'll know which pin to use. Using the needle nose pliers, you can hook it up right over the upper pin.


Take your plunger and mainspring and slide them in. Hold them in place. Now your hammer should have some distance.


Finally, compress the spring located on the rear of the trigger assembly. Push the tension pin in.


Double check to see if everything is working. If all is good and well, then the trigger is good to go.

If you are still having difficulty learning how to assemble or disassemble your Mossberg 500, this video will help.
Conclusion
Finding the best Mossberg 500 trigger assembly and parts won't be a challenge if you know what to look for. Even if you're missing parts with your current trigger assembly, it is important to know that you have everything in place before installing your trigger and putting it to good use. Remember, without the right parts, the trigger assembly itself is unsafe to use. So always double check if you have the right parts assembled in their proper places before you take your Mossberg on your next adventure.