The M&P Shield is popular self-defense and concealed carry pistol. With a compact and easy-to-hold size and a large ammo capacity, the M&P Shield is favored by many shooters. With that popularity comes a strong desire to upgrade the pistol even further with aftermarket accessories.
It can sometimes be a challenge to sort through the saturated pistol accessories market and find the quality parts that can make the M&P Shield an even better firearm. With everything from trigger upgrades to mounted accessories such as flashlights, it is easy to customize the M&P Shield to your specific needs.
Keep reading to learn more about the best ways to upgrade your M&P Shield.
At a Glance: Our Top Picks for M&P Shield Upgrades
Comparison of the Best M&P Shield Upgrades
IMAGE
PRODUCT

Our Top Pick

Can work with Faxon .5 28 threaded barrels
Has perfect compatibility with all P320 models
Ability to function with a range of grain ammunitions

View Latest Price →

Best Budget Option

Adds +2 9mm or .40 rounds
Comes with chamfered edges
Length is 1.15 inch, and width is .90 inches

View Latest Price →

Made from durable and impact-resistant high-grade polymer
Provides intuitive positioning and rest to the pinky finger
Can be installed or removed instantly without tools

View Latest Price →

Matches the profile perfectly for better comfort
Fitment includes M&P shield 9mm and 40mm
Has extremely smooth edges for added security

View Latest Price →

Trijicon-Phospor lamps will serve you for years to come without needing replacement
Feature a white ring around the glowing dots for daylight visibility
Each Trijicon tritium lamp is capped with a sapphire jewel

View Latest Price →

Enhanced trigger and duty carry kit for emergency
Smoother and crisper compared to the OEM trigger
Center mounted pivoting safety bar for enhanced trigger safety

View Latest Price →

Combo includes both a bright flaslight and a red laser
Windage and elevation adjustment screws mounted in brass bushings
Compact in size and great for self defense and EDC

View Latest Price →
What to Watch For When Buying M&P Shield Mods
Whenever you are adding parts or accessories to a firearm, it is important to emphasize quality and reliability. The last thing you want is for a new part or accessory to fail at an inopportune time. It is also important to take some time to figure out exactly which accessories make the most sense for your needs. It can be tempting to add more accessories than you need once you start the shopping process.
This Section Written By: Brian Belko
Expert Author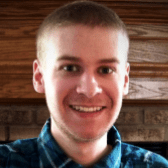 Brian is an experienced freelance writer and technical writer who has previously written for publications such as Wide Open Spaces, Bigfoot Gun Belts, Alien Gear Holsters, and Kampgrounds of America. He brings both a passion for writing and a love of the outdoors to his published content.

Aside from writing and the outdoors, Brian enjoys gardening, being a co-host on The Nostalgia Blast Podcast, and learning to code.
However, there is a point where too many added accessories can be a detriment to both carrying and firing the weapon. The following information should be a good place to start your M&P Shield upgrade journey!
Big Impact
One of the most useful aftermarket parts to upgrade an M&P Shield with is a trigger. The factory trigger on the Shield is perfectly serviceable and gets the job done. However, an aftermarket trigger can take it to the next level. Find a good aftermarket trigger and you'll be able to reduce both the trigger pull weight as well as the pre-travel and over-travel. Improvements to those factors offer shooters a much smoother and consistent trigger pull which can help increase accuracy and precision. With plenty of options available, it is easy to find a good trigger that also adds to the aesthetics of the M&P Shield.
Optically Speaking
Swapping out the factory sights for a set of aftermarket sights is another useful upgrade to make to an M&P Shield. The factory sights on the Shield feature white dots on both the rear sight and front sight. They do their job but do leave a lot to be desired. A set of fiber optic or Tritium sights is an excellent improvement to make especially if your M&P Shield will also be used for home defense or in low light situations. In addition to replacing the sights, a flashlight is another option many shooters opt for when using the Shield as a home defense weapon. Due to the popularity of adding light, many holster manufacturers design holsters to accommodate them.
Extra Mags
It is always a good idea to stock up on a few extra magazines when upgrading any handgun. You never know when they might become difficult to find. A good rule of thumb is to try and buy extra mags made by the same manufacturer that made the firearm. This isn't to say other brands are a bad option, but magazines made by the weapon manufacturer eliminate all doubt of them functioning properly.
Review of the Best M&P Shield Upgrades
This list of M&P Shield upgrades features the products related to the upgrades mentioned above. Each of these is a top of the line product in their category and is widely used and trusted by many.
Uni-Comp
We may earn commission from purchases made from our links, at no additional cost to you
What Recent Buyers Report
The Tyrant Designs CNC Universal Compensator, known as the Uni-Comp, has collected a lot of positive reviews from its consumers. The elimination of faulty attachment methods and set screws for its installation are some things that everyone appreciates.
The importance of this compensator not coming loose while operating any firearm outpaces every other feature.
Why it Stands Out to Us
The diversity of the range of firearms from Smith to Walther that this compensator is compatible with caught our eye. This Tyrant compensator is compatible with any 9mm firearm.
It shoots easily with almost any grain ammunition, which helps with the smooth and fast functioning and that is the most critical aspect you look for in any compensator.
Who Will Use This Most
Anyone who requires a secure hold on their firearm with the low profile printing Uni-Comp offers can use it for their benefit the most. Uni-comp offers a very small profile to hide from any printing and so becomes the primary target of people hunting for concealed carriers.
Bottom Line
The confidence that Tyrant has in their universal compensator says what a quality product it is. The effortless installation and several acquisitions set aside all or any competition in the market. Any range day goer or competitive shooter would love to benefit from this compensator.
Pros
Can reduce muzzle to a significant degree
No modification to the 9mm firearm needed
More comfortable to operate in emergencies
Does not come loose once put safely in its place
Maintains a relatively smaller profile to aid concealment
Cons
Only valuable to range day shooters
S&W Shield +2 Mag Extension
We may earn commission from purchases made from our links, at no additional cost to you
What Recent Buyers Report
Achieving efficiency with pistol grips was hard, but that was before this model was introduced in the market. The S&W Shield comes with extensions that allow for greater customization.
Recent buyers are completely satisfied with the performance of this unique model and have complimented its ability to dependably house an extra two rounds.
Why it Stands Out to Us
For products to be considered special, they need to have good designs and stronger construction, but one very important feature that people miss out on is the ease of installation. This particular pistol grip stands out because it allows for easier installation.
Not only this, but it doesn't require many tools for its installation. Moreover, the time for installation is also extremely short, which makes it stand out in the market.
Who Will Use This Most
Any model that offers greater compatibility with other equipment appeals more to customers, and that's exactly why the sales for this particular pistol grip are so high. It can work with a range of different factory magazines.
Not only this, but it is only 1.15 inches long, which allows you to ensure better disguise. This comes in handy for policemen and people in similar work to better hide their pistol grips.
Bottom Line
A product that gives you amazing quality all over is the one that you actually need. With an easy installation that takes less than 10 seconds, this model is already making its mark in the industry. Its lower weight is another additional feature that people love about it.
All this, coupled with ease of portability, makes it one of the finest pistol grips you'll ever have.
Pros
Expands to +2 rounds of .40
Works with a factory magazine too
Does not require any tools for installation
Quickest and cheapest magazine extension in the market
Specially designed to work with a stock spring mechanism
Cons
Requires cleaning more often than usual
Relatively less compatibility than some other models
Fixxxer (2 Pack) Grip Extension
No products found.
We may earn commission from purchases made from our links, at no additional cost to you
The Fixxer Grip extension has been made from high-grade polymer and requires no tools for installation. It extends your grip and enhances the control and comfort without compromising with the accuracy of the weapon. It easily blends in with the weapon and doesn't seem out of place at all. Plus, it doesn't compromise concealability.
Using this extension also gives your next finger a place to rest. Additionally, the company laser engraves the extensions upon request, so that's pretty cool for aesthetics. This is a pack of two grip extensions, with a price that won't even make you think twice.
Bottom Line
This grip extension is a good upgrade for your M&P Shield to improve the grip and accuracy. It gives your finger a position to rest and is easy to install.
Pros
Durable Construction
Exceptionally Low Price
Blends With the Weapon
Improves Grip and Accuracy
Gives Your Finger A Place to Rest
Cons
Might Be Uncomfortable With Pocket Carry
4. S&W Shield Extended Magazine Release
We may earn commission from purchases made from our links, at no additional cost to you
What Recent Buyers Report
There are very few products that are true to their name, and this is one of those. The S&W shield extended magazine release is one of the most reliable models, according to recent buyers. It is extremely smooth and comfortable and requires very little effort to perfect its usage.
Moreover, it matches your profile perfectly and allows for more discretion when needed.
Why it Stands Out to Us
The most noteworthy feature of the model is that it is machined from specialized aluminum. This is aerospace-graded and can merge flawlessly with ergonomics and allows better styling of your M&P Shield.
Moreover, its extended mag release is also slightly raised and comes with chamfered edges that help ensure a much smoother design. Moreover, it allows for easy ejection.
Who Will Use This Most
When it comes to pistol grips, timing is the key to success. Most pistol holders require a lot of time to eject, which often becomes problematic and a hassle in good operation.
The extended mag release comes with raised edges, which not only allows for quick ejection but also allows you to put the equipment back inside quickly. So, if you are looking for quick and effortless functioning, then this model is definitely the one for you.
Bottom Line
It is quite rare to see a product that is perfect from the beginning to the end, but this is one such model. It can be installed within seconds and its operation afterward also saves a lot of your time and energy.
The company hasn't compromised on the quality of the construction either. Aerospace-grade aluminum is used in the making of this product, which adds to the durability and high resilience of the whole model.
Pros
Backed by a good warranty
Fits a variety of different budgets
Has very smooth and chamfered edges
Does not require any additional tools for operation
Comes with an extended length over the OEM for easy usage
Cons
Might require some time to perfect the angle
Installation of the product is slightly time-consuming
Trijicon Night Sight
We may earn commission from purchases made from our links, at no additional cost to you
This is a set of night sights for the M&P Shield, featuring tritium-filled inserts to let you acquire targets quickly under low-light conditions. All these sights are covered by a 12-year warranty for illumination which ensures their quality. Plus, the black finish provides a professional look.
These sights are made from metal and are quite easy to install. Trijicon night sights are used by many defense and law enforcement agencies worldwide, so there's no point in doubting their effectiveness. The sights are available in three different variants, each featuring a different color of illumination.
Bottom Line
The Trijicon night sights are a good upgrade to your M&P Shield for shooting under low light conditions, or if you have weak eyesight. It comes at an affordable price and features a lengthy warranty. Plus, it is widely used by law enforcement and defense personnel worldwide, so there's no point in doubting its effectiveness.
Pros
Easy to Install
Durable Sights
Variants Available
Inserts Warranted for 12 Years
Quick Target Acquisition Under Low Light Conditions
Cons
Takes Time Getting Used To
Apex Tactical Specialties Inc – S&W Shield Action Enhancement Trigger & Duty/Carry Kit
We may earn commission from purchases made from our links, at no additional cost to you
This trigger kit includes all the replacement parts to create a fully functional new trigger for your M&P Shield. Featuring a solid aluminum body, this trigger reduces pre-travel and over-travel by approximately 20%.
The center-mounted pivoting safety bar creates a trigger block, preventing unintended operation that cannot be disengaged unless the shooter places their finger directly on the trigger face.
It also delivers a smooth and consistent 5 to 5.5 lbs trigger pull, which is apt for tactical and self-defense use. This is a drop-in kit and doesn't require the help of a gunsmith for installation.
Bottom Line
This is a drop-in trigger kit which is easy to install and reduces the over-travel and pre-travel time significantly. Upgrading to this trigger will improve your overall shooting performance and give you a reliable trigger that is nearly impossible to jam.
Pros
Tough and Durable
Good Value for Money
Consistent Pull Weight
Ready to Use Drop-in Kit
Reduced Pre-travel and Over-travel
Best Laser and TLR-6 Tac Light
TLR-6 Subcompact Gun Mounted Light W/Red Laser
We may earn commission from purchases made from our links, at no additional cost to you
This is the most value-oriented and innovative upgrade for your M&P Shield. It is a combination of a laser and TLR-6 tac light. The light has been designed to securely attach to the trigger guard of the shield. The combo features an ambidextrous button which can be used to switch between four modes (off, laser on, light on, laser and light both on).
The light has an illumination of 100 lumens which is good enough for use up to 89 meters. Plus, the laser light will help you acquire a target quickly under low-light conditions. The windage and elevation adjustment screws are mounted in brass bushings for long life and dependable zero retention of the laser.
The combo has a removable battery cover and features a ten-minute auto shutoff, so you don't waste power. Each of these light combos is water-resistant and serialized for positive identification.
Bottom Line
This TLR-6 combo delivers the functionality of two different accessories in one, at a reasonable price. It is easy to install and adjust and enhances your shooting ability. It's a must-have accessory for an M&P Shield if you don't mind buying an appropriate holster.
Pros
Auto Shutoff Feature
Three Different Modes
Laser Plus Light In One
Easy to Install and Detach
Water and Impact Resistant
Effective Illumination Up to 89 Meters
Windage and Elevation Screws for Laser Adjustment
Cons
Requires a Custom Holster
Might Promote Printing For Pocket Carry
8. Tractiongrips Rubber Grip Tape Overlay
No products found.
We may earn commission from purchases made from our links, at no additional cost to you
The rubber grip tape from Tractiongrips is an amazing grip upgrade for your M&P Shield. Made from rubberized polymer material, this grip tape comes pre-cut and features an adhesive backing, so you can simply position and stick it over your weapon.
The grip tape has a wrinkled texture which provides a secure grip over your weapon, no matter if your hands are small, big, or even sweaty. The tape isn't too tacky and doesn't grab onto clothing which is a big plus. Most grip tapes tend to stick or grab-on to your garments, making you fumble as you draw.
The tape comes pre-cut for both 9mm and .40 models. The grip tape is ultra-thin and doesn't add any weight or thickness to your weapon. Plus, it requires no modification to the weapon and can also be easily removed if not needed. A magazine extension strip is also included, in case you have need of one.
Bottom Line
The rubber-based grip tape from Tractiongrips is easy to install and doesn't snag onto the clothing. It comes pre-cut so you don't have to meddle with scissors. The grip tape is extremely useful if you have over/undersized palms, or if you have sweaty hands.
Pros
Comes Pre-Cut
Doesn't Grab Clothing
Easy to Install With No Modifications Required
Excellent Grip Texture With Good Adhesive Backing
Doesn't Add to the Weight of Thickness of the Weapon
Cons
Doesn't Cover the Slide (Arthritis Sufferers Might Need Some Tape There)
Are M&P Shield Upgrades a Must?
Well, that actually depends on how you like to use your weapon. Upgrades might not seem very important if you don't consider several situations. But upgrading your weapon will enhance its functionality and allow you to shoot even better.
The M&P is widely used for concealed carry and if you feel the need to carry a weapon, it implies that you understand the risk of not carrying one. The factory-made shield is good but it needs upgrades for enhanced performance. Consider yourself walking through a dark and silent subway, where having a tac light on your Shield can help when things go wrong.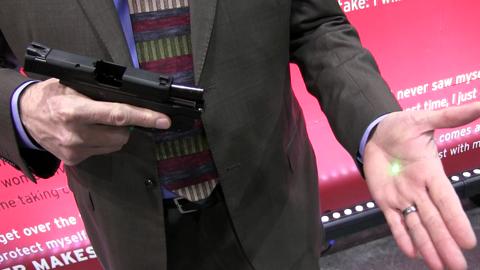 Similarly, some people have big hands, and cannot grip the small-sized M&P Shield properly. Having a grip extension sure works wonders for them.
Some people are not really comfortable with the OEM (factory made) design and/or aesthetics of the Shield. Getting upgrades for your weapons helps with that as well.
Conclusively, there's no rule of thumb that says you should upgrade your M&P Shield and its a matter of personal choice. But upgrades still improve your weapon in many different ways.
Types of Upgrades Featured on Our List
Although there are a ton of different possible upgrades for your M&P Shield, we will only focus upon the most important ones. You can either adopt all of these or just choose the ones which suit your situation.
Grip Tape
A grip tape is a sort of adhesive backed polymer, which helps in getting a better grip over the pistol. Installing the grip tape is easy and ends up to be quite helpful. Plus, it doesn't add to the weight of the pistol or require any kind of modification.
A grip tape helps in holstering and drawing the weapon with ease. Plus, it also ensures that you can properly grip the weapon as you shoot. There's also a chance that you might have sweaty/wet hands when you need to access your weapon. Having a grip tape also helps in that situation. Different tapes have their own textures, but in general, their function is the same.
Grip Extension
The M&P Shield is a sub-compact weapon having a height of 4.5 inches. Using a grip extension increases the length of the grip area by half an inch or so. If you have big hands, it is quite necessary to have a grip extension involved. But even if you have small palms, having a grip extension helps in gripping the weapon properly while you draw, holster, or shoot.
It ensures that you handle the recoil well, and you don't have to adjust it after every shot, especially with slippery hands. Having a grip extension also gives you an option to improve the magazine capacity, so you can have one extra round in your shield.
Light & Laser Combo
Tac Lights and lasers are often considered bulky and redundant accessories for handguns, especially in the urban areas. Generally, because they take up more space and you have to buy a custom holster to fit them. To solve this problem, we have included a laser-light combo in our list which fits into the frame of the Shield as if it were made for it.
Having a light installed on your Shield ensures that you get a proper shot in dark areas, especially during the night. Plus, the M&P Shield is a very compact weapon and hence it is a bit difficult to zero in the target. Having a laser installed on your pistol will help you in acquiring the target quickly, even with consecutive shots and extensive maneuvers.
Sights
Sights are also an important upgrade to your Shield since it is a bit difficult to quickly aim with such a compact weapon. Having a pair of good sights, especially with some sort of 'illuminated insert' to assist you under low-light conditions. Such night sights might cost you a little more but they still worth the investment because of their tactical capabilities.
The illuminated inserts let you align the sights and get a clear sight picture quickly. Installing a new pair of sights on your Shield is not a big deal, especially if you are accustomed to disassembling firearms. Having proper sights on your M&P Shield is a worthwhile investment for the long term.
Trigger
The trigger was once the most upgraded part of the M&P Shield, due to the "dead trigger" problem in earlier models where the trigger jammed after firing a shot and you had to charge or bump the weapon to make it right. Although M&P resolved that problem with 2.0 line of the Shield, upgrading your trigger is still a good idea.
An improved trigger reduces the pre-travel and over-travel time and also the trigger pull weight. Having a flawless and improved trigger is helpful and can be a lifesaving mod to your weapon, especially if you use it for self-defense. Additionally, installing a new trigger is easy.
Conclusion
The M&P Shield is a sub-compact weapon generally used for everyday concealed carry. Making some upgrades can drastically improve the performance of the weapon and your shooting.
Upgrades like grip tape, extended grips, improved trigger assembly, laser lights, tac lights, and night sights enhance the performance of the M&P Shield. Plus, they also ensure that you can rely on your weapon to tackle any situation.