The Remington 870 is one of the most popular models of shotguns of all time. While it is excellent straight from the factory, it is also upgradeable to perform even better at specific tasks. Updating the barrel is one such upgrade option, but it can be a challenge to know where to start or what to look for in a new barrel.
Shotgun barrels are relatively simple firearm parts, but there is still variation in aftermarket options. Keep reading to learn more and to take a look at the best Remington 870 barrels available to upgrade your shotgun in 2022!
At a Glance: Our Top Picks for Remington 870 Barrels
Comparison of the Remington 870 Barrels
IMAGE
PRODUCT

Our Top Pick

Designed for .12 gauge rounds
Made from 4140 bead-blasted steel
Excellent for hunting and home defense shotguns

View Latest Price →

Made from high-quality steel
Measured at 24 inches in length
Includes a 3-inch chamber for magnum shells

View Latest Price →
What to Watch For When Buying an 870 Barrel
There are a few different things to keep in mind when buying a new barrel for your Remington 870. Not all barrels are designed or intended for the same purposes. Choosing a barrel that is made to suit your intended use is important to ensure accuracy, performance, and reliability.
Doing your best to gain a solid understanding of all your different options will go a long way towards making the shopping and buying process a smooth and easy one. The tips and information below should be a good place to get started and help you choose the best 870 barrel for your needs!
This Section Written By: Brian Belko
Expert Author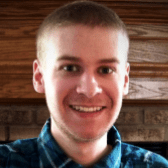 Brian is an experienced freelance writer and technical writer who has previously written for publications such as Wide Open Spaces, Bigfoot Gun Belts, Alien Gear Holsters, and Kampgrounds of America. He brings both a passion for writing and a love of the outdoors to his published content.

Aside from writing and the outdoors, Brian enjoys gardening, being a co-host on The Nostalgia Blast Podcast, and learning to code.
Barreling Forward
Adding an aftermarket barrel to your Remington 870 shotgun that is designed for specific use can turn your utilitarian shotgun into a specialized tool. The best way to narrow down your choices here is to put some thought into the specific goals you'd like to accomplish with your 870.
Do you want a rifled barrel to use slugs while deer hunting? Are you planning on fast wingshooting action in the marsh or the upland fields? Is home defense your priority? The answers to those types of questions will get you pointed in the right direction.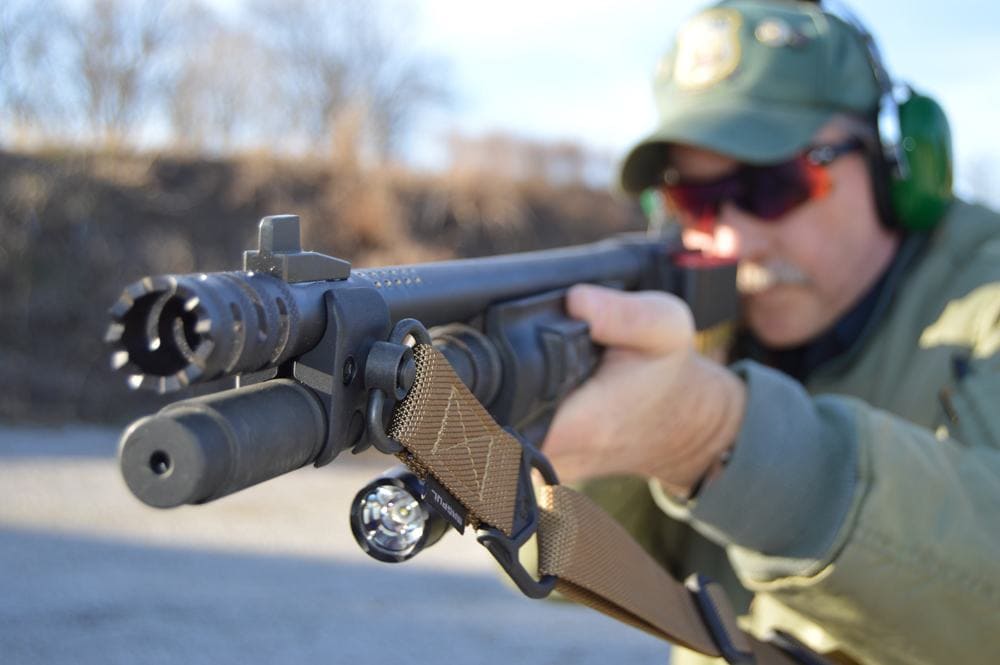 Choking Up
A choke in a shotgun is used to alter the shape of the pellet spread being fired from your shotgun. Adding the right choke to your Remington 870 shotgun barrel can improve both the accuracy and the range of your shotgun and make it more effective against certain game species. Fixed choke shotgun barrels are one option, but many shooters and hunters prefer barrels that accept screw-in chokes. This allows them to be changed out for various needs which adds a layer of versatility to a shotgun.
A Matter of Length
The length of your new shotgun barrel is important to get right according to your needs. Shorter barrels are typically best suited to home defense and other tactical situations. For hunting needs, a longer barrel is the best option. Not only does a longer barrel make sighting and aiming easier, but it also can reduce muzzle flash and sound levels. The one thing to watch out for with longer barrels is balance. A barrel that is too long can throw off the balance of your entire 870 and make swinging the gun onto a target more difficult.
Review of the Best Remington 870 Barrels
The following is a list of the best Remington 870 barrels currently on the market. As you look through each one, you'll need to be able to note the features and characteristics of both. This way, you can choose which will be best for your intended use going forward.
Here are some of our top picks for the Remington 870 barrels. Let's see why they made our list and what makes them stand out compared to other models. Let's begin by taking a look at the first option:
CARLSONS – Remington 870, Ramped Front Sight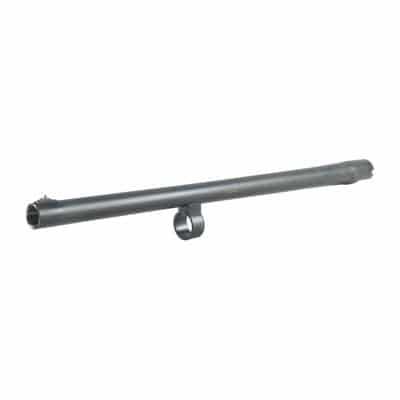 We may earn commission from purchases made from our links, at no additional cost to you
What Recent Buyers Report
A lot of new users were happy with the barrel. They said this was a durable unit that was easy to install and designed to last them for a long time. One also said when it came time to clean it, it was easy to do. Performance-wise, the accuracy boost was immediately noticeable.
Why it Stands Out to Us
This barrel is designed for multiple purposes. If you use your Remington 870 shotgun for the sake of hunting, self-defense, or both, you'll certainly be able to put it to good use. And it will make accurate shooting a lot more possible. That boost in performance will happen almost immediately and the break-in period will be nice and short. This 18.5" barrel has a chrome-lined bore and comes complete with a Carlson cylinder-bore choke tube. With this barrel, you can convert your Remington 870 into a slug gun or home defense shotgun. The barrel is threaded for standard Rem Choke and has 3″ chambers, so it does not fit 870 Tactical models.
Moreover, you can replace the choke, if required. It's available with either a ramped blade front sight only or adjustable front/rear rifle sights. The manufacturer offers a lifetime guarantee on all their products, so you can purchase with confidence.
Who Will Use This Most
If you want something that is durable, reliable, and will be great for many purposes, this barrel will certainly do you some good. In fact, it is excellent for replacing your factory default barrel. Once you install this, you will not be able to wait to give this puppy a spin at the range.
Bottom Line
Carlson's Replacement Shotgun Barrel is the best barrel you can find as far as factory replacements go. In fact, it might be a bit better in quality compared to barrels that come directly from the manufacturers themselves. Accuracy, tight shooting groups, and reliability are the things you will get out of this barrel.
With plenty of fancy features, this is not your run-of-the-mill barrel. It is suitable for home defense or tactical use, and the sights improve your accuracy significantly.
Pros
Accurate
Lifetime warranty
Robust and tough
Chrome lining makes it longer lasting
Fits perfectly on most Remington 870 models
Cons
Some quality issues reported by buyers
CARLSONS – Rem 870 12-Ga Vent Rib, 24″, 3″ Chamber, MOD Choke, S-Matte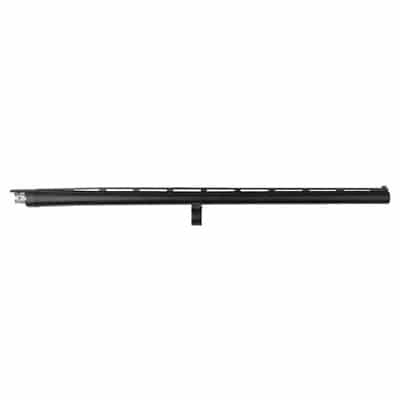 We may earn commission from purchases made from our links, at no additional cost to you
What Recent Buyers Report
As expected, many recent buyers were satisfied with this barrel. They said upon installation, they've noticed some instant changes to their Remington 870 shotguns. These included increased accuracy and reduced recoil. One user said this barrel was perfect and worked so much better than his previous factory default barrel.
Why it Stands Out to Us
This barrel includes a vented rib that allows for superior cooling ability. The last thing you want to do is deal with accidental burns due to touching a hot barrel. A barrel can heat up pretty quickly after an extended period of use. However, the vents are enough to help dissipate heat in a matter of minutes. Aside from that, it's made from high-quality steel that can last you quite a while (assuming you take great care of it regularly). It's also long enough for the purpose of hunting and target shooting. The longer the barrel, the better chance it will boost your accuracy compared to smaller barrels.
This 12-gauge barrel is made from ordnance-grade 4140 steel with a chrome-lined bore. The vent rib model has a satin, matte blue finish with a red fluorescent front sight and brass center bead. It comes with a Carlson Modified stainless steel choke tube and adapts for both rifled slugs and all kinds of shots. The longer barrel strives to improve accuracy compared to standard 18.5'' barrels and gives longer sighting.
Who Will Use This Most
If you plan on reducing recoil and increasing accuracy at the same time, this barrel could be exactly what you're looking for. This is perfect for applications where accuracy is a must. So if you target practice or if you are in search of some kind of barrel that will allow for the best possible chance to make a kill shot, this might be one to consider further.
Bottom Line
This Carlson's shotgun barrel will definitely give your Remington 870 a much-deserved boost. It might even give your shotgun a bit of an edgy look, thanks to the ribbed rail. Switch out your old barrel with this and you'll be amazed at the increased accuracy and reliability of your shotgun. And trust us, no factory default barrel can do as a great job as this one.
Perfect as a high-quality upgrade for your Remington 870, this barrel makes shooting in poorly lit conditions a breeze thanks to its red fluorescent front sight. It is a good fit for hunting and getting rid of varmints.
Pros
Looks great
Chrome-lined bore
Red fluorescent front sight stands out nicely against background
Remington – 870 Barrel 18″ Cylinder Bore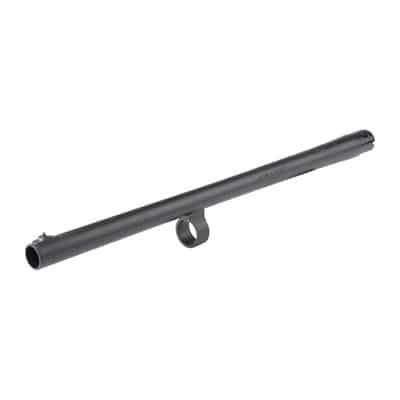 We may earn commission from purchases made from our links, at no additional cost to you
Review
This 18" cylinder bore barrel fits 12-gauge Remington 870 3'' guns and has a bead sight. It weighs 2.59 pounds and is available in black. It has a fixed choke, so swapping out chokes is not possible. The barrel is designed to fit Remington 870 Express guns. This smooth bore barrel can handle rifled slugs and all kinds of shots.
Bottom Line
This barrel isn't fancy but will get the job done if you want to upgrade an old shotgun, giving it a new lease on life. It is suitable for home defense and hunting, though the short-barrel won't have the accuracy of a longer barrel.
Pros
Great fit
Shoots well
Easy to install
Tough and robust
Remington 870 Barrel, 18.5″, IC Bead Sight, Parkerized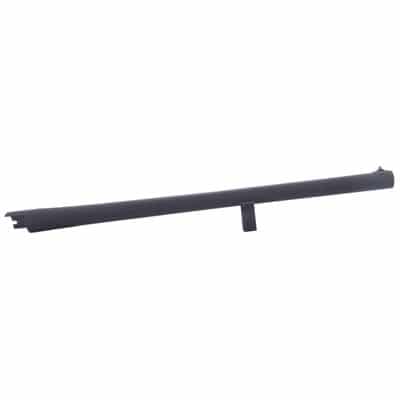 We may earn commission from purchases made from our links, at no additional cost to you
What Recent Buyers Report
A lot of new buyers were satisfied with the barrel. Most were able to install this barrel in a few minutes and managed to keep it secure for the long-run. They were using their Remington 870 shotguns for hunting and target shooting. The general consensus agreed that this barrel had the potential to last them quite a few years.
Why it Stands Out to UsOne thing that makes it interesting is the Parkerized finish. It proves itself as one of the most durable types of steel out there. The finish just adds an extra layer for peace of mind. So if you want something that is tough as nails and can give you a longer period of loyal service, this barrel might be what you want for your Remington 870. If you're serious about your rifle's durability, this barrel might be a good accessory to start with.
This 12-gauge 18.5'' barrel comes with a matte finish and manganese Parkerized, with a fixed choke. It fits shotguns with a 2 ¾" to 3" chamber, but is not threaded for choke tubes. It has an external magazine cap retainer and a front bead. The barrel weighs 2.11 lbs. and comes in black. With this, the barrel only allows 2 ¾" or shorter shells, and can shoot both slugs and shot.
The bead on the sight can be changed, but the sight itself is threaded into a pedestal, which is brazed to the barrel, so it may be difficult to remove the sight.
Who Will Use This Most
This will be great for the sake of hunting and even some applications that will allow for extended periods of long-term use. It's durable enough to handle heavy-duty applications that won't cause the barrel to wear down easily. If durability is high on your list of priorities, this just might be the barrel to go with.
Bottom Line
The Remington 870 Barrel is the go-to barrel for hunters and others who intend to use this shotgun for the sake of making highly accurate and consistent shots. If you want to get the most out of your barrel, you can bet your bottom dollar this one will deliver tight shooting groups and is a long-term solution for your Remington 870 shotgun.
This is a great looking barrel with great responses from users who've experienced it firsthand. If you're looking for a barrel that's tough, offers a matte finish, and shoots well, go for this one. It is a good choice for beginners or for home defense, as well as for clay shooting.
Pros
Tough
Looks great
Easy to install
Matches the original finish on the receiver
Cons
No rear sight
Replacing the beads requires drilling and tapping the hole
Remington 870 Barrel, 18″, Police w/Rifle Sights, Parkerized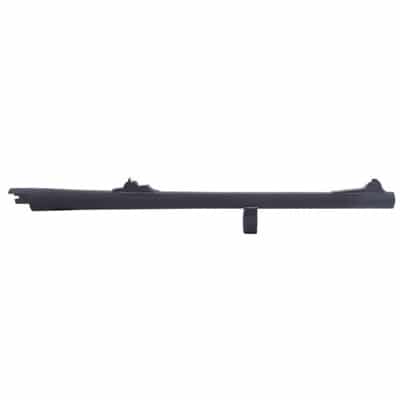 We may earn commission from purchases made from our links, at no additional cost to you
What Recent Buyers Report
New buyers were law enforcement officers looking for a barrel that would be more useful in terms of handling high-stress situations. They were not disappointed when they came across this barrel. This only took a few minutes to install and was able to tighten shooting groups considerably with targets situated as far as 25 yards out. One user said that not only did it provide ridiculously great accuracy, but the barrel is durable and light in weight, thus making it surprisingly tough.
Why it Stands Out to Us
This barrel is once again another one made from high-quality steel with an added Parkerized finish. Not to mention, it's a barrel built to be insanely accurate and reliable. This is definitely what you need if you are in a tactical or self-defense situation. If you want a barrel that will make every shot count when every second is a factor, this is the barrel that will get the job done.
This 18'' black barrel is suitable for a tactical rebuild, thanks to its double rifle sights. The design of these sights is intended to improve your accuracy at moderate ranges. This short-barrel does not accept choke tubes, as it has a fixed choke, and it handles 2 ¾" and 3" shells. Additionally, this barrel is the preferred choice for many law enforcement officers who own Remington 870s. It weighs 2.22 lbs. and comes in Parkerized flat black.
Who Will Use This Most
This will stand out as the best choice for law enforcement officers and even users who rely on their Remington 870 shotguns for home defense. If you plan on making a few upgrades to your shotgun, it starts with an accessory that is excellent in quality and performance. This barrel will probably be the best possible choice.
Bottom Line
The Remington 18-Inch Police Barrel with Rifle Sights is the go-to barrel for those looking for something that will be useful in home defense or tactical applications. It's tough, reliable, and can deliver some accurate shooting at some impressive distances. If these three qualities stand out as interesting to you, this might be the barrel for you.
Choose this barrel if you want an accurate barrel for your Remington 870 for tactical purposes and home defense.
Pros
Easy to install
Solid construction
Great fit and finish
Sights are easy to adjust
Cons
Some quality issues reported by buyers
Shotgun Barrel Types
There are two primary kinds of shotgun barrels; here's what you need to know about them:
Smooth Bore
Smooth bore barrels are most common and suitable for rifled slugs, birdshot, and buckshot. If you plan to hunt small ducks or birds, then a smooth bore barrel would work great.
Rifled Short-Barrel
Rifled barrels are for shooting sabot slugs, such as Premier Accutip Slug. They are used when shooting at longer range targets and are perfect for large predators. The rifling imparts spin to the slug, providing more precision and stability in flight. For long-range shotgun shooting, this is a top pick.
How Do Different Barrel Sizes Impact Performance?
The length of a barrel changes the shooting characteristics of a shotgun. Longer shotgun barrels provide longer sighting and the sights are spaced further apart along the barrel plane, making it easier to accurately aim the gun. They also create less noise and muzzle flash compared to short barreled guns.
Longer barrels are better suited for hunting and activities like trap shooting, skeet, and sporting clays. On the downside, longer barrels are heavier and harder to maneuver.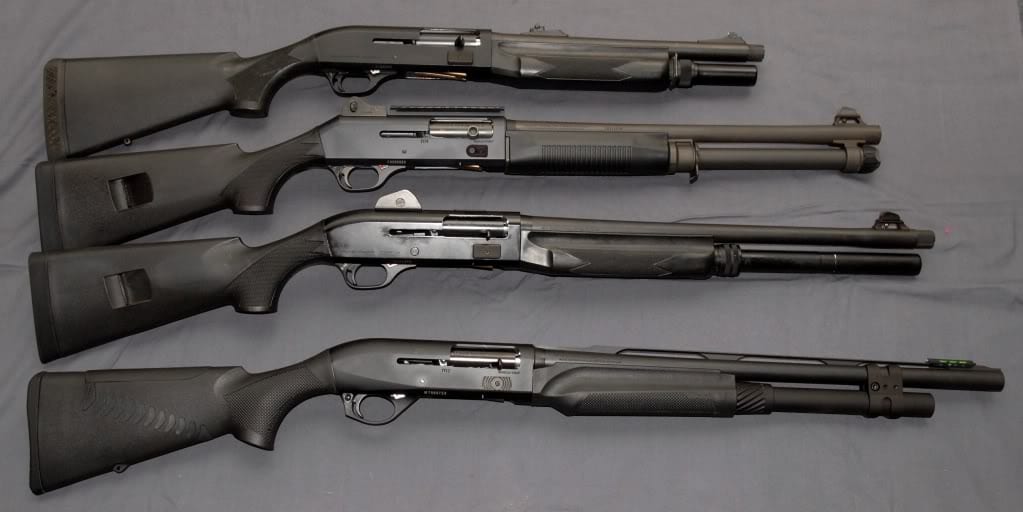 Shorter barrels are ideal for home defense and tactical situations. They are more versatile and less heavy. The downsides are that they have a shorter sighting plane and create more noise, muzzle flash, and recoil than longer barrels.
The most popular barrel length for the Remington 870 is 18″ as it's short, simple, and inexpensive. Lengths such as 32'' and 30'' are common for hunting, but in order to get the best balance, they are often customized to be lighter via aftermarket boring.
How to Choose the Best Remington 870 Barrel
When you're shopping for a new aftermarket barrel, take into consideration the length, rifling, sight, choke, and balance. As mentioned, the length of the barrel may affect the shooting characteristics of your gun, such as choosing a rifled barreled allows you to use slugs for hunting large game.
With this, there a few aspects we want to review, so you're fully prepared to pull the trigger on a new barrel when the time comes.
Sight
Selecting a barrel with a good sight is useful for accuracy and precision. Modern light gathering sights are popular, as they help users ensure they're on track and aligned with their target.
Choke
Some barrels allow you to insert removable chokes. A choke is designed to shape how the shot spreads after you pull the trigger, potentially improving the accuracy and range of the shot.
Two kinds of chokes are available: screw-in chokes and fixed chokes. Fixed chokes are integrated into the shotgun's barrel, and cannot be replaced. On the other hand, screw-in chokes are removable.
Balance
When buying a new barrel, ensure that it does not adversely affect the balance of your shotgun. Often, longer barrels are heavier and make the gun difficult to balance and shoot effectively. That's why hunters who use longer barrels often modify them by boring the barrels.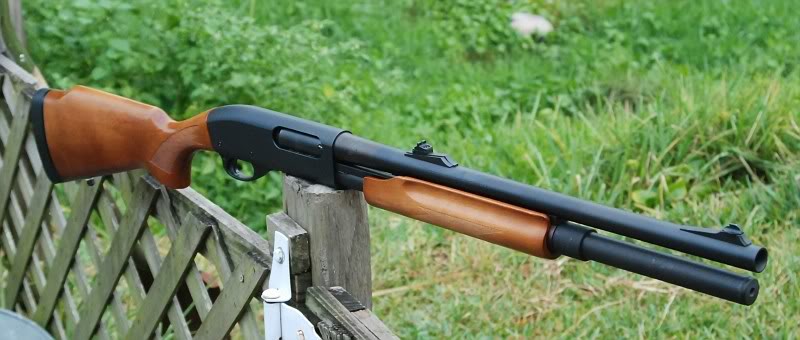 Benefits of Using an Aftermarket Barrel on a Shotgun
Investing in an aftermarket barrel does have its perks. You really don't want to miss out on them. So here's what you'll get to enjoy, should you invest in one:
Better Accuracy
It's no secret that a barrel can help you boost your overall accuracy, especially when it is much needed for many applications. You'll land your shots wherever and whenever you want them, provided environmental elements don't play an adversarial role. Don't be surprised if your accuracy is noticeably better after installing a new barrel on your shotgun.
Better Reliability
Aside from accuracy, reliability is a must for those who own a shotgun. You want it to work when you need it most. In applications where timing is everything, reliability should be the master of it. These barrels won't allow any malfunctions or jamming of any kind, even if it's a quality aftermarket barrel.
Less Recoil
These barrels are known not just for boosting overall performance, but they are good for something more beneficial: reducing recoil. A lot of recoil can throw off your control and make your shots less accurate. A good, upgraded barrel, compared to factory defaults will probably be your best solution if you intend to find ways to reduce recoil.
While the factory or stock barrel that comes with a Remington is already good, you might need to upgrade your barrel to better suit your lifestyle and needs. For example, hunters often prefer a longer barrel for their shotguns, as it enables them to shoot targets at much longer distances.
Another reason to upgrade your barrel may be the need to have a removable choke system. This helps shooters vary their pellet dispersal patterns based on the kind of game they are hunting.
Conclusion
While getting a new barrel to replace the factory model on your Remington can improve your accuracy and shooting experience, it can also have a negative impact if you don't factor in the rifling, balance, choke, and length.
Keep your shooting needs in mind when evaluating the barrels on each of these factors and you'll be more than satisfied with your purchase. We hope this review has been beneficial in your hunt to securing a new barrel for your Remington 870.