The Ruger 10/22 is one of the most popular and most versatile semi-automatic rifles on the market today. Reliability, rapid fire capability, and dependable accuracy all help make the Ruger 10/22 an excellent plinking, hunting, and pest control tool. With a plethora of aftermarket accessories available to customize the rifle as each shooter sees fit, the Ruger 10/22 checks all the boxes for an all-around rifle to cover many needs.
The versatility it offers sometimes means that shooting from various positions and locations is required. That is where a high-quality bipod comes into play.
Scroll down to learn more and to see the best Ruger 10/22 bipods that provide a steady shooting platform.
At a Glance: Our Top Picks for Ruger 1022 Bipods
Comparison of the Best Ruger 10/22 Bipods
IMAGE
PRODUCT

Our Top Pick

Made from high-quality materials.
Compatible for most shooting benches.
Includes rubber shoes for better stability.

View Latest Price →

Best Budget Option

Extends up to 9 inches.
Made from high-quality aluminum.
Fits most rifles, including the Ruger 10/22

View Latest Price →

Extends out to nearly 13 inches.
Made with high-quality aluminum.
It comes with foldable arms for easy portable.

View Latest Price →
What to Watch For When Buying a Bipod
There are a few different things to keep in mind when getting ready to buy a bipod for your Ruger 10/22. A bipod might seem like a simple accessory that doesn't take much thought to purchase.
However, it is always important to pay attention to small details on any Ruger 10/22 accessory that is intended to provide a shooting platform. The last thing you want when lining up a shot is a wobbly bipod making it nearly impossible. The following tips and information are a good place to start your Ruger 10/22 bipod shopping journey.
This Section Written By: Brian Belko
Expert Author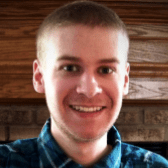 Brian is an experienced freelance writer and technical writer who has previously written for publications such as Wide Open Spaces, Bigfoot Gun Belts, Alien Gear Holsters, and Kampgrounds of America. He brings both a passion for writing and a love of the outdoors to his published content.

Aside from writing and the outdoors, Brian enjoys gardening, being a co-host on The Nostalgia Blast Podcast, and learning to code.
Zero In on Needs
One of the best ways to start your search for any firearm accessory is to take some time to think about what you are trying to achieve with that accessory and the conditions in which you are likely to encounter while using it. In the case of a bipod, it is helpful to think about the places you tend to or plan to use your rifle.
Do you usually shoot from a bench at the range? If so, you need a bipod tall enough to accommodate the length of your magazine. Do you shoot from random rests during hunts? Then an adjustable bipod that can quickly be deployed will be key. Going into a Ruger 10/22 accessory search with that kind of info fresh in your mind will go a long way towards making your decision an easy one.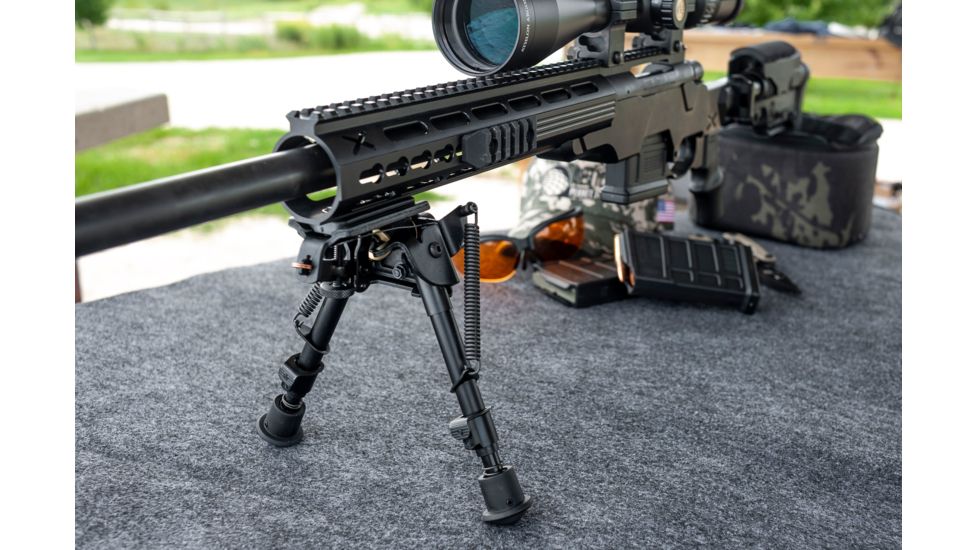 Weighing Options
The weight of a bipod for a Ruger 10/22 is another important consideration to keep in mind. If mobility is something that is important to you, then you'll want to pay close attention to the overall weight of the bipods you are considering. Even a couple of extra ounces can make a big difference on long treks or hunts. If you are a bench shooter, then weight becomes much less of an issue. In that case, stability is much more important to prioritize. There are plenty of options in both directions. Just make sure to check the specs before buying.
Mount Up
There are two main mounting styles for Ruger 10/22 bipods: sling stud mount and rail mount. This decision will come down to several factors including the type of stock on your Ruger 10/22, your intended use, and your personal preference. If you don't have a rail on your rifle, then this is an easy choice. There isn't a wrong option here. The primary thing here is to make sure the bipod you choose is compatible with your rifle.
Review of the Best Ruger 10/22 Bipods
The following is a list of the three best Ruger 10/22 bipods currently on the market. As you go through each one, you should mark down any characteristics and features that stand out to you the most. If you have a good idea of what your dream bipod looks like, you may find one on the list below that fits the bill.
Now, let's begin by unveiling our first bipod on the list:
Harris Engineering S-BRM Hinged Base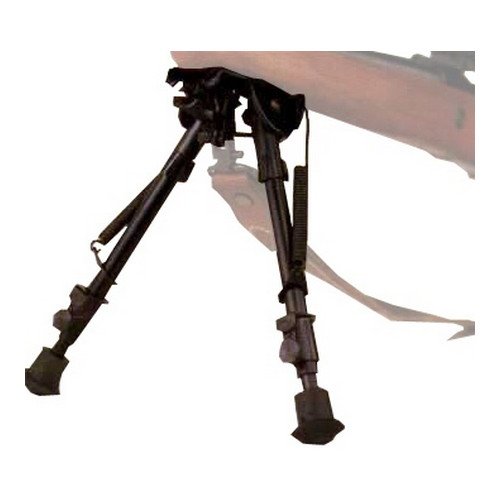 We may earn commission from purchases made from our links, at no additional cost to you
What Recent Buyers Report
Most new users were quite satisfied with this bipod. They were able to acquire a good amount of stability with their Ruger 10/22 rifles and to move it around smoothly from left to right. One user said he uses it for hunting purposes and has never missed a shot when taking on a big game target like a deer.
Why it Stands Out to Us
The construction is solidly built and it can handle most Ruger 10/22 rifles easily. Once the rifle is clamped on, it will keep the rifle in place for as long as it's fastened. Plus, the addition of the rubber shoes makes it a lot easier for this bipod to handle some rough terrain.
We will focus on the Harris Engineering S-BHRM Hinged Base which is manufactured in the U.S. by Harris Engineering, one of the best manufacturers of bipods across the globe. This bipod contains fully expandable legs. Furthermore, it comes with separate adapters to enable usage with other rifles apart from the Ruger 10/22. Bench shooting also works best with this bipod.
Key Features
Aluminum Alloy and Hard Steel Construction
This bipod is constructed with strong aluminum alloy and some steel parts. It enforces stability in the bipod by bearing the rifle's weight without shaking.
Rust-Proof Black Finish
The external surface of this bipod is enclosed with a rust-proof black finish. Thus, the strong inner metals are shielded from rusting.
Completely Extendable Legs
As mentioned earlier, this bipod contains completely expandable legs. The height varies between six and nine inches. This bipod is favorable if you like hunting on uneven surfaces. It will compensate by giving you a more stable shooting position for odd terrains.
Hinged Base
This is a very common characteristic in most Harris bipods. It offers maximum support for fitting your rifle on the mounting platform.
Who Will Use This Most
Expect this to be a hit with Ruger 10/22 hunters. It will also come in handy if and when you're hunting on some not-so-smooth terrain. At the same time, it will be a great bipod for those using their rifles for target practice (both casual and competition shooting). If stability is what you need, no matter the lay of the land, this bipod can get the work done.
What Could Be Improved and Why?
A possible improvement would be to make sure that the screws are at the right length so they can be easily fastened. If they're a little too short, as some say they are, then the best thing to do is lengthen them.
Bottom Line
The Harris Engineering Hinged Base Bipod will be right up your alley if you want something that is smooth-moving, stable, and will take on almost any kind of terrain that you walk on. Once placed into the ground, your Ruger 10/22 rifle will be pretty stable for as long as you're out shooting.
Pros
Easily Portable
Easy to Deploy
Super Lightweight
Really Sturdy on Most Terrains
The Rifle Can Be Easily Installed
Cons
Swivel Might Be a Little Loose
May Not Be a Good Fit for Some Rifles
The Adjuster Screw Might Be a Little Too Short
AVAWO Hunting Rifle Bipod
We may earn commission from purchases made from our links, at no additional cost to you
What Recent Buyers Report
As expected, a lot of new users were satisfied with this bipod. They were quick to say it was really durable and allowed for smooth and easy operation once they attached a rifle. The swivel movement is smooth and allows for fast firing from left to right.
Why it Stands Out to Us
This bipod is easily extendable and it's at a good size where you are able to shoot from either a prone position or from a hunting bench. Other than that, it's quite durable and can handle some of the more heavy-duty rifles used for hunting.
This is manufactured by Avawo company. It contains completely adjustable legs and the leg heights range between six to nine inches. It does not house a swivel top and does not tilt from side to side. It also has adjustable height and foldable arms with spring tension.
Key Features
Lightweight
This bipod is compact and light and enables you to quickly attach or detach from the rifle using the existing swivel stud.
Aluminum Alloy and Hard Steel Construction
The parts are all constructed with a strong aluminum alloy and hard steel. It enforces stability in the bipod by bearing the rifle's weight without shaking.
Adjustable Legs
The legs can be adjusted from six to nine inches, which translates to five height settings. The legs are also foldable and can be folded forward or backward. It also has an adjustable height & foldable arms with spring tension.
Who Will Use This Most
This will likely be used by hunters and target shooters. Since it's a bit more rugged, it will probably favor hunters more than range shooters. The aluminum is so tough it can handle all kinds of abuse and impact. If you're looking for something that's tough, easy to use, and keeps your rifle stable, then this bipod might be worth a closer look.
What Could Be Improved and Why
Some say that the bipod itself might feel a little flimsy in quality. So, it would be wise for the manufacturer to make it a little stronger. At the same time, it can also handle some more heavy-hitting rifles that will excel best in a hunting setting. Other than that, the feet should be a little slimmer so you can plant them a deeper into the ground and make it a little more stable.
Bottom Line
If you want something that's tough, easy to use, and can handle most rifles like the Ruger 10/22, the AVAWO Hunting Rifle Bipod might be right up your alley. It's built to handle the rugged outdoors and even some heavy-duty applications like hunting and tactical use.
Pros
Super Durable in Quality
Great for Most Applications
Affordable for Most Budgets
Fits the Ruger 10/22 Rifle Easily
Easily Adjustable and Extendable
Cons
Might Be a Little Loose With Some Rifles
Might Rust After a While if Not Properly Taken Care of
One of the Legs May Have a Hard Time Adjusting Properly
3. UTG Tactical OP Bipod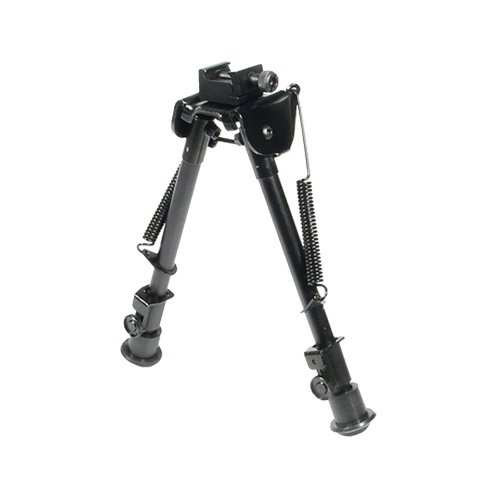 We may earn commission from purchases made from our links, at no additional cost to you
What Recent Buyers Report
A lot of recent buyers were happy with the bipod. They found it to be really durable and easy to extend to its maximum height. A lot of shooters preferred using a shooting bench with this bipod, with a few others preferring the prone position (depending on the application). As expected, they managed to get some good stability and, in turn, excellent accuracy on their shots.
Why it Stands Out to Us
This bipod is able to extend as far out as 13 inches in height. So, it will work for shooters who either use a shooting bench or lay prone. Either way, the adjustments are easy and you can set it to a height that works best for you. The rubber feet do a great job of holding the bipod together, regardless of the terrain that it's situated on.
This is the most affordable bipod you can use on your rifle. It is manufactured by UTG in the U.S., which is a universal leader in manufacturing weapon accessories. All parts are made of tough aluminum, apart from the top, which is made of hardened steel. It has extendable legs which can mitigate uneven surfaces during shooting.
Key Features
Clever Dual-Mounting Design
This is one of the best characteristics in this bipod. You can fit your rifle without any problems. Furthermore, this bipod allows you to use any other gun with a sling swivel.
Completely Adjustable Legs
Its legs are designed to offer a wide range of shooting heights. This will work best on uneven surfaces. The highest height is 13 inches and the lowest range, with legs flipped out, is 8.5 inches. The legs are durable and work perfectly with no problems.
External High-Tension Springs
The strong spring let you to fold the legs quickly and easily.
Rubber Feet
The rubber feet offer good stability. The base of the legs is fitted with strong rubber material. When mounting your rifle, the legs probably will slip on the ground, but the rubber offers great grip on any surface.
Lightweight
This is a very light bipod, as it weighs only 13.3 ounces. The additional equipment will not affect the weight of your rifle fore-end.
Posi-Lock and Quick Retraction Button
The Posi-locks are used to lock the legs on place. The locks are consistent and grasp the legs in the set position the whole time. The quick retraction button is used to fold the legs just by pressing the button.
Who Will Use This Most
This will likely be used across many applications. Most users will rely on this in a hunting situation when dealing with a lot of bumpy terrains. These terrains mean they'll need something to give them a good grip while they keep a good hold on their rifles. If you want a bipod that will give you better stability so you won't miss that big trophy buck, this could be exactly what you're looking for.
What Could Be Improved and Why
A possible improvement would be to make the panning feature a little more smooth-moving. At first, the movement is quite stiff and it will be even harder for a rifle to move left to right without some lubrication applied. So regardless of which rifle you use, the movement should be a little loose without having to risk wearing it down each time you move the rifle.
Bottom Line
The UTG Tactical OP Bipod is tough, can go a little higher than others, and does an excellent job giving your rifle a little extra support than your own two hands. If you're frustrated with keeping your rifle stable and keep firing off-kilter shots, a bipod like this is definitely the solution you're looking for.
Pros
Great for Most Applications
Excellent Stability for Most Rifles
Rubber Feet Provide Excellent Grip
Legs Do a Good Job Locking up Properly

Super Durable and Takes On a Lot of Impact and Abuse
Cons
Some Parts May Come Loose
The Panning Function Might Be a Little Stiff
Some Parts or Springs May End Up Missing for Some Shipments
4. Ohuhu Adjustable HandySpring Return Bipod
We may earn commission from purchases made from our links, at no additional cost to you
This is one of the cheapest bipods and contains great characteristics at a very attractive cost. It is available in black color. It does not tilt from side to side and does not house a swivel top. Its feet fully extend to give you a range of shooting heights to choose from.
Key Features
Adjustable Legs
The legs can be adjusted from six to nine inches, which translates to five height settings. A range of height settings is important for shooters who wish to achieve excellent shots on uneven surfaces. The legs are also foldable and, once folded, you can easily move with the bipod attached to your rifle.
Strong Materials Construction
It is manufactured with a hardened steel top and anodized aluminum. These materials offer strength to support any rifle. The bipod's firm nature also allows it to absorb most of your gun's recoil.
How to Choose a Bipod For Your Ruger 10/22
Knowing which bipod is best for you will take time and some detective work. You'll need to know the characteristics and features that make the best bipod. This way, you can distinguish a great bipod from something that is considered unreliable and crappy in quality. Here's what you need to look out for:
Price
As always, we begin with the price tag. While it's not necessarily a characteristic or feature, it's something that will matter to a lot of budget shoppers. If you're on a budget, you'll still need to invest in the best quality and performance. Never settle for cheap and crappy quality just for the sake of saving a few dollars.
Quality
The best bipods are generally made with the best materials. They are mostly made from either high-quality steel or aluminum. The purpose of a bipod is to keep the Ruger 10/22 as stable as possible, which requires strong, durable materials. Plus, the better the quality, the longer it will last.
What Application Will it be Used For?
Bipods are used across many applications. Some of the most common applications include hunting, target shooting, and competitive shooting, to name a few. These applications require excellent stability for your rifle and in turn, achieves excellent accuracy for each shot you fire.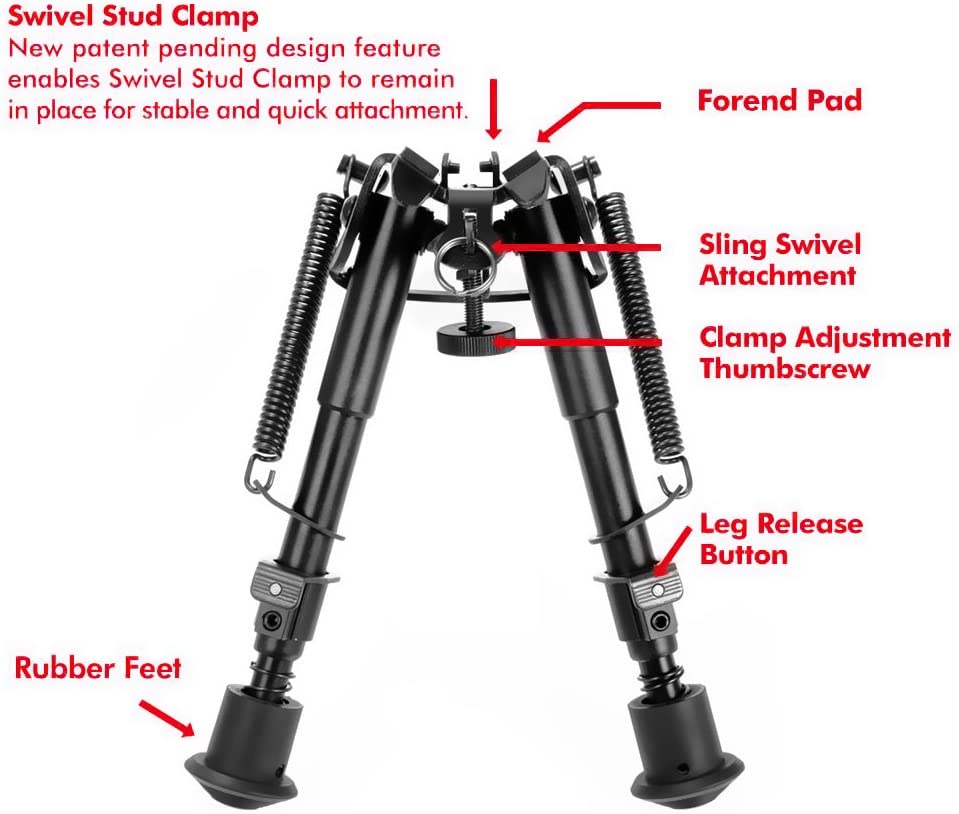 Benefits of Investing in a Quality Bipod
When investing in a new, quality bipod, you'll get to enjoy some pretty sweet perks. If you forego doing this, you'll miss out on quite a bit.
A bipod is a two-legged stand attached to the barrel of a rifle or any other heavy weapon. The main work of the bipod is to steady the weapon resting on it and hence, facilitate more balanced firing. Usually, the bipod allows you to fire in a comfortable position.
A bipod permits you to rest your weapon on any object, e.g. ground or wall. It reduces the chances of being fatigued, while at the same time increases your accuracy and stability. Bipods also allow you to aim accurately at your target before firing. This is made possible by the fact that most bipods have adjustable legs, which you can adjust to obtain a proper shooting position. Most bipods also allow you to tilt and rotate your gun from left to right to improve your accuracy. Here's what you'll get to enjoy:
Better Stability
Yes, the purpose of a great bipod is to make sure that your rifle is as stable as possible while you're shooting. The better the stability, the better chance you'll be able to hit your targets accurately. It doesn't matter what application you're using a bipod for, accuracy will always matter.
Can Handle Any Terrain
If you're hunting and the terrain tends to be a little bumpy, it can be a disaster for some bipods considered low in quality and disappointing in performance. The most solid and sturdy bipods can handle just about any rough terrain outdoors. So if you're on rocky ground or if the dirt tends to lump up in some areas, the best bipods can remain stable and continually support your Ruger 10/22 rifle.
Keeps Your Rifle Secure in Place
While stability is a must, making sure that the rifle stays locked in place is another vital feature. When attached to your rifle, a bipod will never allow it to fall out of place. So long as you have the rifle fastened in the right areas, you'll be able to quickly deploy your rifle almost anywhere, without having to waste time attaching and detaching every time you have to move from one place to the next.
Conclusion
Despite the Ruger 10/22 rifle having a high-end design, the likelihood of the rifle achieving accurate shots, particularly on uneven ground, is very low.
Users can try any of the four bipods reviewed above and choose one which will work best. Bipods offer a whole new experience to your hunting world.