When it comes to the world of semi-automatic rifles, the magazine is the equivalent of a muscle car's gas tank. It is the receptacle that holds the fuel that makes it go. In the case of the Ruger AR-556, that fuel is your favorite load or cartridge of 5.56 NATO ammunition.
The good thing about rifle magazines is that they are a lot more versatile than a gas tank. From extended drum magazines that can hold fifty or more rounds to five round mags designed for hunting, it is possible to choose a magazine perfectly suited to your needs.
Scroll down to learn more and to see the best Ruger AR-556 magazines on the market today!
At a Glance: Our Top Picks for Ruger AR-556 Magazines
Comparison of the Best Ruger AR-556 Magazines
IMAGE
PRODUCT

Our Top Pick

Easy to Disassemble Without the Use of Tools
Reliability and Durability Proven Through Years of Tactical Deployment
Ergonomic Gripping Surface is Textured and Flared Floorplate Enables Easy Handling

View Latest Price →

Best Budget Option

Optional Window and System to Index Load Status
Includes a Pop-Off Dust Cover to Minimize Debris Intrusion
Industry-Leading Four-Way Anti-Tilt Follower for Maximum Reliability

View Latest Price →

Comes With an Anti-Tilt Follower for Jam-Free Operation
Feed Lips are Made of PTFE-Coated, Hardened Steel for Maximum Durability
Translucent, Round Counter-Marked Body Lets You Index Remaining Rounds

View Latest Price →

High-Capacity, Double-Stack Mag for Extra Firepower
Easy, Tool-Free Disassembly for Cleaning and Maintenance
Top-Quality Springs are Corrosion-Resistant and Require No Lubrication

View Latest Price →
What to Watch For When Buying a AR-556 Magazines
As with any aftermarket firearms part or accessory, there are a few important things to watch out for when shopping for AR-556 magazines. One of the most important things to keep an eye on is legality. Not all magazine sizes are legal everywhere so make sure to be certain of the laws and regulations in your area before buying any Ruger AR-556 magazines.
It is also important to remember that a bigger capacity isn't always better. Finding a good medium between capacity and performance is usually best for most shooters. Use the following tips and information to help get you started.
This Section Written By: Brian Belko
Expert Author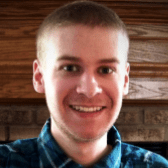 Brian is an experienced freelance writer and technical writer who has previously written for publications such as Wide Open Spaces, Bigfoot Gun Belts, Alien Gear Holsters, and Kampgrounds of America. He brings both a passion for writing and a love of the outdoors to his published content.

Aside from writing and the outdoors, Brian enjoys gardening, being a co-host on The Nostalgia Blast Podcast, and learning to code.
Considering Capacity
As mentioned above, the capacity of a magazine is an important factor to consider. It can be really tempting to go for one with a high capacity such as a 60 round magazine. If that suits your needs, then go for it! However, just keep in mind that a Ruger AR-556 magazine that big can be a pain (literally and figuratively) to load and has more potential to jam. Most recreational shooters tend to find that 30 round magazines are the sweet spot for efficient shooting, reliability, and ease of reloading. Smaller capacity magazines are great for hunting purposes and in areas where larger ones are outlawed.
Following Up
In a magazine, the follower is the flat piece attached to the top of the magazine spring that pushes the remaining cartridges upwards as the rifle is fired. Make sure to look for aftermarket magazines for your AR-556 that have an anti-tilt follower. This is a feature that makes jams less likely and will keep you shooting as quickly as you want to.
Materially Speaking
The two main materials that Ruger AR-556 magazines are made from are polymer and metal. Polymer magazines are lightweight and durable, but some shooters prefer the strength and feel of metal magazines. This decision really comes down to personal preference. If possible, at least handle magazines made from both materials and see what feels better to you. This choice might even come down to what looks better in your rifle and there is nothing wrong with that. There is no inherent winning choice here.
Count Me In
If you are a tactical or competition shooter, or simply prefer being able to quickly check your round count, you will want to go with a magazine with a feed counter or a translucent body. Either one of those features will allow you to quickly assess how many rounds you have already fired and how many you have left.
Review of the Best Ruger AR-556 Magazines
Magazines can be deceptively simple, but there are key features to look out for. Follow our guide for the best magazines for your Ruger AR-556
Magpul PMAG 30 5.56x45mm Magazine, 30 Round Capacity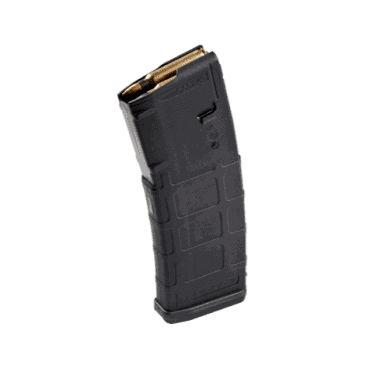 We may earn commission from purchases made from our links, at no additional cost to you
Review
When Magpul started in 1999, its first product was a simple magazine reloading aid. Since then it has come to dominate the modern sporting rifle accessories market.
PMAGs have established that domination in the magazine field. A 30-round, Gen-2 PMAG is a classic, rock-solid, and affordable choice. These magazines are built of an advanced polymer that resists impact and crush damage. The internal geometry features a constant curve to guarantee smooth feeding.
The follower design sets PMAGs apart from many of their competitors. It features an anti-tilt and self-lubricating design for maximum reliability. Behind it is a stainless steel, corrosion-resistant spring that fits in military issue mags.
Speaking of ergonomics, the PMAG has a textured gripping surface and a flared floorplate for quick and easy handling and very positive magazine extraction. Disassembly is easy and does not require any tools. These have more than proved their salt through plenty of military and law enforcement use over the years.
Bottom Line
The Magpul Gen-2, 30-round PMAG is a classic no-brainer choice. Used with confidence by the pros, this is an iconic product and is perfect for an AR-556. The top features of this product are the anti-tilt, self-lubricating follower, the flared floorplate, and the easy disassembly. The lower price than other models will be a major perk to many.
Pros
Easy to Disassemble Without Tools
Anti-Tilt and Self-Lubricating Floorplate
Easy Handling and Positive Extraction With Textured Surface and Flared Floorplate
Popular Among Military and Law Enforcement, Proven Reliability in Real-World Situations
Cons
Lacks the Extra Features or the Gen-3, but Cheaper
Magpul – AR-15 30rd PMAG Gen M3 Magazine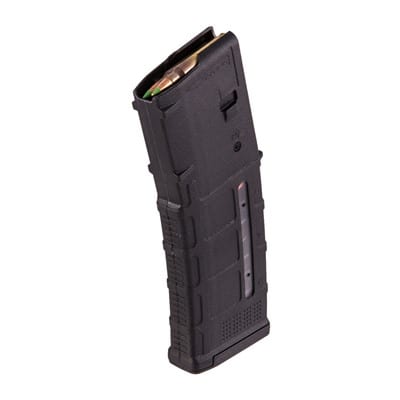 We may earn commission from purchases made from our links, at no additional cost to you
Review
The Gen-M3 PMAG has all the benefits of the Gen-M2, with a few tweaks and updates. Magpul used plenty of military and law enforcement operator feedback to increase the PMAG's strength, reliability, and versatility.
First, the Gen-M3s feature additional reinforcement for the feed lip and mag catch areas. The follower has been redesigned to guarantee four-way anti-tilt and smoother feeding, even when exposed to sand and dirt. The removable floorplate is thinner and stronger, making side-by-side carry easier.
The Gen M3s are available with a clear polymer window, numerical markers, and a high-visibility indicator coil on the spring so you can check your load status. A special bolt catch notch at the back provides improved clearance from the bolt catch.
Even the texturing has been updated to be more aggressive for more positive handling. The lower panel of the body features a paint pen dot matrix for labeling. Like the Gen-M2, disassembly and cleaning are easy and tool-free.
These are ingeniously designed to be compatible even with non-AR-style rifles like the HK M27, SA-80, or FN SCAR. They accept 5.56 NATO, .223, or 300 AAC Blackout ammo.
Bottom Line
It's hard to beat a PMAG. The top features of the Gen-M3 are the highly-engineered reliability, wider compatibility, and an optional indexing window.
Pros
Made in the U.S.A.
Available in 3 Colors
Also Compatible With Certain Non-AR-Style Rifles
Four-Way Anti-Tilt Follower Provides Bomb-Proof Reliability
Comes With a Handy Pop-Off Dust Cover to Keep Grit and Dust Out of Your Mag
Indexing Window Allows You to Quickly Check How Many Rounds You Have Left
Cons
Buying PMAGS Can Be Addictive
3. Lancer Systems – AR-15 L5awm Magazine 30-RD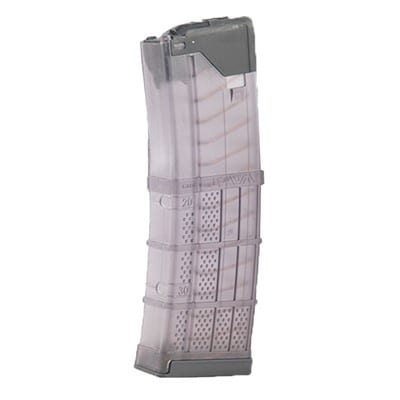 We may earn commission from purchases made from our links, at no additional cost to you
Review
Lancer is a Pennsylvania company that was founded in 2006. They specialize in engineering advanced materials and military equipment. Cutting-edge polymers are one of their specialties. We're talking some next-level space age stuff.
This pedigree is reflected in their AR mags. The L5AWM can rival PMAGs in how intricately well-engineered they are. It is constructed of a light, molded translucent gray polymer so that you can quickly index your number of remaining rounds. Round count markings are molded in.
It also has a non-reflective textured exterior that offers decent grip. The internal geometry is a constant curve for smooth and reliable feeding. The feed lips are PTFE-coated, hardened steel, about as durable as they come. The baseplate is made of a textured polymer giving you a positive grip.
The entire magazine is low-profile, allowing it to be used with standard mag pouches. The follower is designed to be anti-tilt. If you're shy of polymer, rest easy knowing that the entire device has been tested for use in temperatures from -50F to +180F and for drops from five feet onto a hard surface. Design, tooling, manufacturing, and assembly are all domestic. These products are covered by a lifetime guarantee.
Bottom Line
This is a top-shelf, 30-round magazine with pretty much every feature you could ask for, especially the tough feed lips and translucent material.
Pros
Covered by a Lifetime Warranty
Complete Development and Manufacture Process Take Place in the U.S.A.
The Feed Lips are Made of Extremely Durable PTFE-Coated, Hardened Steel
Round-Counter Marked, Translucent Polymer Body Allows You to Instantly See How Many Rounds You Have Left
Cons
On Some Setups, the Bolt May Not Lock to the Rear After the Last Round
4. Surefire – AR-15 60rd Magazine
We may earn commission from purchases made from our links, at no additional cost to you
Review
If you don't mind the extra weight, why use a 30-round clip when you could go with a 60? Surefire has been making high-end firearms equipment in California since 1979. This double-stack mag gives you twice the firepower before needing to reload.
It is compatible with all firearms that can accept a STANAG 4179 spec mag. With its 1.66-inch, hard-anodized, mil-spec aluminum walls, this item is lower-profile than any two 30-round mags clipped together, but the length is similar. It fits well in most dual-mag pouches. It is designed to be mechanically simple to increase reliability.
The long-lasting, cadmium-coated coil springs are non-binding, corrosion-resistant, and require no lubrication. Disassembly is easy and does not require tools. One unique feature is the ability to easily seat this mag, fully loaded, on a closed bolt.
Surefire claims that it can be stored fully loaded for extended periods without spring fatigue, but personally, I wouldn't push my luck. I'd treat this feature more as an insurance policy in case you accidentally leave it loaded.
Bottom Line
This is a great, low-profile 60-round mag if you need the firepower and don't mind the extra weight. The top features are the capacity, the high-quality springs, and the easy disassembly.
Pros
Made in the U.S.A.
Can Be Stored Loaded for Extended Periods
Springs are Top-Quality, Corrosion-Resistant, and Don't Require Lube
Provides Sixty Rounds of Firepower While Maintaining a Lower Profile Than Two 30-Round Mags Clipped Together
Cons
Does Not Have an Anti-Tilt Follower
May Not Store Well When Loaded Long-Term
Will Weigh Much More When Loaded Than a 30-Round Mag
5. Brownells – AR-15 30rd Magazine SS
We may earn commission from purchases made from our links, at no additional cost to you
Review
Brownells is one of the country's biggest firearm and firearm accessory dealers. As such, they have concrete market data on what shooters want and need from components such as magazines. Brownells engineered a lot of their own products based on this inside knowledge.
Their 30-round aluminum AR-15 mag is a good example. Brownells had these designed for maximum reliability while keeping military-issue mags in mind. The design and construction are rigorously mil-spec and adhere to various ISO manufacturing standards. The body is heat-treated and welded for maximum strength.
If you don't trust modern polymers for whatever reason, this is the product for you. The welded construction also provides more space inside for longer loads. The aluminum is hard-anodized in military gray for protection. This can leave a finish that is as strong as tool steel.
It features a dry lube coating that negates the need for other lubes, which can stick to grit and grime, impeding operation. The follower is a mil-spec glass-fiber reinforced composite unit. Brownells constructs these mags in the U.S.A. and guarantees them forever.
Bottom Line
These mags are a great option if you're going for a classic military look. The top features are the dry lubrication and the rock-solid body. The warranty doesn't hurt either.
Pros
Made in the U.S.A. and Covered by a Lifetime Warranty
Design and Manufacture Rigorously Meet Military Specifications and ISO Quality Standards
Hard Anodization and Dry Lube Finish Negates the Need for Other Lubricants That Can Attract Grime
Cons
Follower is Not Anti-Tilt, Springs Tend to Rust
How to Care for Magazines
Some models are marketed as able to be stored loaded for extended periods. Nevertheless, it's probably best not to do that, especially if you don't know or remember what your magazines were rated for.
Like pretty much any mechanical component, they need to be cleaned occasionally to get rid of the dust and grime. The best way to do this is to fully disassemble the magazine and wipe down each component. Most magazines are disassembled by removing the floorplate. Some, like military issue steel mags, may require tools to disassemble.
Some manufacturers coat their components with permanent lubricants and anti-corrosion compounds. Others need to be lubricated from time to time, so check the instructions or manufacturer's website to find out what your product needs.
Dust covers are available for many models. They help to limit maintenance and extend the life of your product. Whether you use dust covers or not, keep them clean and lubed and they should last for many years.
Why Do You Need More Than One Magazine?
Whether you find yourself enjoying a chillaxed Sunday at the range or under a hail of AK fire somewhere between Mogadishu and Kandahar, the more extra mags you have on hand, the better your day will be. Why burn sunlight at the range reloading, when you should be maximizing your shooting time? Range time is an investment in training and we should always maximize our investments.
Carrying various magazines loaded with different types of ammo can be useful on the range when honing skills or out in the real world, allowing you to choose the right ammo for the situation.
If you are deployed to Fallujah, Kabul, or Detroit and fall into an ambush, the more firepower, that is, the more magazines you have, the better.
Whether on the range or doing social work, a backup set of ammo or two always comes in handy.
Qualities of our Favorite Magazines
Here's how to spot a top of the line magazine:
Design
The best mags are durable and reliable. They are constructed of top-quality materials, are well-built and undergo rigorous quality control. The feed lips especially need to be well-designed to withstand use and abuse without losing the ability to feed rounds consistently.
Compatibility
Good magazines will work in any AR-style rifle, at least those of a certain caliber like 5.56. They will allow the bolt to lock open after the last shot and they will eject smoothly and easily.
Follower
Follower design is key to a well-functioning magazine. The keyword to look for is 'anti-tilt'. Without it, jams are a lot more likely to occur.
Feed Counters
Feed counters or translucent mags are handy to have to quickly index how many rounds you have left, especially in tactical or competition situations.
Reliability
Reliability is number one when it comes to mags, but a few simple features like round counters or even tactile surfaces come in handy too.
Conclusion
As with so many firearm components, there have been many different technological breakthroughs in magazine design since AR-style rifles were first introduced. This gives you a plethora of options and price points when choosing mags. Whatever you're looking for, our guide has you covered.