A Ruger LC9 is a small semi-automatic pistol that's ideal for conceal carry. Coming at only 6 inches long and 4.5 inches high, this firearm can be deemed a pocket pistol and it is very discreetly hidden with the right holster. There are a lot of options available when looking for a holster, from leather to nylon, pocket to in the waistband. Before you decide which is the right one for you from the best Ruger LC9 Holster Reviews, let's take a closer look at holsters in general.
What to Look For in a Holster
There is no one holster that is right for everyone and their pocket guns. You need to decide which conceal carry pistol holders meet your needs—do you require thumb safety, a grip frame, key lock belt clip, or internal lock? The list of safety features and requirements is endless. Here are some tips to help you figure out how to go about choosing the right one:
Holsters typically come in leather or molded plastic. There are pros and cons to both. Leather holsters need some time to break in but, when they do, they stretch and conform to the shape of your firearm and your body perfectly. They'll only get more comfortable as time goes on. On the other hand, plastic holsters are heat molded and won't stretch so are fairly comfortable from the get go, but they can break or crack eventually after some wear. Plastic can grip and hold your gun in place a little better than leather can.
Consider how much retention you need. Retention basically means keeping the gun in the holster. Some holsters are open topped and the gun can be easily removed without much interference. Others have a strap to help keep the firearm inside the holster. Your gun should fit snugly into your holster without one but if you're someone who is particularly active and worried about it falling out, you can definitely try one with a strap.
IWB holsters, or those that go in the waistband of your pants, are really good at concealing your weapon. They can be uncomfortable because they're constantly rubbing against your skin. Should you choose an IWB holster, keep in mind you'll need to wear pants that are an inch or two bigger around the waist to leave room for the holster.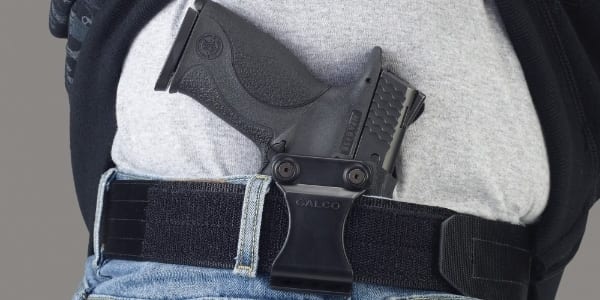 OWB, or on the waistband, are a very popular type of holster. Typically, the gun will be slanted slightly forward so it's a little easier to conceal under your shirt.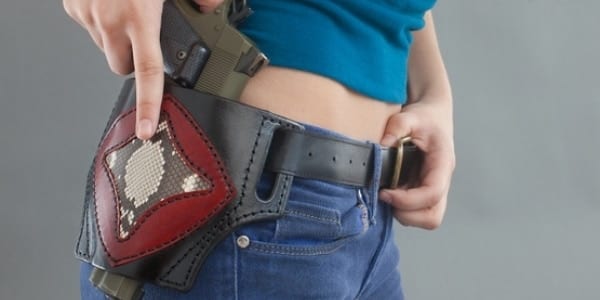 An ankle holster is an option that offers the potential to be a little uncomfortable, depending on how it is strapped to your ankle bone. The gun is hidden under your pant leg so it's a little bit harder to get to than with some other holsters.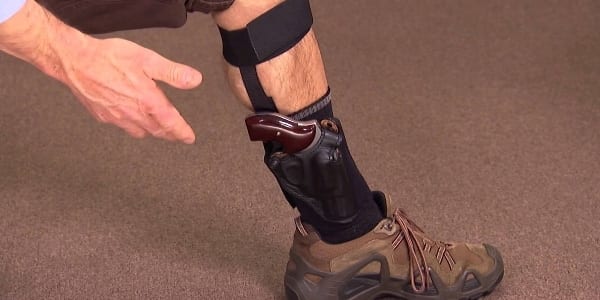 The Best Ruger LC9 Holsters
Here are some of the best holsters available for your Ruger LC9:
Sticky holsters are IWB holsters that use the pressure of your waistband to hold the holster and the gun in place. There's no clip, loops, or hook. It has an innovative outer layer that is designed to stick to your skin, waistband, and undergarments. You can also modify the original design slightly so you can carry in your pocket or on your ankle.
The outside is the "sticky" material has a non-slip coating and will grab onto just about anything once some pressure is applied. The inside is covered in foam and a special liner that snugly holds onto your Ruger LC9. The longer you use it, the more it will conform and reshape to fit your body and your gun. Like your LC9, this holster is discreet and lightweight.
                Click Here to Read Customer Reviews + More Details
This is a pocket holster with an outer layer made of a tacky rubber-like material. When you reach into your pocket to pull out your gun, the holster stays in place due to its stickiness while the slick nylon interior allows the gun to come out smoothly. The exterior is also waterproof, so any sweat or moisture that builds up in your pocket won't get in and affect your firearm.
This is a durable holster, strengthened by the double stitched edges. While it's soft and flexible, it's also very thick and sturdy, without turning your compact pistol into something big and bulky. It comes with an optional flap that is attached with a hook and loop closure.
Click Here to Read Customer Reviews + More Details
This holster is available for left and right handed gun owners who are looking for an IWB holster that's exceptionally lightweight. It's made of a four-layer laminate and has an internal moisture barrier so it will keep any perspiration or moisture away from your Ruger LC9. Although the Ruger LC9 is a really durable and rugged weapon, it's definitely best to keep it safe from damage whenever possible and this holster will do just that. It's comparable in thickness to holsters made from suede leather. The steel belt clip fits can be placed in whatever position you feel comfortable—strong side, cross draw, or in the small of your back. It conceals really well, is easy to put on and take off, and comfortable to wear. You really can't ask for more from a holster.
Click Here to Read Customer Reviews + More Details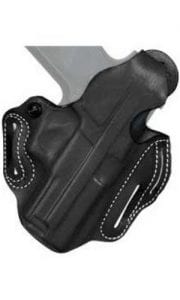 DeSantis Thumb Break Scabbard Holsters are made specifically for individual models, so this will fit your Ruger LC9 like a glove. It holds snugly onto the firearm, so you don't really need any retaining straps. It's made of bonded leather, which needs a little time to break in but will eventually be a perfect fit. A great feature of this holster is the adjustable tensioning screw that allows wearers to set the tension to get the kind of draw they like.
There are three slots that you can feed your belt through on this holster which allows you to position it at two different angles. This is a great choice for a lot of reasons, but its ability to be customized to the user's preferences puts it over the top.
Click Here to Read Customer Reviews + More Details
What's Best for You
There's no right answer as to which is the best holster for your LC9. It really all boils down to preference. You do have a lot of options when it comes to where on your body you like to carry, what kind of material you prefer and which one works best with your draw. Choose the one that feels right and will keep your Ruger LC9 safe and adequately concealed.