When most shooters or hunters think about shotguns these days, semi-auto and pump-action models are the first things that come to mind. Considering their popularity and utility, that isn't at all surprising. However, single shot shotguns should not be completely forgotten.
While they are undoubtedly less versatile than their rapid firing cousins, the single shot shotgun still maintains enough utility to earn a spot in any arsenal. Keep reading to learn more and to see the best single shot shotguns available on the market today
At a Glance: Our Top Picks for Single Shot Shotguns
Comparison Chart of the Best Single Shot Shotguns
IMAGE
PRODUCT

Our Top Pick

Crisp and reliable break action with a modern synthetic stock
Hammer block safety and forearm release for easy disassembly
Durable construction, modified choke and soft buttpad

View Latest Price →

Adjustable buttplate and comb height for precision applications
High post ventilated floating rib with ivory front sight
Impressive appearance and ideal for trap shooting

View Latest Price →

Durable steel construction with a walnut stock with pistol style grip
Rebounding external hammer and pivoting locking lever safety
Long 28 inch barrel makes it suitable for sports and hunting

View Latest Price →

Classic design with a checkered synthetic stock and forend
Available in full and compact lengths plus various gauges
Inexpensive shotgun perfect for beginners and buyers on a budget

View Latest Price →

Synthetic stock with removable extended buttstock to adjust length
Features a top picatinny rail for scopes and a side shell holder
Also comed with a modified choke. Good optics aided hunting

View Latest Price →
What to Watch For When Buying a Single-Shot Shotgun
With all of the innovations that continue to arise in the world of firearms, it is easy to get swept up in the latest and greatest options. However, new and improved don't always matter the most. In some circumstances, going back to the basics provides a better result.
Single shot shotguns tend to live in this space. Often overshadowed by other action styles or merely overlooked as being too simplistic to matter, single shot shotguns are still incredibly useful and worth considering as an arsenal addition. Knowing which features to prioritize is important when shopping for a single shot shotgun. The following tips and information are a great place to learn more and begin your shopping journey!
This Section Written By: Brian Belko
Expert Author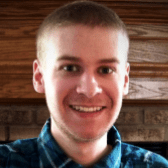 Brian is an experienced freelance writer and technical writer who has previously written for publications such as Wide Open Spaces, Bigfoot Gun Belts, Alien Gear Holsters, and Kampgrounds of America. He brings both a passion for writing and a love of the outdoors to his published content.

Aside from writing and the outdoors, Brian enjoys gardening, being a co-host on The Nostalgia Blast Podcast, and learning to code.
Shaking Misconceptions
In today's firearms world, there is a fairly common misconception that single shot shotguns aren't very useful beyond things like occasional pest control and teaching someone new to shoot. Images of a rusty single shot shotgun collecting dust in the corner of a barn or the back of a gun cabinet tend to come to mind. However, that isn't really true. A single shot shotgun can be effectively used for hunting everything from rabbits and upland birds to turkey and deer, basic home defense, and even skeet shooting.
Tap the Brakes
One of the biggest cons of a single shot shotgun to most shooters is the length of time between follow-up shots. Some types of hunting and shooting require the ability to quickly fire follow-up shots such as duck hunting or 3-gun shooting.
Single shot shotguns won't be the best option for those cases. However, there is something to be said about the methodical shooting style that a single shot shotgun demands. The knowledge that a quick follow-up shot isn't possible forces hunters and shooters to slow things down and remain patient while waiting for that one ideal shot. In today's fast-paced world, slowing things down when on the hunt or at the range isn't a bad thing by any means.
Price and Practice
Compared to pump action and semi-auto models, single shot shotguns can be much more affordable. This isn't surprising when you consider the minimal amount of moving parts and material it takes to make a single shot shotgun. This is why they make for a great first shotgun for young hunters and why they should be a part of just about every hunter's arsenal. If the comparatively slow reload speed is giving you pause, just keep in mind that with some dedicated practice, you'll soon be surprised at just how smoothly you can reload. Slow is smooth and smooth is fast.
Review of the Best Single Shot Shotguns
While a single shot shotgun will be resting around in your gun safe for most of its life span. It is also imperative to choose the best one of yourself for unmatched performance relevant to your intended use. Check out these very popular and efficient single-shot shotguns and find one for yourself.
Savage Arms Stevens 301 Single Shot
We may earn commission from purchases made from our links, at no additional cost to you
What Recent Buyers Report
Users reported the impressive aesthetics and accuracy of this weapon. It patterns perfectly and is a great 40-yard gun. People didn't really report any disadvantages for this shotgun, especially at this price point. This is a practical hunters shotgun and features a very durable and comfortable design
Why it Stands Out to Us
The Stevens 301 is a full-size single shot shotgun that can be a perfect substitute for 12 gauge shotguns for precision shooting applications like hunting. The stock is made from synthetic material and won't get damaged under inclement conditions. The long barrel helps with accuracy and offers good swing for hunting fast-moving targets. The forearm release facilitates very easy disassembly of the weapon. Plus the chambering to accept 3" shells makes it very powerful and matches the prerequisites for bringing down heavy game.
Bottom Line
The Savage 301 lets you experience the thrill and class of shooting a retro single shot shotgun without worrying about the need to protect its finish. It is a very affordable and accurate weapon perfect for hunting upland birds or game like deer.
Pros
Chambered for 3" shells
Lightweight design (weighs only 5.6 lbs)
Soft recoil pad and modified choke assembly
Durable synthetic stock withstands the toughest conditions
Long 26-inch barrel for accuracy and utilizing the maximum potential of ammo
Browning BT-99 Micro
We may earn commission from purchases made from our links, at no additional cost to you
What Recent Buyers Report
While the reviews seem scarce to find, those using this shotgun seem baffled by its performance and features. Even being a 12 gauge, this shotgun has amazingly low recoil. The shotgun can be adjusted to suit an individual and the aesthetics are truly impeccable.
Why it Stands Out to Us
The Browning BT-99 is showcased on the top of this list. But it's price isn't bearable for most people looking for a single shot for casual use. This is a shotgun for pro shooters or people looking for the ideal shooting apparatus to hone their sporting skills. The shotgun has an adjustable buttplate and combs to suit different situations and shooters. The vent rib barrel helps with accuracy and portability. The BT-99 allows the user to interchange choke tubes for different applications. It is also covered by a growth insurance program to cover your purchase for a longer-term.
Bottom Line
The BT-99 is an expert shotgun perfect for trap shooting sports. The adjustable design, impressive aesthetics, and finish make it a high-quality single shot shotgun. The price is high but suits its features. It is truly a professional's gun.
Pros
Specially built for trap shooting
Impeccable fit finish and aesthetics
Great shotgun for youth/small-statured shooters
Adjustable buttplate (LOP & angle) and comb for perfect fit
Ideal accuracy, recoil, and performance. Designed for pro shooters
Cons
Fairly expensive for casual use
Best Henry Single Shot Shotgun
Henry Single Shot 28″
We may earn commission from purchases made from our links, at no additional cost to you
What Recent Buyers Report
The Henry single shot is very well built and will last a lifetime. The gun is very reliable and people have reported shooting it continuously for hundreds of rounds straight without a single issue. The action is very smooth with low recoil and reliably ejects all shells.
Why it Stands Out to Us
Firstly, this gun is made in the USA, so the quality and level of pride associated are too high. Secondly, this gun has been made by Henry. A company that has been churning out quality weapons for an eternity now. This shotgun features beautiful aesthetics and a very reliable action that'll eat up hundreds of rounds without a hitch. Disassembling the gun is very easy and the rebounding hammer safety is a good feature. The finish looks very classic and the gun swings really well, thanks to the long barrel. This shotgun is comparatively heavier than its counterparts, which helps it to mitigate recoil really well.
Bottom Line
With all this reliability and performance, the price of this gun is a complete no-brainer. Users rate this gun to be an amazing single shotgun for the price or even otherwise. The gun is very accurate, with easy maintenance and storage.
Pros
Thick solid rubber recoil pad for comfort
Comprehensive safety for secure operation
Beautiful shotgun with a long 28-inch barrel
Easy to disassemble without removing forend
Screw-in choke tubes and ejectors for quick reloading
Cons
Finish needs care and attention
A tad bit heavy (but helpful for countering recoil)
Best 20 Gauge Single Shot Shotgun
ATI – Nomad Single Shot Synthetic Stock
We may earn commission from purchases made from our links, at no additional cost to you
What Recent Buyers Report
The gun is great for its price and shoots everytime you pull the trigger. The quality of construction is very good and the shotgun works as expected. Some users did have a difficult time with the initial break-up of the gun. However, the issue was not persistent and swayed away after a few shots.
Why it Stands Out to Us
Purchasing this ATI single shot is like buying lunch for your friends at an inexpensive but good restaurant. You'd get what you pay for and won't even remember spending the money. At a cost less than your monthly coffee expenditure, this is an amazing shotgun for casual uses. People who like retro firearms and classic designs will love this shotgun due to the exposed hammer. The stock and forend are made from durable synthetic material and checkered for a good grip. The shotgun looks cool and runs fine. Weighing at about 5 pounds, this shotgun is great for hunting upland birds and small game for sport or bringing food to your table.
Bottom Line
The Nomad is an inexpensive shotgun with a classic exposed hammer design. The components are durable and the gun is very easy to disassemble. The shotgun is great for beginners and hunting small to medium-sized game and birds.
Pros
Durable synthetic stock and forend
26" barrel offers good swing and pointability
Exposed hammer for retro experience and safety
Super affordable pricing. Great for newbie/young shooters
Best 410 Single Shot Shotgun
Rossi Single Shot Tuffy .410ga 26″
We may earn commission from purchases made from our links, at no additional cost to you
What Recent Buyers Report
Rossi Tuffy is a great shotgun for newbie shooters or for eradicating vermin and small game. The shotgun looks very cool and allows the user to mount optics for assistance with accuracy. The gun is quite inexpensive and has a durable build. People have mostly bought it for their kids who have just started learning.
Why it Stands Out to Us
The .410 is a youth caliber and these shotguns are often used to introduce young shooters with the basics of a shotgun. The Rossi Tuffy features a virtually indestructible design and a cool-looking ergonomic stock to impress anybody. The top rail offers space to mount optics if needed, and the removable side shell holders let the user carry extra ammo and not lose it. Also serving as a backup for quick reloads.The shotgun has a long 26-inch barrel and is projected as a turkey shotgun. It is undoubtedly a weapon purely designed for hunting and casual shooting. The gun itself is very lightweight and recoil is not a question for .410's.
Bottom Line
The Tuffy is an amazing single shot shotgun chambered in .410 bore. The shotgun is very customizable and looks cool. The long barrel doesn't compromise on performance and the spacer allows it to grow with the child.
Pros
Unique, durable and ergonomic stock
Tuffy buttstock can be altered for LOP
Most customizable single shot on this list
Top picatinny rail and side-mounted shell holders
Ideal for young shooters to learn hunting/handling basics
When Would I Use a Single Shot Shotgun
Clay Shooting Sports
Single-shot shotguns can be perfect and are often used for clay shooting sports. While o/u's are a more common choice, single shots also have their own place in the hearts of shooters. These shotguns commonly have a long barrel to aid with swing and accuracy. Plus they can be mounted with chokes to check the spread.
Scaring Off Animals
Another very uncommon use of single shots can be fire blank shells to fend off animals. This can be useful if you live in rural or hilly areas and expect predators or harmless animals to visit often.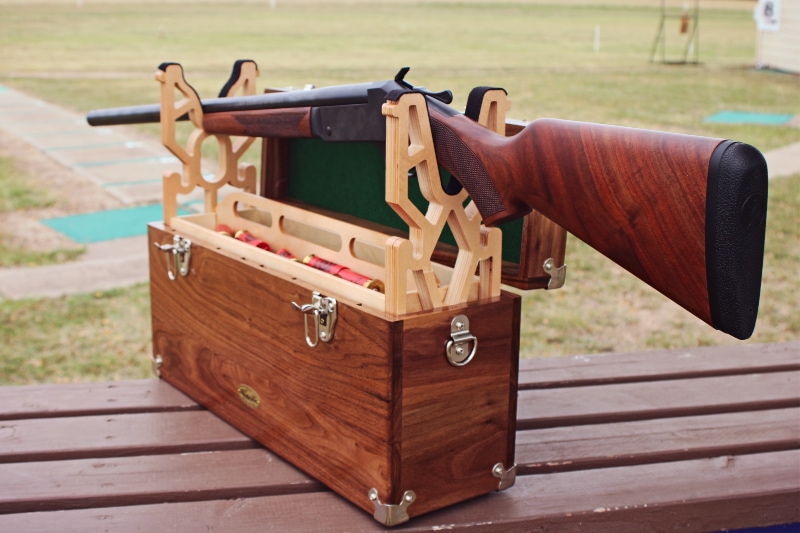 Hunting
Single shots are widely used for hunting, especially vermin and small game like rabbits or squirrels. These shotguns are enough for small, fast-moving game since you are very likely to get a single chance to fire before the target vanishes away.
Single-shot shotguns are also a great way to practice accuracy with shotguns.
Wood Walking/Survival
These weapons are great for wood walking because of their low weight. Which also makes it a good survival weapon while adventure trips or when you are stranded in remote areas. These guns are reliable and simple to maintain/service as well.
Are All Single Shot Shotguns The Same
While the basic applications and capacity are always the same, different models differ in several characteristics. Some single shot shotguns are more customizable and may allow you to add a rail or lights. Whereas some are expensive and more of a collectible. Some are very basic whereas others allow you to add chokes for versatility. Additionally, shotguns will also differ in gauge. Whilst the most common being 12, 20, 28, and 410.
With that said, shotguns will also differ in price and function. There are some models useful for more deliberate purposes like shooting sports as well.
Characteristics of Our Favorite Single Shot Shotguns
Affordable
Almost every shotgun included in our list is very affordable. Except for the one or two which are high-end products designed for advanced shooters.
Accurate and Reliable
The gun on our list features a long barrel which helps with accuracy and offers good swing to track and shoot fast-moving targets. These guns are utterly reliable and have ideal triggers to suit every application. Some even feature ejectors for easier handling.
Amazing Customer Support
The guns on our list are manufactured by renowned and trusted companies with prompt customer support. While not a necessary feature for these shotguns due to their simple and easy-maintenance design. This still counts as a plausible feature for making a purchase.
Lightweight
The guns on our list are lightweight, and the ones with a heavy caliber feature an appropriate weight to counter the heavy recoil. The weapons are great for carrying in the woods as hunting or survival weapon.
Advantages of Investing in a Quality Single Shot Shotgun
Finish and Function
These shotguns are like a vintage car, that's only taken out of the garage for flaunting. Investing in a good-looking shotgun serves this purpose really well. Additionally, single-shot shotguns are ambidextrous as it carries only one shell. The simplistic design of these guns makes them very reliable and almost immune to failure.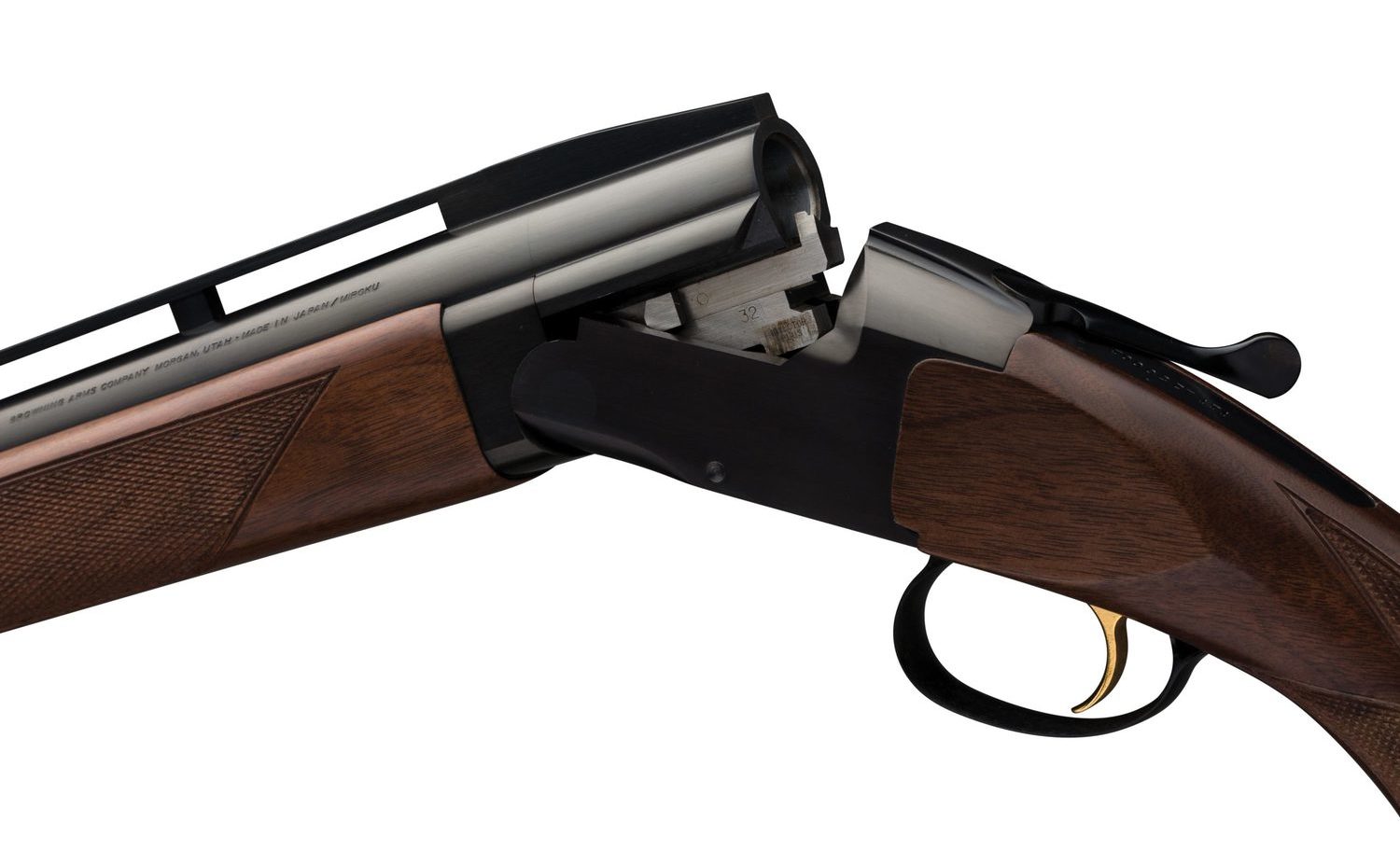 Browning BT-99 Micro
Honing Accuracy or Learning Basics
Single-shot shotguns are a great firearm to practice the 'one shot, one kill' principle. This helps you with improving your skills with shotguns and practice precision and accuracy. These guns are also great for teaching newbies the basics of handling shotguns due to their safe design and low capacity.
Lasts a Lifetime
With minimal moving parts and very simple design, these shotguns last for generations. A good quality single shot shotgun, if kept with care, can be a gratified heirloom for your future generations.
How to Disassemble a Single Shot Shotgun
Disassembling a single shot shotgun is the easiest among any handheld firearm. Since it contains the least number of moving parts and is just a plain barrel and a chamber. Let's check out the step by step process:
Make sure the shotgun is clean of any ammunition. Inspect manually and keep all spare ammo aside.




Now hold the barrel and apply downward pressure on the forend, attempting to pull it off. Single-shot shotgun friends don't have any screws or locking mechanism so it should come out after some effort.




Now push the break-open lever as you would when loading a shell. Work the barrel all the way down and slide it slightly rearwards towards the stock. It should come off.




You have your barrel and your action. For further disassembly, you should be very careful about the small parts.



Remove the recoil pad

and use a long screwdriver to unscrew the locking pin connecting the stock with the receiver. You may need a flashlight for that.




You shall see the action now. It is however not advised to disassemble the trigger since it can be really difficult to put it back without proper expertise.
You may refer to this video for more instructions.
Conclusion
A single shot shotgun is a very basic, but effective firearm for hunting, survival, sports and casual shooting. These guns are very reliable and simple to maintain. Plus, they are an affordable option to teach beginners the basics of shotgunning.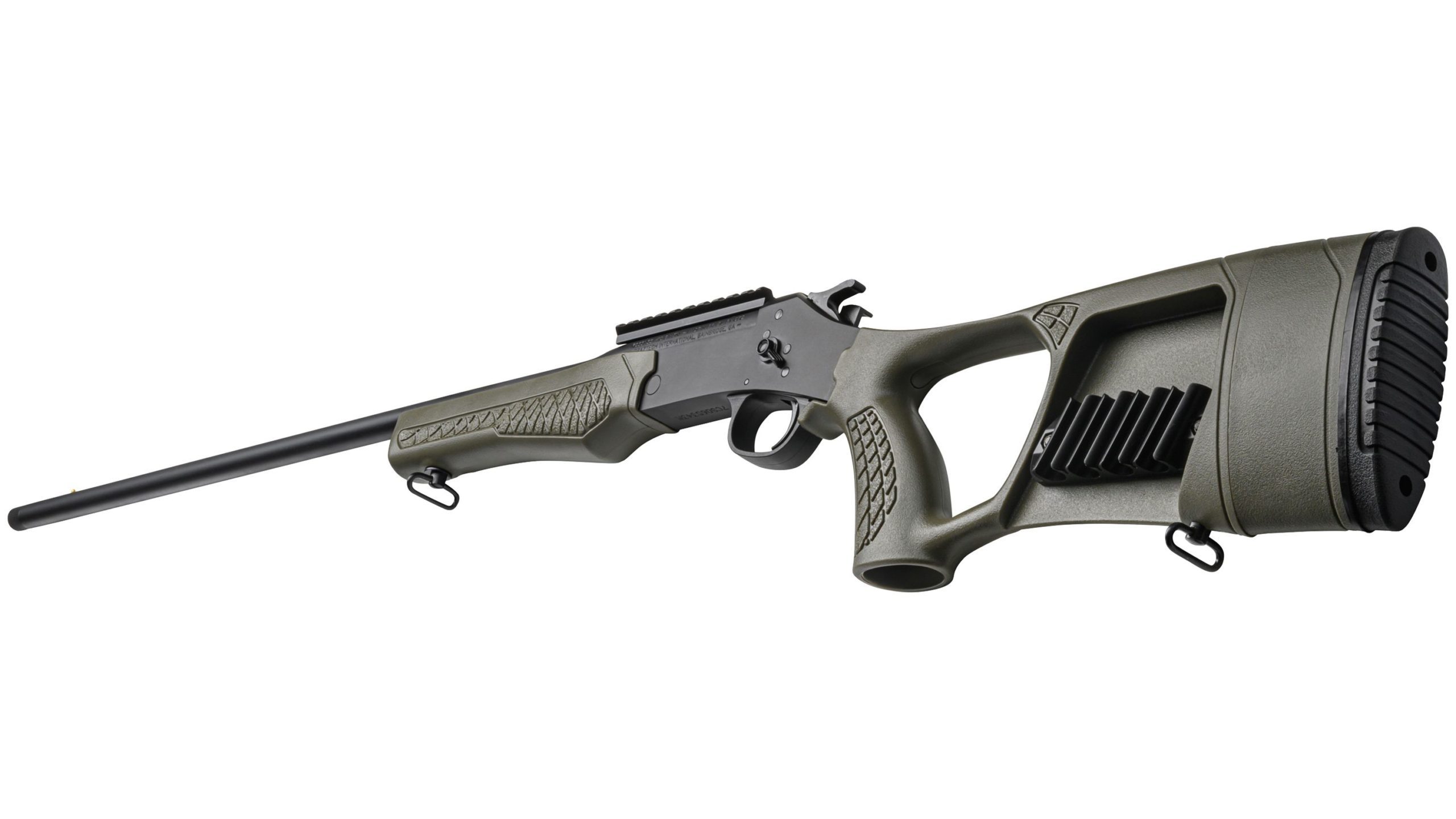 Rossi Single Shot Tuffy .410ga 26″
People Also Ask
Check out the answers to some common queries about these shotguns.
How to Measure a Single Shot Shotgun Barrel?
Make sure the gun is clear of any ammunition. Now take a dowel rod or a pvc pipe or any similar object with a diameter smaller than the bore of the shotgun. Insert the rod from the muzzle inside the barrel and gently push it all the way back until it stops going further. Mark the rod with a pencil/marker and pull it out. Measure the distance from the end of the rod to the mark. That's your barrel length.
Is a Single Shot Shotgun Good For Home Defense?
It is certainly better than having nothing at hand. The capacity and reloading times avert the single shot shotgun from being an effective home defense weapon. You have to be very sure that you won't miss your target in a single shot. Remember it's limitations and it may come in handy under some situations.
Where Are Midland Shotguns Made?
Midland shotguns are manufactured in Martinsburg, West Virginia. The company has its origins in 19th century England. It was later acquired by Parker-Hale in 1952 and then acquired by Val Forgett, Jr. The company is now owned by his son Val III and produces quality sporting arms.
Does H&R Still Make Single Shot Shotguns?
The production of H&R single shot shotguns was officially halted in February 2015. You can only find them now on resale websites. The major problem with current owners is the availability of parts and gunsmithing services.