Accuracy is of the utmost importance when shooting a gun in any situation. From hunting to target shooting and especially self-defense, being confident that fired shots will hit the intended target is vital. When used properly, laser sights offer shooters an edge in accuracy that can be the difference between a hit and miss. When the stakes are high, shooters want every edge they can get.
The Taurus G2C is a very popular handgun that benefits greatly from a laser sight. There are many different laser sight options available for a variety of needs and situations. Keep reading to learn more and to see the best Taurus G2C lasers of 2022!
At a Glance: Our Top Picks for Taurus G2C Lasers
Comparison Chart of the Best Taurus G2C Lasers
IMAGE
PRODUCT

Our Top Pick

Maximum range of 50 feet
Best overall Taurus G2C laser
Available in either red or green

View Latest Price →

Red laser sight
The battery life of six hours
Runner-up for best overall Taurus G2C Laser

View Latest Price →

Best Budget Option

Includes a built-in LED flashlight
Best Taurus G2C laser sight for the money
Green laser sight that is effective for outdoor use

View Latest Price →

Battery included
Ambidextrous control switch
Best green laser for a Taurus G2C pistol

View Latest Price →

Visible up to 100+ yards
Best red laser sight for the Taurus G2C
Housing made from high-quality material

View Latest Price →

Includes high mode and strobe mode
Best laser light combo for Taurus G2C lasers
The body is made from high-quality aluminum alloy

View Latest Price →
What to Watch For When Buying a Laser Attachment
It can be easy to get overwhelmed when shopping for a Taurus G2C laser attachment. There are a lot of options and styles which can make it difficult to make a final decision. It is important to know what to watch out for ahead of time. This knowledge will allow you to narrow down your options to those that will suit your needs best and to be confident in your buying decision.
Laser color, operation, and mounting style are three of the most important things to pay attention to. The following tips and information are a good place to start when in the market for a Taurus G2C laser sight.
This Section Written By: Brian Belko
Expert Author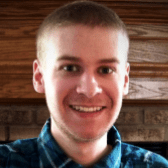 Brian is an experienced freelance writer and technical writer who has previously written for publications such as Wide Open Spaces, Bigfoot Gun Belts, Alien Gear Holsters, and Kampgrounds of America. He brings both a passion for writing and a love of the outdoors to his published content.

Aside from writing and the outdoors, Brian enjoys gardening, being a co-host on The Nostalgia Blast Podcast, and learning to code.
Color in the Lines
The two main laser colors that laser sights employ are red and green. This will be one of the main decisions you will have to make when buying a laser sight for your Taurus G2C pistol. Try not to stress too much about this decision.
While there are some differences in performance between the two colors, they aren't big enough to make you regret either choice. Green lasers do perform better in bright light conditions so if you do a lot of practice shooting at outdoor ranges during bright conditions, this is the way to go. Red lasers are especially effective at night or indoors and also tend to be more affordable. Think about your personal needs and decide accordingly.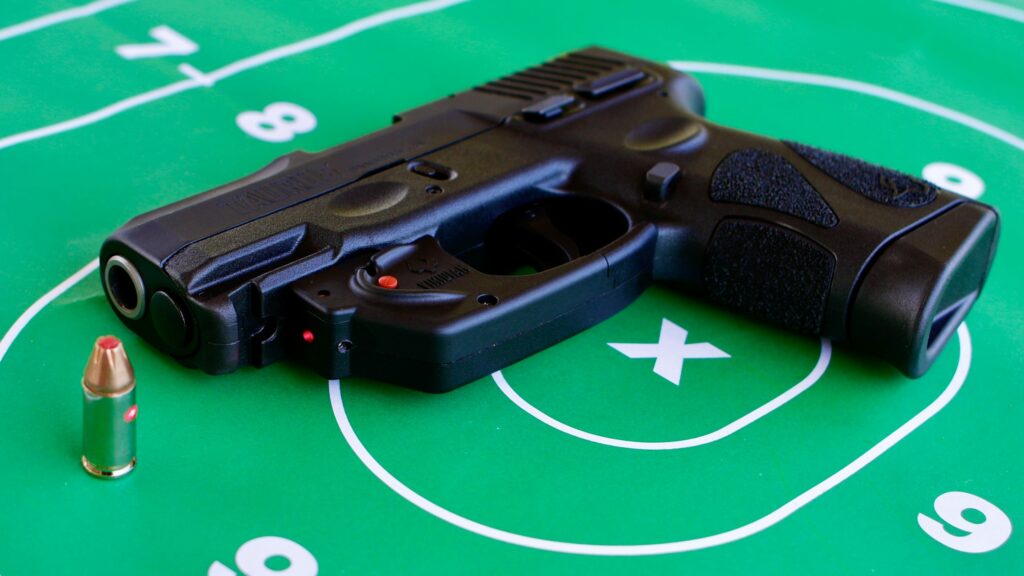 Operation Consideration
No laser will be useful to any shooter unless they can intuitively and quickly turn it on for operation. This means being comfortable and familiar with how it works and how it interacts with both the gun and individual shooting motion. Different laser sight options will have varying designs and methods of operation.
The best course of action here would be to try out various lasers before buying, but since this is typically difficult to do make sure to understand how the sights you are considering work. Then, once you have made a purchase, put in the time to practice with your new sight so that operating it becomes second nature.
Battery Matters
The fact that laser sights rely on batteries is another important thing to consider. This means buying a supply of extra batteries and periodically checking the laser to make sure the current battery is still good. This isn't a big deal. It just takes a little extra mindfulness. It is also important to stay comfortable and well-practiced with using iron sights just in case the laser sight fails for any reason.
Review of the Best Taurus G2C Lasers
The following is a list of the six best Taurus G2C lasers that are currently on the market. As you look through each one, you'll need to take notes on the characteristics and features of each one so you know whether or not it matches up with your ideal laser sight.
Because finding a "close enough" laser sight is a lot better than never finding one at all. Now, let's begin by taking a look at our "best overall" choice for Taurus G2C lasers:
ArmaLaser Taurus PT111 / PT140 Gen 2 Laser Sights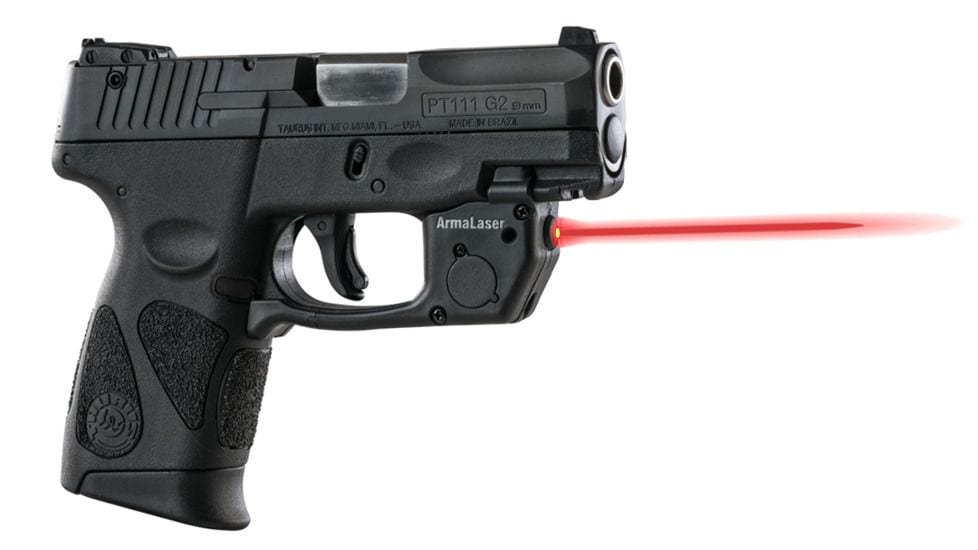 We may earn commission from purchases made from our links, at no additional cost to you
What Recent Buyers Report
A lot of recent buyers were satisfied with the laser sight. Regardless of the color, it has proven itself to be one of the best sights that you can find if you hold accuracy to a higher importance. Most users said that their shooting groups got noticeably tighter when firing at targets situated from as far as 50 feet out.
Why it Stands Out to Us
You have your choice of either a red laser or a green laser. Either way, it stands out to us in a few ways. One, it's easy to install. In fact, it's so easy a newbie can do it. Plus, it is one of the most accurate laser sights out there. Don't be surprised if your Taurus G2C pistol suddenly gets a lot more accurate once you've installed it.
Who Will Use This Most
This will be used the most depending on which laser color you use. If you're using a red laser, it will be used the most by those who are more indoor range shooters than outdoor types. This will definitely make its money in a self-defense application. Meanwhile, the green laser will work only in outdoor settings and will be used mostly by target shooters who are gearing up for their next competition.
What Could Be Improved and Why
One improvement that might be convenient for a lot of shooters would be to give them a dual option. This idea was floated by one of the recent buyers. In other words, give them the option to switch to red or green. They can use the setting depending on the environment that they are in.
For example, if you're in an outdoor setting in broad daylight you can switch to a green laser with one flip of the switch. Meanwhile, if you're firing targets at an indoor range that's when switching it to a red laser will be ideal.
Bottom Line
If you're looking for an excellent sight that will be effective in its specific settings, then the ArmaLaser laser sight will definitely work to your advantage. No matter the application, this sight gets the job done when it comes to giving you a boost in accuracy.
Pros
Easy To Zero In Right Out of the Box
Instant Installation, No Issues For Most Users
Works Great For Deterring Attackers and Prowlers
Very Accurate Shooting For Each Color and Application
Works Perfectly With Most Taurus Pistols, Including the G2C
Cons
Red Laser May Not Be Visible In Outdoor Applications
May Not Be As Effective If You Wear Gloves While Shooting
Green Laser Might Be a Little More Expensive Than the Red Laser
Viridian Weapon Technologies E-Series Red Laser Sight
We may earn commission from purchases made from our links, at no additional cost to you
What Recent Buyers Report
Recent buyers said the battery lasted them a good deal of time. It wasn't weak in terms of power. It provided them with a good sight to use in a CQB session. Surprisingly for them, the laser beam's reach becomes a lot farther once there is a lack of daylight in an outdoor setting. Some have said that it could reach as far as a mile.
Why it Stands Out to Us
This red laser is bright and has the potential to work in just about any low-light or indoor setting that you can think of. Not only that, it's another one of those sights that won't take too long to install. Especially when you want to install something that's more of a "attach it and forget it" kind of sight.
Who Will Use This Most
This will be used by Taurus users who typically use their pistols in indoor settings. CQB applications will also apply to a sight like this. But don't discount it as being a useless sight for outdoor use. Especially when it can reach farther outdoors when it's either dawn or dusk. If that isn't impressive, we're not sure what is.
What Could Be Improved and Why
One thing that might be a convenience to new users is including extra batteries along with the laser just in case the initial battery is dead on arrival. This way, you can install a fresh new battery and be ready to go by the time you get this puppy installed.
Bottom Line
The Viridian E-Series red laser might be exactly what you're looking for if you're simply looking for an exclusive red laser that will make your Taurus pistol a lot more accurate. This might be the best possible sight that you can use in a tactical or self-defense situation.
Pros
Instant Installation
Very Accurate Shooting From 25 to 50 Yards
Windage and Elevation Adjustments Are Really Easy
Has a Lot of Excellent Range Depending On What Light Conditions You're In
Excellent For Left-Handed Shooters Thanks To the Ambidextrous Light Switch
Cons
Might Take Some Getting Used To
The Battery May Be Dead On Arrival
May Not Be Effective In a Daylight Outdoor Setting
HiLight P3GL 500 lm Strobe Flashlight & Green Laser Combo
We may earn commission from purchases made from our links, at no additional cost to you
What Recent Buyers Report
A lot of recent buyers were quite happy with the sight in general. One user said that he uses it for his outdoor only Taurus pistol. The green laser beam is quite visible when it's aiming at paper targets from various ranges. Most of their shooting groups were a lot tighter prior to the installation.
Why it Stands Out to Us
This laser is without question one of the best green lasers on the market. At an affordable price, it definitely has the ability to perform quite well, especially when competing against high-end sights. But nonetheless, it's one of those "more than what you pay for" kind of sights, and that's why we love it.
Who Will Use This Most
Since it's a green laser, we expect this to be used mostly by outdoor shooters. Especially target shooters and competitive shooters alike. This might be one of your best options if you belong in either category. Not only that, it might be worth using if you fancy yourself to be a long-range pistol shooter.
What Could Be Improved and Why
As unconventional as it sounds, getting rid of the battery would be wise. This way, it will allow the user (maybe you) to find a battery that will be fresh and ready to use. Especially a battery that will give you more power and longevity.
Bottom Line
If you're looking for a great sight that will be effective in an outdoor setting without breaking the bank, the HiLight Flashlight and Sight combo might be something that could be your best possible choice. Especially if you're looking for some excellent tools that will definitely be useful in either a daytime or nighttime situation.
Pros
Very Sturdy Quality
Installation is Really Easy
Affordable For Most Budgets
The Laser is Very Visible in an Outdoor Daylight Setting
Flashlight is Really Bright, It Will Help You Navigate Through Obstacles in Low-Light and Dark Conditions
Cons
Some Re-Zeroing May Be Needed
The Battery May Be Weak or Dead On Arrival
Might Not Be Effective in Some Indoor Settings
Ade Advanced Optics HG54G Strobe Laser Sight
We may earn commission from purchases made from our links, at no additional cost to you
What Recent Buyers Report
A handful of new users were overall satisfied with the laser sight in general. One even went so far to say that it was probably one of the best sights he's ever used at an outdoor range. The green laser is bright, visible and definitely gets the job done when it comes to hitting targets from as far as 35 to 40 yards out.
Why it Stands Out to Us
Green lasers are probably exclusive to the outdoor shooters. But the real reason why it stands out to us is that it is all-around durable. It has the ability to work around the clock in providing you with the best possible accuracy no matter what the application. This laser can reach out and touch something depending on the conditions.
Who Will Use This Most
This will be a favorite among everyday carry people. It will also be a go-to favorite for those who prefer to shoot rounds at the outdoor range as opposed to indoors. This will also be a great sight for those who want to hit targets that are farther out of the range of typical red laser sights.
What Could Be Improved and Why
The battery life is an hour long. That is an atrocity to so many. So what would be a suggested solution? Get rid of it. But allow the user to replace it with a battery of their own. Something with longer battery life.
Bottom Line
If you're a fan of the green lasers and want one that is considered one of the best in the business, then you'll want to get your hands on the Ade Advanced Optics. This will definitely work to your advantage in most outdoor applications. But it can definitely give you the boost in accuracy you'll want out of your Taurus G2C laser.
Pros
Fits Most Holsters
Housing is Very Durable
Visible in Daylight Conditions
Easy to Install On Smaller Pistols
It Can Work Pretty Good in Nighttime Conditions
Cons
Short Battery Life
May Not Fit Some Taurus G2C Pistols
It May Loosen Up a Bit After 100 Rounds
TACTICON Laser Sight
We may earn commission from purchases made from our links, at no additional cost to you
What Recent Buyers Report
A lot of recent buyers were satisfied with how accurate their shooting was. One was quite surprised to see his shots consistently hitting the middle of the target from about 100 yards away. One has even said that it was easier for him to use in a run and gun situation compared to standard sights.
Why it Stands Out to Us
This red laser will definitely make its money in most applications. Especially the applications where the shooters are mostly indoor range shooters. It's also the closest thing you can get to a tactical friendly sight because of the highly durable housing that makes pistol attachment a lot easier.
Who Will Use This Most
This will be best used by those who are everyday carry practitioners. Aside from that, this will also be used for those who want to use their pistol for self-defense purposes and long-range target shooting. For a red laser, it does some things that most of these kinds of sights won't do.
What Could Be Improved and Why
The one thing that can improve in our opinion is to make the overall design a little slimmer. This way, it won't look bulky if you're using it on smaller compact pistols. The Taurus G2C is by far one of the best pistols to use in terms of concealability. Something that might be a little large for it might defeat the purpose.
Bottom Line
If you fancy yourself as a fan of the red lasers, then this Tacticon Laser Sight will most definitely be right up your alley. It does a lot of things that no other red laser would ever dare of trying out. That is good enough for us to call it one of the best in its class.
Pros
Zeros in Quite Easily
Fits Most Taurus Pistols Without Any Issue
Installation is Easy, Takes a Couple Minutes
Accurate and Visible From Well Over 100+ Yards Out
Excellent For Indoor Range and Self-Defense Applications
Cons
Batteries May Die Quickly
Might Be a Challenge to Sight in For Some Pistols
Screws May Not Allow For Any Additional Adjustments
SyndeRay G01 CREE LED Tactical Gun Flashlight
We may earn commission from purchases made from our links, at no additional cost to you
What Recent Buyers Report
Most recent buyers saw that the laser provided a lot of pinpoint accurate shots. Some have said that they have used it for the sake of tactical and self-defense purposes and were not disappointed with the results. The body is resistant to all kinds of shock, which makes them worry less about their zero settings.
Why it Stands Out to Us
This is a laser/flashlight combo kit that will definitely work to your advantage in an outdoor setting and sometimes an indoor setting (if such a situation warrants it). It really stands out in our opinion because it takes the frustration out of having to carry a flashlight in your other hand while you're using your pistol in the other. Sometimes, the task is tougher than it seems.
Who Will Use This Most
This flashlight/laser combo will be mostly used by those who intend to use their pistols in a tactical or self-defense application. Expect this to be a popular choice among law enforcement and military personnel when they use these for training exercises or combat situations.
What Could Be Improved and Why
One of the things that might be worth improving is making the beam of light a little narrower. But not by too much so it doesn't mess with the coverage area. Sometimes, having it a little wider than normal might be overkill for some users.
Bottom Line
If you hate the idea of having to hold your flashlight in one hand and your pistol in another, this SyndeRay Flashlight and Sight Set could be exactly what you're looking for. Especially if you're looking for something that is specifically designed for tactical and self-defense situations for your Taurus G2C pistol.
Pros
Fits Great On Taurus G2C Pistols
Excellent For Tactical Applications
Easy to Install, Takes a Few Minutes
Super Durable Body, It Can Take On All Kinds of Impact and Abuse
Flashlight is Really Bright, It Helps You Get Around All Kinds of Obstacles at Night
Cons
Button Cover Gets Loose, Might Keep Falling Off
The Sight Itself Might Be a Little Loose For Some
The Beam of Light Might Be Too Wide For Some Users
Red vs. Green Laser Sights – Which is Better and Why?
Both red and green laser sights have their own set of advantages. However, they also come with their own set of disadvantages as well. Of the two, which one is better? Let's take a look at the pros and cons of each laser and make the determination of which is better:
Red Lasers
Red lasers are obviously the most common of them all. Not to mention they are quite affordable and easy to make. At the same time, the red lasers are a lot more sensitive to the eyes compared to green lasers.
They will definitely serve you in the long run if you're in a close range application. One of the major cons of a red laser is that you won't be able to see it quite effectively in the day time.
Green Lasers
Green lasers are a lot less sensitive to the eyes than red lasers. They contain wavelengths of about 500 nanometers. Since the rods and cones of your eyes can handle that and probably close to 550 nanometers, this will be an even better option for some. This laser will make its money in an outdoor setting. It will have the ability to reach out and touch something at distances that no red laser could ever touch.
It's one major con is that it won't give you any effectiveness if you're indoors or in a close-range setting. At that point, the laser itself will become even harder to see.
The Verdict
If you're looking for a laser that will give you the best performance in an indoor, CQB application, the red laser is king. Especially when you'll be able to see it better and be able to get a good shot in low light conditions. However, if you're planning on using your pistol in an outdoor application like target shooting and competitive shooting, a green laser will definitely be your best friend. Especially when it can have the ability to reach a little farther than red lasers. Plus, it's visible in broad daylight.
Of which is better than the two: the jury is still out (and probably will be for quite some time).
How to Choose a Laser Sight Perfect for Your Taurus G2C
While looking for a laser sight, it's always important to know what you need to look for. Especially when you're looking for something that is considered the best when compared to sights that are ineffective and unreliable. There are some characteristics and aspects that you'll need to consider before making a final decision. They are as follows:
Price
If you're a budget shopper, then odds are you're going to hold the price tag to a high standard. Especially when you're looking to find the best deal for yourself. One thing to make a note of is that you should not skimp on the quality for the sake of saving yourself a few bucks.
What you should do is find the best quality that is affordable for your budget. Even if it means spending money on something that's high on your budget scale, the overall value will be more to your liking than the money you pay for it.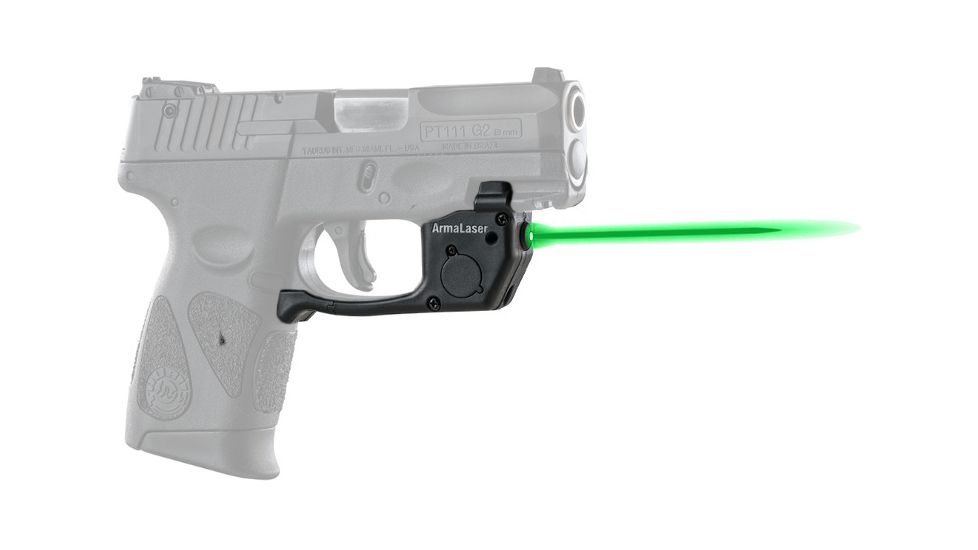 What is Your Intended Application?
Do you plan on using your Taurus G2C for everyday carry? Are you using it for outdoor purposes? These are some of the questions that you need to consider while you are looking for a laser. Remember, a red laser will be effective in some applications and settings. The same way goes with green lasers. Consider the pros and cons listed above in case you need an additional help guide that will point you in the right direction.
Installation
You don't have to be an expert gunsmith to install these lasers on your pistol. So it's important to find one that will take a matter of minutes to install (especially with the right kind of tools). Once you are able to install it, you can use it almost immediately. Remember to test it out at the range so you can make any possible adjustments if you notice your shots are a little off.
How to Sight in a Laser on a Pistol
In order for a laser sight to be more effective, it's important to get it sighted in so it can consistently be accurate. Assuming you have already installed a laser sight, the following is a brief guide on how you can properly sight in a laser on your pistol:
Set up a paper target by starting out at a range of 10 yards. Fire off as many rounds as possible until you are consistently hitting the bullseye with your shots.

Once you know you are able to hit shots at 10 yards, you can move up to the next distance. At this point, you can go as far as 25 yards. Do the same thing again until you are able to consistently hit bullseyes or near it.

The farthest you can possibly go with this kind of pistol will be about 50 yards in most cases. If you feel comfortable with it, you are free to try and sight in your laser at about 50 yards or beyond (if your pistol is able to shoot that far).
Conclusion
The best Taurus G2C laser is out there. But it will come down to what your intent and purpose will be in order to find one that fits you perfectly. Whether it's a red laser or green laser, you will need a laser sight that will maximize your Taurus G2C's accuracy to its full potential. Be sure to choose wisely since the sight you might buy will be yours to use for the long term.