The revolver is one of the most well-designed handguns in history. Reliable, versatile, and easy to use, modern style revolvers have been around since 1889 and aren't going anywhere anytime soon. That popularity means that there are nearly countless options of revolvers to buy.
It can get confusing quickly. One manufacturer that many people consider when shopping for a revolver is Taurus. They produce several revolver models for a variety of uses.
Keep reading to learn more about the best Taurus revolvers currently available for purchase.
At a Glance: Our Top Picks for Taurus Revolvers
Comparison of the Best Taurus Revolvers
IMAGE
PRODUCT

Our Top Pick

Double-action
Best overall Taurus revolver
Wooden grip for excellent ergonomic use

View Latest Price →Read Customer Reviews

Best Budget Option

Five-round capacity
Barrel length measured at 2.5 inches
Runner-up for best overall Taurus revolver

View Latest Price →Read Customer Reviews

8-round capacity
Barrel measured at 6.5 inches
Best Taurus Revolver for the money

View Latest Price →Read Customer Reviews

Best .357 Taurus revolver
7-Round shooting capacity
The barrel length of 4 inches

View Latest Price →Read Customer Reviews

Includes a fixed front sight
Barrel measured at 2.5 inches in length
Best Taurus Revolver for concealed carry

View Latest Price →Read Customer Reviews
What to Watch For When Buying a Taurus Revolver
From home defense to hunting and concealed carry to an all-purpose backup firearm, Taurus is likely to have a revolver offering that fits the bill. The company has an impressive array of revolvers available on the market today. While having options is nearly always a good thing, it can make the shopping process a little more confusing and intimidating. Having patience and learning as much as you can before getting serious about buying can be very helpful. The following tips and information can be a good place to start!
This Section Written By: Brian Belko
Expert Author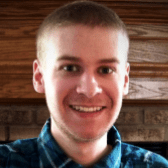 Brian is an experienced freelance writer and technical writer who has previously written for publications such as Wide Open Spaces, Bigfoot Gun Belts, Alien Gear Holsters, and Kampgrounds of America. He brings both a passion for writing and a love of the outdoors to his published content.

Aside from writing and the outdoors, Brian enjoys gardening, being a co-host on The Nostalgia Blast Podcast, and learning to code.
Narrow the Scope
No, this isn't advice on how to mount a scope on a revolver. (Although that may be helpful on one of Taurus' hunting revolvers). What it means, is to go into your revolver shopping and buying process with a narrow scope of vision. In other words, have a solid idea of exactly what you plan to do with your new revolver and maybe even a few features you want to prioritize.
This will make you a lot less likely to become overwhelmed with the options once you start to make your decision. Although revolvers are really good all-purpose firearms, having one specifically designed for your needs is always preferable.

Barrel Considerations
The length of the barrel on a Taurus revolver is an important factor to consider. The barrel length will help determine what purposes the gun can be effectively used for. If you plan to use your Taurus revolver for concealed carry, look for a model with a barrel length of four inches or less.
That helps keep it maneuverable and easy to conceal while maintaining enough range to be effective in a variety of situations. Home defense revolvers will tend to have slightly longer barrels while hunting revolvers will generally have the longest barrels. In other words, you probably won't be able to hunt effectively with a short barreled rifle.
Hammer It Home
If the revolver you are looking at has an exposed hammer, it likely has a double-action/single-action trigger. This means that it can be shot without pulling the hammer back and a longer trigger pull or that the hammer can be cocked and the revolver fired with a much shorter trigger pull. Pulling the hammer back first is better for making longer shots. Consider a revolver without an exposed hammer for concealed carry purposes as there is no risk of the hammer catching on clothing during a draw.
Review of the Best Taurus Revolvers
The following is a list of the five best Taurus revolvers currently on the list. As you look through each one, be sure to note the features and characteristics that make the revolver stand out. If you find one that matches the description of your "ideal revolver", you should go with it.
Let's begin this list by unveiling our best overall Taurus revolver:
Taurus Judge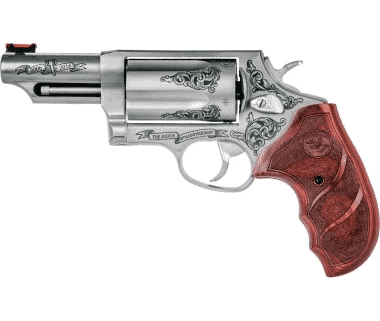 We may earn commission from purchases made from our links, at no additional cost to you
What Recent Buyers Report
Most new users had nothing but great things to say about the revolver. For one, they loved the classic look it had. One said it reminded him of an old-school revolver that might have been used during the Wild West years. Performance-wise, they had no complaints. They said the effective accuracy was about 15 to 20 yards max when firing paper targets. The size is perfect for the purpose of concealed carry, thus making it a good choice for those looking for a revolver for EDC use.
Why it Stands Out to Us
The revolver's classic look is eye-catching. But the performance is where it makes its money. It's accurate and pinpoint-precise, thanks to the front sight added onto the revolver itself. Overall, it's at the right size for you to carry it with you on the go and it can fit in most holsters. So if you are looking for a revolver that will stand out as an EDC handgun and will be easy to shoot at various close-range distances, this might be the one you go with.
Who Will Use This Most
This will ideally be used for the purpose of concealed carry use. But it can also be great to keep at home for the purpose of defending your home and property from attackers. No matter what, it's at a small enough size where it would be hard for anyone to notice. So if you love to conceal carry without giving off any undue attention, this revolver is a good choice for you.
Bottom Line
The Taurus Judge proves why it belongs on the list as the best overall choice. Its classic look and superior performance are more than enough to make it deserving of such an honor. If you fancy yourself a fan of the old-school look, this might be something to consider looking at a bit closer.
Pros
Fits like a glove in most holsters
Great durability and construction
Easy to load, takes a few minutes
Perfect for concealed carry and self-defense
Front sight does a good job giving you precise and accurate shots
Cons
Can be a bit weighty when loaded
May be a little difficult to load at first
May not be suitable for clay pigeon shooting
Taurus 605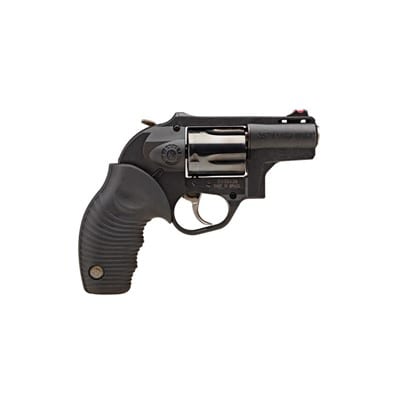 We may earn commission from purchases made from our links, at no additional cost to you
What Recent Buyers Report
A lot of recent buyers loved this revolver in so many ways. Of course, the fact that it was compact in size made it a dead-on lock for most of them (since they were looking for a great concealed carry revolver). They were able to shoot at targets from about 25 yards out and landed them on the bullseye or close to it. One user said that when he holsters this revolver, it doesn't draw any undue attention or create any bulges.
Why it Stands Out to Us
Of course, it's one of the smallest revolvers on the market in terms of the measurements. But make no mistake, it's not ineffective in the slightest. Whoever said that big things come in small packages hit it dead-on like the shots you'll hit on a target. Furthermore, it's pretty solid in terms of durability. So it will last you years or even decades (assuming you take good care of it). If you need a revolver that will be great for concealed carry users (beginner level or otherwise), this just might be the exact Taurus model that will get the job done.
Who Will Use This Most
This would be ideal for newbie users starting out with concealed carry. It's a revolver that packs a punch but can also make its money when you are not using it. In other words, you can holster this and no one will even know you are carrying a firearm. If concealability is high atop your list of priorities, you'd be insane to pass up the chance to look at this revolver a bit further.
Bottom Line
The Taurus 605 Protector lives up to its name. And it will do a good job at its purpose since its small enough to be stealthy. If you are looking for a revolver that will be your sidekick in a life and death situation, you best believe this revolver will come through in the clutch once you draw it from your holster. No attacker or prowler will dare mess with someone who has a revolver that can do some serious damage.
Pros
Super-easy to load by hand
Fast and accurate shooting
Perfect for concealed carry
Won't bulge in many holsters
Super-durable and sturdy construction
Taurus 608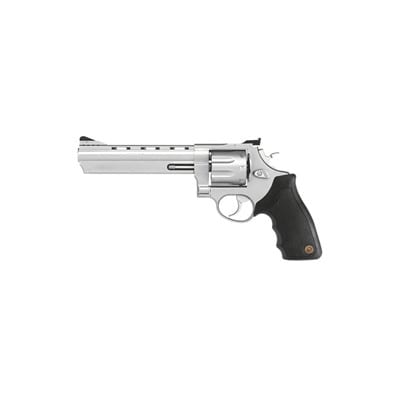 We may earn commission from purchases made from our links, at no additional cost to you
What Recent Buyers Report
As expected, a lot of new users had nothing but good things to say about this revolver. Not only were they happy with the size, but they also said the powerful shooting ability matched it. Most new users said this was perfect to keep at home for the purpose of self-defense. Even some have managed to use it for warding off varmints and small predators that have been damaging property and harassing livestock.
Why it Stands Out to Us
This revolver is one of the larger models on our list. So it won't be a concealed carry revolver. But don't confuse that with only being good for home defense. You can still defend yourself in a life and death situation with this revolver. It's the size that makes it a no-go for concealed carry (since it may obviously bulge up in most holsters). But if you want the perfect revolver for those "bump in the night" moments that can turn into a dangerous situation, you'll want something like this on hand.
Who Will Use This Most
This will certainly be the best revolver for homeowners who want nothing more than a good handgun to ward off any invaders (both of the no-good human or varmint kind). If you love having a firearm that will be powerful and reliable in those dangerous situations, this revolver will do some serious damage whenever you use it. Don't be surprised if you end up using it and become dead-on accurate with your shots each time.
Bottom Line
The Taurus 608 is an affordable option. But it's the best option if you intend to purchase a revolver for the sake of home defense. It's durable, reliable, and can hit hard like nothing else. It's hard to imagine any other revolver to match such a performance. Buy this if you need something to keep away the varmints and the home invaders and you won't regret it.
Pros
Excellent for home defense
Solid construction and quality
Easy to pull out the cylinder and load
Can be accurate across various distances
Superior firing power, can pack quite a punch
Cons
Can be a bit loud at times
Not suitable for concealed carry
Recoil can be a bit much for some users
Best Taurus .357 Revolver
Taurus 66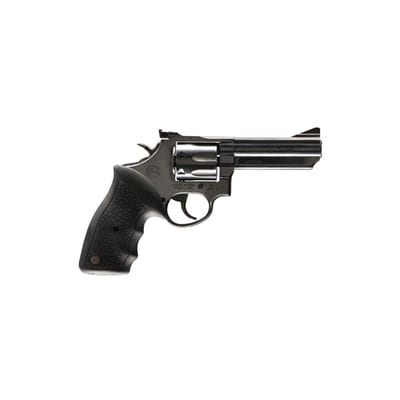 We may earn commission from purchases made from our links, at no additional cost to you
What Recent Buyers Report
New users were satisfied with the revolver. First and foremost, they were pretty impressed with the ability that it could hit targets accurately from 25 yards out. On top of that, they managed to leave some pretty serious damage to paper targets. Aside from target shooting, most new users say they used this to ward off pests from their property (while planning on using it for the purpose of concealed carry or home defense).
Why it Stands Out to Us
The .357 caliber is nothing to sneeze at. It's one known for dealing some pretty devastating damage. So if you are a sucker for heavy hitters like this, you can't go wrong with a revolver that can be useful in a concealed carry application. If you need a revolver that is powerful and reliable each time you use it, you'd be hard-pressed to find anything else quite like this.
Who Will Use This Most
This won't be a revolver for the newbie user. But it is more reserved for the seasoned revolver user that wants more power and devastating damage. It won't leave a mess or anything like that. But it can leave quite an impact on your target of choice. So if you want the perfect concealed carry or varmint control revolver, this might be worthy of such a title.
Bottom Line
The Taurus Model 66 might just be right up your alley if you are a sucker for the .357 caliber revolver. Once you shoot this, you probably won't have to go back to any of the other revolvers you have used in the past. It's rugged, dependable, and will have your back in even the most dangerous situations.
Pros
Loading is easy
Excellent durability
Devastating firepower
Great for concealed carry
Hammer cocking and trigger pull is smooth and light
Best Taurus Revolver for Concealed Carry
Taurus Raging Bull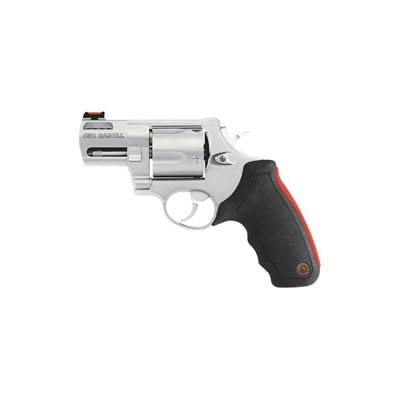 We may earn commission from purchases made from our links, at no additional cost to you
What Recent Buyers Report
Right off the bat, many new users had nothing but great things to say about the revolver. The size was just right for them when it came to concealability and it had the ability to fit in their holsters like a glove. One user said he had no bulging coming from his holster. He was happy with knowing that he wouldn't draw any stares or undue attention because of carrying a revolver.
Why it Stands Out to Us
Simply put, this revolver was made for concealed carry. But taking it a step further, the front sight is at a good enough size to make each shot count from about 25 yards out. If you want something that will be accurate and precise from some pretty good lengths, it's this revolver. It is not just known for its concealability but also for its pinpoint accuracy, as well.
Who Will Use This Most
For those who are new to concealed carry or have long done so with other handguns, this revolver will certainly exceed the standards of so many users. If you hate the idea of dealing with bulky or bulgy handguns that won't do a good job staying concealed in your holster, it's time to downsize. What better way to do so than use a revolver like this?
Bottom Line
The Raging Bull is powerful like the name itself. And it's quite stealthy when it comes to concealability. So you get a complete package in one compact-size revolver. If you are a newbie or have conceal carried for quite a while, this will be the one you can carry around for EDC use. You never know when you'll be able to use it, but it's better to be prepared.
Pros
Excellent firepower
Excellent grip & ergonomics
Accurate and precise with most targets
Reliable, doesn't jam or have many issues
Super-concealable. Won't print in most holsters
How Accurate is a Taurus Revolver?
The short answer: it depends. It will depend on the type of Taurus revolver you use and will also depend on the targets you shoot. Smaller targets will typically be easier to hit when situated between 20 to 30 yards out. However, larger targets set up from 40 to 50 yards (sometimes beyond) will be easier to hit with accuracy and precision.
What to Look For When Buying a Taurus Revolver?
So many characteristics and features are listed for Taurus Revolvers. But it's important to focus on the ones that are most important to the revolver itself. You should be able to distinguish a great Taurus revolver from one that isn't the best in terms of performance and quality. Here's what you need to look for:
Price
The price tag may matter most to those who are budget shoppers. But it shouldn't be the be-all-end-all decision. If you are on a budget, invest in the best quality and performance you can afford. Don't confuse that suggestion with going for cheap just to save a few dollars. Cheap will always equal ineffectiveness and poor quality. Even if you spend a little higher on the budget scale, it's better than throwing money into the fire over something that is disappointing overall.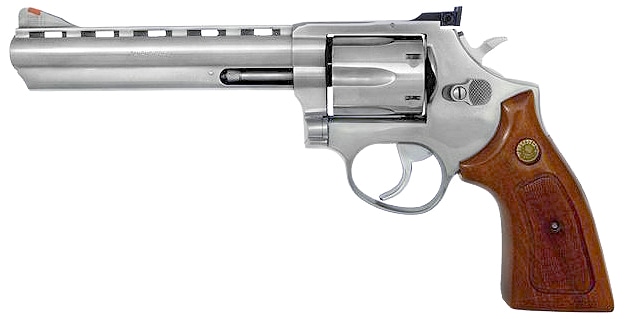 Materials
High-quality materials like steel and polymer are going to be your best friends here for a number of reasons. Not only are they durable, but when taken care of properly, they can remain strong for the long-term. So if you want the best in quality, find a revolver made with durable, high-quality materials so you can use it for years or even decades.
How Many Rounds Are Needed?
This will be entirely up to you on how many rounds you need. You can shoot five shots, six shots, or even eight shots. It doesn't matter. If you are using it for an application like target shooting, then odds are you'll need a revolver with more shooting capacity. There really isn't a right or wrong capacity, it all depends on your specific needs.
Why Do I Need a New Taurus Revolver?
There are a few good reasons why you should get a new Taurus revolver. However, if you don't think you need one, then no pressure at all. But you'd be missing out on a few great benefits. Here's why you need a Taurus revolver:
Better Reliability
Apart from attributes like accuracy, reliability is a must for your revolver (or any firearm for that matter). Reliability is vital when you need your revolver the most. In other words, you need something that will come through in any situation where timing can be everything. If you must defend yourself, time may not be your friend. So a reliable revolver should matter most.
Pinpoint Accurate
Most Taurus revolvers have a set of sights that will boost your accuracy considerably. Your front and rear sights will co-witness to a point where you'll have quick target acquisition followed by a front sight that will hone in on exactly where you want to shoot. Once you pull the trigger, you know exactly where that shot will go.
Useful in Most Applications
While many revolvers can excel in one application or another, it can still be useful to a point in most applications. So even if a revolver can be great for concealed carry, it doesn't mean it's considered useless for just good, old-fashioned target shooting. You can take it out to the range and fire off as many shots as you like. One way or another, you can put it to good use.
Conclusion
The best Taurus revolver is out there. Once you have one in your hand, you'll be working with one of the most reliable brands on the market. These revolvers won't steer you wrong, nor will they disappoint you in terms of performance. Find one that will be perfect for your intended purpose and you'll have something that can be of good use to you for a long time.