The Walther PPK has been a symbol of class, style, and inconspicuousness for decades. Famously known as James Bond's gun, the PPK is an inspirational idol for concealed carry handguns being manufactured today. Using the PPK to its fullest potential requires the right type of holster.
So we decided to compile a list of the best Walther PPK holsters available today on the market. While some help with concealment, others promote quick handling and multiple carry options. So read further and choose one for yourself.
Comparison Chart of the Best Walther PPK Holsters
IMAGE
PRODUCT

Our Top Pick

High quality leather holster fits perfectly with the Walther PPK
Scabbard style holster for quick draw and retention with a full grip
Belt holster perfect for concealed carrying your handgun

View Latest Price →

Single piece durable polymer holster with a comfortable rubber paddle
Steel reinforced rivet attachment, adjustable design and offers full grip
Durable and washable holster and needs little to no maintenance

View Latest Price →

Best Budget Option

Ambidextrous hip holster with nylon construction for overall comfort
Feature a clip attachment and belt loop plus an extra mag pouch on topq
Reinforced thumb strap retention and resistant to abrasion and scratches

View Latest Price →

High quality leather construction with three belt slots
Thumb break and adjustable retention device on a custom molded design
Full grip access and available in a variety of options

View Latest Price →

Premium center cut steerhide leather holster with horizontal carry
Single mag carrier with flaps plus accepts tie downs and accessory attachments
Double dump pouch for revolvers and a comfortable harness

View Latest Price →

High back design to prevent digging while sitting or moving
Non-slip suede exterior design and soft inner lining for handgun protection
Heavy duty belt clip fits belts upto 1.75 inches in width

View Latest Price →

Genuine bullhide leather, good stiching and very comfortable to wear
High quality steel grip and holster is covered by a lifetime warranty
Ambidextrous design and offers great value for money

View Latest Price →
What Makes a Great Walther PPK Holster?
Material and Durability
Holsters can be found made in a variety of materials. These include leather, thermoplastics (like Kydex), nylon, or even metal (clip holsters). The kind of material you choose is your own preference. But whatever it may be, a good product shall be durable and lasting. Also, remember that each material has its own level of comfort and maintenance associated with it.
Retention
While some items have one or multiple active retention mechanisms like thumb break straps or release buttons. Others (passive) rely upon the level of stiffness inside the holster. Some prefer active while others prefer passive. Active retention is undoubtedly more secure but requires some practice and adherence. Whereas passive retention is simpler and quick but less secure.
Easy Access and Covered Trigger Guard
A good item must provide easy and quick access to the weapon at all times. Preferably full grip access. Additionally, a completely covered trigger guard is also a salient feature.
Protects Finish
The PPK is a classic and expensive weapon. You won't be willing to find a scratch on its finish, even under the most desperate circumstances. So look out for a product that has some soft and protective interior finish.
Adjustability
Adjustable for cant, position, or retention. Having some kind of adjustability with your PPK holster is essential, according to your personal tastes.
Review of the Best Walther PPK Holsters
The holsters reviewed below include the finest PPK holsters available on the market today. This list mixes up holsters featuring different designs, materials, and other features. Which makes each of them suitable for specific purposes.
We've tried to make this list quite comprehensive so hopefully, you'll find a good pick.
DeSantis Mini Scabbard Holster
We may earn commission from purchases made from our links, at no additional cost to you
What Recent Buyers Report
With absolutely no negative customer reviews, this DeSantis scabbard holster has a reason to be on top of our list. The product is very protective towards the handgun and offers a full grip for perfect access. The quality of the leather is great and the item rides fairly close to the body. It fits snug, offers good retention, and is quite easy to conceal.
Why it Stands Out to Us
The DeSantis mini scabbard holster features a very basic but durable and effective design. It doesn't have any overly complex features and fits snug on the waist. It allows the PPK to carry OWB in a concealed or open manner. The belt loop is very sturdy and will definitely not fail even under extreme pressure. The holster has been canted at a forward 45-degree angle(the FBI cant) offer a quick and prompt draw to the user. While some people may not like it, others will find it an amazing pre-built feature.
This is by far the best belt concealment holster for the PPK on the market. If you care for it and practice the operations, you will find this item to be perfect for everyday use.
Who Will Use This Most
The product has an OWB design, but it can be easily concealed with the right clothing. The forward cant and belt loop design make it perfect for carrying at the 4 O'clock position OWB. The lack of an active retention mechanism is good for competitions and range use. Along with normal everyday carry.
Bottom Line
The DeSantis Mini Scabbard is a compact, durable, and protective item for your Walther PPK. It covers the entire weapon while allowing a full grip access for instant draw. The leather is comfortable and doesn't sag even after prolonged use. An affordable and lasting solution to carry your PPK.
Pros
Very silent and reliable operation
Tough and durable leather belt holster
OWB belt loop design but still very easy to conceal
Molded to exact tolerances and adjustable for retention
Covers full front for extra protection and offers full grip access
Cons
Takes some time to break-in
Maintenance takes some effort
Fobus Standard Holster RH Paddle
We may earn commission from purchases made from our links, at no additional cost to you
What Recent Buyers Report
The holster offers a great fit for Walther PPK and PPK/s. It has a durable and shape-retaining design that holds the weapon very securely and ensures that only the person wearing the holster can draw. This does require some practice, as many users suggested. Overall, this item is very good and serves its purpose very well.
Why it Stands Out to Us
This item from Fobus has been designed to deliver a quick draw and facilitate single-handed operation. The most impressive feature of this product is its unique retention. Which has been designed such that the weapon only draws out when pulled at a certain angle. Making it possible only for the bearer to unholster the handgun. This makes carrying your gun very safe, especially during hostile encounters.
Who Will Use This Most
The product is perfect for OWB and open carry. Concealed carry is also an option, but only when you don the right clothes. This item is perfect for people who are involved in strenuous physical activities while carrying the PPK or prefer testing fists before the weapon during a SHTF situation.
Bottom Line
The price and quality are just perfect and the elastic paddle bends when you sit or move. Thus conforming to your motion and delivering comfort. The retention is very unique but helpful, and the holster is very well-built to last for years.
Pros
Flexible rubber paddle is quite comfortable
Very reliable and unique retention mechanism
Doesn't need maintenance and can be washed
Single piece durable thermoplastic holster retains shape
Cons
Limited concealment
Requires practice for drawing the weapon
Federal Holsterworks Holster for Walther PPK & PPK/S
We may earn commission from purchases made from our links, at no additional cost to you
What Recent Buyers Report
The product can be easily modified for right or left-hand use, which also makes it suitable for IWB and OWB. It is very lightweight and comfortable to wear and can be concealed easily due to its small size. Additionally, the velcro thumb strap is very adjustable to suit individual taste.
Why it Stands Out to Us
There's nothing more you can ask from this item in terms of features or price. It is an ambidextrous, lightweight, concealable, soft and protective product that also allows you to carry one extra mag for backup. The holster allows a full grip over the handgun and suits both right and left-handed shooters.
Who Will Use This Most
The Federal Holster is perfect for people who need a lightweight holster to carry their weapon all day long. The ambidextrous design makes it suitable for most users and carry positions. Plus the totally adjustable design allows individual users to change it to their taste. The only downside is the collapsible design which disqualifies it from being used for single-handed operation.
Bottom Line
This nylon holster is the most comfortable, protective, and feature-packed option you'll find for your PPK. Especially at such a price. The holster is ambidextrous and allows you to carry a full extra mag. It is perfect for EDC, CCW, and range use.
Pros
Features a mag pouch on the top
Ambidextrous hip holster with strong belt clip
Closed-cell foam interior acts as a moisture barrier
Reinforced and strategically positioned thumb break
Lightweight nylon design is protective and comfortable
Cons
Collapses after drawing the handgun – needs both hands to reholster
Best Walther PPK Leather Holster
DeSantis Thumb Break Scabbard Holsters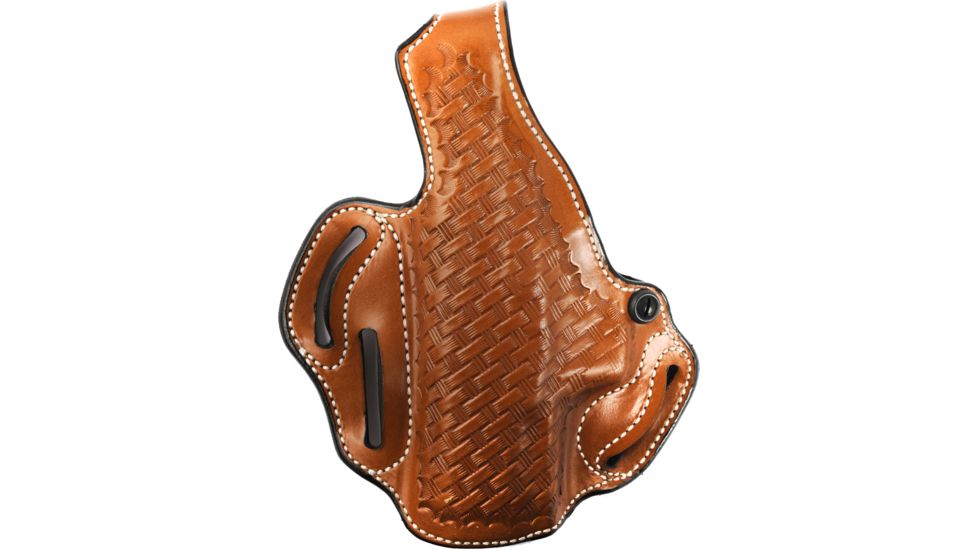 What Recent Buyers Report
This is a quality product with high-grade thick leather which offers very promising insulation to the weapon. The item looks premium and functions as expected. The construction is rigid and molded to conform with the contour of hips. The good quality and silent operation were the two most liked features reported by buyers.
Why it Stands Out to Us
Unlike many other leather holsters, this item has a very thick and rigid construction. It has been pre-molded to tight specifications in order to suit the body and the handgun. The three reinforced loops allow the user to adjust the angle of cant while securing the holster firmly to the belt. The full grip access is also a very suitable feature for a fumble-free draw.
Who Will Use This Most
The product is a boon for leather lovers. Plus people who want a very secure, comfortable, protective and lasting holster for their PPQ will also find this viable. The item shall be used for OWB carry and can be concealed using a jacket. It is good for duty, range, and open carry.
Bottom Line
DeSantis holsters are renowned for their quality, and this product is no different in those terms. The thick leather of this item is very durable and aesthetically pleasing. It has been molded to conform your body shape and can be adjusted for the angle of cant.
Pros
Silent thumb break retention device
Available in lined and unlined variants
Durable custom-molded premium leather
Pancake design with cant angle adjusting loops
Cons
Only useful when wearing a belt
Limited concealment and requires break-in
Best Walther PPK Shoulder Holster
Galco Classic Lite Shoulder System for Walther PPK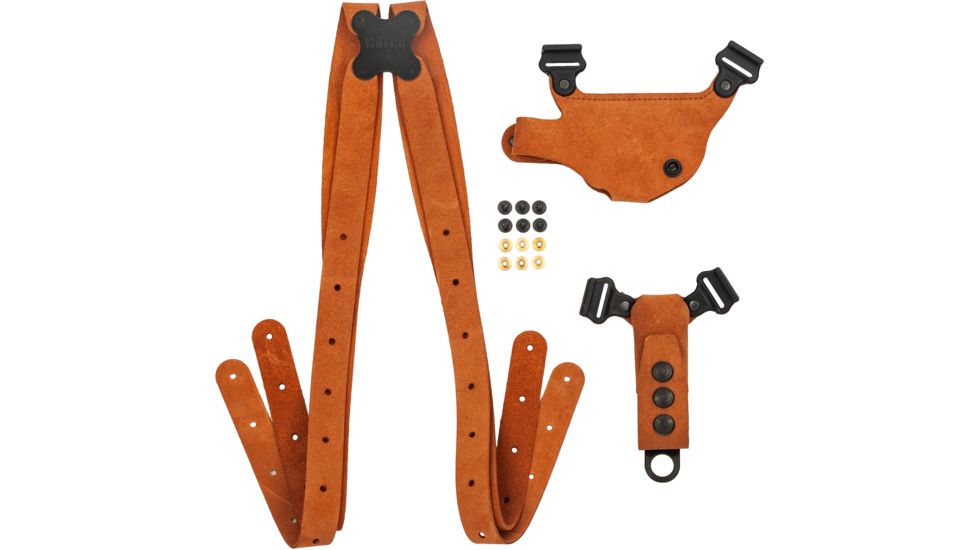 What Recent Buyers Report
This product is an amazing bargain for buyers in terms of quality and value. Users reported this item to be very lightweight and fit the PPK perfectly. The holster has been meticulously designed and feels very comfortable when being used. Buyers heavily recommended it for use while driving.
Why it Stands Out to Us
The Galco classic lite is a lightweight and rugged shoulder holster. The adjustments may feel tedious at once, but the resulting item is very firm and reliable in function. The holster and mag pouch are removable and can be switched with other accessories. It is quite hard to find a shoulder holster with such good features at this price.
Who Will Use This Most
The product is for people who want concealment without compromising on quick access. If you don a jacket and go on work, this item is for you. It doesn't interfere with your movements (driving, sitting, running, etc) and offers a secure and safe accommodation for your gun, along with an extra magazine.
Bottom Line
The Galco lite is a lightweight shoulder holster for the PPK, which delivers a safe horizontal draw holster and has an adjustable design. The holster itself is very inexpensive and stands in line with the best leather shoulder holsters anywhere on the market.
Pros
Double dump pouch to suit revolvers
Includes single mag pouch with secure flaps
Premium center cut steerhide leather for durability
Comfortable and adjustable harness with included hardware
Removable holster/pouch. Accepts other suitable attachments
Cons
Time taking adjustments
Holster supports only horizontal carry
Best Walther PPK IWB Holster
Bianchi 100 Professional Hip Holster
We may earn commission from purchases made from our links, at no additional cost to you
What Recent Buyers Report
While the product has been designed to also suit weapons similar in size. It fits perfectly with the Walther PPK. The leather is stiff in the beginning, but forms after a few weeks of use. It is very comfortable to wear, and the craftsmanship involved in designing is impeccable. The retention is very good and the gun sinks only as much as it should.
Why it Stands Out to Us
While there are many nylon and plastic IWB holsters on the market. Leather has its own class and level of comfort. This leather from Bianchi showcases amazing quality and craftsmanship. It is very comfortable to carry and protects the gun from sweat and moisture. Additionally, this item fits the PPK like a glove and will last for a long time ahead.
Who Will Use This Most
Since the product is IWB, it is more likely to be used for CCW and EDC. The item doesn't dig while sitting and conforms very easily after regular use. Making it suitable for almost every user. However, also remember that the leather will smell when contacted with sweat, and cleaning it is a diligent process.
Bottom Line
The Bianchi IWB leather holster is a sturdy and reliable option for carrying the PPK concealed. The item is very protective towards the handgun, while also being comfortable for the user. However, make sure not to treat it with leather softeners as it may negatively affect retention.
Pros
Wide and heavy-duty steel belt clip
High back design insulates gun from body
Forms perfectly to the gun after several weeks
Non-slip suede exterior holds the holster in place
Cons
Using leather softening products may degrade retention
Best Walther PPK Concealed Holster
Relentless Tactical The Defender
We may earn commission from purchases made from our links, at no additional cost to you
What Recent Buyers Report
While this item suits many handguns similar in size to a PPK. Users using it specifically for the PPK reported it to be very comfortable due to its flexible leather construction. The product minimizes printing to negligible levels and sits very deep beneath the waistband. Thus serving its purpose perfectly.
Why it Stands Out to Us
This item has been manufactured using the best affordable leather available. The reinforced stitching, open-end, and flexible design are in ideal shape. The belt clip is very sturdy and requires you to use both hands for dismounting. Even with such a tough and flexible design, this product is very inexpensive.
Who Will Use This Most
This item is perfect for deep concealment of your PPK. Since it is made up of flexible leather, it won't feel uneasy while sitting or driving. This product is perfect for CCW and EDC, even without any veiled clothing like jackets or coats.
Bottom Line
The Relentless Tactical bullhide leather item is a tough and low profile concealment holster for a Walther PPK. It's universal design suits other handguns of similar dimension, making it a versatile option. Additionally, the product will protect the firearm and stay useful for a long time.
Pros
Very comfortable right out of the package
Minimalist, low profile design with flexibility
Durable and beautiful handcrafted bullhide leather
Sturdy belt clip won't fail even under extreme pressure
Minimizes printing and protects the finish of your handgun
Cons
Ideal concealment but sits somewhat low
No high back to prevent contact with body
Best Walther PPK Ankle Holster
Universal Leg Carry Gun Holster
We may earn commission from purchases made from our links, at no additional cost to you
What Recent Buyers Report
For the most part, reviews for this ankle holster were very positive and affirmative. The item holds on very well and doesn't slip even while running or strenuous workouts. The universal holster and calf-fit were amazing features for almost every buyer. Especially at such a low price. However, some users did report that the velcro didn't last long. But that's just a few of 'em.
Why it Stands Out to Us
This item is universal and allows you to carry almost any handgun regardless of its size or type. Plus, it suits all leg sizes and is ambidextrous. So the fit factor is straight out of question. The final cherry on the cake is the super low price backed by an unconditional lifetime warranty.
Who Will Use This Most
This holster will stick to your calf like a koala sticks to a tree. Inseparably! This item can be worn at work, at the gym, or while you jog or play sports. It can also be used to carry a backup weapon along with an extra magazine or light or knife. But anyway, you'll have to wear a full-length trouser for proper concealment.
Bottom Line
This ankle holster has been made using anti-slip nylon which is lightweight and comfortable on the skin. The universal and ambidextrous design of this product adds to its value. A good option for CCW while undertaking strenuous physical activity.
Pros
Pouch for extra mag or accessories
Quick and silent thumb break strap
Universal holster and ambidextrous design
Anti-slip double velcro strap for extra stability
Very inexpensive and covered by a lifetime warranty
Cons
Requires apt clothing for concealment
Not a very 'instant-access' option for emergencies
Best Walther PPK Pocket Holster
Galco Front Pocket Horsehide Holster
We may earn commission from purchases made from our links, at no additional cost to you
What Recent Buyers Report
Users appreciate the fit and finish of this item. Especially when horsehide leather is very difficult to mold. The coarse outer texture keeps the product aligned and the soft interior protects the firearm's finish and facilitates a smooth draw. It keeps the gun oriented in your pocket better than a basic plain pocket holster.
Why it Stands Out to Us
The Galco holster depicts ultimate quality and craftsmanship. The shape is very square and properly customized to promote concealment. The sides have been cut strategically to ensure the holster snags inside the pocket and release the handgun. It is a premium quality item that is very comfortable for the user.
Who Will Use This Most
Since it is a pocket holster, it is best to use it when wearing trousers. It can also be carried inside purses or bags if needed. This item is great for everyday use while concealing the weapon. However, it is more suitable for emergencies and simple carry rather than tactical applications or range use.
Bottom Line
The Galco pocket holster features a premium horsehide leather construction and lacks any metal parts for extra safety. The holster ensures a fumble-free draw and is very comfortable for the user. A great product for everyday carry with the right clothing.
Pros
Heavy-duty natural leather construction
No metal or sharp parts. Very safe and comfortable
Offers good concealment and orientation in the pocket
Rough side out leather for stability. Smooth on the inside
Leather hooks cling inside the pockets for a positive draw
Cons
PPK is grip heavy so it may tilt
When Would a Walther PPK Holster Come in Handy?
EDC (Every Day Carry)
The Walther PPK was designed to be the ultimate concealed carry weapon. It is still a very viable option for CCW given its size and capacity. However, you will need the right product to conceal the weapon while you walk around in public places. An IWB, pocket, or ankle holster will be useful in such situations.
Quick Action
Since the PPK is a defensive concealed carry weapon, there are chances that it'll be pulled out in a self-defense situation. In order to ensure a fumble-free, easy, and quick draw, you'll need a suitable holster. Holsters with passive retention, automatic lock release, flared opening, or shape retaining features help with this.
While Sitting or Driving
Carrying a handgun without the right item can be very tricky. Especially when you have to drive or sit while having the gun tucked on your waistline. Holsters can feature different designs, mounting positions, and materials that can aid with comfort. This is a very important factor since your PPK will be resting inside your holster donned on your body.
What Are the Benefits of Investing in a Walther PPK Holster?
Concealment
Using holsters like the DeSantis Scabbard or Bianchi Hip Holster(reviewed above) will help you with concealing your PPK more effectively. Especially when you wear the right kind of clothing. Walther PPK is classified as a concealed carry weapon, and to make it abide by its reputation. Investing in a good concealable product is imperative.
Protects Finish
Almost every item on our list features some kind of inner protective lining or other features to prevent the finish of your PPK from getting damaged. Caring about your weapon ensures its longer service life and eliminates the chances of any damages to its aesthetics.
Comfort
Carrying a handgun without the right holster can become clumsy and uncomfortable very quickly. This eventually disturbs your comfort and may also hinder your performance with the weapon. Investing in a good product for your PPK will solve this issue and will let you carry comfortably.
Safety
The very basic and important purpose of using a holster is to ensure safety. Else people would simply tuck their handguns on their trousers like gangsters in Hollywood movies. Getting a good item with a full trigger guard cover will prevent any unwanted misfires and imminent accidents caused due to improper handling.
Performance
Having a good holster will improve your overall performance (draw speed, single-handed operation, and other factors) with the handgun.
Conclusion
The Walther PPK was exclusively designed to be a concealed carry weapon. Using the right holster will protect the firearm and improve the overall performance of the user. Especially when the right situation arises. You should consider factors like comfort, material, handling, retention, adjustability, and concealment before choosing the right item for yourself.
People Also Ask
This section is intended to be similar to an FAQ section. Please provide a concise reply to the question(s) below and begin the discussion with a short intro.
What is the Difference Between Walther PPK and PPK S?
Walther PPK/s is a slightly modified version of the PPK which was introduced to counter the Gun Control Act of 1968. The only difference between then is the length of the grip. The grip of PPK/s is 0.4 inches longer than the PPK. Which allows it to carry a magazine with one extra round.
Can You Still Buy a Walther PPK?
The gun is very scarce and a rare find in today's market. You'll mostly find a PPK selling on auction sites or on a resale. Mostly pre-ban models. However, the gun has been redesigned to suit new laws and will probably make a comeback on the market in the near future. 
How Many Bullets Does a Walther PPK Hold?
A PPK chambered in .32ACP will hold 7 rounds in the magazine, and 6 rounds if chambered in .380ACP. Add one more round for the chamber if you want to carry it at its full capacity. The PPK/s version has a longer magazine and holds one round more in each of the aforementioned calibers. Plus the PPK/s also available in .22lr with a mag capacity of 10 rounds.