Waterfowl hunting is a tradition enjoyed by a large number of hunters every year. Whether it be duck hunting coastal waterways or goose hunting over harvested corn fields, hunting waterfowl is a challenging and rewarding type of hunting. There is one common thread between all waterfowl hunting. That common thread is the need for a reliable shotgun.
A good waterfowl shotgun is vital to having any sort of success when a flock of birds comes winging over your decoy setup. When every shot counts and a split second can mean the difference between a downed bird and an escaping flock, knowing your shotgun is up to the task is key.
Scroll down to learn more and to see some of the best waterfowl shotguns on the market today.
At a Glance: Our Top Picks for Waterfowl Shotguns
Comparison of the Best Waterfowl Shotguns
IMAGE
PRODUCT

Our Top Pick

3.5 inch chamber with recoil operated action cycles a variety of loads
Max 5 camo finish, textured gripping surface and shim adjustable length
World's first and most renowend semi-auto shotgun

View Latest Price →

The most reliable and trusted 12 gauge pump shotgun of all time
Rugged damage/flex proof synthetic stock and non-reflective finish
Cycles up to magnum loads and delivers amazing pointability & accuracy

View Latest Price →

World's first 3.5" chambered pump action shotgun
Long 28 inch ported barrel for good pointability and handling
Mossy oak shadow grass blade camo finish for optimal camouflaging

View Latest Price →

Kick off recoil pad and cheek rest for exceptional comfort and accuracy
Steel mid bead and fiber optic front bead sight for optimal acquisition
Very soft shooting waterfowl gun with unique steelium plus barrels

View Latest Price →

Lightweight and easy to clean semi-auto shotgun accepts spacers for LOP adjustment
Self-adjusting active valve gas system cycles different loads reliably
Vent rib barrel with fiber optic front sight for accuracy

View Latest Price →
What to Watch For When Buying a Shotgun
As with any potential firearm purchase, there are some important things to keep an eye on when making your buying decision. One of the best ways to be confident in your decision is to physically handle the waterfowl shotguns you are considering.
While it isn't always possible to fire several models unless you have friends with the shotguns you are interested in, it should at least be possible to hold and shoulder them at the gun shop or sporting goods store. The last thing you want is to wind up with a shotgun that is uncomfortable to shoulder. Check out the following tips and information to gain even more knowledge on waterfowl shotguns.
This Section Written By: Brian Belko
Expert Author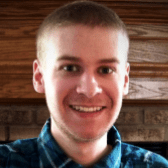 Brian is an experienced freelance writer and technical writer who has previously written for publications such as Wide Open Spaces, Bigfoot Gun Belts, Alien Gear Holsters, and Kampgrounds of America. He brings both a passion for writing and a love of the outdoors to his published content.

Aside from writing and the outdoors, Brian enjoys gardening, being a co-host on The Nostalgia Blast Podcast, and learning to code.
Choosing a System
The majority of waterfowl hunters opt to use semi-automatic shotguns to allow for quick follow-up shots when multiple birds are in range. Among semi-automatic shotguns, there are two main styles of operation: gas-operated and inertia-operated. In simple terms, a gas-operated shotgun uses gas from a fired shot to work the action while an inertia-operated shotgun uses energy from recoil to depress a spring and work the action.
A gas-operated shotgun can be easier to use with bulky winter clothing on and tend to perform better at low temperatures but does need more regular cleaning. Inertia-operated shotguns require less cleaning but do tend to produce more recoil.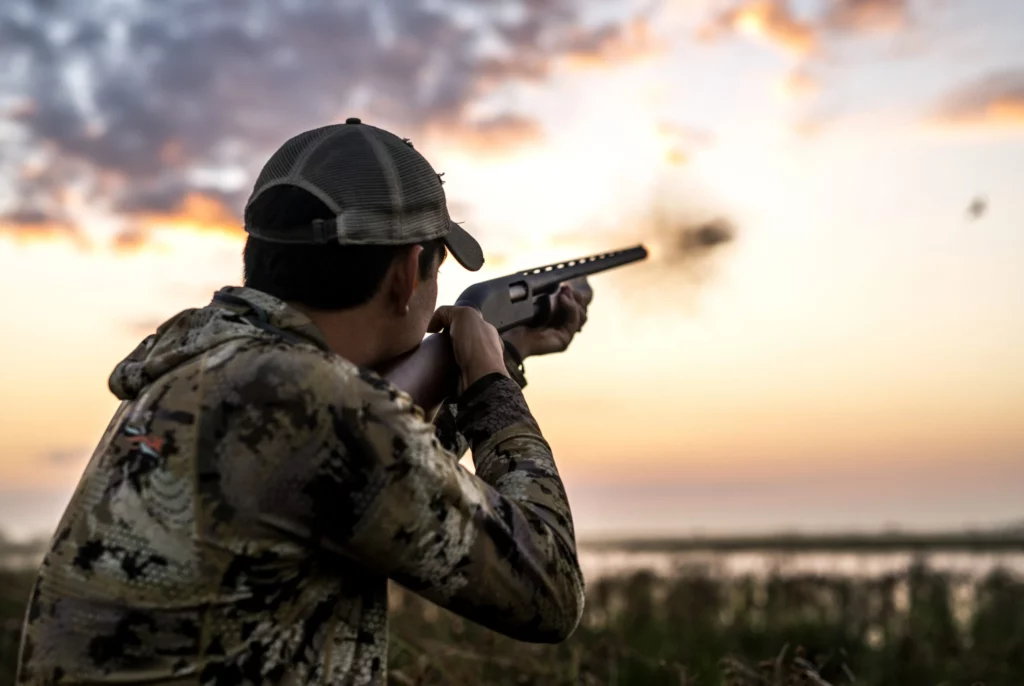 Gauging Interest
The two most popular gauges for shotguns are 12 gauge and 20 gauge. While smaller gauges can be preferable in some situations, the best option for waterfowl hunting is 12 gauge. A 12 gauge shotgun offers the most power and range which is very important in waterfowl hunting. This is especially true if you plan to hunt multiple species in different locations. A 12 gauge can handle any waterfowl species with ease.
Finishing Up
Waterfowl hunting tends to take place in less than ideal weather conditions and is essentially always near water. That means that the finish of your waterfowl shotgun is an important factor to keep in mind. There are plenty of good options available that are durable and waterproof. Stick to shotguns with synthetic stocks. Wood just won't hold up to waterfowl hunting conditions well. The bonus of a synthetic stock is the ability to choose a camo finish that matches your typical hunting environment.
Review of the Best Waterfowl Shotguns
After scouring through the vast expanse of available options and user feedback. We compiled a list of the best waterfowl shotguns being sold today. Most of these guns are suitable for many applications and are durable enough to last for years to come.
Browning A5 Wicked Wing 12 GA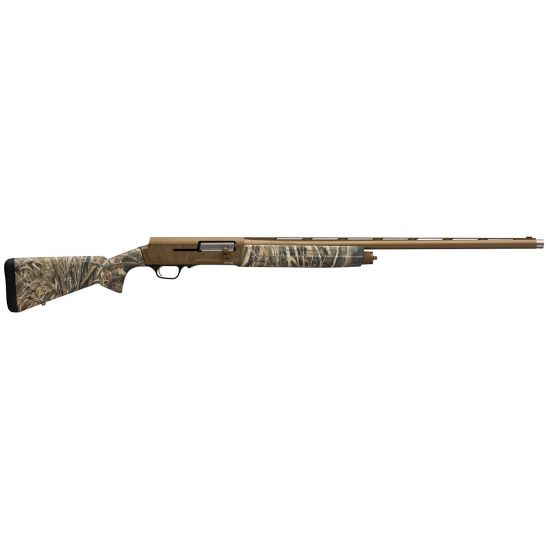 We may earn commission from purchases made from our links, at no additional cost to you
What Recent Buyers Report
Reviews for the A5 are somewhat mixed. While most users tag it as a reliable, accurate, and tough shotgun. Others face some cycling issues, which may be the result of a faulty piece or mishandling. Some users also found the humpback-receiver design useful for acquisition and accuracy.
Why it Stands Out to Us
The Browning A5 is the first successful semi-auto shotgun design to hit the market. It bears a legacy and a sense of trust. The shotgun has been used successfully for decades by different shooters with absolute efficacy. This Wicked Wing design is the waterfowl edition of the A5. Featuring a camo finish, gold trigger, floating rib barrel, and fiber optics.
This shotgun doesn't fall short on features or aesthetics. The 26-inch barrel is ideal for bringing down waterfowl with accuracy. Plus, it can also be used for trap or skeet shooting at a casual level. The inertia operated action doesn't jam and it runs very cleanly. The shotgun itself is very balanced and light-recoiling.
Bottom Line
The Browning A5 is a low-recoiling, reliable and classy waterfowl shotgun with an inertia operated action to balance recoil and run clean. The gun is priced on the high end, but the value definitely overshadows the price tag.
Pros
Sturdy but lightweight construction
Reliable and clean recoil-operated action
Balanced, accurate and patterns very well
Fiber optic front sight for better acquisition
Chromed bore, camo finish and textured grip panels
Cons
Priced on the high end
Breaking in period for light loads
Best Pump Shotgun for Waterfowl
Remington 870 Express Super Magnum
We may earn commission from purchases made from our links, at no additional cost to you
What Recent Buyers Report
Scouring reviews for a Remington 870 is a humongous task in itself. With most of the reviews being positive, users like the durability, non-reflective finish, and right-out-of-the-box flawlessness of this shotgun. It is a very affordable and versatile firearm and is great alike for beginners and pros.
Why it Stands Out to Us
The Remington 870 is the most versatile shotgun available today. It has been used to hunt almost every game that walks the plains and hills of North America. The shotgun certainly is an affordable and useful average Joe's shotgun. This piece, however not bearing a camo finish, has a non-reflective matte black coating to offer similar levels of camouflage. The pump action is manual, is very reliable. The durable design can withstand all weather conditions without any damage. People have been using these shotguns for years and for almost every application you can think of for a shotgun.
Bottom Line
Remington 870 is a trusted, acclaimed, and widely appreciated shotgun that can be used for hunting waterfowl, turkeys, upland birds, and mammals. If you are looking for an inexpensive, jack-of-all-trades shotgun, this is your answer.
Pros
Very affordable all-purpose shotgun
The most versatile and trusted shotgun ever made
Shoots all light and heavy loads without a problem
Matte black non-reflective finish on the entire exterior
Utterly reliable pump action mechanism with positive ejection
Cons
Slower rate of fire than semi-autos (but not in the right hands)
Best Mossberg Waterfowl Shotgun
Mossberg Shotgun 835 Ulti-mag
We may earn commission from purchases made from our links, at no additional cost to you
What Recent Buyers Report
Since the 835 has been on the market for about two decades now, there are a lot of users who procured it as their first waterfowl gun due to its low price. This shotgun has a very clean and smooth action and can be used for waterfowl and clay sports.
Why it Stands Out to Us
One of the first pump-action shotguns chambered for 3.5-inch shells, the Mossberg 835 ulti-mag waterfowl has been motively designed for waterfowl and skeet. The long 28-inch barrel helps with swing and accuracy. Plus the camo finish is suitable for waterfowl hunting environments. The cycling is perfect if you rack the slide properly, and the top-mounted tang safety is ambidextrous and easy to access.
The 835 has been designed after the famous Mossberg 500 and bears resemblance to its ideal handling and accuracy capabilities. Finally, one of the most admirable features of this shotgun is its super affordable price. Which allows you to keep it as a waterfowl specific shotgun.
Bottom Line
A great beginner shotgun for waterfowl, the Mossberg 835 gas all the features needed for hunting dove and geese. The shotgun can be customized as needed and has a long barrel for ultimate accuracy and pointability.
Pros
Patented LPA adjustable trigger
Marble arms bullseye rear sight
Very easy to fieldstrip and clean
Mossy Oak shadow grass blade finish camo
Overbored and ported barrel reduces recoil and muzzle jump
Cons
Recoil is somewhat pesky
Best Beretta Waterfowl Shotgun
Beretta A400 Xtreme Plus KO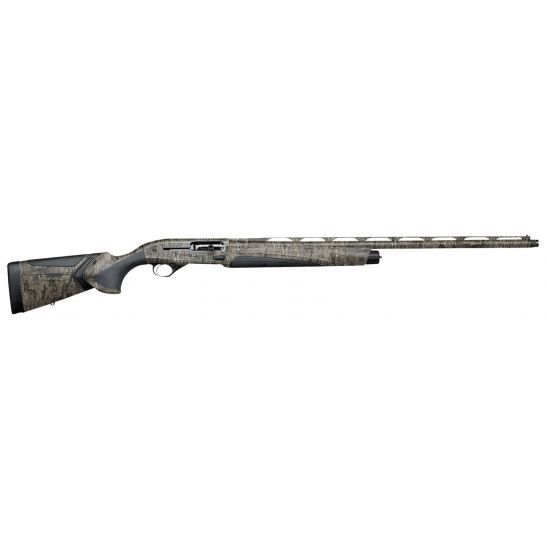 We may earn commission from purchases made from our links, at no additional cost to you
What Recent Buyers Report
Some users report it to be the best gun they've ever owned. The most impressive and talked about feature of this shotgun is its unimaginably low recoil. The gun feels really nice when shouldering and the sighting system is just perfect. This is a pure hunting shotgun for beginners as well as pros.
Why it Stands Out to Us
The Beretta A400 has an astounding recoil mechanism and a very soft and comfortable synthetic stock covered in Mossy Oak finish. The recoil is almost negligent with light loads. Another great feature is the steelium barrel with a stepped wide rib. Topped by a front fiber optic and a mid bead sight. Thus providing exceptional sighting and accuracy. The gun does have a break-in period, but it shoots really well after that. Another admirable feature is the quick-access location of the trigger safety for more fluid movement.
Bottom Line
The Beretta A400 is a worthwhile investment for the long term. It is a shotgun designed for recoil sensitive shooters who are bent on tasting the 12 gauge. The shotgun has a wide rib for better aiming and is very comfortable to shoot.
Pros
Very easy to break down
Realtree timber camo pattern
Lightning-fast cycling for light and heavy loads
Soft kick-off stock for comfort and lesser recoil
Steelium plus barrel with stepped rib and extended cone
Cons
A little pricey, but well worth the money
Not suitable for young or small-statured shooters
Best Winchester Waterfowl Shotgun
Winchester SX4 Waterfowl Hunter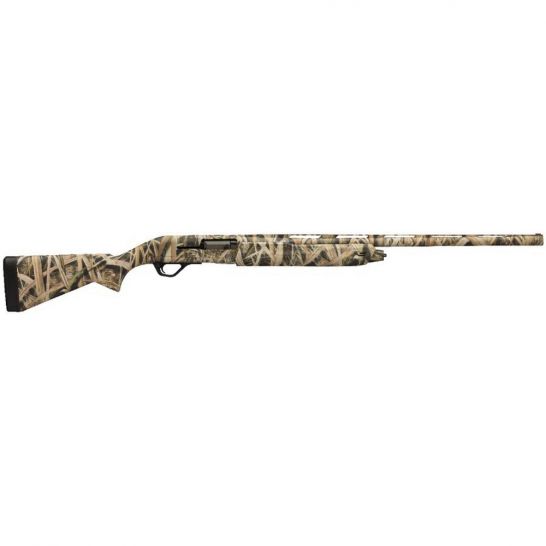 We may earn commission from purchases made from our links, at no additional cost to you
What Recent Buyers Report
The SX4 is a great gun for hunting waterfowl, and its cycling reliability is just amazing. It can be adjusted for LOP using shims so this shotgun has also been bought for youngsters. The gun is a bit front-heavy, so it may take some time to adapt. However, the gun itself is a workhorse.
Why it Stands Out to Us
The SX4 is an affordable and great shotgun from Winchester. The self-adjusting active valve gas system ensures reliable cycling of all loads. Plus the soft inflex recoil pad uses directional deflection to mitigate recoil. Disassembling the gun (including the trigger assembly) for maintenance is super easy.
The back bored barrel and long invector-plus choke tubes offer exceptional patterning. The wide vent rib along with fiber optic front sight delivers optimal accuracy. The synthetic stock is very durable and also textured to provide an optimal grip in soggy waterfowl hunting conditions. The ambidextrous and reversible safety is also a good feature if multiple users use the weapon.
Bottom Line
The Winchester SX4 is a technically advanced shotgun with a self-adjusting gas system and exchange ports to offer reliable cycling and smooth recoil. The long barrel also makes it suitable for use in clay sports.
Pros
Easy disassembly even for the trigger
Camo finish and oversized components
Ambidextrous and reversible cross-bolt safety
Advanced active valve gas system cycles all loads
Lightweight, ergonomic and slim profile for easy handling
Cons
Trigger pull may feel a bit heavy
6. Browning BPS Field 26″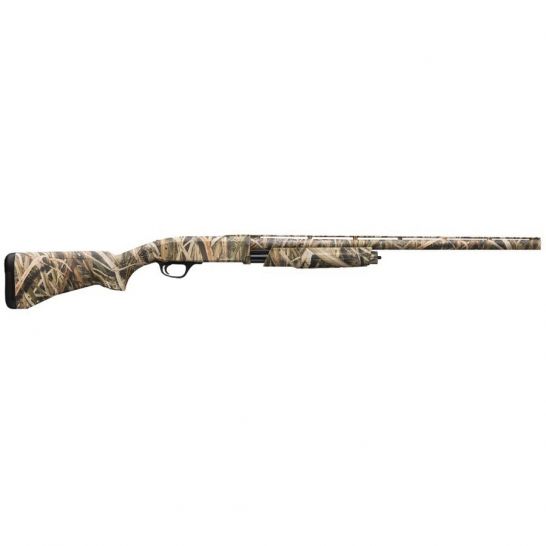 We may earn commission from purchases made from our links, at no additional cost to you
What Recent Buyers Report
The bottom ejection, tang safety, and durability are the most noticeable and important features that attract users to this gun. It is a great waterfowl gun and is used for the same purpose by many users. One downside pointed by users is the difficult disassembly which needs some practice for adherence.
Why it Stands Out to Us
The Browning BPS is an ambidextrous shotgun. The bottom loading and ejection features ensure that hot spent shells don't go flying around and hit a bystander in the face. Since duck hunting is mostly done in groups. The shotgun itself is very tough and will withstand the harshest conditions.
The camo finish helps with adapting to the natural environment and the large trigger guard helps using the gun with gloves. The BPS also has a floating rib to aid with accuracy by preventing shifting of the point of impact. Which perhaps is an important factor for waterfowl shotguns.
Bottom Line
The Browning BPS is a gun good for both left and right-handed shooters. It has a bottom loading/ejection design and points/swings perfectly at the target. The shotgun is also very affordable and comes ready for hunting waterfowl.
Pros
Durable and ambidextrous design
Floating barrel rib prevents POI shifts
Grass blade camo finish for better hiding
Bottom ejection/loading for better handling
Soft recoil and adjustable LOP using recoil pads
Cons
Disassembly requires time and effort
A tad heavy (but absorbs recoil very well)
Best Waterfowl Shotgun for the Money
Benelli SBE 3 12 GA 26″
We may earn commission from purchases made from our links, at no additional cost to you
What Recent Buyers Report
Users have rated the SBE3 to be a fabulous waterfowl shotgun. The low recoil and muzzle rise, coupled with impressive ergonomics make it very precise and efficient. Some users reported problems with the gun shooting high. But it eventually evolved that some users need to adjust the drop of the stock using the included shims.
Why it Stands Out to Us
The Benelli SBE3 is a very popular waterfowl gun and is used by a lot of hunters for taking down ducks, geese, upland birds, and even clays. The shotgun has a very ergonomic build topped with a camo finish for better mixing. The oversized parts ensure the gun is easy to handle even when wearing thick gloves. The SBE3 is among the lowest recoiling 12 gauge shotguns available on the market and showcases exceptional control while shooting. The front blade sight along with the mid bead improves acquisition and accuracy. The extended chokes are easy to swap and the takedown is quick and simple.
Bottom Line
The SBE3 is an ultimate waterfowl and clay shooting shotgun with the best handling in its class. This shotgun is used by many pro hunters and offers the best value for money if you're ready to spend the amount.
Pros
Includes shims to adjust drop and cast
Red bar front and metal bead mid sight
Large trigger guard and oversized parts
Revolutionary design halves recoil and reduce muzzle rise by 15%
Cons
Pricey for low budget buyers
Requires adjustments for POI using shims (for some shooters only)
Best Waterfowl Shotgun under $1000
Stoeger M3500 12 GA
We may earn commission from purchases made from our links, at no additional cost to you
What Recent Buyers Report
The M3500 is an affordable and reliable semi-auto shotgun with an impressive recoil. The gun is very accurate and seldom jams or misfires. It is a balanced overall gun being widely used for waterfowling as well as hunting turkey and upland birds.
Why it Stands Out to Us
The Stoeger M3500 is a quality shotgun from Benelli, available at a very economical price and performing at par with many high-end models out there. The shotgun features an inertia operated cycling mechanism which requires less maintenance than gas systems. The recoil reducer stock increases the rearward weight, offering better balance while swinging.
The camo finish is very durable and perfect for waterfowl hunting scenarios, and the oversized components help to handle with gloves on. The shotgun cycles everything from light 2 ¾" shells to 3.5" magnum loads without a hiccup. It is a great multipurpose shotgun for different applications.
Bottom Line
The M3500 is the quality of Benelli packed in a more inexpensive package. The shotgun features everything you'd desire from a waterfowl gun. The gun patterns insanely even at 45-50 yards range and is the perfect option for a budget semi-auto shotgun.
Pros
Easy disassembly and maintenance
Rugged weather-resistant construction
Very affordable and durable semi-auto shotgun
Recoil reducer buttpad and shim adjustable stock
Ventilated stepped ribbed barrel with fiber optic front sight
Inertia driven action runs smooth and doesn't require adjustment
Cons
Break-in period (use heavy loads initially)
Best Semi-Automatic Shotgun for Waterfowl
Remington V3 Field Sport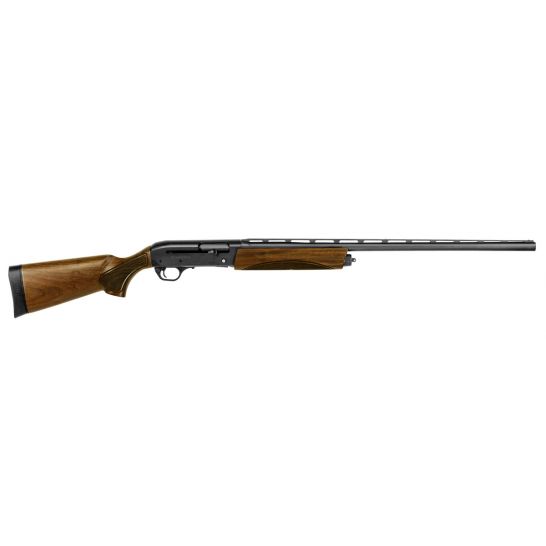 We may earn commission from purchases made from our links, at no additional cost to you
What Recent Buyers Report
It is hard to expect such superb performance at this price, but the V3 greatly exceeds its expectations. It is a better alternative to Remington Versamax due to its lighter weight, slimmer profile and lesser felt recoil. The simple gas design is ingenious and very easy to clean. All the components are oversized to help suit gloves.
Why it Stands Out to Us
The Remington V3 is a very reliable and easy to handle shotgun with a pretty simple and efficient gas system. Which automatically regulates pressure to cycle heavy or light loads without a hitch. Contrary to the common notion, this gun has a walnut stock with black oxide finish. Which doesn't limit the gun only to bird hunting cosmetics. The V3 has a very slim profile and is easy to carry. The recoil is super soft and the pattern is ideal 60/40. It stands among the smoothest shooting autoloaders on the market and can take a helluva beating in the unforgiving rain and mud before succumbing.
Bottom Line
The Remington V3 is an affordable, simple, easy to maintain, and accurate shotgun costing almost half than other high-end semi-auto shotguns on the market. The gun is very comfortable to carry and shoot. However, keep in mind that it doesn't shoot 3.5" shells.
Pros
Crossbolt safety and soft supercell recoiling pad
Lightweight and slim design. Easy to carry all-day
Pressure-regulating gas system for reliable cycling
Long vent rib barrel, twin bead sights, and wide sighting plane
Cons
Not chambered for magnum 3.5" shells
No camo finish (not much of a con really)
What Gauge of Shotgun Do I Need For Waterfowl?
Most people prefer 12 gauge 3 ½ inch BB, #1 or #2 for large ducks when shooting in a 10 to 40-yard range. Smaller ducks can be shot with #4 to #6 birdshot in the 10 to 15-yard range. Whereas larger geese may need BBB or T shot. A 12 gauge shotgun has more range than a 20 gauge shotgun and is a very versatile gauge for different applications.
The 20 gauge, however, is very low-recoiling ammo and has an almost equal effect on ducks in close range as a 12 gauge. So in this case, you are free to choose the gauge you feel comfortable with.
What Makes a Great Waterfowl Shotgun?
Action
Semi-autos are more preferred as waterfowl shotguns due to their capability of spewing out fast follow up shots. These actions are gas or inertia operated, which subsequently helps with reducing the recoil to some extent. More seasoned hunters may use pump actions or even over/under shotguns.
Long Barrel
A good waterfowl shotgun shall have a barrel length of about 28 inches or close. While a subjective matter, long barrels tend to offer better swing to the shooter. Plus adding a cent or two to range and accuracy.
Choke
An improved cylinder choke works best for hunting waterfowl in a close range. These even work with slugs. Whereas for farther shots, a modified choke will seem more reasonable.
Sights
A preferred waterfowl shotgun shall have anything more than just beads. It can be a blade sight, a fiber-optic, or even reflex sights. Although not a necessity, having a good set of sights on your shotgun will help.
Resistant to Impervious Weather
Since duck hunting is done mostly in bad weather, having a tough and durable shotgun that can eat up dirt and moisture while being beaten with a stick and still be able to function will work the best.
Benefits of Investing in a Quality Waterfowl Shotgun
Let's check out some benefits of buying a quality waterfowl shotgun. Since it is going to be a lasting product, you should try to make your investment worthwhile
Multipurpose
Most of the shotguns reviewed above in our list work perfectly well for waterfowling and skeet competitions. A few of these models can also be employed for 3-gun competitions. So you can get the most out of your investment.
Right Tool for the Job
Investing in a shotgun designed specifically for hunting waterfowl greatly improves your chances of success. Since flying birds are not stationary targets and shift in range, it is imperative to have a shotgun that balances well, swings perfectly, and shoots accurately.
Legacy
A good waterfowl shotgun which is durable and sturdy enough to withstand years of service. It can be a perfect heirloom to be passed on to your future generations. It is also an emblem to the fact that such a shotgun is guaranteed for success when dealing with waterfowl or clays.
How to Clean a Waterfowl Shotgun
Cleaning a waterfowl shotgun, especially after a shooting session is super-essential. Obviously due to the fact that waterfowl hunting conditions are extremely soggy and loaded with moisture and dirt. Shotguns used for hunting waterfowl need a bit of extra care compared to other shotguns.
Here we will learn how to fieldstip such a shotgun and clean it properly. You may also refer to the video below for detailed instructions on cleaning.
Disassembling a semi-auto shotgun (we'll stick to these since waterfowl shotguns are mostly semi-auto) is fairly easy. You may also want to have a shotgun cleaning kit for convenience. Let's follow a step by step procedure for it:
Make sure the gun is safe and free from all ammo.


Unscrew the magazine tube end cap and pull out the front assembly (it'll all come out together).


Pull out the bolt and the charging handle. You may also want to take out the trigger assembly if it is a simple drop-down design.


Now use a bore snake, bore cable or cleaning rod, add a squeegee tip and make a few passes through the barrel.


Use some patches, followed by a bore brush and followed by some solvent soaked patches for cleaning the barrel.


Use rags, patches, and cleaning liquids to rid the action from any dirt and moisture.


Once all the components have been properly cleaned, lube all the parts necessary and assemble the shotgun.


Wipe out the exterior dry with a rag and your gun is clean.
How Do I Choose Waterfowl Shotgun Sights?
Choosing a waterfowl shotgun sight is fairly easy. You just need to keep a few things in mind:
Ease of Installation and Durability
A good waterfowl sight should be very easy to install. It should be simple to screw on or tape and be sturdy enough to not fall off due to snagging or recoil.
Brightness
Most people prefer fiber optic sights for waterfowl sights due to their bright nature in low light conditions. Which are the best conditions for hunting waterfowl. Try to go for sights that allow you to change the color of fiber optics for more versatility.
Affordable and Low Profile
Waterfowl shotgun sights should be low profile so you get the proper view of your target while swinging the barrel. These sights should also be lightweight to not affect the balance of the gun. Plus, affordability is also a good factor to be considered.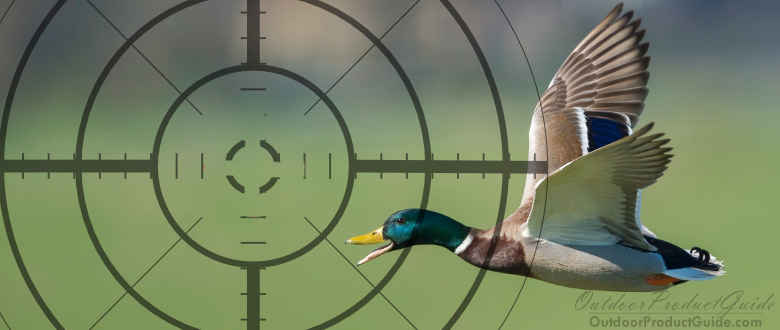 Gas vs. Inertia Shotgun For Waterfowl – Comparison Overview
Both operating mechanisms have their own pros and cons. The gas systems tend to have a lesser recoil compared to inertia guns because the expanding gases get to work rather than being simply ejected and creating pressure. Gas systems have more parts than inertia systems which makes them fatter in profile, but also more manageable for recoil. Inertia shotguns are slimmer and cycle almost everything you feed them, especially once broken-in.
One advantage inertia systems have over gas is that they are easier to clean and have less grime and fouling inside their action. Either of these actions work perfectly for waterfowl hunting. But eventually, it's the shotgun that fits and suits you the best.
Conclusion
A waterfowl shotgun is generally characterized by a long barrel(about 28 inches), a camo finish, good sights, and perfect balance for ideal swing. These shotguns should be rugged enough to withstand harsh hunting conditions while being lightweight and low-recoiling to support you during those strenuous shooting sessions.
People Also Ask
Figure out some useful information about waterfowl shotguns and ammunition in this FAQ section. This section contains answers to some very common and important questions related to these shotguns.
What Type of Shotgun Pellets Are Allowed For Waterfowl Hunting in the U.S.?

Only non-toxic shotgun pellets are legally allowed for hunting waterfowl in the U.S. This means that you cannot use the common lead shot for waterfowling and wingshooting. A good alternative to lead is steel, bismuth, or tungsten pellets which may cost more, but are more environmentally friendly and perform better.
How to Pattern a Shotgun For Waterfowl?
The eventual answer to patterning is testing. Choose the right choke, ammunition, and barrel to pattern perfectly. An ideal pattern is about 70-80% of the pellets from a shell spaced evenly inside a 30-inch circle at 30-40 yards at a patterning board.
Is 20 Gauge Enough For Hunting Pheasants?
Yes. A 20 gauge shotgun shooting #5 or #6 1 oz. shot is enough to bring down a pheasant. Most people use 3 inch 20 gauge or 2.75 inch 20 gauge ammo with shots ranging from #4 to #7.5 to hunt pheasants.
Are 3.5 Inch Shells Worth it?
3.5-inch shells a.k.a super magnum were introduced in the market to replace lead pellets as a non-toxic alternative. These are the biggest shells you can find for a 12 gauge shotgun and pack enough punch to bring down anything.

These shells have more power and are great when you face unexpected situations.
Are Remington Shotguns Made in the USA?
Absolutely, yes. All Remington shotguns are proudly made in the USA at Ilion, NY. Remington is America's oldest firearms manufacturing company, founded in 1816 by Eliphalet Remington in Ilion, NY. The company still uses a lot of old-style machines to manufacture firearms. Carrying the American legacy forward.
Can You Shoot a Shotgun Without a Choke in it?
If your shotgun has a screw-in choke system which allows you to replace chokes. It is not recommended. Since the outgoing pellets from the muzzle can damage the threading used to mount the choke on the muzzle. Additionally, lead shot does some less damage to the threads than steel shots.
What is the Best Gauge Shotgun For Duck Hunting?
That depends on what is your expected range and what are you comfortable with. While most shooters choose 12 gauge due to the versatility, range, power, and affordability of ammo. Recoil sensitive shooters working on a close-range can go for 20 gauge. Either of these have almost the same effect within 10 yards.