Gun owners cover a wide variety of lifestyles, abilities, and traits. One somewhat overlooked group is those with weakness in their hands or arms. Many people experience some sort of weakness, pain, or stiffness in their hands.
This can be brought on by many different factors, but should not preclude someone from feeling confident and safe when using a handgun. While not every single handgun on the market today is ideal for anyone with weak hands, there are plenty of options that are.
Scroll down to learn more and to check out some of the best handguns for weak hands.
At a Glance: Our Top Picks for Handguns For Weak Hands
Comparison of the Best Handgun For Weak Hands
IMAGE
PRODUCT

Our Top Pick

Weighs 6 ounces
Fiber optic sights included
Best overall handgun for weak hands

View Latest Price →

Single action design
Contains a capacity of 8 rounds
Runner-up for best overall handgun for weak hands

View Latest Price →

8-round capacity
Chambered in 9mm shots
Best handgun for weak hands for the money

View Latest Price →

The capacity of 7 + 1
Made from stainless steel
Chambered to fire .22 caliber rounds

View Latest Price →

Best Budget Option

10-round capacity
Chambered to fire .22 caliber rounds
Slide made from high-quality aluminum

View Latest Price →
What to Watch For When Buying a Handgun For Weak Hands
There are a lot of different factors that make some handguns nearly impossible for those with weakness in their hands to use safely or comfortably. That is why it is important to consider as many as possible when shopping for a handgun that can be used with weak hands.
Some of those factors include the overall weight of the handgun, the trigger pull weight, the loading process, and the ergonomics of the handgun. There is no shame in admitting that your hand strength might not be what it used to be. The important thing is to find a handgun that will work for your needs. The tips and information below are a great place to start.
This Section Written By: Brian Belko
Expert Author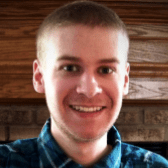 Brian is an experienced freelance writer and technical writer who has previously written for publications such as Wide Open Spaces, Bigfoot Gun Belts, Alien Gear Holsters, and Kampgrounds of America. He brings both a passion for writing and a love of the outdoors to his published content.

Aside from writing and the outdoors, Brian enjoys gardening, being a co-host on The Nostalgia Blast Podcast, and learning to code.
Process Adjustment
One of the parts of the shooting process in semi-automatic handguns that requires the most hand strength is racking the slide. Anyone struggling with hand weakness might have trouble doing so safely. That isn't to say to avoid semi-automatic handguns. It just means that it is important to test your ability to rack the slide and work the other functions such as the safety and mag release, before laying down any cash. If you are finding it difficult to find one that you can operate, it might pay off to pivot to revolvers depending on what purpose your firearm serves.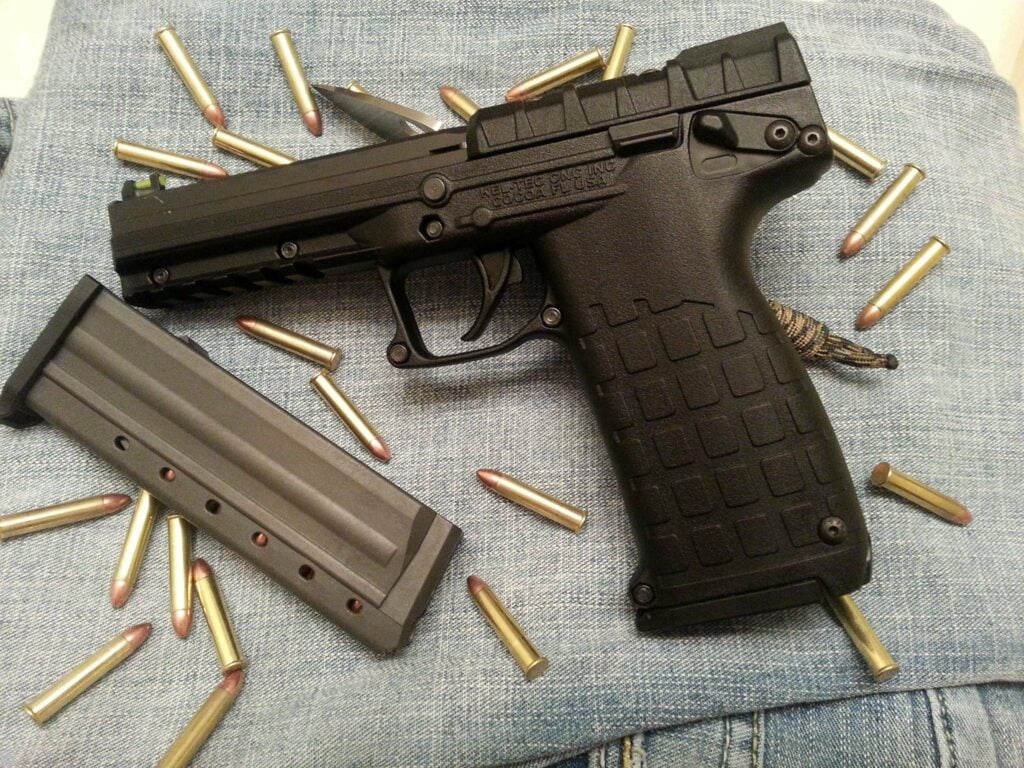 Considering Size
It might sound logical that a smaller handgun would be easier for someone with weaker hands to the fire. However, that isn't always true. It really depends on the specific needs of each individual. Some might indeed find that a pistol with a smaller frame is the best option. However, the extra surface area of a larger frame handgun might be easier for some people with weak hands to use. Again, try out a few different options to see which might work best for you.
Handling Recoil
A handgun with a lot of kick can be very difficult for someone with weak or stiff hands to fire even if other factors of it work well. There are a couple of options here. For some, a heavier handgun might help as it can help to reduce felt recoil and kick. Recoil controlling accessories such as muzzle brakes might also help. There is also the option of choosing a lighter kicking caliber as long as it can still do the job you need it to.
Review of the Best Handguns For Weak Hands
Below is a list of the best handguns you can find with easy trigger and hammer pulls. As you read through each review, you should consider noting the features and characteristics that stand out the most. This way, you can rely on your notes to find one that will match the ideal description of your "dream handgun". Now, let's begin by taking a look at the "best overall" choice on our list:
KEL-TEC PMR30 .22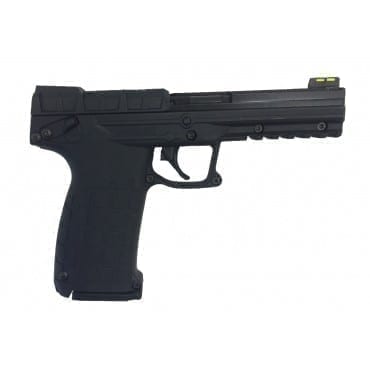 We may earn commission from purchases made from our links, at no additional cost to you
What Recent Buyers Report
Most new buyers were happy with this handgun overall. They said that the pull weight on the trigger was nice and light and it was also excellent in terms of reliability. These users mostly use this pistol for target shooting purposes (in a casual setting). One user who is in his 60s said that it was a perfect handgun for him to use despite dealing with some bad joints in his hands over the last couple of years. He said that it was easy to fire and he was still able to shoot accurately compared to a handgun he's used for competitive shooting in the past.
Why it Stands Out to Us
This handgun is a .22 caliber pistol that will be excellent for the purpose of target shooting in a casual setting (or, if you're up for it, a competition). It's a pistol that contains a great deal of firing power at your disposal, and you'll have plenty of rounds to work with when you put it to good use at the range. It's durable, lightweight, and can handle the duties of an extended range session. If you want something that will be an excellent fit for weak hands, this could easily be your pistol of choice.
Who Will Use This Most
This is the pistol that shooters will enjoy while spending time at the range. Weak hands won't stop you from putting yourself over the edge of other competitors. This handgun will be reliable, fun to shoot, and excellent to own if your hands can't handle some of the other handguns on the market.
Bottom Line
The Kel-Tec PMR30 WRM Pistol has proven itself time and time again that it belongs on top of our list. It can and will be one of the most reliable pistols that you can use for your weak hands if you simply want to fire off at paper targets or clay pigeons. Who says your hands won't allow you to do anything? This pistol is easy to use and will certainly be a great one to use for recreational applications.
Pros
Super lightweight, even when loaded
Really accurate and precise shooting
Great reliability; doesn't jam in the slightest
Fun to shoot in target shooting applications
Clip size is perfect and contains a large number of rounds
Cons
Not suitable for high-pressure ammo
May be difficult to load the magazine in its entirety
May be a bit picky about the ammo you'll work with
Ruger LCR-22 8-Shot Revolver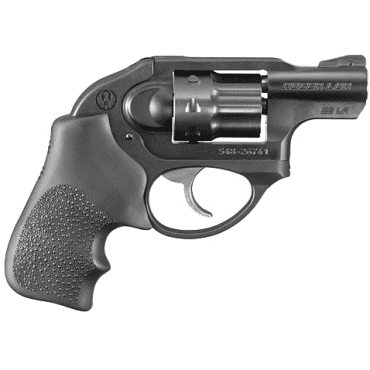 We may earn commission from purchases made from our links, at no additional cost to you
What Recent Buyers Report
Many new users said that this revolver was perfect for the purpose of concealed carry and home defense. They said the single-action design made it a whole lot easier for them and their hands. On top of that, they were quite happy to see that they were dealing with little to no recoil. Loading the revolver was easy for some users, but others have relied on speedloaders when it got to be too much for their hands.
Why it Stands Out to Us
This handgun is a .22 caliber revolver with a great deal of stopping power that you can work with for the purpose of defending yourself against danger. Even if you are in a life and death situation, this handgun will put you at an advantage to allow you quick and easy shots without having to apply a whole lot of pressure. Since it's a single-action revolver, all you have to do is pull the trigger. It saves a lot of time and struggle for many shooters who want to get themselves out of dangerous situations.
Who Will Use This Most
This handgun will definitely be a great concealed carry or home defense revolver for those who want something for EDC use. You'll never know if and when you'll need to use it, but you'll really want to give a pistol like this a try if you plan on using it for protection. It's easy to use and will certainly be easy to conceal with the right kind of holster.
Bottom Line
The Ruger LCR .22LR 8 Shot Revolver will definitely be a worthy handgun for those with weak hands, especially if you need something for defending yourself if and when such situations occur. Your life is important. So you need something that will accommodate you even if your hands are too weak for some other handguns. This just might be right up your alley if you need an accurate, reliable, and easy to conceal handgun.
Pros
Superior durability
Easy to pull trigger
Excellent for concealed carry
Simple to load manually or with a speedloader
Front sight does a good job with precision accurate shooting
3. Walther CCP M2 9MM
We may earn commission from purchases made from our links, at no additional cost to you
What Recent Buyers Report
A lot of new users say that this pistol was perfect for concealed carry. But a good handful of users have relied on this for target shooting (casual and competitive) as well. Regardless, they were impressed with the accuracy and reliability. There was no jamming or any kind of malfunctions to report. Shooting groups for most of the ammo used for this pistol was quite tight between 25 to 40 yards, according to one user. Overall, the trigger pull was quite easy and had no sharp recoil at all.
Why it Stands Out to Us
This pistol is affordable but excellent in quality and performance. That pretty much hits the sweet spot for those looking for a pistol on a budget. It's durable thanks to its synthetic polymer materials, thus making it a lot better for longevity purposes. On top of that, it's got 8 rounds that you can work with for the purpose of concealed carry or target shooting. No matter how you use it, this pistol will definitely go to work and provide accurate, dependable shooting.
Who Will Use This Most
This will be a great starter handgun for those who have yet to use a handgun but don't have the strength to use a regular model. But rest assured, it's a long-lasting handgun that you can use for self-defense, target shooting, or both. Plus, it has the perfect measurables, so you'll be able to utilize this for the purpose of EDC carry if you so choose. Just find the right holster to go along with it and you are in business.
Bottom Line
If you are in search of a handgun that will be easy on your hands and bank account, then the Walther CCP M2 9mm pistol might be the optimal choice for you. It's concealable, reliable, and perhaps one of the best handguns you can use that is excellent in quality. You'd be hard-pressed to find a pistol like this anywhere else. Even if you have enough money to purchase any pistol you want, you'll probably be surprised with how well this can hold up compared to other pistols.
Pros
Easy to load magazine
Super durable construction
Perfect for concealed carry and target shooting
Excellent concealability; can fit in most small holsters
4. Beretta 21 Bobcat INOX .22LR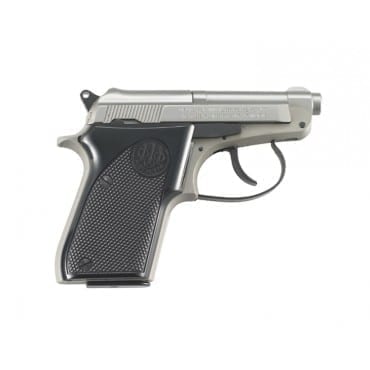 We may earn commission from purchases made from our links, at no additional cost to you
What Recent Buyers Report
As expected, a lot of new users were quite happy with this handgun. A lot of them were using this for the purpose of concealed carry while another was using this for casual target shooting. Either way, they managed to hit their targets effectively ranging from 20 to 35 yards out. One user said that while he might no longer be competing in shooting competitions, he finds it fun shooting at targets without worrying about his hands acting up on him.
Why it Stands Out to Us
This might be one of the smallest pistols on our list in regard to its measurements. So, it will be super concealable for those that intend to concealed carry and want something that will give them the maximum concealability possible. The pistol may be small, but it is certainly one of the most durable of its kind. Small doesn't always equal weak (in power or durability).
It's got surprisingly good stopping power, and even better, the front sight is your best friend when it comes to shooting exactly where you want the shot to go. If you want to go for the bullseye, you are almost guaranteed to hit it. If you desire a pistol with reliable sights, you're definitely going to want to give this a closer look.
Who Will Use This Most
This would be an excellent handgun for elderly shooters and those who have hands that might be too weak for regular pistols. Its shooting power will be strong enough to stop attackers in their tracks (and even hit bullseyes with just a good amount of aim and timing). It's a great multi-purpose pistol that will work hard when you need it most. And yes, it will give you excellent concealability compared to some pistols. What's not to love about that?
Bottom Line
The Beretta 21 Bobcat Inox 22LR Pocket Pistol is super affordable, super concealable, and super reliable, even for users with weak hands. You'd be hard-pressed to find a pistol that is so small and fierce anywhere else. And since you are able to easily pull the trigger, you'll get every single shot off quickly without having to struggle.
Pros
Durability is top quality
Fits in many small holsters
Excellent for target shooting and concealed carry
Really lightweight and doesn't bog down your holster or belt
Grip allows for excellent control and stability in adverse weather conditions
Cons
Trigger pull might be a bit too light
May not be suitable for appendix carry
Shooting groups may be inconsistent at times and may depend on the type of rounds



Ruger SR22 .22LR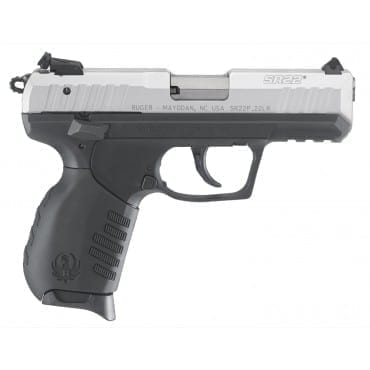 We may earn commission from purchases made from our links, at no additional cost to you
What Recent Buyers Report
Most new users were in search of a pistol that was not just excellent for weak handed shooters, but was also perfect for those who wanted fast firing capability in target shooting and concealed carry situations. Regardless, their shooting groups were ridiculously tight across targets ranging from 25 to 35 yards. One user was quite happy with this pistol after firing off about 4 magazines full of shots. She said that it was reliable and jam-free for the most part and added that this made for a great competition or casual target shooting pistol.
Why it Stands Out to Us
Aesthetically, it's pretty sharp looking. But it's the performance that will matter the most. It's a pretty solid pistol for all kinds of applications like target shooting or concealed carry. Not only that, it's pretty durable to the point where you can be able to use it for years on end so long as you clean and maintain it on a regular basis.
Who Will Use This Most
This pistol will be another option for those who are starting out with concealed carry but may not have the hand strength to deal with pistols on the market that have heavy trigger pulls. So, it would be ideal for those who want to use it for concealed carry purposes, target shooting, or both. You get a handgun that makes it easy to pull the trigger and shoot accurately.
Bottom Line
The Ruger SR22 Silver & Black Pistol will in all likelihood be the go-to choice for most beginners. So if you are a newbie who wants a good pistol to start out with (from training to the real deal and beyond), this Ruger pistol won't steer you wrong in terms of making it easier on your hands.
Pros
Superior durability
Shooting is accurate and reliable
Sight allows for precise shooting
Magazine is easy to load and release
Excellent for concealed carry, can fit in most holsters
Cons
Some snagging may occur in some holsters
Sight adjustments may be a little stiff at first
May not be recommended for appendix carry
Should Any Handgun Be Used if You Have Weak Hands?
The short answer: no. To further elaborate, there are a wide variety of handguns on the market that won't be able to work well with weak hands. For one, a trigger pull weight might be a little too heavy for weak hands (especially the hands of older people who are dealing with mobility issues or arthritis).
Another potential issue would be the hammer pull. Some double action handguns will have a hammer that will require a good amount of pressure to pull back. Sometimes, weak hands may not have enough pressure to ensure the hammer is cocked back in its entirety.
What Makes a Handgun Suitable For Weak Hands?
There are some features and characteristics that make a handgun great for weak hands. It's important that you know what they are so you can make a process of elimination while searching for a handgun. Here are some aspects to watch for:
Light Trigger Pull Weight
First and foremost, we take a look at the trigger weight. It is absolutely important that you find a handgun with a light trigger pull weight so you can be able to get a shot off. To begin, it's important that you find a trigger that has a pull weight of fewer than 4 pounds. As a safety precaution, if you find one that is lighter be sure to practice appropriate gun safety to ensure that no accidental discharges can happen.
Easy to Pull Back Hammer
A hammer that is easy to pull back functions just as well as a light trigger pull weight. This should go hand-in-hand if you intend to purchase a double-action pistol. If you want something that will make you easily prepared for taking a shot and it requires you to cock the hammer back, find a handgun that has a lighter weight so you don't need to apply much pressure in order to get a shot off.
Affordability
Yes, you can find a handgun for weak hands on a budget. It will come down to whether or not if you can invest in the best quality and performance possible. Bear in mind that handguns that are cheap in these aspects will often lead to disappointment. So choose (and spend) wisely, even if it means going slightly higher on the pay scale than you originally thought you would.
Cautious Considerations to Keep In Mind
Prior to purchasing a handgun, it is important that you keep a couple of these considerations in mind. You should not ignore these, as doing so will jeopardize your safety. This will also help you make a more informed decision in the process. Here's what you need to know:
Most Will Have Light Trigger Pull Weight
If the trigger pull weight is light, there may be a chance that accidental discharge can occur. So, it is important to carry your handgun with a hip holster as opposed to appendix carry. This will ensure that you are not in the line of fire while you quickly draw it. Plus, it doesn't put you in the risk of being accidentally shot due to unintended discharge.
Use a Speedloader If Needed
If your hands are unable to handle the task of loading your magazines or cylinders by hand, you may want to consider purchasing a speedloader that is compatible with the pistol you choose. A speedloader will not only give your hands a break, but it will make loading a lot easier and faster.
Conclusion
The best handgun for you and your weak hands might be one of the firearms listed above (or maybe not). Regardless, it's important that you find one that has the right characteristics and abilities so you can use it to your advantage. Your hands shouldn't limit you in terms of shooting. Find one that is easy for you to use and something that you can depend on for the long term.