The 300 Blackout is a versatile rifle round that is continuing to grow in popularity. Developed for use in military M4 carbines, the 300 Blackout has also found a home amongst civilian shooters who are always on the lookout for new and useful rifle rounds.
One cool thing about this cartridge is that it can be safely loaded into magazines meant for 5.56x45mm rifles. Many shooters will likely already have at least a few magazines ready to go for 300 Blackout. However, the number of options for magazines specifically designed for 300 Blackout rifles is growing.
Keep scrolling down to check out the best 300 Blackout magazines available on the market today!
At a Glance: Our Top Picks for 300 Blackout Magazines
Comparison Chart of the Best 300 Blackout Magazines
IMAGE
PRODUCT

Our Top Pick

Mfr Part: 300BLK-AL-20-BT-RD
Long life USGI-spec stainless steel spring
Anti-tilt, the self-lubricating red follower for increased reliability

View Latest Price →

Best Budget Option

Lightweight carbon-fiber-reinforced polymer construction
In category the Best for the Money, the winner is the Daniel Defense magazine
32 rounds capacity 300BLK magazine comes in the same overall size as a comparable 30rds magazine

View Latest Price →

The newest Magpul PMAG 30 Gen M3 magazine is the Best Magpul 300 BLK dedicated magazine
Featuring an optimized internal geometry M3 magazine works great with various grain weights used in 300 Blackout cartridge
Distinct rib design and improved texture on both the front and back spines provide the shooter with a visual and tactile difference from any other Pmag to avoid dangerous cross-loading

View Latest Price →

Magpul Minus 5 limiter reduces magazine capacities by five rounds
Easy, tool-free installation without permanent modification to magazines
Though not real magazines, these Magpul Minus 5 PMAG round limiters are the best in the category of the 5-round magazines

View Latest Price →

The best 30-round magazine is a Magpul 30rd PMAG GEN M2 MOE magazine
Anti-tilt, self-lubricating fiber-reinforced, molded polymer follower for increased reliability
Made of impact and crush resistant polymer construction with textured gripping surface and flared floorplate for positive magazine handling

View Latest Price →

Ideal capacity for hunting or bench shooting
Hybrid magazine built of steel and an impact resistant polymer
Runner-up: Lancer Magazine L5awm AR-15 .300blk 10rd Opaque

View Latest Price →

The Best D&H 300 Blk magazine in 30 round configuration
The anti-tilt red follower features bullet protrusion on the left side
D&H magazine function well with both supersonic and longer subsonic ammo

View Latest Price →
What to Watch For When Buying a 300 Blackout Magazine
The options for different pieces of shooting gear and equipment can often become overwhelming very quickly. It seems like every brand and every company claims to make the best option or have options with the features that you just can't miss.
However, armed with some prior knowledge going into your search makes things a lot easier and will have you feeling confident in your ultimate choice. When in doubt, stick to brands you know and trust and it is unlikely that you can go wrong. The following tips and information are a solid place to start your 300 Blackout shopping mission.
This Section Written By: Brian Belko
Expert Author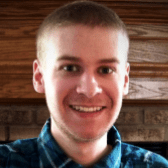 Brian is an experienced freelance writer and technical writer who has previously written for publications such as Wide Open Spaces, Bigfoot Gun Belts, Alien Gear Holsters, and Kampgrounds of America. He brings both a passion for writing and a love of the outdoors to his published content.

Aside from writing and the outdoors, Brian enjoys gardening, being a co-host on The Nostalgia Blast Podcast, and learning to code.
Material Matters
Rifle magazines can be made from a variety of different materials. Two of the most common magazine materials are polymer and aluminum. Your choice will largely come down to personal preference. Polymer magazines are the preferred option by many thanks to their reliability, affordability, and the variety of finishes they are available in.
However, aluminum magazines still have their place especially amongst old school shooters and shooters after a certain aesthetic for their rifle. There isn't really a wrong choice here at all. You may notice more options in the polymer direction, but aluminum mags are out there too.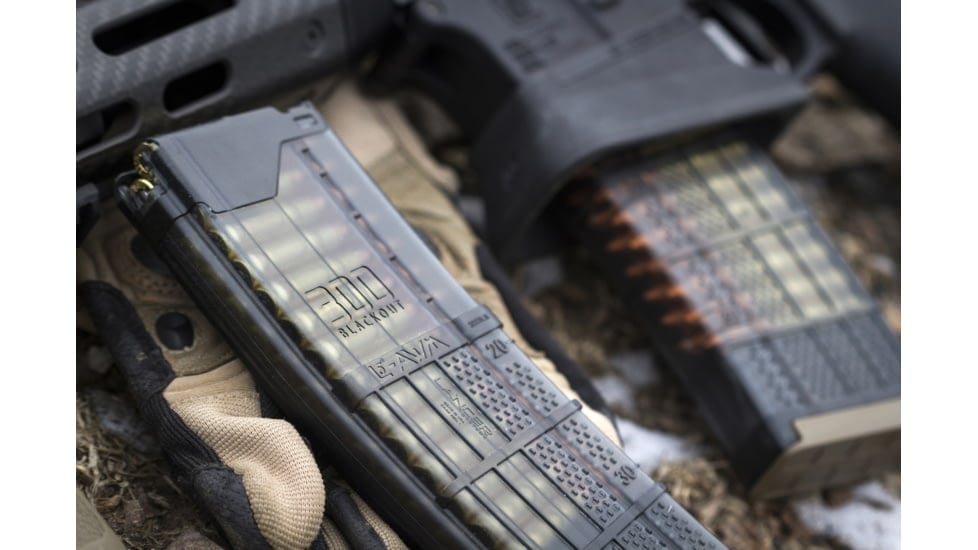 Let's Be Clear
When you consider the fact that 300 Blackout and 5.56 magazines are interchangeable, it is obvious why it is important to know exactly which magazines have what type of ammo in them. Some 300 Blackout-specific magazines come with a label stamped on the side of the magazine. Other good labeling methods include colored followers, rubber caliber identifying bands, and even more homespun techniques such as a permanent marker or some type of paint. The last thing you want to do is accidentally pull the trigger with the wrong type of ammo loaded up.
Now Featuring
There are a few different features that you might want to consider in your 300 Blackout magazines. One great feature that a lot of shooters like to have is some form of round visibility or round counter. Windowed mags are one option to help keep track of how many rounds you have left while completely clear mags are another. Finally, if you often shoot in wet or other poor conditions, magazines with textured finishes or extra grip are a good feature for you to consider.
Review of the Best 300 Blackout Magazines
No matter what reasons you have to buy a 300AAC Blackout rifle, if you want it to run reliably, you must use quality magazines. The next chapter will guide you to the most reliable and durable magazines for your 300BLK.
D&H AR-15 300 AAC Blackout 20 Round Magazine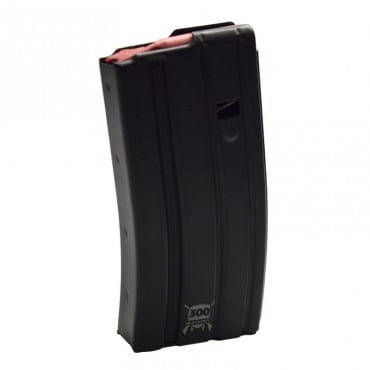 We may earn commission from purchases made from our links, at no additional cost to you
D&H Industries made various accessories for AR-15 as well as several caliber-optimized magazines. The D&H .300 Blackout magazines are available in standard capacities of 10, 20, and 30 rounds, with slick black or grey finish. Their mag with SKU number 300BLK-AL-20-BT-RD is made of 6061 T6 aluminum and receives 20 300 Blackout rounds.
The heat-treated aircraft aluminum body is Teflon coated for smoother feeding and encompasses 17-7PH stainless springs that are pre-compressed and protected against corrosion for a long service life.
While externally clearly marked 300BLK, 20rd D&H magazines sport a proprietary anti-tilt follower design colored in red. It is dimensionally adjusted to perform specifically with the wider range of projectiles in 300 AAC Blackout.
Unlike standard straight 20 round 5.56 mags, these magazines have an internal rib positioned to improve function with a broader variety of projectiles in 300 AAC Blackout.
Whereas the D&H have several quality control procedures, you might encounter some magazines that are out of spec with followers that will not contact the bolt release. Some handloaders also have issues with extremely long 300 Blackout cartridges using subsonic heavy 220 gr projectiles.
Bottom Line
D&H Tactical is a leading supplier of aluminum magazines utilizing somewhat altered dimensions to allow for more extensive compatibility with non-Colt-spec platforms. As a dedicated magazine, this D&H 300 BO 20rd configuration is excellent for most heavy sub-sonic .300 Blackout hunting loads.
Pros
Made in the USA
Body made of 6061-T6 aluminum
Teflon coated for smoother feeding
D&H proprietary red anti-tilt self-lubricating follower
Constant-curve internal geometry for smooth feeding
17-7PH spring for ultimate protection against corrosion
Cons
Handloads with ultra-long bullets may get jammed up in the magazine
Despite several quality control procedures, you can come out at some defective unit
Daniel Defense 5.56mm 32rd Magazine
We may earn commission from purchases made from our links, at no additional cost to you
Daniel Defense has been known for their top-tier rifle offerings for years, but recently they have entered the AR-15 accessories field and established new standards in manufacturing critical pieces of every rifle, such as a boxy curved affair called a magazine.
The main selling point of the Daniel Defense polymer magazine is the increased capacity of 32 cartridges, 2 more than most high-capacity AR magazines out there. While Daniel Defense's magazine maintains the industry-standard size of a 30-round magazine, it is a bit fatter compared to the regular USGI magazine, so the magwell of pre-86 select-fire AR-pattern rifle might be too tight for it.
Another distinct feature of the DD magazine is its compatibility with 300 BLK caliber ammunition. Whereas other magazine manufacturers only state compatibility with 5.56mm/.223 ammo, Daniel Defense magazines were engineered from the ground up to be 300 AAC friendly.
The lightweight DD magazine is constructed of carbon fiber reinforced polymer and features an improved feed-lip design and an enhanced anti-tilt snazzy bright yellow follower for reliable feeding. The magazine bottom boasts an impact absorbing baseplate design for long-lasting durability and easy disassembling for cleaning. The snag-free design, combined with an extra-rough body surface, allows you to have an easy grip in all situations and weather conditions.
Bottom Line
Utilizing a carbon-fiber-reinforced structure, enhanced anti-tilt follower, and improved internal geometry for full compatibility with 300 BLK heaviest loads, DD magazines are a truly impressive product. Though they are pricier than counterparts, their +2 capacity differentiates them from other market offerings.
Pros
Features a carbon-fiber-reinforced structure
Enhanced anti-tilt follower for reliable feeding
32-round capacity in the same size 30rds magazine
Surface rough texture provides a firm grip on the magazine
Improved feed lip design for optimized feeding and reliability
Cons
Price is near twice the cost of a PMAG
May not be compatible with older AR lowers
Magpul – AR-15 300 BLK PMAG 30 Gen M3 Magazine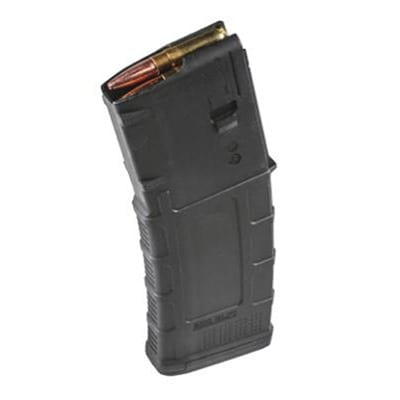 We may earn commission from purchases made from our links, at no additional cost to you
The .300 Blackout cartridge was designed to be used in a magazine designed for another round but that compatibility, due to the wide variety of .30 caliber projectile weights and shapes, often limit 300BLK potentials. Many shooters don't like to make a compromise and they are looking for a dedicated 300 Blackout magazine. Developed as the next generation of Magpul PMAG Gen M2 MOE magazine for 223/5.56mm ammo, the PMAG 30 AR 300 B GEN M3 is an optimized magazine for 300 BLK performance.
This purpose-designed magazine features improved impact and crush resistant polymer, slightly modified side ribs, and new aggressive front and rear texture for positive control of the GEN M3 in all environments. The mag's internal geometry with constant-curve is adapted to accommodate the wide variety of projectiles used in .300 Blackout cartridges along with a new, patented, low-friction, four-way anti-tilt follower designed to improve reliability.
Besides its distinct rib pattern, the M3 generation follower and internals are molded from bluish grey polymer to clearly differentiate them from M2 internal parts to mitigate dangerous cross-loading issues. Unlike the M2 generation, the GEN M3 line is shipped with a dust/impact cover and features a slightly slimmer profile and new floor plate design for easier side-by-side carry. At the bottom on the side of the Gen M3 magazine are located four dot matrix blocks to allow easy marking by the end user for identification.
The Gen M3 has a redesigned bolt catch notch in the rear of the magazine to allow for more dynamic magazine changes without over-insertion. However, as with all polymer mags, some comments suggest this magazine catch cutout could wear down with use. Some users also complain of rough surface treatment and cheaper feeling. The M3 polymer magazines come only in 30 rounds configuration with a black finish and are available with or without an ammo window (which allows you to see the number of rounds in the magazine). Additionally, all PMAG 30 AR 300 B is compatible with Magpul GEN M3 accessories like Round Limiters, MagLink, and Ranger Plate.
Bottom Line
Magpul Industries has released an affordable, purpose-built magazine for AR-pattern rifles chambered in 300 BLK. An all-new design GEN M3 incorporates new material technology with 30-rounds capacity for enhanced strength and reliability to exceed rigorous military performance specifications. Besides a couple of flaws relating to the all-polymer body, this magazine is a reliable and well-made product.
Pros
Over-travel insertion stop
Comes with a dust/impact cover
Sports an easily removable slim floorplate
Polymer-made mag with four-way anti-tilt follower
Features a paint pen dot matrix for marking and identification
Main feature is constant-curve internal geometry for reliable 300Blk feeding
Cons
Mold seams are raw with sharp edges
Magazine catch cutout could wear down with use
Magpul Minus 5 PMAG Round Limiter (Pack of 3)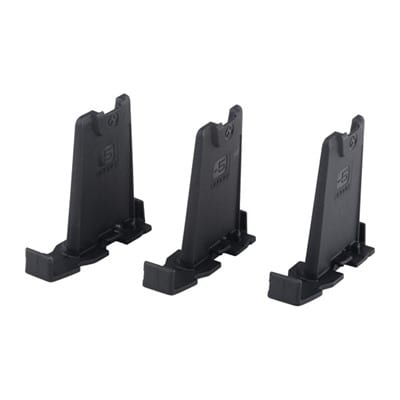 We may earn commission from purchases made from our links, at no additional cost to you
Shorter mags are ideal for coyote, hog, and deer hunting but also for bench shooting or zeroing in as well for people who don't want or need the added weight.
High capacity magazines are banned in several U.S. states and by many hunting authorities, so the owners of modern sporting rifles are requested to buy 5-round magazines or use the smart solution called the Round Limiter, a device intended for capacity reduction.Magpul's Minus 5 PMAG round limiter will save you from wasting money on five round magazines, by reducing the 20 or 10-round 5.56x45mm/300 AAC Blackout magazine capacity to correct political capacity.
These Minus 5 Round Limiters are compatible with Magpul Gen M3 Pmag magazines and restrict their capacity by 5 rounds. A ten round mag with these installed function reliably without feeding problems.The installation is easy and straightforward, as you only need to slide the cover off, remove the base from the spring and insert the limiter.
In that way, you will temporarily transform your higher capacity magazines into hunting-ready gear.Pmag magazine limiters are perfect for use in 10-rounders for hunting applications where the law only specifies 5 round capacity. However, a number of users claim that after installing it, Magpul's Minus 5 Round Limiter restricts the 10 round Magpul PMag magazine to 4 rounds, since the magazine will not seat with the bolt closed with 5 rounds.
While some customers make alterations to the limiter, others claim that you simply need to install the limiter properly.
Bottom Line
Although this Magpul round limiter is intended to temporarily alter your Pmags, by using an epoxy resin at the baseplate, you will permanently modify it and make a banned magazine legal.
Pros
Does not affect reliability
No increase in spring pressure
Pmag dust covers will still fit when loaded
Installs without tools in about two minutes
Minus 5 is perfect for complying with hunting regulations
Requires no permanent modification of the magazine body
Round limiter reduces GEN M3 PMAG magazine capacities by five rounds
Cons
Limits the 10-round mag to 4, not 5
Will NOT make a banned magazine legal
May be necessary to cut off some material to get 5 rounds in the mag
Magpul – AR-15 30RD PMAG GEN M2 MOE Magazine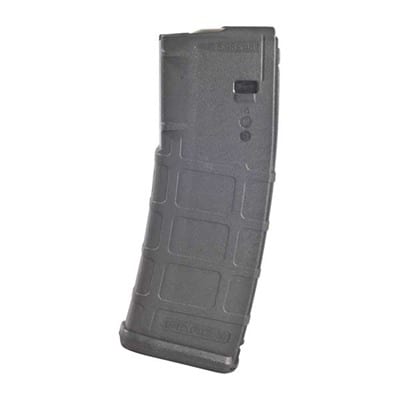 We may earn commission from purchases made from our links, at no additional cost to you
Magpul Industries Corp is one of the biggest names in the AR industry; their products are the preferred choice among military, police, and firearms enthusiasts' worldwide. As a respected manufacturer of high-tech polymer and composite firearms accessories, Magpul started making the original PMAG 30 AR-15 magazines in 2007. While Magpul polymer magazines were designed to address some of the issues metal assault-rifle mags had, they also offered a cost competitive upgrade from the USGI magazines and had gone through several incremental improvements.
The PMAG 30 AR/M4 Gen M2 MOE, or M2 PMAG for short, is the second generation style of Magpul's magazine released in 2013. It is made of better materials with improved design and marked 5.56×45 at the top, but it can also be used with most 300 Blackout loads. The Magpul M2 PMAG is a lightweight polymer magazine with stainless steel internal springs and anti-tilt followers molded in a greenish grey color. The self-lubricating one-piece body of the follower is connected with heat-treated, stainless steel spring, which can withstand the heat from prolonged full-auto fire.
Gen M2 PMAGs for AR15/M4 platforms features a textured gripping surface with an exterior ribbing to provide added handling characteristics when wet, dirty, or under stress. Like the older model PMAG, the GEN M2 MOE sports a flared magazine floorplate for easier handling and disassembly. One of the more common complaints about the M2 design is its wide base floorplate with a pronounced ledge. A somewhat larger floorplate's width can crowd the mags in some magazine pouches or in a typical chest rig.
This affordable AR magazine is shipped without an impact/dust cover, so you have to purchase it separately. Conveniently, the M2 magazine can store its dust cover on its floorplate when not in use. One note, whereas the Magpul PMAG Gen M3 dust covers do not fit PMAG Gen M2 magazines, you need to buy the original Pmag dust cover, which is still compatible with both the MOE magazine's feed lips and floorplate.
Bottom Line
This PMAG GEN M2 30 round magazine is a part of the MOE line of Magpul accessories and components. It features an impact resistant polymer construction that makes it a decent, but not perfect, alternative to aluminum, because like every polymer-made product it is susceptible to breaking, splitting, or shattering.
Pros
Flared floorplate
Textured gripping surface
Long life USGI-SPEC stainless steel spring
Impact and crush resistant polymer construction
Constant-curve internal geometry for smooth feeding
Anti-tilt, self-lubricating follower for increased reliability
Cons
Magpul sends the Gen M2 without an impact/dust cover
Width of Gen M2 floorplate can cause the mags not to stack as well in some magazine pouches
Lancer Systems – AR-15 300blk, 30rd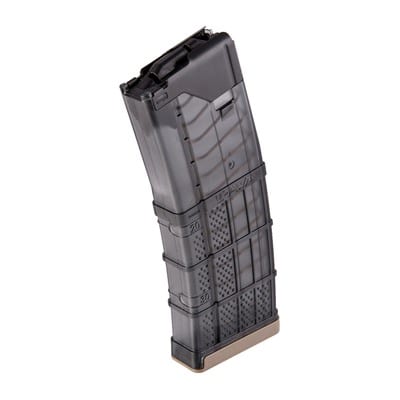 We may earn commission from purchases made from our links, at no additional cost to you
The Lancer Systems L5AWM magazine with 30 rounds capacity is designed for service use and those shooters who prefer sheer volume of fire. The Lancer 30-round model is purpose-built for 300BLK using a non-tilting follower that has a geometry purpose-built for the cartridge. Unlike standard 5.56x45mm/.223 Rem magazines, the L5AWM in 300 BLK utilizes a different interior structure that allows bullet weights of up to 220 grains with differing ogives to feed reliably without binding.
Featuring reduced internal ribs, these lightweight molded polymer magazines are able to feed 300 BLK super-sonic, heavy sub-sonic, 7.62×40 cartridges, as well as 5.56/.223 Rem. All Advanced Warfighter Magazines (AWM) are hybrid solution due to the combination of steel and polymer. One-piece hardened steel feed lips and magazine catch are permanently fixed to the polymer body. The aggressive textured exterior provides a positive gripping surface and facilitates extraction from the tight-fitting pouches.
While the magazines can withstand temperature extremes of -50 degrees F to +180 degrees F, all metal parts are protected with non-stick Fluoropolymer coatings (PTFE) to ensure the steel will not rust. Like its smaller brethren in 20- and 10-rounds capacity, 30-rounders are available in a translucent or opaque finish. The model 999000428001 comes in the translucent smoke finish to allow the operator to identify the number of rounds. Unfortunately, we have one gripe.
Whereas the L5AWM boasts index marks showing 30 and 20 rounds remaining, below 18 cartridges, you wouldn't see because they are nestled inside the magwell and hidden from view.
Bottom Line
The Lancer Systems L5AWM is perhaps the best 300BLK magazine on the market available in different finishes and capacities. Tested to withstand the different environment and harsh handling without impairment of function, the Lancer 30-rounder helps to ensure smooth, snag-free feeding and fully loaded storing for extended periods of time.
Pros
Drops free from mil-spec magwells
Translucency allows easy visual inspection
Provides aggressive texturing for enhanced grip
Features reduced internal ribs to accommodate the larger bullets
30-round polymer magazine with feed lips made from hardened steel
Cons
In the translucent version, you can't see all the rounds in the magazine
D&H Industries, Inc. – AR-15 300 Blackout Magazines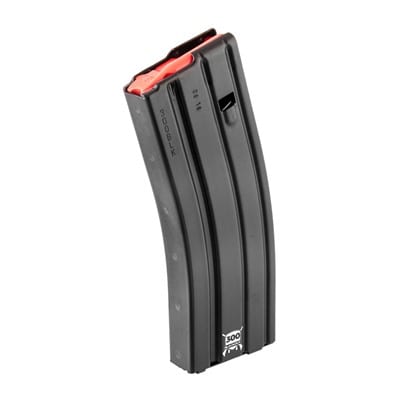 We may earn commission from purchases made from our links, at no additional cost to you
Another metal constructed and 300BLK dedicated magazine comes from D&H Industries but in a longer 30-round configuration. Unlike its shorter 20 and 10-round versions, model 300BLKAL30BTRD may not be so convenient for hunting applications, but for home defense and plinking, it is irreplaceable.
Featuring standard USGI dimensions and consistent quality, these 30rounders have a 6061-T6 aluminum body with a Teflon impregnated finish. This is an improved magazine design with a red anti-tilt self-lubricating follower placed on the left side, meaning that the 30th round loaded would be in the magazine on the left.
These magazines are optimized for 300 AAC Blackout ammunition and they are easily identified as 300BLK by the clearly marked caliber at the side of the body. Although the D&H military grade magazines for 300 AAC Blackout can effectively store factory subsonic ammo and handloads with greater overall length due to the adequately made constant-curve internal geometry, you may still have some problems with specific projectile shapes.
Since they originated from USGI 5.56 parent magazines, D&H 300BLK magazines will still feed and function in AR style 5.56 rifles.
The D&H family of 300 BLK magazines features a long life USGI-spec stainless steel spring for consistency and ultimate protection against corrosion.
Like any USGI type magazine, this metal mag is more prone to denting and feed lip damage than their polymer competitors.
Pros
Made in the USA
Slick black Teflon finish
Comes with anti-tilt red follower3
Machined of 6061-T6 aluminum
Long life USGI-spec stainless steel spring
The optimized magazine for 300 Blackout
Ribs and feed lips are optimized for .300BLK
Constant-curve internal geometry for smooth feeding
Cons
May not feed some heavy cast bullets properly
30 round magazine may not be ideal for hunting
Hexmag True HX10/30-AR 10 Round Magazine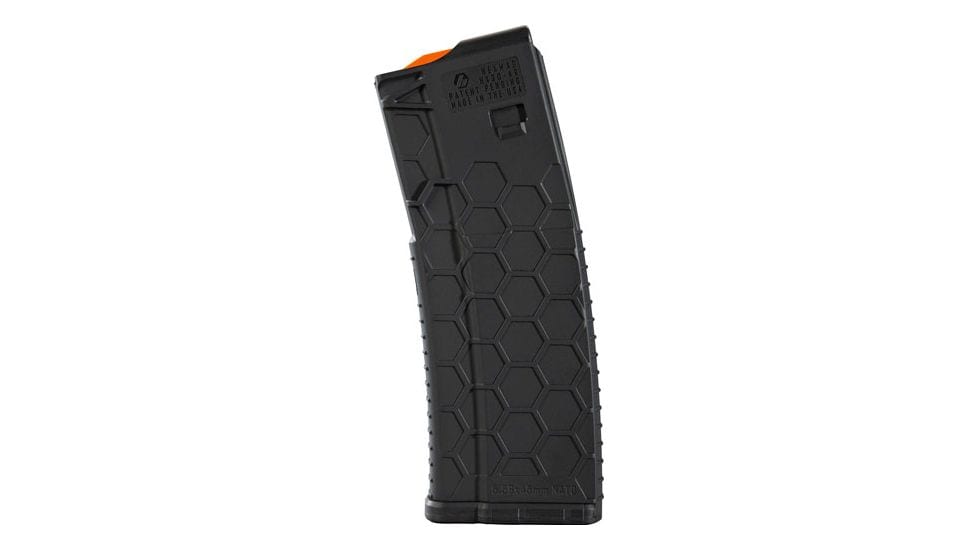 We may earn commission from purchases made from our links, at no additional cost to you
One newcomer in the world of AR accessories is Hexmag, makers of AR-15 and AR-10 magazines. Recently acquired by Sentry Products Group, Hexmag is best known for its innovative, polymer AR mags rigged out with a honeycomb pattern.
For magazine production, Hexmag utilizes their proprietary fiber-reinforced composite, PolyHex2, a lightweight and durable polymer that delivers superior strength and reliable performance for lifetime usability. Of course, these magazines with a distinctive hexagonal pattern include a manufacturer's lifetime warranty. Along with the high-capacity 30-rounder and non-standard 15-rounder, this 300ACC Blackout approved Hexmag mag offers a 10-round capacity magazine labeled as True HX10/30-AR.
This magazine incorporates a True Riser system and a shorter spring instead of the standard 30-round spring to deliver a compliant 10-round magazine in firearms restrictive states. Compared to the Pmag, Hexmags sport a different anti-tilt follower design, thicker feed lips, and more substantial bullet guide ribs. Besides self-lubricating followers and spring guides available in several colors, the HX10/30 boasts heat treated, 17-7 PH, stainless steel springs for long term magazine storage, while fully loaded.
Another selling point is an interchangeable follower system called the HexID Color Identification System. This color-coded ammo identification system helps you to segregate different types of ammunition via the color of the spring guide or follower. Finally, a True Riser in the Hexmag's 10 and 15-round magazines provides valuable space for carrying a short length of paracord, making them an excellent choice for your survival gear.
Bottom Line
Unlike competing magazines, Hexmags are somewhat more expensive and not battle proven magazines. On the other hand, Hexmags offer great functionality along with a great look and style. Still, like all polymer AR-15 magazines, they are susceptible to shattering or breakage failure.
Pros
High visibility anti-tilt follower
The HexID color identification system
Hexture patterned texture offers a slip-resistant grip surface
Constructed of impact and crush resistant, lightweight polymer
Heat-treated, stainless-steel spring for extended storage periods
Tool Free Design to disassemble and clean the inside of AR-15 magazine
True Riser System with true 10-round capacity that does not require additional limiters
Cons
Like other polymers, it is prone to crack or break off
A bit more expansive than other polymer counterparts
9. Lancer Magazine AR-15 .300blk 10rd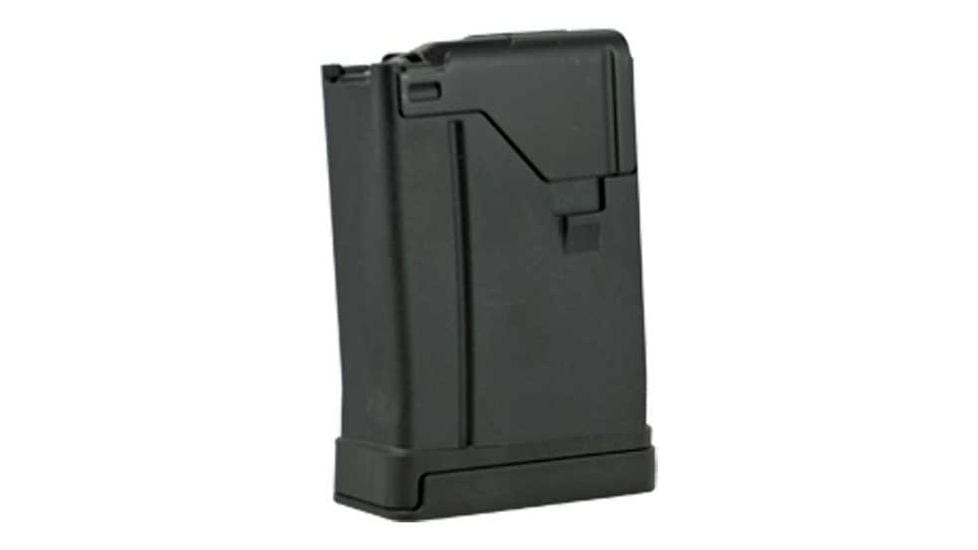 We may earn commission from purchases made from our links, at no additional cost to you
Though firearms parts and accessories aren't primary niches in Lancer Systems' portfolio, thanks to their experience in the industry of high-grade polymers and fibers, they are producing highly competitive polymer magazines called L5. The new generation of Lancer AWM series magazines features several enhancements in the structure itself and exterior design as well. The L5AWM (Advanced Warfighter Magazine) body is made of impact resistant polymer and one-piece metal feed lips. The feed lips are made from a one piece of precision formed hardened steel and permanently molded into the polymer magazine body.
The Advanced Warfighter Magazine comes with polymer non-tilt follower and beefier steel spring to ensure 'controlled tilt' follower system and maximum reliability in feeding .300 AAC Blackout ammunition. Unlike slick sided earlier magazines, L5AWM feature aggressive texturing on the body for a positive grip and to make it easier to pull out of magazine pouches.The newly redesigned floor plate tool doesn't require a specialized tool to disassemble the magazine as the previous model. It is made from the same impact resistant polymer as the magazine body to resist damage from rough handling or dropping from lower receivers.
The Lancer L5AWM is available in standard opaque or see-through color options to enable visual inspection of how many cartridges are in the mag.This slim-style and prime-grade polymer magazine feature a constant curve to the internal geometry of the follower and spring for reliable, trouble-free feeding. However, some shooters recorded feeding issues with some AR-style rifles, but these are isolated cases. Besides physical endurance, this hybrid Lancer magazine is corrosion and chemical resistant for professional use and maximum service.
Bottom Line
Undoubtedly, the L5AWM by Lancer Systems is a unique offering in the .300 AAC Blackout polymer magazine market. Additionally, the L5AWM magazines come with the 300 BO marks molded into them, which are a nice touch from a safety perspective.
Pros
Non-tilt follower
Stainless steel spring
Constant curve internal geometry
Available translucent or opaque color options
The L5AWM is corrosion and chemical resistant
Aggressive texturing on the body for a positive grip
Made of polymer body and hardened steel feed lips
Cons
It might have feeding issues with some rifle brands and models
Mag Capacities and Their Ideal Uses
Modern military assault rifles use large-capacity box magazines; their capacity is limited by several factors, such as magazine spring strength, magazine body length, and reliability requirements.
Aside from practical capacity, semiautomatic firearms aimed at the commercial market are limited by the jurisdiction in many countries. Today, manufacturer's standard magazine capacity for most modern selective-fire rifles is between 20 and 40 rounds, but in some U.S. states, the guns in civilian's hands are subject to legal magazine limitation to 5 or 10 cartridges.
For home defense and self-protection, the standard capacity 20 and 30-cartridge magazines for AR-10 and AR-15s are a viewable and desirable option. However, for most hunting scenarios they are usually overkill; many states have magazine restrictions, which state that hunting with an AR-15 requires a low-capacity magazine.
The other question is whether semi-autos like ARs have a place in ethical harvesting of big and small game. Older and more experienced hunters instead believe in one well-placed shot than in quick follow-up shots.
Moreover, certain U.S. states have specific limitations of rounds, e.g. 3, 5, or 10; some local jurisdictions do not even allow detachable magazines associated with hunting sporting game at all.
Besides ethical and law restrictions, many hunters choose not to carry large-capacity magazines because they do substantially increase the weight of the gun and lessen the maneuverability. Depending on game animal and type of hunting, a higher magazine capacity may be justified in varmint and pest control.
For example, when stalking of coyotes, which can approach in packs, the AR-15 with larger mags gives hunters the chance to land more than one shot.
How to Choose 300 Blackout Mags
Ammunition magazines are among the simplest rifle components that are expected to work without much maintenance. However, they are also the most critical piece of gear for any self-loading rifle, since they are one of the primary reasons for rifle malfunction.
The 300 AAC Blackout is one of several cartridges that will run in the same .223/5.56 magazines at their full capacity. On the flip side, .300 Blackout ammo is temporarily plagued with feeding issues due to the front guide ribs of the 5.56 magazines and a wide selection of bullets affecting at an overall length of 300BLK cartridge.
Another more important reason to use 300BLK dedicated mags is a possibility to chamber and fire a 300BLK round in a 5.56 rifle with disastrous results and possible injuries.
Considering all of that, common sense says to use magazines developed specifically for the ammunition you are shooting. In order to more easily differentiate between calibers, you can purchase different colored 300BLK magazines or those with a different texture to serve as a tactile reminder of what round you're about to chamber.
When you are choosing a purpose-designed magazine for your AR style rifle chambered in 300 Blackout, you may encounter mags built from steel, aluminum, or some kind of polymer.
Most AR-15 rifles come with aluminum factory OEM (Original Equipment Manufacturer) magazines. The metal magazines work reliably with that rifle but these magazines are prone to break off, or you may have problems with bending the feeder lips, usually from dropping them on a hard surface. One benefit of polymer-made magazines is that they cannot bend, but instead they may crack and break.
Along with materials, for the right magazine selection, you have to choose one with internal geometry adapted to allow a broader range of .300 Blackout bullets to be loaded into it. To avoid double and triple feeds, dedicated 300BLK magazines have the internal front guide rib positioned to improve function with a broader variety of projectiles in 300 AAC Blackout.
There are more things to consider when you are on a quest for specific 300BLK magazines like the follower plates. It is a piece attached to a spring, pushing the next round through feeder lips into the barrel chamber. After somewhat problematic magazines with a black follower, the magazines with the anti-tilt design were introduced in 1992 and they are recognizable by a green follower plate.
Today almost every manufacturer of magazines is offering a version of an anti-tilt follower in their magazines and the current issue is improved magazine with a tan colored follower. As for the lubrication, many commercially available magazines use Teflon based "self-lubricating" follower to eliminate friction.
Some shooters prefer polymer magazines since many manufacturers do build polymer-type magazines, which feature a thin, built-in window or are translucent enough to indicate the number of remaining rounds.
Conclusion
To some gun enthusiasts, a rifle magazine might seem like a trivial thing, but you should know that statistically, the greatest number of firearms failures is due to poor quality magazines. The AR magazine market is crowded, but we have selected and introduced some of the best mags on the market, including several new players and their models that have entered in the past few years.
Magpul dominates this section of AR parts, but other brands have come along, including Hexmag, Lancer, and Daniel Defense. As for the mag capacity, we think it is important to note that your rifle application should dictate what magazine capacity you should purchase and use.
The magazine that holds 30 cartridges is probably shipped with your AR-pattern rifle. It is indeed great for tactical, home defense, or plinking usage, but a responsible and ethical hunter does not need the capacity of a 20 or 30-round mag; short and light 5 or 10-round magazines will be quite enough for any hunting scenario.