If you spent a lot of money on or are just plain proud of your AR-15, you are going to want to invest in a case to protect it anytime it is being moved between your gun safe and the range, hunting location, or another safe shooting area. An AR-15 case will protect a rifle from exposure to the elements, exposure to dust and dirt, and from impacts ranging from light bumps to full-on drops depending on what type of case you go with. Between those protective benefits and the ability to organize other rifle essentials in one place, there is no reason not to have a good case for your AR-15.
Continue scrolling down to learn more and to see the 2022 guide to the best AR-15 cases on the market today.
At a Glance: Our Top Picks for AR-15 Cases
Comparison of the Best AR-15 Hard and Soft Cases
IMAGE
PRODUCT

Best overall soft case
Adjustable and detachable shoulder strap
Includes additional storage compartments for accessories and ammo

View Latest Price →

Best overall hard case
Shell made from high-quality polypropylene
Designed to store rifles measured up to 42 inches long

View Latest Price →

Made from high-quality Tetron
Measures at 29 inches in length
Runner-up soft case for AR-15 rifles

View Latest Price →

Water-resistant and dustproof
Measured at 48 inches in length
Best AR-15 hard case for the money

View Latest Price →

Heavy-duty zippers
Best soft case for the money
Constructed from PVC materials

View Latest Price →

Made from high-quality materials
Compact design for storage purposes
Designed to fit assembled rifles up to 49 inches long

View Latest Price →

Scratch-resistant inner lining
Measured to fit many AR-15 rifles
Made from high-quality padding and materials

View Latest Price →
What to Watch For When Buying Gun Cases for AR-15s
As with many different firearm accessories, there are a lot of options when it comes to AR-15 cases. It can almost be overwhelming sometimes. Choosing an AR-15 case sounds like it should be an easy task. Aren't they all pretty much the same? The answer to that question is a resounding no.
While there are certainly simple cases that do little else aside from holding an AR-15, there are a lot of extra features to look out for that can take an AR-15 case to the next level. The following info is a solid place to gain a better understanding of what to keep an eye on when shopping for an AR-15 rifle case.
Deciding on Needs
One of the best ways to start the process of choosing an AR-15 case is to take some time to ponder your specific needs. There is a lot more to picking a rifle case than simply making sure it is long enough to hold your firearm. Think about your trips to the range and what you take along. Would some extra pouches and pockets come in handy? Think about your last few hunting trips. Would backpack straps help make things easier when unloading your vehicle? Get a good grasp on your needs and the decision process will be a lot easier.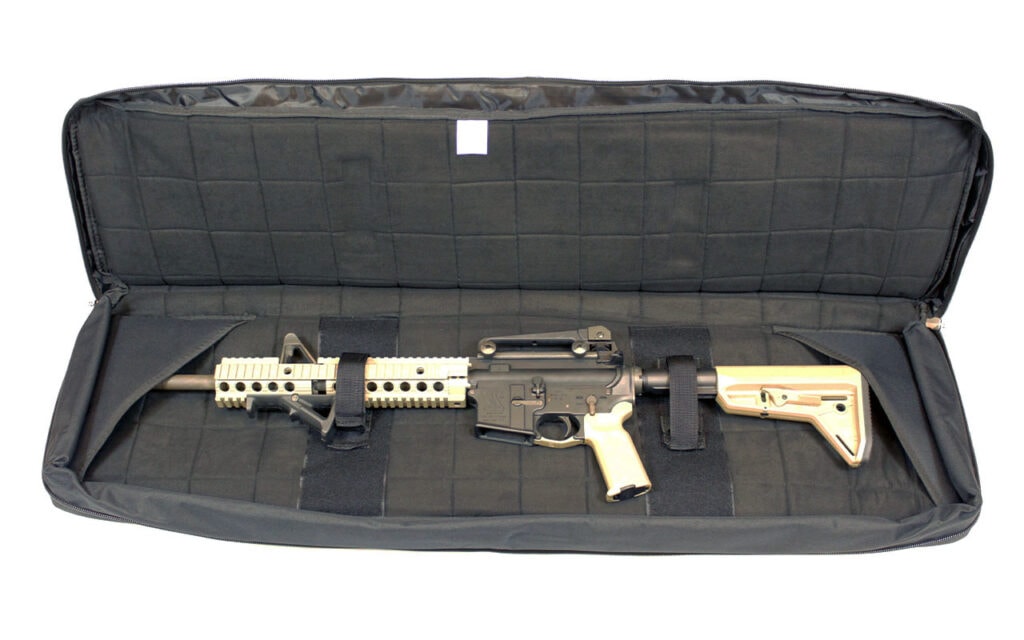 Hard or Soft
There are a plethora of both hard AR-15 cases and soft AR-15 cases available on the market today. The style you go with largely depends on personal preference and how you will be transporting your rifle. Hard cases are typically filled with foam inserts that can be customized to provide a custom and secure fit. They also tend to use latches to keep the lid closed and they can usually be locked. Soft cases are ideal for weekend trips to the range and for keeping dust and dirt off your rifle.
Going Modular
If having the ability to change things up according to the scenario at hand sounds ideal to you, you'll want to take a look at AR-15 cases that can have extra outer bags and pouches attached and removed from them. These modular soft cases can adapt to a lighter load for quick weekend range visits and amp up the storage space for competitions and hunting trips.
Reviews of the Best AR-15 Hard and Soft Cases
To make it easier for you to select a hard case for your AR-15, we've rounded up some of the best cases in the market, based on the criteria we outlined above. These cases come in a range of price points and offer sufficient protection for most situations.
Blackhawk Industries Tactical Rifle Case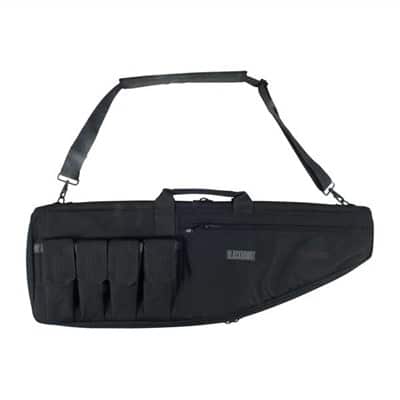 We may earn commission from purchases made from our links, at no additional cost to you
What Recent Buyers Report
A lot of new users were able to use this case with ease. Their rifles fit perfectly in the case. Some users managed to easily carry this on their shoulders using the adjustable straps. One user said it was quite comfortable to wear, even on his shoulder.
Why it Stands Out to Us
This might be the closest thing to a military-style soft case that you can find. Not only that, it's made from really tough, high-quality nylon. Inside the case is a foam interior that protects the rifle from any shock that might be associated with hard falls or hard surface hits. Plus, it's at the perfect length to fit your AR-15 rifle with ease.
This soft case from Blackhawk is made from abrasion and mildew-resistant Nytaneon nylon. The padding surrounds the top and bottom of the case, ensuring that your rifle and accessories do not get scratched. The nylon carry handle is double-stitched and multi-reinforced and the case has an adjustable, padded sling. The rifle cases come in 34″, 37″, and 41″ lengths and all cases accept rifles with mounted optics and fully unzip for use as a shooting mat. Each case comes with four high-capacity magazine pouches with hook-and-loop patch closures, plus zippered compartments in the front for additional storage.
Who Will Use This Most
This will work mostly for tactical applications (i.e.–law enforcement or military). But don't count it as useless for any other purpose like hunting, target shooting, or competition purposes. This is a rugged and super-durable case that is made of soft materials but can give you so much protection that no other soft case can provide. So if you want what might be the best of the best when it comes to soft cases, this might be your best possible option.
Bottom Line
If you want a soft case that is likely the strongest of the bunch, the BlackHawk Rifle Case might be what the doctor ordered. Believe us when we tell you this is no ordinary soft case for your AR-15. It's a case that is layered with the best materials for superior protection.
Pros
Zips up nice and smooth
Fits AR-15 rifles like a glove
Rugged exterior, well padded
The strap is easily adjustable
Super-durable, doesn't easily wear and tear
Really light to carry around, even with the rifle inside
Cons
Magazine pouches don't work with all sizes of magazines
Pelican 1720 Protector Gun Case
We may earn commission from purchases made from our links, at no additional cost to you
What Recent Buyers Report
A lot of new users were satisfied with the case. As expected, they managed to fit their rifles into the case without making any alterations to their rifles or the case itself. They were also quite impressed with the case locking up to be airtight and not allowing any water to leak through it.
Why it Stands Out to Us
This is what should be a prime example of how a hard case should work. Outside, the protective shell is hard as a rock. Inside, you get a lot of foam that provides you with excellent protection from shock and keeps the rifle in place. Since it locks up pretty good, you won't have to worry about the case opening up at complete random. Oh…did we mention it's sealed so tight that it's waterproof? Yep, no water can access the inside of the case. If that's impressive to you, you know this might be the case worth investing in.
The case is made from unbreakable polypropylene structural resin, which is lightweight yet tough. The case even floats, a major plus for water-activity enthusiasts. The high-density polyurethane foam inside keeps guns safe from vibration and shock. It also has a neoprene sponge O-ring for an airtight, waterproof seal, and an automatic pressure equalizer. You can add padlocks for additional security and the case meets MIL-STD 4150J standards and has an Ingress Protection rating of IP-67. Each case holds rifles or shotguns up to 42″ long with extra space for handguns, magazines, or other accessories. It comes in black. The case dimensions are 44-3⁄8'' long, 16'' wide, and 6-1⁄8'' high.
Who Will Use This Most
If you need a case that will be perfect for a day at the range or while deep in the woods, this one would be the best fit for you. Especially when you'll be carrying it from point A to point B and know there will be some bumps and bangs along the way. Plus, once you hit the rocky dirt roads, you'll know your rifle will be protected with a case that won't allow any moving around.
Bottom Line
The Pelican 1720 Protector Gun Case might be a runner-up for the moment. But don't be shocked if it takes the top spot for the best AR-15 hard case at some point in the future. This case proves why it belongs on our list. Waterproof, secure, and durable are the three great features we can use to describe it.
Pros
Easy to secure your rifle1
Super-rugged construction
Plenty of space for extras
Fits almost any AR-15 rifle perfectly
Waterproof and can even be submerged underwater
Waterproof, airtight, rugged, and secure. It even floats
The interior is nice and soft, does a good job keeping the rifle in place
Cons
Large size makes it bulky
Bulldog Cases AR-15/M16 Ultra-compact Discreet Rifle Case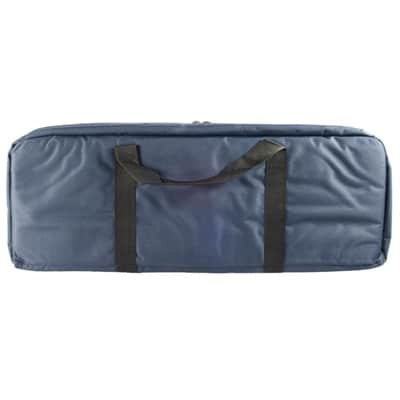 We may earn commission from purchases made from our links, at no additional cost to you
What Recent Buyers Report
A lot of new users were in search of a case to provide them with discreet carrying. This case was the best they found. They were also quite happy with the case not only making it discreet for travel purposes, but they loved how it was resistant to bad weather, as well. Not bad for a soft case, one user said.
Why it Stands Out to Us
One of the things that stood out with this case is the material it is made with. This bag is made from Tetron, a soft material that has been proven to be resistant to wearing and tearing compared to some other soft materials like nylon. On top of that, the material is water-resistant. So it can handle all the bad weather elements. Whether rain, wind, or snow, this case is good enough to stand tough, no matter the weather.
This discreet-looking case from Bulldog provides both protection and concealment for your AR-15. The outer shell is made of durable, water-resistant Tetron and is padded with 2½" thick foam. The inside is lined with brushed Tricot that won't sag, billow, or deform.It has two magazine pouches, as well as heavy-duty zippers, and comes in navy blue or tan. The case dimensions are 29″ x 3″ x11″.
Who Will Use This Most
This will be a perfect carrying case for your AR-15 if you don't want it to be obvious. Yes, you might get some weird looks for carrying an AR-15 of all things. But make no mistake, this case will definitely make sure tit looks like you're carrying a simple bag. Best of all, it will fit your rifle and whatever else you need for a day at the range or for the hunting field.
Bottom Line
If you want an excellent carrying case that provides ample storage, plus a discreet look that no other case can replicate, the choice is absolutely clear. The Bulldog Ultra-Compact Discreet Carry Case is exactly what you need to carry your AR-15 rifle from point A to point B without raising any alarms.
Pros
Fits rifles perfectly
Quality construction
Great for many applications
Super-durable construction and materials
It provides discreet storage and looks like it could be a duffel bag
Extra storage space is nice and spacious. It provides ample room for magazines and other accessories
Cons
Zippers are a little rough at first
Magazine pockets should be a little bigger
Not waterproof, despite being water-resistant
It can only fit a short rifle or you have to disassemble your rifle in two halves to fit
Boyt Harness H-Series Hard Gun Case
We may earn commission from purchases made from our links, at no additional cost to you
What Recent Buyers Report
A lot of new users say they got a lot more than what they paid for with this case. They managed to keep a lot of dust and water from getting in. They were also quite impressed with how easily it locks up and seals out any environmental factors from gaining entry. Others have added that the carrying case didn't feel so heavy even with their rifles stored inside.
Why it Stands Out to Us
This is perhaps one of the most affordable hard cases for an AR-15 on the market. And sure enough, it sets the example of how an AR-15 case should be. Hard on the outside and protective against all kinds of dust, water, and weather elements. On the inside, the foam is so nice and thick that it protects the rifle from any shock that might be generated from hard falls. Not to be outdone, the rifle stays in place and doesn't move around, even if you're traveling on uneven ground. If you strive to find an AR-15 case where security and proper storage are priorities, this might be the case you'll want to consider looking at.
The line of hard cases from Boyt are tough enough to meet or exceed law enforcement, military, and airline standards. They also have a lifetime warranty.They have an eggshell foam interior, dust proof O-ring seal, and a pressure relief valve. They support padlocks and have heavy-duty latches. The interior dimensions are 48″ x 9″ x 4″ and external dimensions are 50″ x 12.5″ x 5″.
Who Will Use This Most
If you're an AR-15 user that typically heads out to the range on the weekends or if you're a hunter that needs a hardcore case to protect your rifle against the bumps and bangs of rough terrain while driving, this case will give you serious protection, no matter what. Plus, you get the best in security since the locking ability keeps the rifle nice and tight inside.
Bottom Line
If you want a great hard case that is excellent in quality and won't take a bite out of your bank account, then consider the Boyt Single Long Gun Case as your best possible option. You'll love having this around as your go-to carrying case for years or even decades to come. It's lightweight, locks up nice and tight, and will definitely give your rifle the best protection possible.
Pros
Very tough and durable
Super-resistant against weather
Easy to lock and secure your rifle
Fits most AR-15 rifles without issues
Really durable from the inside and out
Shock-resistant if dropped from various heights
Best for the Money Soft Case
NcStar CVG2907 Series Rifle Case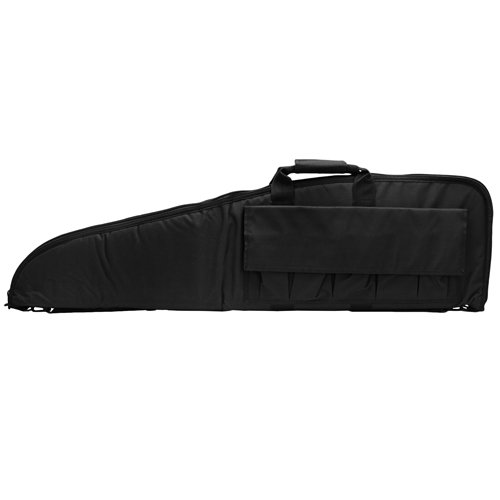 We may earn commission from purchases made from our links, at no additional cost to you
What Recent Buyers Report
As expected, most new buyers were happy with the case. They said it was rugged, both inside and out. They managed to easily store their rifles without any fitting issues. The extra compartments for the purpose of carrying magazines and accessories were good enough for storage according to one user.
Why it Stands Out to Us
This soft case may not look like much on the surface. But it's long enough to fit a disassembled rifle and a whole lot more. It makes carrying your AR-15 rifle a lot easier without having to deal with the additional weight that some carrying cases might have (regardless of whether the rifle is stored inside or not). So not only will it be lightweight with or without the rifle packed in, it's proven to be super tough and easy to carry from one place to the next discreetly.
This case is reasonably priced compared to the competition and is made of tough Cordura Nylon. The interior is made of soft cotton to protect the gun and other items. On the side of the bag is a windowed ID pocket to hold an ID tag. The other side of the bag has five pockets that can hold AR-style magazines. The zipper has two pull-tags with locking rings, which can be locked shut. The zippers are double-stitched to make them stronger. The inside dimensions of the case are 40″ x 12 1/2″, and it comes in both green and tan colors.
Who Will Use This Most
This would be the perfect carrying case for those who tend to travel on the road a lot. And if you tend to carry your AR-15 from home to the range (or your favorite hunting spot), you'll want a carrying case that obviously keeps it on the low-down without attracting any undue attention. On top of that, this soft case is not a flimsy little case that will fall apart on you. It will save you all kinds of space and then some.
Bottom Line
The VISM by NcStar is one of the best soft carrying cases that will allow discreet storage and transport. If you're looking for something that will be affordable for you, all while giving you the protective benefits of a soft case for your rifle, you'd be crazy to pass up the opportunity to give this a closer look.
Pros
Comfortable to carry around
Affordable for most budgets
Perfect size for most AR-15 rifles
Really durable construction, both inside and out
Padding is nice and firm inside. Keeps the rifle and other accessories from shifting and moving around
Cons
Five pockets share one flap
The shoulder strap is at the bottom of the bag
Some have questioned the actual length of the carrying case itself
Some have complaints about the shoulder straps being in the wrong location
Best for the Money Hard Case
SKB Iseries Single Rifle Case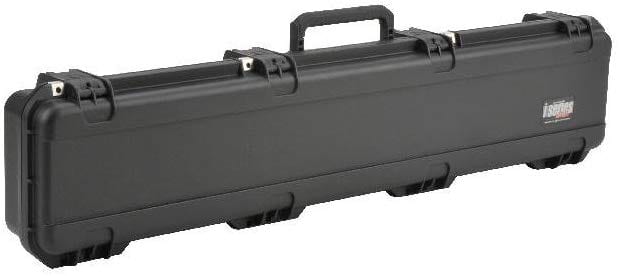 We may earn commission from purchases made from our links, at no additional cost to you
What Recent Buyers Report
A lot of new buyers were pretty happy with the rifle case. They said it was pretty durable and had the ability to keep the rifle nice and secure during transport. One user said he was able to fit his rifle in the case without any issue. On top of that, he had a scope attached to the rifle and still had no issue with fitting it inside.
Why it Stands Out to Us
This case is long in length and gives you a generous amount of space to store AR-15 rifles of most sizes. Even better, this case allows you to pack in your rifle without having to remove any accessories. That alone will save you all kinds of time, rather than have it wasted disassembling each and every accessory.
This tough case from SKB is made from injection-molded, ultra-high-strength polypropylene copolymer resin and features a dust-proof design. It can accommodate scoped rifles up to 49″ in length and uses high-quality EPS and ELE foam inside to ensure cushioning and protection of your firearm. The dimensions of the case are 51 x 12 x 6.5 inches and it weighs 3.25 pounds.
Who Will Use This Most
This is perfect for the AR-15 user that has all kinds of customizations for their rifle. Whether you have a scope, optic, or even a flashlight, among other accessories equipped to your rifle, this is the carrying case that will have more than enough space to easily store it inside. Don't worry, you'll have plenty of space to work with.
Bottom Line
The SKB iSeries Single Rifle Case is probably the best hard case you can find if you're looking for a simple carrying case that will give you plenty of space for your fully decked-out rifle. You won't have to remove all your accessories to ensure it will fit in the case. Just place it inside and off you go.
Pros
Easy to clean
Solid construction
Reasonably priced
Really lightweight when empty
Keeps your rifle safe and secure
Really durable from the inside and out
Ridiculously affordable for most budgets
Cons
One user said it is an inch too short
The finish on the clamp lock looks sub-par
Doesn't have extra space for ammo and accessories
Some complained about the hinge not being centered
7. Bulldog Cases Pit Bull Rifle Case
We may earn commission from purchases made from our links, at no additional cost to you
What Recent Buyers Report
Recent buyers were excited to report a few things about this rifle case. Not only did it give them superior protection from shock and environmental elements, but they also concluded that this case provided them with comfortable, lightweight carrying. One user said that with the rifle inside, the case is pretty compact for storage and therefore, saves a ton of space.
Why it Stands Out to Us
This soft case contains some of the thickest interior padding of any soft case on the market. This is perfect, considering that you want the best protection both inside and out. The foam padding is thick enough to absorb shock and a good amount of water. But don't confuse this with it being waterproof. The straps allow for pretty sturdy carrying and hanging. The straps won't break off nor rip. In short, it's a soft case that protects your rifle as it if were stored securely in a hard case.
This tough case is made of ballistic nylon and is water-resistant. It contains 1-1/2″ of soft padding and an inner lining of soft scratch-resistant brushed Tricot. The case can fit both scoped and non-scoped rifles and comes in sizes of 40'', 44'', and 48''.
Who Will Use This Most
This would be great for casual target shooters or even competitive shooters. But it can be used for other applications, as well. If you want a carrying case that makes carrying and storage as easy as pie, then this might be right up your alley.
Bottom Line
The Bulldog Pitbull Rifle Case might be one of the dark horse choices for the best soft case for AR-15s. Don't be surprised if you see this overtaking a few spots on the lists in the not-so-distant future. It's thick, lightweight, and does a dang good job keeping your rifle nice and protected from any damage.
Pros
Padding is super thick
It allows for a perfect fit
Zipper slides in nice and smooth
Really durable, both inside and out
Hanging hook loop is super-sturdy
Cons
Won't fit larger guns like AK-47s
Quality and build are not very high
Stitching may come apart over time
You may need to attach accessories like scopes prior to putting the rifle in the bag
8. Plano Molding Company All-Weather Rifle Cases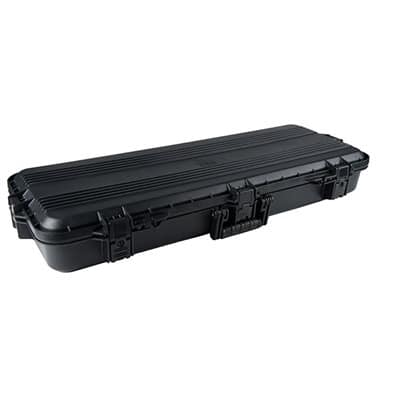 We may earn commission from purchases made from our links, at no additional cost to you
What Recent Buyers Report
A lot of new buyers were pleased with the case. They chose their length based on the measurements of their rifles. The fitting for each rifle and case was perfect and no other alterations were made to ensure a perfect fit. Overall, it was nice and lightweight, and also easy to clean, as well.
Why it Stands Out to Us
The case is proven to handle all kinds of weather from extreme heat and cold to the most torrential of downpours. This is made from high-quality materials designed to handle nature's worst elements. Even if it's covered in dust, you can clean it off in a matter of minutes. On top of that, the case is designed to fit most AR-15 rifle sizes. There's always a case for you, regardless of your rifle's measurements.
The Plano name is one that is considered amongst the best in the industry. The case comes with a Dri-Loc seal that keeps the case watertight and airtight under all weather conditions.The heavy-duty construction, dual-stage lockable latches, and built-in pressure release valve ensure that your rifles withstand the rigors of airline travel. The cases come in two sizes, 36'' and 42'', and also contain pluck foam to cushion the rifles.The dimensions of the 42'' case are:Exterior 40" x 16" x 5.5"Interior 37" x 13" x 5"
The dimensions of the 36'' case are:Exterior 46" x 16" x 5.5"Interior 43" x 13" x 5"
Who Will Use This Most
This will be perfect for general purpose uses. So it depends on the kind of rifle you have (or caliber) to ensure that you have a case to fit you perfectly. If you need a case that is perfect for all your rifle storing needs, don't hesitate to get a rifle case like this.
Bottom Line
The Plano Molding Company All-Weather Rifle Case is considered to be one of the best in the business. If you want excellent quality and well-fitting storage for your rifle, you would be hard-pressed to find a case like this anywhere else.
Pros
Easy to clean
Locks securely
Foam cuts quite easily
Super-durable from the inside and out
Pluck foam is really helpful in fitting most rifles
Adjustable padding, rugged, secure lock, waterproof, well-padded
Cons
Some report it not being waterproof
No open compartments for extra storage space
May not be able to handle shock from hard falls
What to Look For in a Case
Ideally, your rifle case will be durable, strong, waterproof, and discreet enough to not draw attention. It will also have plenty of space to keep the guns and accessories you need to bring along on your next hunt or shooting trip. It should keep out dust, moisture, and be secure against theft or tampering, as well.
Your case should not only make it easy for you to bring your rifle wherever it is needed, but also make it easy to remove the gun and put it back in place when not needed. A good case will hold the gun snugly within a foam rest to prevent it jostling and moving about while in transit.
Hard Case vs Soft Case: Which is Better?
You should buy a case that meets your own requirements for protecting your guns. If you travel into the woods or forest and require durability and toughness, a hard case will provide the best protection. If you want to travel light and only need minimal protection from scratches and rain, certain soft cases will do the job.
Some cases are heavier than others, which makes them less than ideal for carrying. Hard cases can be quite heavy due to their use of stronger materials and size. Some cases are designed for portability, including many soft cases that both protect the gun from scratches and the elements and can be slung over one shoulder.
Remember that no soft case can match the durability and toughness that a hard case can provide due to the materials used. If you want guaranteed protection for delicate scopes and other accessories on your gun, as well as the gun itself, you'll definitely need a strong hard case. Some cases can hold multiple guns and have inbuilt pressure equalization valves that help in case of changing altitudes.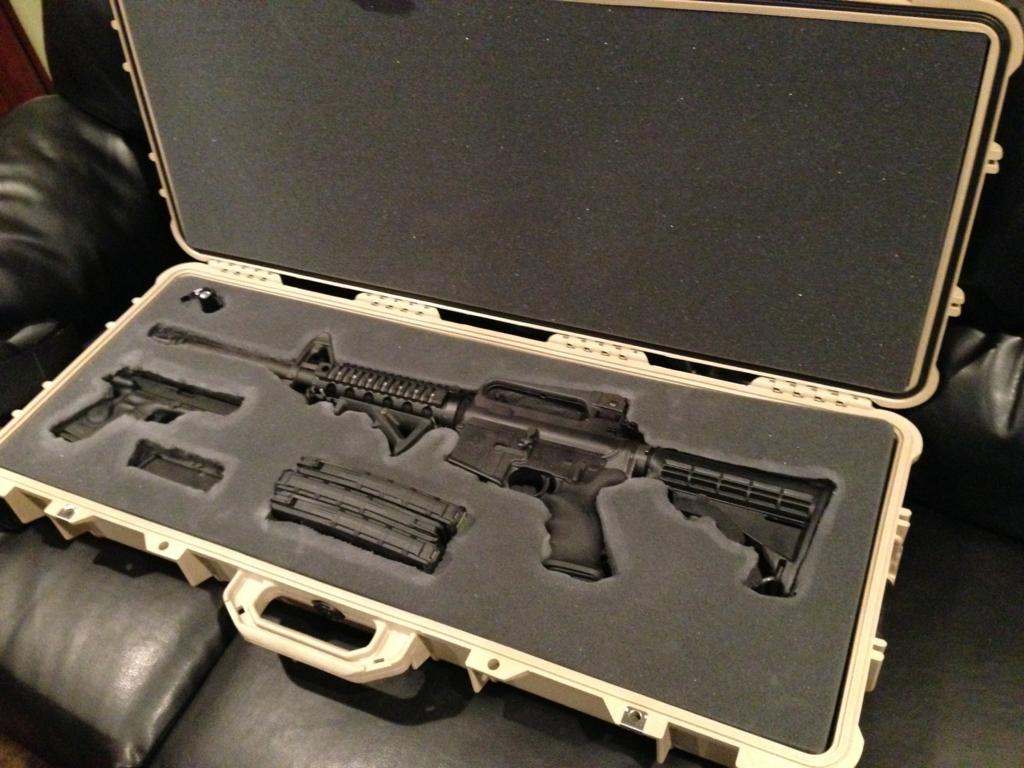 Hard cases also use multiple latches to keep the rifle safe and some models use steel latches that are compatible with padlocks, so you can increase their security.
Hard cases are easy to maintain since they can be washed on the outside using water and a mild detergent. The inside can also be cleaned with water and mild detergent. A lining made from high-quality foam can also be cleaned using a wet sponge or cloth. Ensure that the foam is dry before replacing it, or you risk causing rust deposits in your rifle.
In short, a hard case is good for serious traveling where you gun needs protection. A soft case is sufficient when you don't have to worry about a lot of banging around and just want to protect it from dust and dirt.
What to Look for in a Hard Case
If you are considering a hard case for your rifle, there are some aspects to keep in mine. These include how well it protects your rifle, the amount of padding to cushion and house additional accessories, and any special features.
Protection
A good hard case should be built of top quality materials such as high-impact polypropylene and be designed to withstand shocks, bumps, and rough usage. It should ideally be waterproof, dust-proof, and rust proof. Good cases have air pressure equalizers that can help protect against air pressure changes during air travel or in mountainous areas.
Padding
Good cases come with foam padding to hold and secure your gun in place. Some will have silica gel inserts to keep all the accessories dry, which is necessary to prevent guns from rusting and ammo from spoilage. You can even customize some foam pads to hold more weapons, magazines, or other items you'll need when traveling.
Features
Some hard cases stand out from the others by incorporating special features, such as the ability to float. Cases made from aluminum are great choices since aluminum is able to offer extra protection compared to other materials.
What to Look for in a Soft Case
If you're thinking about getting a soft case for your rifle, you may be wondering what to look for. The main concern when looking for a soft case is the size, followed by materials and features.
Size
Obviously, you want the rifle to fit inside the case. However, some cases will fit your AR-15 snugly and others will have some additional room or pockets for more guns or extra accessories. Smaller cases may be easier to transport, but you'll be sacrificing the extra room for carrying accessories or other features. Bigger cases may also offer more protection, but this is not always the case.
Material
The second aspect to look at is the material, which will determine the durability and protection offered to the gun.
Most manufacturers use a combination of synthetic materials such as nylon. Nylon is a tough and durable material that holds up well through wear and tear and can handle abuse. The seams and stitching should be checked carefully, as they are the most likely point of failure for soft cases.
Features
The final thing to check in a soft case before purchasing is the extra features it offers. This includes pockets, pouches, straps, and slings. Some people prefer a soft case that conceals, rather than advertises, the fact that they have a gun on them. A good case distributes evenly over the body by placing the straps properly for the sling to fit comfortably. Carrying the case should be easy and practical.
Conclusion
Purchasing a robust and durable case for your AR-15 is a worthwhile investment in order to keep your rifle and accessories safe while traveling or transporting from place to place. In order to decide what kind of case to select, keep in mind your need for portability, protection, security, and discretion.
Some cases are pricier than others, but these generally offer toughness and protection, along with extra features that add to their appeal.