Shooting can be an expensive hobby. From the initial investment in a firearm to the necessary shooting equipment and ammo, the dollars can add up fast. However, with some research and patience, it is possible to enjoy the benefits of firearm ownership without breaking the bank.
For the most part, the quality of budget-friendly guns is comparable to more expensive options. What they tend to lack is some of the extra features some more pricey options might have. The bottom line is that it is very possible to obtain a reliable and useful handgun for under $300.
Keep reading to learn more and to see the best handguns under $300 available today!
At a Glance: Our Top Picks for Handguns Under $300
Comparison of the Best Handguns Under $300
IMAGE
PRODUCT

Our Top Pick

Best overall handgun under $300
Includes a magazine of 12 rounds
Barrel length measured at 3.2 inches

View Latest Price →

Can fire 9mm rounds
Holds up to 15 rounds
Runner-up for best handgun under $300

View Latest Price →

Best .22 pistol under $300
Barrel length is 3.42 inches
Includes single and double action

View Latest Price →

Magazine contains 15 rounds
Best full-sized pistol for under $300
Made from polymer and high-quality stainless steel

View Latest Price →

Double action design
Contains up to 6 rounds
Best 380 pistol under $300

View Latest Price →
What to Watch For When Buying a Handgun Under $300
Whenever you are in the market for a firearm or firearm accessory and you have a lower budget, it can be a challenge to find the best option for your needs without going over said budget. It is sometimes too easy to make a selection you are unhappy with or spend more than you wanted to.
However, knowing what to look for beforehand goes a long way towards helping to avoid those two possibilities. Use the following tips and info to arm yourself with adequate knowledge to help you make the best handgun choice for under $300.
This Section Written By: Brian Belko
Expert Author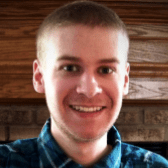 Brian is an experienced freelance writer and technical writer who has previously written for publications such as Wide Open Spaces, Bigfoot Gun Belts, Alien Gear Holsters, and Kampgrounds of America. He brings both a passion for writing and a love of the outdoors to his published content.

Aside from writing and the outdoors, Brian enjoys gardening, being a co-host on The Nostalgia Blast Podcast, and learning to code.
Realistic Expectations
There is nothing wrong with having a strict budget set aside for a handgun. The $300 level tends to be a common amount people want to spend on a handgun. The good news is that there are plenty of great options at or under that price point. However, you must have realistic expectations going in or you run the risk of overspending or being unhappy with your choice.
Most under $300 handguns are designed for concealed carry, self-defense, and light target shooting. You aren't going to be getting a competition level pistol for $300. That being said, handguns under $300 are plenty capable of performing well within their proper applications. Just don't kid yourself with grand ideas going in.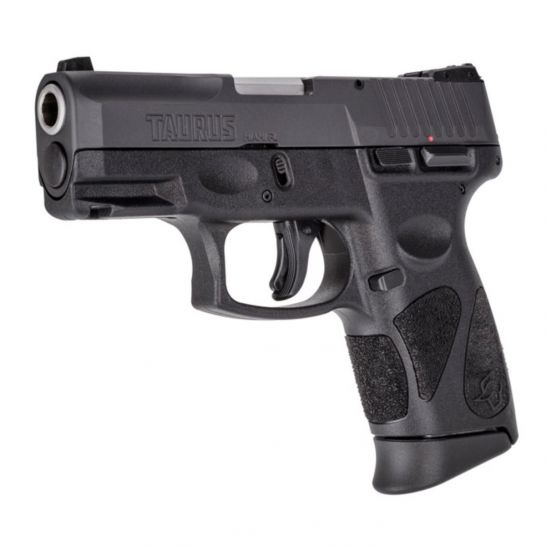 Practice = Confidence
Becoming comfortable with a firearm's operation, function, and use is one of the most important things every gun owner should strive for. Practice in a safe and stress-free environment is the best way to accomplish this. A handgun for under $300 may offer some challenges due to size and other budget considerations. The best way to eliminate those issues is to practice when the gun is new and continue that practice throughout your ownership.
Not Just .22
It is common for people to associate .22 caliber with cheaper or more affordable firearms. However, while .22 caliber firearms do tend to be cheaper, there are other caliber options among the ranks as well. If you are considering a handgun under $300 for self-defense purposes, you will be able to choose one with more stopping power than a .22. Those options include 9mm handguns and .380 handguns in both semi-automatic and revolver versions. Having options when on a budget is always a good thing!
Review of the Best Handguns Under $300
Below is a list of the eight best handguns that are under $300. As you go through the list, it's important to make a list of the characteristics and features that will stand out as impressive in your point of view. Alternatively, you can consider what your ideal pistol looks like and how it functions. That way, you can go through the list and come across one that matches your ideal description.
Now, let's take a look at the first handgun on our list — our "best overall" choice:
Taurus G2C 9MM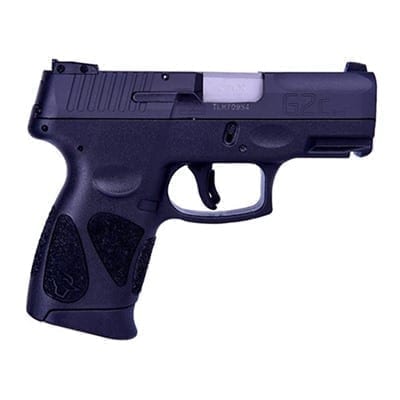 We may earn commission from purchases made from our links, at no additional cost to you
What Recent Buyers Report
A lot of new buyers report that this pistol was in excellent condition right out of the box. And it fired beautifully without a single jam or malfunction. Loading the pistol was a cinch and so was disassembling it for cleaning and maintenance purposes. One user said that it was probably the best pistol that's he's owned for quite a while because of everything being so simple.
Why it Stands Out to Us
The Taurus brand pistols are no slouch when it comes to concealability. Yes, it's small enough to fit in a good deal of holsters while being able to fly under the radar while you carry it in a setting where you are outside of your home. Indeed, it might be a daunting task to conceal carry (or let alone carry a pistol in public). But it's peace of mind in knowing that you are prepared for a dangerous situation anytime and anyplace.
Who Will Use This Most
This will be an excellent pistol that will last you quite a while. In fact, we won't be surprised if this lasts you years or even decades (under the condition that you take care of it on a regular basis). This will ideally be used as a concealed carry pistol and may be only for that. Yes, you can try shooting targets with it but only for the sake of tuning up your pistol and keeping it sharp performance-wise.
Bottom Line
The Taurus G2C 9mm has proven itself that its well-deserving of the "best overall" nod. And yet, it exceeds all sorts of standards and expectations. At this point, you're probably thinking that this pistol is worth investing in. If you want durability and reliability while having consistent accuracy to go along with it, this pistol might just be your huckleberry.
Pros
Super durable construction
The front sight is easy to adjust
Easy to grip in your hands, even in bad weather
Inclusion of two magazines is an excellent convenience
Excellent for concealed carry, won't bulge or give away your carrying position
Cons
Could be better for larger hands
Trigger pull might be a little gritty at first
Not really the best target shooting pistol
Ruger Security-9 9MM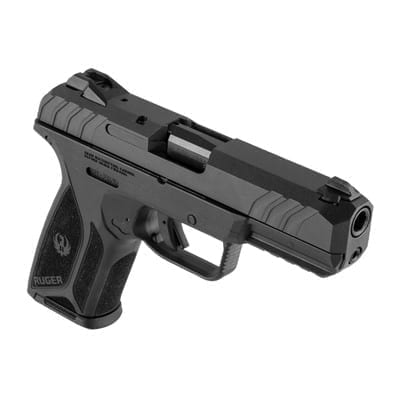 We may earn commission from purchases made from our links, at no additional cost to you
What Recent Buyers Report
This pistol was a huge hit for beginners. They were starting out with concealed carry and looking for a pistol that took them from training to being able to carry on a regular basis (and beyond). They said that the quality was tough and near indestructible. Not to mention, it was easy to fire without a single malfunction. One user said that the trigger pull was nice and light, thus precluding the smooth shooting that followed.
Why it Stands Out to Us
This pistol might just be one of the direct competitors of the Taurus G2C. It's tough in quality, reliable in performance, and just overall awesome. It can hold up to 15 rounds, so it's more than enough to help you go through the day with the sense of being prepared for any dangerous situation where self-defense may be warranted.
Who Will Use This Most
This pistol will be great for newbie users because it's easy to fire, easy to disassemble for cleaning and maintenance, and just tough all over. In other words, this pistol is just worth every penny for something below $300 in price. Just carry this with you no matter where you go and you'll have the edge over an attacker who might be stupid enough to mess with you.
Bottom Line
If you want excellent quality, superior performance, and something that will keep you out of harm's way (if and when warranted), the Ruger Security- 9mm is definitely the best choice if you are new to the entire concept of concealed carry. Use this through your training and beyond and you'll have a sidekick that will stick alongside you for the long-term.
Pros
Superior quality
Perfect for self-defense
Easy to conceal in different positions
Allows for quick drawing without any snagging
No malfunctioning or jamming through 100+ rounds
3. Walther P22 QD
We may earn commission from purchases made from our links, at no additional cost to you
What Recent Buyers Report
As expected, a good number of users were quite happy with the pistol. They were able to shoot this through hundreds of rounds and said that they were able to hit the paper targets in and around the bullseye from various distances between 10 to 25 yards. One user said his shooting groups were pretty tight and consistent when shooting at various distances.
Why it Stands Out to Us
The Walther might have been one of the pistols James Bond used in the old school movies, but it won't make you an International Man (or Woman) of Mystery by any stretch of the imagination. But it's pretty concealable, reliable, and accurate. That's pretty much what a lot of shooters like yourself want in a pistol anyways (even if it is below $300 in price). It's also really useful in purposes like target shooting and self-defense. So if you want a pistol that will excel in more than one application, this just might be your cup of coffee.
Who Will Use This Most
This pistol will be useful to those who are in law enforcement, security, or just a civilian looking for a primary or secondary pistol at an affordable price. You won't be disappointed by the overall quality nor the overall performance. It's a .22 caliber pistol you wish you purchased in the first place.
Bottom Line
The Walther P22 QD is a standout decision for those who are a fan of the .22 caliber. You might be able to get a hold of this for the sake of using a pistol that is accurate in CQB situations (and even for its reliability as well). But it will get you through the day if you want to be prepared for any danger (or if you want to shoot off as many targets as possible).
Pros
Superb quality and construction
Really easy to operate and shoot
Ideal for self-defense and concealed carry
Loads up easily without any difficulty on the hands
Excellent with concealed carry users, won't lump or give off where you are carrying
Best Full-Size Pistol Under $300
S&W M&P .40 S&W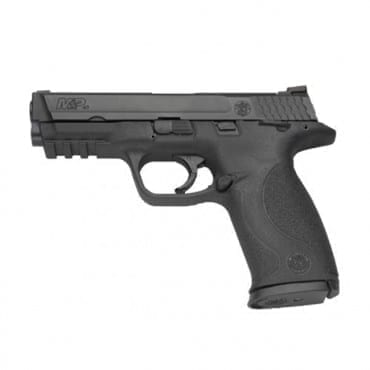 We may earn commission from purchases made from our links, at no additional cost to you
What Recent Buyers Report
A lot of new users were looking for a pistol mostly for the purpose of keeping at home for self-defense or taking it to the range. They were really happy with this pistol due to its firing ability and accuracy across distances up to 30 yards out. This pistol excelled in both a home defense and target shooting application based on its ability to shoot quick shots (both initial and follow-ups).
Why it Stands Out to Us
Full-sized pistols are more apt to be your "stay at home" pistols rather than concealed carry. But indeed, that doesn't mean you can't take them anywhere. But if you want a pistol that will be a good size and deliver some serious firing power at the same time, this one, in particular, might just be what you're looking for. Furthermore, it's pretty reliable (which of course lives up to the S&W reputation of being able to come through in clutch situations). Overall, it's the kind of pistol that you can depend on (and afford if your budget allows it).
Who Will Use This Most
If you want a pistol to keep around at home or something to use while you are at the range, this might be the "it" pistol for you. Yes, it's got the reliability, the firing power, the accuracy…need we say more? You can carry this with you knowing that it can do you some good if and when you decide to use it. In a life and death situation, you may use it and be thankful that you've spent your hard-earned money on something proven to save your life when the time is right.
Bottom Line
The S&W M&P .40 is probably the only full-sized pistol that you can find south of $300. You best believe that this sucker will go above and beyond when it comes to performance and quality. That, of course, will give you a sense of satisfaction knowing that you have a pistol that will kick some serious…well, you know. And you snagged it at a pretty reasonable price.
Pros
Trigger quality is excellent
Easy to shoot with consistency
Fits in a good number of full-sized holsters
Firing power is potent, packs a good punch
Perfect for home defense and target shooting
Cons
May be hard to load at first
May be tough to disassemble
Smaller hands may have a hard time handling it sometimes
Best .380 Pistol Under $300
Smith & Wesson M&P Bodyguard .380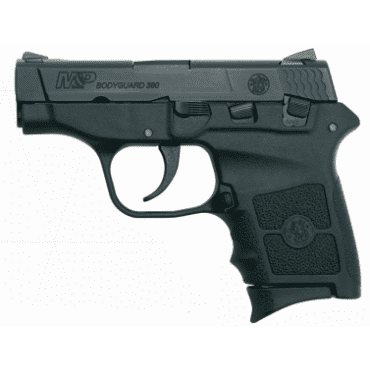 We may earn commission from purchases made from our links, at no additional cost to you
What Recent Buyers Report
New buyers say that this pistol was pretty easy to conceal in various positions. Most of the new users either carried it on their hip or appendix carry. Regardless, it was comfortable to carry and was easy to quickly draw in situations where timing was a serious factor. One user said that he was able to get a good amount of control over it, thus making it accurate for shooting at close distances from 10 to 20 yards out.
Why it Stands Out to Us
The Smith and Wesson Bodyguard obviously lives up to its name. It's small in size, sure. But it will be at your side if and when a threat against your life is within your general vicinity. It will be concealable and will pop out of nowhere to deter the threat. And since it's a Smith and Wesson pistol, you have guaranteed reliability. Which means you have a pistol that will never quit. If that's one thing you want in something that's under $300, reliability should never be looked over.
Who Will Use This Most
This pistol will be great for both men and women looking for an easy to conceal pistol. Since it's a 380, it's arguably one of the most popular choices for the sake of keeping the pistol out of sight and at your side just in case you need it. If you want a pistol that will be hard to beat against others in its class, you may consider this one in particular as a good choice.
Bottom Line
The Smith and Wesson M&P Bodyguard is an entirely different animal when pitted against other pistols on the list. With under the radar concealability and superior reliability as two of the best things you'll get out of this pistol, you'd be crazy to pass up the opportunity to give this pistol a closer look. In fact, you'd be crazy to pass up getting the best of two desired characteristics people look for in a pistol.
Pros
Superior concealability
Provides accurate and precise shooting
Still light in weight even when fully loaded
Resistant to corrosion, rust, and similar elements
Shoots with smooth reliability, no malfunctions to report
Cons
Trigger pull is a bit heavy
Hammer may be difficult to pull at first
The small-sized grip may be detrimental for some, may also result in inaccurate shooting
6. Bersa BPCC 9MM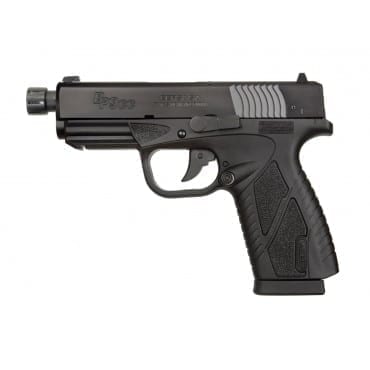 We may earn commission from purchases made from our links, at no additional cost to you
What Recent Buyers Report
This pistol was not only a hit for budget shoppers looking for the best price, it performed well beyond expectations. In short, they got so much more than what they've paid for. Quality-wise, it was pretty sturdy and solid in quality. They were able to get a good grip with this pistol even in bad weather conditions. One user said that the shooting was smooth, reliable, and the follow-through was a lot better than he expected from a budget pistol.
Why it Stands Out to Us
Now, we take a look at the best choice for the money for pistols that fit a certain price range. Yes, we reserve this category for those looking for a budget-friendly option. However, we make sure that the quality and the performance is the best affordable for those who say money is an issue for them. This pistol is the one that will fit the bill simply for the following reasons: for one, you can take this sucker out of the box, load it, and be able to get excellent reliable shooting. Through 100 or so rounds, there won't be a single malfunction. Plus, it's small enough for concealed carry without the bulging or making it look like it's obvious that you are carrying something.
Who Will Use This Most
If you want a pistol that will be best for newbies or you just want a secondary pistol to compliment your primary choice, this is the go-to option for you. You can carry this pistol in a shoulder holster or even an ankle holster if you want. It may be the best affordable choice, but it's the no brainer choice if you want something that is high-quality and a lot of fun to shoot. It might be hard to choose between this and the others. But if you want something that will benefit both left-handed and right-handed shooters, this could be what you need.
Bottom Line
The Bersa BPCC 9mm Pistol is undeniably one of the better options going forward if you are on a budget. In fact, this might have the edge to this point because of its ambidextrous ability. So if you are a left-handed shooter, this might be the pistol worth considering for concealed carry purposes. A lot better than trying to shoot a pistol with your opposite hand, right? Don't let the struggles of being a forced righty get you down.
Pros
Excellent quality
Affordable for most budgets
Easy to shoot right out of the box
Easy to conceal in various positions
Great for both right-handed and left-handed shooters
Best 9mm Pistol Under $300
Canik TP9SF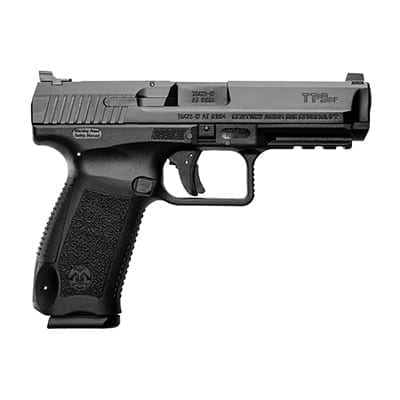 We may earn commission from purchases made from our links, at no additional cost to you
What Recent Buyers Report
New users were really impressed with the reliability of the pistol. Most users went through 100 rounds while others went beyond that. But the result remained the same, no jams or malfunctions. The pistol was easy to control even with or without the use of gloves (and the bad weather playing a role). One user said that it was a great multi-purpose pistol that he uses for every day carry but tends to fire it off at the range on the weekends.
Why it Stands Out to Us
The Canik TP9SF is to this point one of the most reliable pistols that you'll find on the market. It's said to be the one brand that battle tests their pistols for this characteristic. And after 60,000 rounds, not a single malfunction could be found. This might be the "under the radar" challenger to such pistols like Glocks, Smith and Wessons, and even SIG Sauers. If you want a pistol that doesn't care much about being a big name, but can definitely come through in the clutch this is the pistol you'll want.
Who Will Use This Most
This pistol was made for self-defense situations. And it will definitely stick with you for the long run so long as you are able to take the best care of it on a regular basis. If you want a pistol that is easy to shoot, quick on the draw, and will save your bacon you may be hard-pressed to find something like this anywhere else.
Bottom Line
The Canik TP9SF is undeniably the favorite for those who are fans of the 9mm. And you will definitely give this a try not only for its reliability but it's accuracy and excellent quality might just have you sold already. You deserve the best for a pistol like this. And at a price that is affordable for most budgets, you can say this is the steal of a lifetime.
Pros
Perfect for target shooting and concealed carry
Maintains its light weight, even when fully loaded
Battle-tested for reliability, no malfunctions guaranteed
Allows for easy drawing and re-holstering without snagging
Single-action allows for easy shooting that will save you time in a self-defense situation
Cons
May not be easy to handle for smaller hands
May be a little difficult to disassemble at first
Trigger pull may be a bit too light for some users
Rock Island Armory M206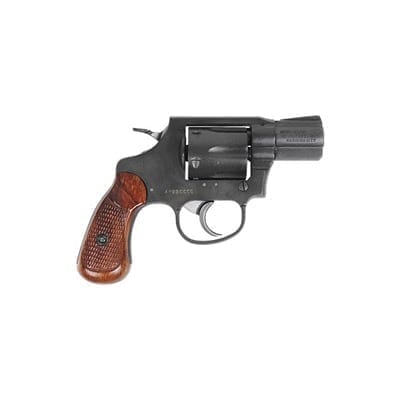 We may earn commission from purchases made from our links, at no additional cost to you
What Recent Buyers Report
One of the new users of this revolver said that this was probably one of the best revolvers that she's ever put her hands on after testing it out at the range. She said that it became her concealed carry handgun of choice after finding out that it was small enough to fit in her purse. Overall, the trigger pull was light and loading it wasn't much of a chore. The construction was solid and it still weighed light even when fully loaded.
Why it Stands Out to Us
Revolvers are always a good idea when you want something that is small and won't give you a lot of shots to work with. For most, that's preferable. If you want something that will fit in a purse, glove box, or even a small holster then you may want to consider the idea of purchasing this revolver for your own use. It's a classic-looking six-shooter that will be at your side and ready for the defensive if and when your life is in grave danger.
Who Will Use This Most
This will be a great revolver for both men and women looking for something that is easy to conceal and easy to shoot. It will also come in handy for those who would rather handle 6 rounds as opposed to anything north of 10 rounds. We won't blame you if that is your preference. Sometimes, 6 just might be enough.
Bottom Line
The Rock Island Armory M206 is the only good revolver you can find at a price point that will be hard to beat. If you are on a budget, it would be hard to say no to a revolver that is superior in quality and performance. Its classic look might be quite the head-turner assuming you try this out at the range.
Pros
Great for EDC carry
Easy and quick to shoot
Trigger pull is nice and light
Allows for excellent gripping ability
Easy to load, takes a couple of minutes
Can You Really Find a Quality Handgun Under $300?
Short answer: yes. In fact, it is possible to find a quality handgun at various price points provided that they fit within your budget range. You can find a pistol under $300 that will provide excellent quality and best of all, superior performance to boot. We can safely say that high-quality will always equate to a performance that can be unmatchable against other pistols that may fall short in some aspects.
What to Look For When Buying a Handgun That's Under $300
The key to finding the right handgun under $300 is distinguishing a quality pistol from one that is lacking in quality and performance. Yes, you can find two pistols that are completely different from each other and be within the same price range. The question is, what should you keep your eyes peeled for? Here's a brief list of what you'll need to pay attention to:
Price
Obviously, the price is going to be a factor in deciding which pistol will be best for you. And budgets do vary. The important thing is that it shouldn't be the only reason why you bought it. Take a look at the quality and performance. If it's excellent in both aspects and it's at a price that you can afford, it is a winning option for you.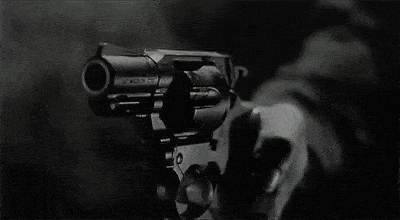 High-Quality Materials
A lot of the time, the pistols you'll find will be made from steel and polymer. They are two of the best materials that you can find on just about any firearm or accessories related to them. They are tough, can handle abuse, and can handle multiple instances of impact. And yes, it can enhance the performance of your handgun in one way or another (Ex: polymer grips will equate to better holding and control).
Reliability
This is a big one here. You are looking for a pistol that will be working consistently, especially in situations when you need it most like a self-defense situation. The last thing you need is to be in a dangerous situation where you are in even more grave danger because of a malfunctioning handgun. Granted, all eight on the list have been battle-tested and are known to not jam or malfunction.
Aspect to Consider Before Buying
Making a well-informed decision about which pistol works for you is important. And you should be able to know which pistol will fit you perfectly just by taking a look at the features and characteristics. But there are certain aspects to consider before making a final decision. Here's what they are:
How Many Rounds Do I Really Need?
This might depend on your intended purpose. Now, there is no such thing as having too many rounds. But ideally, a good number of concealed carry users are content with carrying anything less than 10 rounds for the purpose of self-defense. Alternatively, pistols with a higher count in round capacity often end up being used in target shooting situations. But how many rounds you need will come down to personal preference.
Single Action or Double Action?
Some pistols have single action while others have double action. Also, there are some that have both types. Single action will require you to just pull the trigger while double action requires cocking the hammer back.
Consider your intent on using a handgun. If you are intending to defend yourself with it, you're more than likely better off using a single-action design.
What Kind Of Holster Do I Need?
If you plan on conceal carrying your pistol, it's important to know which holster will fit perfectly.
There is a handful that is considered universal while some others are designed exclusively for a specific set of pistols (i.e.–Glocks and SIG Sauers). Also, you need to consider which materials are best for you. They will also play a role in the performance of your draw or re-holstering (which is key in most applications).
Conclusion
The best handgun under $300 is out there. And it will be your job to find one that will best fit your needs. Be sure to find one that is reliable, excellent in quality, and will last you a long time. Don't forget, the pistol you choose will require regular cleaning and maintenance. Take good care of your pistol and it will take good care of you.