Ruger has provided 68 years of continuous firearm production, with facilities in five states and over 400 variations of more than 30 product lines. The Sturm, Ruger & Company is an American success story, one that started with rimfire pistol and set out on the road to fame with their .22R shoulder gun.
Through the years, the 10/22 became one of the best-selling .22 rifles in history. This is despite the fact that the 10/22 was never intended to be a flagship model. With 5 million rifles sold, the Ruger 10/22 is offered in 7 different models with over 20 versions in current production, not counting distributor-exclusive models. All of these models and variants in one way or another evolved from the very first Ruger rimfire autoloader- the 10/22 Carbine. While the first Ruger .22 Standard Automatic pistol design mimics Luger and Nambu, for his semi-automatic rimfire rifle, Bill Ruger found inspiration in another military firearm, a battle-hardened veteran, the M1 Carbine.  
The models come and go, and over the decades Ruger has offered numerous configurations. These range from a plain Carbine to an ultra-modern Target Tactical version to fulfill the niches of plinking, hunting and target shooting.
Carbine
In the beginning, 10/22 Carbine Standard model had a stock of American walnut with a metal butt plate with a carbine-style barrel band. When released in 1964, the original Carbine featured an 18.5-inch barrel with a blued, anodized aluminum receiver, used through 1976. At that point it was changed to a Teflon coating.  
As walnut increased in price, the hardwood stock was replaced first by birch, then by maple. Finally, some series were even made with poplar. The wood stock was issued without checkering while the Carbine synthetic stock has some checkering in the grip and fore-end areas.

 The 10/22 Carbine is a rifle for adults, but it's also served well as a child's first long gun for scouting and small-game hunting. The most distinctive part of the shoulder gun is its detachable 10-round rotary magazine, which due its shape fits flush with the bottom of the stock and doesn't protrude. Such a smart design allows a user to carry the gun in the field one-handed at its natural balance point. This makes it an excellent small game trekking rifle.
Sporter
To satisfy customers who found the barrel band aesthetically displeasing, Ruger introduced a new model in 1966; a fine rifle dubbed the 10/22 Sporter. The Sporter came with the same barrel length as the Carbine and with sling swivel studs already mounted. The most distinctive feature is its walnut stock made of a nice piece of straight-grained American black walnut. Another minor difference in the Sporter stock is its length of pull. This gun measures in at 13.88 inches versus the 13.5 for the carbine, enabling slightly better site acquisition and control of the weapon.

Takedown
In recent times, the interests of contemporary generations are changing in every aspect of life, including about the rifle. New urban gun owners are more inclined to target shooting and indoor ranges than the woods or open-field varminting.
Accordingly, Ruger released the 10/22 Takedown Model in 2012. This model consists of two subassemblies for easier transport and packing. With an overall length of 37″ and weighing 4.6 lbs. empty, the Takedown rifle is one of most compact rimfires on the market.


The Takedown is available in two versions, a standard 18.5-inch barrel or with a 16.62″-threaded barrel with a flash suppressor. Both versions feature black composite stocks and blue barrels with brushed aluminum receivers made to resemble a stainless steel body.
You can separate this rifle into two pieces by a recessed lever located in front of the magazine. Pushing the lever forward will unlatch the units. After that, the operator detaches the locking flanges so that the halves of the rifle can be pulled apart by simply rotating the unit a quarter- turn.
Target
The 10/22T or Target model debuted in 1996. It serves the precision shooter for getting some high scores on the range, and it generally improves the shooter's marksmanship. The difference with the "Target" model that separates it from the basic carbine is its black or brown wood laminate stock without checkering and its included sling swivels.

The distinctive attribute is a 20-inch bull barrel with a recessed target crown and spiral design. The heavy barrel doesn't have sights, but it is drilled and tapped for a scope. The competition qualities are achieved with a polymer trigger housing assembly with a unique two-stage target trigger. This trigger has just under 4lb of trigger pull.
Compact
The Ruger is building the rifles demanded by its customers. The Compact, with an overall length of only 34 inches, is perfect for the youngster who is a first-time shooter. For this model, Ruger trimmed 2″ off the Carbine barrel and shortened the stock, creating a short, fast-handling rifle optimally sized for young or small-framed shooters.

Another feature for shooters of lesser stature is a 12.5-inch length of pull, versus the standard 13.75 inches.
The Compact went on sale in September 2005. It features fiber-optic sights and a clear 10-shot magazine as standard. This easy-to-carry rifle weighs a comfortable 4.5 pounds and is extremely popular with hikers and survivalist.
Tactical
The 10/22 got the tactical treatment relatively late – not until 2009. The Ruger 10/22 Tactical model combines the 16.12-inch barrel of the 10/22 Compact with a removable flash suppressor borrowed from the Ruger SR-556 Mini-14 Rifle. The factory ½ x 28-thread barrel offers the ability to attach an assortment of muzzle accessories, including silencers.  
It comes with a full-size black synthetic stock featuring a 13.5″ length of pull. The Tactical model is shipped without iron sights. However, it has a 3/8″ aluminum scope base that will accept either Weaver style or tip-off rings.
The rifle has an overall length of 36-1/4 inches and weighs in at a mere 4.3 pounds empty, which is the lightest weight 10/22 available today from Ruger.
Target/Tactical (VLEH)
Under the name "10/22VLEH" (the letters stand for V – Varmint barrel, L – Law + E – Enforcement model, H – Hogue stock), this Ruger rifle started out as a combination of 10/22 Target and Ruger M77 Hawkeye Tactical rifle. One of the newest in the 10/22 line, launched in 2009, has featured a 16-inch hammer-forged fluted .920 bull barrel. That's the same heavy target barrel found on the Ruger 10/22T.
The Target/Tactical (VLEH) Carbine is available with a 16-inch, crowned bull barrel and Ruger's target two-stage trigger. This trigger measures in at three pounds, ten ounces of pressure – compared to 6 pounds on the standard 10/22 trigger. This handy rifle does not use iron sights, but it comes with a scope mount rail on the receiver.

The main feature of the VLEH configuration that caught everyone's attention is the large, black, comfortable Hogue Overmolded stock with a Harris-style short bipod with adjustable legs as standard equipment. This synthetic stock with a thin, rubberized skin is a durable, comfortable, superior, recoil-taming unit. And it's impervious to dirt and moisture.
While some people consider this bull-barrel model a budget survival/defense rifle, it actually dominates competitive shooting matches where fast-shooting .22's are used.
Special editions
Various firearms distributors and large retail chains also sell special variations of the 10/22.  The distributor special editions are similar to previously-offered factory versions but with cosmetic changes in sights, stocks and other parts. For instance, one version of the 10/22 was widely available through All Sports, CSI, and Henry's stores since 1993.  It has natural-style laminate furniture in colors ranging from green camo, desert camo, walnut-red-green, tree-bark camo, two-tone brown, olive camo, and natural.

Earlier in 1991, Wal-Mart stores ordered 10,000 bandless 10/22`s featuring a 22-inch stainless steel barrel and checkered walnut stock. Later it was changed to laminated stocks. In addition, the rifle has a sling of black nylon with a "Ruger" patch stitched in red, and Uncle Mike's deluxe swivels.
Plenty of "distributor exclusive" versions are also available through Ruger dealers. These include some variants with minor modifications or specialized non-civilian versions. The MSP (Military and Special Police) was a silencer-adapted carbine for military and law enforcement use. The limited edition, the "FBI gun," was ordered by distributor Faber Brothers, Inc. It had laminated wood stocks in reddish brown, light walnut, and tan colors. Interestingly, it was named after the buyer, not the Federal Bureau of Investigation.
Ruger AWC Ultra II
Often in public debate, the prevailing opinion is that guns with suppressors belong to the dark side of society. Americans even called the whole class of weapons "assassination weapons." The specialized, internally-suppressed .22 autoloaders have a unique built-in brake that prevents the noise of the bolt recoil. That detail indicates how much the shot itself is suppressed. For years, the suppressed Ruger 10/22 has been a choice of numerous military units and secret agencies to accomplish a broad range of covert missions.

On the other side, contrary to popular belief, silencers are legal for civilians to own in most states of the US. But they are classified as NFA firearms (National Firearms Act) or Title II weapon requiring a Type 01 Federal Firearms License (FFL). That means they require a special license.
The AWC Ultra II variant of the Ruger 10/22 has its suppressor integrated into a shortened barrel. With the slim design of the silencer, it has the appearance of a 1″-diameter heavy target barrel. The modifications of the shortened barrel are so precisely calculated and machined that the rifle can be shot with regular or even high-velocity ammunition without degradation of performance or maintenance issues.
With a barrel length of 16.5″, the AWC Ultra II has an overall compact length of 34 1⁄2″ and the weighs a humble 6 lbs. This state-of-the-art suppressed weapon workmanship has a muzzle signature similar to a spring-action air rifle. All those factors make it not only a weapon for law enforcement agencies; it is the weapon of choice for many recreational shooters.
Ruger Magnum
The original Ruger 10/22 was at one point beefed up in a new variant – the 10/22 Magnum. This was so that it could accept the bigger and more powerful .22 Magnum round. This model Ruger was manufactured between 1998 and 2006. Due to a problem with the rounds extracting, they discontinued it and offered surrogate in the form of a new bolt action 77/22 Magnum, aka the Hawkeye.

One of the main reasons production ended was that the 10/22 Magnum bolt was made of tungsten. It was somewhat brittle, causing bolt-cracking issues and premature extraction. Another reason was the price. The Magnum was too powerful for the aluminum receivers that were in use. Bolt-action rifles in the rimfire magnum caliber may cost $20-25 more than standard .22LR. But the autoloaders have a much greater difference in price.
Another Ruger Magnum Rifle, the 10/17, came out in 2004, but never really caught on. It met its end after two years and is now considered a rare find. It was offered in relatively new, flat-shooting .17 HMR rimfire cartridge. This enabled hunters to shoot small game and varmints far beyond 100 yards, the limit for the .22WMR.
Like the .22 Magnum, the 10/17 Magnum Rifle featured a blued 18.5-inch barrel, a steel receiver, a hardwood birch stock and a nine-round rotary magazine. Although they are similar in appearance and model numbers, the 10/22 semi-automatic Ruger Magnum rifles and the .22LR are substantially different guns.
Collector's Series
One of the most successful .22LR autoloaders of all time, the Ruger 10/22 celebrated its 40th anniversary in 2004. For the occasion, they produced a special carbine version with a large, two-inch nickel silver medallion embedded in the hardwood stock. Similar to the Carbine, the 40th Anniversary Edition sports a barrel band and a Western-style curved buttplate. Unlike the original configuration, it includes a unique 40th Anniversary clear magazine with a red rotor and a .22 tip-off scope base adapter.

Ten years later, Ruger had a vote on what new model would help celebrate the 50th anniversary of the rifle. The winning model has black alloy receiver and 18.5″ threaded barrel with the marking "The Ruger 10/22 • 22 LR – Fifty • 1964-2014." It's capped with a blued alloy-steel Mini-14-style flash suppressor. The rifle sports a Picatinny rail, a non-glare ghost-ring adjustable rear sight and a post-front sight. It also features a lightweight black synthetic stock with an interchangeable modular stock system.
In June 2015, Ruger introduced a "Second Edition" of the 50th Anniversary Collector's Series 10/22 Carbine. This rifle has standard features combined with a dark gray composite stock with interchangeable modules for changing the comb height and length of pull.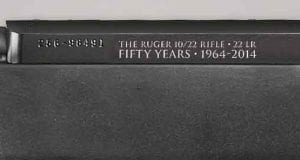 Final Thoughts
With continuous technological innovations, Ruger's` constant ability to follow and introduce a new product represents a business model worthy of admiration.
Over the years, the Ruger 10/22 has been produced in many forms and configurations. Nevertheless, a good build quality and reliability stay its hallmark. Naturally the 10/22 evolved from the technology of the 1960`s to take advantage of modern achievements. Space-age polymers have replaced older materials. Standard stainless steel parts disappeared in favor of the black polymer BX-25. Bigger 25-round "banana"-style magazines with a cast feed lip assembly are available in place of the 10-round magazine.
Ruger has also introduced new trigger housing, made of polymer plastic instead of the old aluminum one. They've also added an extended magazine release to the gun, again made of polymer. Another change was the updated barrel band. In addition, Ruger left behind a traditional blued finish on the barrel and receiver in favor of a new, matte-black finish. The other side of the coin is a thin barrel, which gets hot easily and lessens accuracy. The high-weight pull trigger – nearly 7 lbs. – doesn't help either. Of course, that trigger was designed for good reasons and for liability issues, since the rifle is often in the arms of beginning shooters.
Some adult owners complain about the short furniture, but a bigger drawback would be the short stock bolt handles which can cause issues with failures to eject and jams. It's good to know these can easily be fixed with aftermarket extended bolt handles. The quality of the wood stocks has dropped also. The metal used for the new hammer seems to be softer than the older metal. Using some of these inferior components helps make companies richer, although it's always frustrating to us, the user. That's not to say that Ruger isn't still producing a great gun. But some elements could be stronger.
Conclusion
The well-made mechanism and magazine design of the Ruger 10/22, along with its legendary reliability,  have made it a legend of a rifle. With its adaptations through the years, it's retained an excellent reputation for accuracy among guns of this type. It's not an Anschutz – but it is definitely a great gun for target shooting, plinking, or small-game hunting.