Holsters are a great firearm accessory to conceal carry, mostly because there are so many options. You have likely picked the Ruger SR9 for its sleek, stylish appearance, its comfortable size, and its ergonomic design. This pistol is also fantastic as with its ambidextrous magazine release and magazine disconnect, it is ideal for both right and left-handed shooters. As an added bonus, this is a great sized defensive pistol for both male and female users. As such, you need a holster that will offer up the same types of features.
There are even special holsters made especially for women who like to carry. If you have the proper clearances from your state to carry a concealed weapon, you should know you have a lot of options when it comes to how to carry. In order to get an idea of what pocket holster might be the best fit for you, consider the carry position you prefer. Think about the safety features you need, such as thumb safety, trigger pull, and grip, as well as whether you prefer a slide holster or a belt holster. We make a recommendation on the best holster for you based on the carrying position in the Ruger SR9 holster reviews below:
IWB – Inside the Waistband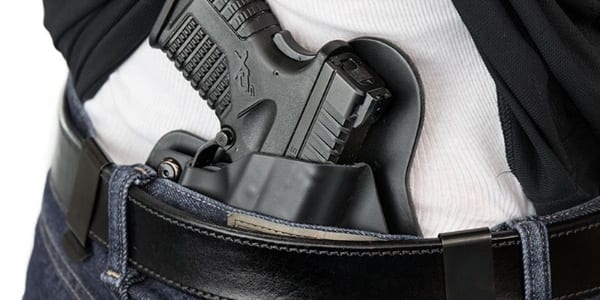 This refers to a firearm being carried inside the waistband of your pants or skirt, between the garment and your body. This is a very popular way to carry. You can position your firearm anywhere around your waist, for example, at three o'clock, six o'clock, or nine o'clock.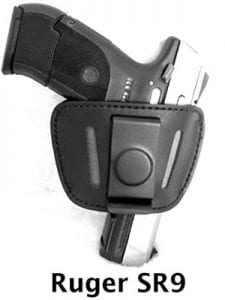 If you're looking for a good IWB holster for your Ruger SR9 handgun, try the Don't Tread On Me Premium Leather Universal Belt Slide Holster.
This has a full grain leather thickness both inside and out that's really high quality. It will naturally stretch to fit your Ruger SR9 handgun over time until it conforms to its shape completely. It extremely versatile, a good fit for left or right handed gun owners just as the Ruger SR9 is a great gun for both right and left handed and features an ambidextrous safety mechanism and magazine release. This holster can also be used on the belt. That doesn't mean it doesn't perform well as an IWB holster. In fact, it's one of the best around. There's not a lot of added features or anything that's really flashy about this holster, but it's one of the best stripped down holsters available.
Click Here to Read Customer Reviews + More Details
Belt Holster or OWB – Outside of the Waistband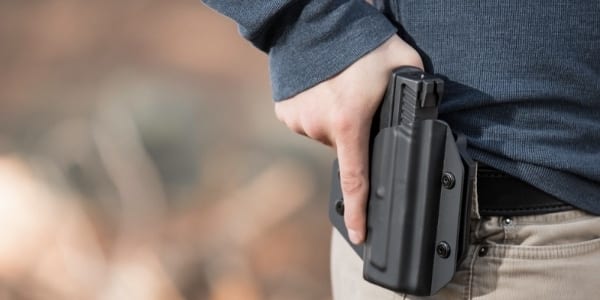 Belt holsters are popular with law enforcement. When using this kind of holster, you attach it to your belt where it will sit on the outside of your waistband. This isn't necessarily a concealed position, but it certainly can be if you wear clothing that covers your waist, a jacket, or a sweater.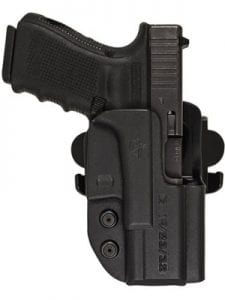 The Comp-Tac International Holster is a great choice if you're looking for something to use on your belt.
This is actually an extremely versatile holster that offers sixteen different mounting options, but the belt mount is the most popular. This holster is designed to be worn at 3 o'clock and is ideal for everything from concealed carry to competition use.
This holster isn't one-size-fits-all. It's tailored to each individual model so you know your Comp-Tac International Holster will fit your Ruger SR9 like a glove. Unlike some leather holsters that stretch to fit your firearm perfectly over time, this one is designed to do so right from the start. In fact, the material doesn't stretch at all, yet it's smooth enough to allow for a quick, one-handed draw. It's designed to fit a 1.5 – 2-inch belt.
Click Here to Read Customer Reviews + More Details
Shoulder Holster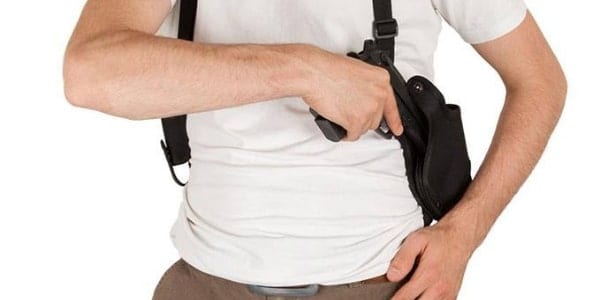 If you don't want to wear your firearm on your waist but still want it to be easily accessible and on your person, a shoulder holster is a good choice. They usually have adjustable straps and can be easily hidden with a jacket or sweater. This is a good choice if you're going to be sitting for long periods of time, like on a long drive or a day in the office. The soft straps that go behind your back won't affect your sitting position and you won't have to worry about any discomfort from a holster digging into your waist.
The Barsony Nylon Gun Concealment Shoulder Holster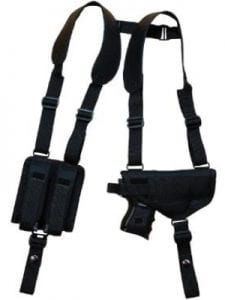 is a great option if this is the style you're looking for. It's ambidextrous, just like your Ruger SR9 and comes with a double magazine pouch. It's very comfortable to wear because it only weighs 10 oz and has a wide, flat shoulder pad covered in suede that goes across the back and grabs onto your clothing.
As for the fit, it's completely adjustable to four different sizes and has a two-way height adjustment so it will fit just about anyone, women included. There's a belt loop tie down on both sides if you need more support.
Click Here to Read Customer Reviews + More Details
Purse Carry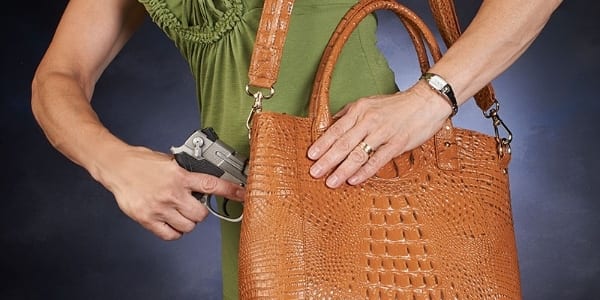 Some people don't feel comfortable with this option as the firearm is not directly on the body, but it is a popular choice for some women. You can get a pouch to place your firearm in before you put it in your purse for added safety. They even sell inserts that act as a stabilizer and holster that you can place right inside your bag. A good way to go if you want to purse carry is to get a purse that was designed to carry.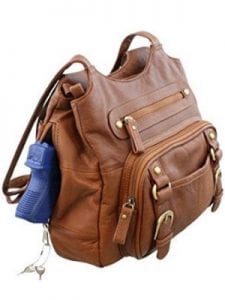 This Concealed Carry Purse from Roma FC is a leather purse that has a pocket dedicated to carrying your firearm. Access is from either side through a lockable zipper that will protect your Ruger SR9's attractive exterior, for which you receive four keys. There's an adjustable holster inside the pocket to provide some stability. It's also a fully-functional purse, made from genuine top-grain cowhide leather with an organizer that can hold credit cards, ID, and anything else you'd carry in a purse.
                                              Click Here to Read Customer Reviews + More Details
Thigh Holster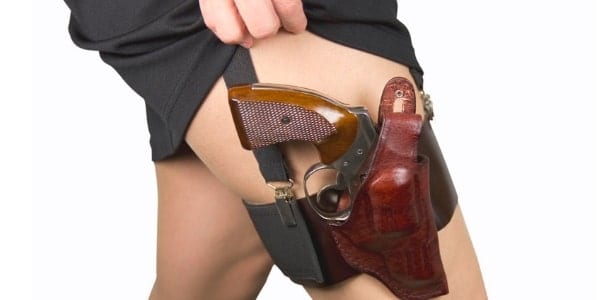 Another popular choice for women, a thigh holster is perfect for wearing under a skirt or dress. It's hidden and still very easily accessible.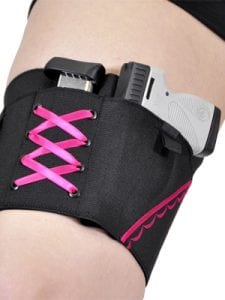 If you're looking for something ultra-feminine, try the Garter Holster from Can Can Concealment. It comes in various sizes for different models and is sure to fit your SR9 nicely. Military grade elastic provides good compression and it has tabs that make it easy to re-holster. It has a three-row hook and eye closure so has a solid fit. You need to measure your thigh in order to assure you get the right size. It's essential that the garter fits snugly onto your thigh.
Click Here to Read Customer Reviews + More Details
Find Your Fit
As you can see, there are a lot of options when it comes to the best holster for your Ruger SR9. There are so many ways to carry your firearm and all of the above are great options for your chosen weapon, regardless of your size or which hand you use to shoot. When you decide which will work best for you, you can be sure there's a holster that will be the perfect fit. You many even decide you need more than one so you can change your holster depending on what you're doing, what you're wearing, or how accessible you want your firearm to be.