Those in their 60's or 70's or even 50's today and with a knack for firearms will quickly recognize the Ruger 10/22. Even in a stockpile of rifles. It has been one of the most mass produced rimfire rifles of all time and has probably taught more youngsters to shoot than any other rifle.
After more than half a century of its introduction on the market. The Ruger 10/22 is still insanely popular. Is it the design? Or some other factors that contribute to its prowess. Let's take a look.
An Overview of the Ruger 10/22
The Ruger 10/22 was developed and introduced by Sturm, Ruger & Co. in 1964. It was a remarkable piece of weaponry at the time and even today. The rifle was developed as an answer to the cumbersome operation of the .44 magnum caliber rifles. But anyways, the rifle developed its own humongous market reputation in the coming years.
The Ruger 10/22 is a series of semi-automatic rimfire rifles chambered for the .22lr cartridge. Short lived variants of this series chambered in .17HMR and .22WMR also existed. But the primary caliber is .22.
The three uniquely designed parts that give the 10/22 an edge over complex semi-auto rifles of the time were the barrel block, rotary magazine, and breechblock decelerator. The rotary mag in particular was a revolutionary innovation. Since rimfire rifle suffered from jamming issues due to the interlocking to the cartridge rims.
On the other hand, the barrel block helped with easy installation and quick swapping of the barrel. Whereas the decelerator maintained the perfect ratio between feeding and firing rate.
The major variants of the Ruger 10/22 available today are 10/22 target, compact, takedown, sporter, tactical, competition, magnum, and the SR-22 rifle. Each of these variants mostly differs in the barrel size and some other design elements.
The Ruger 10/22 takedown is an easy to disassemble variant. Which can be stripped down into two pieces. Similarly, the Ruger 10/22 competition features a 20-inch bull barrel and other precision-helping elements.
This rifle was not marketed as a 'youth rifle' but as a 'hunting rifle for adults'. The .22lr caliber does have limited applications. But it is always great for what it does.
What Ruger 10/22 Does Best
The Ruger 10/22 has been around for a while. It has been the dead favorite of varmint hunters and youth shooters. The .22lr round is more than capable of taking down critters ranging from small vermin to even coyotes. The 10/22 is also an amazing survival rifle.
The .22lr can even be used to kill a hog or a deer with the right shot placement. But make sure you don't use it for hunting deer as it is illegal in every state.
The 10/22 is a great rifle for young shooters who are just beginning with rifles. That's because of the almost non-existent recoil of this rifle. The ergonomics are amazing and the rifle weighs only five pounds. Additionally, the .22lr is the cheapest ammo you can find out there.
Talking about cheap ammo, the Ruger 10/22 is also an amazing choice for a plinking rifle. You can use it for recreational shooting and dump hundreds and hundreds of rounds down the range without denting your wallet.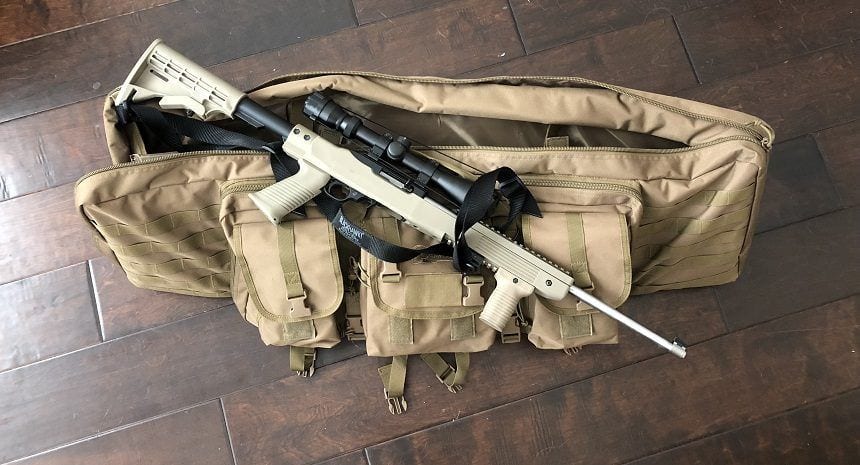 The 10/22 rifle has also made it into competitions and even some tactical use with its competition and target versions. Especially due to the customizable design, tight tolerances, and amazing accuracy.
While some people may argue, I personally consider the 10/22 to be a viable home defense rifle. Many folks think that the .22lr won't scathe a charging attacker high on drugs. But it is a fact that .22lr can and will kill a human.
The benefits of using a 10/22 as a home defense gun are its lightweight, perfect ergonomics, negligent recoil, 10 round capacity, and very limited penetration. Additionally, .22lr can prove to be a non-lethal round when not hitting a critical spot. Hence saving a lot of legal problems that may arise from killing an intruder. Better wound than kill to save a lot of trouble.
As a matter of fact, the Ruger 10/22 is also used by the Israeli Military Forces. Considering the .22lr as a less-than-lethal round to control border riots. But its use still remains controversial.
Where the Ruger 10/22 Falls Short
The 10/22 is also prone to a few shortcomings related to its components and also overall use. While the gun is already great for all its intended applications. Let's take a look at some areas where it falls short.
The first thing many users encounter is the slightly creepy trigger pull of the 10/22. While it won't concern most people because the 10/22 is least likely to be used for any tactical or competitive purposes. But the creep does pester some users.
The solution is obviously to add a new trigger. But a Timney or other branded trigger may cost as much as the rifle itself.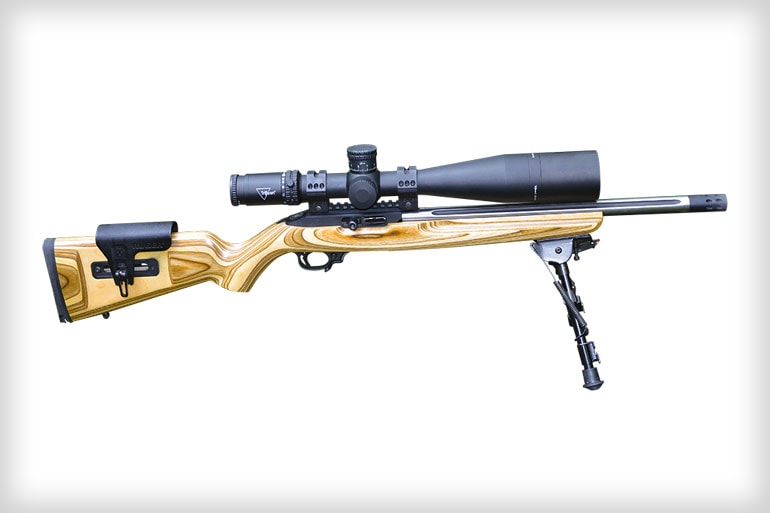 Another thing to look out for is the bolt catch which can be a bit tricky for new users. Additionally, the 10/22 does not have an LRBHO (last round bolt hold-open) which may be a whiny factor for some people.
The 10/22 is a decently accurate rifle, but it slightly falls short when compared to a few competitors. It can be called more like 'beer-can accurately. Especially with the basic models not designed for pinpoint accuracy.
For those who are planning on using the Ruger 10/22 for hunting. The quarry you can aim for is quite limited. The .22lr is good for small vermin. But it doesn't have enough stopping power to hunt even medium-sized game. Unless you are a pro-shot and aim for the eye.
How to Take Advantage of the Ruger 10/22
The 10/22 is a great rifle out of the box. Some people like it that way, whereas others may want to fine-tune the rifle to their tastes. The 10/22 has been on the market since 1964. That's a long long time.
This long duration has allowed a thriving market to surface that sells a plethora of aftermarket accessories and upgrades for this rifle. This aftermarket is so wide that you can find every part to assemble the entire 10/22 without finding Ruger™ stamped anywhere. So let's understand the upgrade options.
As I already mentioned in the shortcomings of the 10/22. The first two things you may want to upgrade in this rifle are the 10/22 trigger group and sights.
The older 10/22 models did not feature a top rail for attaching sights and optics. Models like the 'takedown' come with a rail to help with these accessories. However, if your rifle doesn't have one, there are a ton of aftermarket 10/22 Picatinny rail options out there.
A lot of uncommon upgrades like the muzzle brake and bipod can also be found for the Ruger 10/22 on the aftermarket. While their use is very limited. Some users may find it helpful in certain situations.
If you're planning to use the rifle for hunting or competitions. It is evidently a very bright idea to have a good 10/22 scope on the rifle. Additionally, the 10/22 chassis, stocks, and aftermarket magazines (like the BX-25) are also viable upgrades to further enhance the rifle.
Further Reading About Ruger 10/22
The possibilities of upgrades on the Ruger 10/22 are endless. Plus, it is a very popular and inexpensive rifle that shoots cheap ammo. Making it the go-to choice for plinking sessions. If you start digging about the history of the Ruger 10/22 and the upgrade options. You'll have to spare weeks to scour it all.
Just buying the rifle isn't enough. While this rifle features a simple and reliable design. You should also invest some time in learning about how to clean the Ruger 10/22. Proper cleaning will ensure a reliably cycling rifle with good accuracy.
The Ruger 10/22 series has many models to choose from. Each of them has different specs and suits a specific purpose. For example, the Ruger 10/22 takedown is an avid survival rifle. Whereas the Ruger 10/22 target and competition are more suited for precision.
There are several other competitors like Marlin, Henry, Savage, S&W, and more that offer good .22lr rifles. While the Ruger 10/22 clearly beats all of its competition. You can conduct further research to compare the price and specs.
Conclusion
Ruger 10/22 is a semi-automatic rimfire rifle with a 10 shot magazine and chambered in the .22lr caliber. It is a perfect survival, plinking, and varmint rifle.
The aftermarket for its upgrades and accessories is very strong. The rifle itself is available in many variants and you can customize and transform it into a wide range of options.