The Ruger 10/22 is one of the most popular firearms on the market today and for good reason. The semi-automatic, .22 caliber rifle is good for both casual shooters and experts. It is affordable, reliable, versatile, and heavily upgradeable.
One of the best upgrades for any Ruger 10/22 shooter or owner is a stock upgrade. Whether it be simply for aesthetics or to squeeze as much accuracy as possible out of the gun, a stock upgrade is an easy and worthwhile change to make.
Check out the best Ruger 10/22 stocks of 2021 down below!
At a Glance: Our Top Picks for Ruger 10/22 Stocks
Comparison of the Best Ruger 10/22 Stocks
IMAGE
PRODUCT

Our Top Pick

Lightweight Scope for Hunting and Casual Shooting
12-Inch Tube Length and One-Inch Diameter
Includes Accessories and a Lifetime Warranty

View Latest Price →

Beautiful and Durable One Piece Tube Construction
Features a Truplex Reticle for Convenient Shooting in Backdrop
Includes a Complete Set of Mounting Rings

View Latest Price →

Quality Optics With Stunning HD Clarity
5 MOA Red Dot Reticle for Tactical Uses
Works With .22 Guns Shotguns and Large Handguns

View Latest Price →

Tailor-Made for .22 Rimfire Rifles
Magenta Multi-Layered Lens Coating for Clear Images
Features a 30/30 Reticle With Rings Included

View Latest Price →

Wide Range of Magnification for Long Distance Shots
Illuminated V-Brite Reticle for Accurate Low Light Shooting
Stands Among the Most Popular Hunting Scopes

View Latest Price →
What to Watch For When Buying a New Stock
Considering the popularity of the 10/22, it should come as no surprise that there are a lot of different options for stock upgrades. Some of those options are great choices while others are poorly made or poorly designed and not worth the money. How do you make a good choice?
The tips and info below are a great place to start to increase your knowledge and help guide your buying choice.
This Section Written By: Brian Belko
Expert Author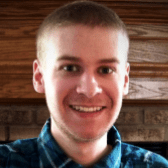 Brian is an experienced freelance writer and technical writer who has previously written for publications such as Wide Open Spaces, Bigfoot Gun Belts, Alien Gear Holsters, and Kampgrounds of America. He brings both a passion for writing and a love of the outdoors to his published content.

Aside from writing and the outdoors, Brian enjoys gardening, being a co-host on The Nostalgia Blast Podcast, and learning to code.
Respect the Caliber
To some, a .22 caliber rifle is thought of as a kid's gun or as a gun that is only good for occasional plinking or pest control. However, it is important to avoid falling into that trap. While they do have some power and range limitations, .22 caliber rifles (especially the 10/22) are fully capable of producing incredible accuracy and being an ideal choice for small game hunting and competitive shooting.
That being said, a key piece of advice for choosing a stock upgrade is to respect the caliber. Pay attention to the same things you'd look for in a stock upgrade for a larger bore rifle. It is possible to negatively affect a 10/22 rifle's accuracy and precision with low quality or poorly made stock. For example, while the length of pull might not seem important in a .22 rifle stock, that is exactly the type of detail to take seriously when deciding on an aftermarket stock.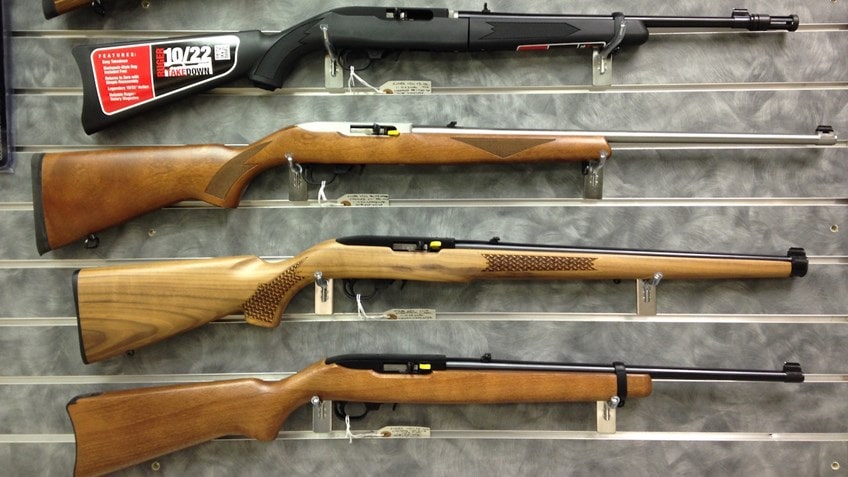 What's your Style?
It can be easy to get overwhelmed by all the different styles available among aftermarket stock options. From adjustable to thumbhole to Monte Carlo and beyond, there is a lot of variation out there. This is where it pays off to take a few minutes to think about your goals and intentions for your Ruger 10/22.
Your own personal style preferences also come into play here. It can also be extremely helpful to give different stock styles a try before buying even if they are on different calibers of rifle. Some stock styles simply aren't comfortable to some shooters and it pays off to know that beforehand.
A Material Matter
Depending on the purpose your Ruger 10/22 serves, the material of aftermarket stock is another important consideration. Synthetic is probably the way to go if your 10/22 is a truck or farm gun that gets banged around a lot due to their durability. Synthetic is also the only option for the vast majority of adjustable stocks. Wooden stocks tend to be the most attractive aesthetics-wise, but that is also in the eye of the beholder. As long as they are treated well, any stock material will hold up well for the life of the gun…or until you feel like upgrading again!
Review of the Best Ruger 10/22 Aftermarket Stocks
The following is a list of Ruger 10/22 stocks that are currently on the market. While looking through these, you should be able to find one that will be fitting for your needs and preferences. You'll also need to find one that will be the most compatible with your rifle.
We took a look at the various aftermarket stocks intended for the Ruger 10/22 rifle and came up with the following top replacement stocks. These buttstocks are a great alternative to the factory stock that comes with your rifle. Let's begin with the first stock on our list:
Magpul Hunter X-22 Adj. Stock
We may earn commission from purchases made from our links, at no additional cost to you
What Recent Buyers Report
Most of the new users were very pleased with this stock and its ability to easily adjust to all kinds of lengths. They said it was fitting for their desired length of pull and gave them complete control over their rifles. One user said that this was an excellent upgrade compared to his old fixed stock that was a factory default that didn't do him any favors.
Why it Stands Out to Us
Magpul is known for its high-quality, aftermarket accessories for weapons. In the same way, Magpul has come up with an amazing stock for the 10/22. The stock is made from a reinforced polymer which is several grades better than ordinary polymer. The polymer design eliminates any possible problems associated with degradation. Plus, it also reduces the overall weight of your rifle.
The optimized forend shape and the pistol-type grip of the weapon ensure that you get a proper grip over the rifle, whether your hands are dry or wet. Moving to the rear, this stock has an adjustable length of pull, so you can change its length according to your position and physique. The length is adjusted using spacers, which can easily be removed or added.
Additionally, the butt plate of the stock features a non-slip recoil pad, so you can shoot comfortably for hours without straining your shoulders. The stock has a drop-in design and has eliminated the need for takedown screws and the v-block which holds the rifle together, so the installation is effortless and simple. The barrel tray of the stock is reversible and accepts all 10/22 barrels (standard or bull). The stock accepts barrels of all lengths, however, longer barrels only reach the tip.
Coming to compatibility, the stock has M-LOK mounts for adding forend accessories like bipods, laser lights, and multiple sling mounting options. The stock is available in multiple colors and patterns, so Magpul also has the aesthetics covered.
Who Will Use This Most
This will be a great stock that will be used for multiple purposes. It doesn't matter if you are hunting or target shooting, this stock will absorb shock, provide you with excellent support, and will make your rifle a force to be reckoned with. This is a stock that should never be underestimated.
Bottom Line
The Magpul Hunter X-22 Adjustable Stock is a pretty solid stock that will be tough as nails, absorb shock and recoil, and will give you the sharpshooting that you deserve out of your rifle. You'd be surprised at what this stock can do for a rifle when it comes to enhancing its performance in more ways than one.
This stock is an all-in-one solution for your 10/22. It is adjustable, lightweight, and has multiple mounting points. The optional cheek riser also improves its functionality. The stock is easy to install and will fit your budget, considering the value it offers.
Pros
Lightweight
Easy to install
Has a recoil pad
Optional cheek riser
Adjustable length of pull
Multiple mounting options
Cons
Might require an M-lok adapter for multiple accessories
Magpul Takedown Hunter X-22 Backpacker Stock
We may earn commission from purchases made from our links, at no additional cost to you
What Recent Buyers Report
Most new users were looking for a stock that was easy to take apart in order for their rifles to be easily transported and stored. They were not disappointed with this stock and it allowed them to keep their rifles stable while they were taking every shooting opportunity possible. One user said that taking down this stock was easy to disassemble and put together, thus alleviating his worry about complex installs.
Why it Stands Out to Us
The Hunter X-22 backpacker Stock from Magpul is a compact stock for upgrading your 10/22 rifle. The stock utilizes storage space while you transport it from one place to another. Starting with its design, the stock has been made from durable advanced polymer, which imparts its strength and keeps it lightweight.
This is a collapsible stock that is designed for ensuring that your rifle doesn't take up too much room while you are transporting it from home to the field (or range) and back. When putting it together, it's a solid stock that will allow for quick assembly. Once put together, there is no instance of looseness or rattling that indicate ill-fitting.
The stock and the handguard are two different pieces, which can be stored separately when transporting the rifle. Additionally, the locking interface attaches the barrel assembly to the receiver while being transported. The stock has pre-drilled holes to accept QD mounts for adding swivel studs and slings.
The grip of the stock has an integrated storage compartment to let you store a couple of batteries or a small first aid kit. Not only this, but the stock also has ample storage space inside its rear compartment, which can fit three ten-round magazines at max capacity.
The pistol-style grip of the stock helps with the overall accuracy and handling of the rifle. Plus, the color and design of the stock are exceptional and add to the overall aesthetics of your rifle. The stock has a 13.5-inch pull length and it accepts all types of barrels designed for the 10/22, regardless of their size.
Who Will Use This Most
If you are more concerned about storage space when you are finished with your rifle, then this could be the stock that you can go with. Once you break this down, it will make portability much easier. Not to mention, it will keep your rifle out of sight and out of the way. When it's attached, it works like a stock that will give you the solid support you need for your rifle to shoot straight.
Bottom Line
The X-22 stock from Magpul is a compact and lightweight stock for the 10/22, which can be disassembled for easy transportation. The stock has a lot of storage space that will come in handy during hunting trips. The design of the stock makes it easy to grip and the aesthetics are just amazing. Additionally, it fits all 10/22 barrels, which is definitely a plus, as you can swap it anytime.
Pros
Easy to install
Fits all 10/22 barrels
Detachable handguard
Space for mounting slings
Enormous storage capacity
Sturdy and lightweight (1.7lbs)
Hogue Rubber Over Molded Stock
We may earn commission from purchases made from our links, at no additional cost to you
What Recent Buyers Report
This stock was a perfect fit for most beginner users who have never used a 10/22 rifle before. They said the stock gave them excellent control over their rifles and also noticed that it didn't have a whole lot of recoil and muzzle jump. One user said that he was able to get a better handle of his rifle while hunting and managed to keep himself steady while landing a nice kill shot on a varmint.
Why it Stands Out to Us
This stock by Hogue is more popular with those who view the Ruger 10/22 rifle as a truck or bug out gun that gets tossed around a lot or takes an extra amount of abuse as opposed to a standard Ruger 10/22. The external rubber coating on the stock, which is the same component that Hogue uses on their handgun grips, protects the rifle from what might otherwise result in unsightly dings, dents, blemishes, or scratches.
This over-molded stock is slightly bigger than some regular Ruger 10/22 stocks. And it makes controlling your rifle a lot easier. If you have trouble with recoil, slippage, or others you might want to consider using this to your advantage. Whether you're a complete newbie or a seasoned vet, sometimes excellent grip and control are what you need to make every shot count.
The Hogue stock includes swing swivels and can accommodate the standard factory barrel. This particular buttstock will not work with a heavier target barrel.
Who Will Use This Most
If you are looking for a stock that might be thicker than most in terms of material and quality, then you'll probably want to give this stock a chance. You can utilize your rifle for various applications and still have the best control and recoil reduction possible all in one stock. Install this and its performance will be enhanced considerably.
Bottom Line
The Hogue Rubber Over Molded Stock will absorb shock and provide better hold and control for any user that is planning on shooting a Ruger 10/22 regardless of application. There is no doubt that this stock will go the distance in so many ways. It's durable, easy to install, and will probably be the most comfortable stock you've ever used.
High Tower Armory Ruger 10/22 Bullpup Stock
We may earn commission from purchases made from our links, at no additional cost to you
What Recent Buyers Report
According to most users, they said that the stock didn't take long to install. The stock's stability was quite decent and was enough for giving shooters proper stability. Overall, the design proved to be ergonomically friendly and allowed for very comfortable shooting regardless of application.
Why it Stands Out to Us
We now turn our attention to a stock that has a very interesting design. What makes it stand out even more is that it improves the ergonomics so you are able to hold your rifle properly and be able to shoot good quality shots for longer periods without any kind of strain. This also has the ability to accept all types of Ruger 10/22 magazines including high-capacity aftermarket magazines.
Who Will Use This Most
This is a stock that will be useful mostly for target purposes. If you are shooting off rounds casually or as a competitor, this stock might just be the right one that can be installed on your rifle. It's pretty decent in quality and has the potential to last you quite a while. Not bad for when you want to spend some time at the range on a regular basis.
Bottom Line
The High Tower Armory Ruger 10/22 Bullpup Stock should be an excellent stock that will handle all of your target shooting needs. You'll be quite satisfied with the sturdiness and stability that you'll need when you fire off all kinds of shots. No matter what the distance, you can hit your targets with the accuracy and precision that you'll want in your 10-22.
Pros
Easy to install
Really sturdy quality
Allows for excellent stability
Recoil reduction is noticeable
Perfect for hunting and target shooting 10/22 rifles
Cons
Might be difficult to disassemble
Suppressor quality could be better
Some complain about the poor quality control
Hogue Nylon Overmolded 10/22 Stock
We may earn commission from purchases made from our links, at no additional cost to you
What Recent Buyers Report
As expected, a lot of new users were stoked about the stock's ability to fit on most 10/22 rifles. They also said that it absorbed a lot more shock than expected and thus allowed for more recoil reduction. Overall, they had nothing but praise about this stock's performance as far as giving them stability for whenever they were holding it in the firing position.
Why it Stands Out to Us
This over-molded design is perfect for beginners and also for those who are looking for a better grip and control. Sometimes the rubber Ruger 10/22 over-molded Hogue stock is not for everyone, particularly if you are shooting a heavy barrel Ruger 10/22. Luckily, Hogue offers their 10/22 buttstock in a traditional nylon configuration as well.
The nylon version includes a set of Hogue sling swivel studs installed and will accommodate the standard factory profile barrel in addition to the larger diameter aftermarket target barrels.Like the Rubber Overmolded ruger stock by Hogue, this has a more traditional rifle buttstock profile without a thumbhole grip or pistol grip.
Who Will Use This Most
This is a beginner-friendly stock that will be perfect for any application. If you want easy handling and the best recoil and shock absorption possible, it could be this stock that will take your shooting experience to new heights. Plus, it's a pretty sturdy stock that can stand the test of time and consistent use.
Bottom Line
The Hogue Nylon Overmolded 10/22 Stock is the perfect newbie-friendly stock that will make using the 10/22 rifle a lot easier. Especially when you've had a hard time handling it with any other stock (like a factory default). You won't be surprised by the noticeable reduction in recoil. But you will be blown away by how much control you can gain just by adding this onto your rifle.
West One Products Ruger 10/22 USGI Stock M1
We may earn commission from purchases made from our links, at no additional cost to you
What Recent Buyers Report
Most new buyers bought this for that classic wood look, but they said it was also super sturdy and made it simple to install on their rifles. So far, they said it made their rifles look aesthetically sharp and stabilized their overall hold while hunting for varmint and big game targets. One user said that it looked almost the same as the hunting rifle his dad used growing up. Plus, it had no slip and reduced some recoil in the process.
Why it Stands Out to Us
This is a stock made from European beechwood. It's a pretty sturdy piece of wood that can handle a surprising amount of shock and recoil. But what makes it a bit more interesting is the dark stain that gives it that classic look that might turn a few heads when you are out on the range or meeting up with a fellow hunter.
Who Will Use This Most
If you are looking to make your Ruger 10/22 stand out as a classic, old-school looking hunting rifle then you're probably not going to settle for anything less than this stock. With its ease of install and the ability to give you the stability you need when holding the rifle in the firing position, this stock can prove its worth and can exceed expectations compared to other wood stocks.
Bottom Line
The West One Products Ruger 10-22 USGI Stock could be great for the hunters who want a good looking rifle (and also one that will give you superior stability as well). It's not like any other wood stock that will crack under pressure after 100 rounds. But it will give you a rugged, long-lasting look that most Ruger rifles would kill to have.
Pros
Drops in nicely
Sturdy in quality
Aesthetically sharp
No slippage to report
Perfect fit for most rifles
Cons
May be tough to align
May be fitting for bigger hands
Some say it may scratch easily
ATI Strikeforce Adjustable Stock
We may earn commission from purchases made from our links, at no additional cost to you
What Recent Buyers Report
Many users loved this stock for a few reasons. But more importantly, they couldn't help but rave about the easy adjustability that this stock had. Most users were purchasing this as a replacement for their fixed stocks. About half of them had struggled with their rifle's length of pull prior to purchasing and installing this. So far, they said it did a great job of allowing them to handle their rifles and get a shot off with quickness and efficiency.
Why it Stands Out to Us
This stock is super durable in quality and there's a reason why that is. What you are looking at is a stock that is not made from any ordinary polymer. It's made from extreme temperature glass-reinforced polymer developed by DuPont. In plain English, it's pretty darn tough. We could probably go as far as to say that it is indestructible.
This will handle all kinds of shock, reduce recoil, and will be impervious to all sorts of damage. You can clean your gun and get oil and solvent on it and it won't even warp or crack in the slightest like a regular wood stock. If you want superior durability that might be the best in the business, this could be the stock you want.
Wanna make your 10/22 look out of this world? Then try this stock.
AT has been baffling the market with its cosmetically attractive and economical products for awhile. This time they have come up with an exceptional aftermarket stock for the Ruger 10/22. The stock has almost every feature you'd ever want in one.
To begin with, this stock has been manufactured from fiberglass, which is in our modest opinion, currently the best material for manufacturing stocks. It is resistant to high temperatures and warping. It features a six-position adjustable stock which resembles the ones on an AR. Additionally, the stock is foldable which allows compact and easy transportation of the rifle. The foldable part is also detachable, in case your local laws don't permit a longer rifle, so that's definitely a plus.
The stock is also customizable with one four-inch Picatinny rail on the forend, four 2-inch Picatinny rails on the sides and the top of the cover. This allows you to mount as many accessories as you desire, without the need for any adjustments or extra mounts. The package also includes blank covers for unused rails, so the spot doesn't look weird.
It also has a removable and adjustable cheek rest, and a non-slip removable butt pad. The ergonomic and textured pistol grip offers better control over the rifle. It also has three sling swivel studs to let you mount slings as you desire. The stock is scratch-resistant and weatherproof. Plus, it is easy to install which is a plus.
Who Will Use This Most
If you are looking for a stock that is super tough, easily adjustable, and will make your Ruger 10/22 a lot more exciting to use, then it will be this stock that will take the cake. After you install this, you'll be amazed by what this stock can accomplish performance-wise. And it might be the last one you ever buy for a 10/22 for a long time. That's how durable it is.
Bottom Line
The ATI Strikeforce Adjustable Stock is without question one of the sturdiest and easiest to adjust stocks on the planet. This could easily be one of the top-selling 10/22 stocks out there and for a few good reasons. Why on Earth would you say no to a stock like this if you want superior quality and stability that will keep you well in control?
The stock from AT is an exceptional and complete replacement for your existing 10/22 stock. It is compatible with all Ruger 10/22 models, along with offering complete adjustability. Plus, the company offers a lifetime warranty, which covers your back.
Pros
Multiple Picatinny rails
Lifetime manufacturer's warranty
Collapsible and adjustable buttstock
Removable and adjustable cheek rest
Sturdy and lightweight fiberglass body
Rubber butt pad and three sling swivel studs
Tactical Solutions 10/22 Thumbhole Stock
We may earn commission from purchases made from our links, at no additional cost to you
What Recent Buyers Report
Most of the new users had no trouble installing this stock on their 10/22 rifles. Once completed, they were able to test this out at the range using 100 rounds on various targets. There was a considerable amount of recoil that was reduced and it allowed users to control their rifles for better posture and shooting. One user said that he was stunned that for a wood stock, this exceeded his expectations like nothing else.
Why it Stands Out to Us
While most wood stocks tend to come up short against synthetic stocks, this one is pretty solid when it comes to handling weather and shock. It won't crack like a cheap, flimsy stock. This is built like a rock and will give you the best control possible while allowing you non-slip control for when you are closing in on the kill shot or the bullseye.
Tactical Solutions offers this lightweight ambidextrous laminated wood target stock, which features a factory pillar bedding system. The factory cheek rest allows the shooter to obtain a perfect cheek weld when shooting the rifle with a scope mounted and the wide forearm allows for the mounting of a bipod and a generous surface area to hold the rifle when shooting off-hand.
The pistol grip and forend are textured via laser engraving, allowing for a perfect grip on the rifle every single time. This is probably the priciest stock we looked at, but it was also the best looking and the only one that was made of real wood.
The only downside to this buttstock would be that the cheek rest makes the stock's profile a little too high for use with factory iron sights, but is hands down the perfect choice for using a rifle scope.
Who Will Use This Most
This will probably be used mostly by hunters, but we won't be surprised if a handful of users are target shooters (casual and competition). It's the perfect stock that really isn't adjustable, but enough to work for a good number of people that fit a certain reach.
Bottom Line
The Tactical Solutions Ruger 10/22 Thumbhole Stock is the one stock made from wood that silences all doubters and delivers a rugged performance each time you pull the trigger. This will be perfect for any hunting 10/22 rifle that will look like a beast by the time you finish installing this.
Magnum Research 10/22 Thumbhole Stock
We may earn commission from purchases made from our links, at no additional cost to you
Glacier Ridge's Magnum 10/22 MLSATCP thumbhole stock is another value priced stock that delivers top of the line performance.
Billed as a thumbhole stock it is more like the previously mentioned pistol grip stock in that the shooter does not have to deal with a minuscule cut out for a thumb, but rather a full-sized pistol grip that is connected to the toe of the stock.
The barrel channel will accommodate the thickest and heaviest of Ruger 10/22 target barrels and allow them to free float for the utmost accuracy. It has a lower cheek rest than most other thumbhole stocks of this type, but that could be seen as a benefit for iron sighted shooters not using a rifle scope.
The Benefits of Aftermarket Stocks
Although many shooters and hunters use them in their standard configuration, the design lends itself well to customization and the first part that most shooters replace is the factory birch or nylon buttstock.
Machined to exact tolerances by Ruger's factory, these rifles very rarely require extensive hand fitting to install new stocks the way most other rifles do.
This is a good thing, because good rifle stocks needs to be consistent. The trigger or barrel may be the heart and soul of a good rifle, but the buttstock is what gives a rifle its strength.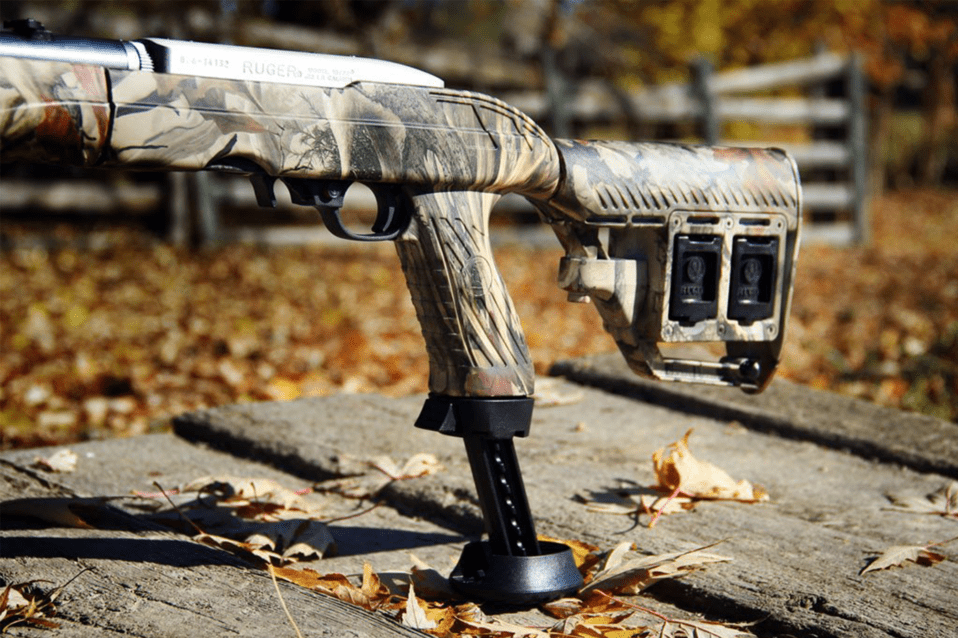 Installation of an aftermarket stock couldn't get any easier. The shooter simply removes the barrel band and action screw and takes the barreled action out of the old stock. At this point the shooter can choose to have the rifle's action bedded into the new buttstock or simply drop it in, tighten the screw and optionally install the barrel band.
Bedding refers to using a fiberglass bedding compound to ensure that the rifle's action stays true and consistent within the body of the buttstock. Some shooters take it a step further by bedding the barrel in addition to the action, but it is not recommended.
As a bullet travels down the bore of the rifle, the barrel vibrates much like a tuning fork. Bedding the barrel to the stock upsets this natural harmonic. Most shooters prefer to free float the barrel by ensuring that no component of the stock makes any contact with it. On a .22 rim fire rifle such as the Ruger 10/22 this can be tested by seeing if a one dollar bill will fit between the barrel and the stock as far back as the action. This is the same reason why many shooters do not keep the barrel band installed on their rifles.
What Are Ruger 10/22 Stocks Made From?
Ruger 10/22 stocks are made from wood, nylon/polymer, fiberglass, and polymer composites like carbon fiber. All these materials are currently used to manufacture stocks. Each has their own pros and cons and we will evaluate them in respect to the 10/22 rifle.
Polymer Stocks
Let's start with the polymer. Stocks made from polymer are lightweight and very cheap to manufacture. That's why you see a lot of them around. But these stocks are prone to expansion and warping under temperature and pressure, so don't expect them to be invincible.
Wood Stocks
Wooden stocks, on the other hand, are a better choice compared to polymer. These stocks do not warp under pressure and also help with improving the overall accuracy of your rifle. But wood is still susceptible to humidity, moisture, and heat.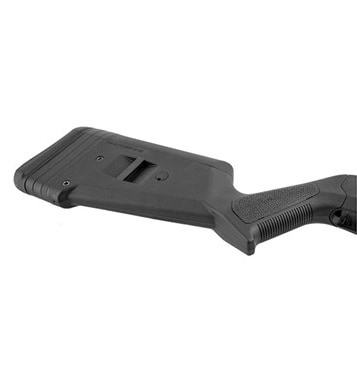 Laminate Stock
Furthermore, if you have a nice looking laminate stock, it requires a lot of extra care. The next, and the most ultimate, material in the business is fiberglass. It is lightweight, sturdy, and eliminates all other problems associated with wood and polymer. Fiberglass stocks are available in a wide variety of shapes and sizes, so you're sure to find a good one for you.
Carbon Fiber Stock
The last and most rare material used for manufacturing stocks is carbon fiber. It has the strength of steel and the weight of a polymer which makes it apt for the job.
Conclusion
The 10/22 rifle is an awesome rifle but sometimes the stocks that come from the manufacturer doesn't cut it and you need an aftermarket buttstock for your needs. That is where I am hoping this article was helpful for you. We listed some of the top ruger 10/22 aftermarket stock options for you. If you would like to add a custom barrel to your 10/22 then you can check out our page on that as well.
You might also be interested in a 10/22 chassis as it often comes with a stock.
Thank you for reading and hopefully this article was useful in your search for a new buttstock!