What is an AR-15 enthusiast to do when they crave a new rifle building challenge? There are almost endless options. One thing that is growing in popularity is building a rifle based on a retro design. Convenient parts kits make this a lot easier than it sounds and help firearm enthusiasts to enjoy a rifle that takes after a classic design or era.
One of the most popular rifle models to replicate is the M16A1. The final production model of the M16A1 was finished in 1969 and the rifle was in production until 1982. If you have ever seen a movie set around then, you are likely very familiar with how it looks. It truly is an iconic design that makes for an excellent retro-style rifle build.
Keep reading to learn more and to see the best M16A1 parts kits of 2022.
Comparison Chart of the Best M16A1 Parts Kits
IMAGE
PRODUCT

Our Top Pick

These Are the Best in Category
The Selling Point of this 2-in-1 Parts Kit Combo is the Price
Includes Almost Everything to Complete Your Lower and Upper Build

View Latest Price →

Best For The Money Option
Sub-Assembly Comes With 27 Parts
Contains Only New, Current-Production, Mil-Spec Parts

View Latest Price →
What to Watch For When Buying M16A1 Parts
A parts kit allows firearm enthusiasts to replicate a rifle from history that they may not be able to ever acquire otherwise. This is especially true in the case of the M16A1. However, that doesn't mean that all M16A1 parts kits are made equally. As with just about any rifle part or accessory some are better than others. There are a few important things to keep an eye out for to ensure you get a high-quality parts kit that has everything you need for your project.
The parts and pieces that are included in a parts kit are one of the most important things to pay attention to. The tips and information that follow are a good place to start if you want to gain a better understanding of M16A1 parts kits or if you are already in the market for one.
What's Included
As mentioned above, the included components in a parts kit are one of the most important things to look out for. This all starts with knowing how you plan to approach your project. Different parts kits can be purchased depending on how much work you want to put into your project. If you want to build from scratch, you'll need a more in-depth kit. If you want to buy a complete upper assembly or lower assembly and go from there, the type of parts kit you need will change. This is also true if there are certain parts you want to buy separately such as a better trigger.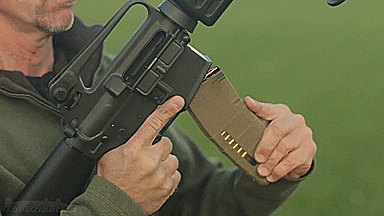 Skill Check
No matter what type of parts kit you go with, you'll want to spend some time brushing up on the skills required to build it. How much you need to brush up will depend on the type of parts kit you go with and your gunsmithing skills in general. There is nothing too intensely difficult in a build like this, but it always helps to know what to expect going in.
Build Quality
The durability and machining quality is always important consideration when it comes to rifle parts. Pay close attention to the materials used for the parts in the kit you are deciding on. While the vast majority of them will be perfectly fine, some may appear to have better or worse build quality than others. Pay attention to what other shooters are saying and lean towards known brands to wind up with an M16A1 parts kit you'll be happy with.
Review of the Best M16A1 Parts Kit
There is a long-standing debate on using a "stripped" lower and upper or complete upper and lower assembly. Actually, it depends on you, your handiness, your wallet, and the amount of time you have to devote to the project.
Anyway, the parts kits listed below undoubtedly will help you in building your personalized AR-15 perfect for self-defense, hunting, competition, or sandpit plinking.
PSA Upper Build Kit And Classic Lower Parts Kit Combo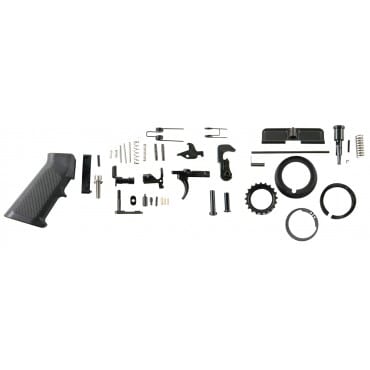 We may earn commission from purchases made from our links, at no additional cost to you
Though Palmetto State Armory is known for their incredibly affordable, yet reliable, AR rifle kits and whole guns, they are also renowned for their incredibly broad assortment of AR-15/M16A1 parts and accessories. One of the most useful and practical parts offerings is their upper build kit and classic lower parts kit combo with manufacturing number 37448. The first half of this PSA combo set is the upper build kit consisting of 11 small parts necessary for attaching the barrel to the receiver.
Along with barrel nut and Delta ring, this kit also includes forward assist and dust cover that can be used to turn an existing AR-15 rifle into a vintage looking M16. Besides being a so-called retro build, you can also use the PSA Upper kit as a replacement set for your existing M16A1 rifle.The PSA Classic lower parts kit has 24 parts, including a black phosphate trigger and A2 pistol grip made in the U.S.A. of high-quality materials. However, the mil-spec trigger cannot impress anyone as it is gritty, heavy, and has a fair amount of creep.
Actually, this handy kit contains everything except a stripped lower receiver, stock, and buffer assembly. PSA has a good reputation for their quality control as every part fits great and there is no shortage of parts in a package.All parts of this new gen parts kit including black oxide coated hammer and trigger springs are produced in the U.S.A. and provide everything you need to finish your stripped lower or upgrade your old parts.
Bottom Line
If you are on a budget and don't mind a bit of imperfect finishing but still want dead-on accuracy, PSA AR-15 Upper and Classic Lower Build Parts Kit Combo will save you bunch of money, allowing you to complete your unique AR-15 /M16A1 rifle.
Pros
Very Affordable
Everything Fits Together Perfectly
Parts are 100% Made in the U.S.A.
The Upper Build Kit Includes 11 Parts
Great Quality Control, No Shortage of Parts
PSA Gen 2 Classic Lower Parts Kit Has 24 Elements
A Handy Kit to Outfit Both Your Upper and Lower Receiver
Cons
The Trigger Pull Could Be Better
There are Small Machining Marks on the Parts
DPMS – AR-15 Lower Parts Kit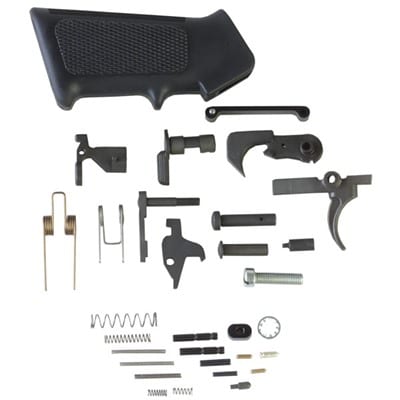 We may earn commission from purchases made from our links, at no additional cost to you
DPMS Panther Arms is known for making really nice ARs in the upper price range but, they also offer good budget AR style rifles and quality AR-15/M16A1 parts kits.One of their best-selling kits under designation 60688 is this lower receiver parts kit, which includes 27 parts you need to build a complete a lower receiver. This standard, mil-spec lower parts kit encompasses the A2 pistol grip, fire control group (trigger), and buffer parts, but omits a stock, buffer assembly, and stripped lower receiver.
The only downside is the military-style trigger is a little rough with a very heavy trigger pull, in excess of six pounds, but in the end, you're buying a mil-spec parts kit, so you shouldn't be surprised by that feature.There are few complaints about quality control on the final checklist, due to missing parts.
While DPMS 60688-tagged kit gives you the option of purchasing a lower parts kit containing a full set of mil-spec parts, you can also get a kit with only the core parts. That trigger-less version will keep your costs down, enabling you to purchase the trigger of your choice later.
Bottom Line
While this lacks bells and whistles, all parts are made to standard military specs and will cost much less than buying the parts one at a time.
Pros
Perfect for Your First Build
A Full Set of Mil-Spec Parts
Includes 27 Lower Receiver Parts
Current-Production, Genuine Parts
An Inexpensive AR Lower Receiver Kit
Sub-Assembly Comes With a Trigger and A2 Grip
Cons
The Trigger is Less Than Great
Better Quality Control on the Final Checklist Would be Nice
3. Brownells – AR-15/M16 A1 Rifle Buffer Tube Assembly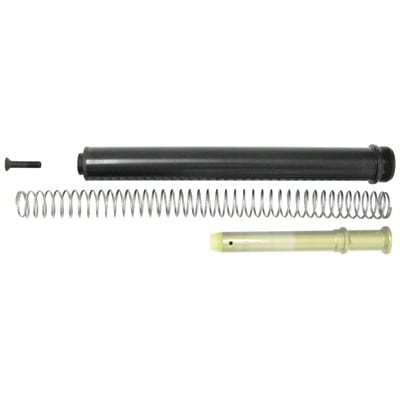 We may earn commission from purchases made from our links, at no additional cost to you
Brownell's Rifle Buffer Tube Assembly is available for the AR-15 rifle and carbine buttstock types but is purpose-built for A1 fixed rifle stocks. Fixed tubes are all the same diameter and this type of receiver extension/buffer tube is used for standard A1 and A2 buffer tubes installed for fixed stock ARs.The rifle buffer tubes are very basic when compared to the carbine tubes. Fixed buttstock AR rifles utilize a buffer tube which is smooth and cylindrical both a longer buffer spring and buffer.
The Brownells AR-15 Rifle Length Buffer Tube assembly includes the buffer, buffer spring, and buttstock cap screw. This product is machined of mil-spec 7075-T6 aluminum and has a matte black hardcoat anodized finish. The tube is good quality with a metal coating which is very scratch-resistant but with some visible machining marks on the surface.
Featuring a 1.110" outside diameter, 9.5″ length, and using buffer weighing five ounces, this rifle-length buffer assembly is ideal to work with the 1960s M16A1 buttstock. Unlike the A1 kit, an A2 kit uses the spacer to add length, as it needs to be slightly longer to fit the M16A2 stock.The package comes with included instructions and installation is easy and does not need a wrench to tighten the tube because the buttstock will hold it securely once installed.
Bottom Line
Overall great for a new build AR-15/M16A1 or upgrade of a mil-spec stocked lower, the Brownell's A1 Rifle Stock Completion Kit should work fine with any buttstock designed to use the A1 buffer tube.
Pros
9.5″ Long and Weighs 5 oz
Matte Black Hardcoat Anodized
Machined from 7075 Aluminum
Consists of the Buffer, Buffer Spring, and Buttstock Cap Screw
The Perfect Buffer to Use on an M16-Style BCG and Full-Length Rifle System
The A1 Buffer Tube is Compatible With M16-Style Rifles with Fixed Buttstocks
Cons
There are Minor Machining Marks on the Buffer Tube
Specifically Made for Fixed Buttstocks and Not Compatible With Collapsible Buttstocks
4. DPMS – Lower Receiver Essentials Kit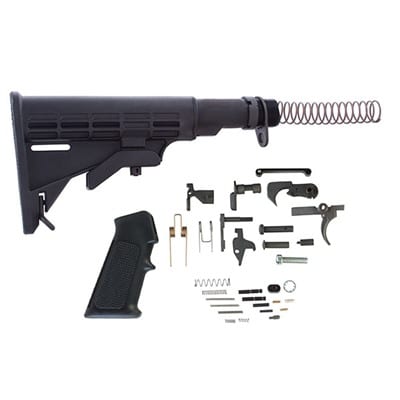 We may earn commission from purchases made from our links, at no additional cost to you
The DPMS Lower Receiver Essentials kit offers excellence in quality and performance, providing you with all the necessary parts to complete your AR-15 lower build. This product is for anyone who doesn't want to mess around with different shopping lists and worrying about compatibility. Buying a kit like this is much cheaper in total cost than buying the parts one at a time.
The Lower Receiver Essentials Kit contains magazine parts, command items, a mil-spec trigger with associated components like the fire control group and standard, and an A2-type pistol grip. Besides the standard items listed in this kit, the DPMS Essentials set offers an M4-style stock assembly. The adjustable stock kit includes all the parts (stock body, castle nut, buffer, spring, end plate, and receiver extension) needed to add a telescoping stock to an AR-15 lower receiver. Made of military-grade composite, the collapsible M-4 style stock comes with the standard buttstock swivel and can be adjusted to six positions to fit your weapon's size. The kit contains the carbine style buffer assembly with a commercial buffer tube with an outside diameter measuring 1.168″ compared to 1.148″ of the mil-spec tube.
Bottom Line
This Lower Receiver Essentials Kit offers everything you need and nothing you don't when it comes to a bargain rifle. This product is a quality addition to the DPMS lineup, though it is a bit expensive compared to some of the other receivers we've looked at.
Pros
It has a Standard Buttstock Swivel
A Very Decent Phosphate Matte Finish
A Complete Kit in the M-4 Configuration
The Stock Uses Commercial Buffer Tube
Comes With a Standard, A2-Type Pistol Grip
Best Colt M16A1 Parts Kit
Colt – Lower Receiver Parts Kit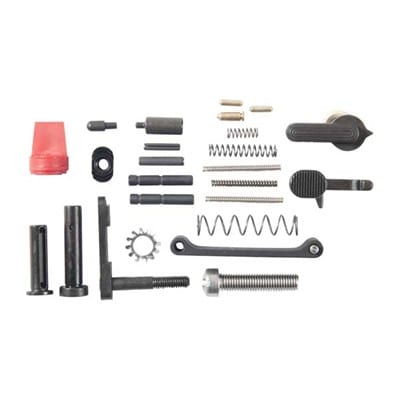 We may earn commission from purchases made from our links, at no additional cost to you
This convenient set of genuine Colt lower receiver parts is a high-priced kit but not without reason. For those who prefer to buy a customizable LPK with high-end parts, a Colt brand lower parts kit is the perfect solution.This kit contains all the parts to complete your lower except pistol grip, trigger, and fire control components. However, this gives you the possibility to add common aftermarket upgrades, such as match-grade trigger components and the pistol grip of your choice.In the package also comes an Accu-Wedge, a rubber insert that goes into the spot directly beneath the rear takedown pin on your AR. Many AR owners believe it can increase accuracy by preventing unwanted movement between the upper receiver lug and lower receiver.
This quality parts kit by Colt Manufacturing will require minimal fitting and will work for any mil-spec AR-15-style lower receivers. This means the small .154″ diameter standard AR-15 rifle, not the larger Colt holes.Like all Colt factory parts, this high-quality kit is made to the highest standards in materials and workmanship and finished in a Colt color coating, which is aesthetically pleasing.The packaging is also excellent compared to the cheaper counterparts that all come in one bag, allowing parts to roll around and scratch each other. Each part from Colt kit comes packed separately in little baggies.
Bottom Line
The Colt customizable lower parts kit for the small-pin AR-15 lower receiver is the perfect choice if you are looking for a high-quality product since this kit provides all the minor, mil-spec components generally used in an AR-15 build, while still allowing the flexibility to choose more important parts according to your own preferences.
Pros
Includes an Accu-Wedge
Genuine Colt Factory Parts
Fits Small Pin of .154″ Diameter
The Parts Have a Colt Color Coating
Each Part Comes Packed Separately
Highly Customizable Lower Parts Kit
Cons
It is Expensive
Does Not Include Pistol Grip and Trigger Group
Building an M16A1 – What You Need to Know
While the average American riflemen still purchase AR-15s in one piece, the complete rifles are being phased out by real gun enthusiasts in favor of the buying separate components and building their own AR-15 Dream Gun.
The general suggestion for first-time buyers is to buy a complete rifle from a good manufacturer. It is neither complicated nor too demanding to build your first AR-15 if you have already decided what your AR will be used for.
Well-known for its straightforward design, the AR-15 roughly consists of two basic entities known as the upper and lower receiver and they can be purchased in various forms and configurations. While the receivers may come in a tremendous amount of different variations and can be made from various metals or even polymers, the aluminum is by far the most common material.
In the following section, we will briefly describe the most important parts and their function.
Upper Receiver Parts Kit
The M16A1 upper receiver (often simply referred to as an "upper") keeps and protects many of the most critical parts on your AR rifle. You can choose between stripped upper receivers or complete upper assemblies, but the latter would work better if you are a first-time AR-15 buyer.
Along with other components, the complete upper holds the "heart and soul" "of your M16A1 – the BCG (Bolt Carrier Group) and barrel.
There are two types of bolt carrier groups known as M16 full-auto bolt carrier groups and AR-15 semi-auto BCG's. First off, "full-auto" BCGs are legal, and secondly, these slightly longer and heavier bolt carrier groups have some extra weight which may help your AR-15 to cycle more smoothly.
The bolt carrier group includes major components like a carrier, bolt with extractor, gas key, firing pin, and cam pin.
Another key element to your AR-15 is the barrel. When you select the barrel length, it should match with the appropriate gas block/gas system. The proper gas system length will provide moderate recoil and smoother cycling. Handguards or forends will depend on what length gas system you chose on your barrel.
Other essential parts of the upper receiver are charging handle, ejection port cover, and forward assist. The complete upper should have also rear and front sight assembly, gas tube, flash hider, and Delta ring.
Lower Receiver Parts Kit
The lowers are a tad less complicated than uppers, but when purchasing a lower receiver for your AR-15 build, you have to go through the same procedures as when purchasing a firearm because it is a controlled part.
In this case, you can buy a stripped or 80% lower receiver, which is basically just the main solid piece of metal without any other parts or the lower-half of an AR-15 rifle, including the trigger and associated parts, like the fire control group.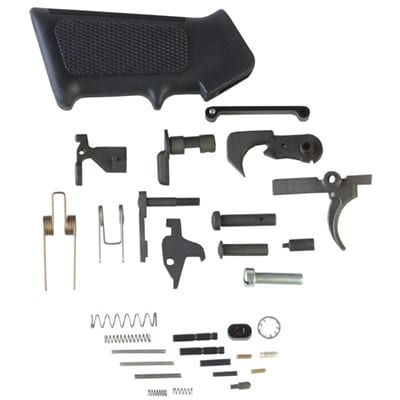 While many shooters consider stock AR triggers to be simply placeholders, an aftermarket trigger will give you a much better feeling with less creep and a cleaner break.
In addition to these, the lower receiver parts kit should include lower receiver extension, a.k.a. a buffer tube, pistol grip, buttstock, and at least one magazine.
The receiver extension is a protrusion along with the lower receiver on AR-15 pattern firearms, widely known as a buffer tube and serves a dual function. One purpose is to house the recoil system (buffer tube and buffer spring) and secondly, serves as the attachment point for the buttstock.
What Comes in Parts Kit?
To begin, here is one piece of advice: The best way to find the correct names of parts and to figure out what you need for your AR-15 build, is to use an expanded parts diagram or similar schematic to determine the exact part that you are looking for. For example, only a full list of all the parts needed to complete an AR-15 lower will show all 33 items including stock, pistol grip, and trigger.
The upper parts kit consists of fewer components than lower and usually includes stripped upper receiver, barrel, handguard, BCG, charging handle, gas tube, adjustable gas block, and flash suppressors.
The upper receiver parts kit story is similar to the lower kits, differing only in select parts and will determine the weight, accuracy, and general performance of your completed rifle. Also, not all upper receivers come with a forward assist and ejection port cover
There are AR-15/M16A1 parts kits of different price ranges and quality. Our recommendation is to go with a reputable manufacturer particularly known for the quality trigger, pistol grip, or buffer assembly. Quality control is another crucial aspect since when the parts kit arrives, you don't want to find that some parts are missing.
Are There Essential Pieces Not Included?
There is a vast array of parts kits for both upper and lower revivers that may include everything you needed to finish your build, but there are also kits that might lack few parts because many AR-15 builders like to purchase them separately.
For that reason, a number of LPK (lower parts kits) on the market are offered without the pistol grip, trigger group, buffer assembly, and stock, so those will have to be purchased on the side. If you are a more experienced shooter, you have probably noticed that especially the trigger, stock assembly, and pistol grip enormously impact the accuracy of your M16A1.
Buying these essential pieces separately may be inconvenient but there are some advantages also.
It means that you can buy a trigger-less LPK and then drop in a quality double stage or single stage precision trigger.
Many AR builders buy a buffer kit (buffer, buffer tube, buffer spring) and stock separately so they can get the precise buffer weight to reduce felt recoil and choose a particular stock to perfectly fit their body.
Additionally, when you are planning your building budget, these parts kits can affect the price of your lower build dramatically.
How to Choose an M16A1 Parts Kit?
For this section, the best answer is an old military saying "The Mission Drives Gear", meaning you should select AR parts kit best-suited to the task at hand.
When you buy an M16A1 parts kit, you should be confident the components it contains are all in-spec and covered by a lifetime warranty.Whether you are upgrading your existing rifle or choosing an M16A1 parts kit for a new build, it is perfectly clear that a spring and detent is just a spring and detent. But if you opt for an upgraded trigger, buffer, grip, and stock from a reputable maker, it can really make a huge difference in how your rifle performs.
Here are a few tips when choosing an M16A1 parts kit for your weapon;
If you build your AR-15/M16 as a precision instrument, you will need an excellent polished match-grade trigger in the form of self-contained units.
For an AR-15 chambered in a caliber like 7.62 x 39, it is necessary to upgrade the trigger springs because surplus AK ammo has hard primers and needs stronger trigger springs to function reliably.
In a similar context, building a full tactical rifle may require installing controls like a bigger safety selector, extended magazine release button, and an extended bolt release.
Obviously, the best kits are made of the premium materials backed by a lifetime warranty.
Moreover, proper quality control from reputable manufacturers will make you confident that all the parts you need will be there and will fit as they should.
How to Build an M16A1?
While building an M16A1 is not as easy as connecting the upper and lower, it is actually quite simple and requires few tools. First, any builder, whether first-timer or seasoned professional, should know that the upper receiver and barrel they choose will determine the remaining parts needed.
Upper Receiver Assembly
Group your parts together in order of assembly and start with the upper receiver.


It is not a bad idea to buy a fully assembled upper receiver but if you decided to go a stripped upper route, you should first install the FA (forward assist) and ejection port cover.


The next step is to place your upper receiver into the vice block and install the barrel in the threaded side of your upper.


Then, insert the gas tube into gas holes on inner barrel retainer nut and guide it into the hole in the gas block. Make sure the gas tube and the gas hole in the barrel are perfectly aligned and tighten the screws on both sides with a specialized wrench.


To complete the assembly of the upper, you can now insert the charging handle assembly and BCG (bolt carrier group) inside the upper receiver.


The last step for assembling upper is to mount handguard and after that, your upper is now ready to be attached to your lower receiver assembly.


Lower Receiver Assembly
The lower receiver assembly starts with installing the magazine release spring button and magazine catch.


Then, you should install the fire control group with other commands.


The next step is the mounting of the buffer tube with buffer retainer and spring.


Finally, you should slide on the stock until it doesn't move easily.


After a few checks, your new AR-15/M16 lower receiver assembly is now ready to be attached to your upper receiver assembly. If you still need a visual to help with the assembly, check out the video below.
Conclusion
The M16A1 parts kits are often belittled and misunderstood as less important rifle components but don't let that dissuade you from installing quality parts. Although lower parts receive much less stress than the barrel and upper components, all of them affect the functional life of your AR-15/M16A1 rifle or carbine.
When it comes to customizing your AR-15, you should be ready to choose all the parts to make your AR-15 perfectly suited to you and your objective.