The AR-15 platform is not lacking in the number of aftermarket parts that are available for it. Most of the attention gets put on aftermarket accessories such as scopes, stocks, grips, triggers, and other performance type upgrades. A lot of the more "boring" type of parts, such as springs and pins, are looked past or never even considered.
However, the enterprising AR-15 owner knows that minor parts upgrades can further enhance their rifle ownership. The AR-15 takedown pin is one such part. Is it exciting? Not really. Does it improve accuracy? Nope. Is it even worth upgrading? Absolutely.
Keep reading to learn more and to see the best AR-15 takedown pins that you can upgrade your rifle with!
At a Glance: Our Top Picks for AR-15 Takedown Pins
Comparison of the Best AR-15 Takedown Pins
IMAGE
PRODUCT

Our Top Pick

Tough and Durable Titanium Construction
Drilled-Through Design for Reduced Weight
Aesthetically Pleasing Design

View Latest Price →

Enhanced Pin Caps for Easy Removal
Doesn't Require Any Specialized Tools
Capped Head Prevents Dirt and Debris Entering the Rifle

View Latest Price →

Easy to Grasp Button-Style Oversized Heads
Precision Machined Heat-Hardened Steel
Wear Resistant Mil-Spec Parkerized Finish

View Latest Price →

Durable Pin Made From Thick Steel
Fits All Standard Ar-15 Upper Receivers
Easy to Install and Remove Without Tools

View Latest Price →

Best Budget Option

Fluted for Proper Weight Reduction
Includes Detents For Securely Locking Into Place
Wide and Flat Head for Easy Grip

View Latest Price →

Made of hardened steel
.030" longer than standard size
Textured heads for easy gripping

View Latest Price →

Very Aesthetic Design
Easy to Install
Extremely Tough Construction

View Latest Price →
What to Watch For When Buying Takedown Pins
Compared to many AR-15 parts and accessories, an AR-15 takedown pin is a very simple part. Takedown pins are the pins that hold the upper and lower parts of an AR-15 rifle together. There are two types: front takedown pin (or pivot pin) and rear takedown pin. The pivot pin is located above the magazine and the rear pin is found above the pistol grip and below the buffer tube port.
There isn't much room for variation when it comes to the design of a pin. However, there are still a few things to keep an eye out for when it comes down to choosing which one is right for you and your rifle. The following tips and information should be a good place to start your AR-15 takedown pin upgrade mission.
This Section Written By: Brian Belko
Expert Author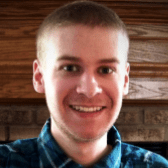 Brian is an experienced freelance writer and technical writer who has previously written for publications such as Wide Open Spaces, Bigfoot Gun Belts, Alien Gear Holsters, and Kampgrounds of America. He brings both a passion for writing and a love of the outdoors to his published content.

Aside from writing and the outdoors, Brian enjoys gardening, being a co-host on The Nostalgia Blast Podcast, and learning to code.
Pin the Tail on the Rifle
You might be asking yourself why you should bother upgrading the takedown pins on your AR-15. Afterall, there isn't much to them. However, there is a good reason to make this upgrade. The main benefit of aftermarket AR-15 takedown pins is making it much easier to disassemble or strip down your rifle for maintenance, cleaning, and swapping parts.
Switching to a universal takedown pin set also makes changing out upper receivers a much easier and more streamlined experience. Furthermore, aftermarket AR-15 takedown pins can help to hold your rifle together more securely than factory parts. That can come in handy if you are a high-volume shooter.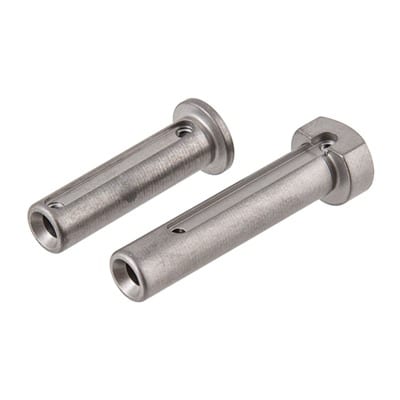 Metallic Matters
AR-15 takedown pins are typically made from either steel or titanium. Takedown pins aren't a rifle part that experiences a lot of stress during shooting or other use which means you don't have to worry much about them breaking or malfunctioning. Although titanium takedown pins might sound excessive or expensive, they aren't much more in price than their steel counterparts. It makes sense to go with titanium versions even if their strength will never be truly tested.
Installation Inquiry
However simple the installation process of an aftermarket rifle part might seem, it always pays to take some time to become familiar with the instructions, clear off a flat area to work, and have all the right tools readily available. The same thing applies to takedown pins even though they might seem incredibly simple to install. The last thing you want to do is lose a spring or damage the finish on your rifle because you didn't take five minutes to prepare.
Review of the Best AR-15 Takedown Pins
Different models of takedown pins available in the market vary by the ease of installation, quality, price, and other factors. Choosing the right takedown pin for your AR-15 eliminates the chance of any accidents – such as your rifle falling apart while shooting. Not a very likely scenario, but going the "cheapo" route could leave you with issues.
2A Armament AR-15 Takedown Pins Titanium
We may earn commission from purchases made from our links, at no additional cost to you
What Recent Buyers Report
Those who've most recently used these takedown pins have noted that although they are extremely aesthetically attractive, they do require precise measurements to reach their full potential. It's easy to purchase pins that don't fit your build, so be careful when finalizing a purchase.
Why it Stands Out to Us
The material of these pins is of particular note, as titanium is both lightweight and super-durable. That means the pins will hold your upper and lower AR receivers together without affecting the overall weight.
If you are looking for a tough and durable takedown pin replacement, you should buy these 2A Armament Pins without thinking twice. The package includes one takedown pin and one pivot pin.
Made from certified U.S.A. 6AL-4V Titanium, these pins are incredibly tough. The pins have a through-drilled design and pocketed feature to reduce weight. Suitable for receivers with a .250" pin size, these pins are aesthetically pleasing.
The package doesn't include takedown springs or detents so you'll have to arrange for those yourself. It package might seem a bit overpriced compared to its counterparts, but remember that it is titanium which has been CNC-machined, hence the price.
This pin is perfect for shooters who like to burn quite a lot of rounds and put their AR-15 to rigorous use.
Who Will Use This Most
Virtually any AR build enthusiasts will get some good use out of these pins. But practiced gunsmith will have the best results, as they can fine-tune the size of the pins if they receive a set that doesn't perfectly fit their AR right off the bat.
Bottom Line
Overall, these are worthwhile if you have the skills and tools necessary to resize the pins in the event that you receive some that don't fit perfectly. They're made of excellent material and are both lightweight and durable, giving you the best of both worlds.
Pros
Aesthetically pleasing
Titanium, durable material
Each pin is machined separately
Lightweight, even with its extra durability
Each pin has a pocketed feature to reduce weight
Cons
Pins have to have additional fittings at times
Titanium material also makes re-machining difficult
Separate machining means pins don't always match
KNS Precision Inc. AR-15/M-16 Enhanced Takedown Pins
We may earn commission from purchases made from our links, at no additional cost to you
What Recent Buyers Report
Most recent users of these pins praise the overall quality and the easy of installation. The caps, in particular, make taking the pins out or pushing them in easier, as you won't have to rely solely on a coin or a screwdriver to assist you.
Why it Stands Out to Us
We think the caps are a great innovation we'd like to see in more AR build pins. While the pins do extend a little longer than typical ones, the overall benefit from the caps greatly outweighs the cost. The caps enhance the longevity of your rifle by preventing dirt or debris from entering its interior. The steel material is also fairly durable, even though it's a little heavier than titanium.
Manufactured from stainless steel, this takedown pin features a black oxide finish and fits perfectly well with receivers that use a .250" diameter pivot pin.
These push-button pins can be easily released with finger pressure for easy access. The end cap featured on the pin helps with easy installation and removal.
Three spring-loaded detent balls hold the pin in place. This helps eliminate the need for a punch or other tools in order to replace the pin.
Overall, the pin is easy to install and is aesthetically pleasing. The only thing which might concern you is the price, although the functionality and features cover it.
Who Will Use This Most
We think these are great pins for anyone who dislikes having to reach for screwdriver every time they want to replace or examine their takedown pins. After using these pins, you won't want to go back to standard models.
Bottom Line
We think these are a great investment for both experienced AR enthusiasts and novice rifle builders alike. The ease-of-use and high-quality of these pins make them easy recommendations from our perspective, and we hope to see the cap innovation repeated with other pins across the market.
Pros
Durable steel material
Fits with most AR aesthetics
Detent balls reduce wear and tear
Cap also prevents debris from entering the AR
Have an endcap to help with pin removal and installation
Cons
Not very light
No rust-resistant finishes
Caps can cause pins to catch
Yankee Hill Machine AR15/M-16 EZ Pull Pivot and Takedown Pin Set
We may earn commission from purchases made from our links, at no additional cost to you
What Recent Buyers Report
Most recent users of these pins are generally pleased, as the oversized heads make them easy to install and remove. You'll be able to separate your upper and lower receivers more quickly than average. However, these heads do have a tendency to break under extreme pressure, so be careful when installing or removing them.
Why it Stands Out to Us
These pins are a great choice for most AR builds, since they increase the ease-of-use for anyone. Add to that the excellent Parkerized finish and you have a long-lasting set of pins that should hold up even under a lot of wear and tear. The only real negative is their tendency to fit too tightly on some builds. You may need the help of a gunsmith for optimal results.
Made of high-grade stainless steel, this product features a matte black finish. The package contains one takedown pin and one pivot pin. It fits receivers with .250" (6.3mm) pin diameters.
Oversized cap heads make using the pin quick and easy. Simply grab the head and pull the pin to disengage the receiver. That's it.
It's perfect for users who like to change their uppers quite often as it is compatible with all standard AR-15 uppers. The pin might feel a bit hard to install and pull initially, but it will settle in and loosen up with time. So that's probably not an issue with most people.
This is a cost-effective option to replace the standard OEM takedown pin.
Who Will Use This Most
Experienced AR build enthusiasts will get the most value out of this set. Since you might have to fit the pins specifically for your build, it helps to have some knowledge of that process already. Even so, novice AR builders will also appreciate these pins, since they make removing and installing the pins easier than normal.
Bottom Line
These user-friendly pins are a great choice for most AR builders. Their oversized heads are mostly a good value, even if they are a bit fragile. Just be prepared to have to fit the pins for your build in particular after buying.
Pros
Heat-hardened steel for durability
Oversized heads for easy grasping
Precision-machined for optimal fitting
Parkerized finish to increase durability
Pin shafts lock securely inside the rifle
Cons
Don't fit on all builds
Heads can break off
Rear pinhead can be a bit large for reaching the safety easily
4. Colt AR-15 A4 Takedown Pin
We may earn commission from purchases made from our links, at no additional cost to you
What Recent Buyers Report
Overall, most recent users of this particular report that it's a durable, if simplistic, take on a common AR build part. It's probably be best-used as a quick replacement more than anything since there aren't a lot of extra features to make it stand out from more innovative pins and you only get one with the purchase.
Why it Stands Out to Us
We specifically picked this pin as a replacement because it's fairly generic and should be able to fit in most standard AR receiver pinholes. The chance for needing a refit from a gunsmith is very low. Meanwhile, its durable steel material helps keep the cost low and ensures compatibility with most AR builds without needing to rebalance things.
The Colt A4 Pin is a simple replacement for the factory-made AR-15 pivot pin. Made from stainless steel, the pin has a basic design.
Installing and removing this takedown pin is the same as working with the standard AR-15 takedown pin. The package does not include the detent spring and pin, so you have to purchase them separately.
The best part with using this takedown pin is its price, which is practically next to nothing. The round end cap is easy to grip and use for installation and removal.
Who Will Use This Most
We think that AR enthusiasts who go through a lot of takedown pins will get the most value from this pick. Purchasing a handful of these can ensure that you're never without a replacement takedown pin when you need one the most. While it doesn't do anything particularly special, it does a solid enough job for most emergency needs.
Bottom Line
Pick up a few of these if you need some spares in multiple locations. This pin doesn't do anything fancy, but it accomplishes the main task of holding your AR upper and lower receivers together with stoic efficiency.
Pros
Durable steel material
Doesn't rattle under pressure
Fits with most rifle aesthetics
Holds securely, even under lots of fire
Fits flat against the receiver surface, so doesn't catch
Cons
A bit pricey for one pin
A little heavier compared to other pins
Only fits with standard pin diameter builds
5. Battle Arms Development – AR-15/M16 Enhanced Pin Set
We may earn commission from purchases made from our links, at no additional cost to you
What Recent Buyers Report
Those lucky enough to use these pins recently have phenomenal things to say. These pins are supremely easy to install and make the process of pulling them out or pushing them in a breeze compared to other takedown pins. The textured heads are a big success and there isn't much reporting of the extra length interfering too much with regular operations or movements.
Why it Stands Out to Us
We're always looking for excellent takedown pins that are easy to use and which provide good value to the builder. These pins do both, and we also enjoy the fact that you can choose between pins made of a hardened but heavier steel or lighter titanium. User choice is always a plus and whichever material you choose, you'll get to use the textured heads and bullet tip guides embedded in the pin centers.
Battle Arms Development, or BAD, as it is affectionately known, is a little-known giant in the AR-style rifle world. There is a good chance that your major name brand upper or lower features BAD components, such as a selector switch. If your AR doesn't feature BAD's enhanced pin set, it probably should. Who knew pins could be so highly designed? The takedown pin and pivot pin are precision Swiss CNC-machined, case-hardened, and finished in mil-spec manganese phosphate.
The pinheads are grippy and offer pull strength while remaining lower profile than mil-spec pinheads. They are designed not to interfere with right-handed nor left-handed safety selector levers. Even the pin tips are over-engineered.
First, they are slightly extended to aid in pushing them out, and second, they have cone-shaped recesses to prevent slippage and scratching. The main feature of this pin set, however, is the patent-pending EZ Guide Channel & Magnetic Assist Install. Using a special procedure, these channels and the accompanying neodymium magnet ensure quick, hassle-free and tool-free installation of the pivot pin.
Who Will Use This Most
New AR builders will really love the tapered heads and bullet guides. You'll be able to learn how to properly install takedown pins more easily than when using standard ones. At the same time, AR rifle enthusiasts will appreciate the choice between materials and the versatility the pins bring to the table.
Bottom Line
These are a great set for anyone willing to drop a few extra bucks on superior equipment. While they are pricey compared to regular pins, this set boasts amazing textured heads, specific guides to help with installation, and lets you choose the material they are made of. What more can you ask for?
Battle Arms Development continues leading the way with innovations in those little components of our ARs, to which no one usually gives much thought. The top feature of this pin set is the installation method involving the magnet, but every detail is incredibly well-thought-out.
Pros
Works with most rifle aesthetics
Bullet tip guides make them easy to install
Optional titanium version for lighter builds
Easy to grip thanks to the texturing on the heads
Top-quality materials including high-grade steel and titanium
Tapered cuts on the interior of the pins mean they are easy to push inside
Every aspect of this pin set has been scrutinized and engineered for maximum ease of use
Uses a simple neodymium magnet to quickly and painlessly install the pivot pin, negating the need for tools
Cons
Not the cheapest option
Very pricey compared to other pins
Extended length could get in the way sometimes
The titanium color doesn't fit with all black AR rifle bodies
6. Strike Industries – AR-15 Extended Takedown Pivot Pin
We may earn commission from purchases made from our links, at no additional cost to you
What Recent Buyers Report
All in all, recent users of these pins have only good things to say. The pins are effective and easy to install, and their separate heads make it easy to know which pin is supposed to go into which slot. Because of the extended size, it's also easy to pull them out if you want to replace them or inspect them for wear and tear.
Why it Stands Out to Us
These pins caught our eye because of their custom heads and extended size. The precision-machined steel both are made of is a decent material and is capable of sustaining extended use in any AR build.
We're not sure where the name of Santa Ana California's Strike Industries came from, but these takedown pivot pins certainly make a striking statement on any AR-15. If you run a variety of uppers off of one workhorse lower and want to express yourself through your takedown pivot pins, Strike Industries has you covered. They come in four different colors, black, chrome, gold, and red.
Not only the color choice but also the unique pin head shape scream custom build on any AR. More importantly, practical features are far from lacking. This pin set eliminates the need for a pin punch, locks securely into place of its own accord, and facilitates speedy disassembly of the rifle. It fits most, but not all, standard and billet receivers.
Who Will Use This Most
These are a great choice for AR users who frequently put together their own builds but may have struggled to know which pin is supposed to go in the front or rear receiver slots. Since the heads are different sizes, you'll never make the same mistake again and the extended size is a great user-friendly addition for everyone.
Bottom Line
These pins are easy to use and make swapping out receivers on your AR build faster than ever. They're great for beginners learning the ropes or experienced AR enthusiasts who like to swap out parts every time they head to the range. Add in their good durability and you've got an excellent, affordable takedown pin set.
If you want to spice up your rifle with a unique, custom look, this takedown pivot pin set is a great way to go. Plus, if you order through Brownells, you get their guaranteed forever warranty. The chief feature of this pin set is definitely the styling and the choice of color, though the ease of disassembly it offers is a fantastic functional perk. Plus, this pin set is known to work better than standard pins on rifles with very tight tolerances.
Pros
Affordable price
Locks securely in place
Does not require a pin punch
Extended size for easy gripping
Uniquely sculpted pinhead design
Fits most standard AR receivers
Facilitates fast disassembly of your rifle
Gives you the choice between black, chrome, gold, or red
Made of precision-machined steel for consistent installation
Heads are shaped differently for easy identifying which goes where
Cons
No finish for rust resistance
Does not include springs and detents
Head colors might not match your rifle aesthetic
Might need some extra fitting once you purchase
7. DPMS AR-15 Takedown Pin
We may earn commission from purchases made from our links, at no additional cost to you
What Recent Buyers Report
Those who've recently experienced this pin's effectiveness report that it does the job well enough but doesn't provide any special features to make it stand out from the crowd. It's made of regular steel that can hold up under heavy use, but lacks a special finish to protect from rust damage or warping over time.
Why it Stands Out to Us
Like the last pick, we think this is a great replacement pin for the rear slot specifically because it doesn't do anything special, but will fit most AR builds without trouble. The flat head is actually a bonus in our eyes since there's no chance it'll stop your thumb from easily reaching your rifle safety. Its affordability is also a big plus.
This pin has a simple stainless-steel design with a matte black finish. The DPMS AR-15 Takedown Pin has a ball detent in its design for easy operation. It fits .255" takedown pin holes.
This takedown pin has a solid construction and takes the same effort for installation or removal as a standard AR-15 takedown pin.
The spring has been aptly priced and is probably the cheapest option on this list. However, there's no guarantee of a long life for this product, due to its simple design and the effort put in while manufacturing.
It's just a simple and cheap takedown pin to be used as a replacement or to be kept as a backup- but that's always good to have on-hand!
Who Will Use This Most
AR builders who go through a lot of rear takedown pins should pick up a couple of these due to the low asking price. It's easy to build up a reserve of rear pins just by grabbing a handful of these and you can ensure you'll never run out of replacement parts in a pinch.
Bottom Line
This simple rear takedown pin does its main job without flourish, but sometimes that's all you want from a solid AR rifle part. Its flat head does mean you'll need to use a screwdriver or coin to remove it if you want to replace it with a different type of pin, but that same head could be a good thing if you need to reach for your safety all of a sudden.
Pros
Durable steel material
Locks into place securely
Affordable for replacements
Fits with most AR aesthetics
Flathead doesn't stick out near safety
Cons
Rear fit only
Only comes with one pin
Nothing to prevent wear and tear over time
What is the Purpose of a Takedown Pin?
A takedown pin is a rather small but very crucial part of an AR-15. It is the component which holds the upper and lower receivers together. In other words, a takedown pin is the part which holds the rifle together.
To disassemble the rifle, all you do is slide out the takedown pin and your upper and a lower receiver will separatel into two distinct parts.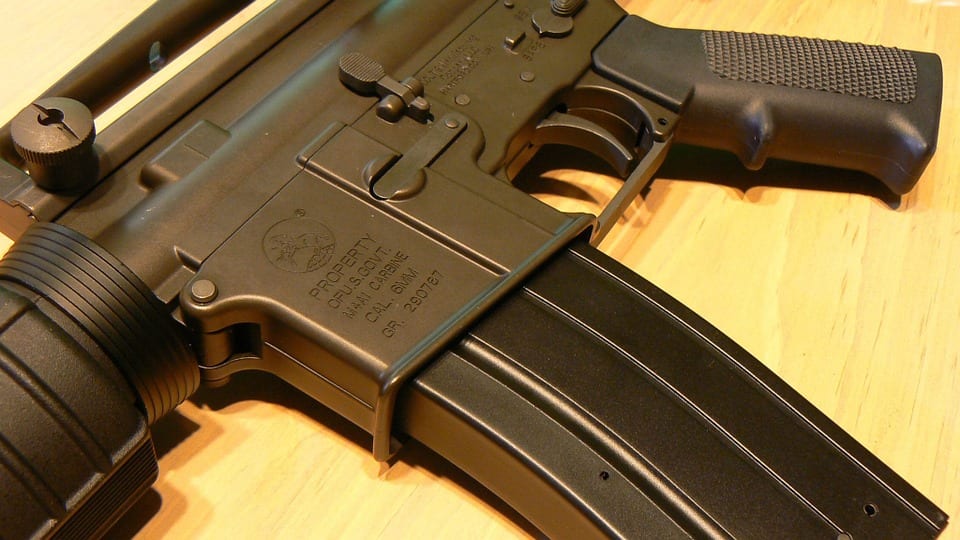 The front takedown pin (also known as pivot pin) is located above the grip and is held in place by a takedown detent and detent spring, hidden inside the receiver. The rear takedown pin is located right on the pistol grip below the buffer tube port.
Takedown pins can be sometimes difficult to install and remove. It helps to employ tools like flathead screwdrivers, coins, or other flat item, but they can still be rather annoying.
How to Choose an AR-15 Takedown Pin
Don't just scan reviews for the hands-down best pin. Each takedown pin has unique properties, meaning you'll want to match it to your needs and preferences. Consider the following factors when making a purchase:
What's Included?
Some packages include not only the takedown pin, but also the takedown springs and detents. If not, you'll need to get those separately. It might seem simple, but no one wants to dismantle their gun only to realize they don't have all the parts. If you get frustrated when electronics don't come with batteries, look for a package that includes these.
Durability
Not all pins are created equal. If you burn through rounds a lot, you'll want a tough pin. Look for one made from the strongest materials, such as titanium. High-grade stainless steel should be the minimum quality of material for those who want durability.
Compatibility
Some pins are compatible with all standard AR-15 uppers. If you like to get your hands dirty with routine change-outs, this can be a useful feature.
Budget
Are you just looking for a cheap replacement? Do you like to have spare parts? It might be wise to purchase a nice takedown pin and a few budget parts to have laying around, just in case. Some of our options, such as the Colt A4, are perfectly priced for spares.
Your Experience
Changing a takedown pin isn't the hardest thing in the world, but if you're just starting out at modifying your guns, you might want to stick to something simple. We love the Yankee Hill product in our review, but it's slightly harder to install. A better option for novices would be the DPMS Takedown Pin, which is as simple as the default.
Basic Takedown Pin Installation
Installing takedown pins is quite easy if done with the right tools. Generally, you need to have a set of pliers and a hex screw. People also use innovative options such as blades, credit cards, and even fingernails. Using these methods might come in handy, but some of them (like using fingernails or blade) might can cause injuries.
A good tool to use for takedown pin installation is the Sporting Conversions – M16/AR-15 Takedown Tool.
Some artistic people even use a 5.56 round to install takedown pins. Installing a takedown pin is more difficult than removing it. But the removal requires more caution as the detent and spring might fly off and will be extremely difficult to find due to their small size.
To install a front takedown pin, you have to first slide the detent pin into the hole, followed by the detent spring. Hold the spring in place using pliers or a clevis pin. Next, slide the takedown pin through the double loop slop and rotate it so the detent matches the hole on the pin. Simple as that.
Conclusion
A takedown pin connects the lower and upper receiver of an AR-15, thus keeping the rifle intact. A good takedown pin is durable, tough, and easy to install. Installing a takedown pin is quite easy using the appropriate set of tools. Additionally, takedown pins can be installed using simple items like coins, credit cards, or even bare hands.