The Mossberg 500 is one of the most popular pump action shotguns and for a good reason. Reliable, easy to use, and powerful, the Mossberg 500 makes for an ideal self-defense, home defense, and property defense weapon. Whether from an animal threat or a human threat, the Mossberg 500 shotgun will deliver in a time of need.
One thing it can't do however is seen in the dark. That is where a tactical light comes into play. When the house or yard is dark, powerful tactical light will do the job of illumination and let the Mossberg 500 do the job.
Keep reading to learn more and to see the best Mossberg 500 tactical lights available on the market today!
At a Glance: Our Top Picks for Mossberg 500 Tactical Lights
Comparison of the Best Mossberg 500 Tactical Lights
IMAGE
PRODUCT

Our Top Pick

Blindingly Bright 800-Lumen Bulb for Maximum Illumination
Picatinny Rail Mount Keeps Your Hands Clear of the Barrel
Best Overall Performance – Powerful and Rugged Enough for Law Enforcement

View Latest Price →

Ergonomic Polymer Grip Makes it Easy to Hold
Two Brightness Settings for Indoor or Outdoor Use
Rugged and Durable Enough for Law Enforcement

View Latest Price →

Flashlight Portion is a High-Quality Cree Light
Can Be Mounted on Weaver or Picatinny Rails
Includes a Remote Pressure Switch for Your Shooting Hand

View Latest Price →
What to Watch For When Buying Lights for a Mossberg 500
Just about everyone has used a bad flashlight at one time or another. Old batteries, weak bulbs, and shoddy design can all present issues. Cell phone flashlights are great for finding something under the bed or helping to walk over an uneven sidewalk at night but aren't well suited to times of stress or when you need your hands for something else.
This Section Written By: Brian Belko
Expert Author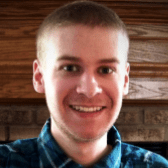 Brian is an experienced freelance writer and technical writer who has previously written for publications such as Wide Open Spaces, Bigfoot Gun Belts, Alien Gear Holsters, and Kampgrounds of America. He brings both a passion for writing and a love of the outdoors to his published content.

Aside from writing and the outdoors, Brian enjoys gardening, being a co-host on The Nostalgia Blast Podcast, and learning to code.
There are a few things to keep an eye out for when shopping for a tactical light for your Mossberg 500. The tips and information below are a good place to start your search off on the right foot.
Mount Up
Unfortunately, most Mossberg 500 shotguns don't come equipped with accessory mounting rails. Mossberg does have a couple of tactical models that come with Picatinny rails on both the front and back of the shotgun. However, if you don't have one of those models, you'll have to consider other options for mounting a tactical light. Mounting security is important and should not be taken lightly.
There are clamp-on rails available, but it is best to avoid them due to their propensity for coming loose. Instead, look for a tactical light that either replaces the cap on the end of the tube of your Mossberg or one that replaces the pump handle with one that has a powerful light integrated.
Lighting Power
Always make sure to look at the power of the Mossberg 500 tactical light you are considering. This is usually presented in a term called lumens. There is a lot of hard-to-understand science that goes into how lumens are measured, but suffice it to say that the more lumens, the more powerful the beam of light is projected by the light. It is important to understand your needs when it comes to how much brightness is appropriate to have. If you would potentially be using the light in a small room or hallway indoors, a super powerful beam might affect your vision so light on the less powerful side is ideal. If the potential exists for longer distances or outdoor needs, go with a higher lumen rating if possible.
Staying Sharp
Hopefully, you'll never have to use your tactical light in a dangerous scenario. However, it remains important to keep your skills sharp anyways. It is a good idea to periodically refamiliarize yourself with how your tactical light turns on and off and check the batteries. There won't be time for any of that if you suddenly need to defend yourself or your property in the middle of the night.
Review of the Best Mossberg 500 Tactical Lights
Now that we've covered the basics, let's look at the best tactical lights on the market. All of these are highly recommended, but they have different features that are worth taking into consideration.
Streamlight Tactical Flashlight Light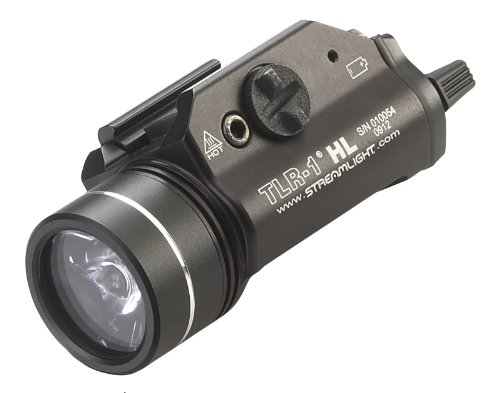 We may earn commission from purchases made from our links, at no additional cost to you
The Streamlight Tactical Flashlight Light is a tactical light that's designed specifically for pistols but is also well-suited for use on a Mossberg 500 – or on any shotgun with a Picatinny rail. This light is engineered from aircraft-grade aluminum with a tough, anodized finish. The lens is shock mounted, so you don't have to worry about it getting broken from a bump or a drop. If you're in law enforcement, this light will be rugged enough to meet your demands.
The rail mount is both a blessing and a curse. On the one hand, it's easier to attach than a tube mount. It also keeps your hands clear of the muzzle while you're attaching or detaching it. On the other hand, you'll want to torque it down with a screwdriver to keep it secure. While Streamlight advertises that it only needs to be hand-tightened, this is only the case for handguns. A Mossberg 500 has a lot more recoil and is likely to throw the light after the first shot unless you've tightened it down all the way.
We really like the bulb on this light. At 800 lumens, it will light up a football field on a cloudy night. There's also a strobe setting. If that's not enough, this tactical light is weatherproof and is water-resistant up to one meter of depth. While the Streamlight isn't cheap, it's well worth the price and should last you for years.
Bottom Line
The Streamlight is a beast of a tactical light that's extremely bright and can take a lot of abuse.
Pros
Strobe Setting
Water-Resistant
800-Lumen Bulb
Picatinny Rail Mount
Rugged and Shock-Resistant
Cons
On the Pricier Side
Needs to Be Tightened Down Hard for Shotgun Use
SureFire Dedicated Shotgun WeaponLight
We may earn commission from purchases made from our links, at no additional cost to you
The SureFire Dedicated Shotgun WeaponLight is designed specifically for Mossberg 500 and 590 shotguns with a 6 ¾ or 7 ¾-inch forend. It mounts directly to the tube, so the light shines directly where the barrel is pointed, as opposed to a side mount which will be off to one side or the other. This light will only attach to standard barreled shotguns. The lightweight barrel's heat shield gets in the way of the mount.
The WeaponLight is crafted from aircraft-grade aluminum with an anodized finish, while the mounting sleeve is molded polymer. It has O-rings throughout the body, making it highly water-resistant and the lens is shock mounted for plenty of drop resistance. The grip itself is ergonomic, with a comfortable groove for your thumb. It's also ambidextrous. All controls are located on both sides of the light, so lefties can use it without being handicapped.
The light has two settings: a 600-lumen wide beam and a more focused 200-lumen beam. You'll get more than twice the battery life on the lower setting and the more focused beam allows you to use it for aiming at short ranges. While this is a top-of-the-line tactical light, it's also very heavy. This isn't a problem for home defense but can be inconvenient if you're firing off a lot of shells. You'll probably want to take it off when you go to the range. It's also very expensive. That said, you'll never have to buy a new light again.
Bottom Line
The SureFire WeaponLight is, hands down, the most durable tactical light on the market.
Pros
Ergonomic Grip
Water-Resistant
Durable Engineering
Ambidextrous Controls
Two Brightness settings
Mounts Directly to the Forend Tube
Cons
Heavy
Very Expensive
Doesn't Fit on Mossberg 500s With the Lightweight Barrel
3. Monstrum Tactical LED Flashlight
No products found.
We may earn commission from purchases made from our links, at no additional cost to you
The Monstrum Tactical LED Flashlight is a bit of a misnomer. While the mount is made by Monstrum, the flashlight itself is a Cree. This isn't a bad thing. Cree makes high-quality lights, and this one does not disappoint. The anodized aluminum frame is durable and lightweight, and the beam is nice and tight. And believe us, you'll want a tight beam with this light, since it's only 90 lumens.
Consider this light only if your shotgun is strictly for home defense. The rail mount will attach to either Weaver or Picatinny rails and tightens with an Allen key. This means it will stay in place even with the powerful recoil from a Mossberg 500. It's ambidextrous, thanks to the self-adhesive pressure switch.
Attach the switch on your shotgun's grip, and it will light up when you squeeze it. Be careful, though. The switch isn't on/off. It only works as long as you're holding it down, so you may need to play with the location to make it easy to use. This is by far the cheapest tactical light we've reviewed. If you're on a budget, it's a good choice that will get you started.
Bottom Line
If you want a tactical light but money is tight, the Monstrum Tactical will get the job done.
Pros
Lightweight
Very Inexpensive
Cree Light is Very Durable
Easy Rail Mount With Allen Key Tension
Remote Pressure Switch Makes This Ambidextrous
Cons
Relatively Dim
Pressure Switch Only Works While Held Down
4. Trinity 800-Lumen Flashlight for Hunting
No products found.
We may earn commission from purchases made from our links, at no additional cost to you
The Trinity 800-Lumen Flashlight for Hunting is a tactical light that mounts to either side of your shotgun tube using a simple clamp. If your shotgun has a heat shield on the barrel, it will get in the way. Otherwise, this light is compatible with Mossberg 500 and 590 shotguns, as well as most Remington, Savage, Stevens, and Benelli guns.
The anodized aluminum body is durable and shock-resistant, and the internal O-rings keep it safe from most foul weather. Unlike a lot of tactical lights, the Trinity 800-Lumen takes AAA batteries, which are easier to find than watch batteries. This also gives it a much longer life than most flashlights: up to 100,000 hours of use.There's a zoom setting, so you can set it wide for maximum illumination, or narrow for use as an aiming aid.
You can also use it as a strobe light if you want to. All of this comes at a very reasonable price. If you're looking for the best value, this is it.
Bottom Line
The Trinity 800-Lumen is bright enough for indoor or outdoor use and comes at a fraction of the price of some other lights.
Pros
Reasonably Priced
Takes AAA Batteries
Waterproof and Drop Proof
Zoom Setting for Better Aim
Mounts to Either Side of the Tube
Strobe Setting for Disorienting Intruders
Cons
Not Compatible With Heat-Shielded Barrels
5. Mossberg 500 Barrel Mount 300 Lumen Flashlight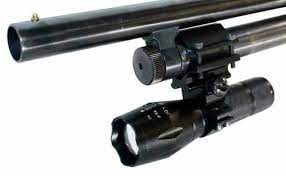 We may earn commission from purchases made from our links, at no additional cost to you
The Mossberg 500 Barrel Mount 300-Lumen Flashlight is a combination of a 300-lumen tactical light and a green dot sight. The reversible hardware can be mounted on either side of the shotgun tube, so this is a good choice for left-handed users.
In addition to the Mossberg 500, it will also mount on the Remington 870, as well as many other similar shotguns. The anodized aluminum body is rugged enough to take some abuse and has rubber O-rings to protect it from foul weather. That's an important consideration, since it means you can take this device out in the field without any concerns.
This flashlight accepts easy-to-find AAA batteries and will last up to 100,000 hours. It has a zoom setting, so you can adjust the beam for your own convenience. Our only real complaint is the lack of a strobe setting, which some people prefer for home defense.
Bottom Line
If you use your shotgun for hunting as well as home defense, you'll get a tactical light and a green-dot sight in a single package.
Pros
Long Battery Life
Integrated Green-Dot Sight
Zoom Setting for Added Versatility
Lightweight, Durable, and Waterproof
Mounts on Either Side of Your Shotgun Tube
Pros and Cons of Tactical Lights
Before we go any further, let's take a look at what's good – and not so good – about having a tactical light on your Mossberg 500.
Pros
It's one less thing you'll have to grab. In a home invasion, every second you spend fumbling for a flashlight is another second the intruders have to get the jump on you.

It can blind intruders, giving you an important advantage in a confrontation.

It lets you see if you're actually dealing with a home invasion, or if your teenager is sneaking into the house after a late night.

It illuminates the entire room, so you'll know if there's a family member behind the intruder who you need to be aware of.
Cons
Your gun is pointed at whatever the light is pointed at.

Light can be visible under doors or across several rooms, giving your location away to an intruder.
How to Choose a New Tactical Light Setup
When you're buying a new tactical light, there are a few factors you'll want to consider before you make a decision. Here are some of the most important ones to check.
Functionality
Simply put, can you reach the on/off button while the shotgun is shouldered? This is easy to overlook, but it's the first thing you should check. It doesn't matter how many bells and whistles the light has if you're not able to operate it.
Brightness
This is a matter of preference more than anything else. Of course, 100 to 200 lumens is more than enough for home defense purposes. However, a brighter light will blind an invader for longer. Some lights provide over 600 lumens, which is enough to make the flashlight useful as a hunting accessory if you're trying to get to a tree stand before sunrise.
A Strobe Setting
A strobe light is more disorienting than a continuous one, increasing your advantage. This feature is available even on many inexpensive tactical lights.
Tactical Light Tips & Tricks
So how do you use a tactical light? Here are a few quick pointers.
Use a Separate Flashlight for Searching
One of the first things any gun safety course will teach you is never to point your gun at anything you don't intend to shoot. Unless you want to point your shotgun at everything that goes bump in the night, it's a good idea to have a separate flashlight for searching your home.
Only Use the Light When You're Actively Searching
A light can give your position away. Since you can probably find your way around your home in the dark just fine, it's a good idea to stay in the dark as much as possible. Turn the light on only when you need it to clear a room, then turn it off while you move to the next room.
Always Have a Backup Light
This is another good reason to use a separate flashlight. Batteries have a way of failing at the worst possible time and having a backup can save your life.
Conclusion
In the event of a home invasion, every second counts and you'll need to use any tool that puts you at an advantage. A tactical light is one of those tools. But the most important tool is the one between your ears. Remember that a light lets an invader know where you are and never pull the trigger unless you're certain your life is in danger.