Hearing protection is one of the most important aspects of proper shooting safety protocol. It doesn't take long for hearing damage to occur when around any kind of shooting. Considering the oftentimes irreparable nature of hearing damage, it is something to be taken seriously by every shooter.
It can be easy to neglect hearing protection, but some research, a small investment, and a little effort go a long way to making sure you don't lose your hearing from recreational shooting and hunting. Don't be the person who wishes they had prioritized shooting ear protection before it was too late.
Keep reading to learn more and to see the best shooting ear protection of 2022!
At a Glance: Our Top Picks for Shooting Ear Protection
Comparison of the Best Shooting Ear Protection
IMAGE
PRODUCT

Our Top Pick

Best Overall is the Howard Leight Impact Sport Electronic earmuffs R-02526.
The sleek, extremely low-profile ear cups come with recessed microphones that amplify ambient sounds up to 4x.
The HOWARD LEIGHT IMPACT SPORT earmuffs offer everything you need for the 1/2 of the price for the same quality.

View Latest Price →

Low profile ear cups reduce contact with gun stock.
This electronic earmuff has an NRR rating of 23 decibels and cutoff at 85dB.
The runner-up on our list is a Caldwell E-Max low profile hearing protection.

View Latest Price →

Best Budget Option

This Walker's passive black earmuffs come with PSA logo.
Walker's Ultra Slim muff and glasses combo kit is best for the money.
The ultra-compact and collapsible hearing protectors have 27 dB NRR.

View Latest Price →

Best Ear Plugs are definitely Surefire Sonic Defenders.
You can hear the normal noises around you when the stoppers are out.
They provide 24dB Noise Reduction Rating (NRR) with stoppers inserted.

View Latest Price →

For the best electronic ear protection in this list, we've declared Walker Razor-Slim Shooter electronic folding earmuffs.
It features Sound Activated Compression with 0.02 second reaction time it amplifies conversation level noises from an average of 50 ft. away.
A crowd favorite among avid shooters, Walkers line of products provides hearing protection to professional and recreational shooters for over 25 years.

View Latest Price →

Pro Ears Pro 300 series offer 26dB of Noise Reduction Rating.
Best for Shooting Ranges is Pro Ears 300 Wind Abatement Hearing Protection Headset.
These electronic earmuffs have an attack time of 5.5 milliseconds and an independent volume control.

View Latest Price →

Clear Voice Tracking seeks voice within noise for improved speech intelligibility.
Suppress harmful noises from gunshots up to 26 dB Noise Reduction Rating (NRR).
Best Bluetooth Shooting Ear Protection is Peltor Sport Tactical 500 electronic earmuffs.

View Latest Price →
What to Watch For When Buying Quality Ear Protection
Not all ear protection is made the same or worth your time. It is important to choose quality ear protection to make sure hearing damage doesn't occur from your favorite shooting activities. There are a few different things to watch for when deciding on what hearing protection options are right for your needs. These include things such as comfort, sound rating, quality, and more. The following tips and information are a good place to start to learn more and to help guide your search for the best shooting ear protection for your needs.
Driving It Home
It is easy to take hearing for granted. As with the other senses, hearing happens passively and its value isn't always noticed until it is diminished or gone. Hearing damage is cumulative and it is vital to consider overall exposure as repeated and consistent exposure to loud sounds can cause irreversible damage to the delicate structures inside the ear that allow humans to hear.
The importance of protecting your hearing while shooting cannot be stressed enough. It doesn't matter if you plan to only fire a couple of shots to make sure a rifle is still sighted in or something like that. Shooting a gun without hearing protection when it isn't absolutely necessary such as during a life or death situation is never worth it. You only get one set of ears. Protect them.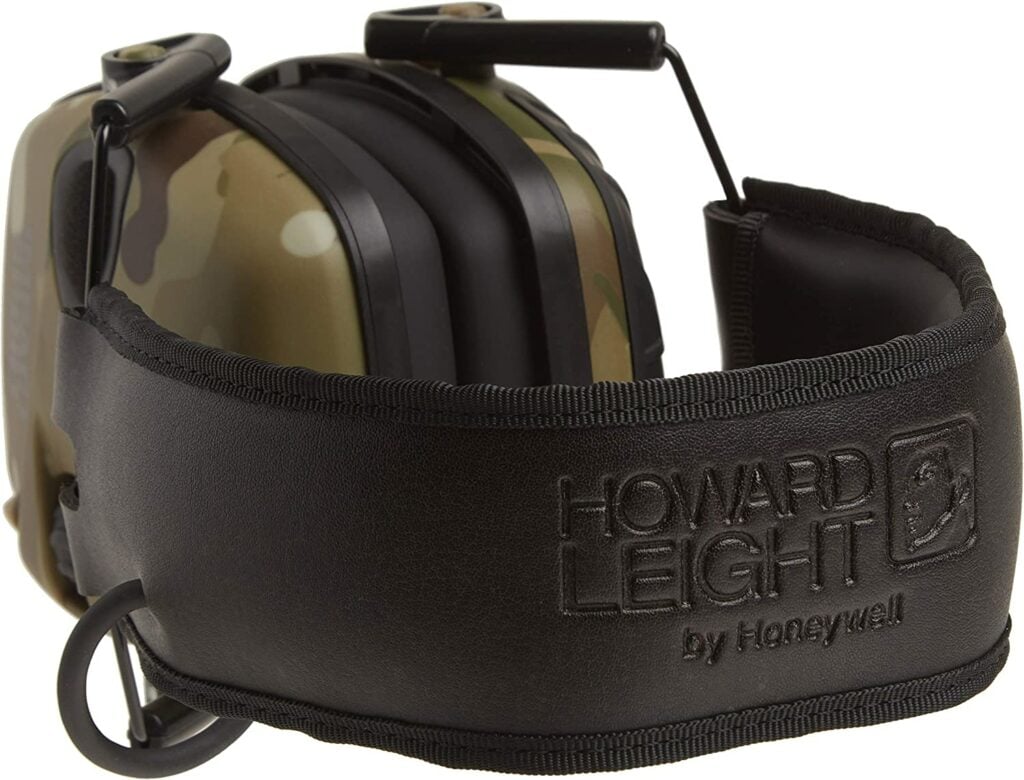 Style Points
There are several different styles of shooting ear protection to choose from. These include earplugs, earmuffs, and some electronic sound-dampening versions of the two. They do NOT include cotton balls, rolled-up tissue, or any other homemade options you may have heard of. Don't you dare just stick your fingers in your ears if watching someone else shoot! The style you go with will depend on the type of shooting you will be doing and which is most comfortable for you to wear. Don't rule out a combination of both earplugs and earmuffs either. There really isn't such a thing as too much hearing protection.
Comfort and Commitment
If possible, try on a few different models of earmuffs before deciding on one to make sure a certain model isn't painful or uncomfortable to wear. Most are designed with comfort and adjustability in mind, but it is still worth making sure if you can. If your earmuffs are uncomfortable, you'll be less likely to wear them. Remember that there is no shame in starting to wear shooting ear protection if you haven't been so great about it in the past. It takes some commitment, but before long it will be like wearing a seatbelt and you'll feel weird without it. After all, a commitment to hearing protection while shooting is really a favor to your future self.
Review of the Best Shooting Ear Protection
Time for the review. Let's take a look at our favorite models and see what makes them stand out:
Howard Leight Impact Sport Electronic Ear Protection
No products found.
We may earn commission from purchases made from our links, at no additional cost to you
Howard Leight Impact Sport Electronic Ear Protection is the stand-out winner on our list as a top choice for both quality and price. The Honeywell Leight brand was formerly known as BILSOM and has manufactured military-grade equipment for years. The Multicam is their new electronic earmuff line for 2019. It consists of three camouflage pattern colors and this model, with manufacturing number R-02526, comes with original MULTICAM covert camo. The HL Impact Sport Noise-Canceling Electronic Earmuffs have an official noise reduction rating (NRR) of 22 dB, which is more than adequate for all kinds of shooting conditions. Although these earmuffs work very well outdoors or other unenclosed areas, they might be uncomfortable, especially if you are shooting large calibers and/or magnum loads at the indoor shooting ranges.
These sound management earmuffs can cancel out potentially dangerous noise impulses that come in at over 82 dB. Additionally, directionally-placed microphones allow wearers to communicate with other shooters at the range and allow hunters to hear environmental sounds. From my personal experience, you can hear approaching game from 50-100 yard distances.
It is possible because Impact Sport MULTICAM offers passive 4X sound amplification, making it ideal for indoor and outdoor shooting. As an added bonus, the recessed microphones reduce wind noise while providing stereo sound. The shooting earmuffs by Howard Leight boast a slim design due to the low-profile ear cups with rifle cutaways for buttstock clearance. This feature enables unhindered shouldering of a rifle or shotgun without sacrificing any hearing protection.
Because of the adjustable headbands and sleek folding design, the Impact Sport Earmuffs are great for packing into the field. The field usefulness is also enhanced by two AAA long-lasting batteries (up to 350 hours) and a 3.5 mm AUX input for most media devices.
Bottom Line
The Howard Leight R-02526 model is offered in the original MultiCam camouflage pattern which is the proven multi-environment concealment solution and popular amongst hunters and anyone else who loves the "tacticool" look.
Pros
It Has 3.5mm AUX Input
Comes in MultiCam Finish
Noise Reduction Rating is 22 dB
Automatic Shut-Off Feature After 4 Hours
Built-in Recessed Microphones on Both Sides
Amplification Cutoff When Noise Reaches 82 dB
Powered by 2 AAA Batteries Which Last Up to 350 Hours
Passive Amplification up to 4X Magnifies Ambient Sounds
Cons
The Sound Coming Through at an Indoor Range Might Be Too Loud
Caldwell E-Max Low Profile Hearing Protection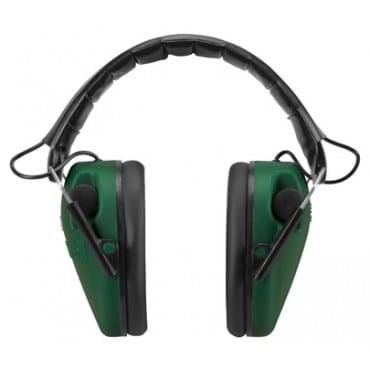 We may earn commission from purchases made from our links, at no additional cost to you
One of the most affordable earmuff-style electronic protection devices comes from Caldwell under designation E-Max Low Profile Hearing Protection. The low-profile Caldwell E-Max hearing protection is a reliable, electronic, active noise cancellation/amplification device with a noise reduction rating of 23 NRR. Additionally, each muff has a microphone implanted in it to amplify sounds below 85 decibels. At the same time, if the sound exceeds the safe limit of 85 decibels, the microphones shut off for a split second (about 0.7 seconds) to protect the wearer's hearing.
Unlike more expensive units, the Caldwell earmuffs won't do much to raise the volume more than it would in real life. So if you want to hear the game approaching from a farther distance, you should look for a pricier alternative from other manufacturers. Although this product boasts low-profile, foldable ear cups that are ideal for using a shotgun, they don't fold up as compactly as other counterparts. This electronic hearing protection device is also equipped with an integrated 3.5 mm audio input jack that allows you to connect them to media devices such as a smartphone or an MP3 player. The Caldwell quality set of earmuffs is powered by two AAA batteries and is available in classic green, Mossy Oak Break-Up, or pink, to accommodate all the lady shooters out there.
Bottom Line
If you are one of those who need inexpensive, low-profile electronics to protect your ears, you should not look further than these low-cost electronic earmuffs for shooters. With the lower price comes some compromise though, but generally, it's a good bargain.
Pros
Runs on Common AAA Batteries
23 Decibel Noise Reduction Rating
Available in Different Sizes and Colors
Low-Profile Design Makes it Easily Camouflaged
Automatic Shut-Off When the Noise Goes Over 85 Decibels
Two Microphones– One in Each Cup Offers True Stereo Sounds
3.5 mm Audio Jack Input Can Be Connected to Your MP3 Player or Phone
Cons
In Time, the Sound Attenuation Starts to Degrade
It Cannot Be Folded Up as Compactly as More Expensive Counterparts
Walker's Ultra Slim Muff & Glasses Combo Kit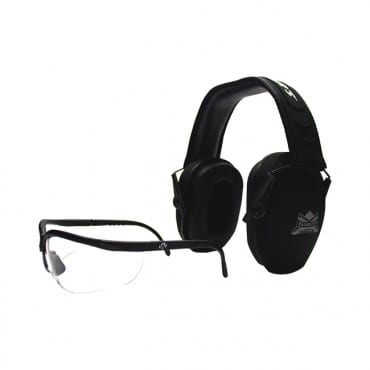 We may earn commission from purchases made from our links, at no additional cost to you
These are another pair of over-ear hearing protectors coming from an industry pioneer in hearing protection, Walkers Game Ear. Walker's line of low-profile, non-electronic hearing protection is made overseas, but they are both high-quality and affordable.
This Walker's combo package provides you with a NRR of 27dB protection from noise with a Palmetto State Armory logo, along with high-grade, impact-resistant shooting glasses. Featuring a slim profile, the black Walkers Folding Muffs can compactly fold up for easy transport and storage. The low-profile contoured cups with a noise reduction rating (NRR) of 27 dB coupled with quality-made glasses are perfect for protecting your hearing from sustained or loud sounds on the shooting range.
Walker's rubberized ear cups feature soft padding and sound dampening composite housing finished in a special rubberized black coating.The comfortable headband with firm metal wire frame, like the ear cups, is padded for comfort, but is difficult and stiff for fitting adjustments. On the other hand, the earmuffs are very long, making them less suitable for smaller people.
Bottom Line
While these Walkers Ultra Slim earmuffs create a good seal against the head, they are perfectly matched by the accompanied sport glasses. Utilizing quality poly-carbonate lenses, these glasses are adjustable to the sheer range of facial forms with a design to allow air to flow freely for decreased lens fogging.
Pros
There Are No Batteries Required
The Black Earmuffs Feature the PSA Logo
Passive Muff Provides a 27 dB Noise Reduction Rating
The Ultra Slim Design is Great for Packing and Transport
The Shooting Glasses Have High-Grade Poly-Carbonate Lenses and an Adjustable Nose Pad
Low-Profile Folding Muffs Have Contoured, Padded Cups Which Stay Out of Your Peripheral Vision
Cons
The Fit is Not Meant for Smaller People
Sliding the Earmuffs on the Two Wires Might Be Stiff and Difficult
Browning Buckmark II Hearing Protector Earmuffs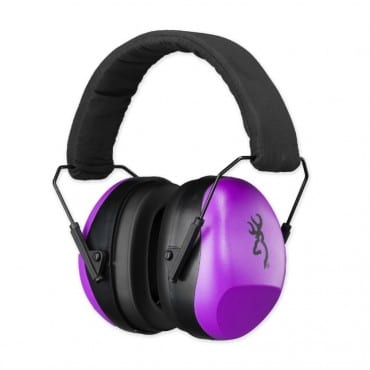 We may earn commission from purchases made from our links, at no additional cost to you
As one of the world's most renowned suppliers of shooting accessories and hunting gear, Browning is offering the Buckmark II Hearing Protector Earmuffs with an NRR rating of 26 dB for effective protection with every shot.While the Buckmark II Hearing Protector conforms to ANSI S3.19 noise reduction standards, this protective purple headset will fit most of the fellow female shooters in a comfortable and classy way. The purple-colored earmuff is not only for aesthetics, but they are easy to find in your shooting cupboards or if you lose it in the woods.
In addition to the attractive color, Buckmark Hearing Protector features the handsome Browning logo. The Buckmark II is comfortable to wear for extended periods of time at the range due to the soft foam ear cups and a foldable padded headband. However, since these earmuffs are created as female gender product, they might have a too tight fitting for some wearers.
On the other side, the padded headband is foldable for convenient storage and doesn't pinch or chafe, even when wearing eye protection. Although Browning claims that the low-profile design minimizes contact with recoiling firearm stocks, there is still contact with the stock on a rifle, after all, what muffs don't?
Bottom Line
The Browning Buckmark II Hearing Protector Earmuffs are of the passive type, which means that there are no batteries required and no electric wires to tear. That is a great, comfortable pair of earmuffs perfect for use when hunting or during target practice.
Pros
Meets ANSI S3.19 Noise-Reduction Standards
Perfect for All-Day Wear, Even With Eye Protection
It Provides a Noise Reduction Rating (NRR) of 26 dB
Passive Earmuffs Work Without the Need for Electronics
The Padded Headband is Foldable for Convenient Storage
Purple-Colored Earmuffs Feature the Handsome Buckmark Logo
The Foam Cups and Padded Headband Make it Comfortable for Longer Use
Cons
They Are a Little Tight
Though Low-Profile, Earmuffs Still Contact the Rifle Buttstock
Surefire Sonic Defenders Black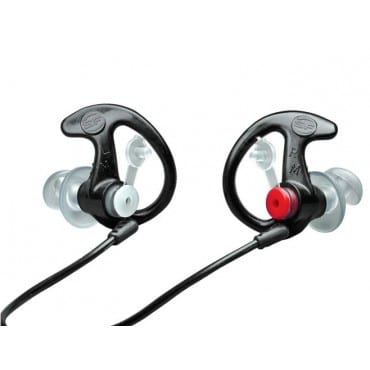 We may earn commission from purchases made from our links, at no additional cost to you
As opposed to earmuffs that get in the way of the stock of a rifle, these earplugs are more convenient, compact, and portable, features that most professionals love and appreciate. With the name "Sonic Defender," Surefire has released the earplug style hearing protection perfect for a variety of applications including construction, military, hunting, competition shooting, and more. With a 24 dB noise reduction rating, the EP3 model from Ear Pro series offers a mid-range level of hearing protection, enhanced comfort, and comes in various colors and sizes to fit most activities and ear shapes.
However, while the lower level NRR works fine with lower caliber firearms, it is less effective when dealing with louder magnum calibers or rifles with muzzle brakes. While this is not an electronic device, it offers a very attractive combination of protection against higher-decibel noises with the possibility to hear low-level sounds like normal speech, traffic noise, and warning sounds. That is possible thanks to the patented stopper caps (acoustic filter) in the plugs called Hocks Noise Braker filter. These filter caps can be inserted for further protection and blocking out potentially harmful noises (above 85 dB) or you can pull them out to hear lower-level noise (about 11 dB).
Comfortable EP3 Sonic Defenders utilize a patented SureFire EarLock retention ring in the form of an adjustable-stem design. These ergonomically-shaped stems are made of soft but durable, hypoallergenic, medical-grade polymer and lock into place at seven different contact points to prevent slippage during use.
Bottom Line
The EP3 Sonic Defenders are also compatible with radio communication systems and due to the low-profile, these earplugs can be worn while wearing a helmet or mask, butting against the rifle, or while using a phone or headset.
Pros
For the Shooter On-the-Move
With Stoppers Inserted it Provides a 24 dB NRR
Made of Soft and Durable Hypoallergenic Plastic
If You Pop the Stoppers Out, the "Safe" Noises Will Be Audible
The Double-Flange Stem Design Reduces Harmful Noises Above 85 dB
EarLock Prevents Slippage From Keeping the Earplugs From Falling Out
Cons
Not so Effective Against Higher Caliber Firearms
If You Forget to Insert the Hocks Noise Braker Filter, the EP3 Earpiece Will Not Provide Hearing Protection
Best Electronic Ear Protection
Walker Razor-Slim Shooter Electronic Folding Muff Series
We may earn commission from purchases made from our links, at no additional cost to you
The Walker Razor's line gains its name from their compact nature since these electronic earmuffs were designed from the ground up to have the lowest possible profile and lightness (only 15.2 oz.), without much plastic in their construction. These Walker Razor earmuffs, in turn, provide electronically-monitored noise reduction of 23 dB NRR rating after detecting a noise louder than 82 dB. Walker's sound compression technology provides excellent reaction time of only 0.02 second. The Razor's headset sleek geometric form includes two built-in, omnidirectional microphones and full dynamic range HD speakers that provide balanced sound and make it very easy to hear people.
Made of water-resistant materials, the sound dampening composite housing features a recessed single volume control knob and a standard headphone jack which allows for auxiliary attachments like your phone or an MP3 player.
Bottom Line
The Razor series muffs operate on two AA batteries with an average life of about 40 hours on one set of batteries, which is not so great. While the NRR of 23 dB offers an effective way to protect your hearing while out in the woods, it might not be sufficient for indoor use of full-powered rifles and you may want to double up these with earplugs.
Pros
Operates on 2 AAA Batteries
Two Omni-Directional Microphones
Auxiliary Input With Volume Control
Noise Reduction Rating (NRR) is 23 dB SPL
Comfortable Headband w/Metal Wire Frame
Automatic Shut-Off When the Noise Goes Over 82 Decibels
Uses Sound-Activated Compression With 0.02 Second Activation Time
Cons
Batteries Don't Have a Long Life
It May Not Be Sufficient for Shooting High-Powered Rifles at Indoor Ranges
Pro Ears 300 Wind Abatement Hearing Protection NRR 26dB Headset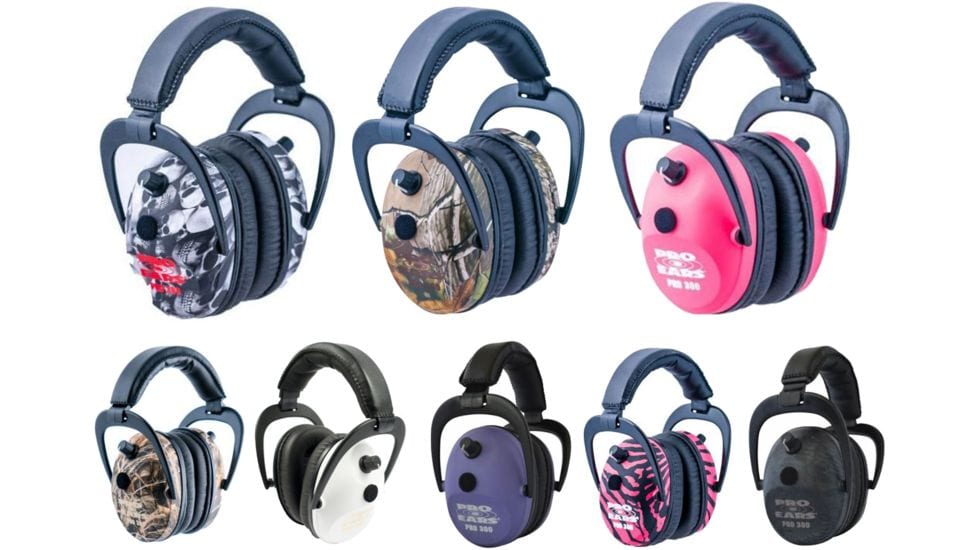 We may earn commission from purchases made from our links, at no additional cost to you
As most ranges now require electronic noise cancellation devices, many shooters retired their old passive earmuffs and turn to electronic hearing protectors. The headset series called Pro 300 Wind Abatement from the Pro Ears is one of the most superior in the competition for the best shooting range active hearing protection. The Pro 300 line offers industry-leading DLSC compression technology to limit high decibel sounds while amplifying low decibel sounds. That compression system also reduces sound without cutting out so you never lose awareness of your surroundings.
While the Pro Ears Pro 300 series provides 15 dB of amplification during normal use, their Noise Reduction Rating (NRR) is 26 decibels and features solid attack (response time) time of 5.5 milliseconds. It makes these earmuffs great for all-around use on moderate noise environments. The selling point of the Pro 300s is the individual circuit boards on both ear cups with independent volume control, which eliminates the need for wires and increases reliability and adjustability.
Another benefit is the wind abatement feature that keeps the howling wind in open ranges or fields from roaring in our ears.The Pro Ears is equipped with ProForm leather ear seals and Visco-elastic foam to ensure the highest level of noise attenuation and comfort available.If you shoot a pistol, the Pro 300 hearing protection is fine, but the fairly large profile of these earmuffs may interfere with a rifle stock
.Bottom Line
The Pro Ears Hearing Protection Pro 300 is powered by two expensive, non-standard, N-size batteries and comes without an automatic shut off. This device also does not include 3.5 mm input for your phone or other media.The Pro Ears Pro 300 electronic earmuffs are available in a version behind the headband for use with full brim hats, as well as in a multitude of colors.
Pros
Attack Time of 5.5 Milliseconds
Available in a Multitude of Colors
It has Wind Abatement Programming
Headset Offers DLSC Compression Technology
The 26 dB NRR is Higher Than Most Similarly-Priced Units
It Features Separate Circuit Boards With Their Own On/Off and Volume Controls
Earmuffs are Preset at 15 Decibels of Amplification for Operation in a Continuously Noisy Environment
Cons
No Automatic Switch Off Ability
N-Type Batteries Are Not Common
Best Bluetooth Shooting Ear Protection
Peltor Sport Tactical 500 Ear Muffs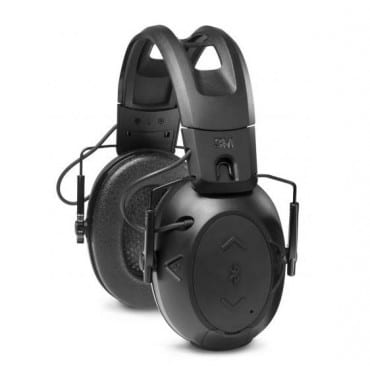 We may earn commission from purchases made from our links, at no additional cost to you
In our hearing protectors guide, the Peltor Sport Tactical 500 electronic earmuffs are the best Shooting Ear Protection which incorporates Bluetooth wireless technology. Utilizing support for the Bluetooth to sync to mobile devices seamlessly, you will be able to make and receive phone calls through this Peltor headset. This device applies an active volume feature that cuts out extra loud noises ranging as high as 82 dB. With an outstanding noise reduction rating of 26 dB, this headset offers better noise cancellation and amplification of lower-volume sounds than the rest of the competition. It also features a 3M gunshot recognition and suppression technology which allows you to intensify your hearing and better adapt to the natural world around you.
The Peltor Over-The-Head Earmuffs consist of an adjustable, vented headband for a comfortable fit and the well-contoured shape of the ear-cups interfere minimally with gunstocks. The Peltor Tactical Sport Tactical 500 electronic headset runs on two AA batteries with the auto-shutdown feature. While the headset has a standby mode which is activated after two hours of idling, the AAA batteries do lend to shorter battery life. Although one of the best ear protection devices for shooting, compared to most other electronic earmuffs, the Peltor Sport TAC-500 is around 2-3x more expensive.
Bottom Line
The Peltor Sport Tactical 500 provides ample protection from sharp gunshot noises by utilizing a Dynamic Suppression Time feature that allows much faster shutoff and enhanced recovery time. However, that noise elimination occurs without completely drowning out the more important sounds due to its Clear Voice Tracking Technology.
Pros
3M SMART Technologies
Bluetooth Wireless Technology
26 Decibel Noise Reduction Rating
Powered by Two Common AAA Batteries
Recessed Microphones Reduce Wind and Fan Noise
Earmuffs Feature a 2-Hour Auto Shut-Off to Conserve Power
Suppress Harmful Noises While it Amplifies Low-Level Vocal Communication
Cons
High Cost
Short Battery Life
Best Pink Ear Muffs for Shooting Guns
Champion Traps and Targets Pink Ear Muffs-Electronic
We may earn commission from purchases made from our links, at no additional cost to you
As a rule of thumb, hearing protection devices come as unisex models, but some manufacturers pay special attention to lady shooters, with offerings tailored to their stature and affinity. While Champion offers these in either standard passive or electronic versions, model 40975 are the noise-canceling electronic earmuffs powered by four AAA batteries. Actually, each of these stylish muffs accepts two batteries, making the microphones individually adjustable, but the whole headset remains light and comfortable for the shooter.
The one negative is the fact that Champion's electronic headset doesn't possess an automatic shut-off feature nor battery level indicator, so you need to pack some extra batteries for them. Another thing we don't like is that these electronic ear muffs from Champion don't mute gunshots quite as well as high-end earmuffs. Though they are quite affordable and look nice, the sound reduction is not optimal.Champion Traps and Targets Pink Ear Muffs are noise-canceling ear protection, which are good, entry level electronic muffs. They protect you against damaging noises with an NRR of 25 dB and still allow you regular verbal communication when there are no loud noises.
Bottom Line
Considering their attractive and stylish appearance, this lighter-weight, pink or black earmuffs are a common choice of female shooters or persons with a smaller stature.
Pros
Collapsible for Easy Storage
They Reduce Noise by 25 dB
Right Fit for Females and Kids
AAA Batteries Are Required for Both Sides
The Microphones are Individually Adjustable
The Cheapest Entry-Level Electronic Muffs for Shooting Guns
Cons
Does Not Reduce Sound Enough
The Muffs Eat up Batteries Like Crazy
Mutt Muffs DDR337 Hearing Protection for Dogs
No products found.
We may earn commission from purchases made from our links, at no additional cost to you
If you are a firearms aficionado or outdoor enthusiast, there is a great chance that you are a fan and owner of man's best friend- a dog. As a member of the canine family, your dog has ears which are much more sensitive than a human's. Actually, your four-legged family member can hear noises that are about four times farther away than humans and at much higher frequencies.Therefore, you should consider some ear protection for your dog, especially if your dog is frequently in situations as shooting, hunting, thunderstorms, fireworks, and other sounds that may upset or frighten your pet.
The Mutt Muffs company is one of the biggest suppliers of eye and ear protection for animals designed specifically to match the contour of a dog's head. Their over-the-head hearing protection for dogs features adjustable straps for optimum fit and feature specially engineered wide foam-filled ear seals for maximum comfort. Mutt Muffs hearing protection for large dogs, with manufacturer's number DDR-L-S belong to the passive earmuff type of hearing protection. It means that Mutt Muffs will reduce loud noise and prevent hearing damage, but they will not totally eliminate the sound. Assuming a proper fit and good seal against your dog's head, the decibel reduction is between 21 and 24, but since most dogs can hear noises at nearly twice the frequency humans can, the estimated hearing protection is greater. It should be noted that most negative comments come from the earmuffs being incorrectly mounted and hence, an improper fit. You should fold your dog's ears down and then apply the muffs to give them the best protection possible.The Mutt Muffs protectors are available in several sizes and besides standard black color, they are available in additional colors like red, blue, and pink.
Bottom Line
Specially designed for your best friend, Mutt Muffs are easy to use. You will be surprised as it doesn't take long for most dogs to figure out cause and effect. However, if you expect that these dog earmuffs will work perfectly without training, you will end up disappointed.
Pros
Available in Five Sizes and Several Colors
Engineered to Meet the Curvature of a Dog's Head Properly
Specially-Designed, Wide, Foam-Filled Ear Seals for the Best Comfort
These Muffs Are Easy to Adjust Once Your Dog is Used to Wearing Them
Estimated 23 Decibel Reduction of Harmful Noise in Nearly All Environments
Mutt Muffs are Especially Effective at Reducing the High-Frequency Wind Whistles
Cons
For Some Dogs, the Muffs Won't Fit and Don't Stay in Place Perfectly
Why Would You Want New Shooting Ear Protection?
However, this is the 21st century and you probably know that the correct ear protection can mean the difference between prolonged hearing damage and intact eardrums.
Besides shooting firearms, there are so many harmful noises around us in our day-to-day lives to strengthen the motive for procurement of some type of hearing protection device.
Extensive research has been conducted on the impact of noise on hearing and typical noises can be divided into "painful", "extremely loud", "very loud", "moderate", and "faint" noises. The measure for noise is in decibels (dB) and levels of sounds under the 85 dB are considered a "safe zone" for human hearing.
In our above guide, except for the "painful noise", all other described noises are below 120 dB. Since we are handling firearms with an average gunshot hovering around 140 dB that can induce permanent hearing loss, it is essential to get and use any shooting ear protection, because some protection is better than none.
There are two main categories of hearing protection devices, known as earmuffs and earplugs.
Earmuff
An earmuff is a simple unit that covers your ears and consists of a headband and two cups.
Earplugs
Earplugs are made from plastic or a foam substance and are inserted into the ear canal to muffle the unwanted, harmful sounds.
Although soft earplugs can offer protection for low noise with ratings of up to 33 dB, they are not as effective at canceling noise as earmuffs. Therefore you can use earmuffs on top of them to double up on the amount of hearing protection.
While there are several kinds and styles of ear protection available to shooters, we included the top ten picks on our list ranging from plain earplugs to passive and active earmuffs, and we did not even overlook hearing protection for man's best friend, his dog.
The simplest protective ear-gear is the passive type that works without the need for electronics and it is an affordable option if you are on a budget.
If you decide on an active hearing protection unit as the best kind of hearing protection for shooters, you will be able to hear what is happening around you as it amplifies lower noises while filtering out high-decibel sounds.
What Makes Great Shooting Ear Protection?
Most small caliber rifles fire at 140 decibels (dB) and larger rifles produce explosive gunshots that can reach up to 175 decibels, so we have to use the best ear protection for shooting to reduce that excessive noise to a more acceptable and safe level that does not have an impact on our hearing.
NRR
Usual noise reduction capability of hearing protection devices available on the market today ranges from a low of 22 dB to a high of 30 dB.
The Noise Reduction Rating (NRR) of good earplugs can range between 23-33 dB, while the highest available NRR rating for earmuffs is 31 when worn alone. Combining both of them, you can get an NRR protection level of 36.
Comfort
Besides the NNR rating, another factor that makes for excellent shooting ear protection is a comfort. The cups and band of the earmuffs should be large enough to avoid putting unwanted pressure on your head.
For earplugs, make sure they are built with soft, hypoallergenic, durable materials like polymer or silicone.
Appearance
While comfort is critical during hours of hunting in the field, the appearance is also a notable aspect whether you are in the woods or on that fancy gun range.
Well-designed shooting earmuffs or earplugs should blend in properly with their surroundings, but they can also come in vibrant colors and flashing LEDs that may make them plausible for other range shooters.
Types of Shooting Ear Protection
As we already discussed, noise-canceling hearing protection devices can be active and passive. They also come as earplugs and earmuffs.
The most common type of passive shooting ear protection is earmuffs, which offer comfort for stretched shooting events or prolonged hunting hours.
The most affordable are disposable foam earplugs designed to conform to the shape of your ear. Like passive earmuffs, they physically block out all of the noises around you.
Another type is reusable earplugs built of durable materials like silicone and rubber that can be washed and used more times.
As a subcategory, there is another type of earplugs called hearing bands or canal caps. These reusable banded earplugs have an attached plastic band that wraps around the neck or head.
The active devices are electronic and run off a battery, while the passive options are without any electronic components.
The electronic earmuffs and earplugs provide a greater amplification of softer noises and at the same time, the user is cut off from loud noise and thus, is protected from the dangers of higher decibel sounds.
Besides human hearing protection, you can outfit your gun dog with hearing protection for dogs. These specific earmuffs will reduce the sound of the gunshot or the disturbing noise during a flight in an airplane.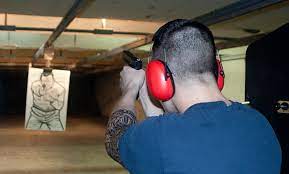 Earmuffs vs. Earplugs: Which is better?
When it comes to choosing earmuffs or earplugs, the brand and style you opt for will depend on the application. Both types have advantages and disadvantages, but the protective earmuffs are the winner in this contest.
Unlike plugs, earmuffs, besides having a comfortable fit, offer added features such as an audio jack compatible with most media devices or noise-amplifying microphones. Using an electronic earmuff in a hunt provides a completely different experience than their counterparts can offer. Regarding durability, the earmuffs are often easier to break while the electronic is more prone to flaws compared to earplugs.
Due to their smaller design, earplugs are mostly invisible to those around you, offering discretion and more flexibility if you are wearing safety glasses or firing with a rifle. The earplugs are much cooler to wear than earmuffs and much easier to transport.
On the other hand, if you select earmuffs as a protective hearing aid, you will get comfort for prolonged wearing and added convenience.
As we talk about passive, analog hearing protection, both earmuffs and earplugs will help reduce the amount of noise, but if you spend a lot of time at the shooting range, they do not offer any real form of protection.
The earplugs are really protective, but most shooters don't recommend them as your primary source of ear protection, though. If you plan to use the earplugs for extended wearing, they can be very uncomfortable and can even become painful.
If you tend to use a high-power caliber rifles, you will want to invest in a high-quality electronic headset because they are more effective at reducing the decibels compared to earplugs.
Conclusion
There are lots of different earmuffs and earplugs available, but all of them need to be tested and approved by the American National Standards (ANSI).
Hearing protection devices have many applications in the industrial and construction worlds, motorsports, in particular, but the most common uses of hearing protection are in shooting sports, including military.
And for the very end piece of advice, if you don't plan to use sound suppressors or silencers, then earmuffs or earplugs are obligatory parts of every shooter's kit.
People Also Ask
Anyone who loves the smell of gunpowder in the morning should know that hearing protection is necessary, along with some basic terminology and rules of using hearing protection devices should be adopted because it's better to be safe than sorry when it comes to protecting your hearing.
What is the Best NRR Rating for Shooting?
Whether you are a first-time buyer of the hearing protection devices or you are in the market for a new one, the basic criteria you will choose for your hearing protection, besides comfort, is a Noise Reduction Rating, or NRR for short.

NRR is the common rating method used to determine the effectiveness of protective hearing gear and the current range of the hearing protection devices in the market extends from 22 dB to 33 dB.

Normally, it is recommended to look for the hearing protection with a greater NRR number as it offers the greater potential for noise reduction and provides the better hearing protection to shooters and others exposed to loud noises.
How Many Decibels Should Shooting Ear Protection Permit?
First off, the "safe zone" for our hearing is 85 dB and firearm's shots, at 140 dB, are well above the recommended noise level. The prime task of the shooting protective hearing accessory is to reduce the noise of the shot to an acceptable and safe level.

Although the amount of hearing reduction is not exactly decibel for decibel, we use a simple formula for counting the real amount of noise reduction and hearing protection. You will probably encounter earplugs and earmuffs that can offer protection ranging from 22 dB up to 33 dB.
For example, if your earmuffs are rated with an NRR 30 dB, then you will not simply subtract that figure from the level of noise of 100 dB for instance. However, you should first subtract seven and then divide by two. Your actual noise reduction will be (30-7)/2 = 11.5, and in the final equation, it would look like 100 – 11.5=88.5 dB.

While shooting earplugs, compared to the popular earmuff brands, tend to offer slightly higher NRR number, you may need to use dual hearing protection (earplugs inside of earmuffs) for maximum hearing protection, especially at an indoor range or when you are shooting very loud (such as magnum) firearms.