The SKS is a versatile and durable semi-automatic rifle that was a precursor to the ubiquitous AK-47. A popular rifle on the gun show circuit, the SKS is a lot of fun on the range and has a decent amount of customization options.
Changing out the standard wood stock for a more modern variation can make the SKS more comfortable to shoot as well as helping to boost accuracy and make the aesthetic more appealing. A stock upgrade is a simple and affordable way to turn an SKS rifle into an even more efficient tool on the range.
Scroll down to learn more and to see the best SKS stocks to upgrade to that are available on the market today!
At a Glance: Our Top Picks for SKS Stocks
Comparison of the Best SKS Stocks
IMAGE
PRODUCT

Our Top Pick

Ergonomic and lighweight design similar to OEM stock
Raised cheek rest with soft scorpion butt pad
More affordable alternative for people with a low budget

View Latest Price →
What to Watch For When Buying an SKS Stock
The SKS was designed and used as a military service rifle. That means that it was designed to fit the "average" soldier so that any rifle was just as usable in service as the next. However, this type of design also means that comfort isn't the name of the game.
The SKS is usable by just about any shooter, but that can sometimes be an uncomfortable endeavor. Upgrading to a more modern stock can reduce weight, improve shooting comfort, and look a lot better than the "boat oar" stocks found on so many older service rifles. The information and tips down below are a great place to start your search for a new SKS stock.
This Section Written By: Brian Belko
Expert Author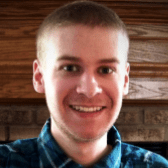 Brian is an experienced freelance writer and technical writer who has previously written for publications such as Wide Open Spaces, Bigfoot Gun Belts, Alien Gear Holsters, and Kampgrounds of America. He brings both a passion for writing and a love of the outdoors to his published content.

Aside from writing and the outdoors, Brian enjoys gardening, being a co-host on The Nostalgia Blast Podcast, and learning to code.
From Wood to Polymer
The best material to go with in a new SKS stock is a polymer. It is durable, resilient, and lightweight. Even the cheapest polymer stock will feel like a massive improvement over the heavy wooden stocks found on original SKS rifles. The specific style of polymer stock that you go with will depend on your personal preferences as well as what you plan to do with your SKS. The other benefit of a polymer SKS stock upgrade is that they are often equipped with rails for the mounting of accessories.
Focus on Features
Original SKS stocks were designed for one thing and one thing alone; utility. They are devoid of any further features beyond being a minimally shaped piece of wood allowing the rifle to be shouldered. Having the benefit of new features is one of the main reasons many people upgrade their SKS stocks.

Two of the most beneficial features to look for when choosing a new SKS stock are an adjustable buttstock and a pistol grip. The adjustable buttstock will allow you to fine-tune the length of the stock between shooters and to accommodate the clothing worn in different seasons. The pistol grip adds a level of control to the rifle that can aid in accuracy and shooting comfort.
On the Rails
It is only natural to want to add a red dot scope or another accessory once you upgrade your SKS stock. That means that it is important to consider the accessories you will eventually want (or already have in your collection to use) and make sure your upgraded stock choice can accommodate them.
Review of the Best SKS Stocks
The following is a list of the four best SKS stocks that are currently on the market. As you read through the list, be sure to think of a stock that might be considered your perfect match. What does it look like? How does it function? When you make a note of the features and characteristics of each one, you may come across a stock that fits your ideal description.
Now, let's begin by looking at the best overall stock on our list:
ATI SKS Monte Carlo Stock
We may earn commission from purchases made from our links, at no additional cost to you
What Recent Buyers Report
One of the things that many new buyers have noticed was a reduction in recoil. They reported a reduction of up to 50%. At the same time, they were also happy with the recoil pad being really comfortable for them while they took each shot. Installation took no more than a half-hour for them and it was quite light in weight (so it didn't feel like they were carrying a dumbbell). Most new users were hunters while another handful were target shooters.
Why it Stands Out to Us
This stock is made from polymer, but it preserves the classic wooden look pretty well. So if you appreciate something that might be closest to a classic, old school rifle, then you may want to give this stock an even closer look. It is perhaps one of the best in the business when it comes to recoil reduction.
We all know how recoil can throw off our shots and gives us less control over our rifles. On top of that, we know that recoil can also give our shoulders a really hard time as well. So if you want to knock out shoulder abuse due to recoil and make shooting more comfortable, this just might be the stock you can go with.
The ATI SKS Monte Carlo Stock is a traditional rifle stock, designed for hunting and shooting in extreme conditions. This Monte Carlo stock transforms your military battle rifle into a sported hunting rifle, but with a modern finish.
Like other modern polymers used in weapons, the DuPont glass reinforced polymer is scratch-proof and weatherproof, providing a stable shooting platform in any environment. This ATI Outdoors stock is a conventional stock and complies with state laws regarding "assault" weapons.
The Monte Carlo SKS stock has raised cheek pieces made of 3M soft touch material. This ensures proper sight alignment and comfort while using an optic. Additionally, it has a proprietary Scorpion recoil pad that significantly cuts down the impact caused by recoil. It also diminishes the challenge of reacquiring the target by minimizing the muzzle lift.
The ATI Monte Carlo stock features a checkered forend and a pistol grip for comfortable and increased control. An affordable stock with a great, stylish appearance may demand some minor modifications, which is normal since the concept of an ATI stock is to adapt to fit a variety of SKS models.
Who Will Use This Most
This stock will certainly bring a bit of the classic look. But it's the performance that will matter most. Not only that, this is a stock that will be great for shooters that want more comfort and less shoulder abuse. It doesn't matter if you are target shooting or deer hunting, you deserve less recoil and more comfortable shooting than anything else. How can you possibly say no to that?
Bottom Line
The ATI SKS Monte Carlo Stock is a godsend for those who want to save their shoulders from further abuse from recoil. And it's designed to give you better control over your rifle in any given application. Don't be surprised if you are shooting with a solidly built stock attached that has a recoil pad that feels like a cloud.
While the ATI SKS stock is designed for right-handed shooters only, it is also an affordable option intended for budget-conscious gun owners looking to update their classic rifle. All in all, the ATI Monte Carlo stock is great for all your shooting activities, and it will fit many SKS variants. Bear in mind that it may require removal of the blade bayonet for the installation.
Pros
Raised cheek rest
Classic Monte Carlo style
Includes gas tube handguard
Appropriate price tag for its features
Checkered pistol grip and forearm improve control
Rubber butt pad adds one inch of extended length for comfort
Cons
Heavier than the genuine wood stock
Takes some effort to fit the firearm on the stock
2. Choate – Adjustable SKS Dragunov Stock
We may earn commission from purchases made from our links, at no additional cost to you
What Recent Buyers Report
A lot of recent buyers say that this stock was really easy to install and also easy to adjust to ensure that their length of pull was perfect for use. One user said that he was able to adjust it to his best length and also get a good number of recoil reduced shots out of his SKS. Overall, the durability was pretty solid and was described by one other user as "dang near indestructible."
Why it Stands Out to Us
One of the things that we've noticed with this stock is the design. It's a minimal design that makes the SKS a bit lighter in weight. After all, a skeleton designed stock is perhaps better for those who want to keep a rifle lightweight to begin with. Other than that, the stock is made with high-quality polymer that is reinforced with fiberglass. In plain English, this means it's as durable as it gets. We are talking hardcore durability here. So if you like your stocks sturdy and able to reduce a good amount of recoil, this should be what you're looking for.
By Russian design, this model combines SKS carbine and Dragunov sniper rifle and blends it well. The premium manufacturer for various replacement stocks, Choate Machine & Tool, Inc. has offered to market a fiberglass-filled polymer.
This SKS replacement stock has the recognizable and appealing design of a Dragunov rifle. The durable material is due to its immunity from physical changes that can be induced by humidity and unfavorable weather.
Additionally, it is strong and easy to travel with, weighing only 2 lb. 7 oz. (1.11 kg). The Dragunov style buttstocks provide your SKS with a vertical pistol grip, which is considered a thumbhole stock.
This SKS Dragunov Stock with separate handguard is rocking a nice cheek rest for use with an optic. The high cheek piece and zero drop at comb for increased eye relief is a must for receiver mounted scopes. It also comes with spacers to allow you up to 1″ adjustment to the length of pull, handy accessories for large stature shooters. The stock also adds two 1″ sling swivels for use with modern two point slings.
Who Will Use This Most
This is an excellent SKS stock for those who tend to carry it for a good part of the day while hunting. It will be much lighter compared to most stocks. But rest assured, you are able to carry it over your shoulder with a trusty sling. If you want a stock that will last you a really long time, this might just be right up your alley.
Bottom Line
The Choate SKS Dragunov Stock is perhaps one of the most well designed stocks on the market. And that's part of the reason why it's so popular. Furthermore, its durability is hard to match. For a really strong and reliable stock that will give you total control over your rifle without the additional weight, this should be yours for the ordering.
The Choate skeleton stock gives your SKS carbine the look of the famous Dragunov rifle with reduced weight and excellent adjustability, allowing it to be installed with ease. There's also a variety that does not include the cheek piece or spacers.
Pros
Extremely sturdy and durable
Ambidextrous thumbhole pistol grip
Provides strong resistance against external detriments
Highly adjustable cheek rest with room for cleaning kit storage
Cons
Little fitting required for installation
Some shooters do not like the swivel stud of this stock
3. Advanced Technology – Adjustable SKS Strikeforce Stock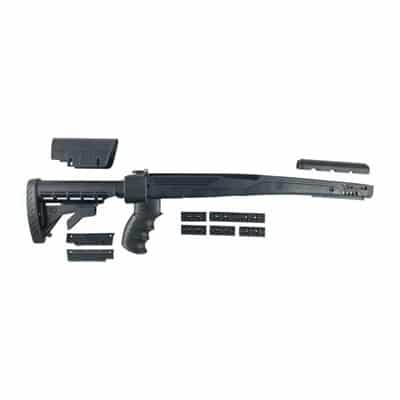 We may earn commission from purchases made from our links, at no additional cost to you
What Recent Buyers Report
Most new buyers had nothing but high praise for this stock; one of the main reasons was the durability. One user said that while it was light in weight, it was pretty dang durable for the use of an SKS rifle. He added that it took him less than a half-hour to install the stock on the rifle itself and after installation, it did a great job reducing recoil. Most of the new buyers have added that they got better control over their rifles and thus fired off many accurate and precise shots.
Why it Stands Out to Us
This stock is a beast, plain and simple. It can resist a lot of bad weather, oils, solvents, bumps, bangs, and who knows what else. The reason why that is: the polymer is made from reinforced extreme temperature glass developed by DuPont. Yes, that's the same DuPont that has developed kevlar (for body armor). So if durability is one of the make or break things for a stock, this just might be the one you'll want to choose. Besides, you have the opportunity of expanding the longevity of your rifle with a stock that is practically impossible to destroy.
The Advanced Technology Strikeforce stock is for those who wish to modernize their SKS, but only a little. It is a drop-in design and is very simple to install and uninstall with no gunsmithing, meaning the kit does not alter the rifle so you can keep the original stock.
The SKS Strikeforce adjustable stock is an M4 style Stock with six positions that will fit the needs of any shooter. It is comfortable, and the cheek rest has a 3M industrial grade self-adhesive soft touchpad. The cheek piece is fully adjustable to allow you perfect line of sight for your iron sights, scope, or shooting style.
The Strikeforce stock also has a solid lockup to ensure a steady shooting platform when collapsed and can be folded to the left for more comfortable transportation and easy storage. Bear in mind that this ATI stock can be fired in the folded position but at a significant reduction in accuracy and range.
The ATI Strikeforce tactical SKS stock system makes a great upgrade, utilizing three 2" and one 4" Picatinny rails for all your accessories. It has a very ergonomic Scorpion pistol grip design for enhanced control and comfort. The textured pistol grip has finger grooves for comfortable and non-slip carry and shooting.
Who Will Use This Most
This would be a great stock for the purpose of hunting, target shooting, and even tactical purposes. Once you install this, you'll have a really good stock that will support your rifle and give you a lot less recoil in the process. You'll be shooting accurately in no time with this sucker. If you want a stock that just might be the last one you ever buy in your lifetime, you'd be hard-pressed to find a stock quite like this anywhere else.
Bottom Line
The Advanced Technology SKS Strikeforce Adjustable Stock is just so tough and easy to adjust. This might be a dream stock for many AR-10 owners. Even better, it is easily one of the most affordable stocks on the market. High quality at an affordable price? Talk about the steal of the century!
In addition to a variety of accessories, the adjustable Strikeforce stock offers an awkward length of pull on SKS to a very user-friendly firearm. The Advanced Technology stock is made from lightweight yet durable glass-filled polymer materials to update your SKS and bring your venerable rifle to the 21st century.
Pros
Strong one-piece construction
Fits various types of SKS rifles
Ergonomic design of the cheek piece
Enables mounting of various rifle accessories
Cons
Some minor modification can be required
Grip should be bigger to accommodate users with big hands
4. Tapco Weapons Accessories – Adjustable SKS Intrafuse Stock W/O Bayonet Cut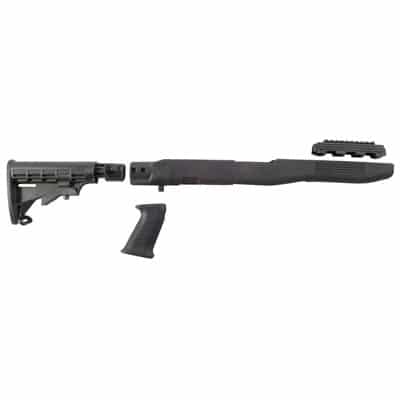 We may earn commission from purchases made from our links, at no additional cost to you
What Recent Buyers Report
Most new users were quite happy with this stock, and for good reason. For one, they were able to easily adjust it to make their length of pull much more usable compared to fixed stocks. Another reason why they love it is the ability to break it down for easy storage. One user said that the collapsibility made storing his SKS rifle in his vehicle a lot easier. Performance-wise, they were also quick to point out that the recoil was reduced considerably upon installation.
Why it Stands Out to Us
Adjustable and collapsible? Yes and yes. This stock is great for beginners who use their SKS rifles for just about any given purpose. Yet, you can break this down and store it in tight spaces. So, if you have a gun cabinet that can make room for one more rifle, then you may want to reserve it for an SKS with a stock that can come apart. Transport and storage have never been simpler, so if saving space is important to you, this stock might be right up your alley.
Tapco's Intrafuse Stock System works on most SKS models and is crafted of high-quality composite materials. The lightweight TAPCO Intrafuse T6 SKS stock system is crafted from a glass-reinforced polymer, making it nearly indestructible and resistant to the harshest elements.
This model provides the shooter with a 6-position adjustable stock that allows fast changes in the length-of-pull, from 11.5″ collapsed to 15″ fully extended. Other features include a SAW pistol grip (with storage) that improves the level of comfort and control.
The Intrafuse Stock System substitutes the original stock by offering a contemporary tactical weapon look, with an upgraded handguard that comes with two in-built Picatinny rails. The lower Picatinny rail enables your SKS to use accessories such as the bipod and vertical grip for your weapon, while the upper handguard rail will allow you to mount a red dot sight. The SKS Intrafuse replacement stock is available in a variant that allows you to retain an original spike Bayonet.
As an added benefit, this stock kit contains three U.S-made compliance parts, putting it in compliance with 18 USC 922(r) federal laws.
Who Will Use This Most
This would be perfect for beginners who are looking for a stock that is easy to adjust and comfortable to use. Don't be shocked if there is little to no recoil that can be felt in your rifle. With the recoil pad equipped with this, it will feel like a pillow resting on your shoulders. Best of all, it's super durable and easy to attach and detach if and when you need it done.
Bottom Line
The Tapco Weapons Adjustable SKS Intrafuse Stock is a well-made, durable stock that makes adjusting and storage easier than pie. Not only will it make transporting your rifle inside your vehicle a lot less difficult, but it can also make your rifle a lot more usable in terms of adjusting the length of pull. And of course, it's quite affordable for most budgets as well. For a stock with features like these, you're getting a lot more than what you've paid for.
This collapsible stock unit gives your classic weapon a good transformation, converting an SKS into an easy-to-pack short rifle. The SKS Intrafuse stock improves the appearance of the rifle without the involvement of permanent gunsmithing alterations.
Pros
Snug and precision fit
Easily fits your firearm
Composite lightweight stock
Aesthetic design and appearance
Comes with an excellent grip angle
Compatible with various SKS rifle models
Cons
Not pre-drilled for installing sling mounts
May need some filing to get certain parts to fit
What Makes a Great SKS Stock?
Before transforming a humble soldier's carbine into a modern semi-automatic rifle, there must be some core featured involved in the design.
The replacement stock should be of high-quality materials, with the ability to last for several years regardless of heavy use in harsh environments.
Quality & Material
The quality of aftermarket stocks mainly depends on the variety of materials used for construction.
Therefore, ignore models that come with low quality material, and look for top-notch components complemented by a professional finish.
Lightweight stocks have to be firm and stable, allowing your gun to rest securely on a platform anytime you're shooting.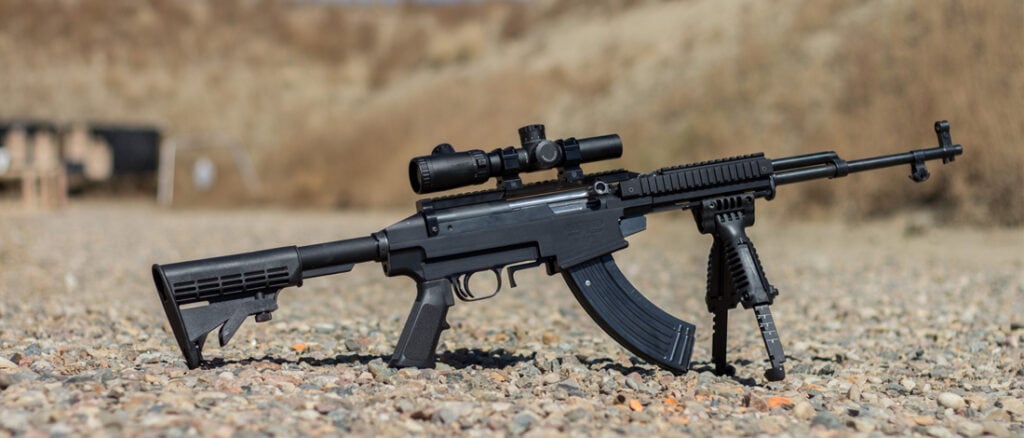 Price
The adage, "you get what you pay for," means quality and price often go hand-in-hand. Since the replacement stocks vary in design and price, our overview aims to help you know the best quality SKS stocks. With plenty of reviews surveying, you can still get an aftermarket SKS stock that is cost effective and affordable.
Performance & Design
As a result of the most advanced technology, different SKS stock designs range from traditional, wood crafted hunting furniture, to synthetic or hybrid. We should also look at advanced configurations like a folding or AR-style collapsible stock, or at one setup that transforms SKS into a space-age bullpup weapon.
In the next sections, we will present to you several highly recommended SKS stocks with great design, high durability, and superior resilience.
Are All SKS Stocks the Same?
In a word: no. To expand on this, here's why they are not the same: some stocks are typically designed differently than others. Some stocks will be fixed stocks while some others are either collapsible, foldable, or even adjustable. Some stocks feature recoil pads that are a bit thicker. While all stocks have the same intent and purpose, the littlest of details often make an immeasurable difference.
Benefits of Upgrading an SKS Stock
Like all service rifles, the SKS is built for the average physical constitution conscript, following a classic military slogan: one size fits all.
Furthermore, as the vital component of SKS carbines, the majority of Simonov wood stocks are hard, but still susceptible to the ravages of time or chemical exposure. Besides, factory SKS stocks are cumbersome, and due to elements like water and heat, they can warp over the course of time.
There's always room for improvement since aftermarket synthetic stocks are more resistant and difficult to gouge, scratch, or swell with heavy use.
Whether you want a rifle adapted to modern ergonomics or merely a replacement for a worn out stock, contemporary replacement stocks improve form, functionality, and the overall appearance of your classic firearm.
Compared to factory stocks, the new models reduce the weight, making the gun better balanced; enable the use of AK-style magazines, and due to the adjustable butt-pads they now offer comfortable stance and provide appropriate pull length (LOP).
Additionally, for the sportsmen looking for a less traditional stock options, there is a "sporterized" alternative like a folding stock that gives you more portability and a lighter rifle overall.
Conclusion
Due to the meticulous construction of these stocks, you are sure to get high standard products that will revive your old SKS. These replacement stocks utilize much stronger and tougher composite materials, which, companioned with modernized features, can dramatically improve the functionality of your SKS. Since most are the simple drop in stocks, there's no need for permanent changes to your old warhorse, so you can swap the SKS back to its historically correct configuration easily.
We hope this review has been beneficial in your hunt for the best SKS stocks. In the end, if you chose a model from our list, be sure to put it to the test and visit us again. We'd love to hear about your experience, and I'm sure other folks would too! Have fun!