The AR-10 is the big bore cousin of the AR-15 rifle. Having excellent control over the rifle during the firing process is a huge benefit to the shooter. One way to improve control during both shooting and carrying an AR-10 is by adding a pistol grip to the firearm.
Offering a solid point of contact directly behind the trigger, an AR-10 pistol grip goes a long way towards helping shooters maintain control of their weapons while also staying on target. Although it is a fairly simple device, a pistol grip is right at home on just about every AR-10 rifle out there.
Keep reading to learn more and to see the best AR-10 pistol grips available on the market today!
At a Glance: Our Top Picks for AR-10 Pistol Grips
Comparison Chart of the Best AR-10 Pistol Grips
IMAGE
PRODUCT

Our Top Pick

Merged with soft Dura meter rubber for comfort
Front and back straps are made with absorbent rubber
Machined with specialized aluminum for more strength

View Latest Price →

Runner-up AR-10 Pistol Grip
Constructed From Fiber Reinforced Polymer
Comes in Three Adjustable Angles for Different Purposes

View Latest Price →

Best Budget Option

Durable and strong construction
Comes with a good installation kit
Has endured more than 100 hours of R n D

View Latest Price →

Mounting Hardware Included
Made From High-Quality Materials
Interchangeable Front and Rear Straps

View Latest Price →

Made From High-Quality Material
Best Sniper Pistol Grip for the AR-10
Ambidextrous to Accommodate Left-Handed and Right-Handed Shooters

View Latest Price →

Best AR-10 Grip for the Money
Designed for the Best in Ergonomics and Comfort
Made With Fiberglass Polymer for Durability and Maximum Shock Absorption

View Latest Price →
What to Watch For When Buying New Grips
As is the case for the vast majority of basic firearms accessories, there are a plethora of AR-10 pistol grips on the market. It is important to remember that they are not all made equally. They may all look similar, but that doesn't mean quality is all the same.
The last thing you want to do is add a subpar pistol grip to your AR-10. It is a part that you will utilize every time you pick up your rifle. If it doesn't provide a solid grip or doesn't have a solid install, it will frustrate you every single time you use your AR-10. There are a few important things to keep in mind when shopping for an AR-10 pistol grip. The following tips and information should be a good place to get started on your AR-10 pistol grip buying journey.
This Section Written By: Brian Belko
Expert Author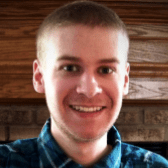 Brian is an experienced freelance writer and technical writer who has previously written for publications such as Wide Open Spaces, Bigfoot Gun Belts, Alien Gear Holsters, and Kampgrounds of America. He brings both a passion for writing and a love of the outdoors to his published content.

Aside from writing and the outdoors, Brian enjoys gardening, being a co-host on The Nostalgia Blast Podcast, and learning to code.
Ergonomic Thoughts
One of the main differences from one pistol grip to another is the shape of the pistol grip. Different manufacturers will feature different designs as they try to set themselves apart. If possible, it is advisable to try out a few different grips to find out what is best for your personal needs.
Even a slight difference in shape can make a large impact on how comfortable it is to use for each shooter. If you can't test any out, the best course of action is to go with a reputable brand. Their designs will be most likely to be well thought out and comfortable for a wide range of shooters.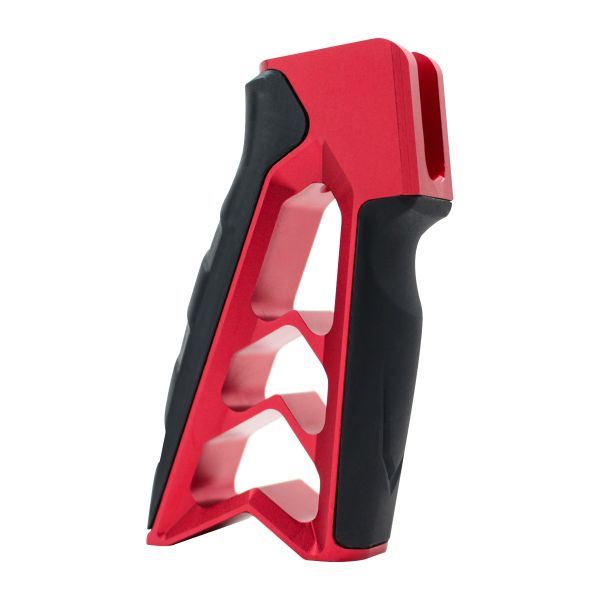 Get a Grip
The grip pattern or grip style will also vary between designs and manufacturers. This decision will come down to personal preference. However, it pays off to give some thought to the toughest conditions you plan to shoot in and choose a pistol grip accordingly. For example, if you shoot in a lot of wet conditions, an AR-10 pistol grip with robust texturing.
Aesthetically Pleasing
If you are a stickler for aesthetics (and there is absolutely nothing wrong with that if you are!), then it will be important to pay close attention to the color of the grip you go with. A mismatched AR-10 pistol grip will be noticed every time you look at your firearm. One good tip is to check the manufacturer of your stock system to see if they either offer pistol grip options of their own or if they list the specific color of your stock. This will help you ensure a match if that is important to you.
Review of the Best AR-10 Pistol Grips
Below are five of the best AR-10 pistol grips currently on the market as of this writing. We highly recommend you look carefully through each one of them. You'll probably have one that will stick out as a possible favorite due to a unique feature or design.
Once you have one in mind, make sure to do more in-depth research so you know what other customers are saying. It's up to you to make the determination of whether or not if it's the best pistol grip to invest in. With that said, let's begin with the "best overall" pistol grip on the list:
MOD Grip v2
We may earn commission from purchases made from our links, at no additional cost to you
What Recent Buyers Report
Tyrant designs have been a fan-favorite for a long time. They are known to be one of the most efficient products in the market, but their efficiency is not the only reason for their fame.
This ultimate AR-15 pistol grip comes with the latest version of the company's skeletonized grip. They are also relatively more portable, which makes buyers love using them for longer hours.
Why it Stands Out to Us
This AR-15 grip is known for many things in the market, but much of its praise comes for its design. The model is constructed with aluminum, which adds to its durability and strength. These ensure that your pistol grips come in handy even in the most difficult situations.
Not only this, but these also come with beveled edges that are situated closer to the trigger guard. These make the model even more reliable.
Who Will Use This Most
The model is perfect for people looking for comfort and convenience in a single model. It is not only beautiful from the outside, but it also has a smooth interior.
Pistol grip companies have long ignored its exterior, but that isn't an issue with this model. It is designed to perfection, keeping in mind the style preference of many users.
Bottom Line
With a smooth grip and durable construction, this model does not lag behind in any area. It comes with smooth craftsmanship of the machined aluminum grip and has an ergonomic and sturdy grip that makes usage easier.
Not only this, but it also ensures that the angle of operation is reduced significantly so you can operate this model the whole day without any fatigue or hassle.
Pros
Relatively more portable
Allows for an extremely comfortable grip
Has a beveled edge near the trigger guard
Comes with a proper installation kid inside the package
Easy installation is ensured by a deep ribbing mechanism
Cons
Gets loose sometimes, if not kept properly
More prone to external damage than some other products
Hexmag AR15 Advanced Tactical Grip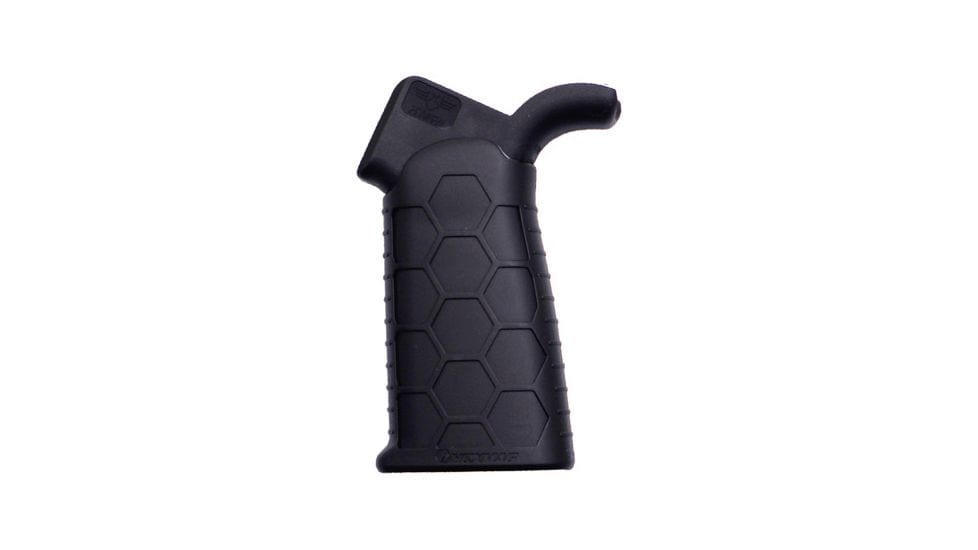 We may earn commission from purchases made from our links, at no additional cost to you
First, we'll be taking a look at the Hexmag AR-15 Advanced Tactical Grip. The first thing we notice with this grip in is that this is adjustable in three different positions, which can be used in different situations.For example, in close quarters you can adjust the pistol grip angle to 17 degrees. The standard angle is about 25 degrees. If you're more of a long-range shooter, this puppy can also be extended to 33 degrees.
So if one word is needed to describe this pistol grip, it's versatile. If you're looking for a pistol grip that will work with your AR-10, no matter what your purpose, then the Hexmag might be worth the closer look.The material used to construct the pistol grip is fiber-reinforced polymer. In plain English, the pistol grip is quite durable and can handle its own each time you put your AR-10 to good use.
Quality-wise, this will last you quite awhile. If you're looking for something that will last years, then the Hexmag may be your best bet.
Bottom Line
The Hexmag wins the "best overall" title for a few good reasons. First and foremost, the adjustable angles it comes with. No matter what the purpose is, you'll always have an adjustment that will accommodate it.
If you want to do some long-range shooting, you can adjust it to the highest setting. If you're in a QCB situation, switch it to the 17-degree setting. Either way, you'll have a pistol grip that works when you need it most.
If reliability is what you look for in a pistol grip, the Hexmag is probably what you'll need.
Pros
Fits Almost Every Hand Size
Angle Adjustments are Perfect
Easy Installation. Fit is Tight and Perfect
Cons
One Reviewer Wished the Hex Grip was More Textured
Titan 2.0 AR-15 Grip
We may earn commission from purchases made from our links, at no additional cost to you
What Recent Buyers Report
The Titan 2.0 AR 15 is one of the most known models in the market, and most of its popularity stems from its smooth and durable design.
Recent buyers have complimented its strong construction and have commented that this model is practically indestructible. Moreover, they also like the design, which makes the model seem as stylish and smooth from the outside as it's from the inside.
Why it Stands Out to Us
When it comes to pistol grips, comfort is a major pre-requisite, and that is exactly the feature that stands out to us most in this particular model.
The Titan 2.0 AR-15 is known for its smooth and comfortable edges that make holding it extremely easy. Not only this, but it is also durable yet lightweight, which reduces its overall weight and hence makes it easier for users to use it for a longer duration.
Who Will Use This Most
Most people complain that pistol grips usually take a lot of time to install, but thankfully this isn't an issue with this model. The product comes with a perfect installation kit that contains all the equipment needed for a smoother installation.
Moreover, time is also a feature to note here. Unlike most other models in the market, this one doesn't take much time to install, and once installed, it stays in its position and doesn't fall.
Bottom Line
The market is flooded with models that are either too expensive or too weak. This model deals with both these issues and contains the most desirable features that buyers prefer.
The design of the model has long been in the limelight and has caught the eyes of many people. This, coupled with the beautiful logo engraved on its exterior, makes it a must-have product.
Pros
Design is skeletonized for proper usage
Logo is engraved beautifully on the model
Has a compact design that aids portability
Smooth and comfortable edges are chamfered
Almost practically indestructible because of its high strength
Cons
Weight is slightly more than some products
Relatively more expensive than some models
4. Magpul – AR .308 Miad Gen 1.1 Grip Kit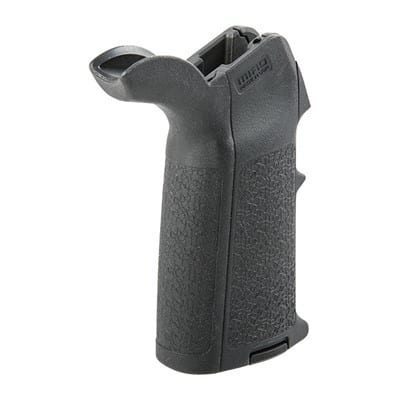 We may earn commission from purchases made from our links, at no additional cost to you
Next, we'll be taking a look at the Magpul AR .308 Miad Gen 1.1 Grip Kit. So what does "MIAD" stand for? It stands for "Mission Adaptable".So in essence, you're getting a pistol grip that will be adaptable for any kind of situation. The design is made to give you the best in ergonomics, so you're getting a pretty comfortable grip to install on your rifle.This also has interchangeable straps and adjustments that will fit any hand size.
Big hands or small hands, this pistol grip is guaranteed to fit in your hand. This grip will never leave you out in the cold because of your hand size.For a simple installation, all your mounting hardware is available along with the pistol grip itself. Just install this in a matter of minutes and be ready to go later the same day.
Bottom Line
The Magpul brand is considered one of the best brands for grips and stocks. So it's no surprise they ended up on this list for best AR-10 pistol grips. Other than that, we're quite impressed with the MIAD pistol grip for a few good reasons.
This is probably one of the most comfortable pistol grips on the list so far. So if you're looking for something that is great in terms of ergonomics, then why not give this pistol grip an even closer look?
Pros
Very Easy to Install
Fits Most AR-10 Rifles
Texture is Quite Smooth
Cons
May Require Some Filing to Ensure a Perfect Fit
Some Users Have Complained About the Bottom of the Grip Popping Out
Ergo Grip Tactical Gun Grip w/ Palm Shelf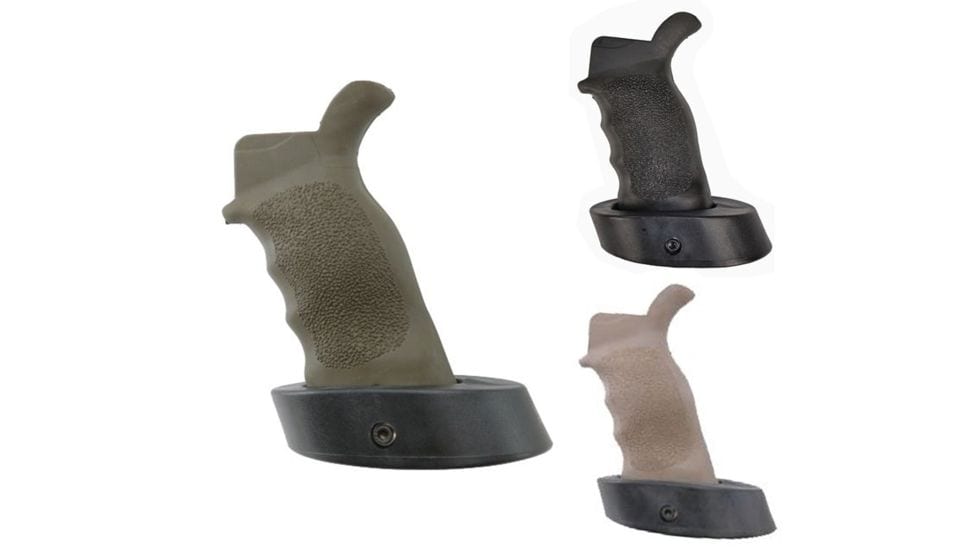 We may earn commission from purchases made from our links, at no additional cost to you
If you fancy yourself to be a long-range shooter, then we've got the pistol grip for you. We give you the Ergo Grip Tactical Gun Grip with a Palm Shelf. Overall, the design is best for giving you ultimate comfort and stability.
Comfort prevents any kind of hand fatigue during extended use and stability ensures you're able to fire accurate and precise shots while having firm control over your AR-10 rifle.If you hold stability and accuracy to a high standard, then you're going to love this pistol grip. In fact, accuracy is one of the biggest priorities for most long-range shooters. Hitting a target precisely where you want it from 500 or even 1000+ yards out is, without question, an impressive feat.If you also have medium-sized or large hands, the Ergo Grip will be more your speed since the grip itself is designed for them. Speaking of hands, if you're a left-handed shooter, you'll be happy with this grip.
That's because this pistol grip is ambidextrous and will accommodate even southpaws.Also, if you're a right-handed shooter, you can still enjoy using this pistol grip for all your long-range shooting applications.
Bottom Line
If you're a long-range shooter and use your AR-10 for hunting, target practice, or even competition shooting, this pistol grip will be your best friend, no matter what. One of the things that stood out was the ability to accommodate left-handed shooters.
No matter which hand you shoot with, we think this pistol grip is worth the investment if you're looking to use your AR-10 as a long-range shooting machine.
Pros
Ergonomic-Friendly
The Price is Decent for Most Budget Shoppers
Very Comfortable Grip for Medium and Large Hands
Cons
Won't Fit Smaller Hands
Some Parts are Not Included. They May Need to Be Bought Separately
Some Users Believe Some Redesigning May Be Needed for a Better Experience
7. Hogue – AR-15 Pistol Grip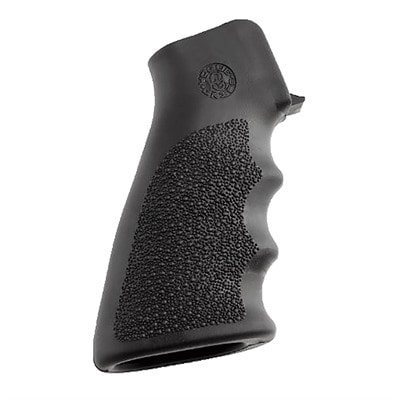 We may earn commission from purchases made from our links, at no additional cost to you
If you're in search of an AR-10 pistol grip but don't have a lot of money to play with, then you're going to love what we've got for you. Given the honor for "best for the money" is the Hogue AR-15 Pistol Grip. The overall design is what impressed us upon the first look.
It's designed to give you the best in overall comfort and also has the ability to absorb a great deal of shock produced by recoil. On top of that, it's made from a high-quality material that has the ability to absorb all kinds of shock and reduce some recoil in the process. Not bad for a budget AR-10 pistol grip, right?
If you're looking for a top-quality pistol grip without having to break the bank, then you might want to consider the Hogue as your best option. In fact, if you're a budget shopper through and through, the Hogue brand is perhaps one of the best go-to brands for pistol grips and even rifle stocks.
Bottom Line
If you're looking for a pistol grip that's worth the investment, then the Hogue could be the best possible option for you. Even if you're not on a budget and have some money to play with, the overall comfort of this grip is definitely worth more than the price you'd pay.
Other than that, it's easy to install, though the installation hardware will need to be purchased separately. All and all, this is quite an impressive choice for those who are on a budget.
Pros
Excellent Comfort
Takes Minutes to Install
Fits Much Better in Hands Compared to Standard Grips
Cons
No Mounting Hardware Included
May Need Some Trimming Before it's Fitted
One Reviewer Complained About the Position of the Finger Grooves
ATI X1 AR-15/AR-10 Recoil Reducing Pistol Grip
We may earn commission from purchases made from our links, at no additional cost to you
For our final AR-10 pistol grip, we'll be taking a look at what we consider our "honorable mention". And deserving of that honor is the ATI X1 AR-15/AR-10 Recoil Reducing Pistol Grip. This is a pistol grip that does a great job reducing recoil and at the same time, keeps muzzle jump to a minimum.
For the easiest in installation, you can use original mounting hardware so you can add this onto your AR-10 rifle in minutes and be ready to give it a spin later in the day.This grip is made from reinforced polymer that is developed by DuPont. If you know the name DuPont, you know they make some of the best materials in the world. A prime example is kevlar, which is found in almost every bulletproof vest worn by law enforcement and military personnel around the world.So basically, you're dealing with a very strong pistol grip. Oh…and if you're cleaning your AR-10, you won't have to worry about this getting damaged by any oils or cleaning solvents. That's how strong and tough it is.
Bottom Line
For a pistol grip considered an "honorable mention", we're quite impressed with the ATI. So was it deserving of the honor? Absolutely.
On top of that, this is another affordable option for those considering an AR-10 pistol grip but who would rather stick to a budget instead of having to spend a lot of money. You're getting a whole lot more than what you pay for. So don't be surprised for the price you pay for, that this pistol grip feels like it should be worth a lot more.
Pros
Very Comfortable for All Shooters
Very Easy to Install. Fits Perfectly on Most AR-10 Rifles
Reduces Recoil Considerably. Plus, No Muzzle Jump is Present
Cons
May Not Reduce as Much Recoil as Some Users Think
What Can You Expect From Adding a Pistol Grip to Your AR-10?
If you're looking for a pistol grip, chances are you're doing one of two things: you're either replacing your current pistol grip or looking to add one as part of an AR-10 building project. Either way, there are a few things you can expect by adding a pistol grip to your rifle. They are the following:
Better Control
While a pistol grip is completely optional to use, some use it to ensure they have the best control possible over their AR-10 rifle. The reason is due to the fact that AR rifles pack a good amount of punch. The shooter must control recoil in order to make sure that their shots are straight and will go to their intended destination (i.e–their target).
Better Grip
This might come in handy if you're out in the field or on the range. Imagine being outdoors and suddenly the weather takes a turn for the worse. You'll want a pistol grip that will allow you to keep hold of the rifle despite being in adverse weather conditions. Even on a nice day, you'll probably need one of these if your hands tend to sweat, as well. Either way, you'll want a better hold on your AR-10 while in use.
More Comfort
Most pistol grips have a design that will provide ergonomic-friendly comfort for the shooter. This is perfect on days when you're spending extra time at the range or if you're hunting from dawn to dusk. Either way, most pistol grips are designed to reduce any kind of hand fatigue for the shooter.
Characteristics of Our Favorite Pistol Grips
The characteristics we're about to list are some of the reasons why we chose the products on our list. We encourage you to use this list as a way to help you make the distinction between a great pistol grip and one that is low in quality. Here is the list of characteristics and why these may be beneficial for you:
Material
First of all, our standards for overall quality are quite high. And it all starts with the type of material used to manufacture these pistol grips. Most pistol grips are made with synthetic materials, like polymer. However, there are some out there made from wood. But those generally apply to other rifle types. AR-10 pistol grips, for the most part, will be made from synthetic materials to ensure overall durability and long life.
Installation
Most gun owners may not have some kind of expert level gunsmithing skills. If you're one of them, we won't judge. But it is highly recommended that you find a pistol grip that will allow you to install it onto your rifle in a matter of minutes. That way, you can install it and be out and about, all in the same day.
Design
The design will vary between pistol grips. But each of them will help you make your hands feel more comfortable while you're using it. Some designs include a grooved design that will allow your fingers to easily wrap around the grip.
Aspects to Consider Before Buying
Aside from the characteristics, you'll also want to consider some other aspects that will factor into your buying decision. If you're a first-time buyer, it is important that you follow this brief guide on what you'll need to base your decision on. Here is a list of recommendations to consider according to past pistol grip buyers and AR-10 users:
Price
This is perhaps a top priority among budget shoppers. While an affordable price is important, it should not be considered the "be all to end all" in your final purchasing decision. The rule of thumb to keep in mind is if it's affordable in price, be sure to check the overall quality. Don't purchase a pistol grip because it's cheap. Find the best quality that fits your budget.
How to Replace an AR-10 Pistol Grip
Replacing an AR-10 pistol grip is simple if you know exactly what you're doing. If you're a first-time buyer and want to be brought up to speed on how to install one on your own, follow the instructions below to add a pistol grip to your rifle without any issues. Here's how you do it:
Before replacing and installing your pistol grip, always make sure that your AR-10 rifle is unloaded (including the chamber). If you're going to install accessories on your rifle, you better play it safe.


Lay the rifle on its side so the safety selector spring stays in place. Next, get a screwdriver and enter through the bottom part of the pistol grip and unscrew it.


Once detached, remove the selector spring. Replace it in the new pistol grip that you're installing.


Attach the pistol grip on your rifle. Make sure the selector spring is in line with the housing it belongs in. Securely tighten the screws. Close the bottom hatch. You're done.


If you are still struggling, check out the video below.
Conclusion
Finding the best AR-10 pistol grip is essential. Find the best one that's right for you and you'll have something that will serve you well for years to come.
You will experience the advantages of better control and accurate shooting when you install one of these on your AR-10 rifle. Be sure to find the best one that fits your personal preferences and needs and will last you almost a lifetime.