There is something special about upland bird hunting. It carries with it a sort of mystique that calls back to the generations of hunters who have trudged through golden, waist high grass in search of elusive winged game. One of the most important tools of the upland bird hunter is an upland shotgun.
This is the tool that helps turn a nature walk into a successful hunt and a full game bag for the day. Upland shotguns stand apart from their more utilitarian cousins and finding the right one can be a challenge.
Continue reading down below to learn more and to see the best upland shotguns on the market today.
At a Glance: Our Top Picks for Upland Shotguns
Comparison of the Best Upland Shotguns
IMAGE
PRODUCT

Our Top Pick

Economical and lightweight over under shotgun for hunting
Fast handling shotgun with auto ejector for added convenience
Single selective mechanical trigger and 5 interchangeable chokes

View Latest Price →

Kick-off plus technology recoil pad reduces recoil by 50%
Durable nickel plated receiver with detailed engraving
Vent rib barrel, ergonomic stock and fiber optic front sight

View Latest Price →
What to Watch For When Buying an Upland Shotgun
There is no shortage of different shotgun models on the firearm market today. From home defense pump action models to fully custom double-barrels with engraving, the shotgun spectrum is wide and varied. One benefit of this varied market is the fact that shotguns specialized for specific purposes are not hard to find.
The current state of firearm manufacturing also means there are options for every budget and quality is reliable across the board. However, there are a few things to look for in an upland shotgun. The following tips and information should be a good place to start.
This Section Written By: Brian Belko
Expert Author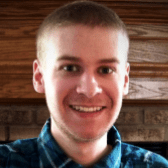 Brian is an experienced freelance writer and technical writer who has previously written for publications such as Wide Open Spaces, Bigfoot Gun Belts, Alien Gear Holsters, and Kampgrounds of America. He brings both a passion for writing and a love of the outdoors to his published content.

Aside from writing and the outdoors, Brian enjoys gardening, being a co-host on The Nostalgia Blast Podcast, and learning to code.
Gauging It
One of the biggest decisions to be made when deciding on an upland shotgun is the gauge it will be chambered in. Don't be swayed by or tempted by niche gauges like 16 and 28. Especially if you are buying your first upland shotgun. While those niche gauges do have their fans and their place in the shotgun world, they are a little too specialized and are usually added to a collection later down the line.
The two best options are 20 gauge and 12 gauge. Choosing between them comes down to personal preference. They are both effective, easy to find, and capable of ethically harvesting a wide range of upland bird species without much difference in felt recoil. If you tend to hunt for larger or more robust species, then the 12 gauge is a great choice. On the other hand, a 20 gauge upland shotgun will likely be lighter in weight and even a few ounces can make a difference on long hunts.
There is really no wrong choice between the 12 gauge and 20 gauge. Feel confident in pulling the proverbial trigger on the purchase of either one for upland bird hunting and take comfort in knowing that you won't have any trouble finding a box of shells in even the sleepiest of hunting towns.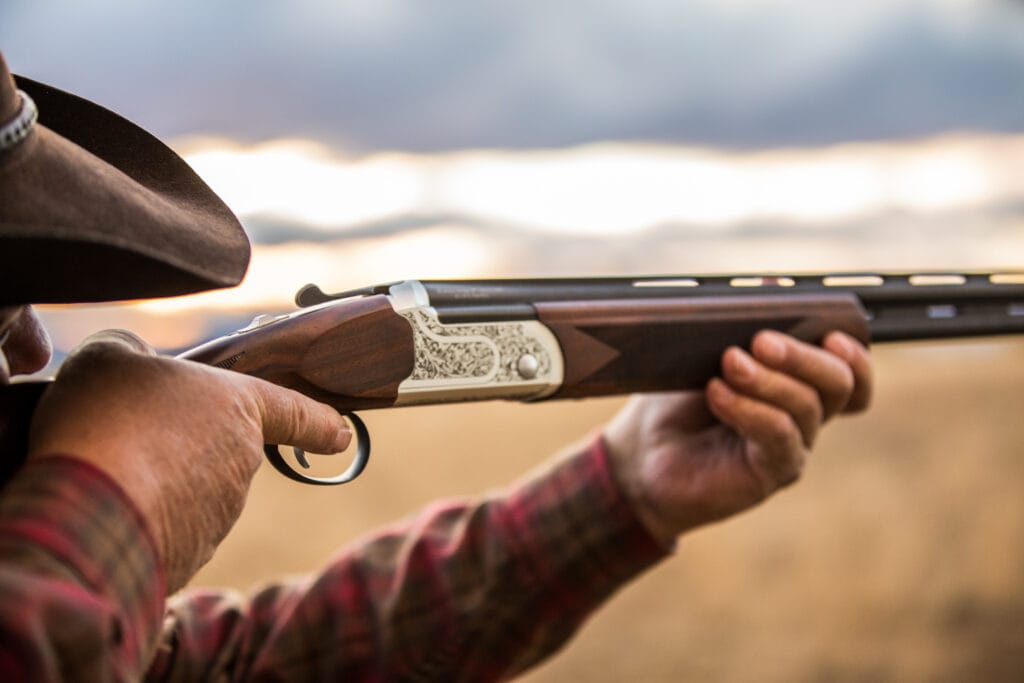 Testing Durability
During your upland shotgun shopping journey, you will come across a lot of very fancy looking shotguns. Engraved receivers and high-end walnut stocks are fun to look at, but if you are going to be actively hunting with your upland shotgun, they aren't really a practical choice. There is nothing wrong with wanting an upland shotgun with such decorations or features, but the last thing you want to do is have an otherwise successful hunt ruined because of cosmetic damage to your shotgun. Go for something simple with proven durability. Your upland shotgun will encounter the elements no matter how careful you are, so start planning for that before you even buy one by prioritizing durability.
Barrel or Barrels
Another decision you'll have to make when buying an upland shotgun is whether to buy a single or double barrel model. Ask a group of hunters which type is better and you are likely to hear as many different answers and reasonings as there are hunters in the group. Once again, there is no right or wrong answer here. It can be helpful to test fire both styles beforehand but don't fret if that isn't possible. Go with whichever style appeals to you more even if purely from an aesthetic standpoint. They both serve their purpose well and you'll adapt in no time with practice on the range.
Review of the Best Upland Shotguns
Now that we know the qualities of an ideal upland shotgun. Let's take a look and review the best ones available on the market today. All of these shotguns are made and sold by renowned manufacturers like Winchester and Beretta, so you need not worry about quality and support.
Savage Arms Stevens 555 E 12 Gauge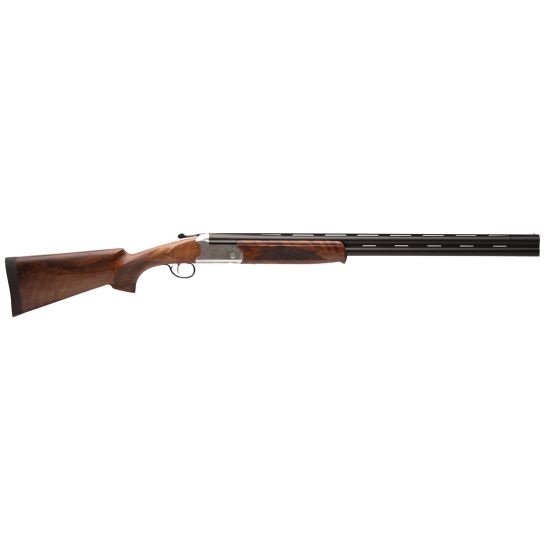 We may earn commission from purchases made from our links, at no additional cost to you
What Recent Buyers Report
The three most admirable features of Stevens 555 are its low price, lightweight and reliable design. The shotgun features a very clean break-open mechanism and swings very nicely. The gun is what it is for the price and works great for waterfowl and upland birds. The lightweight for heavy recoil is a good tradeoff at this price point.
Why it Stands Out to Us
The Stevens 555 is among the most affordable shotguns available today on the market. The gun comes complete with five flush-fitting choke tubes, making it suitable for everything from skeet to birds. The gun has a very robust design and is less prone to rusting due to the aluminum components. The wood is nicely machined and you won't regret getting one or two scratches on the finish. Which in fact is easily repairable. The gun is perfect to be taken to the woods due to its lightweight and is very well balanced. It is also a great budget o/u for beginners who want a taste of this action before investing in more expensive models.
Bottom Line
The Stevens 555 enhanced is a great gun for both early and late-season upland game hunting. The 12 gauge has enough power to bring down almost every game, and the gun is very comfortable to shoulder and carry. However, consider adding a good recoil pad.
Pros
Sturdy and reliable design
Automatic ejectors for faster reloading
Fast handling and accurate with vent rib barrel
Probably the most affordable O/U on the market
Lightweight design suitable for young shooters as well
Detailed scrollwork on the receiver improves aesthetics
Cons
Significant recoil. Consider adding a good pad
Not very suitable for high-end applications (competitions)
Beretta A400 Upland KO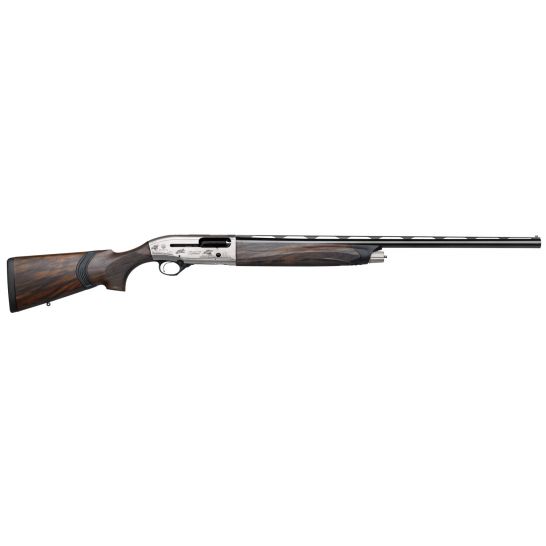 We may earn commission from purchases made from our links, at no additional cost to you
What Recent Buyers Report
For the most exerting shooters, this shotgun has been through thousands of shells without a single hitch. The handling is very comfortable and the gun is aesthetically very sharp. The stock can be adjusted to suit individual tastes and the shotgun is very soft on the shoulder.
Why it Stands Out to Us
The A400 is an upgraded version of the very popular Beretta A300. This is probably the fastest shooting shotgun available on the market today. The self-cleaning piston makes sure the gun keeps on firing flawlessly for longer sessions. The fit, finish, and profile of this gun are exactly what you'd expect from a quality manufacturer like Beretta. The lylium engraving is immaculate and gives the gun a premium appearance. The front has a fiber optic sight to help with acquisition, and the kick-off recoil system doesn't make the gun feel like a 12 gauge.
Bottom Line
The Beretta A400 is a beautiful, fast-shooting, reliable and clean running shotgun that can be used for hunting upland game and waterfowl. The components have been properly treated to ensure the gun withstands harsh treatment while aiding their performance. A good gun for occasional users.
Pros
Sturdy but lightweight design
Adjustable stock for better fit
Self-cleaning piston. Low maintenance design
Kick-off technology reduces recoil by almost 50%
Capable of shooting 4 shots in less than one second
Cons
Small breaking-in period
3. Browning Citori CXS White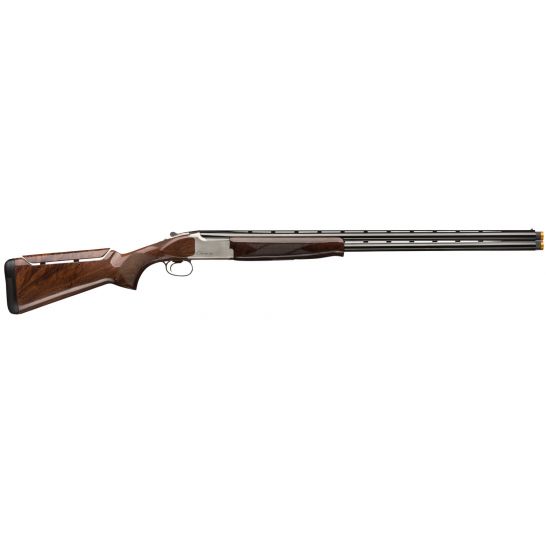 We may earn commission from purchases made from our links, at no additional cost to you
What Recent Buyers Report
Listed with absolutely zero negative reviews, the Browning Citori CXS white provides an enjoyable shooting experience and is the best upland/skeet gun you can buy. The triple trigger system is a great feature and the aesthetics of the gun are super impressive. It fits like a glove and shoots like a dream.
Why it Stands Out to Us
The CXS white is an aesthetically improved version of the popular CXS model. The gun has a long 28-inch barrel with floating and vented ribs and a 50/50 POI for perfect aiming and accuracy. The triple trigger system features 3 trigger shoes differing in design for shooting comfort. Plus the position of the trigger can be adjusted fore and aft for a better fit.
The shotgun fits perfectly and has an extremely impressive swing. The inflex recoil pad makes the recoil of 12 gauge shells feel like a kid's pat. The gun uses an invector-plus Midas choke system and comes with 3 flush-fitting chokes. The adjustable comb helps with fitting and the gun works perfectly as a clay or field gun.
Bottom Line
The Browning CXS White is what the experts use for dedicated clay sports and upland hunting. The gun is adjustable for the comb and the trigger. Plus it has a good aesthetic feeling to it. The CXS white fits well and shoots perfectly.
Pros
Perfect 50/50 POI for precise shooting
Adjustable comb and flat floating vent rib
Adjustable triple trigger system with 3 shoes
Superb aesthetics and flush-fitting choke tubes
Vector Pro lengthened forcing cones for better patterning
Cons
Priced on the tad expensive side
4. Winchester SX4 Field 28″ 20 Gauge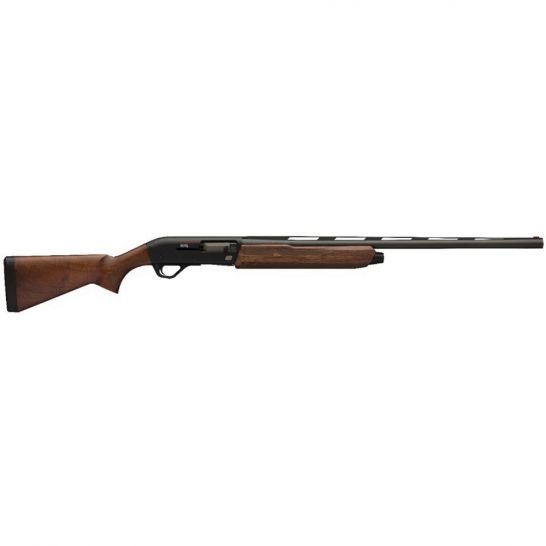 We may earn commission from purchases made from our links, at no additional cost to you
What Recent Buyers Report
The gun is highly rated for skeet shooting and dove hunting. Along with hunting other game as well. The gun feels very solid and is very easy to control. The fiber optic sight helps with acquisition and the active gas system cycles everything that's fed to it. A perfect gun for hunting waterfowl as well as an upland game.
Why it Stands Out to Us
The SX4 is a very reliable semi-auto shotgun that can spew rounds very quickly. Ensuring you don't miss the bird flying away. Being a 20 gauge, the frame is slimmer and lightweight than a 12 gauge. Making the gun easier to carry and handle. Especially for women and young shooters. All the components of this shotgun are oversized to help handling with gloves on. The barrel is back-bored for optimum shot patterns, and the wood and metal are extremely tough to withstand severe weather conditions. The gas system ensures there's no breaking-in period and the gun shoots perfectly right out of the box.
Bottom Line
The Winchester SX4 is a fast shooting, a reliable semi-auto shotgun that is perfect for clay shooting sports, waterfowl, and upland hunting. The gun is very affordable and a multipurpose option if you like keeping lesser weapons in your safe.
Pros
Superfast follow up shots
Truglo long bead fiber optic sight
Oversized components for easy handling
Self-adjusting advanced valve gas system
Durable design and very easy to disassemble (including trigger)
Recoil deflection inflex pad technology for comfortable shooting
5. Beretta 686 Silver Pigeon I
We may earn commission from purchases made from our links, at no additional cost to you
What Recent Buyers Report
The gun shoulders well feel natural and shoot very accurately. People have been using it primarily and successfully for trap shooting and upland hunting. The gun is very comfortable on recoil and has a natural swing. Users never reported any issues with the gun, except for a few defective pieces.
Why it Stands Out to Us
The 686 has a low profile receiver, which helps the shooter keep his/her face close to the gun for effective aiming. The scrollwork is a masterpiece and clearly reflects the effort put into embellishing the shotgun. The break-open action is very clean and the ejectors can be removed without tools if needed. The mobil chokes are very easy to change, and the gun comes with five of them for versatile applications. The gun will take care of your game if you take good care of it. The 686 silver pigeon is a renowned o/u shotgun and it will be a useful trap and upland game shotgun if you are interested in o/u's.
Bottom Line
The Beretta 686 Silver Pigeon I is a low profile, durable and beautiful o/u shotgun chambered in the light 20 gauge shells for low recoil and hitting smaller birds. The gun will last through thousands of rounds if cared for properly.
Pros
Mobile bore barrel and choke system
Schnabel forend and scroll engraving
Ejectors can be easily removed without tools
Compact and low profile receiver with eloquent engraving
What is an Upland Shotgun?
As the name suggests, an upland shotgun is one used for hunting upland game. Which mostly covers birds like pheasants, quail, chukar, woodcock, partridge, and others. Upland hunting generally involves a group of 2-4 hunters with 1-2 dogs for flushing out birds from the bush. Upland shotguns generally feature a front-heavy design with about 26-28 inches in barrel length and low capacity of 2-4 shells. Since upland hunting is a game of precision and skill.
Many people prefer 16 gauge and below to make sure these small birds aren't ripped of meat after being hit. But with recent advancements in ammo and versatility, 12 gauge guns are also a common sight. Especially for hardy flappers like pheasants.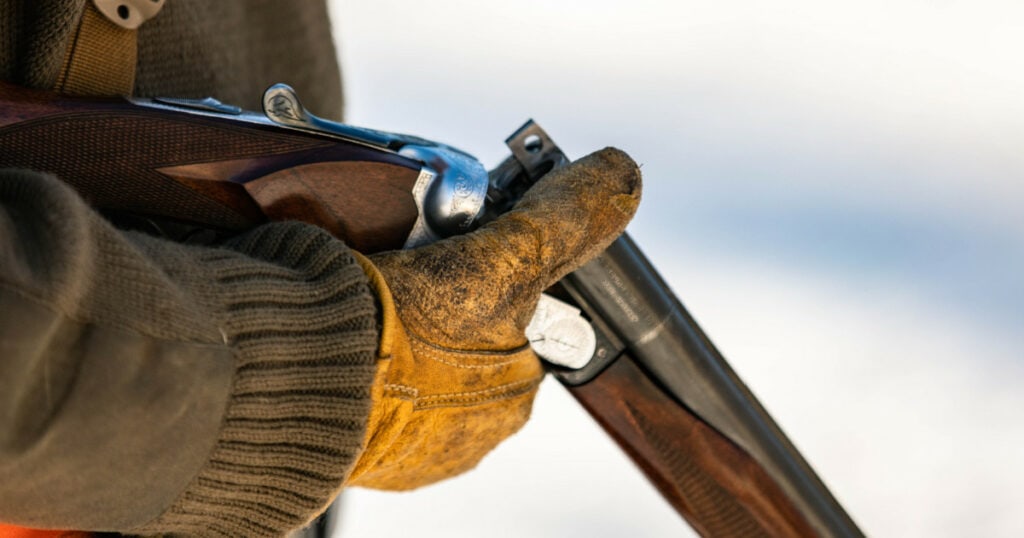 Can You Really Find a Quality Upland Shotgun That's Affordable?
Finding a quality upland shotgun with a friendly price tag isn't that hard. In fact, most of the guns reviewed below are quite pocket friendly. The term 'quality' is quite subjective. For some, it means a gun that just feels and shoots well, while some want it to serve longer. Whereas others want both of these along with good aesthetics.
Going after a Purdey or Parker is not a possibility for the average upland hunter. But yes, a quality shotgun can be bought around the price of a semi-auto. Upland hunting is a game of skill, and if a shotgun feels and fits right into your hands while shooting accurately. It certainly is of the best quality for you.
Why Did These Upland Shotguns Make Our List?
The most basic factors which allow these guns to be on our list are popularity, renowned performance, high quality, apt price, and ideal characteristics of an upland shotgun. Along with certain other factors, which include:
Gauge
The 12, 16, and 20 are the most favored and widely used gauges for upland hunting. The list includes a mix of 12 and 20 gauge shotguns to suit individual requirements.
Action
The most popular upland shotguns are either o/u's or semi-auto's. Pumps are also a good option but lack the ability of quick follow up shots while swinging the gun.
Capacity and Weight
These guns hold just the right amount of shells to make your hunt successful without adding much weight. Additionally, each of these guns weighs proportionally to counter fatigue and recoil.
Durability
Upland trips can be rough and one often has to face impervious weather conditions. These shotguns are very tough and durable to withstand such punishment.
Fit and Recoil
These guns shoulder well and some can even be adjusted for LOP and drop/cast. Plus, each of these guns has an impeccably low recoil, which is an important prerequisite for upland shotguns.
Multipurpose
Almost all of these guns can be used for professional clay shooting competitions and other hunting applications. Making your investment worthwhile. Additionally, these guns are made by renowned brands offering good warranty and prompt customer support.
When Would an Upland Shotgun Sling Come in Handy?
An upland shotgun is useful in several ways. First, it helps reduce fatigue by granting you a simpler carrying method. The sling also provides a stable shooting platform by wrapping it around your arms or shoulders. This improves shooting accuracy which is very essential for shooting upland game. Adding a sling also assists with following the safety measures and keeping it away from your hands when the shotgun is not in use.
Cautious Considerations to Keep in Mind
Before you buy an upland shotgun, there are a few important factors you should consider. These include:
Choose Gauge Wisely
The 20 gauge or 16 gauge may look like a more attractive option when choosing an upland shotgun. Which certainly isn't wrong. But keep in mind that some upland birds like pheasants can be tough to bring down. Especially when not using the right ammo. The 12 gauge is more versatile but may shred the game to pieces. Plus recoil, weight, and other minor factors also come into play. So contemplate before you buy.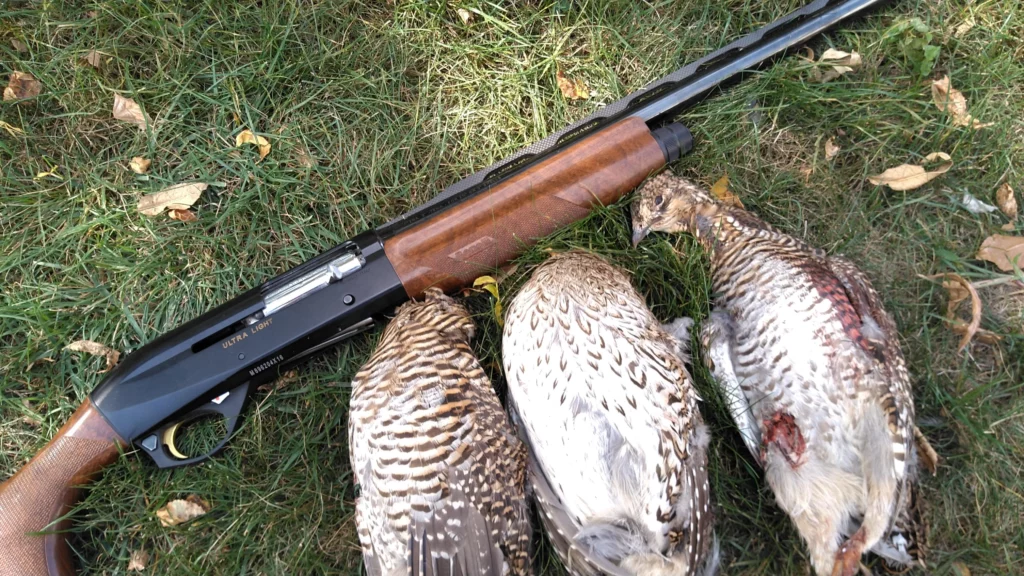 Regular Cleaning
While it is the ideal practice and general rule of thumb. It is overly important for hunting firearms. Give your shotguns good care and cleaning after every session. This not only increases the life of your weapon but also ensures reliable operation on the field.
Pattern and Chokes
Patterning is the most important consideration when choosing an upland shotgun. While most shotguns above have ideal boring and spray a pattern of 50/50 POI. It is also important to be selective about the right choke. Make sure your gun has interchangeable chokes that are thick enough to withstand the blast from the ammo.
Conclusion
An upland shotgun is an ideal gun for hunting upland game like pheasants, quail, chukar, and others. These guns generally have a 26-28 inch barrel and a very good and fast swing to properly catch fast-moving birds. Semi-auto and o/u's are both great types of upland hunting. Plus, having a low recoil is also an imperative factor.
People Also Ask
Satisfy your queries regarding upland shotguns with our brief but informative FAQ section. Hopefully, it will solve your queries and help you make a better buying decision.
How Many Rounds Can Your Shotgun Hold During Upland Game Bird Hunting?
As defined by law, an upland hunting shotgun can hold no more than 3 rounds in total including the tube and the chamber. If your shotgun has a larger capacity, you shall use a magazine plug to limit it. Additionally, calibers less than .410 bore and larger than 10 gauge are prohibited for upland hunting.
Is a Longer Barrel More Accurate?
While this is certainly true with rifles, in shotguns the difference may seem minuscule. Clearly due to the fact that a rifle barrel has rifling and the rotation of the bullet is affected. But shotguns shoot pellets so a longer barrel will cause a slight increase (about 10-15 fps) in velocity, translating to a minor improvement in spread and accuracy.
What Are 10 Gauge Shotguns Used For?
10 gauge shotguns are used for hunting waterfowl like geese. Since they hold more power and shot (+3) than a 12 gauge shell, it increases the range and chances of hitting the target at long range. However, the introduction of 3.5" 12 gauge shells has faded their popularity and you'll rarely see them being used.
What is the Best Barrel Length For Waterfowl Hunting?
The best barrel length for waterfowl hunting falls somewhere between 28 and 30 inches. Longer barrels have a better swing, which is essential when shooting a moving target like waterfowl. Some people even like to use 26-inch barrels, which isn't bad either. But just a matter of taste.
Is a 20 Gauge Good For Pheasant Hunting?
As far as you respect the limitations of the 20 gauge, yes, it is a good choice for hunting pheasants. Especially when using the right ammunition (3" shells are good). But as the bird gets more cagey in the late season, you may want to use the 12 gauge.