Designed to be the ultimate law-enforcement handgun. The P99 has been the most reliable and trustworthy tool of police forces around the world for two decades now.
Even being an old design, the P99 still attracts buyers and is a popular handgun in the 9mm section. Being a popular handgun for EDC and active duty, the P99 also requires a suitable and high-quality holster to be carried around.
Here we'll list and review the best holsters for Walther P99 while also looking out for other important considerations. So keep your eyes pinned.
At a Glance: Our Top Picks for Walther P99 Holsters
Comparison of the Best Walther P99 Holsters
IMAGE
PRODUCT

Our Top Pick

SERPA auto lock release mechanism for prompt holstering
Adjustment screw for passive retention and does not collapse after drawing
Includes belt loop and paddle platform plus compatible with other platforms

View Latest Price →

Automatic lock system secures weapon and easily releases by thumb
Made with molded safarilaminate with a suede lining on the inside
Includes comfortable soft nylon paddle and adjustable belt slide

View Latest Price →

Best Budget Option

Fits both P99 and P99 compact and is made from sturdy polymer
Passive retention system with adjustment screw for perfect retention
Includes paddle backed double magazine pouch and covered by lifetime warranty

View Latest Price →

Sweatproof and waterproof fabric with soft inner lining
Very strong clip and retention with reinforced seams for quick draw
Eco leather material and perfect for appendix carry

View Latest Price →

Good quality leather with metal accelerator sewn in
Adjustable design with screw and attaches with the belt
Includes a magazine pouch and can also be used as a belt holster

View Latest Price →

Comfortable contoured fit and adjusts with simple allen key
Protective sight channel, active locking mechanism and offers quick draw
Fully adjustable for cant and rotates 360 degree for all applications

View Latest Price →

Manufactured from full grain hard-molded leather and hand dyed
Durable design with a sturdy belt clip for prompt IWB use
Great value for money leather holster and breaks-in quickly

View Latest Price →
How Do I Choose a Walther P99 Holster?
Ask yourself some questions before choosing a P99 product. Such as when and how long you'll be carrying the handgun, the desired purpose, and your personal comfort.
Holster Type
Holsters come in different varieties. You can have a shoulder holster, IWB, OWB, ankle, belt, or any other type you like. It comes down to your personal discretion as to what kind of item you want. If you are carrying concealed an IWB or shoulder holster will work well. For duty or range use an OWB works fine, and so on.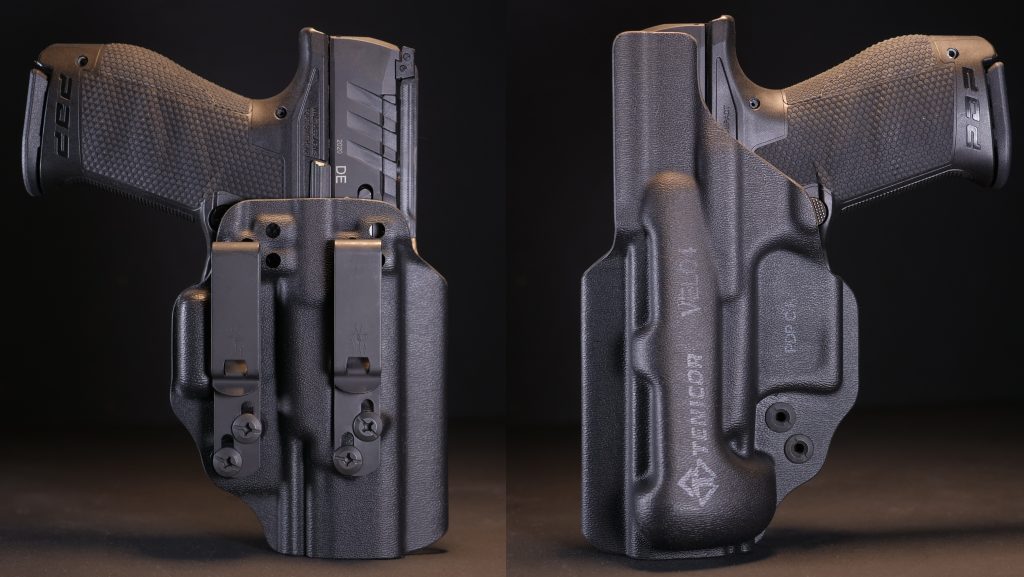 Material
A holster can be made up of Kydex, nylon, leather, or any thermoplastic or simple polymer. Evaluate the type of holster you are most comfortable with. While Kydex holsters are hard and shape-retaining, they can scratch the finish if not used properly. Similarly, leather products are classy and soft, but have a break-in period and require maintenance.
Intended Application
Whether you want a holster for CCW, EDC, range use, or active duty. Decide this for yourself prior to buying one. However, if you need a more general-purpose item. Consider going after a slim profile OWB. Or an IWB if concealment is extensively in question.
Review of the Best Walther P99 Holsters
Taking into consideration the facts mentioned above. We have compiled a comprehensive list of the best Walther P99 holsters in the market. These include a variety of different designs to offer you a wide range of selection. Handpicked based upon the highest positive reviews and overall features, you'll definitely find one for yourself:
BLACKHAWK SERPA Concealment Holster
We may earn commission from purchases made from our links, at no additional cost to you
What Recent Buyers Report
Users seem baffled with the construction quality and features of this item. The push-button release is very easy to use and amazingly safe. The user can grip the weapon perfectly and works with different mounting platforms. Thus offering versatility to the users. The inexpensive price tag was also an amazing feature for buyers.
Why it Stands Out to Us
The product doesn't lose its shape and offers quick draw and holstering. The retention mechanism eliminates the slightest chance of mishandling. Plus the holster comes with two adjustable mounting options and can be coupled with other platforms as well. The drag on the item is consistent and it maintains position.
Who Will Use This Most
This item is perfect for active duty and range use along with open carry. As the image clearly depicts, this holster is not very concealable, so CCW may not be a good choice unless you don the right clothing. But it is the safest and most versatile holster out there for the Walther P99.
Bottom Line
The Blackhawk SERPA holster has earned its reputation by its impeccable performance. This is an amazingly reliable and versatile product with prompt safety features for your P99. However, using the holster perfectly will require some practice. It will be a trustworthy overall solution for your carry needs.
Pros
SERPA auto lock release
Release lever is easy to operate
Includes belt loop and paddle platform
Passive retention detent adjustment screw
Works with many other holster mounting platforms
Speed-cut flared opening for quick draw and holstering

Cons
Not very concealable
Takes some practice getting used to
Safariland ALS Concealment Paddle Holster
We may earn commission from purchases made from our links, at no additional cost to you
What Recent Buyers Report
The product delivers a comfortable and smooth draw. Plus the ALS retention mechanism is also an upgraded safety feature. Using the item is quite easy and intuitive once you get a knack of it. Some users reported that the holster is suitable for many handguns. While some reported difficulties with donning the paddle and the protrusion of the lever lock.
Why it Stands Out to Us
This item is quite soft and comfortable with the shooter despite being made from molded thermoplastic. The ALS locking mechanism is an amazing feature, plus the dual mounting platforms add to the versatility. The inner suede lining protects your firearm's finish and the hard shell is impervious to damage and deformation.
Who Will Use This Most
This product is perfect for OWB open carry and range use. You can obviously use it for concealed carry with proper clothing in winters. But the holster is perfect for target practice at the range. The suede lining protects the firearm during continuous draw and retention practice. Plus it is a quick draw holster for EDC as well.
Bottom Line
The Safariland OWB holster offers a quick draw, safe retention, and is protective towards your P99. The paddle and belt loop mounting options let you choose the best comforting setup. Plus the adjustable retention and size also make it suitable for other similar sized handguns. A good pick if you want quick function while protecting your handgun's finish.
Pros
Also suitable for left hands shooters
Paddle and belt loop mounting combo
Includes belt loop and paddle platform
Thumb release automatic lock system for safety
Impact-resistant safarilaminate thermoplastic with inner suede lining
Cons
ALS takes time getting used to
May be a bit uncomfortable for heavy people while driving/sitting
Fobus WP-99 Paddle Conceal Concealed
We may earn commission from purchases made from our links, at no additional cost to you
What Recent Buyers Report
This item is very lightweight and offers good retention on the gun. The overall quality of the product is amazing despite being made just from basic injection-molded polymer. The passive retention offers quick deployment when needed. Plus the paddle is quite comfortable for the user even while sitting.
Why it Stands Out to Us
Fobus holsters are very dependable and used by many law enforcement agencies and gun owners. So their reputation precedes their products. This combo allows you to carry a couple of extra mags. Plus the holster itself is very ergonomic and lightweight. Another impressive feature is the lifetime warranty cover.
Who Will Use This Most
This product is great for beginners to learn the basics of holster handling. However, that doesn't mean it cannot be used for real-life scenarios like tactical or self-defense. The lack of an active retention system is something to always keep in mind. Especially when working in cramped or bushy spaces.
Bottom Line
The Fobus WP-99 is a value-for-money item for the P99 and P99 compact. It is comparative lightweight than other polymer holsters and delivers a lock-free draw for instant unholstering. The holster itself is very durable and designed for maximum comfort.
Pros
Covered by a lifetime warranty
Reliable passive retention system
Low profile and easy to conceal design
Fits Walther P99 and P99 compact handguns
Polymer paddle holster with double mag paddle pouch
Cons
May feel tight on the gun
Material is not of the very best quality
Best Walther P99 IWB Holster
IWB Gun Holster by Houston
We may earn commission from purchases made from our links, at no additional cost to you
What Recent Buyers Report
The item is very comfortable to carry and minimizes printing. It fits the P99 like a glove and the material is breathable enough for the user to carry it all day long. It allows for multiple pistol carry options and costs amazingly less. The holster offers a clean draw and is the go-to choice for many users.
Why it Stands Out to Us
This product makes concealing your P99 very easy. While being utterly comfortable for the shooter regardless of their activity and position. This is a simple and inexpensive design which minimizes printing and is elastic enough to suit other similar sized weapons as well. Additionally, the soft suede inner lining protects the firearm's finish.
Who Will Use This Most
People who plan on carrying their P99 concealed will find this holster very useful. It is also a very comfortable EDC holster due to its soft and flexible design which doesn't dig anywhere on your waist. This holster is however not very practical for tactical uses since reholstering requires both hands.
Bottom Line
This IWB holster has been made using eco-friendly materials and is very comfortable. Although it lacks any active/passive safety mechanism, the trigger guard stays covered and offers safety through an inexpensive design. A great holster for CCW and EDC in public places.
Pros
Reinforced stocking and nylon borders
Strong and sturdy clip retention system
Perfect for concealed carry applications
Water and sweat proof ECO leather construction
Comfortable and soft to wear. Protects your handgun
Cons
Limited insulation from a hot firearm
Collapses after draw (reholstering requires both hands)
Best Walther P99 Shoulder Holster
VlaMiTex S1 Shoulder Leather Holster
We may earn commission from purchases made from our links, at no additional cost to you
What Recent Buyers Report
Buyers appreciate the high-quality materials and craftsmanship put in to make this item. The retention of the holster is just perfect for the P99 and the holster itself is very comfortable. It is a value-for-money shoulder holster and is also protective of the weapon. However, making adjustments is a somewhat time-consuming process.
Why it Stands Out to Us
This is by far the best and complete shoulder holster for the P99 on the market. This holster can be adjusted to attain a comfortable fit. The hardware is pure metal and the adjustments hold in place even under pressure. The extra mag pouch is an effective addition and the three-point attachment holster can be easily adjusted.
Who Will Use This Most
Anybody who wears a jacket, suit or coat will find this holster useful. Shoulder holsters are specifically useful for such people. Additionally, you can also use it to carry your P99 in a more classy and maybe pretentious manner.
Bottom Line
Although this company is not very popular, their holster does match the highest standards of leather shoulder holsters on the market. This holster features thick and durable leather construction and has been specifically designed for the P99.
Pros
Fits belts up to 5 cm wide
Can also be used as a belt holster
Very comfortable design with full metal hardware
Durable and protective high-quality thick leather design
Adjustable straps and features a removable magazine pouch
Cons
Adjustments are not very quick
Best Walther P99 Concealed Carry Holster
IMI Defense Conceal Carry Tactical Retention Roto Polymer Holster
We may earn commission from purchases made from our links, at no additional cost to you
What Recent Buyers Report
The holster has impressed users with its feature-packed design and instant response. The user can adjust the cant and retention. Plus it allows the user to carry a tactically upgraded P99. The draw and reholstering are quick and easy. Plus the ALS makes handling more secure.
Why it Stands Out to Us
The holster is embellished with features suitable to support the most SHTF situations. It allows you to mount a mag pouch, lets you holster a P99 with sights, and offers full 360-degree adjustment for cant. The ALS locking mechanism secures retention and can be activated instantly without a second's delay.
Who Will Use This Most
This holster is perfect for active-duty police officers and military personnel. The ALS mechanism secures the handgun even during vigorous movement and offers a quick draw when needed. Due to its molded design, the holster allows single-handed operation, which is crucial for tactical and defense applications.
Bottom Line
The IMI defense holster is a complete solution for tactical OWB concealed carry applications. The holster is fully adjustable and allows you to carry an extra magazine without making the size problematic for CCW.
Pros
Detachable single magazine pouch rail
Quick draw and reholstering for instant justice
Adjustable for cant and rotates full 360 degrees
Active retention system operated by a push lever
Protective sight channel to suit aftermarket sights
Durable polymer holster with allen key adjustable retention
Cons
Suitable only for OWB concealed carry
Retention adjustment requires allen key
Best Walther P99 Leather Holster
OutBags USA LS1P99
We may earn commission from purchases made from our links, at no additional cost to you
What Recent Buyers Report
Users were amazed by the quality and durability of this leather holster. The craftsmanship is just impeccable and the holster fits the P99 like a glove. As mentioned by many users. It fits the gun tight and prevents wobbling. Individual users may or may not experience a break-in time. Plus, you'll need a loose-fitting shirt for concealment.
Why it Stands Out to Us
The product has been handmade from high-quality full-grain leather. It has been reinforced and dyed to perform effectively during its lifetime while maintaining its texture and shape. The item is specific to the P99 and fits other similar sized weapons as well. It is also lower in price and the same in quality as other expensive leather P99 holsters out there.
Who Will Use This Most
The product is for people who want a durable and comfortable holster that'll last them a lifetime. This item is suitable for IWB carry and allows you to use your P99 for EDC and CCW. Additionally, the holster is also a good pick for people who love leather products but don't want to spend too much money.
Bottom Line
The Outbags USA leather holster delivers exceptional value for the money and fits the P99 perfectly. It protects your firearm and sits comfortably on your waist even while you carry out your day to day activities.
Pros
IWB design useful for concealed carry
Hard molded leather holster retains its shape
Handcrafted from full-grain leather in the USA
Protective inner lining prevents damage to the handgun
Cons
May require some time to break-in
No extra leather backing for separating the rear sight
Best Walther P99 Kydex Holster
Concealment IWB Gun Holsters
We may earn commission from purchases made from our links, at no additional cost to you
What Recent Buyers Report
Users were completely satisfied with the price and performance of this product. Its simplistic design coupled with a durable Kydex body creates a very low profile and offers good concealment to the user. While some users reported that this item may take some time getting used to. Others were totally content.
Why it Stands Out to Us
The item is very compact and low profile. Which definitely minimizes printing to the extent of eradication. The retention adjustments are very easy, and the extra Kydex backing on the rear insulates the firearm from body sweat and heat. Additionally, the clip suits wide belts making it more versatile.
Who Will Use This Most
The item is perfect for EDC and concealed carry. Obviously because of its low profile. Being made from Kydex, this holster doesn't collapse after drawing the weapon and allows single-handed reholstering. Thus making it suitable for more 'tactical' applications.
Bottom Line
The IWB Kydex holster is an inexpensive, reliable, and widely appraised holster for your P99. It's low profile and compact design facilitates concealment and offers comfort at all times while carrying.
Pros
One year replacement warranty
IWB Kydex holster perfect for CCW
Wide and sturdy clip suits wide belts
Full Kydex backing makes carrying comfortable
Adjustable retention using a simple screw mechanism
Cons
Takes time getting used no
Doesn't have a sight channel
Can Any Holster Be Used For Walther P99?
The Walther P99 is closest in size and dimensions to a Glock 19. So technically, a holster shall be common to both. There are many handguns on the market that compare well in size. However, that teeny bit of difference in decimal inches can hamper holstering and retention. Or even cause the gun to wobble.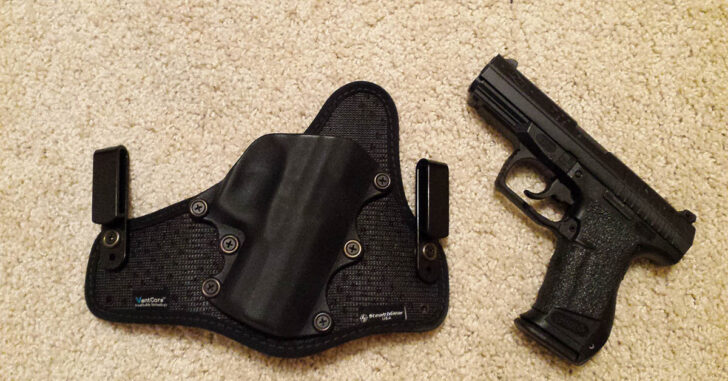 A holster isn't going to cost you an arm and a leg. Plus it will greatly improve the comfort and reliability of carrying your handgun. So it is better to get one that has been specifically designed for the P99.
Perks of Getting a New Walther P99 Holster
Comfort
Getting a new Walther P99 holster will improve your level of comfort while carrying the handgun. Investing in a nylon or leather IWB holster will maximize your comfort, resulting in an easier CCW or EDC.
Protecting the P99
A good holster with a nice protective lining on the inside will prevent your firearm from scratching or losing its finish against the impact of sweat. Leather holsters or other models with an inner suede lining will prove quite helpful for this.
Improved Handling
Getting an improved holster of your choice helps you with improving your handling of the weapon. Holsters with active locking systems help with sturdy retention of the firearm. Whereas the ones with flared opening provide a quick and intuitive draw.
Concealment
If your motive is CCW, you can consider buying a low profile and compact holster to minimize printing while you carry the P99.
Conclusion
The Walther P99 is a reliable and popular firearm with a unique safety mechanism. It requires an effective and reliable holster to carry this weapon comfortable around and bring it to the fight instantly. Having a good holster will improve your level of comfort while carrying the handgun while protecting its finish.