Building a custom rifle is an extremely satisfying project to undertake. Not only can every part be chosen for a specific build style, but everything can be fine-tuned to fill any shooting niche the builder desires. One of the most popular rifle platforms for building a custom rifle is the AR-10 rifle.
Similar to the AR-15 platform, the AR-10 is highly customizable and incredibly versatile. The main difference between the two is that the AR-10 is chambered for 7.62x51mm bullets instead of 5.56x45mm bullets. That being said, the AR-10 upper is one of the most important items to decide on for an AR-10 build.
Keep reading to see the best AR-10 uppers on the market today and to learn more about choosing the right one for you.
At a Glance: Our Top Picks for AR-10 Uppers
Comparison of the Best AR-10 Uppers
IMAGE
PRODUCT

Our Top Pick

Both Top and Side Charging Systems
Low Mass Bolt Carrier and Enhanced BCG
Good for Overall Use and Different Applications for the AR-10

View Latest Price →

Complete Package Includes Receiver Handguard and Barrel
Free Floated Forend for Better Barrel Harmonics and Accuracy
Includes an A2 Flash Hider. Offers Good Value for Money

View Latest Price →
What to Watch For When Buying an Upper Receiver For an AR-10
There are a lot of different options when it comes to AR-10 uppers. This is a good thing for shooters because it allows them to build rifles that perfectly suit their needs. The sheer amount of options can be overwhelming at times, but with a little knowledge and some planning finding the right AR-10 upper can be done. Scroll down for some tips and information that should be a good place to start your AR-10 upper shopping quest.
This Section Written By: Brian Belko
Expert Author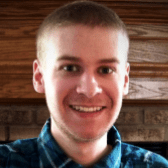 Brian is an experienced freelance writer and technical writer who has previously written for publications such as Wide Open Spaces, Bigfoot Gun Belts, Alien Gear Holsters, and Kampgrounds of America. He brings both a passion for writing and a love of the outdoors to his published content.

Aside from writing and the outdoors, Brian enjoys gardening, being a co-host on The Nostalgia Blast Podcast, and learning to code.
Evaluation Period
The planning stage of building an AR-10 rifle should not be overlooked. Having a very solid grasp of what you want your custom rifle to be able to do is vital. It will go a long way towards you being completely happy with the finished product. Are you planning to hunt with your AR-10? Will you be bench shooting for the most part? What kind of accessories do you want to be able to use? How do you want your AR-10 to look? These are just a few questions to get you started before you begin to ponder AR-10 upper materials and finishes.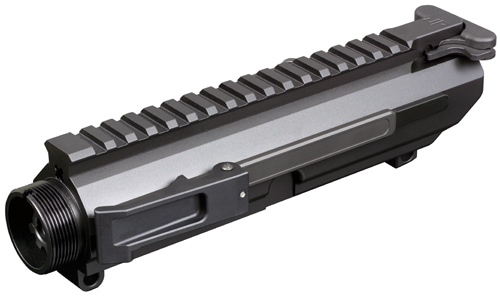 Construction Technique
One consideration to make when building a custom AR-10 is deciding on the construction style you want your upper to be made from. The two main options are forged uppers or billet uppers. Forged uppers are technically more durable than their billet counterparts. It can be difficult to understand the differences between them, especially for beginners or first-time AR-10 builders.
The best advice here is to not get too caught up in this decision. Yes, forged uppers are technically stronger, but that doesn't mean billet uppers are weak. The odds of either one ever failing in any way are exceedingly remote. You really can't go wrong with either option in this case.
Stripped Away
Another important decision that can be confusing to some is the choice between a stripped upper and a complete upper. A stripped upper is only the upper itself. It will not include an ejection port door or a forward assist button. Those parts must be purchased separately. A complete upper will include those two parts.
Stripped uppers are ideal for those looking to customize every part of their AR-10 as possible. One note on complete uppers. Don't mistake them for complete upper assemblies. A complete upper assembly is the entire upper half of an AR-10 including the barrel, handguard, and sometimes a bolt-carrier group.
Reviews of the Best AR-10 Uppers
Below are the five best AR-10 uppers that are available on the market. As you go through each item, it's important to note the characteristics and features of each one so you are able to find one that might be the closest you can get to your "ideal match" (if you have one). An upper receiver can be used for the purpose of an upgrade or even a building project.
Now that we've outlined what makes a top pick, let's dive into the products that made our list for the best AR-10 uppers. For each model, we'll be covering its main features, then discussing some main pros and cons. Let's begin by unveiling the best overall upper receiver on our list:
J P Enterprises – 308 AR PCS-12 Side Charging Upper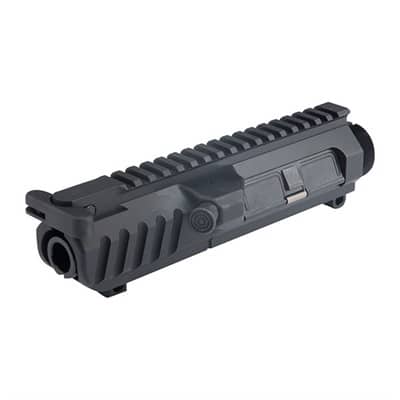 We may earn commission from purchases made from our links, at no additional cost to you
What Recent Buyers Report
Recent buyers say that this upper receiver was a great addition to their AR-10 building project. They said it was all over sturdy and definitely gave themselves the freedom to customize their rifles by the time the construction was complete. One user said that he was able to fit a scope on the rail that allowed him to hit his targets from well over 500 yards away. Needless to say, he was quite happy with the results during his recent hunting trip.
Why it Stands Out to Us
This upper is a side charging handle, which means it will allow for better shooting and allows the charging handle and bolt carrier group to work more efficiently. One user said after all of his parts were installed, he took it out to a range where he was able to blast off 100 rounds. He was not disappointed in his rifle's shooting cycle and also reported no malfunctions. On top of that, he was able to add on a scope for his nighttime hunts.
The JP Enterprises PCS-12 upper is an exquisite package of features an ideal AR-10 must bear. This upper receiver has an ejection port cover and forward assist hardware.
The upper has a low mass bolt carrier, making it easy to charge the handle. The receiver also has top and side charging systems. The mil-std picatinny DPMS style flat top allows you to mount scopes and other accessories easily.
Who Will Use This Most
This will be an excellent upper receiver that will allow for smooth, reliable shooting once all the parts are put together and the rifle itself is completely built. You'll be able to use this for the purpose of making your rifle more functional and make it easier to customize for your own personal taste. Who says you cannot have fun with that? You can easily turn your rifle into a beast. And it starts by adding on this upper.
Bottom Line
The JP Enterprises 308 AR PCS-12 Side Charging Upper is the best upper for many shooters that will want to build out their rifles from the ground up. And what's even better for them, it gives them the ability to upgrade their rifles to something more accurate and devastating for most targets. Once you've installed this, you'll certainly be putting your additional space to good use.
The JP Enterprises AR-10 upper is a sturdy and attractive model. The receiver has a forward assist button with top and side charging handles. It offers smooth charging and improved cycling of the bolt. Perfect for hunting and three gun competitions.
Pros
Top and side charging
Aesthetically pleasing
Durable and easy to install
Ejection port cover and forward assist hardware
Cons
Some find it expensive
2. DPMS – LR-308 Oracle Upper Receiver Assembly
We may earn commission from purchases made from our links, at no additional cost to you
What Recent Buyers Report
A lot of new users were satisfied with this upper receiver. Since it was included with a barrel, they were quite excited to give it a try. Once installed, this upper gave them better shooting accuracy and even less recoil compared to factory defaults and all the other parts that made it function. One user said that he was happy with it being an assembled, drop-in design that worked like a charm once it was installed and ready for action.
Why it Stands Out to Us
Now we focus on a fully assembled upper receiver. You already have your handguard, muzzle brake, the barrel, and pretty much everything in between to ensure that your upper receiver (and the rifle itself) is in working order. And it's made from high-quality materials that are proven to resist and even dissipate heat fairly quickly compared to some other uppers. So if you want to use your rifle for extended periods of time, you can do so without risking damage or poor performance resulting in overheating.
The DPMS upper receiver assembly comes complete with a bolt/carrier, a charging handle, a free-float handguard, a gas block, and a barrel. The upper receiver is compatible with DPMS gen 1 lower assembly, and is hard coat anodized to military standards, making it resistant to harsh weather conditions.
The free-floating handguard features a swivel stud and QD sling mount. The 16" lightweight barrel has a 1-10" twist rate for bullet stabilization, making it the perfect rifle for hunting and long distance shooting.
Who Will Use This Most
This upper receiver is great for shooters that want to waste no time assembling an entire upper receiver. All you got to do is drop this in, tighten it up, and give it a few test shots at the range. You'll never go wrong with an upper receiver like this if you want accuracy, faster heat dissipation, and superior reliability rolled into one nice package.
Bottom Line
The DPMS LR-308 Oracle Upper Receiver Assembly is perhaps one of the easiest to install uppers on the market for AR-10s, considering that the entire thing is completely assembled and ready to go. You'll receive a better boost in accuracy, reduced recoil, and even better control over your AR-10. If that's not impressive enough for you, we're not sure what is.
The DPMS upper receiver set is a full-on assembly to replace the upper of your AR-10. The upper set also features a flash hide and forward assist button, making it the perfect rifle for hunting, self-defense, and tactical use. The upper set has an adequate price. Eventually, it is the one half of your AR-10.
Pros
Forward assist
A2 flash hider included
Complete upper assembly
Ejection port door with deflector
Free floating handguard with QD studs
Cons
Doesn't fit AR style lowers
3. Aero Precision – .308 AR M5 Upper Receiver Stripped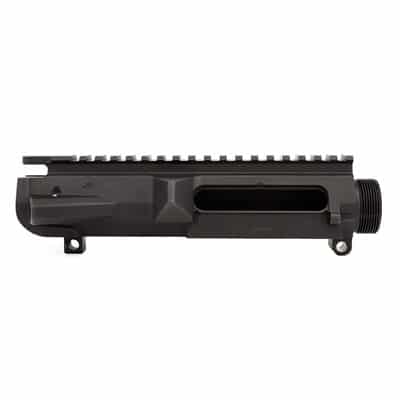 We may earn commission from purchases made from our links, at no additional cost to you
What Recent Buyers Report
Most new buyers were quite happy with this upper receiver for a few good reasons. For one, it features a top rail that is included to ensure that customizing the rifle is an easy task. One user said that he was happy with the fact that he was able to build out his rifle from scratch using an upper that allowed him to add on a couple of accessories that he was dying to try out. Overall, users say that the durability was solid and installation was a breeze.
Why it Stands Out to Us
This is a stripped upper receiver, which means there are no parts included. So, it's entirely up to you to build out the entire upper receiver with the right kind of parts. Best of all, you can use the top rail to your advantage for all your scopes or sights. Either way, it's an upper receiver that you can use for the purpose of upgrades or even a building project. No matter what, it's a receiver that will keep all the parts together and provide top-quality functionality each time you use your rifle.
The Aero Precision stripped upper receiver has been made from 7075 T6 forged aluminum and has an anodized black finish. It is a high profile receiver and is compatible with DPMS pattern components. It is a stripped lower, meaning you have to install its components like the forward assist button and ejection port cover. The upper has been precisely machined and finished, offering a solid product at a good price.
Who Will Use This Most
This upper receiver will be great for those who use their AR-10 for general purposes. So it would make a lot of sense if you are a hunter who wants to install a new scope or a target shooter that wants to install an upper receiver that doesn't suck compared to a factory default. If you are looking for an upper that is excellent in quality and easy to put together, this one might be just what the doctor ordered.
Bottom Line
The Aero Precision .308 AR M5 Upper Receiver is great for when you want to build an AR-10 rifle or if you want to switch out an old receiver with a new one. It's solid, tough, and easy to install for most rifles. Once installed, you'll have a ton of fun with this (especially with the customization options you have at your disposal).
The Aero Precision stripped upper receiver is a good piece of forged metal, machined to perfection. The upper is easy to install and turns out to be an inexpensive and effective addition to your AR-10 rifle. It's quite versatile, and you can use it for almost everything, from hunting to target practice or tactical.
Pros
Good price point
DPMS style receiver
Aesthetically pleasing
Forged aluminum finish
Easy-to-install and tough
4. Cross Machine Tool Inc. – 308 AR Stripped Billet Upper & Lower Receiver Set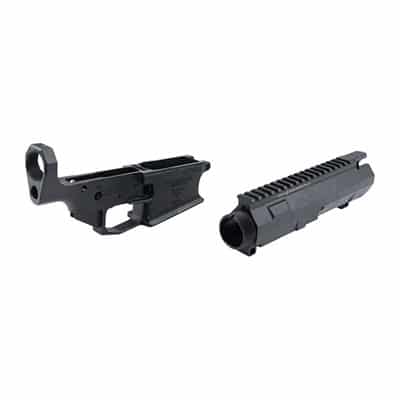 We may earn commission from purchases made from our links, at no additional cost to you
What Recent Buyers Report
Why get an upper receiver when you can get a lower too? That's what one user said while reporting that his receiver set delivered much more than he expected in terms of quality and later performance once he upgraded his entire AR-10 receiver. He said that it shot pretty good and every single one of the parts he added to each worked together without any kind of reliability issues to speak of. A lot of new users were also happy with the fact that they got excellent durability and all the parts that were included fit perfectly without any additional alterations.
Why it Stands Out to Us
Simply put, having both a lower and upper receiver will definitely give you a bit of a head start if you are looking to build your AR-10 rifle from the ground up. And since they are both stripped, it makes the building project quite fun. Now, you have to gather all the parts you need and install them at any given time. The upper has a pretty solid rail that you can use to add on scopes while the lower receiver allows for trigger assemblies to fit like a glove along with some of the other smaller parts that make the rifle completely functional.
This upper and lower receiver set has been machined from 7075 T6 aluminum and is compatible with DPMS high profile style handguards. The upper tension screw is built into the lower so tightening the upper to lower, is quick and easy.
The upper plus lower set looks perfect and is worth buying. Cross Machine Tool Co. offers great customer support, so you'll always have your back covered for assistance.
Who Will Use This Most
If you are someone who is planning on building an AR-10 rifle at any point in time, this kit might just be what you'll want to use in order to save yourself time and money. Not only that, it will be great to have not one, but two of the much-needed parts of an AR-10 rifle all at your disposal. Just put them together and you are off to a really good start with your building project.
Bottom Line
The Cross Machine Tool Co. Billeted AR Upper and Lower Receiver Set is killing two birds at the price of one (no pun intended). So if you want both receivers as part of your building project, then you can get quite the headstart with this project. From there, you can build out the entire rifle piece by piece and give it a shot even when you are done.
The Cross Machine Tool Co., upper and lower receiver set offers precision, thanks to its billet machined design. The upper has a Picatinny rail and is compatible with DPMS platform. The set is worth buying and is quite inexpensive. Perfect for hunting and target practice.
Pros
DPMS platform
Good purchase value
Easy-to-install and tough
Upper plus lower receiver set
Lifetime warranty against manufacturing defects
Cons
Might require fitting
Lacks forward assist
5. Black Rain Ordnance Inc. – .308 AR Stripped Upper & Lower Receiver Sets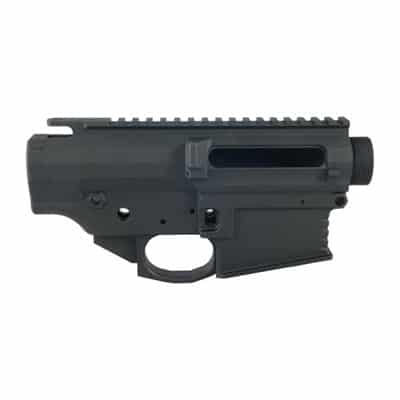 We may earn commission from purchases made from our links, at no additional cost to you
What Recent Buyers Report
A lot of new buyers pointed out fairly quickly the durability of this lower and upper receiver set. They were confident in knowing that by the time they were finished building out their rifles, they would have a hardcore beast to work with. One user said that he was building out his rifle for the purpose of hunting deer and varmint. So far, he was able to put together the receivers with the much-needed parts and added on a large objective scope to the top rail (which fit perfectly). Some have even said that the receiver allowed for a better, tighter fit on their barrels that left no wiggle room.
Why it Stands Out to Us
Once again, we have a lower and upper receiver set that is perfect for fitting onto a rifle that might need an upgrade or can be used for a building project. Regardless of your intent, you will be treated with a couple of receivers that are ridiculously durable. So durable that you threw them on the ground they won't scratch or dent. Seriously, they are that tough. If you want your rifle to be long-lasting and perform at its highest quality, you'd be insane to pass up the opportunity to give this kit a try.
This package from Black Rain Ordnance Inc. is comprised of an upper and a lower receiver. Since we are reviewing uppers, we will focus upon the qualities of the upper receiver.
This set features a flat top upper receiver billet machined from 7075 T6 aluminum, with a Mil-Std picatinny rail, making it easy to attach scopes and accessories.
To make shooting easy for those who are left-handed, the completed upper features a brass deflector on the ejection port. The hardcoat anodized finish makes it resistant to corrosion and harsh weather conditions. It uses DPMS low profile handguards.
Who Will Use This Most
This will be ideal for builders. But it won't be useless for those who want a simple upgrade (or want to make their rifles more durable in quality). All you have to do is put them all together with the much-needed parts and you'll be in business. Once you upgrade or complete your build, you'll won't wait any longer to give it a bunch of test shots at the range.
Bottom Line
The Black Rain Ordnance 308 Upper and Lower Receiver Kit is hands down one of the most durable receivers on the market. If you are serious about quality, you may want to give this set a closer look. Remember, better quality will always equate to better performance (and fewer malfunctions). Whether you are building a rifle from scratch or replacing a few parts, this is the kit you need to make your AR-10 stand out even better.
This upper and lower receiver set is billet machined from aluminum, making it precise and durable. The flat top is good to attach accessories, and the brass deflector on ejection port helps left-handed shooters. Overall, the upper is excellent for hunting and gun competitions.
Pros
Billet machined
Upper plus lower receiver set
Customisable DPMS platform
Brass deflector on ejection port
Flat top with mil-std Picatinny rail
What is an Upper Receiver?
An upper receiver is the upper half of an AR-10 rifle. The upper receiver typically contains the following parts: the barrel, top rail, sight, charging handle, and bolt carrier group (BCG), to name a few. This will allow for the complete functionality of your rifle (since there are some parts that will render the rifle useless if they are missing). An upper can be fully assembled or stripped (no parts included). depending on what you are looking for.
What Makes a Great AR-10 Upper Receiver?
A great AR-10 upper receiver comes with some clear characteristics. They are:
Design (Flat Top vs Carry Handle)
AR-10 receivers are available in two basic designs: flat top and carry handle. You can also consider the difference between the A1, the A2, the A3, and the A4.
A carry handle design requires mounts and adapters for adding scopes and other accessories. Additionally, the carry handle cannot be used very often because it houses the rear sight assembly.
On the other hand, the flat top (DPMS version) offers more versatility for adding accessories, and the top-mounted Picatinny rail can easily mount attachments like scopes and lasers.
Style (Forged vs. Billet vs. Cast vs. Polymer)
Forged metal is always considered to be more durable and tough. The same goes for AR-10 uppers. Indeed, a forged upper will be more durable than a billet machined one.
However, billet uppers are aesthetically pleasing and offer more room for decoration. Billet receivers are a bit more expensive, but they also help with improving your accuracy.
Eventually, forged and billet uppers do not differ much in terms of durability. Furthermore, because of their brittle nature, receivers cast from aluminum must not be used.
Finish (Complete vs. Stripped Upper)
Upper receivers are available in complete finishes, as well as striped finishes. If you like machining and customizing your accessories, you can purchase a stripped AR-10 upper.
On the other hand, a complete upper comes with the ejection port and forward assist button pre-installed. Additionally, a complete upper will save you time and won't come with the issues of FFL as with lower receivers.
Types of AR-10 Upper Receivers
Based on the design, profile, and construction, there are different types of AR-10 uppers. Let's take a look at why each model is unique.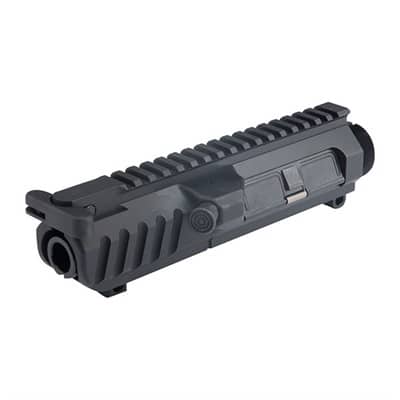 Design
With or without forward assist, AR-10 uppers are generally available in two different designs, namely the carry handle and the flattop.
The carry handle is not really used these days because of the limited customizability and its rear sight assembly.
Flattops, on the other hand, are more prevalent because of the wide range of accessories available.
Some upper receivers also feature a forward assist button. The forward assist helps you push the round into the chamber if you do not want to make that 'loading click' sound of your charging handle.
Profile (Low Profile vs High Profile)
Older versions of the AR-10 receiver are high profile. They feature a 3/16″ wide, top portion where the charging handle is installed and .210 tang.
On the other hand, the low profile versions are slicker and more versatile. Also known as the DPMS style receivers, they have a 1/8″ wide, top portion where the charging handle is installed with .150″ upper tang.
Due to their versatility, users can club low profile receivers with a lot of aftermarket accessories. It's important to note that high profile uppers are not compatible with low profile lowers and vice-versa.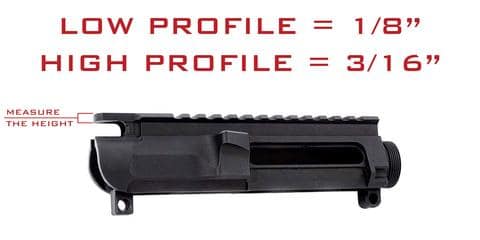 Construction (Forged, Billet, or Cast)
AR-10 uppers can be manufactured using different techniques including forging, billet machining, or casting. Each of these methods churn out uppers of different qualities and characteristics.
Forged receivers offer more strength, whereas billet receivers are considered to be more precise.
Manufacturers also use polymer uppers these days due to their lightweight and easy machining capability. However, they are not recommended for heavy calibers like .308 of the AR-10.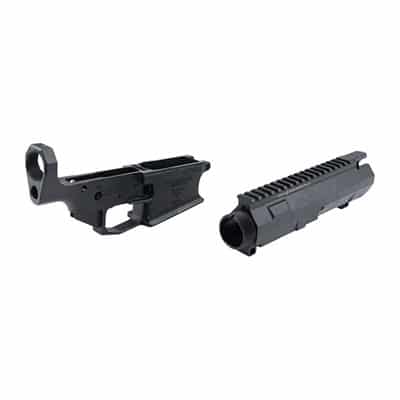 Conclusion
An AR-10 upper receiver houses the BCG (bolt carrier group) and is quite crucial for maintaining the accuracy of your rifle. You must consider the profile (high vs low), the construction (forged, billet, cast), the finish (complete vs stripped) and the design (forward assist, and ejection port deflector) before choosing an upper receiver for your AR-10.
A good upper must be easy to install, aesthetically pleasing, able to improve operations, and suitable for your budget. If you've been on the hunt for a new AR-10 upper, we hope this review article has been helpful. If you end up choosing a product from this list, be sure to visit us again soon, as we would love to hear about your experience. We love hearing from visitors and look forward to hearing from you.